Whether you're going on a camping trip or hosting a friend over the weekend, an airbed mattress can make for a fantastic temporary bedding situation. And while they've sometimes gotten a bad rap in the past for being uncomfortable and cheap, airbed mattresses these days are incredibly comfortable. Sure, they're not necessarily intended for long-term use, but most airbed mattresses are designed to be as durable, cozy, and supportive as a traditional bed. But, as with any bedding product, not all airbed mattresses are created equal. So, how in the world do you land on one that's actually, you know, good? Well, I'm so glad you asked!
In this guide, I'm going to introduce you to the absolute best airbed mattresses on the market. They inflate (and deflate!) with ease, hold up their shape overnight, and bring about plenty of sweet, sweet Zzz's. After we go over my picks, we'll then chat about the methodology used to pick them. That way, you'll know exactly what factors to consider when shopping for an airbed mattress of your own. Plus, I'll round things out with a few expert tips you can use to improve your buying experience.
Best Airbed Mattress 2023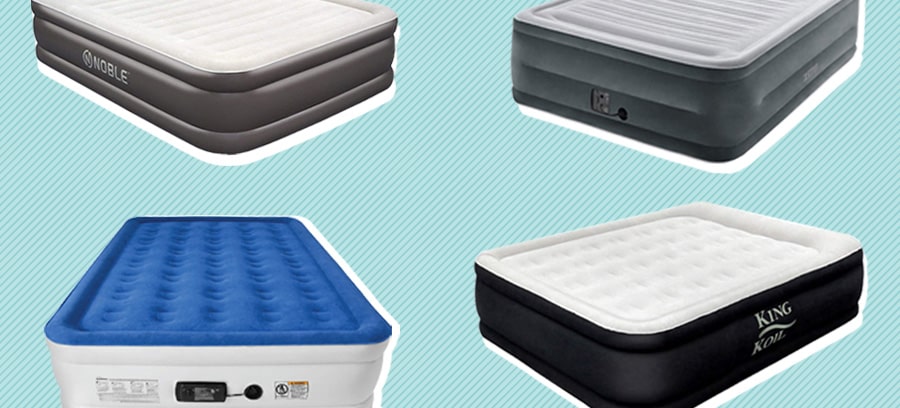 Best Airbed for Camping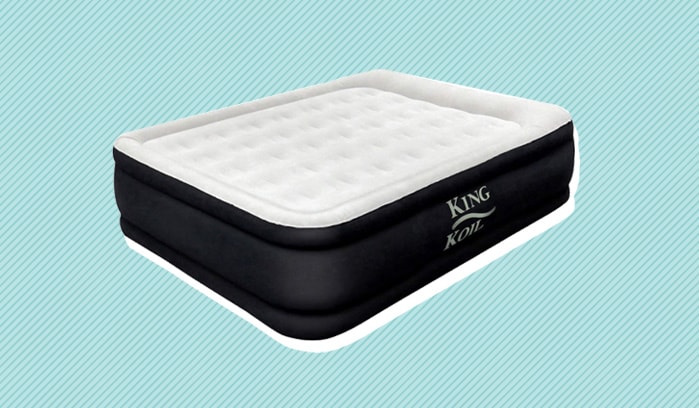 King Koil
Need an airbed mattress that feels pretty darn close to a "real" bed? Well then, allow me to introduce you to the King Koil airbed mattress. Designed with a quilted cover, raised "pillow" edge, and water-resistant suede, this bed is as functional as it is comfortable. Plus, it's got a built-in pump, so can be used anywhere! 
Pros
The built-in pump makes this a versatile airbed mattress that can be used both outdoors and indoors! 

This airbed mattress also has a built-in pillow and soft flocked top, so is actually quite comfortable on its own! 

I also like that you can get this mattress in a California King size, which is pretty rare for the air mattress market. 
Cons 
Unfortunately, the King Koil doesn't come in Twin XL or King sizes.
Think the King Koil is the mattress for you? Click here for our best deal. Still not sold? Take a look at some of the other best camping mattresses.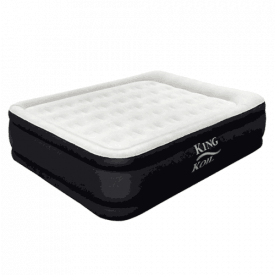 The King Koil air mattress has a built-in pump and can be used both indoors and outdoors!
Most Affordable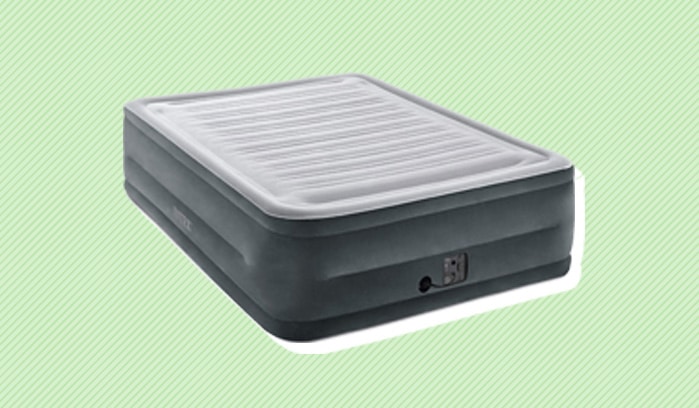 Intex
Budget-conscious shoppers should definitely give the Intex air mattress a look. This model features a lot of fantastic characteristics (soft top flocking, elevated sides to secure bed sheets and blankets) at a price that won't break the bank. Intex also says this bed can inflate in under five minutes, which is a great sign! 
Pros 
I like that this bed has a built-in raised pillow and soft flocked top, which helps increase the comfort of the bed. Plus, it makes it easier to affix sheets and blankets to the surface. 

It's got a built-in pump, but you can also use an external pump if you so desire. 

All in all, it's great for folks on a budget, so I'd recommend this air mattress for college students or other young people looking to host guests. 
Cons
According to some customer reviews, there are slight discrepancies in size after ordering. 
Think the Intex is the mattress for you? Click here for our best deal. Still not sold? Take a look at some of the other best affordable mattresses.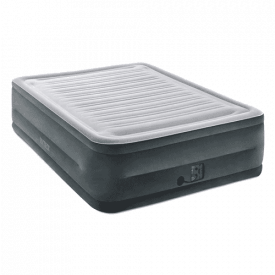 The Intex airbed mattress has a built-in pillow and comes in at a great price!
Most Luxurious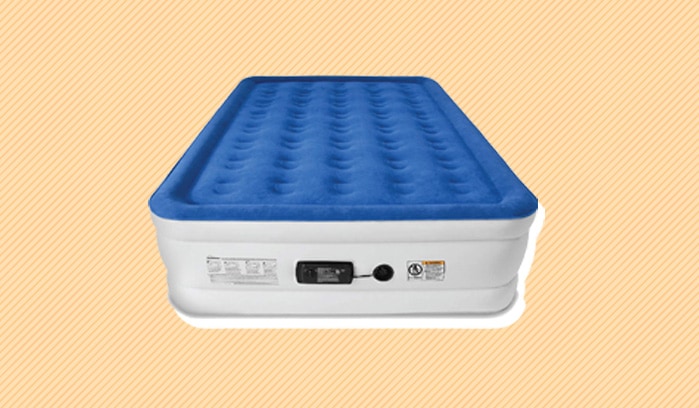 SoundAsleep
If you're after a tall, sturdy airbed mattress that won't sink while you sleep, I'd suggest checking out the SoundAsleep Dream Series air mattress. Built with ComfortCoil technology, this bed is supportive and highly durable. It's also got a no-slip bottom cover, which should provide some nice stability at night. All in all, a great pick for those after an ultra-comfortable (and practical!) airbed mattress.  
Pros
The interior of the mattress is supported with "air coils," which are designed to help maintain the shape of the bed throughout the night. 

The top and bottom covers are also puncture and water-resistant, making this a great mattress for camping. 

This bed also happens to be available in multiple sizes, including Twin, Twin XL, Queen, and King. 
Cons 
One slight caveat is that you have to plug it into an outlet in order to use the built-in pump. No external pumps can be used to inflate the mattress. 
Think the SoundAsleep is the mattress for you? Click here for our best deal. Still not sold? Take a look at some of the other best luxury mattresses.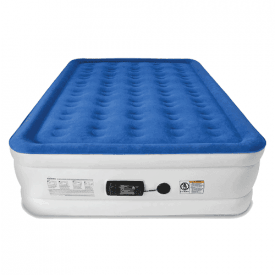 The SoundAsleep air mattress is puncture and water-resistant and uses "air coils" to provide great support to the sleeper!
Most Firm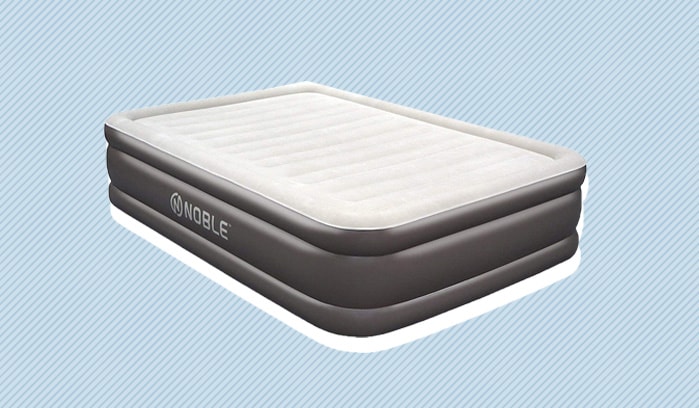 Noble
Tired of airbed mattresses that deflate and collapse in the middle of the night? If so, the Noble airbed mattress may be the one for you. It's got a super sturdy build, which helps it to maintain its shape overnight and provide you with all the firm support you need. It's also got a built-in pump and smooth suede top, making it both easy to set up and oh so cozy to sleep upon. 
Pros 
I like how well this bed maintains its shape over night, which can be great for folks in need of firm support, especially heavier sleepers and couples. 

The built-in pump is another nice feature, as it means this bed can be used both indoors and outdoors. 

I also found it easy to inflate. In fact, the brand claims that this mattress can be set up in under three minutes, which is ridiculously fast when compared to other options on the market. 
Cons 
It's not the most luxurious bed on the market, so may not work for folks in need of extra comfort. 
Think the Noble is the mattress for you? Click here for our best deal. Still not sold? Take a look at some of the other best firm mattresses.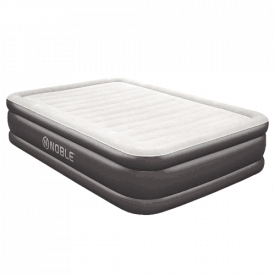 The Noble air mattress provides firm support and keeps it shape all night!
How We Picked
Now that we've gone over my airbed selections, let's chat about the methodology I used to pick them. Basically, I'm going to discuss all the most important factors for you to consider when shopping for an airbed mattress of your own.
Internal Reinforcement
Every airbed mattress uses internal reinforcement to help stabilize its shape, whether it be air coils or fiber beams. No support system is inherently better than another, but it should be a major red flag for you if one isn't listed at all. Most brands will clearly name the support system being used along with descriptions of how it works within the airbed mattress. When reading customer reviews, make sure to take note of any comments that refer to "slouching" or deflation in the night.
Surface Material
A flocked top is another pretty standard design feature of most airbed mattresses. It provides a velvet-like texture that helps with temperature, comfort, and keeping sheets in place. Oftentimes, this material is layered on top of puncture-resistant PVC to create a mattress top that is both sturdy and soft to the touch.
However, this puncture-resistant PVC can sometimes leave the surface with a less than desirable odor. If you're someone prone to allergies or maybe just sensitive to smell, you may want to focus on brands that have worked to mitigate this issue. As always, customer reviews will be super helpful in assessing whether or not there's any off-gassing at play.
Set Up
Ease of set-up is another super crucial factor to consider when buying an airbed mattress. The most high-quality models have a "set it and forget it" internal pump that fills up the bed without any more effort from you than a simple flip of a switch. Some require wall outlets to charge these pumps while other beds are equipped to fill without external help. Depending on your needs, you may want to opt for either a built-in pump (say, if you're going camping) over one that needs to plug into a wall.
In general, a high-quality airbed mattress should be able to be inflated within five minutes. If it takes any longer than that, you're working with a lower quality model.
Height
Most of the options on this list are "double-high," but you can also find air mattresses that are lower to the ground that function almost like sleeping pads. While those options have their own virtues, such as being lightweight and easy to carry around (useful for outdoor activities or frequent traveling), they're not nearly as supportive as the models included in this round-up.
In general, taller airbed mattresses will give off a more "realistic" vibe, as they'll be more akin to the beds folks are used to sleeping on. Plus, a little extra height helps to curb some of the sinkage that may occur as air leaks out overnight. Heavier sleepers or couples may also find that they need a taller mattress to accommodate the extra weight.
Bed Size
The most common airbed mattress sizes are Twin and Queen. You can find other options, but it's perhaps most difficult to find Twin XL and King size air mattresses. This isn't a huge issue, but is something to consider if you're partial to a certain bed size.
Price
Though not as expensive as traditional beds, airbed mattresses with all the bells and whistles can still be quite pricey. However, there's a ton of variability on the market, so it's crucial that you think about the features that are most important to you. Maybe you want to use your bed when camping, so you'll need an built-in pump. Or perhaps comfort's most important, so you'll want an airbed mattress with built-in pillow and soft suede flocking.
Sleepopolis Tips
Still not sure how to find the right airbed mattress for your needs? No problem! Take a look at some of my expert tips for navigating the search with ease.
Perhaps the most important thing to do first is determine how you're going to be using your airbed mattress. If you'll be taking it camping, you'll want one with a built-in pump for easy self inflation. If you're using it primarily to host guests at your home, you don't have to be as concerned with the inflating device.
Stay on the lookout for buzzwords like "puncture resistant" and "waterproof." These indicate that the external materials have been treated to resist wear and tear, making for an overall more durable model.
Some brands offer very limited sizing, so you'll want to make sure you look closely at the available sizes before getting too committed to any one airbed mattress.
FAQs
What is the best air bed mattress?
The best airbed mattress will feature a soft, flocked cover for comfort, a sturdy internal system of air support, and a built-in pump for easy set up. It should stay inflated all night and be comfortable with or without sheets.
Is it bad to sleep on an air mattress?
Air mattresses aren't built for extended use, so you definitely wouldn't want this to be your permanent bed. That being said, they're completely fine for a temporary bedding solution.
How much does an air mattress cost?
As with any bedding product, air mattresses differ quite a bit in terms of price. The most affordable options are generally around $60 and the most expensive ones usually hover somewhere around $200.
Wrapping Up
Well folks, that about does it for this guide to the best airbed mattress on the market! When looking for one of your own, make sure to keep the focus on how you're going to use it, how you want it to feel, and what kinds of guests you need it to accommodate. Then, you'll be well-prepared to land on an airbed mattress that's 100% right for your unique needs!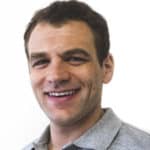 Logan is the former content director of Sleepopolis. As content director, he reviewed new mattresses every week and curated the comparisons, best of pages, and video guides on the site. Logan perfected his method by personally testing over 200 different mattresses, so he's not only able to discern the overall vibe of a specific bed, but to contextualize its feel within the bed-in-a-box market as a whole.