Triple A (AAA) batteries may come in a small container but they can pack quite a punch. So many things in the household or office are powered by AAA batteries that it is almost always worth it to have some laying around ready for use. With most designed to last a few years at least, it is wise to get them in advance of any acute need, especially for products and devices that might be used in an emergency, like flashlights.
Because these batteries are so common and can last for so long, it is important not to get stuck with a brand that isn't living up to expectations. There are lots of different types of AAA batteries made from different companies, both well-known and up-and-coming. To help sort through the crowded field, we've taken a look at some of the more popular offerings. Here is what we found: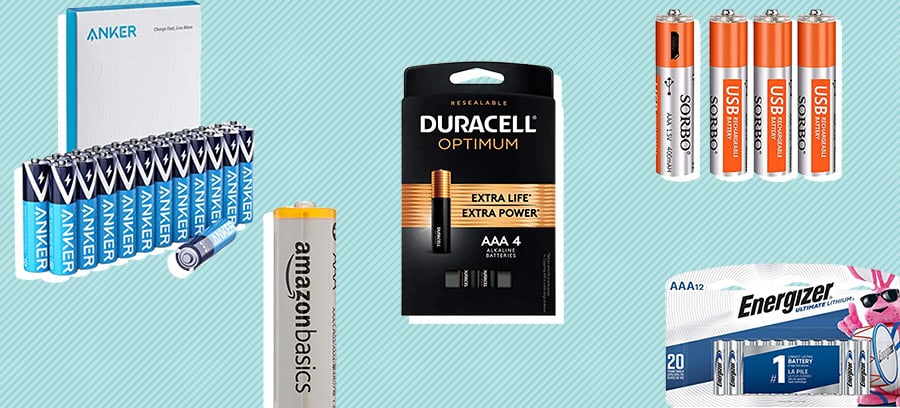 Editor's Choice
Duracell Optimum 1.5V Alkaline AAA Batteries
Pros:
New cathode. Duracell's Optimum AAA batteries have a new cathode especially designed for this line of products. The cathode is the terminal through which the charged devices send their electric current once polarized. The new version of the cathode is designed to provide longer life for some electronic devices and provide more power in others.

Resealable pack. This line of batteries is housed in a secure tray with a resealable plastic sleeve. This makes storage and access quick and relatively hassle-free. This is especially convenient for keeping batteries near the devices that need them (say in the bedside dresser) rather than in a utility closet.
Cons:
No bulk discount. Often times batteries will be more inexpensive when more are bought at a time. That is not the case with this line of products; every battery will cost a bit over a dollar regardless of how many are purchased at a time.
The Contender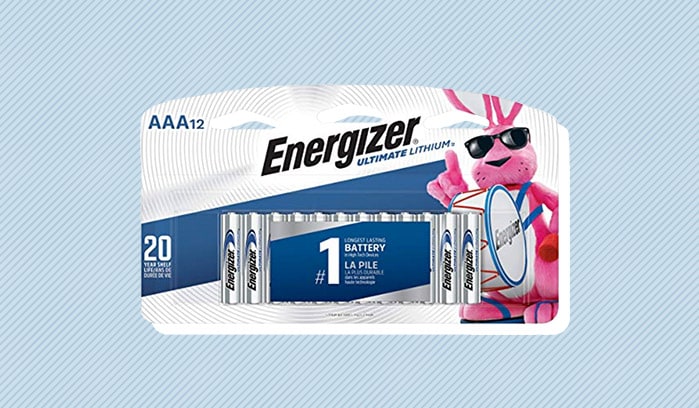 Energizer Lithium AAA Batteries
Pros: 
20 years of storage. This battery can store up to 20 years in storage. That is one of the longest durations a battery can store its energy during periods of non-use, and double the length of most alkaline batteries.

Wide range of temperatures. Energizer claims that these lithium batteries can perform in extremely hot or extremely cold temperatures; the range of viability is between -40F to 140° F. This is great for products that are exposed to lots of sunlight and heat, like bedroom power blinds.
Cons: 
Not rechargeable. People familiar with lithium batteries may be a bit surprised that this line of AAA lithium batteries are not rechargeable. These are single-use, while most lithium batteries tend to be rechargeable.
Best Bargain
Anker Alkaline AAA Batteries
Pros:
Small devices up to 240 days. Anker promises a battery that can charge small devices, such as remotes and nightlights, for up to 240 days of use. Not many brands can boast a specific lifetime of their battery charges, so it is comforting to know that there is a timeline the user can trust. 

Cost. For a 24 or 48-pack, this battery has one of the lowest costs-per-unit available. While other manufacturers may have cheaper batteries when bought in extreme bulk, this brand offers one of the best values for a modest set of batteries.
Cons:
Hard to read the labels. While the packaging features a smart and modern aesthetic, the font is quite small and might be difficult to read for some users. This can be a safety hazard, as certain restrictions and instructions may help prevent damage to devices.
Best for Bulk Purchases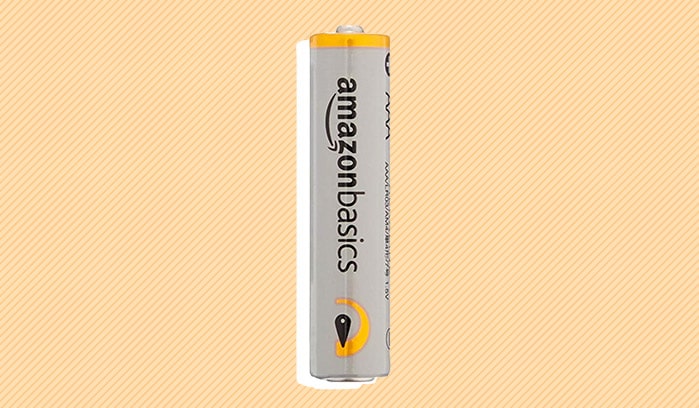 AmazonBasics AAA 1.5 Volt Performance Alkaline Batteries
Pros:
Short circuit preventative washer. This battery from AmazonBasics has an additional layer of protection against leaking, beyond its triple-layer of carbon, nickel, and the diffusion anneal layer. At the bottom (anode) side of the battery, the manufacturer has built in a short circuit preventative washer. This protects against leaks and heat build-up.

Current flow maintains in high humidity. This product can maintain an electric current even with humidity up to 90 percent (and a temperature up to 160 degrees Fahrenheit). This is great for humidifiers, fans, and air conditioners, all of which may be in use during – or contribute to – high humidity.
Cons:
Weight. Compared to AmazonBasics' rechargeable batteries, these alkaline non-rechargeable batteries weight about 33 percent more per unit. The difference is between around 12 grams for the alkaline and 8 grams for the lithium sort. This extra weight will be true of most alkaline batteries. Those looking to camp or travel with lots of batteries may consider splurging for lithium rechargeable batteries to lower the load.
How We Picked
Often forgotten but never irrelevant, batteries power so many of the things in our lives that it is easy to take them for granted. AAA batteries can power any number of home or office appliances, from computer-related gadgets to devices that help restless sleepers fall asleep and wake-up. Because people have become so dependent upon batteries, it is important to be able to distinguish between them. Here are the aspects we looked at when making our choices:
Lithium or alkaline
There are two main types of batteries, whether AA, AAA, or D. Alkaline batteries are the most common. These are not rechargeable; they can only be used once before being disposed of. Lithium batteries tend to have a bit more power and can be used for devices that drain more energy per battery. Lithium batteries are also better equipped to function in extreme temperatures, hot or cold, and in increased humidity.
Alkaline batteries tend to weigh a bit more, so can be more of a hassle when traveling or with devices that require a large amount of batteries to be plugged in. On the plus side, alkaline batteries tend to be quite a bit cheaper than lithium rechargeable batteries. Depending on the energy needs of the device and the frequency with which new batteries will need to be replaced, it may be prudent to always get rechargeable lithium batteries or simply cheaper to plump for alkaline single-use.
Shelf-life 
Not everyone buys batteries for immediate use. Often, a whole bunch of batteries will be bought in bulk for use by a family, office, or even an individual with several energy-hungry devices. Many alkaline batteries have shelf-lives of up to ten years of non-use. This means that a pack of 34, 48, or even 100 batteries purchased at a discount this year may last a whole decade.
Lithium batteries do not have the same longevity. Rechargeable batteries made out of lithium gradually lose their charge, sometimes up to 20-30 percent over the course of a few years. Once the level of charge goes below a certain percentage, which is different for every battery, the unit itself may become unusable.
Price
One of the first things customers might notice about competing battery brands is the price differential. Some of the more popular brands come with a hefty price tag; once lithium batteries are considered, this per-unit cost really goes up. Lithium batteries can cost as much as several dollars per battery, depending on the brand. Sometimes added features (like a micro USB port for charging) can add a dollop of convenience with a side of extra cost.
More affordable brands of batteries may not have the same guaranties, such as in cases where the product gets damaged due to leaking. The more affordable brands may also not have the same slick packaging. Though batteries are clearly not a type of product to show off as if they are luxury goods, certain professions may require a certain standard or level of familiarity in the products used. Hospitals, for example, may prefer a name brand in spite of its cost due to the sensitive nature of its practice.
Tips
Not sure which AAA battery is right for you? We've compiled some suggestions to consider before making your final decision:
What will you be charging?

Some products work better with lithium batteries that have a bit more power and thus last longer. Devices that are always or often on, like humidifiers or white noise machines, may be more effective if powered by a long-lasting lithium battery.

Devices that are exposed to high heat or extreme cold may need to be powered by lithium batteries as well. Lithium batteries are less vulnerable to the effects of temperature fluctuations. It is best to check the temperature ratings of the batteries you are considering and weighing that against the range that your device will be in.

What is your budget?

Buying in bulk is typically the best way to get batteries at the cheapest per unit cost. Some value packs have batteries as low as 20 cents per battery. Keep in mind though, that batteries have a shelf-life; buying in bulk but letting the batteries go fallow is a poor way to save money.

Lithium batteries tend to cost more, but can be recharged hundreds if not thousands of times. Though this recharging will take a modicum of energy from another source, presumably that is being paid for as a utility, it will still probably be cheaper in the long-run. Not all products are gaged for the voltage of the lithium batteries, so make sure to check the device to see if there are any specific requirements or restrictions.