Area rugs are more than just a way to cushion your feet. They add a final decorative touch when furnishing, and make a house feel like a home. Area rugs add texture and warmth to a room, and can brighten up or tone down decor. Once made only from natural fibers, area rugs are now available in synthetic materials that stand up to children, pets, even the outdoors.
With a wide variety of rugs available in an array of styles, materials, and price-ranges, how do you choose the right one for you? We tested best-selling models to help you find the perfect area rug for your needs.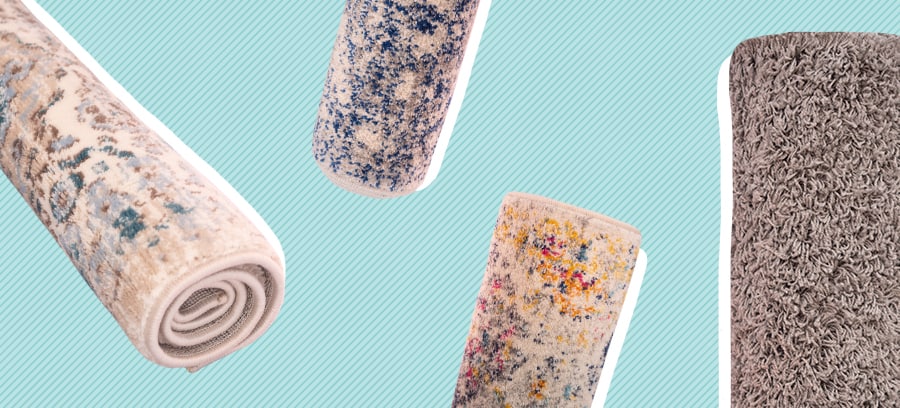 Best Price
The Unique Loom area rug gets high marks for softness and quality at a reasonable price. Made of waterproof polyproylene yarn with jute backing, this rug has a distressed style with a vintage-type pattern of ivory and pale brown.
Pros:
Price. You can pick up the runner version of the Unique Loom area rug for under $20, making it a great choice for high traffic areas, dorm rooms, or furnishing a home or office on a budget

Softness. This rug's tightly-woven fibers felt soft and smooth to the touch, both when I ran my hands over it and walked on it with bare feet

No chemical smell. Though the Unique Loom rug is made of polyester fiber, I detected no chemical scent or odor of off-gassing when I unrolled it
Cons:
Color. I tested the beige, which to my eye appeared like a dingy brown with darker brown accent spots. Other colors in this style may be more vivid and natural-looking

Thickness. This rug didn't offer much cushion under my feet when unrolled on a concrete floor. I suggest adding a rug pad unless using this as an accent with another rug underneath
Best Color
The Safavieh Madison Collection area rug offers rich, vivid color in a distinct vintage pattern. This synthetic fiber rug has a jute backing, and comes in several colors.
Pros:
Depth and variety of color. I tried out the silver and dark blue version of this rug, which struck my eye as soon as I unrolled it. I found the colors to be vivid and appealing but not garish

Softness. This rug felt wooly under my feet, more like a natural fiber than polypropylene. The pile is low, but felt plush and dense to the touch

Price. The 2'x6' runner we tested is less than $30
Cons:
Thickness. This rug felt fairly thin to my feet, and might work best with cushioning underneath

The distressed pattern may not complement certain styles of decor

The jute backing could be slippery on hard floors if used without an anti-skid rug pad
Best Pattern
The Safavieh Multi-Colored area rug is my choice for best pattern. This distressed-style rug is made of polypropylene, and has a bold pattern that rises above less distinct vintage-style motifs.
Pros:
Design. The Safavieh Multi-Colored rug has a colorful medallion pattern that stood out to me as soon as I unwrapped it. Some distressed rugs can be heavy on the background and light on the pattern, but this rug telegraphs "vintage" with a strong design and bright colors

Materials. This rug's low-pile loops and binding felt very similar to wool against my skin

Colors. If you like vivid colors, this rug doesn't skimp on them. Gold, pink, blue, and gray blend together in what I found to be a surprisingly harmonious pattern
Cons:
Colors. Though I found the bright colors attractive, they may be a bit too splashy for some folks, and could overwhelm more subtle decors

Thickness. This rug could feel thin and slippery on hard floors if used without a rug pad
Best Shag Rug
The Unique Loom Solid shag rug is my pick for best shag rug. This reasonably-priced, high-pile rug is waterproof and made of polypropylene with a cotton backing. The rug is available in twenty-three solid colors.
Pros:
Color choice. The Unique Loom Shag rug has a color for just about everyone, no matter what their taste or decor. I tested the cloud gray, which was rich and variegated to my eye

Pile length. If you like a long pile rug like I do, this could be just the rug for sitting, lounging, and walking on in bare feet

Price. You can pick up a runner version of this shag rug for less than $10
Cons:
Hand feel. I detected a bit of a lotion-like quality to this rug after running my hands through the pile. This may be a light residue or just the feel of the fibers, but it was a bit of a downside for me

Heaviness. Along with being thick and solid, this rug is floppy and unwieldy. It could be tough to move for some people, especially up stairs or in larger sizes
Best for Softness
The Victoria Distressed Persian rug gets my nod for softest rug. Not all synthetic vintage-style rugs are as soft and inviting as the Victoria, which comes in thirteen colors.
Pros:
Pattern. The Victoria has a striking, classic pattern that varies according to color choice. I found the design to be bold and elegant without overwhelming my decor

Materials. I found the low pile to be plush and dense to the skin. It felt a little thicker than some other models at this price point

Color. I tried out the distressed cream, which was more beige and teal than cream to my eye. Bits of light blue were scattered throughout, creating an appealing blend of brights and neutrals
Cons:
The pattern was a bit different from the online photos. If I were to purchase this rug again, I'd request a swatch or additional pictures to make sure the design worked with my decor

This rug took a while to straighten out. I placed some heavy books on the edges, which sped up the flattening process
How We Picked
In choosing area rugs to review, we looked closely at a few important factors. These are common to all area rugs, no matter the size or quality. When selecting a new area rug, consider the following:
Materials
The material used to make a rug impacts its durability, where it can be used, how it looks, and how much it costs. Common rug materials include the following:
Polypropylene – Polypropylene is a synthetic plastic material used widely in rugs, textiles, and containers. Polypropylene rugs are designed to be durable and color-fast, making them well-suited to high-traffic areas or homes with children and pets. Some types of polypropylene rugs can be used outdoors, or both indoors and outdoors. Polypropylene rugs are manufactured to look and feel similar to natural fibers, but typically cost less than rugs made from wool or sisal
Wool – Wool has been a primary rug material for centuries, and is still used extensively throughout the world. Many wool rugs are made in India, the Middle East, South America, and Africa, and may be machine made or spun by hand. Synthetic or natural dyes may be used in wool rugs, and professional cleaning is often recommended to avoid fading
Sheepskin – Sheepskin and faux-sheepskin rugs have become more popular and affordable in recent years. Synthetic sheepskin is less expensive and displays less color variation than genuine sheepskin. Neither is easy to clean due to the long fibers typical of this type of rug
Cotton – Cotton and cotton blends are often used in braided rugs or other simple woven styles. Depending on color-fastness, some cotton rugs may be machine washable. Many are also reversible
Sisal and Jute – These natural fiber rugs have a rough or nubby texture, and are often used in high-traffic areas. Jute is made from the same material as burlap, while sisal is made from the fibers of the agave plant. Sisal is stiffer than jute, with a bristly texture that may be best in areas where shoes are worn
Design
Rug design includes both pattern and style. Varieties of rugs are nearly infinite, and include some of the following popular types:
Oriental and Persian, also called Traditional rugs – This classic, often richly-colored colored rug style goes back hundreds of years. Once made from wool, goat hair, and other natural materials, Oriental and Persian-style rugs are now made from both synthetic and natural materials, and come in an array of designs including Kilim, Berber, and Gabbeh
Distressed – The distressed style has been on trend for several years. Typically made from synthetic materials and designed with a faded antique look, distressed rugs can help disguise dirt and footprints in high-traffic areas, or give a vintage vibe to any room
Shag – Originally made popular in the 1960's, shag rugs have a taller pile that ranges from slightly longer than the standard short-pile rug to a few inches or longer
Contemporary – Contemporary rugs incorporate geometric patterns, contrasts between colors, and art-like elements that may draw inspiration from the Craftsman or art deco periods
Transitional – Transitional-style rugs incorporate elements of traditional Eurpean or Oriental patterns as well as more modern designs, and can work well in homes with either contemporary or classic furnishings
Age and Country of Origin
The older the rug, the more valuable it may be. This is particularly true with handmade, natural-fiber rugs from traditional rug-producing cultures such as Afghanistan and Iran. Some rug buyers prefer to purchase from countries with a reputation for using materials that conform to government standards. Country of origin may be particularly important when buying a rug for children or pets, or when trying to avoid chemical smells and exposure.
Price
The widespread use of synthetic materials has lowered the price of many rugs, making them affordable for nearly any budget. Rugs range in price depending on size, design, age, and material, and may run from a few dollars to several thousand or more. Antique rugs are often more valuable than new rugs, as are rugs made from natural materials such as silk, cashmere, and alpaca.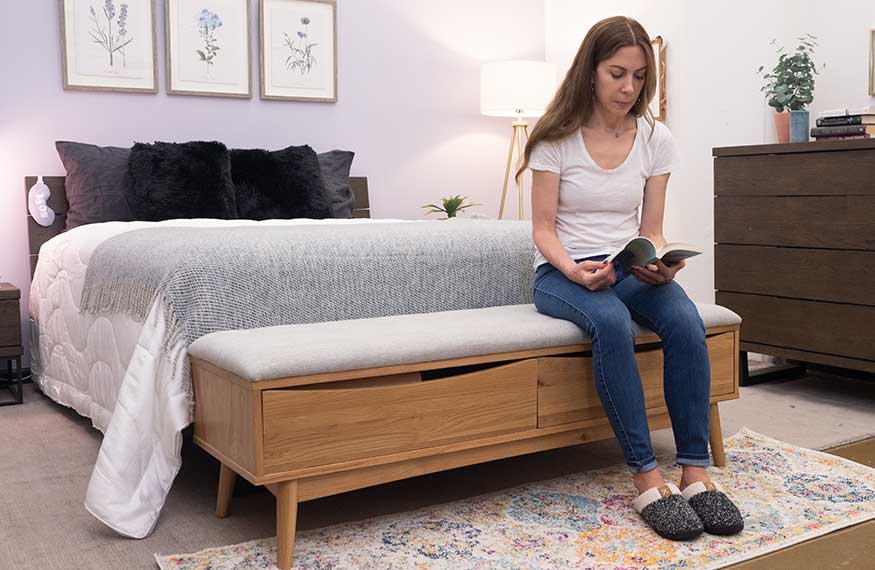 Sleepopolis Tips
To take the guess-work out of choosing the perfect area rug, consider the following tips:
Determine where and how you'll be using your new rug – Indoors or outdoors, or both? Are you furnishing a commercial space such as an office? While a bedroom rug may see less use, hallways, family rooms, and kitchens are typically high-traffic areas where durability matters
Cleaning Instructions – If you have children or pets, consider a rug that's easy to spot-clean, with a pattern that can help disguise dirt and spills
Decide which material works best for your needs – Natural fibers can be beautiful and durable, but are typically more expensive than polypropylene and other synthetic fibers. Polypropylene may not have the richness of color, softness, or elegance of natural fiber, but is easy to care for and less expensive
Understand care and cleaning instructions before you buy – Some rugs require professional cleaning, while others are easy to spot or steam clean at home
Measure carefully – Tape off the area you'd like to cover to make sure you have the size and shape right
Check the return policy – Rugs can be heavy items, and may not be easy or low-cost to return. Check the return policy of your rug store, particularly if you plan to purchase online