There's no denying that the way you light your bedroom can greatly impact your slumber. If your lights are too bright, you won't be able to fall asleep. If they're too dim, you won't be able to read in bed or get things ready for the next day. So, the key is to land on a bulb that's somewhere in between: soft yet warm, soothing yet functional. It's a tricky balance to strike, but one you can more than manage… as long as you land on a light bulb designed specifically for the bedroom. So what are these incandescent accessories and where can you get them? Well, I'm so glad you asked!
In this guide, I'm going to introduce you to the best bedroom light bulbs on the market. Though they differ in terms of style, build, and functionality, they're all designed to relax the mind and get the body ready for sleep. After we go over my picks, I'll share the methodology I used to select them. That way, you'll know exactly what factors to consider when shopping for bulbs of your own. I'll also wrap things up with a few tips and tricks you can use to improve your search!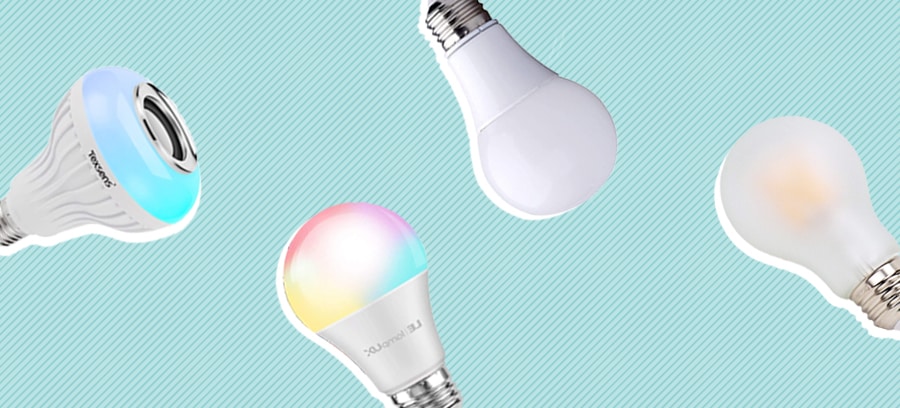 Editor's Choice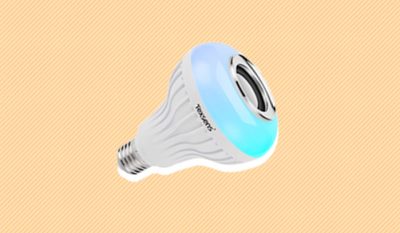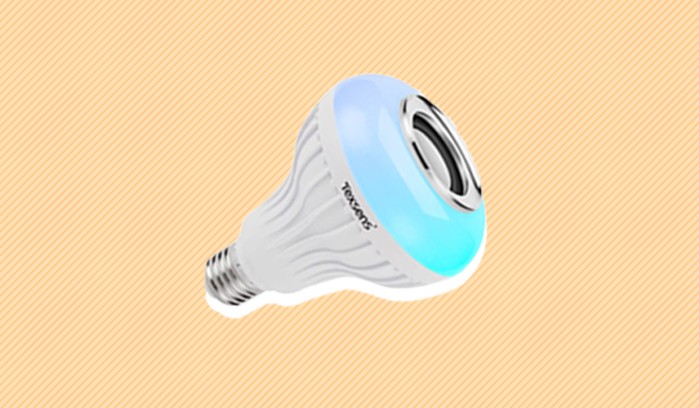 Texsens LED Light Bulb Bluetooth Speaker
If you're looking for a bedroom light bulb with all the bells and whistles, this beauty from Texsens is the one for you. Outfitted with multiple brightnesses, colors, and music functionality, this bulb does a lot, marking it as a fantastic option for folks who really want to customize their sleeping experience.
Pros
I love that this light bulb can connect to music devices via bluetooth, allowing you to play slow jams from your nightstand lamp.
It's also got some of the best color options on the market, with everything from white to blue, red, and pink.
There's also a handy little remote that allows you to control all these fantastic features with the simple click of a button.
Cons
This may not be the best option for folks who just want a simple, straightforward light bulb.
Best Smart Bulb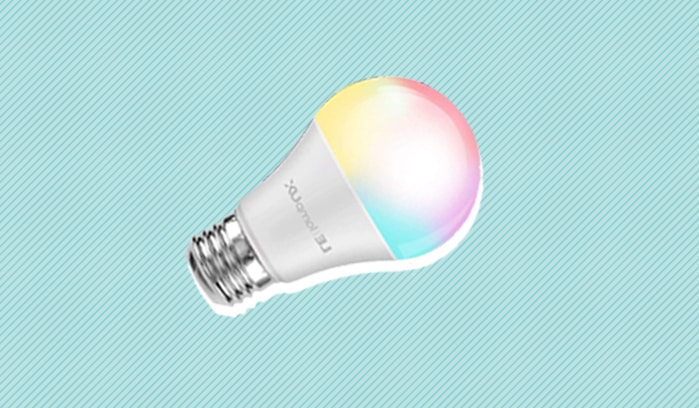 LE Alexa Smart Light Bulb
Folks looking to sync their bedroom light bulbs with their existing smart home hub may enjoy these bulbs from LE. They're compatible with both Alexa and Google Home and an easy-to-use app allows you to turn them on/off, set brightness, change colors, create timers, and much, much more!
Pros
These bulbs are great for that classic "smart home" feel as they're compatible with both Alexa and Google Home.
I like that you can set a timer with these bulbs, allowing you to sync them up perfectly with your bedtime routine.
All in all, this is an excellent value buy for those looking to seriously up their sleep regime.
Cons
If you don't use smart devices you may find these light bulbs to be a bit unnecessarily teched out.
Most Affordable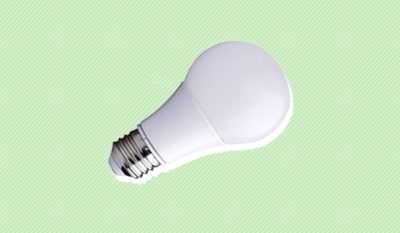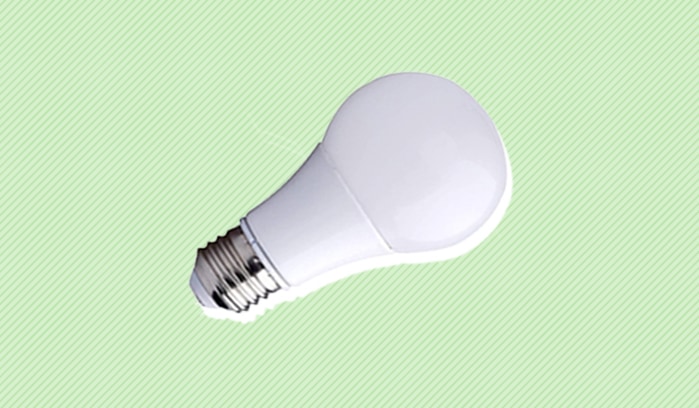 Bioluz
If you're looking to snag a quality pack of straightforward light bulbs for your bedroom, you may want to consider these bulbs from Bioluz. Sure, they're not outfitted with music functionality or flashing lights, but they've got a warm, 40-watt glow that's sure to keep things nice and relaxing as you doze off to sleep.
Pros
You can snag a six-pack of Bioluz lights for about the price of a single smart light bulb, so these are definitely a solid value buy.
I also like that they give off a warm white glow, which makes them perfect for bedroom lighting.
In general, these are no-fuss bulbs that should be easy to install and use.
Cons
If you're looking for something a little fancier, these may not be the best lighting accessories for you.
Best for Sleep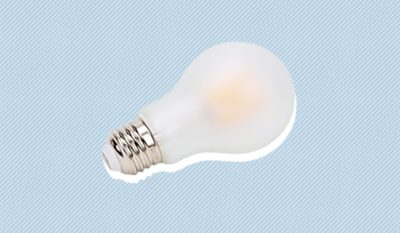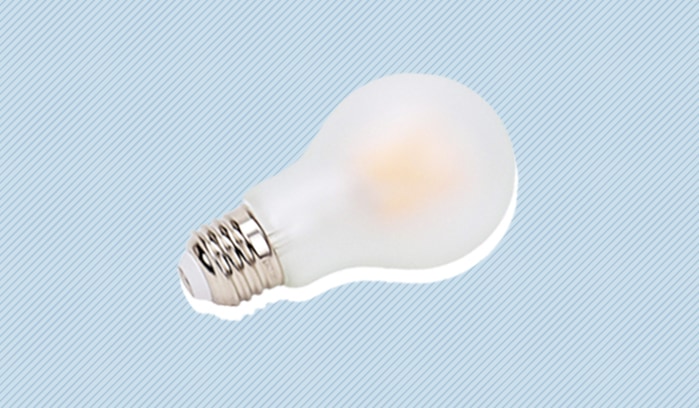 Bedtime Bulb
Sleepers looking to get a little drowsy boost from their lighting should definitely take a look at the Bedtime Bulb. The secret ingredient here is the brand's special LessBlue™ Technology, which emits less sleep-disturbing blue light than other light sources. This results in a warm white glow perfect for inducing slumber.
Pros
If you struggle with sleeping night after night, this bulb might just help alleviate your woes.
It's also backed by a five-year warranty, which means you get a lot of bang for your buck from this bulb.
In general, the light produced by this bulb is neither too bright nor too dim, making it great for a wide range of activities.
Cons
This is definitely a pricey item, so may not be the best fit for those shopping on a budget.
How We Picked
Now that we've gone over my picks, let's chat a bit about the methodology I used to select them. You can think of this section as a round-up of all the major factors you'll want to consider when shopping for bedroom light bulbs of your own.
Use
Before getting into the nitty gritty details of different bulbs, think about what you're going to be using your lights for. Do you want a soft glow to function as a quasi-night light while you snooze? Do you need something brighter for reading in bed? Do you and your bed mate need different lights for different purposes? Nowadays, you can pretty much find a light bulb for any activity, so make sure to fully consider your bedroom habits before clicking buy.
Customization
Everyone sleeps differently, so the best bedroom light bulbs are those that can be customized to serve these different needs. That's why I tend to give preference to bulbs that can be highly tailored to the individual. If customization is an important factor for you, look for light bulbs that offer at least a dozen color options as well as multiple brightness settings. Light bulbs that can be timed or set with other scheduling options can also be great for this purpose.
Smart Set-Up
Though you definitely don't need to buy "smart" light bulbs to have tranquil lighting in your bedroom, they can make a world of difference in your bedroom. There are a lot of "smart" options on the market these days, but the best ones are those that can be easily controlled via your smartphone (sans a hub like Alexa or Google Home).
When looking at a smart light bulb, make sure to investigate how it's operated so you know whether or not you'll be able to handle it. This information is usually listed in the "details" section of the product. You can also read customer reviews to see if other users found it difficult to set up and use the smart devices.
Brightness
Bright white light can be a major hindrance in the bedroom. Though it's fantastic for visibility, it can sometimes be a little jarring, especially as you're settling down to snooze. Therefore, it's important to consider the wattage of your light bulb before you purchase. In general, you'll want to stick within the 40-watt to 60-watt range. This makes for a bright light that's not too overwhelming.
You'll notice that most light bulbs for relaxation and sleep are LEDs, which are much more energy efficient than incandescent bulbs. However, this efficiency can sometimes dampen the overall brightness of the light, so read customer reviews to make sure the LED you like isn't overly dull.
Special Sleep Features
Being able to customize the color and intensity of lighting is great and all, but having specific features that help you relax as you're preparing to sleep is an excellent bonus. Light bulbs with timed dimming or "sunset" settings are great options for folks who want their lights to actively help them fall asleep.
Sleepopolis Tips
Still not sure how to snag quality light bulbs for your bedroom? No worries! I'm going to wrap things up with a few expert tips you can use to improve your search.
Think about the longevity of your light bulbs before you purchase them! There's a lot of variability on the market, with some lasting for upwards of 50,000 hours and others sputtering out at around 6,000 hours. So, make sure to check the fine print to make sure you're making a good investment.
I'd also be extra wary of size. Before buying a new light bulb, check your lamp or overhead fixture to make sure it's going to fit. Most light bulbs can fit a standard E26 base (which is about one inch wide), but older lamps may have slightly larger bases, so it never hurts to double check!
It's never a bad idea to go with an eco-friendly option! These lights use less energy and will generally last longer than your run-of-the-mill light bulb.
FAQs
What is the best light bulb for a bedroom?
The best light bulb for a bedroom has a soft glow that doesn't overly stimulate the mind or eye. It can be whatever color you prefer, though popular options include soft whites and yellows.
How many watts do I need for a bedroom light?
You'll want to stay within 40 and 60 watts for your bedroom light. This will be bright enough for you to see by, but not so bright as to disrupt your bedtime routine.
Which color bulb is best for the bedroom?
There is no "best" color for bedroom lights, though most tend to prefer soft white or yellow. The key is a gentle glow that won't overstimulate your mind as you're trying to drift off to dreamland.
Wrapping Up
Well, that does it for our guide to the best bedroom light bulbs on the market! When shopping for ones of your own, keep the focus on customization, brightness, and smart capabilities. That way you'll be able to land on a bulb that's 100% right for your unique needs.