If you're looking to shake up your sleep space, you may want to consider snagging a bedroom mirror. Not only do they allow you to check out your outfits in the morning, but they can also lengthen and elongate the look of your room. Plus, there are a ton of fun styles to choose from nowadays, from classic oval wall mounts to tall floor models backlit with LED lights. So, with all these options on the Internet, how do you figure out which one is right for you? Well, I'm so glad you asked!
In this guide, I'm going to introduce you to the best bedroom mirrors on the market. Though they differ in terms of style, set-up, and design, they're all built to blend in seamlessly with your existing decor and reflect you back to you with precision and care. After we go over my picks, I'll also share the methodology I used to select them. That way, you'll know exactly what to look out for when shopping for a bedroom mirror of your own. Then, I'll wrap things up with a few tips you can use to improve your buying experience.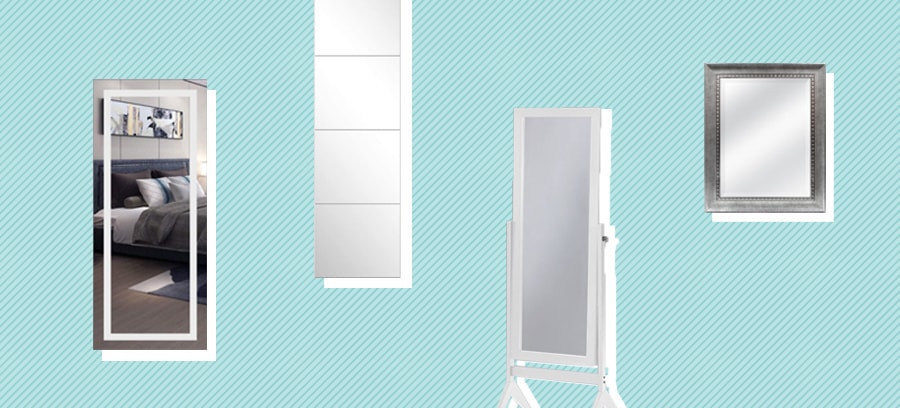 Top Pick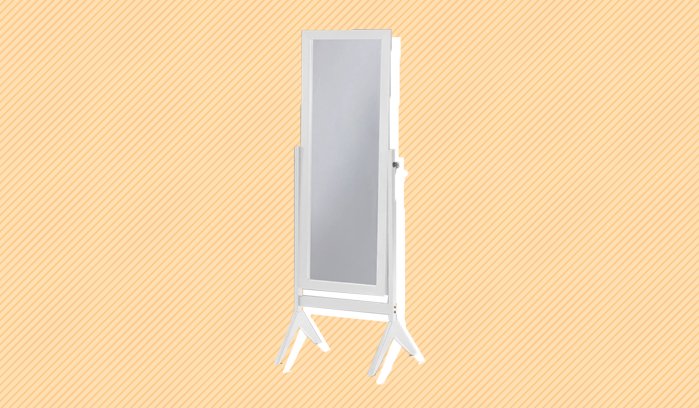 RAAMZO Free Standing Floor Mirror
A Straightforward and Simple Option
If you're looking for a traditional full-length mirror, you'll definitely want to check out this model from RAAMZO. A classy white finish and adjustable tilt frame make this mirror appropriate for almost any bedroom. 
Pros: 
The price is right on this full-length mirror, which is considerably less expensive than other options on the market. 

Assembly is easy, with most users saying it takes between 10 and 15 minutes. 

The tilt design allows you to adjust the mirror as you see fit. 
Cons:
If white doesn't work in your decor, this may not be the mirror for you.
RAAMZO Free Standing Floor Mirror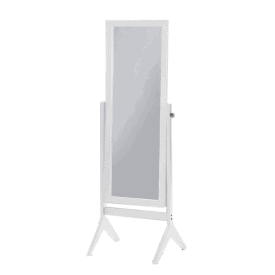 RAAMZO Free Standing Floor Mirror
The RAAMZO Free Standing Floor Mirror is affordable and easy to assemble.
Most Stylish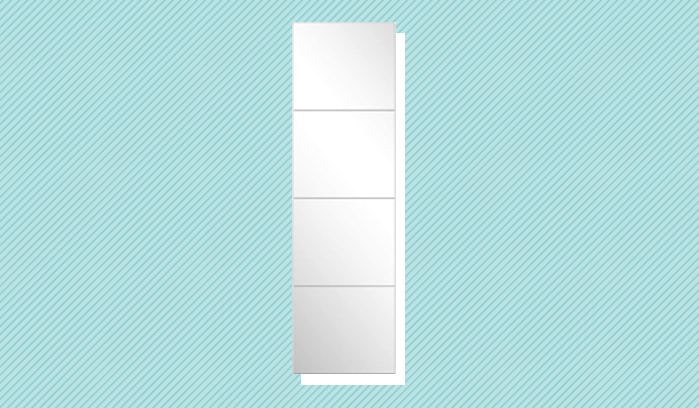 PexFix Full-Length Mirror
A Stylish Pick for a Modern Bedroom 
Stylish folks should check out this full-length model from PexFix. Featuring a four-tile design, this mirror is a definite statement piece begging to become the focal point of your bedroom. 
Pros: 
Once you set it up, the mirror stands 48" tall, so could make a good pick for all different kinds of people. 

The separate tiles allow you to style the mirror as you like. Each tile is outfitted with foam tape, so adheres easily to the wall. 

The mirror is also backed by a two-year warranty, which increases its overall value. 
Cons:  
If you don't want to assemble your new mirror, this may not be the one for you. 
PexFix Full-Length Mirror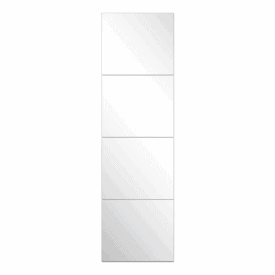 PexFix Full-Length Mirror
The PexFix Full-Length Mirror is made of separate tiles so you can style as you like it.
Best Lit Mirror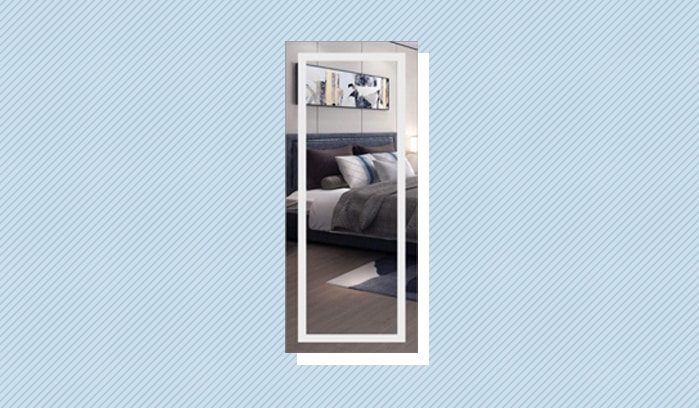 QiMH LED Vanity Mirror
Great for an Vanity Mirror Vibe 
The LED lights on this bedroom mirror give it an old-school vanity feel, which means it could be great for those looking to shave, do make-up, or simply inspect the intricacies of their face. 
Pros:
It's not that common to find a full-length mirror with lights, so this could be a real winner for certain shoppers. 

It's also quite tall, measuring up to 42" in height. 

When not powered on, the mirror is still totally functional, sleek, and stylish. 
Cons: 
This is a pricier option, so may not work for those on a tight budget.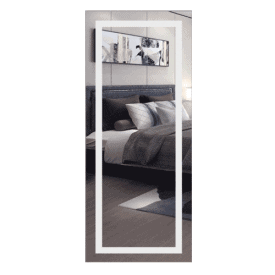 The QiMH LED Vanity Mirror provides bright, clear light so you get the best view possible.
Best Wall Mount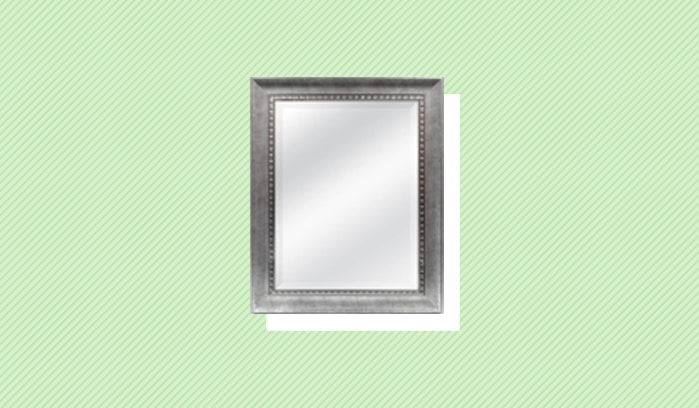 MCS Slope Mirror
Small, Compact, and Easy to Install
If you don't need a full-length mirror, you may want to take a look at this model from MCS. It features a classic rectangular look in either silver, walnut brown, or bronze. 
Pros: 
Tinier than a floor model, this mirror could work well for a smaller space. 

Additionally, this mirror could do well on a gallery wall or in a cluster of other mirrors. 

In general, this is a simple option for folks looking to snag a classic face mirror. 
Cons: 
If you need your mirror to reflect your entire body, this isn't going to be the one for you.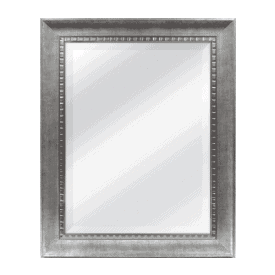 The MCS Slope Mirror is a simple option that will work well in smaller spaces.
How We Picked
Now that we've gone over my picks, let's chat a bit about the methodology used to select them. You can think of this section as a round-up of all the major factors you'll want to consider when shopping for a bedroom mirror of your own.
Size
One of the first things to think about when shopping for a bedroom mirror is the size you'd like it to be. You have a lot of options here, but the two most common ones are face mirrors that reflect from the chest up and full-length mirrors, which obviously reflect the entire body. Depending on how your bedroom is laid out and what other mirrors you already have on hand, one size may work better for you than another.
As with any decor object, bedroom mirrors always have their dimensions listed in the "details" section of the product listing. Scope out the measurements to make sure they'll work in your space!
Mount
Next, you'll want to think about how you're going to mount your mirror. Will it stand on the floor and rest against the wall? Will you hang it by a nail? Are you looking to drill it directly into a surface? Considering these needs will determine the kind of mirror you buy and the sorts of support you'll need along with it.
There's no right or wrong answer here, you'll just want to make sure you get everything sorted before clicking buy. Otherwise, you may not be able to use the mirror in your space! If you're concerned about the stability of a potential mirror, check out the user comments to see what folks are saying about its set-up.
Shape
If you're a style snob or simply concerned with the specific aesthetics of your bedroom, the shape of your mirror could be an important consideration for you. Popular shapes include circles, ovals, squares, and rectangles. The shape you choose is up to you and there are plenty of options for all of them.
One thing I will note is that if you want a floor or full-length mirror, you'll almost always have to settle for a rectangular shaped model. You can find oblong or oval-shaped ones, but they tend to be more expensive.
Extra Features
If you'd like your bedroom mirror to do a little more for you than simply reflect back your gorgeous exterior, you may want to keep your eyes peeled for special features. If you want a true "vanity" experience, you'll definitely want to snag a mirror outfitted with LED backlighting. That way, it'll be easier for you to do spot checks, apply make-up, shave, or do anything else that requires a little bit more precision.
Sleepopolis Tips
Still not sure how to find the bedroom mirror of your dreams? No worries! Feel free to avail yourself of these expert tips to improve your search.
As the old saying goes, measure twice, buy once! It's crucial to make sure you've actually got room for your mirror before you buy it.
Pay attention to how your mirror is going to be supported. Buying a flimsy model could cause you big headaches in the long run, so make sure there's either a standing bar, sturdy wire, or some other design mechanization to hold your mirror in place.
Some mirrors come ready-to-use out of the box while others require installation. Make sure to read the fine print beforehand so you know exactly how much assembly is required.
FAQs
Is it good to have a mirror in your bedroom?
Absolutely! Keeping a mirror in your bedroom can help with getting ready in the morning or simply elongate the look of your room.
How much does a full-body mirror cost?
A full-body mirror will generally cost between $100 and $200. Of course, there's a lot of variability on the market, so you should be able to find something within your budget.
Wrapping Up
Well folks, that does it for this guide to the best bedroom mirrors. When looking for one of your own, remember to consider shape, set-up, and style. That way, you'll be able to land on one that's 100% right for you and your bedroom needs.