For many people, coffee is a way of life; the first thing you need in the morning to get going, the perfect endpoint of a great meal, or that little something extra to get you over the hump in the afternoon. As more and more options become available in terms of beans and ways to brew coffee, the options are also expanding for coffee filters. With the rise in environmental consciousness, the idea of creating waste with a never-ending amount of paper filters is becoming a thing of the past.
No matter how you choose to brew coffee, selecting a reusable filter can not only help limit the amount of waste you produce, but it can save you money in the long run. Made from different materials and uniquely designed, each filter presents a different application and opportunity. Here are some of our favorite coffee filters for brewing that perfect pot.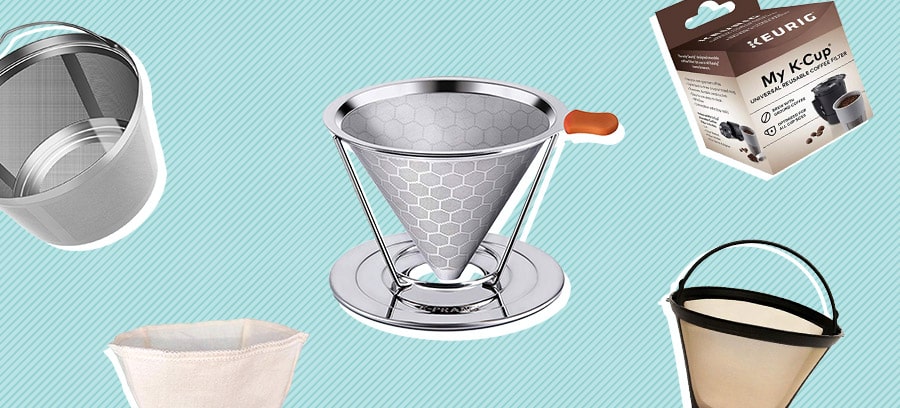 Editor's Pick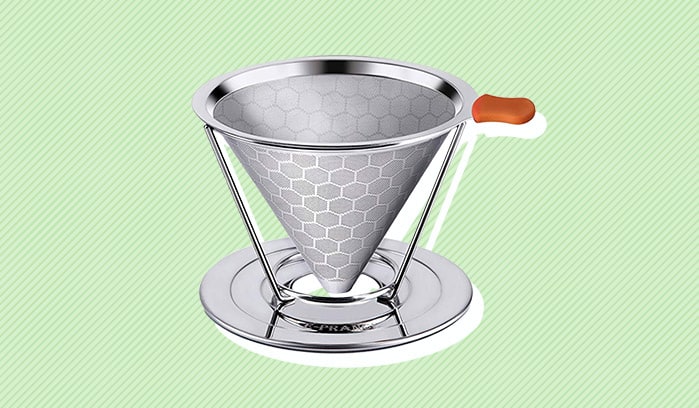 E-PRANCE Honeycombed Stainless Steel Coffee Filter
Pros:
The filter's stainless steel build is perfect for coffee, and its stylish honeycomb design makes it an accent piece in your kitchen.
The filter and stand can be used for pour-over coffee directly into your mug, or in a coffee pot or carafe for serving; its rolled lip ensures that it's held in place while you brew.
The filter's silicone handle ensures that you don't burn your hand while removing it after your coffee is made.
Cons:
Over time, if you're using finely ground or espresso-grade coffee, the filter can start to get backed up with particulate (especially if not properly cleaned), which can lead to extra-slow brewing.
E-PRANCE Honeycombed Stainless Steel Coffee Filter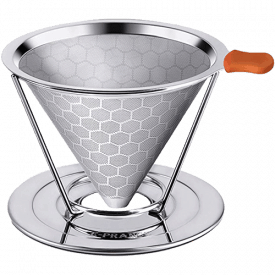 E-PRANCE Honeycombed Stainless Steel Coffee Filter Whether you're brewing a full pot or an individual cup, this stainless steel coffee filter with a separate holder makes it as easy and efficient as possible. Made of thin, restaurant-grade steel mesh, the filter controls the seep speed of the coffee to provide a quality brew. The filter holder has a rolled lip on its edge to hold it in place over a mug or carafe, and its heat-proof silicone handle allows you to pick it up without burning your hand. Cleaning is quick and easy using the included brush, making it a great option for ditching paper filters for good.
Sleepopolis Score
4.60 / 5
Top Contender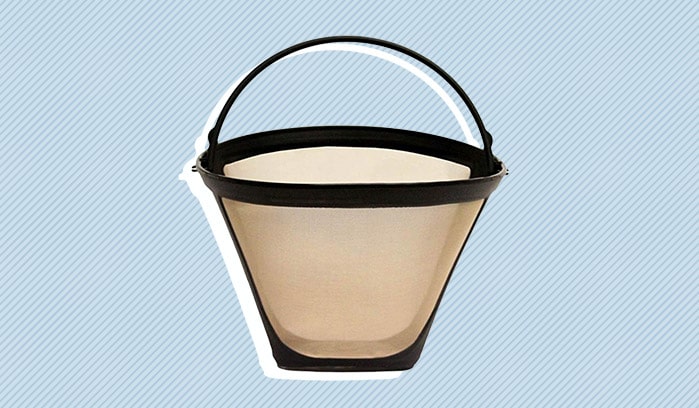 GoldTone Cone Style Coffee Filter
Pros:
Universal, conic design can fit multiple filter holders and even works in certain brands of coffee maker.
Simple to clean under running water and dishwasher safe.
Fine steel mesh design controls coffee drip to brew great-tasting coffee quickly.
Cons:
The build quality of the filter can be a little flimsy, especially the plastic handle at the top.
GoldTone Cone Style Coffee Filter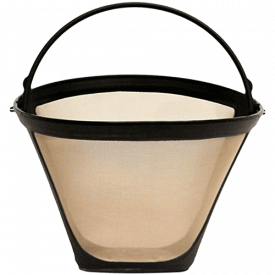 Made to fit a standard, cone-style coffee filter holder, this no-frills mesh filter provides a great brew at one of the lowest price points in the category. With an ultra-thin mesh made of surgical-grade steel, the filter provides a steady drip perfect for brewing coffee at the right intensity (not too strong, not too weak). The filter can be cleaned by running it under water, or it can be cleaned in a dishwasher. This filter can also be used with multiple brands of coffee maker.
Sleepopolis Score
4.50 / 5
Best Coffee Filter for a Coffee Maker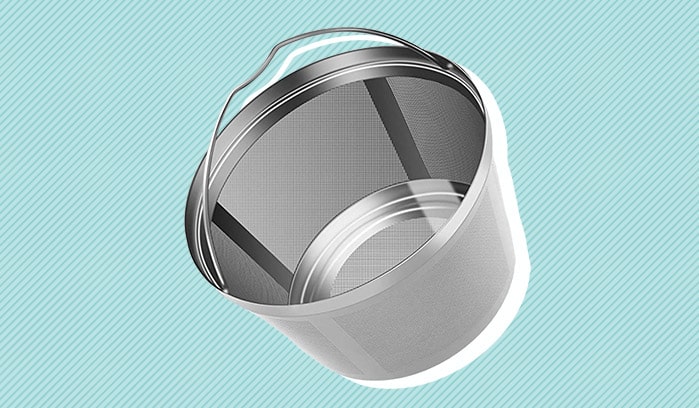 YEOSEN Reusable Coffee Filter
Pros:
The near-universal basket design can fit a host of major-brand coffee makers including Mr. Coffee and Black & Decker.
The filter is easy to clean and dishwasher safe.
Stainless steel design is not only rust-proof, but BPA-free which won't affect the flavor or safety of the coffee.
Cons:
The basket design is made for many standard-sized filters, but it may not fit all basket-style coffee makers; it's important to double-check sizing before purchasing.
YEOSEN Reusable Coffee Filter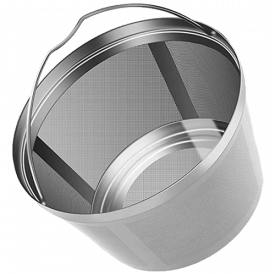 This basket-style reusable filter is perfect for replacing paper filters in many major-brand 8-12-cup coffee makers. The filter is made of stainless, sturdy steel that is both rust-proof and dishwasher safe for easy cleaning. The steel is also great for use in a coffee maker because it avoids any risk of BPA contamination as the machine heats up, which can be a risk in some plastic filters. The filter is able to handle grounds of varying coarseness from espresso to large granules, so you're sure to brew a great pot. 
Sleepopolis Score
4.50 / 5
Best K-Cup Coffee Filter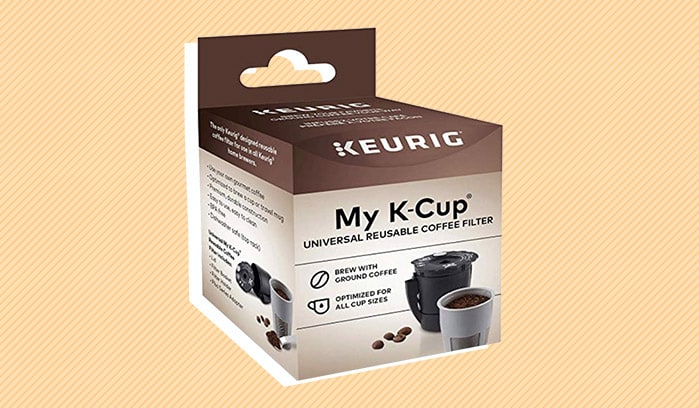 Keurig My K-Cup Universal Reusable K-Cup Pod Coffee Filter
Pros:
Keurig-approved reusable filters fit most models of Keurig coffee makers.
The filter has two fill lines so you can control the intensity of the cup you make.
The filter is easy to clean, dishwasher safe, and BPA free.
Cons:
Though this filter is made for most Keurigs, earlier models of the machines may not be able to accommodate them, so be sure to double-check compatibility before purchasing.
Keurig My K-Cup Universal Reusable K-Cup Pod Coffee Filter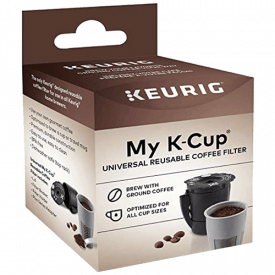 One of the biggest criticisms of Keurig coffee makers is how wasteful they are; those non-biodegradable, single-use pods are not a great option for those looking to be environmentally conscious. There is a better way! The My K-Cup is the only Keurig-approved reusable pod, and it's designed to fit most makes and models of the machine. Fill it up with your favorite coffee and you're all set; enjoy the convenience of Keurig without the waste.
Sleepopolis Score
4.30 / 5
Best Cloth Coffee Filter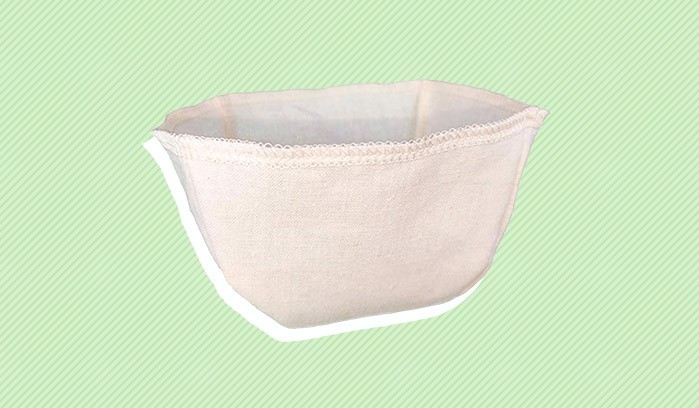 Pinyon Cloth Reusable Basket Coffee Filter
Pros:
These filters come in six distinct sizes, so you're able to match up your coffee maker or coffee filter holder with the right-sized filter.
The all-natural cloth material doesn't affect coffee flavor like some metal or plastic reusable filters.
The filters can be easily cleaned with running water and deep cleaned with boiling water.
Cons:
Unlike steel mesh filters, the lack of a structural underpinning in the cloth can cause the filter to fold down and potentially spill grounds.
Pinyon Cloth Reusable Basket Coffee Filter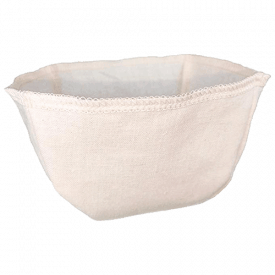 With six different sizes to fit any style of coffee maker or pour-over filter holder, these soft filters are a great, natural replacement for standard paper filters. The filters are made from 55% hemp and 45% organic cotton, and can be cleaned easily with a rinse in the sink or deep cleaned in boiling water. The cloth material filters the coffee grounds efficiently while reducing leftover sediment that can remain in some steel mesh filters.
Sleepopolis Score
4.60 / 5
How We Picked the Best Coffee Filters
Between pour-over coffee and the wide swath of coffee makers on the market, there are dozens of applications for coffee filters. And with different materials and styles of filters, it can be hard to narrow down which ones offer the best bang for your buck. Overall, we felt that reusable coffee filters were the way to go across the board; not only do they reduce your environmental impact, but they brew coffee just as well, if not better, than traditional paper filters. And, over time, reusable filters are significantly more cost-effective compared to disposable options.
When determining the best reusable coffee filters, here were some of the considerations we made across the whole category.
Form Factor and Build Quality
When we talk about ease of use in coffee filters, it mainly speaks to the unit's form factor. There are a number of coffee filters made of a pliable material that can fold or bend when you're brewing coffee, which can not only cause a mess, but can ruin the coffee you're making with loose grounds. We tended to favor filters that felt sturdy, or fit into filter holders snugly to take away the inconvenience of leaks and messes. Similarly, we also liked filters that could be handled easily when hot to avoid any potential burn risks.
Filter Size Options
There are a number of size options available for coffee filters, from basket-style designs to conic units and more. Having a filter that comes in the size you need was key; there's no use in investing in a reusable filter if it doesn't work with your coffee maker or pot. That said some filters are made in a more universal size that are more compatible with more devices, and we took that into account as we were developing our list.
Ease of Cleaning
Coffee filters that are inconvenient to clean are incredibly frustrating. Having to go through a long process every day before you make coffee makes you regret the decision to switch over to a reusable unit. Not only that, but over time filters that are difficult to clean can develop layers of grounds caked into the unit which can cause brewing time to take forever. We liked filters that were intuitive to clean in your sink, and often dishwasher safe.
Tips for Choosing the Best Coffee Filter
It should go without saying that first and foremost in deciding on a coffee filter should be matching it to the coffee maker you use. If you have a pour-over unit, select a filter that fits, and likewise for an automatic coffee maker; you shouldn't reverse engineer it and decide on a filter before choosing how to brew your coffee. That said, there are some other things to consider when picking the best filter for you:
Type of Coffee You Brew:

Do you brew really finely ground espresso? Or are you more of a larger grounds type of person? Certain coffee filters can accommodate different types of coffee better than others. For example, a more densely wound cloth filter might not be the best option for espresso, as it can increase brew times in coffee, while a wider mesh will do a better job and have an easier cleanup.

The Presence of Plastic:

This tip is mainly for those using electric coffee makers. Some machines can run hot, which is a potential health hazard when it comes to plastic-made reusable coffee filters. If you know that your coffee maker has the risk of running hot, be sure to get a coffee filter that doesn't run the risk of leaching BPA or any other harmful substances into your coffee. If you're worried that it could be a hazard, opt for an all-metal or cloth filter.
Recapping the Best Coffee Filters
Investing in a reusable coffee filter is one of the easiest decisions to make if you're an everyday coffee drinker. They're often affordable units that begin saving you money after just a few uses. Not only that, but it helps lower the amount of waste you produce and, if you've been previously relying on bleached paper coffee filters, it can potentially make your coffee taste better. They're win-win-win investments where, once you make the switch, you'll wonder why you hadn't sooner.
FAQs
What can you use in place of a coffee filter?
If you run out of paper coffee filters or if your reusable filter is broken and you need coffee in a hurry, paper towels or napkins can be used in a pinch. Just form the paper towel in the shape of your coffee maker or pour-over coffee unit and fill it up with grounds. You may get some grounds in the coffee, but bad coffee is better than no coffee, right?
What are the best coffee filters?
The answer to this question will largely vary based on the kind of coffee you brew. That said, some of the leading brands producing high-quality reusable coffee filters are GoldTone, E-PRANCE, Kavako, and many more.
What does a coffee filter do?
Coffee filters are used to contain coffee grounds while water seeps through them to make coffee. Using a coffee filter removes grounds and other particulates from getting in your drink so it stays smooth and all liquid. Coffee filters also work to submerge the grounds for a short period of time which warms the grounds enough for aromas to bloom and give you a more expressive and fragrant taste in your drink.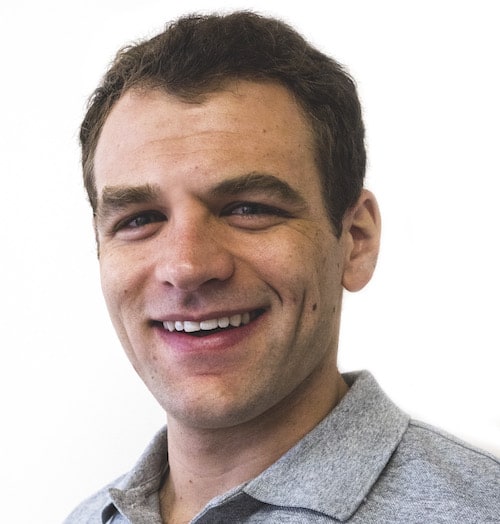 Logan Block
Logan is the former content director of Sleepopolis. As content director, he reviewed new mattresses every week and curated the comparisons, best of pages, and video guides on the site. Logan perfected his method by personally testing over 200 different mattresses, so he's not only able to discern the overall vibe of a specific bed, but to contextualize its feel within the bed-in-a-box market as a whole.