Coffee can be a wonderful way to start the day. The aroma is familiar and fragrant; the flavors vary from rich and bold to sweet and subdued. While everyone has a favorite coffee shop, it is much more convenient and economical to brew coffee at home. Not only will the coffee be made exactly to the specifications preferred by the brewer, but it can be made at any time – sometimes with little more effort than rolling out of bed.
Choosing which coffee maker to purchase can be somewhat of a challenge, however. Many home coffee makers lack some features that really make brewing at home more enjoyable and relatively turnkey. While the range of prices can vary widely, the benefits of each product tend to depend on the needs of the customer. With that in mind, we gave a look at some of the more popular coffee makers available; here is what we learned: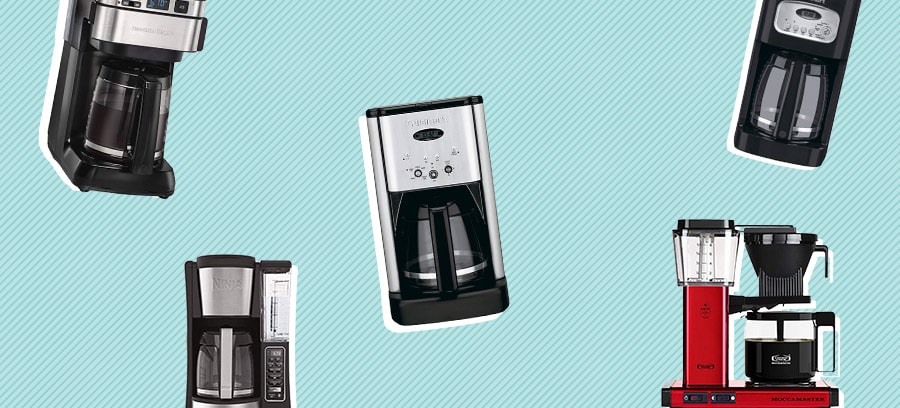 Editor's Choice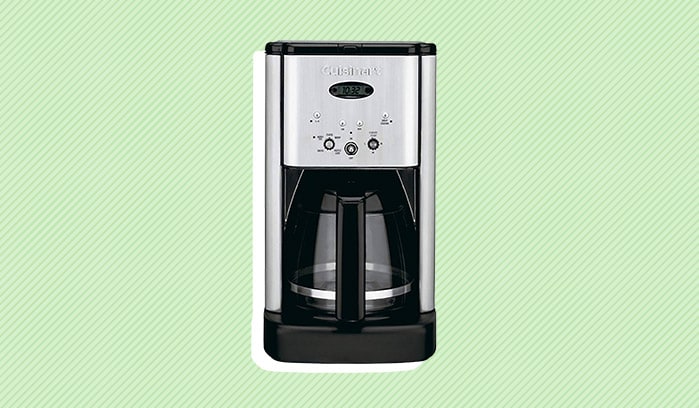 Cuisinart DCC-1200 Brew Central Programmable Coffeemaker
Pros: 
Charcoal water filter. Cuisinart uses charcoal filters to clean water that is used for coffee. This is great for those using tap water from old pipes or far-away water sources.

Adjustable warming plate. The plate that rests under the coffee pot and warms the coffee as it is brewed can be adjusted with this product. It can be toggled between low, medium, and high.

Design. This coffee maker has a handsome design that can accommodate many different kitchen decors. It is available in stainless steel, black stainless steel, brushed chrome, red, metallic red, copper, silver, and umber.
Cons: 
Clock not illuminated. The clock displaying the time has no backlighting, so it can be difficult to see unless there is ample light in the kitchen.

Loud beeps. This coffee maker signals when the coffee is done by emitting several loud "beeping" noises. While this can be a useful quality, it can disturb a household, especially if coffee is made on a timer at an early hour.
The Contender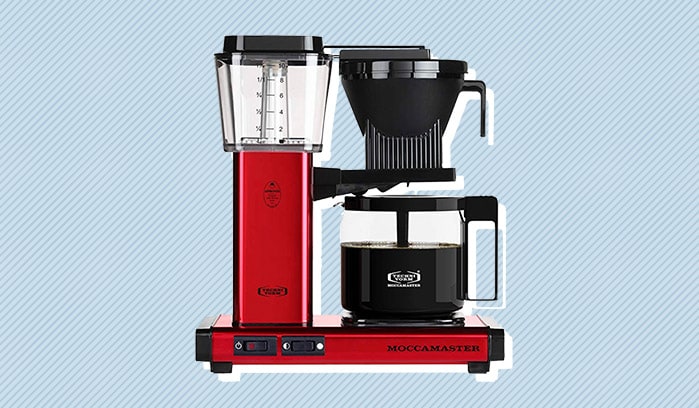 Technivorm Moccamaster 59618 KBG Coffee Brewer
Pros:
29 different colors. This coffee maker can be purchased in one of 29 different colors. With a whole spectrum of options. The butter yellow and pink versions have a nice vintage vibe to them, while matte black, satin, and truffle colorings look more professional.

No pump. While many coffee makers employ the use of a pump to steam water after it has been warmed, this machine uses a copper coil to warm the water. As the water boils, it rises up through a glass tube and is dribbled out over the coffee, allowing a slower brew to bring out more flavors (a process called blooming) than pumped steam would provide. 

5 year warranty. This product is designed to last a long time. The manufacturer will replace the product in case of any mechanical failure, provided it has been well-maintained.
Cons:
Carafes expensive to replace. The carafes used with this coffee maker are rather thin and can break upon contact with a hard object. Though it is thin to help conduct heat, a replacement will cost as much as some coffee makers.

Cost. This machine costs hundreds of dollars. It is one of the more dependable and popular coffee makers, but the value won't be appreciated by all customers.
Best Bargain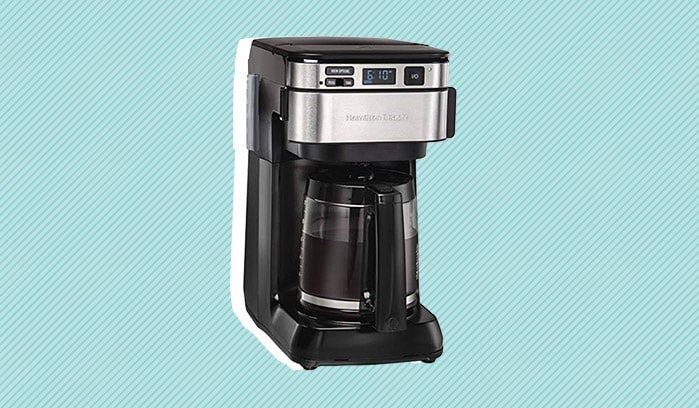 Hamilton Beach Programmable Coffee Maker
Pros: 
Water window. A nice aspect of the design of this coffee maker is that there is a clear window on the side of the unit that shows how much water has been poured. This is great for those who casually fill water and don't measure before brewing coffee.

Easy access. This coffee maker not only has its input for water located at the top and front of the product, but the coffee filter basket swings out in front of the machine. This lets users house the coffee maker under cabinets while still allowing access.

Value. This is a well-functioning coffee maker that is one of the more affordable options available. Even the more recent deluxe version can be found for less than many near competitors.
Cons: 
Non-thermal carafe. The coffee is heated and warmed in a non-thermal, glass-only carafe. This doesn't keep coffee as warm as the thermal carafes that other products feature.

Settings reset when unplugged. All settings go back to their factory standards when the machine is unplugged or if there is a power outage. This makes cleaning it inconvenient.
Best 10 Cup Coffee Maker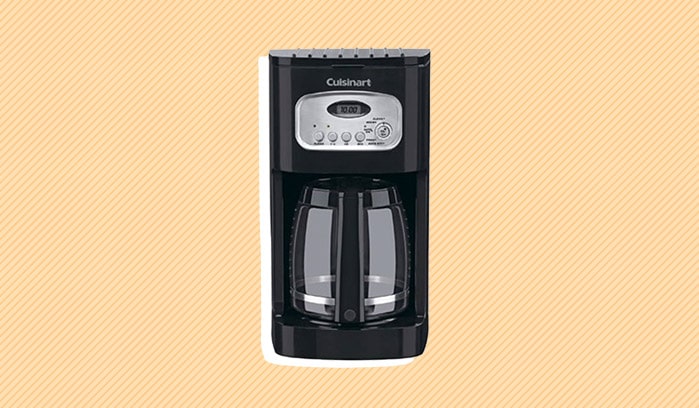 Cuisinart DCC-1100BK Programmable Coffeemaker
Pros: 
Knuckle guard. The coffee pot included with this coffee maker has a thick plastic knuckle guard that helps prevent an unsuspecting digit from accidentally coming into contact with a hot pot during use. 

Brew pause. Cuisinart has a nice feature with some of its coffee makers where it allows users to pause a brew midway through operation. This allows users to have a cup of coffee while the rest of the pot is still brewing.

60 second reset. This machine saves its settings for about a minute when shut off. This is great for mitigating against power outages.
Cons: 
Hard to pour when full. The coffee pot lid can make it a bit difficult for users to pour when the pot is full. In order to avoid spills, it is advised to pour slowly.

Filter may not be big enough for 12 cups

. For those trying to prepare twelve cups of full-strength coffee, it may soon become clear that the filter is close to being filled all the way to the brim.
Easiest to Use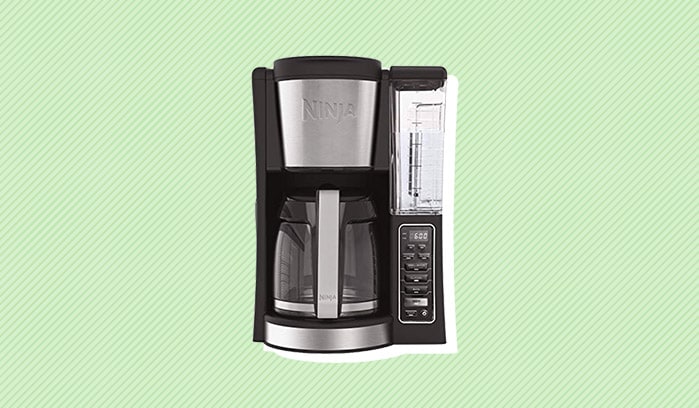 Ninja 12-Cup Programmable Coffee Maker
Pros: 
Includes permanent filter. Coffee drinkers may be familiar with the non-paper coffee filters that are meant to be cleaned in between uses. This product comes with a non-perishable, permanent filter so users will no longer have to run to the store when the paper filters run out.

Water reservoir. This coffee maker has a removable water reservoir for easy access and less spilling. Users can take the water reservoir straight to the faucet for accurate filling.

Flavor straw. The carafe for this coffee maker uses a "flavor straw". This vertical rod helps the freshly brewed coffee spread throughout the pot as it is made, helping keep flavors fresh and consistent.
Cons:
Carafe can break easily. Users are advised to be careful when cleaning the carafe; it can break when impacting hard surfaces, like kitchen counters and other glassware.

Coffee drips when carafe is moved. While this product is advertised as having "brew pause" functionality, sometimes coffee continues dripping a tad when the carafe is moved from the warming plate.
How We Picked
Coffee makers can be a great addition to any kitchen or office setting; they can also be extremely frustrating if they aren't meeting expectations or suffer from unexpected malfunctions. The range of features that can be found across various types of coffee makers can enhance the user experience in many ways. Here are the qualities we looked at when making our evaluations:
Auto-shutoff
While auto-shutoff may seem like a standard feature, not all coffee makers on the market feature this ability. Not only is it a way to keep households safer, but it can preserve energy and elongate the life of the equipment. Auto-shutoff usually happens automatically after about two or four hours.
Some of the more advanced products on the market have programmable shutoff technology. These allow users to set their coffee maker to turn off after a certain amount of time. For those with automatic brew timing, this feature is a nice complement.
Style
Coffee makers traditionally come in white or black, but also sometimes silver. These colors are meant to blend in with most kitchen decors without standing out. However, there are other options available for people looking to spruce up the vibes in their kitchen.
Several manufacturers are making coffee makers that are available in bright colors. These can be in matte finish or can be shiney. The one thing to consider when picking out a vibrantly colored coffee maker is that they may show wear-and-tear and general kitchen grime more so than a darker-colored unit.
Heat
The manner in which the coffee is first heated and then stays warm can change the experience for the user. While some coffee makers heat the water and steam it through the grinds, others use a drip system. These manufacturers claim that this allows the coffee to bloom, meaning it has a more extended chance to express its flavor.
As for heating plates that keep a coffee carafe warm, these can be programmed to turn off at a specified time with some products. Some manufacturers allow the warming plates to be adjusted for different temperatures. This is great for those who prefer their coffee to be resting at the same temperature or cooler than its brewing temperature. 
Tips
Not sure which coffee maker is right for you? Before making your purchase, take a moment to consider the following questions:
How much coffee do you like to have? 

Home coffee makers can be a great asset to those who like to enjoy more than a few cups of coffee during a day. A single carafe can typically hold 10-12 cups from a single brew.

If you aren't a big volume coffee drinker, it is advisable to get a coffee maker that makes smaller amounts of coffee. Some products have settings that brew one or a few cups at a time.

Are you tech savvy?

Programmable coffee makers have several features that can really enhance the coffee-making experience. However, some of these can be difficult to manage if the user is unfamiliar with the processes.

Most coffee makers come with instructions on how to program the auto-brew, auto-shutoff, and other features. Those who aren't great with technology can read these manuals or find extra help online.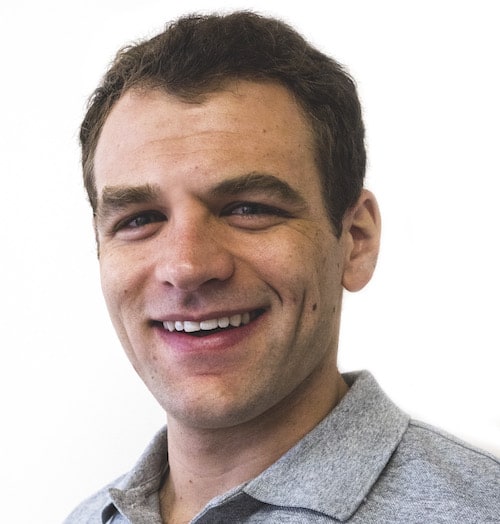 Logan Block
Logan is the former content director of Sleepopolis. As content director, he reviewed new mattresses every week and curated the comparisons, best of pages, and video guides on the site. Logan perfected his method by personally testing over 200 different mattresses, so he's not only able to discern the overall vibe of a specific bed, but to contextualize its feel within the bed-in-a-box market as a whole.