When it is steaming hot outside or you just don't have time to wait for your coffee to brew at home, it is nice to have the convenience and refreshing taste of cold brew. Cold brewing coffee amounts to steeping the coffee grounds in cold or room temperature water for long periods.
Because the coffee grounds never make contact with hot water, its flavor profile is distinct. There are a lot of different cold brews on the market, both from familiar coffee brands and from promising newcomers. In order to make sense of all the options, we took the leading products on the market and measured them against each other. Here's what we found: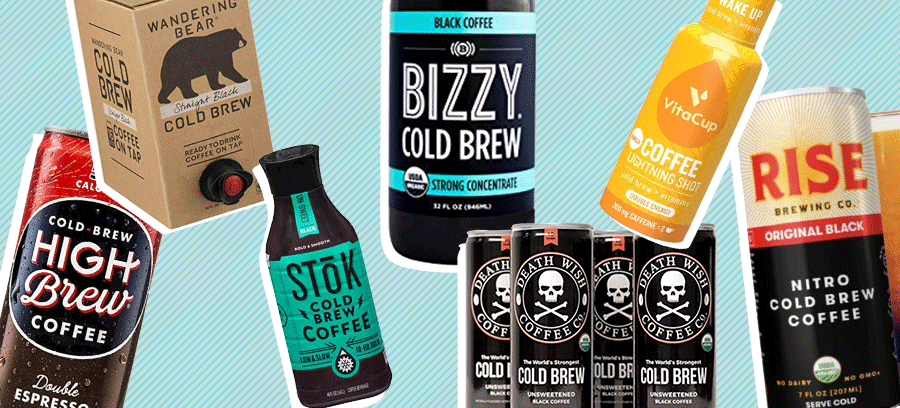 Editors Choice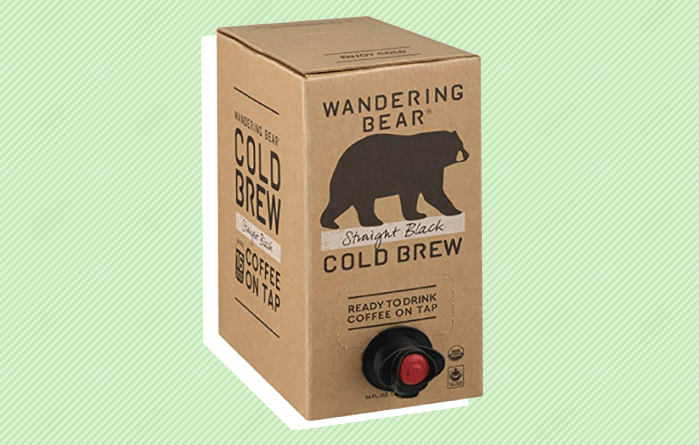 Wandering Bear Organic Cold Brew Coffee, Straight Black
Pros:
Tap. One of the features that sets this brand apart is the tap in front of the box. For a user that often likes to take their coffee on the go (like this reviewer) this proved extremely convenient with easy access right out of the fridge
Strength. Wandering Bear Cold Brew provides 150mg of caffeine per cup. Many brands sit at less than 100 mg
Storage. This product conveniently does not need refrigeration after purchase. For someone hoping to store up for with one bulk purchase, the cubic shape and ability to store at room storage makes this cold brew ideal. Perfect for offices and large organizations
Cons:
Mild flavor. Though its taste had all the cold brew characteristics someone typically expects, the flavor didn't hint very strongly at secondary notes (note Wandering Bear does offer additional flavors if interested)
Also Consider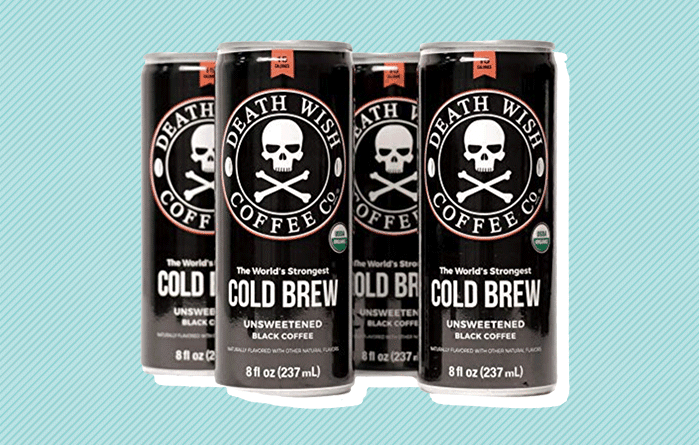 Death Wish Cold Brew
Pros:
Strength: 300mg per can of caffeine definitely makes Death Wish one of the stronger coffees on the market. This is a great choice for those who need extra caffeine in the morning or an energy jolt at night
Can Design. Because of their smaller size (8 oz) compared to many competitors, these short and hand-sized cans are easy to store and fit into most compartments in a refrigerator
Unique Blend. Death Wish uses a blend of roasted Arabica and Robusta beans – both of which are Free Trade and USDA Certified Organic.
Cons:
Price. At a price point nearing $15 for 4 cans, each Death Wish cold brew clocks in at $3.75 each. For those on a budget and those that drink a lot of coffee, this adds up
Sweetened Version. While some users may enjoy the Slightly Sweetened Black, this reviewer found the drink not as tasty as other 3rd party sweeteners I could have added myself
Best Bargain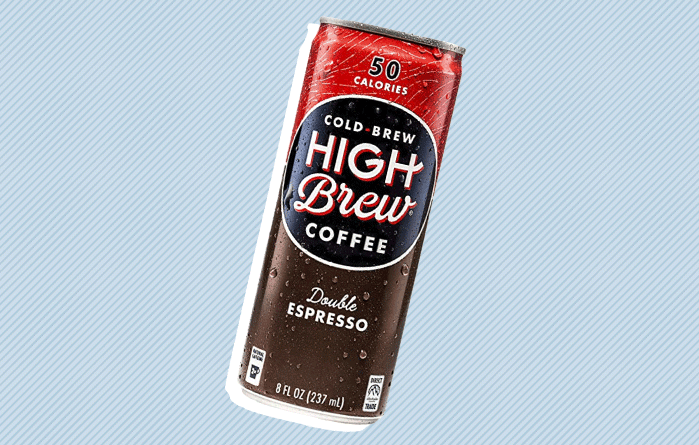 High Brew Coffee Double Espresso
Pros:
Ready to go. All of High Brew's products have a small amount of sugar and milk added, perfect for people who don't always have milk or spare packets of sugar around
Taste. This reviewer found the taste smooth, rich, and easy on my stomach
Price. These 12-can sets are sold for less than $2 a can, a very competitive price compared to various other brands
Cons:
Additives. Dairy and pure cane sugar are not for everyone. If you are trying to avoid these additives or would rather add them yourself, this may not be the product for you
Aftertaste. While the experience of drinking a can was enjoyable, this user discovered a distinct aftertaste lingering after the drink was done
Contender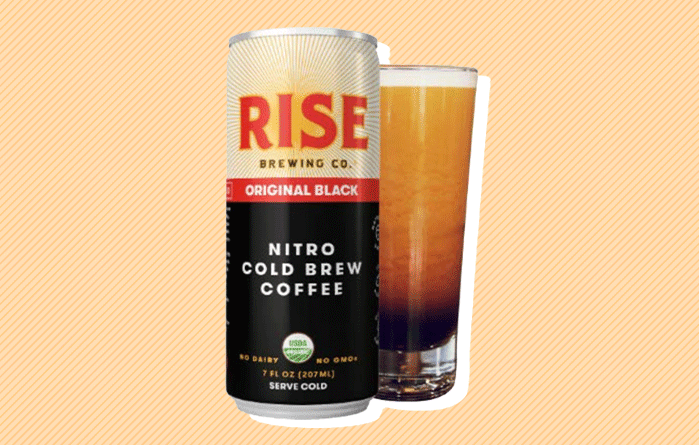 RISE Brewing Co. Nitro Cold Brew Coffee
Pros:
Convenience. The cans are slim and fit easily in a fridge. For someone hoping to take an item on the go or to serve to several guests at once, these cans are quick and easy to access.
Variety. RISE offers a wide array of flavors, either separate or all in one case: Original Black, Oat Milk Latte, Classic Latte, Mocha Latte, Blood Orange, and Lemonade
Bold flavor. The rich chocolatey undertones featured in the Original Black make for a great base flavor for the other varieties
Cons:
Strange flavors. Though it was fun to try all of the flavors, the two citrus options are ones that I would pass on in the future
Dairy. Some of the flavors have dairy as an ingredient, so those who are avoiding dairy yet would still enjoy the variety pack might be disappointed
Best Caffeine Shot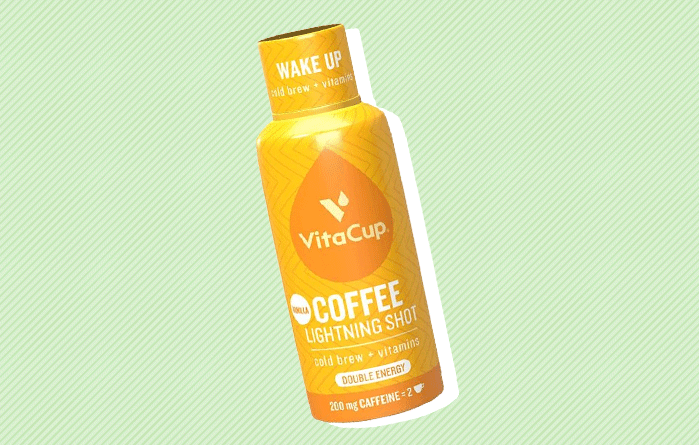 VitaCup Cold Brew Infused Coffee Shots
Pros:
Punch. Each of these shots contains 200 mg of caffeine. This is all in a 2.5 oz single serving – perfect for people wanting their caffeine in a hurry
Ease. These shots are made ready to go. These are great for on-the-go and running-late moments. Are very useful in a pinch
Vitamins. This product stands out against several competitors with its infusion of D3, B1, B5, B6, B9, and B12 vitamins
Cons:
Taste. While only needing to sip a 2.5 oz serving, it certainly wasn't the most distinct or tasty drink on the market
Value. A six-pack costs just under $14. For someone who needs caffeine more than once a day, they may run through a six-pack quite quickly
Best Strong Brew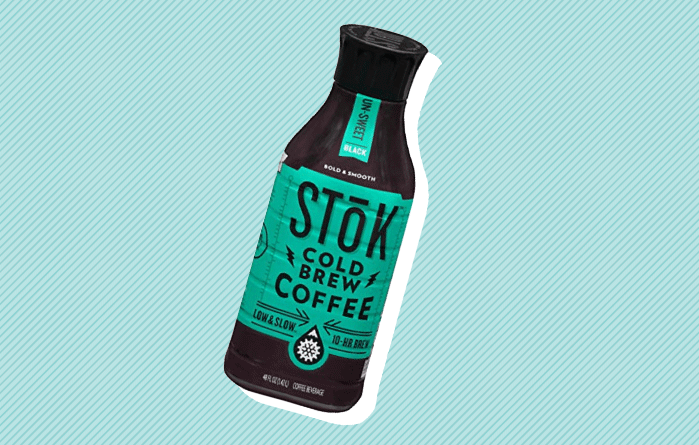 SToK Cold Brew Coffee
Pros:
Price. With per oz cost of only ten cents, this product is perfect for those shopping on a budget or for an event with lots of coffee drinkers
Clean taste. This company doesn't try too hard with its flavors – the ones it features are simple and go well with the base unsweetened cold brew
Strength. The large 48 oz bottles contain 95 mg of caffeine per serving, more than most hot-brewed coffee
Cons:
Natural flavors. Some shoppers are looking for items with the least amount of ingredients; SToK cold brew has added natural flavors
Simplicity. This is a standard cold brew without strong additional notes, so the fragrance and taste aren't always going to satisfy people who like cold brew with strong coffee characteristics
Best for the Office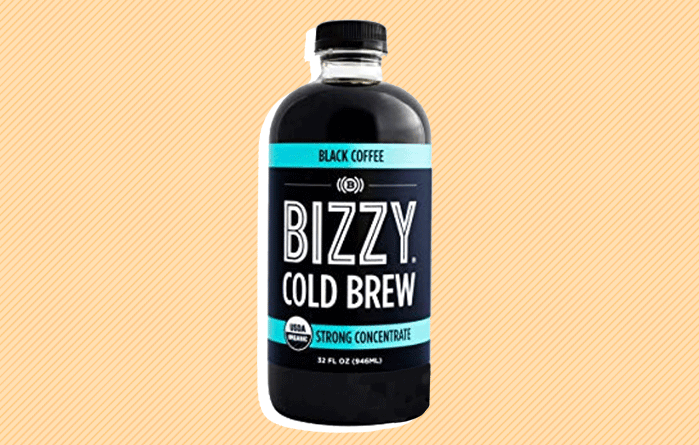 Bizzy Cold Brew Concentrate
Pros:
Adaptable. This drink is perfect for a family or office with different tastes. This drink can be served with hot or cold water, or even with just ice
No additives. Unlike some competitors, this product has no additives, boasting only two ingredients; water and organic roasted Arabica cold brew
Flavor. The taste is pleasant but not overpowering. It is great for no-frills everyday use
Cons:
Consistency. Due to the need for most users to combine the concentrate with a precise amount of water or ice, this drink sometimes tastes different between uses
Mess. Whenever mixing one drink with another, there is always a chance of spilling some of the liquids. In a professional or home setting this may necessitate extra attention to tidying the kitchen counter
How We Picked
Coffee comes in many different shapes, sizes, flavors, and temperatures – and cold brewed coffee is no different. With people opting to try cold brew for various reasons, such as strength, taste, convenience, and value, each of these products might check off different boxes for different people. When evaluating these different brands, I kept in mind the overall package while evaluating some of the measures below:
Taste – While the cold brewing process inherently makes coffee less acidic, it doesn't mean that the acidity, bitterness, and boldness of the various brands did not differ per product. It is important to note the different types of coffee beans used, typically Arabica and Robusta. Some products contain vitamin supplements and other natural flavors. Depending on your needs and tastes, each product offers something different. Brands that offer cold brew that is consumable warm, like concentrate, are another option.
Strength – Cold brew doesn't necessarily have more caffeine per serving than other coffees, but many brands calibrate their caffeine dosage to particular audiences. People who enjoy consuming coffee and cold brews more slowly and routinely may have different routines than others who need quick bursts of caffeine or prefer having it all at once. Ranging from 50 mg all the way to 300 mg, there is a wide range of caffeine-per-serving options available
Ease of Use – Coffee consumption can be part of a daily ritual or can be thought of as a convenience. Some of the products on offer require adding ice, adding water, or the use of your own serving cup. The products that are self-contained and easy to store in the fridge may have an advantage over ones that require an extra step. But if your major need is to have easy home or office access, or for multiple people, there are options that are more convenient, such as large bottles or cold brew straight from a tap.
Flavors – Several of the brands offer a wide range of tastes, varying from varieties of milk and nut milk, chocolate, vanilla, and citrus. These flavors can have a very distinctive taste (and aftertaste) that may put off some users. Some flavors are tasty the first time – by the 4th or 5th time you might be ready for a simpler taste. Variety packs are useful, and the bespoke style of unsweetened varieties may ultimately prove more valuable for large groups of people
Storage – Cold brew is by definition something that should probably be stored in a refrigerator. While everyone's home food storage is different, no one has unlimited kitchen or fridge space. Picking a cold brew that can easily be stored, easily accessed in your fridge, and easily stored in bulk may be a key factor when shopping for your home or office.
Price – Cold brewing is an industry with many entrants vying for different shares of the market. Some brands have a price point that matches budget shoppers, while other brands offer more upmarket products that suit selective coffee connoisseurs.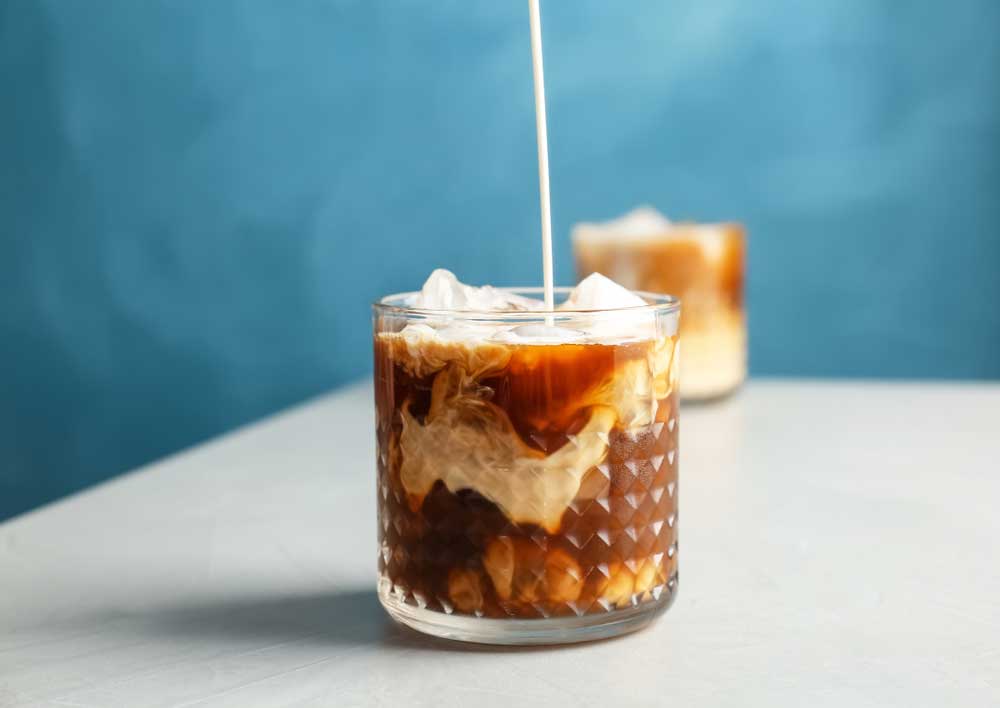 Sleepopolis Shopping Tips
Trying to decide the best cold brew for your home or office? Consider the following tips when making your choice:
Do you like to customize your coffee or cold brew? Various brands have products that are simply cold brew and other unflavored ingredients, while other offerings feature flavors or sweetness built into the product. If you are a person who likes to customize your taste or has specific dietary needs, perhaps a simple flavor with few ingredients might be something to look out for.
When are you going to use it? Some of the products on the market are advertised specifically for an on-the-go or quick access cold brews. Concentrate, on the other hand, requires mixing with cold water, hot water, or ice, so may not be as convenient or practical for all settings. Keeping in mind the convenience and time of preparation is key to making this decision for people with busy schedules.
Is this for just your or for an office or family? Variety, strength, storage, and ease of use are all factors in deciding which cold brew to get. Buying a variety pack may satiate various tastes in the office, while a large bottle may be convenient and thrifty for a family. Strong coffees with lots of caffeine may only be suitable to you and not your friends or family.
Price points can vary widely. Coffee is an everyday necessity for some people, and this can be reflected in one's bank account. While usually cheaper than buying coffee at a cafe, some brands on the market cost a few dollars per serving. Whether buying for a special occasion or in bulk, keep an eye on the price per oz.
What flavor is your favorite? Some people can't live without flavored, sweetened, and spruced up coffee – others take it black every time. Not every company offers black coffee, and others have flavors that test the range of coffee-based products. Sweetened and flavored varieties can be one person's favorite and put off the next. Variety packs or cold brews coming in smaller units may be the best way to find out.