While people may go to bed at vastly different times, read or watch material that is specific to them, and have their own personal process for winding down to bed, there is one thing that almost everyone does; brush their teeth. For some, going to bed without a thorough brushing is unfathomable. Having an electric toothbrush is a great way of ensuring a regulated and methodical cleaning every day.
Electric toothbrushes keep a brusher going until they have brushed for a pre-ordained amount of time, typically two minutes. While manufacturers have this in common, many have different ways in which they package, design, and power these products. We have sifted through the many offerings and evaluated some of the more popular ones. These are our findings: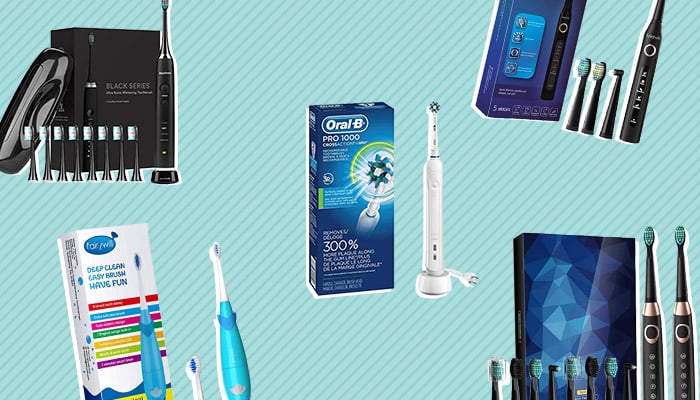 Editor's Choice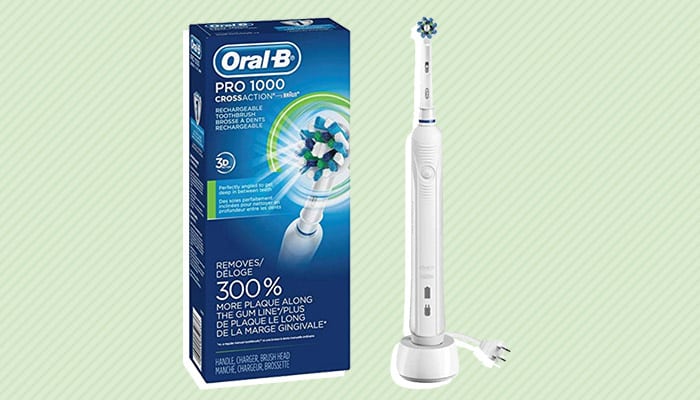 Oral-B White Pro 1000 Power Rechargeable Electric Toothbrush
Pros: 
Pressure sensor. This product from Oral-B helps users avoid applying too much pressure as they bruhs. It has a built-in pressure sensor that stops the motor when a threshold of pressure has been met.

Brush head options. There are several different brush heads that customers can choose from. This is a great way of accommodating a number of different dental needs.

30 second pulses. While using this brush, users will feel a pulse every 30 seconds on the way to the completion of the 2 minute timer. This is a nice landmark of your progress while brushing.
Cons:
Only one head included. This product only comes with one brush head. Users who want additional or alternate heads will need to make an additional purchase.

22 hours to charge. While it will only last 7 days of brushing twice a day on a full charge, it takes up to 22 hours to charge.
The Contender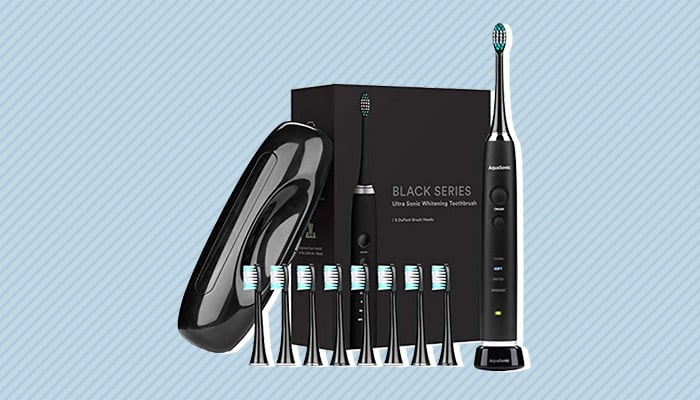 AquaSonic Black Series Ultra Whitening Toothbrush
Pros:
Travel case. This electric toothbrush comes with a convenient travel case that allows space for the brush and two brush heads. Great for long trips or short commutes.

4 weeks on full charge. If users use this brush twice daily for two minutes each time, it will last four weeks on a full charge.

8 heads included. This product comes with 8 brush heads in each kit. This offers users lots of brush heads to cycle through.
Cons:
No brush cover. This toothbrush manufacturer does not make a cover for the brush head while in use. This means users will have to cover in the travel case or make other arrangements.

Brush heads the same. Though 8 brush heads are included with every purchase, there is no variety between them. Those who don't agree with the included brush head are out of luck.
Best Bargain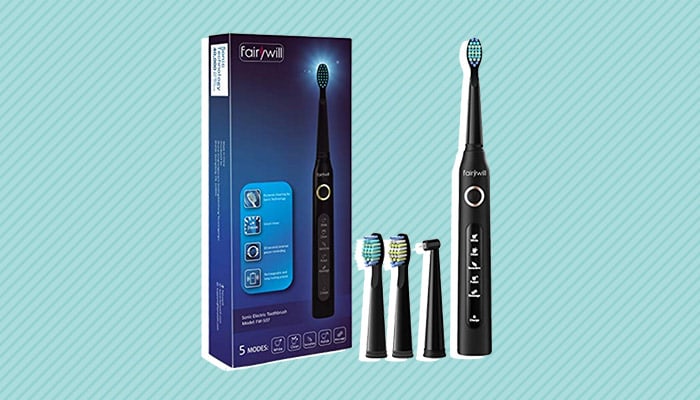 Fairywill Electric Toothbrush
Pros: 
5 modes. This toothbrush features five different modes for users to toggle between. Available are strong, medium, gentle, polish, and gum care.

Charges in four hours. While some electric toothbrushes take almost a day to fully charge, this one only takes four hours. Great for those travel often and need to ensure a full charge.

Affordable. Those looking for a cost-effective product may have found what they are looking for. This is one of the most affordable electric toothbrushes out there.
Cons: 
No wall adapter. While this product is conveniently charged via USB, it only includes a cord and not an adapter. Users will have to purchase that separately.

Has to be on its side while charging. The USB plug goes into the bottom of the toothbrush so it needs to lay on its side while charging. This can make it rest rather awkwardly on a sink.
Best Aesthetic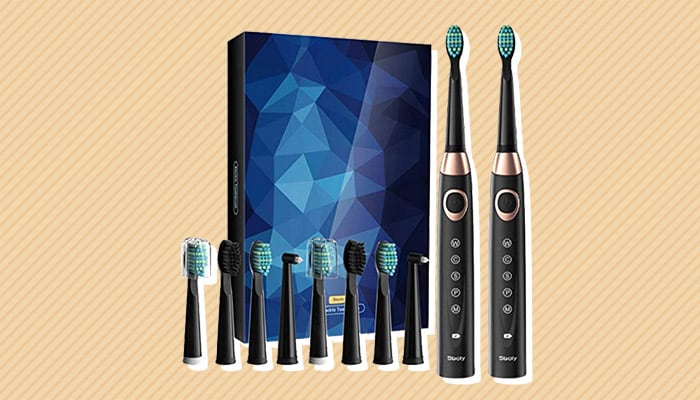 Sboly Electric Toothbrush
Pros: 
Two packs. Shoppers looking to buy for more than just one person can buy two-packs. They come both in black, black with pink, or black with white.

Pointy picks included. Included in this set are two "pointy picks." These canclean the areas between the teeth and can help when food is stuck there.

Brush head covers. This set includes 8 brush heads and two covers so each user can safely store their respective brush heads. Great for a couple or for a family that uses the same toothbrush.
Cons: 
Can only get colors in multipack. Though this company features pink and white toothbrushes, they can only be purchased when getting a multipack.

Too fast. While some customers may be looking for a more robust cleaning experience, some may find that the bristles move too quickly for their comfort level.
Best for Kids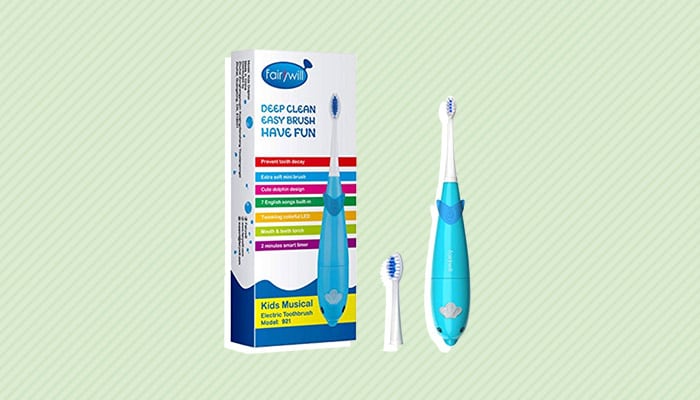 Fairywill Kids Musical Electric Toothbrush
Pros: 
7 songs. This toothbrush plays seven different kids songs while it vibrates. This can make the whole experience of brushing more enjoyable for children.

LED lights. A great feature of this toothbrush is that it has an array of differently colored and flashing LED lights. These are great for helping parents see more clearly in the mouth as they brush.

Dolphin shape. This line of toothbrushes is shaped (and colored) like a dolphin. This can make it more fun than adult brushes.
Cons: 
Can't play without songs. There isn't a way to have the toothbrush vibrate without playing the songs, so it may not age well as children grow.

Battery powered. While many toothbrushes of this ilk are charged with a wireless base or a USB plug, this one will require AA batteries.
How We Picked
Deciding on which electric toothbrush to get can be a hard process. Many of them look the same and offer many similar features. We had to look beyond appearances and see how the whole package stacked up when making our choices. Here is our methodology:
Charge
One of the main descriptive words for this type of product is electric. These brushes have small motors that power the oscillations that provide thorough teeth cleaning. Without their charge, these are little more than brushes and probably not as effective as manual brushes. That being said, most electric brushes can be easily charged wirelessly or through USB.
USB-charging is convenient for travel but usually requires additional purchases or for the customer to already have a USB power adapter. The amount of time it takes to charge a toothbrush is also something to look at. Some can be fully charged in a few hours, others take almost a full day. A full charge should last at least a week if not more of brushing, but some discrepancies between brands can be wide.
Kit
A very basic electric toothbrush set has a few pieces that are essentially required. The toothbrush, a brush head, and a way to power the toothbrush. Though this may be enough for some, there are many more manufacturers that create kits with more to offer.
Some sets have multiple brush heads, some all the same to ensure a steady supply, while others include different types of brush heads to accommodate different dental needs. Brands that have travel cases make a compelling case for those who commute or travel often. Another option to consider is a set that includes multiple toothbrushes, as this can help outfit multiple members of a family.
Modes 
A rudimentary electric toothbrush will typically only have one mode. This doesn't mean it won't have a timer or send reminders when an allotted time as passed to help users keep the progress of their brushing session. However, those with acute needs or just wanting to have more options can opt for an electric toothbrush with multiple modes to choose from.
Commonly found with electric toothbrushes are a strong, medium, and gentle mode. This can help brushers with sensitive teeth or those with a more rigorous need. Additional options like a setting to help polish teeth and modes that cater to gum health can be found with some popular brands.
Tips
Not sure which electric toothbrush is right for you? Before making your purchase, here are some things to consider:
Do you already use an electric toothbrush?

If you already use an electric toothbrush and are looking for an upgrade, pay attention to the new features that seem appealing, but don't lose sight of basic properties like how conveniently the toothbrush is charged.

Those who don't typically use an electric brush may need a period of time where they get used to using a product like this.

Do you have any acute dental needs?

There are certain products that cater to those with sensitive gums, for example.

Certain brands also will have different brush heads available that people can purchase that cater to different dental needs.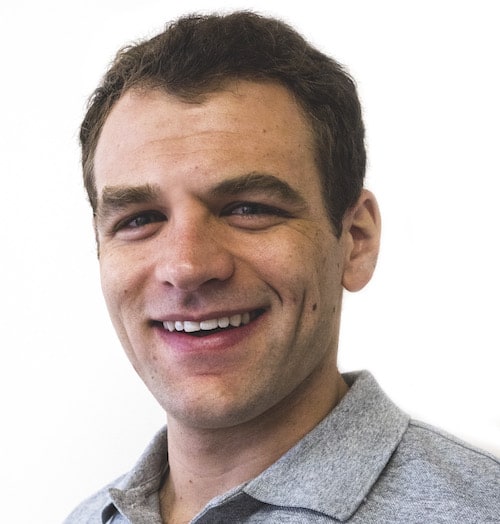 Logan Block
Logan is the former content director of Sleepopolis. As content director, he reviewed new mattresses every week and curated the comparisons, best of pages, and video guides on the site. Logan perfected his method by personally testing over 200 different mattresses, so he's not only able to discern the overall vibe of a specific bed, but to contextualize its feel within the bed-in-a-box market as a whole.