Home coffee drinking has been revolutionized over the last few decades with the dawn of single-serving coffee machines. These use pods of coffee grounds and offer users lots of variety when it comes to beverage choice One of the problems this system of coffee drinking creates is finding a way to store these pods.
Companies have invented a few different storage designs that help users not only store coffee pods but keep them organized. These products share some similarities, but some stand out over the rest. Since this is an important purchase to make after obtaining a single-serving coffee maker, it is wise to check out the options that are available. Here are our choices:
Editor's Choice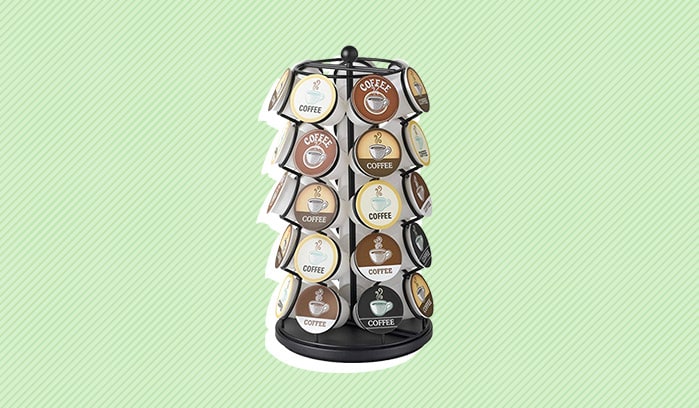 NIFTY K-Cup Carousel
Pros: 
Two color options. Nifty makes their trademark K-Cup carousel in two different colors, chrome and matte black. This is helpful for matching the decor of other appliances.

Rotates. The K-Cup holder can rotate 360 degrees in a Lazy-Suzan style. This makes looking for the desired flavor much easier than static offerings.

Small footprint. This K-Cup holder employs a vertical design, allowing it to take up less room on a kitchen counter. It has a 7 inch diameter.
Cons:
Hard to fill. When all of the pod holders are full, some pods will be resting against each other and not able to go in all the way.

Tips over easily. Though it is helpful that this is a vertically-structured product for spacing, it does make it easier to fall over when knocked.
The Contender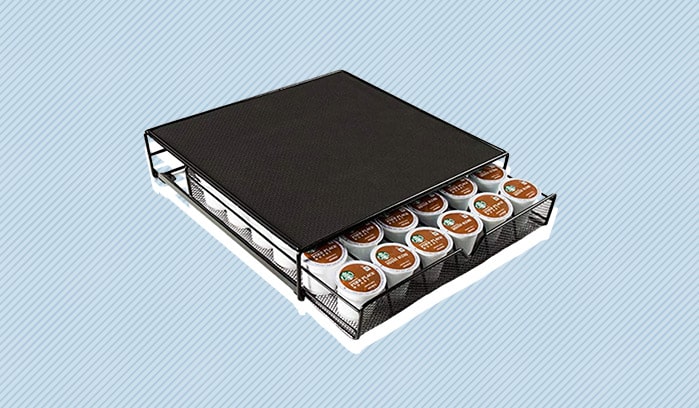 Ideal Traditions K-Cup Holder Storage Drawer
Pros:
Drawer. The design of this K-Cup holder revolves around a flat container with a sliding drawer. This allows the K-Cups to be out of sight until called into duty.

Place under K-Cup machine. A convenient aspect of this product is that customers can store it underneath the K-Cup machine itself. Not only does this save on storage space, but it is great for having easy access to K-Cups right next to where they will be used.

Can place other objects. This K-Cup holder is versatile in that users can store objects or other coffee accoutrements inside of the drawer. Many K-Cup holders are designed to only fit coffee pods.
Cons:
Drawer sticks sometimes. The drawer on this product can get stuck as it opens. Doesn't affect the performance but may require some care when opening if it is getting stuck.

Mesh can be sharp. The wire mesh located in the front wall of the drawer can have some sharp ends due to the shape of the wire design.
Best Bargain
Mind Reader K-Cup Holder Drawer
Pros: 
Three different drawers. Users can organize their K-Cups by designating different drawers for different types of pods. This is achievable because this product has 3 drawers that store 12 pods each.

9 varieties. Customers can choose between several different colors and materials. One version even has printed text in a stylish font featuring coffee-related vocabulary.

Value. Though coffee pod holders aren't typically that expensive, this offering from Mind Reader is one of the more affordable ones available.
Cons: 
Hard to fit other goods. While some K-Cup storage drawers have a wide-open space that is amenable to fitting all sorts of goods and styles of coffee pods, these narrow drawers have less room to maneuver.

Caves in. When placing bigger K-Cup machines on top of the drawers, the top platform might cave in a bit. This can make operating the drawers more difficult.
Most Secure Storage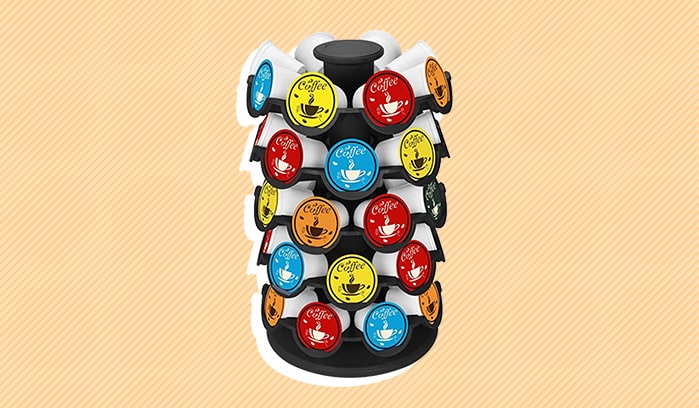 Everie Coffee Pod Storage Carousel Holder
Pros: 
Lips. This K-Cup carousel has small lips on the bottom half of every K-Cup holster. This prevents pods from falling out when the carousel is rotated.

Knob. Users can rotate the knob on top of the carousel for easy rotating. This can be helpful in preventing pods from being dislodged.

40 pods. This product can store up to forty pods, which is a few more than most other coffee pod holders. This is great for those who buy pods in bulk
Cons:
Has to be assembled. Unlike most K-Cup holders, this one has to be assembled.

Component parts. Strictly because the structure of this product relies on separate pieces that need to be attached to each other, it may not be as durable as singular units.
Most Discrete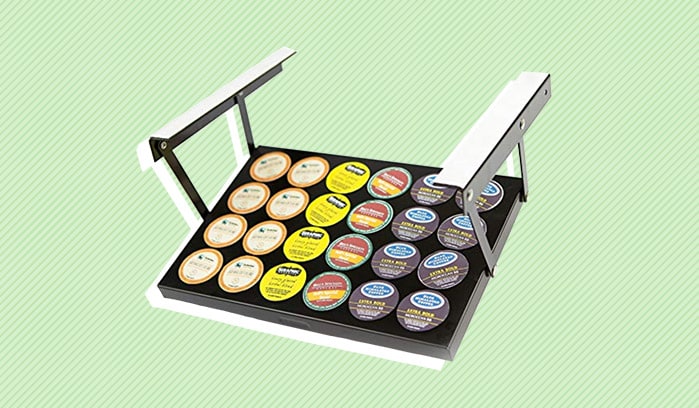 Coffee Keepers Under Cabinet K-Cup Holder
Pros: 
Not on countertop. For those with a crowded countertop, this may be the best option. This product is installed to the roof of a cabinet for discrete storage.

No drilling. While this K-Cup holder may seem like it might have a complex assembly process, no drilling is necessary. The product has built-in adhesive for easy installation (though it has screws and pre-drilled holes in case customers want to opt for drilling).

Swings down. This K-Cup holder conveniently swings down at an angle, so users may easily find the desired cup of coffee. This lets users pick out their coffee quickly. 
Cons: 
Only 24 cups. With only 24 cups max storage capacity, this is one of the smaller K-Cup holders one may find.

Tape doesn't last forever. While the adhesive on the holder is strong, it isn't going to last forever. Those expecting this to be a permanent fixture may opt to use screws.
How We Picked
K-Cup holders take many different shapes. Some are free-standing units and others are fixed containers that make a semi-permanent home in a kitchen. To help us have a better understanding of the various offerings, we chose a few key areas to focus on:
Organization
One of the joys of single-serving coffee machines is the variety they allow users. Rather than making a pot of coffee of one blend of coffee grounds, each cup can be a different beverage. Coffee producers are taking advantage of this and making lots of different unique flavors.
K-Cup holders lets you organize this diversity of cups however they like. Drawer-style coffee pod holders can allow users to see all of their K-Cups at the same time. If the product has multiple drawers, users can't necessarily see them all at the same time, but each drawer can be organized in a way that makes choosing a coffee pod quick and easy.
Stability
There are a few styles of coffee pod holders that are commonly found. The drawer-style coffee pod holder lays horizontally and is thus not really in danger of tumbling over. Drawer-style coffee holders can however be difficult to operate if one of the component parts gets misaligned.
Carousel K-Cup holders can be structurally rugged because they are made of only one piece. These are more assured of not malfunctioning, though some are made of multiple parts and can thus fall apart if toppled. A K-Cup carousel is more likely in general to fall over due to its vertical design.
Style
One of the biggest questions facing a person looking to buy a coffee-pod holder is the potential visibility of these products. Some consumers would rather have their coffee pods visibly and easily accessible and not in a drawer. For them, a carousel makes the most sense. This carousel, however, may need to match the decor of nearby appliances or the kitchen in general.
Drawer-style coffee pod holders may live right under the K-Cup machine itself. This will make it more visible in a kitchen and may thus require some style matching. This style thankfully tends to have lots of different color options for you to choose from.
Tips
Not sure which K-Cup holder is right for you? Here are some quick guidelines:
How often do you use K-Cups? 

Just because someone owns a single-serve coffee machine means they will use it everyday.

Those who only use K-Cups occasionally may consider something that is less obtrusive, like a shelf or drawer option. Carousels will collect more dust.

How much space do you have on your countertop?

Carousels have a smaller footprint than drawers, but the drawers can usually fit under a K-Cup machine or other appliances.

Shelf coffee-pod holders are a good way to save space but involve more complicated assembly and may not last as long as other options.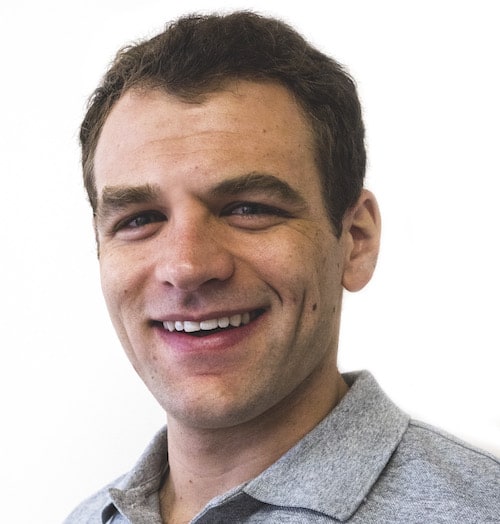 Logan Block
Logan is the former content director of Sleepopolis. As content director, he reviewed new mattresses every week and curated the comparisons, best of pages, and video guides on the site. Logan perfected his method by personally testing over 200 different mattresses, so he's not only able to discern the overall vibe of a specific bed, but to contextualize its feel within the bed-in-a-box market as a whole.