Tea kettles are an iconic kitchen appliance. From the trademark whistle to the steaming hot water that will soon be transformed into an aromatic tea, tea kettles have a place in any kitchen. While some may treat their kettle as an irregular luxury, some may rely on their tea kettles everyday for a variety of drinks.
There are a wide variety of tea kettle options for shoppers to choose from. Some classic tea kettles are so well made they are worth their cost, while other companies are experimenting with technological advances to make tomorrow's tea kettle. We've surveyed the market to find out which tea kettles are worth their mettle and which are just steam: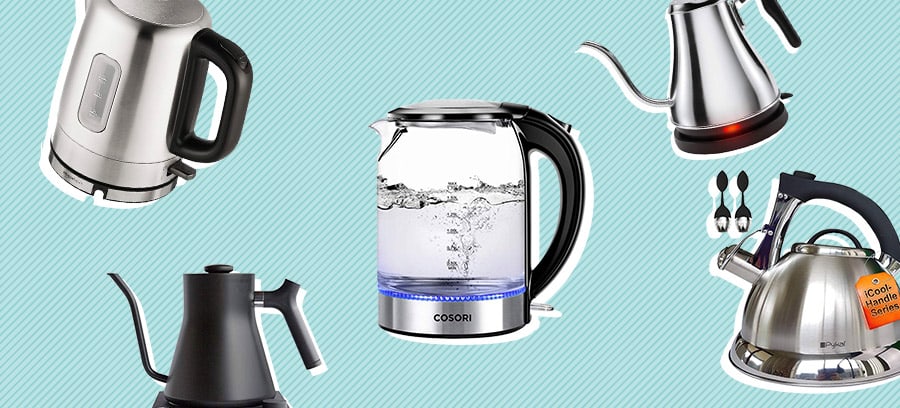 Editor's Choice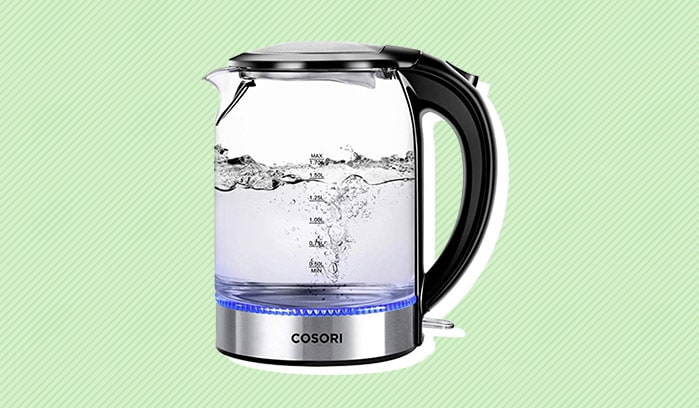 COSORI Electric Kettle
Pros: 
Borosilicate glass. This tea kettle has a unique design that is mostly glass. The type of glass is used is borosilicate, the same type that is used with lab equipment and one that has a high heat tolerance and is corrosion-resistant.

Light indicator. Users can take a quick glance to see if the water is still boiling based on an LED light display. This is a nice safety measure, especially in a crowded kitchen.

3-7 minute boil. This tea kettle can heat water in between 3 and 7 minutes. This is one of the quicker times one will find when shopping for kettles.
Cons:
Kettle shakes. Perhaps due to the shape of the kettle, it has a tendency to rattle a bit when it reaches a top temperature and the water is boiling.

Too much water. This product contains 1.7 liters, which may be too much for even several people to have tea at a time. This may be great for some purposes but is probably too much water for tea.
The Contender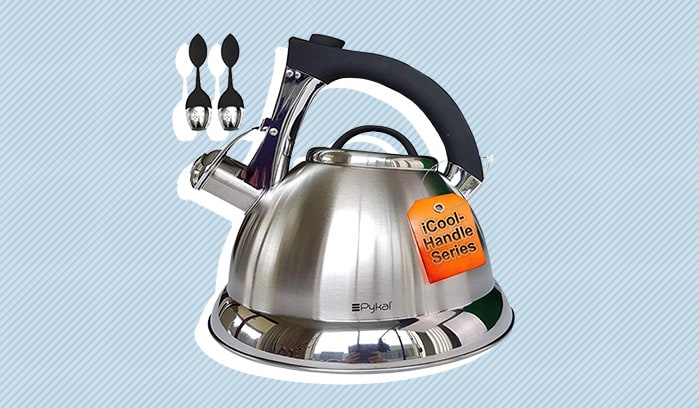 Pykal Whistling Tea Kettle
Pros:
Handle design. The handle of this tea kettle protrudes with enough room that you are at less risk of hitting the hot metal. The handle is designed to cool down once the stove is turned off.

Five-layer base. The bottom of this tea kettle is made with five layers, with iron wrapped in aluminum, which is then wrapped in stainless steel. This construction helps with quicker heat induction time and makes the kettle compatible with most types of stoves.
Cons:
Short spout. Some users may find that the spout hits against tea cups. A longer spout would avoid that problem.

Lid at an angle. The lid to this tea kettle is situated at an angle, which makes it a bit more difficult to properly place it.
Best Bargain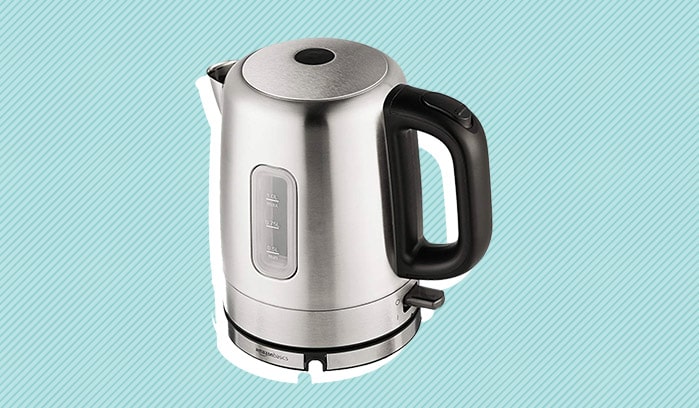 AmazonBasics Stainless Steel Portable Electric Hot Water Kettle
Pros: 
Automatic shutoff. This electric kettle has an automatic shutoff feature. The kettle shuts off once it stops boiling, which is great for people who are multitasking.

Cordless. This kettle charges on a base and then can be used cordlessly. This makes maneuvering around a crowded kitchen a bit easier, especially while cooking.

Price. This tea kettle is a great bargain. It costs less than many if not most standard and electric kettles.
Cons: 
Can't see inside when cleaning. You may have a hard time seeing the inside of the kettle while cleaning as the lid obstructs part of the view.

Very loud. This tea kettle is quite loud one it hits a boil. This may make it problematic if other members of the family are still sleeping.
Most Advanced Kettle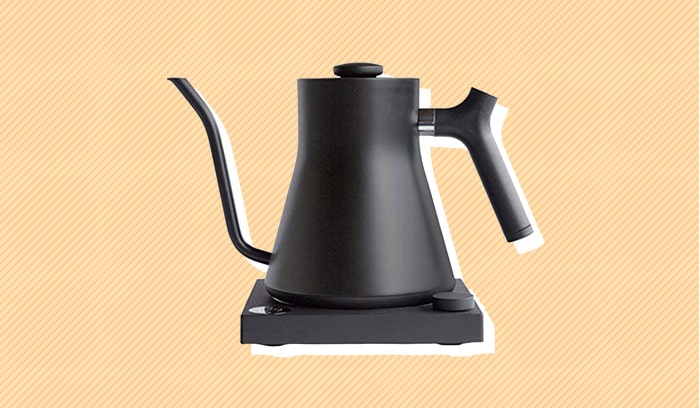 Fellow Stagg EKG Electric Pour-Over Kettle
Pros: 
3 varieties. This tea kettle sports a handsome modern design available in three different colors. Shoppers can choose between copper, matte black, and polished silver.

Temperature control. This tea kettle allows users to set a goal temperature, just like an oven. The goal temperature and current temperature are both displayed, making planning and timing much easier.

Bluetooth compatible. One version of this tea kettle, the EKG+, is bluetooth compatible. Users can control from their phones, which is great for those wanting to start to brew while getting a last few minutes in bed.
Cons:
Price. For a tea kettle, this is one of the more expensive options available. The bluetooth version is even more pricey.

Valerian root sensitivity. Some people may have a sensitivity to valerian root, so you should do a little research before going in that direction.
Easiest Pouring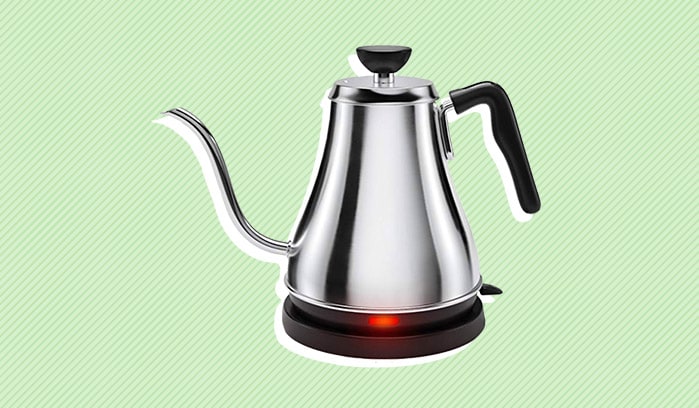 Willow & Everette Electric Gooseneck Kettle
Pros: 
Long spout. This tea kettle brandishes its best feature in its name with its gooseneck spout. This makes pouring in a controlled and steady fashion much easier.

Quick boil. At 1000 watt of power, this tea kettle warms up water quicker than many others. Great for those who have little time to get ready in the morning.

Philanthropy. This company donates 10% of its proceeds to the Wounded Warrior Project and other charities. 
Cons: 
Water condensation. This kettle tends to gather condensation at the base of the unit.

Water doesn't stay hot for long. This kettle doesn't have as much insulation as other kettles and so the water doesn't stay as hot for as long.
How We Picked
Tea kettles may be a classic kitchen tool but they are not all one in the same. There are different factors that distinguish different stovetop kettles that you might be choosing between. A bigger decision regards whether to get an electric kettle. With this in mind, here are the qualifications we looked at when making our choices:
Accessibility
No matter how advanced the technology is, how pretty the surface coating is, or how quickly it can bring water to a boil, if a tea kettle is hard to use, it is all moot. The basic steps of making hot water for tea are no different regardless of the kettle. Users will need to be able to fill up the kettle with water and pour it out safely after heating.
Some tea kettles tout their extra wide lids; this can help with filling up the kettle. Kettles can also have a nice design otherwise but a short spout; this can make it difficult to pour out the tea in a measured fashion. Gooseneck-style spouts provide perhaps the easiest pouring experience.
Features
Classic tea kettles may seem like a staid appliance, but the appearance of a tea kettle can belie its utility. Features like a handle that cools quickly and special spouts designed for ease of pouring are becoming increasingly common when browsing stovetop kettles. 
For electric kettles, features like auto-shutoff and cordless operation are frequently found in different brand's offerings. Further advancements like temperature control and lighted displays can make the tea-making experience that much easier. Some even have bluetooth connectivity, which has the potential to revolutionize the process.
Cleaning
Though it isn't the messiest home appliance, it does need to be cleaned every once and often. Tea kettles need to be cleaned inside and out, so the ability to see inside the kettle should not be taken for granted, as some have small or obscured lids. Some tea kettles make it difficult to even get a hand inside to clean.

The material of the tea kettle matters as well. Some may find that glass, especially borosilicate glass, collects less marks from use. Electric kettles can cause condensation depending on how they are manufactured, and this may necessitate daily cleaning.
Tips
Not sure which tea kettle is right for you? Before making a decision, take a look at these hints:
Do you want an electric or non-electric kettle? 

Those looking for a classic tea kettle will have no shortage of options. Look out for some ergonomic features like handle design that make use easier.

Electric tea kettles have many similar features but auto-shutoff and temperature control are quality functions.

Will you be using the kettle for more than tea?

Some people will use a tea kettle for hot water or other hot liquids.

Those pouring often into bowls and not needing to delicately pour small amounts into cups may opt for a larger spout.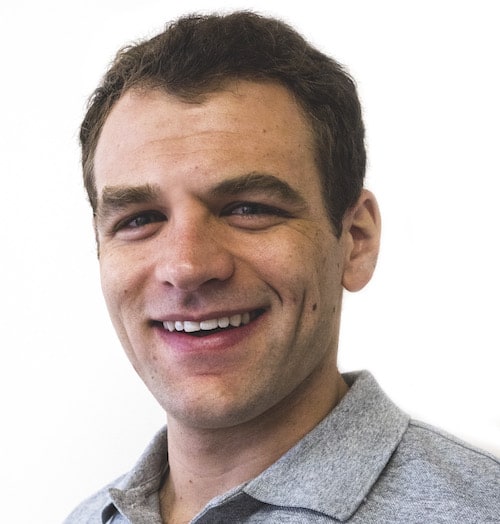 Logan Block
Logan is the former content director of Sleepopolis. As content director, he reviewed new mattresses every week and curated the comparisons, best of pages, and video guides on the site. Logan perfected his method by personally testing over 200 different mattresses, so he's not only able to discern the overall vibe of a specific bed, but to contextualize its feel within the bed-in-a-box market as a whole.