For those who enjoy tea, there is so much more about the process than just the tea leaves and hot water. There are rituals, customs, and procedures that date back thousands of years. There are special ways of making tea to ensure the taste is pure and the company is properly served. Central to tea drinking traditions are the teapots and accompanying elements that comprise each step of the process.
Because tea drinking can be such a hallowed experience, whether it is the first thing a person does when waking up or before going to bed, it is important to give a thorough look at the multitude of options available on the market. There are many modern offerings and classic offerings alike. We have taken a careful look at some of the leading products available. Here is what we found out: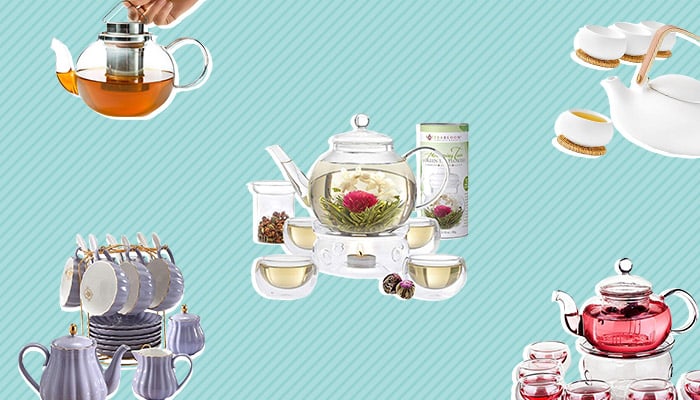 Editor's Choice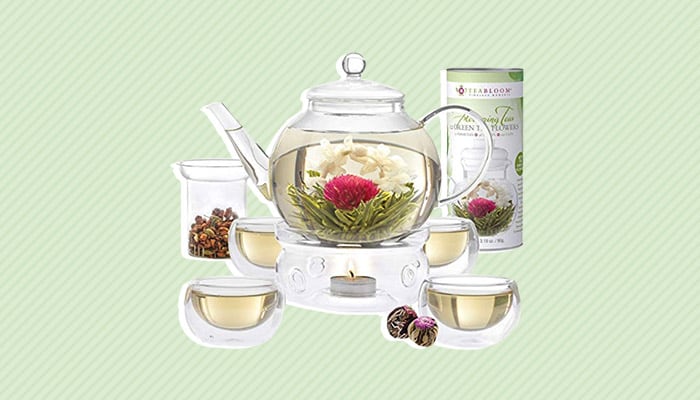 Teabloom Complete Tea Set
Pros: 
Glass tea warmer. This set comes with a tea warmer made of durable glass. Users can put the included candle in the warmer and set under the teapot to keep tea warm.

12 teas included. Those purchasing this set will receive a variety of 12 different loose teas. This makes it a great gift option.

Stovetop safe. This teapot is stovetop and microwave safe. Many competitors' products are only designed to have hot water poured in them.
Cons:
Lid can be unstable. The lid on this project tends to wobble a bit. This may be due to the small vent to let out steam.

Handle gets hot. For those hoping to heat water directly on the stovetop, they should be aware that the handle can get too hot too handle.
The Contender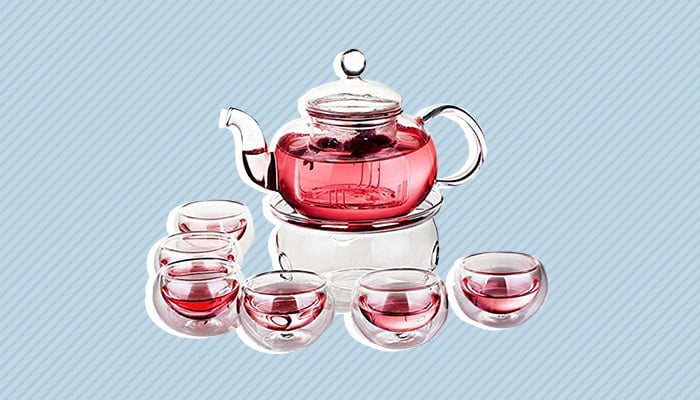 Jusalpha Glass Filtering Tea Maker Set
Pros:
6 cups. This set comes with six double-walled tea cups, more than most competitors. The double walls make it easier to hold when filled with hot tea.

Curved spout. The teapot included in this set has a curved spout, which is more in line with a classic design than a straight spout. Great for those interested in keeping with tradition.

Lip. This spout has a lip at the end of it that helps prevent drips and aids in controlling pours. The spout generally pours without making a mess.
Cons:
Not for stovetops. This product is not designed to be put on a stovetop. Users will need to heat water and then put it in the pot for the tea to steep.

Small pot. This pot only has capacity for about 27 ounces of tea. It may require more tea brewing to satisfy several people.
Best Bargain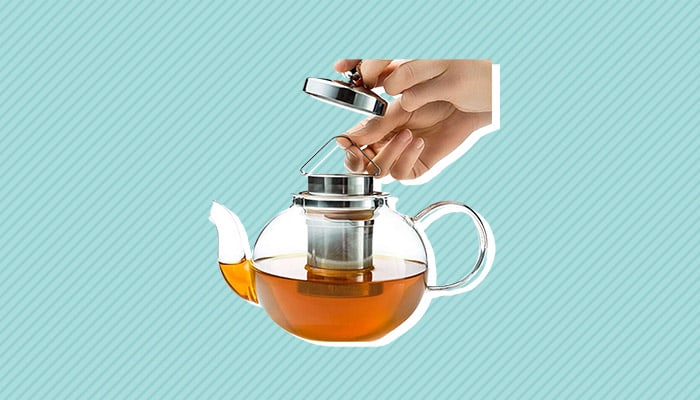 Kitchen Kite Tea Kettle Infuser Stovetop Gift Set
Pros: 
Deep infuser. The tea infuser included in this set goes all the way down to the bottom of the pot. This allows users the capability of only making a little bit of tea and not having to fill up a full pot to steep the leaves.

Infuser handle. Another handy feature of this set's infuser is that it has a handle on top that helps users remove it without having to touch the hot pot.

Value. Considering what customers will receive, this is one of the best bargains available for tea sets. With the tea pot, infuser, and cups comes two sets of tea leaves and a blooming tea.
Cons: 
Teapot lid has plastic. Though most of the product is either borosilicate glass or stainless steel, the very top of the lid itself is plastic. This helps keep it from getting too hot but may make cleaning more complicated.

Logo. The manufacturer has brandished the teapot in this collection with their logo. While this is understandable, it is rather noticeable and removes some of the inherent charm.
Best Porcelain Set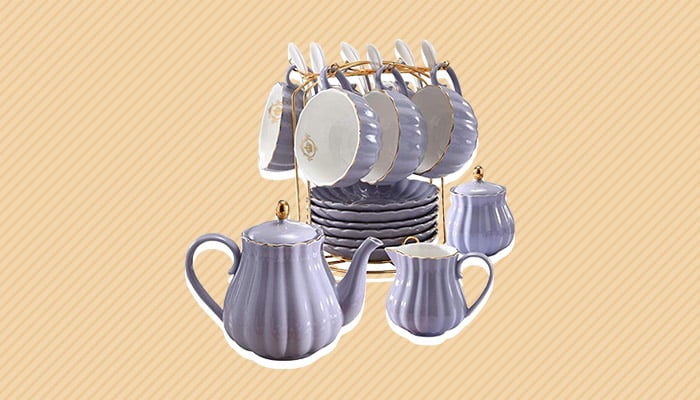 Young QI Porcelain Tea Set
Pros: 
Saucers. This tea set comes with saucers for each of the six teacups that are included. This helps keep the tea drinking experience a less messy one.

Four colors. Customers can choose between a purple, white, gray, and pink set. This is nice for people who are trying to match a certain kitchen aesthetic.

Gold rims. This set features an elegant design, with gold-color rimmed cups and tea pot. The gold matches the look of the optional tea stand.
Cons: 
Tea stand is optional. While the product is advertised with a tea stand, it will cost shoppers an additional fee.

Paint imperfections. Some customers with keen eyes may notice some minor imperfections in the paint. Most people won't notice this, but those who are inspecting closely may notice.
Best Design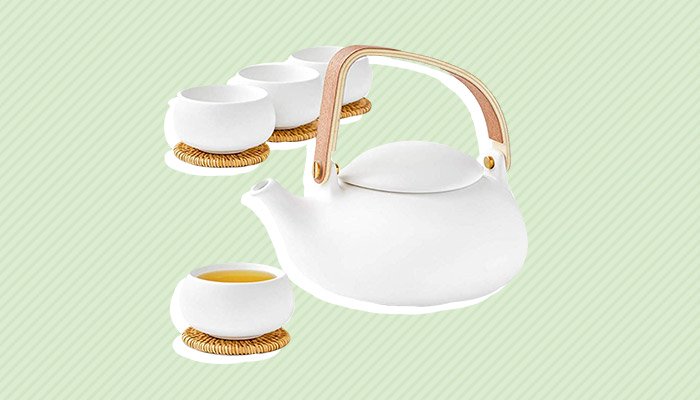 ZENS Modern Japanese Tea Set
Pros: 
Matte finish. One of the first things customers might notice is the frosted matte finish adorning these teapots. It provides a unique look that can serve as a centerpiece of a kitchen.

Natural wood handle. The handles are made out of brass and bamboo bentwood. This aesthetic makes for a nice contrast with the solid coloring of the pot itself.

Rattan coaster. This set includes four rattan coasters for each of the teacups. These are versatile products that's use can be extended to any sort of cup in the household.
Cons: 
Not safe on the stovetop or microwave. Due to the wood handle, it is not recommended to use this teapot on the stovetop or in a microwave. Users should heat water separately.

Handwash. This teapot needs to be hand-washed. It requires some extra care time than other teapots.
How We Picked
Tea sets are not just about the teapot. These products contain all the elements needed for someone to enjoy any type of tea with family or with guests. Because there are so many different components, it is necessary to take a comprehensive view of these sets. Here are the broad strokes we looked at:
Tradition
Tea drinking is an ancient practice enjoyed by cultures from around the world across different eras. That being said, modern tea manufacturers have lots of models to borrow from when creating their products. Thankfully, those hoping for certain traditional or familiar features can probably find one that fits their fancy.
Some products are made of materials that not only hark to an earlier age but are made in those historical countries. Styles ranging from English to Chinese to Japanese are commonly found and broadly available for similar prices. Of course, those who are less concerned about the history can choose the products on other merits.
Durability
Unless the set is being purchased to go into a cupboard as part of a collection, it is wise to understand the durability of a potential tea set. Some products are made of delicate material that can barely withstand a simple bump or short fall, but others are made of durable materials such as borosilicate glass that can survive minor collisions. Not only is the ability to withstand impact important, but how well the product can withstand heat can determine how versatile its use can be.
Teapots can be designed to be the actual vessel used to heat water. This can be on a stovetop or in a microwave. Other brands do not recommend heating water with their products; users will need to heat water separately and then put the hot water into the teapot for the leaves to steep. Those looking for convenience can find a dishwasher-safe and stovetop-safe product; those looking for a certain style may need to accommodate a lack of durability.
Cleaning
Just as every light has a shadow, every nice tea set needs to be cleaned after use. Many manufacturers design their products to be appropriate for dishwashers, though some may still be too fragile despite the company's insistence otherwise. When in doubt, it is better to hand wash these sets.
The most delicate tea sets need to be handled with care regardless, as they are mostly made of glass and other somewhat fragile material. This can be exacerbated with high heat. Part of the clean-up effort may involve tea that has accidentally splattered on a table. Teapots with special lipped spouts that prevent spilling and tea saucers are great ways to mitigate against unnecessary messes.
Tips
Not sure which tea set is right for you? There are lots to choose from so take a look at our tips below to make the process a bit easier:
Are you looking for a certain style?

Some people may be tea set collectors; they may want an English, Japanese, or Chinese-inspired set.

Those who enjoy steeping whole tea leaves or only need to steep tea bags will have different types of products to choose from.

Is this for you or for guests?

Certain products come with more cups and other accoutrements that allow for several guests.

Customers who will only need to serve themselves should find a tea set with a deep infuser; this allows smaller amounts of tea to be brewed at a time.