While high-quality specialty rugs may offer more value over time, not everyone is looking for an investment piece that's hand-tufted or made from expensive materials. For people with children or pets, it may be preferable to buy a rug you're not afraid of ruining. Or, for lifestyles that include frequent moves, something less permanent may be ideal.
Throw rugs are great solution. They add a decorative touch to bedrooms, living rooms, and even smaller dining areas. In addition to their ornamental appeal, they also help to retain heat, especially on hardwood floors during the colder months. The right rug can create an inviting environment for casual floor lounging or children at play. With the variety of throw rugs on the market, we surveyed a range of options to identify a list of recommendations.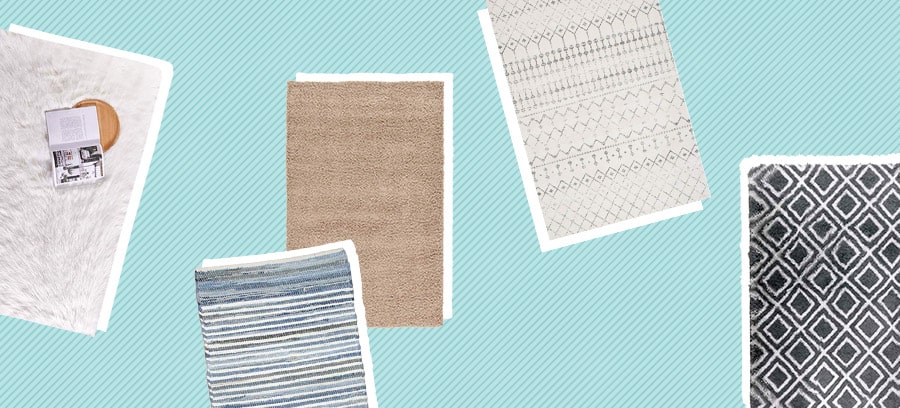 Editor's Pick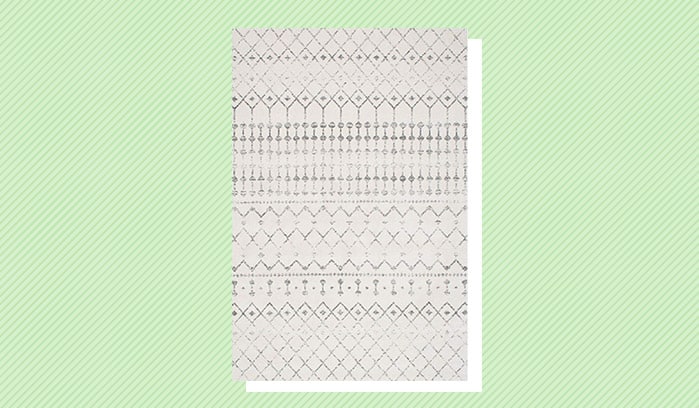 nuLOOM Moroccan Blythe Area Rug
Pros
Despite its light color, many report that it's easy to maintain because of the material. It also comes in other modern shades with contemporary patterns.
The rug resists snagging and works well in high-traffic areas.
The moderately thick pile gives a bit of a cushiony feel, so it's great for lounging and kids playing. For even more coziness, add a standard rug pad underneath.
A nice choice for those who are looking for an affordable alternative to an expensive hand-loomed rug, without sacrificing a classy home look.
Cons
Like most rugs made of synthetic materials, some report a slight smell that's easy enough to air out with open windows for a couple hours.
Contender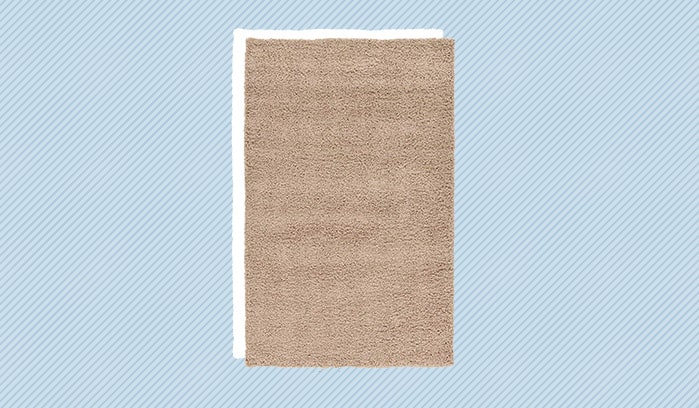 Unique Loom Solo Solid Shag Collection
Pros
The shag makes this product a popular choice for a rug that's comfy even without a rug pad underneath.
This rug does not shed and withstands regular vacuuming—just be sure to follow the manufacturer's instructions not to use the roller brush setting.
The bright colors make this a fun choice for kids' rooms, dorm rooms, or for matching a particular decorative scheme. Neutral tones are great for common areas of the house.
Cons
The higher pile and shaggy texture means it's not ideal in areas that expect a lot of foot traffic, or for homes with cats that like to scratch.
Note that even the light-colored rugs use dark backing so when the shag is moved around the dark backing may be visible.
Best Bargain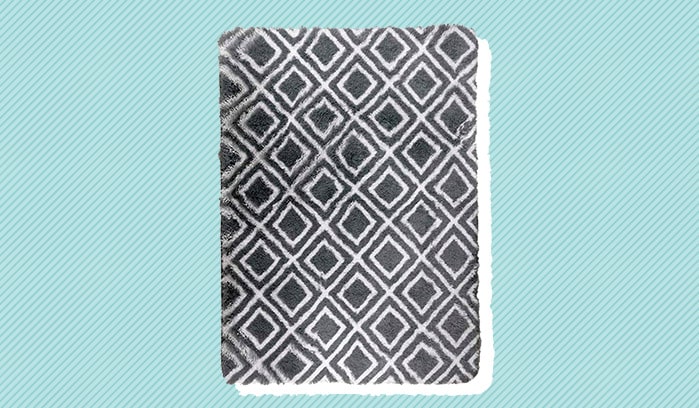 ACTCUT Super Soft Indoor Modern Shag
Pros
This rug features soft, fluffy material with a layer of underside padding, though it's best suited for use on top of carpet or with a rug pad underneath. 

Can be machine-washed, but should be air-dried. 

Good for those whose main concern is price. The low cost also makes it ideal for buying multiples for different areas around the house.
Cons
It's lightweight and thin, so it doesn't have the durability for high-traffic areas. 

Some note that the soft material can be slippery, particularly with socks.
Best Faux-Fur Throw Rug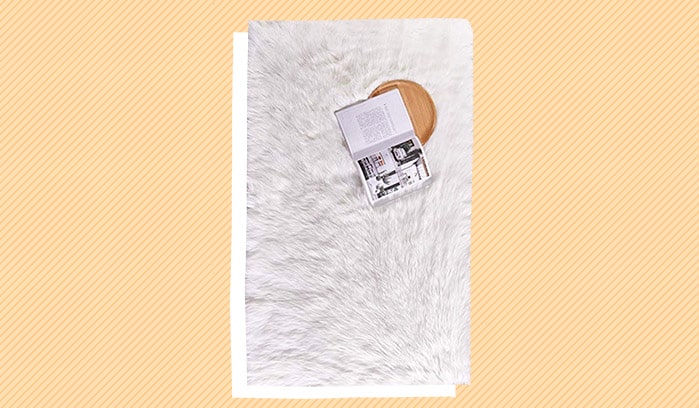 DII Contemporary Reversible Indoor Area Rag Rug
Pros
People love this throw rug for its plush design. It comes in rectangle, round, and sheepskin shape. There are several colors available, including pastels and subdued hues. 

It's versatile. The delicate texture makes it a lovely bedside rug. It works great on top of carpet or layered with other rugs. It also makes a nice statement draped on a loveseat or reading chair.

For the stylish home, this product adds an elegant touch to modern decor. 
Cons
It's not as easy to clean as other rugs we have reviewed, but since it's meant for lighter use this shouldn't pose too much of an issue.

Like most faux-sheepskin rugs, there is some shedding.
Best Unique Design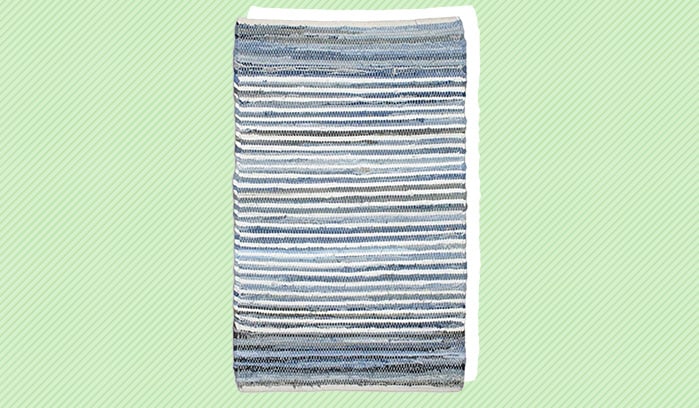 DII Contemporary Reversible Indoor Area Rag Rug
Pros
Each product is handmade and unique. The shabby-chic design is attractive and useful for masking stains in between washes.

Machine washable for easy cleaning. 

It's durable and reversible, making it convenient for areas that get a lot of wear and tear.
Cons
Because of the specific construction of each product, exact sizes and colors will vary.

It's advisable to take extra precautions to protect against color bleeding, such as washing separately and using a rug pad.
How We Picked
When searching for the best throw rugs, we wanted to share products that are compatible with a casual lifestyle that may include children, pets, and guests in the home. The highlighted products are all relatively affordable and represent an assortment of aesthetic tastes. For the sake of comparison, our reviews use a medium-large size—around 4' by 6'—as a jump-off point, but all products are available in different sizes, colors, and in some cases, shapes.
Price
We weren't looking for investment rugs—that is, the highest quality natural materials or ornate design and construction. The throw rugs we focused on offer decent value for the price point.
Material
Since natural materials bump up the price quite a bit, the throw rugs we chose are primarily made of synthetic fibers. One advantage of synthetic materials is that it's better equipped to withstand the high heat of steam cleaning, unlike wool or silk.
Design
The design of a rug has a big impact on the atmosphere of a room. Whether it's a subtle tone to complement existing interior design features or a bold statement piece, choosing the right rug for the space means browsing the wide array of products. This list introduces several different looks.
Cleaning
Unlike the costly and time-consuming cleaning methods necessary for specialty rugs, the throw rugs on this list were chosen for ease of cleaning. We note which ones can be vacuumed and/or machine washed. It's important to note the recommended vacuum setting and wash cycles. Apart from that, spot treatments and hand-washing are generally safe.
Buying Tips
To help identify the best throw rug for your situation, here are a few important things to consider.
Where will the rug be used?




For high-traffic areas of the home, like hallways or an active living room, pick a rug that's able to stand up to daily wear-and-tear. For an area like a guest room, something more basic will do. Thinner rugs are fine for use on carpeted floors or layered with larger rugs, while thicker rugs are good for smooth floors. To help rugs stay in place, consider rug pads and grip tape (and their added costs).

What features work well with your lifestyle?




For households at higher risk for spills and accidents, consider choosing a more forgiving color or pattern to hide stains between cleaning. For rugs that serve as entry points or walkways, low-pile or rag rugs are a good bet; if a rug is intended for sitting or play, medium to high pile is a comfortable option.

What kind of atmosphere do you want to create in the room?




A throw rug has the potential to enhance the overall feel of a room. Pay attention to particular furnishings and existing design elements. Are they classic or contemporary? Pattern-heavy or plain? Natural or vibrant hues? It can be helpful to think in terms of how you want to use contrast and/or uniformity.
Throw rugs are a fun and convenient way to spruce up the home by adding a bit of extra comfort and personality. We put together this list as a tool to help people find the product with the right design, quality, and price tag for their lifestyle.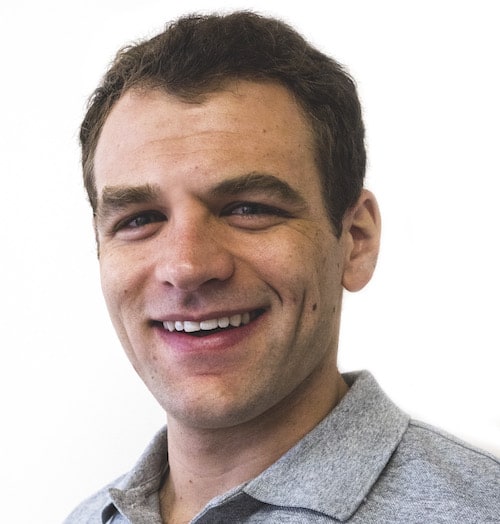 Logan Block
Logan is the former content director of Sleepopolis. As content director, he reviewed new mattresses every week and curated the comparisons, best of pages, and video guides on the site. Logan perfected his method by personally testing over 200 different mattresses, so he's not only able to discern the overall vibe of a specific bed, but to contextualize its feel within the bed-in-a-box market as a whole.