Toilet paper is a product that is so necessary that it can be found in almost every household, office, rec center, church, restaurant, and business. People old and young, urban and rural, big and small, male and female all have the usage of toilet paper in common. It is a product that everyone already uses, but sometimes it is time for an upgrade.
There are a multitude of different toilet paper brands and offerings from those brands. The manufacturers hint at providing relief for certain needs, but it can be hard to decipher. We've looked at some of the top producers and compared their products. This is what we found out: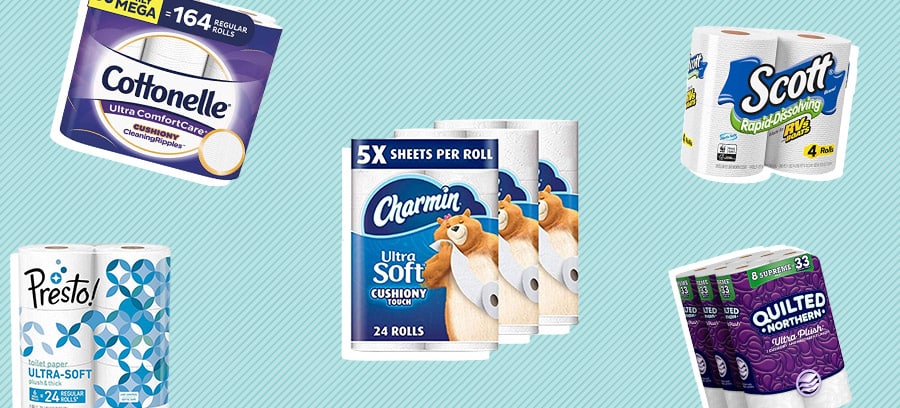 Editor's Choice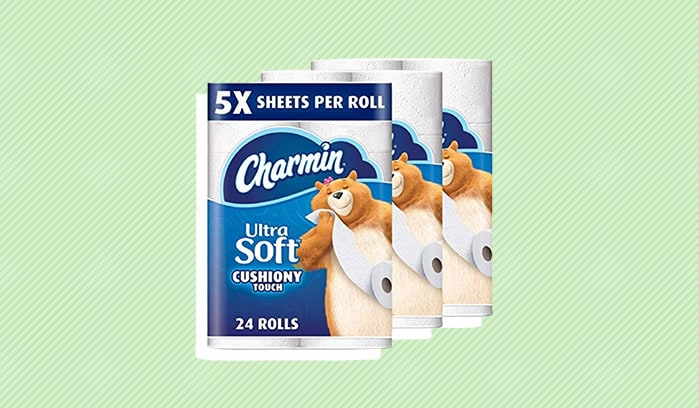 Charmin Ultra Soft Toilet Paper Mega Rolls
Pros: 
Roto Rooter approved. When one of the biggest – if not the biggest – plumbing companies endorses a brand of toilet paper, it is worth paying attention to it. Roto Rooter has endorsed Charmin as the brand after having its plumbers test it out. 

Clog-free guarantee. Charmin will refund the purchase of toilet paper if it clogs. This is a great show of confidence in their product.

Sourcing. For those worried about the environment, it may be comforting to know that Charmin decries deforestation and has made a pledge to only use paper from responsibly-managed forests. One tree is planted for every tree that is used as pulp for toilet paper.
Cons: 
Can emit dust. This toilet paper measures 4" across, while many brands (and other lines from Charmin) measure 4.5". This reduces the starting surface area of the paper and may require more bunching.

Thicker. While the paper may be narrower, it is quite a thick roll. Some users may not have enough space to install the roll on the toilet paper holder.
Charmin Ultra Soft Toilet Paper Mega Rolls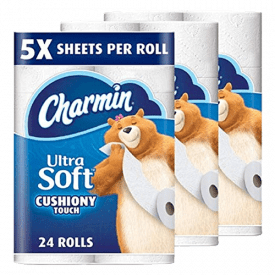 Charmin Ultra Soft Toilet Paper Mega Rolls
The Charmin Ultra Soft Toilet Paper Mega Rolls have the endorsement of a national plumbing brand and a guarantee against clogging. The Mega Rolls are thicker than the normal Charmin toilet paper line.
Contender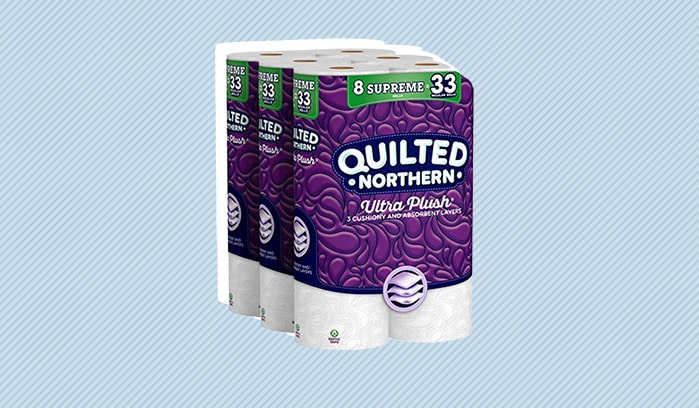 Quilted Northern Ultra Plush Toilet Paper
Pros:
3 layers. This offering from Quilted Northern employs the use of three separate layers of paper. This helps with durability and absorption.

Quilted pattern. There is a cross-diagonal pattern embossed upon the paper. This helps create more traction with less friction, making for a smoother experience.

4 times more sheets. This line from Quilted Northern has four times as many individual toilet paper sheets as their regular roll. This is great for those who want to buy an order of toilet paper and not worry about ordering again for a while.
Cons:
Toilet paper lint. When this toilet paper is installed on a toilet paper roll without much clearance, the friction against the paper can cause toilet paper lint to disperse.

Perforations too weak. Some users may find that it is hard to string together a few sheets of toilet paper, as the perforations between each square don't have much durability compared to other brands and they tear off easily.
Quilted Northern Ultra Plush Toilet Paper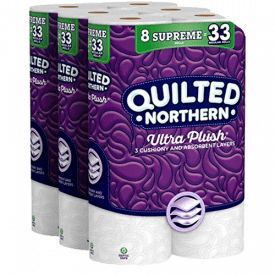 Quilted Northern Ultra Plush Toilet Paper
Quilted Northern has a toilet paper line that is triple-layered and molded with the signature quilted pattern that helps make the toilet paper more efficient and comfortable. This line has four times more sheets than the brand's standard toilet paper.
Best Bargain
Cottonelle Ultra ComfortCare Toilet Paper
Pros: 
Cleaning ripples. This brand offers a toilet paper with a unique pattern meant to increase efficiency by adhering to more per wipe. The extra layer of ripples help with absorption as well.

Very little lint. It is hard to come by toilet paper that is thick and durable yet doesn't cause lint to scatter through the air. This product meets both goals.

Cost. This line of toilet paper is one of the more affordable options out there. This is a great option for those buying in bulk.
Cons: 
Pilling. Users may notice that the first few revolutions around the toilet paper holder there is some pilling of the material on the outside of the roll. This shouldn't be a problem but some may skip the first few squares.

Ripples have low profile. While the ripples in the material are welcomed, it would be nice if they were more pronounced. Other brands have deeper embossments.
Cottonelle Ultra ComfortCare Toilet Paper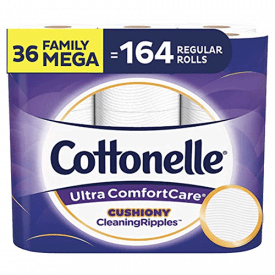 Cottonelle Ultra ComfortCare Toilet Paper
Cottonelle's Ultra ComfortCare Toilet Paper uses a raised ripple pattern on the paper to help make the most of every square. This is one of the most affordable toilet papers per square.
Best Variety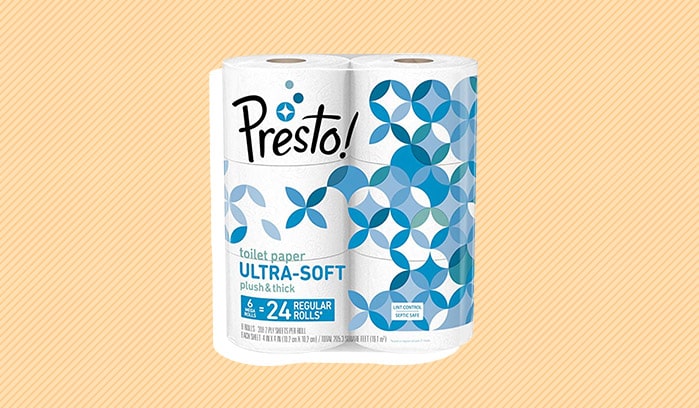 Presto! Ultra Toilet Paper
Pros: 
Ultra soft or ultra strong. This brand of toilet paper is available in either ultra strong or ultra soft varieties. It is helpful that the brand distinguishes between its different products, as many toilet papers are advertised as both soft and strong but clearly may not have both qualities in abundance.

Refund. Customers who are not satisfied with this product, whatever the reason, can get their money back. This is great for those shopping around for a new brand.

Design. This toilet paper features a pleasant flower design along the length of the roll. This makes the experience a tad more elegant. 
Cons: 
Disintegrates when wet. Some use toilet paper once it is wetted as a way to clean surfaces. This line of toilet paper doesn't hold up as well as some competitors when wet.

Crumbles easily. The soft version of this toilet paper can leave some debris behind. Some may need to use an extra square to clean off the lint left behind after use.
Presto! Ultra Toilet Paper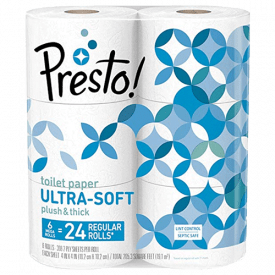 Presto! Ultra Toilet Paper
Presto! has two distinct lines of "ultra" toilet papers; one is Ultra-Soft and one is Ultra-Strong. With pretty floral patterns on both and a great refund program, this is a line of toilet paper that can accommodate most sanitary needs.
Best for Septic Tanks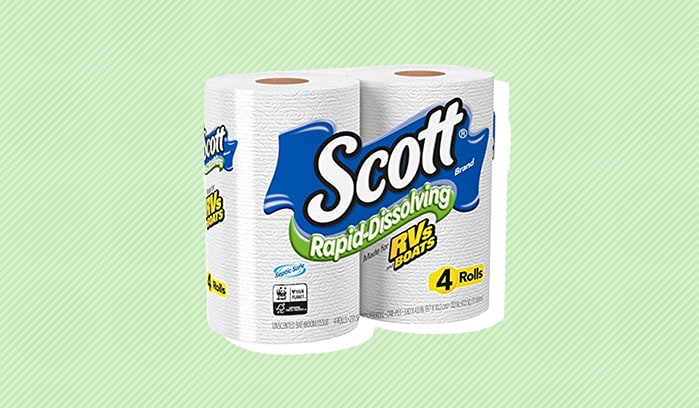 Scott Rapid-Dissolving Toilet Paper
Pros: 
Designed for RVs and boats. This line of toilet paper was designed to easily disintegrate in a septic system, especially those in a boat or RV. This is great for those who will be on the road or the open water.
No scent. This offering from Scott features no chemicals or other additives to provide a fragrance. Chemicals can discourage bacteria in septic tanks from breaking down the tissue properly.

Softer than most dissolvable papers. Scott's Rapid-Dissolving Toilet Paper is a soft alternative to many of the toilet paper brands designed for septic tanks. It is meant to replicate other toilet papers that are meant for normal sewage systems.
Cons:
Only available in 4-packs. Though multiple four-packs can be purchased at a time, the fact that they only come in containers of four makes storing them a bit of a hassle.

Rolls don't last long. Because these rolls are thinner than usual, they will not last as long as non-septic toilet papers. You should make sure they have enough before traveling.
Scott Rapid-Dissolving Toilet Paper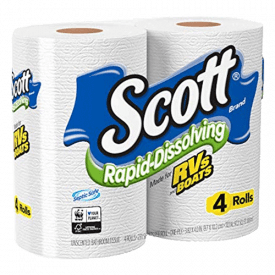 Scott Rapid-Dissolving Toilet Paper
This line of toilet paper from Scott features a design that is meant to disintegrate more easily than standard toilet papers. This makes it safe for septic tanks at home, on a boat, or on an RV.
How We Picked
Toilet paper is a necessity but it doesn't have to be an unpleasant one. You should find a toilet paper that is comfortable and efficient, all while meeting their specific needs. We chose a few categories that we weighted heavily when choosing our picks:
Sustainability
Toilet paper is most often derived from trees, so there is an inherent tension with the use and harvest of trees for a sanitary product that is instantly disposed of after use. These single-use products can cause environmental harm if not produced thoughtfully. Products that dissolve quickly and eschew the use of added fragrances tend to have the smallest footprint.
Products can also be harvested responsibly. Several brands have been awarded certification from environmental groups for the careful sourcing of their tree pulp. Ideally, brands will not use wood pulp from deforested regions. Some brands even use recycled paper.
Embossment
Often looked at as merely a pattern, the elevated design on toilet paper can serve to aid in the process on a few different levels. The raised level of toilet paper gives a slight but crucial bit of additional surface area. This helps clean more efficiently and increases the durability of the paper.
Additionally, the added level of paper helps with absorption. Toilet papers with embossed patterns tend to have multiple layers. These will absorb more, decreasing the need to bunch up paper during use.
Size
One size does not fit all! Some toilet paper brands are making their toilet paper more narrow but rolled more times around the cardboard tube. This can make storage difficult, not only on the toilet paper holder, but also on toilet paper racks. Make sure to measure how much depth you have between the holder and the wall.
The length and width of each square can make a difference in how quickly people go through toilet paper. However, sometimes brands are advertised as having rolls with long lengths, yet the toilet paper itself is of a thin one or two-ply variety. You should measure the length versus the thickness to find the toilet paper that meets their needs.
Tips
Not sure which toilet paper is right for you? Here are some guidelines that may help you out:
Are you dissatisfied with your current brand?

Many times people use a brand over and over again and don't think about other options. This can be very common with toilet paper.
Figure out what you don't like about your current brand. Does it have lint? Is it too rough? Is it hard to flush?This will guide your purchase.

Do you have a septic tank?

If you have a septic tank, it is advised to get a toilet paper that can dissolve quickly. This is a great way to prevent problems and having to pump it out later.
Scented toilet paper is not ideal for septic tanks. Some of the chemicals used are ideal for the bacteria that need to break down the toilet paper.