There are a lot of factors to consider when shopping for a backpacking pillow. Not only do you want it to be comfortable and supportive, but you also need it to be lightweight, compact, and, most importantly, easy to set up. Thankfully, there are many fantastic options available on the Internet today, but that doesn't mean they're all created equal. In fact, several of them are likely to impact your backpacking adventure in a negative way. So, how do you sort through the options to land on the one that's right for you? Well, I'm so glad you asked!
In this guide, I'm going to introduce you to the best backpacking pillows on the market. Though they differ in terms of style, construction, and price, they're all designed to bring a little extra comfort to the outdoor sleeping experience. After we discuss my picks, we'll also go over the methodology I used to select them. That way, you'll know exactly what factors to consider when shopping for a backpacking pillow of your own. Then, I'll round things out with a few expert tips you can use to improve your buying experience.
Best Backpacking Pillows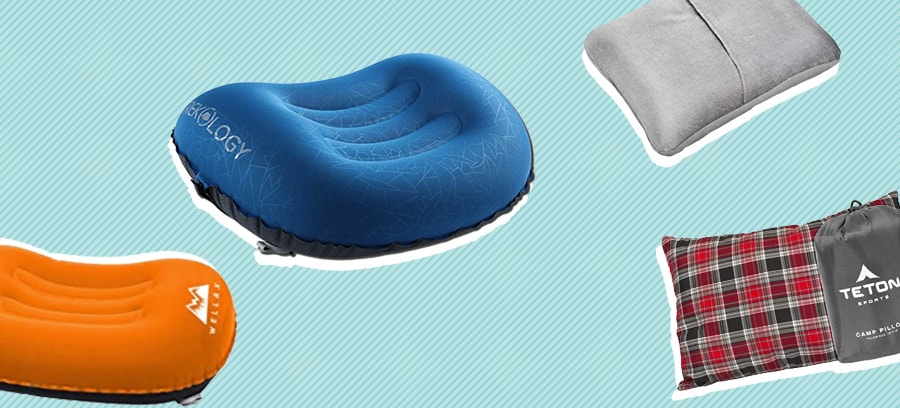 Editor's Choice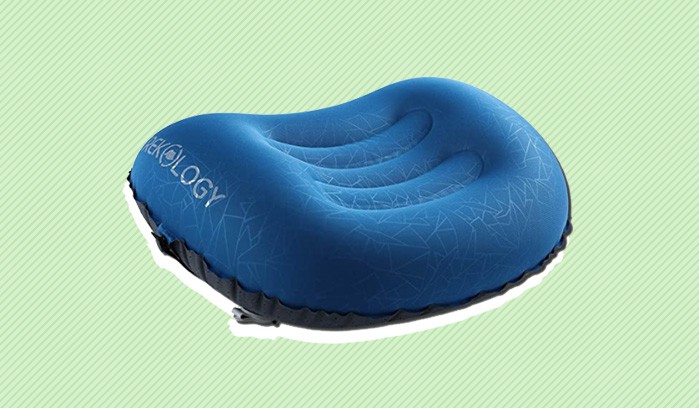 TREKOLOGY Ultralight Inflatable Camping Travel Pillow
If you're looking for a lightweight, compact, and supportive backpacking pillow, look no further than this fantastic option from Trekology. Designed to fold down to the size of a soda can, this inflatable pillow is guaranteed to save you space while bringing you plenty of comfort while you snooze.
Pros
The curved design is great for overall support, working to cradle the neck while setting the spine in an even alignment.
Pricewise, this pillow is certainly on the affordable side, marking it as a good option for folks on a budget.
In general, this pillow should work for most backpackers as it's small, packable, and easy to set up.
Cons
Some users have commented that the pillow is actually heavier than advertised, so if you're especially weight-conscious, this may not be the one for you.
Best Non-Inflatable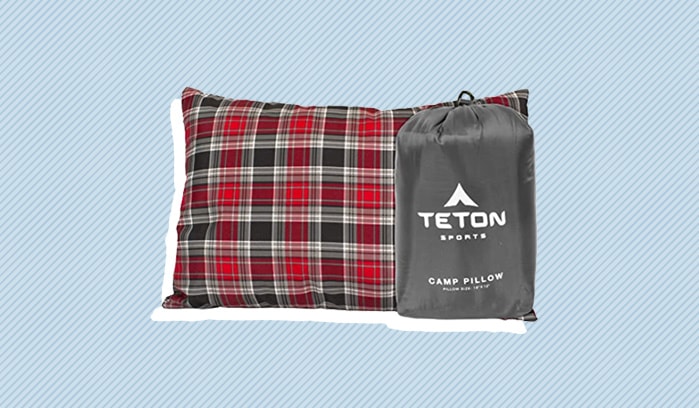 TETON Sports Camp Pillow
Backpackers who want to avoid inflating their pillows could find a lot to love in this option from Teton Sports. This non-inflatable pillow is stuffed with poly fiber fill and covered with a soft poly-flannel material, which makes for a super cozy sleeping experience. A little bulkier than other pillows on the market, this bad boy is most similar to a "real" pillow you'd use at home.
Pros
If you're looking to sleep on something similar to the pillows you use at home, this could be the accessory for you.
Though it's a bit larger than other options on the market, it still comes in at about .8 oz, which is a fine size for a backpacking pillow.
All in all, a cozy sleep awaits you on this backpacking pillow from Teton Sports.
Cons
It's not the most packable pillow out there, so would probably work best for those with a little extra room in their packs.
Most Affordable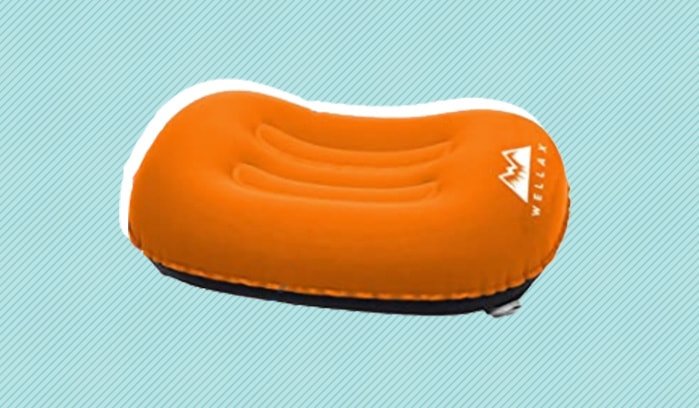 WELLAX Ultralight Camping Pillow
Budget shoppers should take note of this backpacking pillow from Wellax. It features a supportive, curved design and is easy to inflate, simple to pack, and comes with its very own eye mask. Plus, it's slip-resistant, which means it won't move around too much while you're sleeping.
Pros
You get a lot of bang for your buck with this backpacking pillow, which means it could be a good fit for those on a budget.
This is a great all-purpose travel pillow, as good for backpacking as it is for catching a nap on a plane.
Folks after a no-fuss pillow that'll get the job done without taking up too much space should definitely give this pillow a look.
Cons
Some users have noted that the pillow doesn't maintain its shape super well over time, so may not be the best investment piece. 
Most Luxurious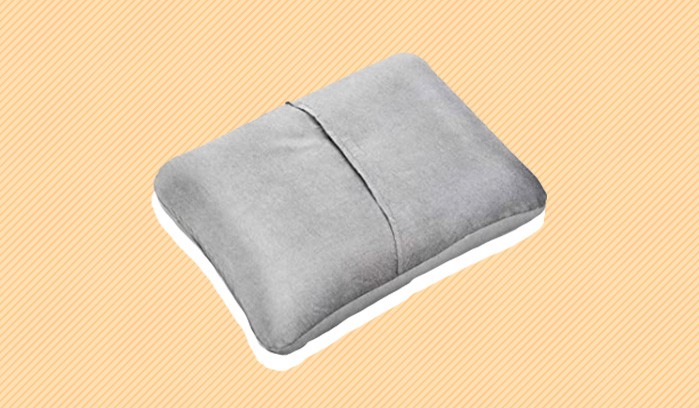 RikkiTikki Inflatable Camping Pillow
This backpacking pillow from RikkiTikki is a luxurious option for folks who really want to step up their outdoor sleeping game. It's one of the largest backpacking pillows on the market, which means it's got more of a "real" pillow feel. This is further accentuated by the plush cover, roomy inflatable interior, and lifetime guarantee.
Pros
This backpacking pillow is incredibly comfortable, providing plenty of support to weary adventurers.
It also comes with a lifetime guarantee, which is a huge plus in my book!
At the end of the day, this is a serious pillow that could work wonders for those looking to invest in a high-quality product.
Cons
The luxury feel does come with a luxury price tag, so this may not be the best fit for those on a budget. 
How We Picked
Now that we've gone over my picks, let's chat about the methodology I used to select them. That way, you'll know exactly what factors to consider when shopping for a backpacking pillow of your own.
Weight
Perhaps the most important factor to consider when buying a backpacking pillow is its weight. As avid backpackers know, the weight of one's pack can make the difference between a great backpacking experience and a downright painful one. So, you need to be careful and precise with each and every item that you stow away, and this includes your pillow.
For that reason, I think it's best to choose a backpacking pillow that weighs between 2 and 5 ounces. Though an ounce might seem like chump change while you're getting your pack ready at home, it's crucial to remember that ounces add up. Extra ounces from a pillow plus a few extra ounces from socks, cooking gear, water bottles, and shirts and result in a lot of unnecessary weight.
Thankfully, most brands will list the exact weight of their backpacking pillow in the "details" section of the product description. Remember that you can always verify the truth of the claim in the comments section at the bottom of the page!
Packability
Packability is another major characteristic to think about when shopping for backpacking pillows. You won't have a lot of space in your pack, so you'll want to maximize the room that you do have. Many backpacking pillows these days can shrink down to about the size of a tennis or baseball, allowing them to be stuffed between clothes or tacked onto the outside of a pack.
It's up to you to decide what kind of packable design you'd prefer. There's no wrong answer here, it's more about assessing your pack, thinking about your needs, and seeing where your pillow can fit into the scheme. One thing I will say is that you should avoid clipping too many items onto the exterior of your pack. It seems like a handy trick when planning, but can become quite a nuisance when you're on the trail.
Related: Best Travel Pillow
Set Up
I also think it's a smart idea to snag a backpacking pillow that's relatively easy to set up. After a long day of hiking, the last thing you want to do is spend an exorbitant amount of time trying to get your backpacking pillow just right. So, I recommend either going with an inflatable option or a pillow with a stable internal fill.
An inflatable pillow is great for this kind of situation because it packs down to next to nothing and is super easy to set up with a few simple blows. That being said, not all inflatable pillows are created equal. Some require pumps, some require only your breath, and others deflate after only a few hours of use. Read the fine print carefully and peruse the user comments to see how easy the inflatable set up actually is.
If you've decided that you don't want to bother with inflating your pillow every night, I'd suggest going with a pillow that has a super stable internal fill. These accessories can either be folded or rolled up and spring into action relatively quickly. Typically, they feature a single layer of poly foam, which has a quick response to pressure, allowing it to snap into formation almost immediately. One downside to these pillows is that they take up more room than their inflatable counterparts.
Related: Check out our list of the Best Pillows!
Sleepopolis Tips
Still not sure how to find the backpacking pillow of your dreams? No worries! I'm going to round out this guide with a few tips and tricks you can use to improve your search.
Keep it simple! Nowadays, there are a plethora of high-tech backpacking accessories on the market, but not all of them are worth the money. All you need is a backpacking pillow that's lightweight, packable, and supportive aka skip the bells and whistles.
I recommend testing out your pillow before you go backpacking, that way you'll know if it's the one for you. Trust me, you don't want to be on the trail and suddenly realize you hate the pillow you'll be using for the next few weeks.
It's always a good idea to go with a pillow that's got a water- and puncture-resistant cover. This makes for a more durable product that'll stand up to the elements better than other options.
FAQs
What is the best backpacking pillow?
The best backpacking pillow is one that's lightweight, compact, and easy to set up. It doesn't take up a lot of room in your pack, but is still comfortable and supportive.
What do backpackers use for pillows?
Backpackers use a range of products for pillows, but many have started turning specifically to backpacking pillows in recent years. These items are usually inflatable and can pack down to the size of a baseball in order to save space in a pack.
How do you pack a pillow for camping?
Many backpacking pillows are designed with packability in mind, meaning they come with bags, straps, and clips to reduce their size without much effort on the part of the backpacker. When packing a pillow for camping, you'll want it to be easily accessible to you, so I recommend placing it near the top of your pack.
Wrapping Up
And that does it for this guide to the best backpacking pillows on the market! When looking for one of your own, make sure to consider its weight, size, packability, and set-up. Then, you'll be well on your way to finding the backpacking pillow that's 100% right for you and your unique slumber needs.