The Layla is an all-foam, flippable bed featuring both a "Soft" and "Firm" side. It's also built with copper-infused memory foam, which brings some pleasant cooling power to this versatile slumber party.
Curious to know if customizable comfort is for you? Well then, you better keep on reading for my full Layla mattress review! In it, we're going to go over the bed's construction, discuss its feel, and compare it to some of the biggest brands on the mattress market. Then, we'll round things out with a few final pros and cons so you can figure out whether or not it's the bed for you!
So, without further ado, let's get into my Layla mattress review or click here for the summary!

Spring Sale: Up to $200 off + free pillows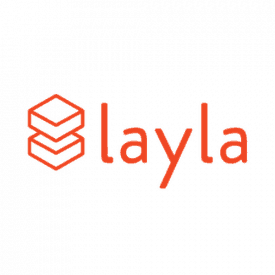 A flippable design makes the Layla mattress a truly customizable bedroom accessory. 
Brand Snapshot
Layla got its start in 2016 and has since blossomed into one of the most popular bedding destinations on the market. In addition to the all-foam Layla we're looking at today, the brand also sells a hybrid mattress, two pillows, sheets, weighted blankets, accessories, and more!
Though we won't be getting into all these products in this review, we will take a little time later on to size up the all-foam Layla against its hybrid counterpart. We'll also compare the Original Layla to some of its stiffest competition, namely the Nectar and Casper mattresses.
But before we get into any of that, let's turn our attention back to the Layla!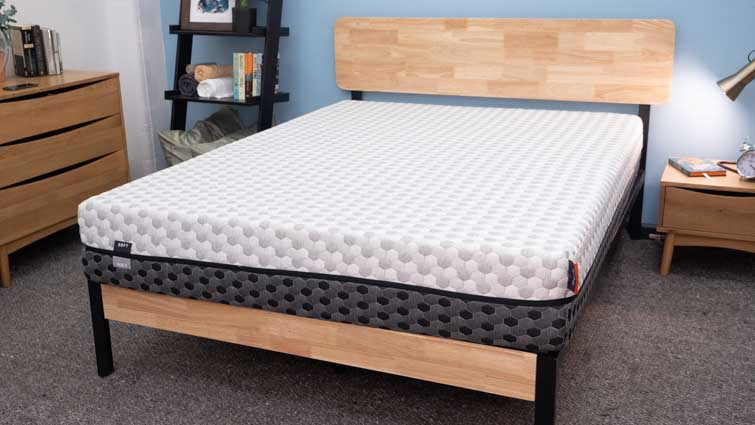 What is the Layla Mattress Made Of?
As I mentioned up top, the Layla is a flippable mattress that features both a "Firm" and "Soft" side. Regardless of how you orient the bed, both sides feature top and bottom layers of memory foam surrounding interior sections of poly foam. For the purpose of this review, I was sleeping with the "Soft" side up, though I'll describe both configurations below.
So, how exactly does a flippable mattress work? Let's dive underneath the cover to find out.
Cover – The Layla cover is made from a thick polyester blend. It's got a soft hand feel that's cozy and plush.
Comfort – With the "Soft" side flipped up, the comfort layer is made up of a 3" section of copper-infused memory foam. This material has a slow response to pressure, so provides the sleeper with plenty of body-contouring and sinkage. And while memory foam does have a slight reputation for overheating, the foam here has been infused with cooling copper to keep the temperatures low. This is a considerably thick layer of memory foam, so I can already tell that the "Soft" side could be great for side sleepers (more on that later!)
Transition – Up next, you'll land on a transitional layer of poly foam. This material is much firmer than the one above it, helping to curb the memory foam's deep sink and transition the sleeper into the firmer base materials below.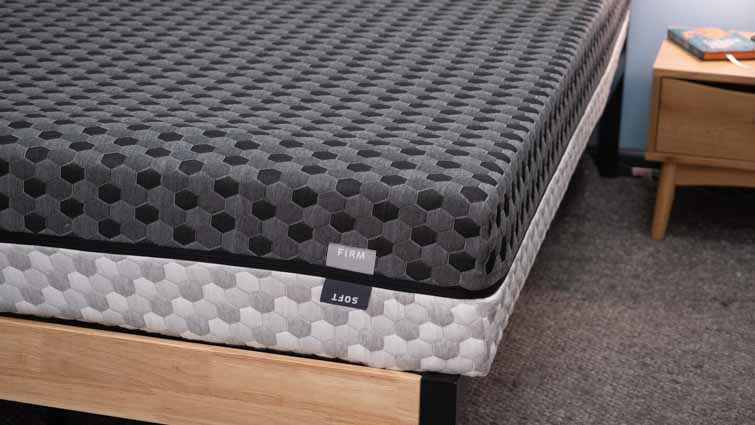 Support – And what exactly are we transitioning into? A 4" layer of high-density poly foam. Super solid and stable, this material provides the mattress with most of its foundational support. When oriented with the "Soft" side up, this layer essentially functions as the base. However, when the bed is configured to the "Firm" side, this section becomes a firm transitional layer that provides support to the lower back and hips.
Base – Last but not least, we land on the second and final layer of copper-infused memory foam. This one's only an inch tall, so you can't really feel it when the bed is in its "Soft" orientation. If you were to flip it, though, this would become the comfort layer. It wouldn't provide nearly as much pressure relief as the 3" section of copper-infused memory foam we've already seen, but could give back and combo sleepers a subtle hug at the lumbar region.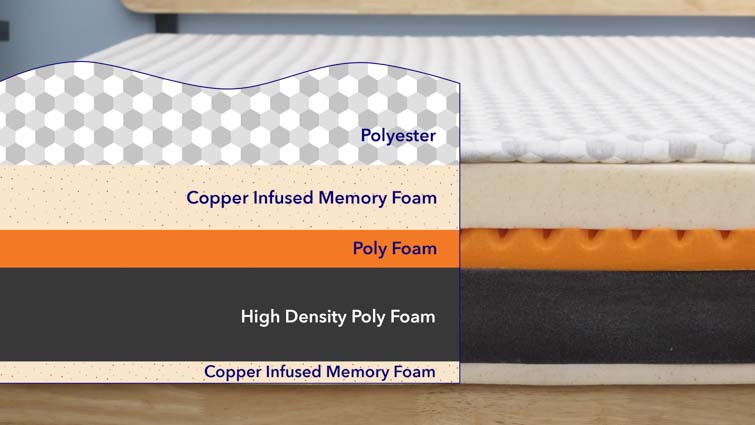 How Does the Layla Mattress Feel?
Now that we've got a solid sense of what's going on inside the Layla mattress, let's get into how it feels, starting with firmness.
As with any feel factor, firmness is subjective, and can change a lot depending on one's body size, shape, and weight. So, my read of this bed's firmness could differ from your own. For reference, I'm about 5'10", 190 lbs. and prefer to sleep on my stomach.

Since the Layla is flippable, I decided to give it two firmness ratings. On the "Soft" side, this bed gets a 5.5/10 from me. On the "Firm" side, I landed on a 7.5/10. To give these scores some context, the industry standard for medium firmness is 6.5, so it's safe to say that these ratings are a bit extreme.
"Soft" side: As soon as I hopped onto the Layla in its soft configuration, I could feel my body sinking into the plush top layer of copper-infused memory foam. The material contoured around my shoulders, hips, and lower back, providing me with that classic memory foam "hug." I think this feel would probably work best for side sleepers or those in need of deep pressure relief at the joints.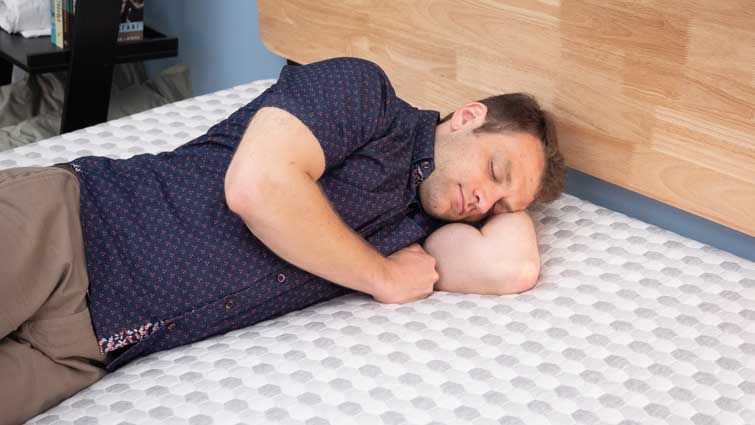 "Firm" side: On the "Firm" side, it was quite another story altogether. By swapping out a 3" top layer of memory foam for a 1" layer, the bed suddenly becomes super supportive. There's hardly any contouring at all, which creates a solidly "on top" of the bed type vibe. I think this feel could work best for back sleepers in need of firm support at the hips and lumbar region.
Spring Sale: Up to $200 off + free pillows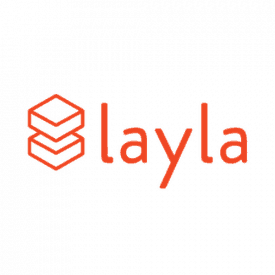 A flippable design makes the Layla mattress a truly customizable bedroom accessory. 
Testing the Layla Mattress
Firmness is important, but it's just one piece of the feel puzzle. To get even more specific about this bed's overall vibe, I'm now going to test it for two other factors: Pressure Relief and Motion Transfer.
Pressure Relief
Pressure relief refers to a bed's ability to alleviate tension at the shoulders, hips, and lower back. This measure will be valuable for all sleepers, but especially so for those who struggle with joint pain. To help you visualize how exactly the Layla relieves pressure, I'll be testing it out with a pressure map.
Basically, it works like this: I roll out the device, hop aboard, and let the map do the rest. As I roll around, the map records how much force I'm exerting on the mattress, creating a colored "map" of the pressure. For reference, blue indicates areas of low pressure and red indicates areas of high pressure.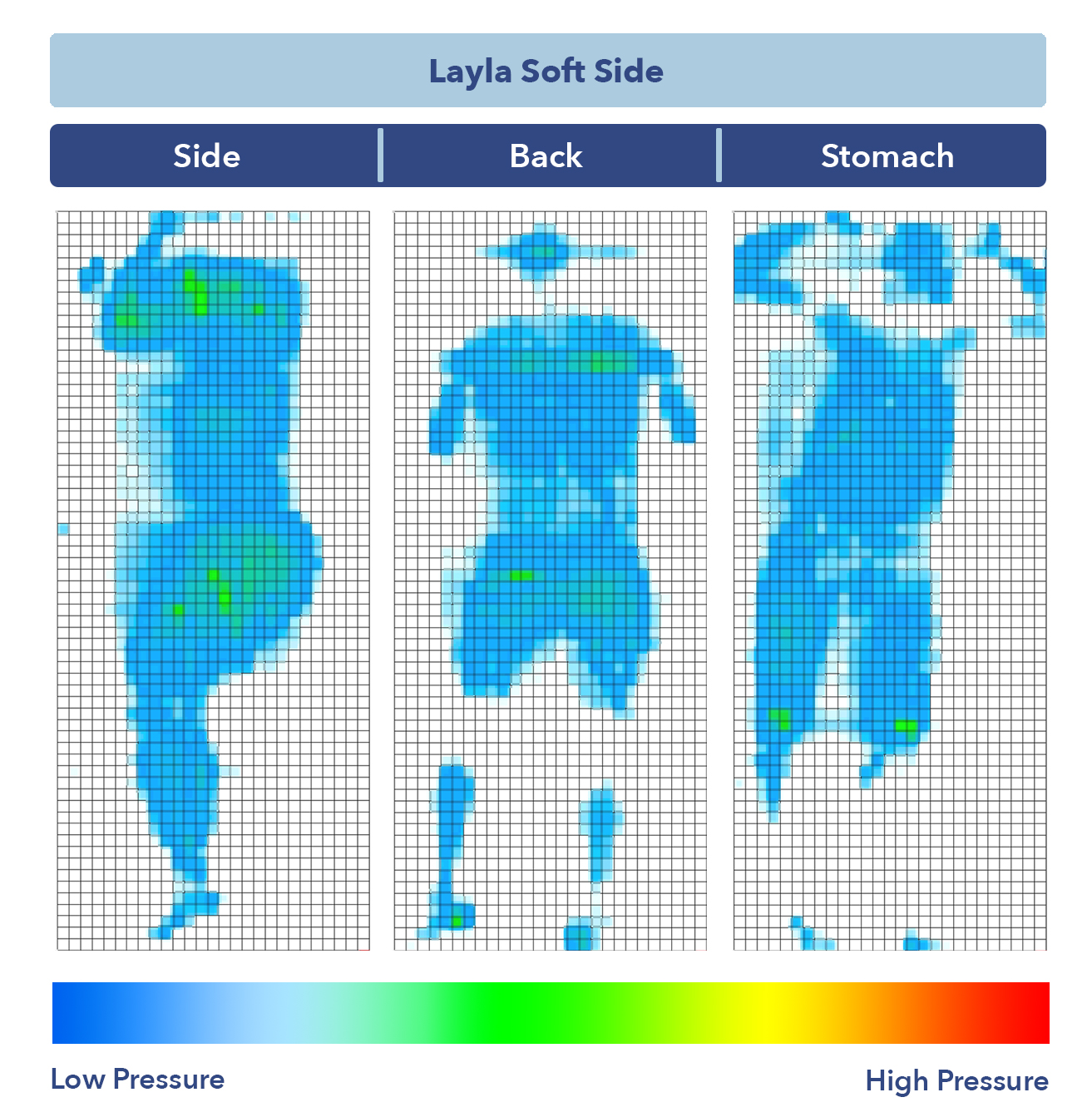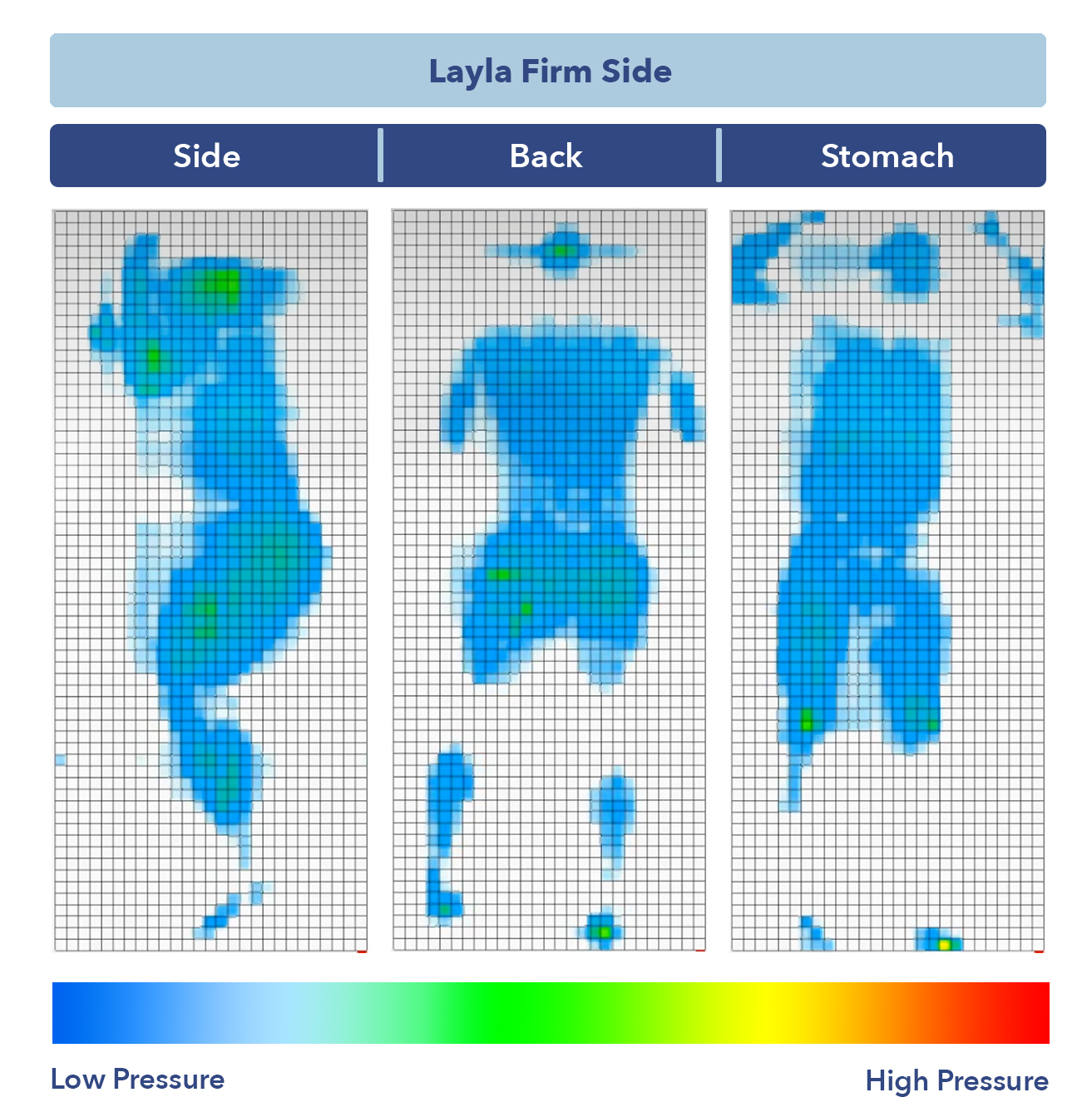 Back – As I mentioned above, the "Firm" side was the most comfortable for back sleeping, in my opinion. It set my spine in a nice, neutral line by keeping my hips lifted in alignment with my shoulders. On the "Soft" side, I found that my hips sank a little too far into the structure for the position to be comfortable.
Side – When I turned onto my side, I felt a ton of fantastic pressure relief on the "Soft" side of the bed. The thick top layer of memory foam cradled my shoulders and provided me with an ultra-cozy deep sink. As to be expected, the "Firm" configuration didn't provide me with nearly as much pressure relief, so may not be the best orientation for strict side sleepers.
Stomach – Regardless of whether I had the Layla configured to the "Soft" or "Firm" side, I wouldn't say this bed is a hit for stomach sleeping. Strict stomach sleepers tend to prefer solidly firm mattresses that lift the sleeper totally on top of the bed, which the Layla is not.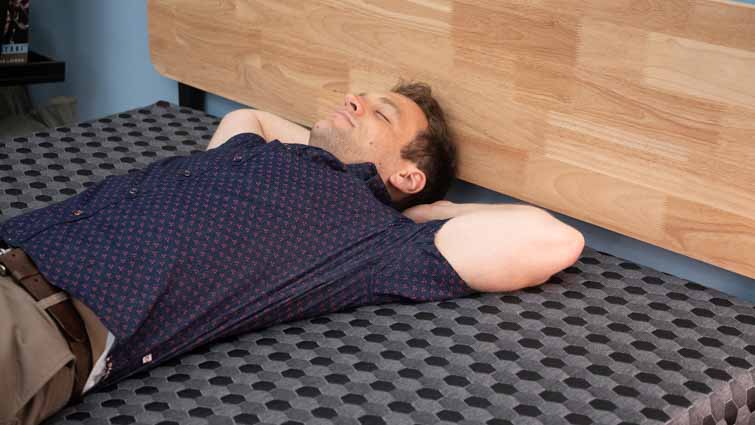 Motion Transfer
Let's wrap up this section with a look at motion transfer, which refers to the amount of movement detectable from one side of the bed to the other. All sleepers will want to pay attention to this feel factor, though it will probably be most relevant for those who share their bed with a partner.
To illustrate this motion transfer, I dropped a 10 lb. steel ball from heights of 4 inches, Eight inches and 12 inches and measured the disturbance it caused: the bigger the lines, the bigger the disturbance.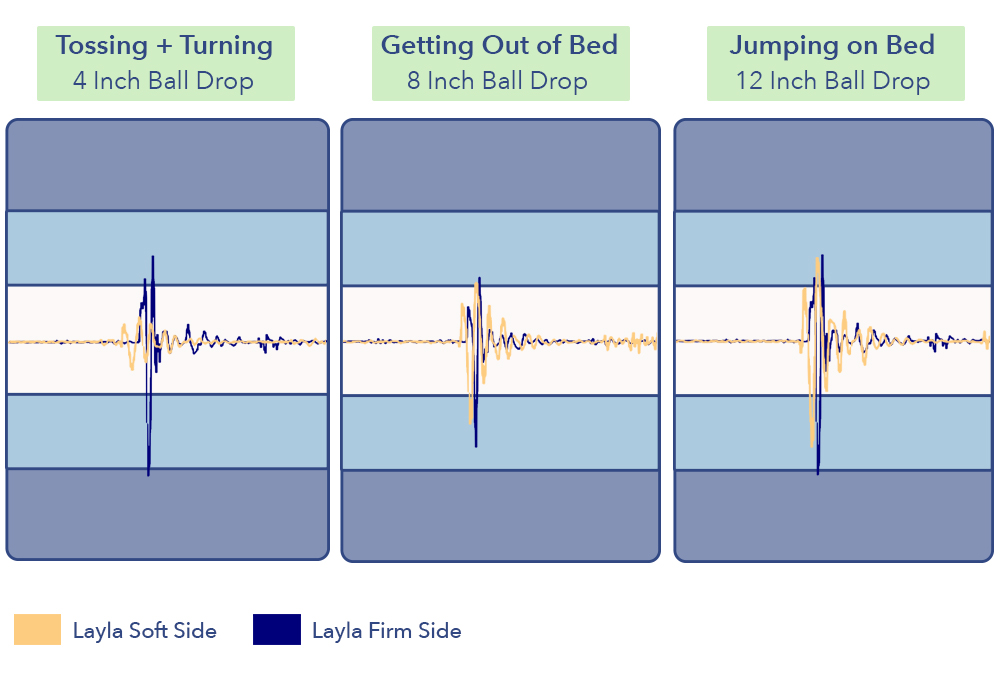 These are fantastic motion transfer results, which tells me that you shouldn't be too bothered by your bed mate's movements in the night. The star here is the thick top layer of memory foam, which works to absorb motion and transfer it evenly across the surface of the bed.
Spring Sale: Up to $200 off + free pillows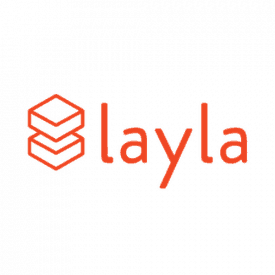 A flippable design makes the Layla mattress a truly customizable bedroom accessory. 
Layla Vs.
If you're shopping for a mattress online, you're likely looking at a few different brands. So, let's take a second to compare the Layla against some of its biggest competition: the Nectar and Casper mattresses.
Nectar
Like the Layla, the Nectar is an all-foam bed, though it's built almost entirely of memory foam. This gives the mattress a super plush feel with plenty of sinkage, body-contouring, and pressure relief.
Because of this, I think the Nectar could be a great fit for strict side sleepers in need of deep relief at the shoulders and hips.
In general, I'd say the Nectar is most similar in feel to the "Soft" side of the Layla mattress.
For more, read my full Nectar mattress review.
Casper
The Casper mattress is available in both an all-foam and hybrid version. Regardless of which one you pick, you'll find a medium firm bed that's as pressure-relieving as it is supportive.
Overall, the Casper has a more balanced feel than either the Layla or Nectar. It's not dominated by one material, so has a nice mix of both give and lift.
An interior layer of zoned support makes it an especially good fit for combo back and side sleepers.
Learn more at my full Casper comparison and my Casper mattress review.
I also thought it might be useful to take a look at Layla's other mattress: the Layla Hybrid. Below, I'll provide you with a brief overview of the bed, but encourage you to check out my full Layla Hybrid mattress review.
Layla Hybrid
The Layla Hybrid is a flippable bed like the all-foam Layla, but swaps out the foam support layer for one of pocketed coils.
This creates a bouncier and more supportive structure, regardless of how you orient the mattress.
If you like the Layla brand but really need some firm support, I think the "Firm" side of the Layla Hybrid could be a fantastic fit for you.
Pricewise, it's worth noting that the Hybrid is more expensive than the Original all-foam model.
Should You Buy the Layla Mattress?
The Layla is a memory foam mattress in a box that let's you choose whether you want firm support or softer comfort. Side sleepers will probably prefer the soft side, while back sleepers can choose whichever fits their preference.
Layla Pros
First and foremost, if you're a fan of memory foam, you'll likely be a fan of the Layla mattress. This bed features a lot of the material, so epitomizes its characteristic sinkage and contouring hug.
As far as sides are concerned, I think side sleepers will prefer the "Soft" orientation and back sleepers will probably be better off on the "Firm" side.
I'd also say that this bed has really low motion transfer, which marks it as a solid option for couples.
Spring Sale: Up to $200 off + free pillows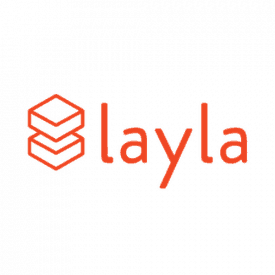 A flippable design makes the Layla mattress a truly customizable bedroom accessory. 
Layla Cons
If you're looking for a bouncy bed, the Layla will likely not fit the bill. There's not a lot of bounce here, which results in more of a "stuck-in-the-bed" type vibe.
I'd also say that the mattress isn't supportive enough to bolster heavier folks as they sink into the bed. These sleepers will want something with a bit more lift to ensure that they're positioned on top of the structure.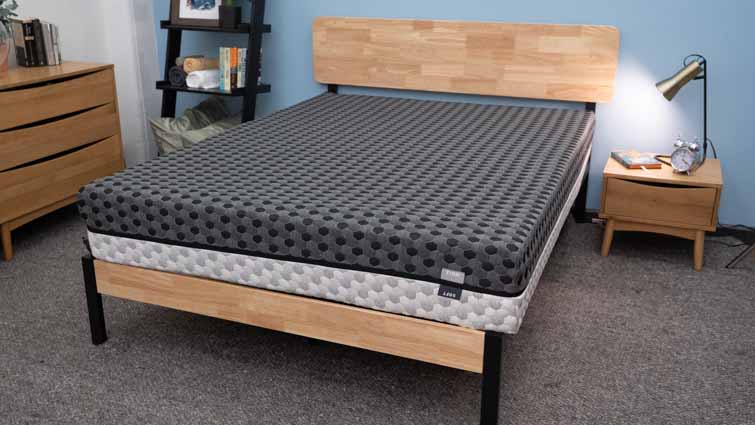 How Much Does The Layla Cost?
Be sure to use our Layla coupon code to save on your purchase of a Layla mattress. With the $160 discount the Layla earns its place on our Best Mattress under $1,000 list!
Spring Sale: Up to $200 off + free pillows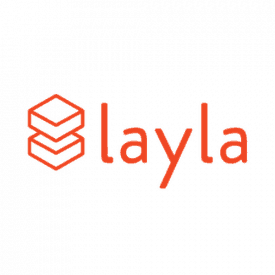 A flippable design makes the Layla mattress a truly customizable bedroom accessory. 
| Size | Dimensions | Weight | Price |
| --- | --- | --- | --- |
| Twin | 38" x 74" x 10" | 50 lbs | $649 |
| Twin XL | 38" x 80" x 10" | 55 lbs | $749 |
| Full | 54" x 74" x 10" | 70 lbs | $949 |
| Queen | 60" x 80" x 10" | 80 lbs | $1,049 |
| King | 76" x 80" x 10" | 90 lbs | $1,149 |
| California King | 72" x 84" x 10" | 90 lbs | $1,149 |
Layla Mattress Policies
Trial – 120 Days
Shipping – Free
Warranty – Lifetime
Layla Mattress
Materials

Comfort

Support

Value

Cooling

Edge Support

Sex

Smell

Company

Refunds

Trial

Warranty
Summary
Layla features an all-foam, flippable design with different firmness levels on each side. This allows sleepers to experience a different feel simply by turning the mattress over. Layla's comfort layers incorporate memory foam for significant pressure relief, and in our testing we also found the mattress to sleep very cool.