If you're looking to upgrade your current mattress to one of the best luxury mattresses, you've come to the right place. We curated a list of our favorite high-end beds based on factors such as the quality of materials, mattress feel, and durability. When you think of "luxury," you might assume a higher price tag. While some of the mattresses on this list are pricier than others, we've done our best to include a couple of luxury beds that are at a more affordable price point (close to or under $2,000 after discounts).
The best luxury mattress needs to be more than its affordable price, though. At our mattress lab, we test each mattress in a number of areas, including responsiveness, cooling, and edge support. The luxury options out there have special features that put it on a different level than standard mattresses, so we paid special attention to the common luxury features we see: cooling and pressure relief.
Best Luxury Mattress
Best Luxury Mattress Video Review
Compare the Best Luxury Mattresses
Expert Opinion
For the ultimate luxurious experience, we highly recommend the Helix Midnight Luxe. It's a hybrid mattress uses both foams and coils, resembling the pressure relieving qualities of an all-foam mattress as well as the sturdy qualities of an innerspring. It aims to provide the perfect balance of comfort and support. This luxury version of the standard Helix Midnight adds zoned lumbar support for better pressure relief, plus a premium pillow top. When lying on these materials, we noticed it had a heavenly, cloud-like feel to it.
To further test the pressure relief, we put the Helix Midnight, the Luxe's standard version, through our pressure map test. This involves setting our pressure map on the mattress surface and relying on body heat to track the level of pressure on certain areas of the body. We found mostly blue or green on our pressure map, showing that the Helix Midnight provides lots of pressure relief for side-sleeping and back-sleeping. But because the Helix Midnight Luxe has a plusher comfort layer, we feel confident that this luxury mattress will provide relief for back pain and shoulder pain.
What Customers Say
While the luxury option seems to provide enough cooling for most shoppers, others say that for extreme overheating, the GlacioTex Cooling Cover that's offered for a fee works wonders.
Pros of the Helix Midnight Luxe Mattress
The zoned lumbar support should help keep your spine straight as you sleep on your side.
The medium, balanced feel should help these folks be comfortable on the Helix Midnight Luxe.
This mattress tested well in motion isolation, edge support, and cooling. So, it should be a fantastic option for couples.
Cons of the Helix Midnight Luxe Mattress
Is the Helix Midnight Luxe is the mattress of your dreams? Click here for our best deal or check out our full Helix Midnight Luxe mattress review. Still not sold? Take a look at some of the other best hybrid mattresses.
Expert Opinion
Not only are the materials in the WinkBeds EcoCloud luxurious and high-quality — they're environmentally friendly. From the get-go, we encountered a green-minded design when testing out this mattress, from the organic cotton and sustainable New Zealand wool in the cover to the natural Talalay latex in the comfort layer.
During testing, we also noticed this material is naturally bouncy and responsive, which makes it easy for combination sleepers to switch positions. You shouldn't feel like you're getting stuck in the material on this mattress.
What Customers Say
Before trying out their mattress, a few customers were worried about the EcoCloud being too soft; however, after testing it out, many love how it feels cushioning while also feeling supportive.
Pros of the WinkBeds EcoCloud Mattress
The eco-consciousness continues at the bottom of the bed, where the coils are made from recycled steel, creating enough support for back sleepers to feel comfortable.
The EcoCloud is in the category of medium-firm, with an effective blend of comfort and support. This, along with its zoned support feature, should be helpful for those with back pain.
You should be sleeping cool on the EcoCloud, as the cover is breathable, the latex naturally keeps a low temperature, and the coils have plenty of room for airflow.
Cons of the WinkBeds EcoCloud Mattress
The WinkBeds EcoCloud has high motion transfer, which means it might not be the best mattress for couples.
Think the WinkBeds EcoCloud is the mattress for you? Click here for our best deal or check out our full WinkBeds EcoCloud mattress review. Still not sold? Take a look at some of the other best organic mattresses.
Best Luxury Mattress for Side Sleepers – DreamCloud Premier
Expert Opinion
Side sleepers should look for two things that don't necessarily pair well in luxury mattress construction: pressure relief and proper spinal alignment. You typically get better pressure relief from a softer mattress and better spinal alignment from a firmer mattress, so it can be hard to find the right balance. Although there's no such thing as a universal mattress for side sleeping, the DreamCloud Premier comes pretty close.
During testing, we found we get all the pressure relief we need from its top layers of soft foam, while still getting properly supported by its coil base. This was demonstrated primarily in the back-sleeping position on our pressure map test, where we saw almost entirely blue. Side-sleeping shows a bit more pressure, especially at the shoulders, so we don't recommend it for side sleepers with shoulder pain.
What Customers Say
Many shoppers were pleasantly surprised at the high quality of this mattress, since it's priced affordably. You can find a queen size for under $1,300 after discounts, making this one of the most affordable luxury options on the market.
Pros of the DreamCloud Premier Mattress
This is one of the best mattresses for couples because it's responsive for sex yet still isolates motion well for when it's time to sleep.
The luxury cashmere-blend cover and high-loft memory foam provide sufficient pressure relief for hip and shoulder pain (especially for back sleepers).
The sturdy support and cushioning comfort layer should provide relief and sturdiness for back sleepers of all body types.
Cons of the DreamCloud Premier Mattress
Though it does have some cooling features, some sleepers have found that the DreamCloud Premier sleeps a little hot.
Think the DreamCloud Premier is the mattress for you? Click here for our best deal or check out our full DreamCloud Premier mattress review. Still not sold? Take a look at some of the other best mattresses for side sleepers.
Expert Opinion
Hybrid mattresses are one of the most popular mattress types on the market. There are an extremely wide range of hybrids out there, each with different constructions, feels, and price ranges. These beds combine soft foams and sturdy coils to strike a delicate balance of comfort and support. And if you're in the market for a luxury hybrid, we couldn't recommend the Bear Elite Hybrid enough.
The three firmness levels allow folks of different sleeping positions and body types to select the model that's best for their wants and needs. When using the pressure map on the Medium model, we found excellent results (low pressure buildup) in the back sleeping and side sleeping positions. Stomach sleepers will almost certainly want the firmer model.
What Customers Say
Bear customers really appreciated the cooling abilities of the Bear Elite Hybrid. This isn't exactly surprising, as the mattress received some impressive cooling results in our mattress lab.
Pros of the Bear Elite Hybrid Mattress
This mattress did well on our responsiveness test, so it should be a suitable choice for combination sleepers, who need mobility for switching sleeping positions.

Those with joint pain should appreciate the pressure relief on the softer model.

We found some exceptional cooling results on the Elite Hybrid, due to its use of copper-infused foam and Phase Change Material, which helps regulate the temperature of your body.
Cons of the Bear Elite Hybrid Mattress
Stomach sleepers weighing over 250 pounds might be alright on the Firm model, but they might need a mattress intended specifically for larger bodies.
Think the Bear Elite Hybrid is the mattress for you? Click here for our best deal or check out our full Bear Elite Hybrid mattress review. Still not sold? Take a look at some of the other best hybrid mattresses.
Best Luxury Mattress for Back Sleepers – Nolah Evolution
Expert Opinion
Back sleepers could certainly benefit from a luxury mattress. Luxury mattresses are typically built with higher quality materials, which results in a more durable mattress. This should prevent the materials from sagging, which often causes folks' backs to bend out of alignment. The luxurious pillow top should fill in the lumbar region for much-needed pressure relief at the lower back. Reinforced edge support and eight-inch coils allow for plenty of support, which should help lift back sleepers' hips into a healthy neutral alignment.
The Nolah Evolution is offered in three different firmnesses, but we think most back sleepers should like the Luxury Firm option for the best balance of comfort and support. We tested the Luxury Firm model in our mattress lab and when we put it through our pressure map test, we found it excelled at cushioning in the back sleeping position. Our graphic showed almost all blue, which signifies extremely low pressure buildup and indicates that the Evolution should be a good option for these folks.
What Customers Say
Nolah shoppers who weigh over 250 pounds tend to find more comfort on the Evolution's Comfort+ model, built for larger bodies.
Pros of the Nolah Evolution Mattress
With decent motion isolation, good responsiveness and cooling, and excellent edge support, this should be a solid option for couples.

Side sleepers should find lots of relief at the shoulder and hip from the soft pillow top, especially with the Plush model.

If you're a stomach sleeper or partial to a firmer feel, the Nolah Evolution offers a Firm version.
Cons of the Nolah Evolution Mattress
While it does include soft foams and a pillow top, this isn't the mattress for those wanting a slow-sinking memory foam feel.
Think the Nolah Evolution is the mattress for you? Click here for our best deal or check out our full Nolah Evolution mattress review. Still not sold? Take a look at some of the other best mattresses for back sleepers.
Expert Opinion
Those who love a firmer bed will likely be comfortable on the Firm model of the Brooklyn Bedding Aurora Luxe. On top of this luxury hybrid mattress, we found a copper-infused comfort layer that, along with a two-inch contour layer, gave us some pressure relief right off the bat. The mattress then gets more supportive toward the bottom, with a transition layer of firmer TitanFlex foam giving way to a tall section of pocketed coils.
We believe all of these layers work together beautifully to create a balance of comfort and support. This makes it an incredible match for back sleepers; our pressure map test showed absolutely no buildup, so it should be a wonderfully balanced and comfortable option.
What Customers Say
A lot of side sleepers applaud the pressure relief that the Aurora Luxe provides. Many compare it to sleeping on a cloud, and this experience is only strengthened with the optional pillow top.
Pros of the Brooklyn Bedding Aurora Luxe Mattress
This mattress should be an especially good fit for combination sleepers, who should be able to switch positions easily.
It should also appeal to back sleepers, who need a bit of pressure relief while also getting a slight lift. Side sleepers should be comfortable on the two softer models.
Being a luxury mattress, the Brooklyn Bedding Signature also has some cushy added features — namely a cover of Phase Change Material that's cool to the touch.
Cons of the Brooklyn Bedding Aurora Luxe Mattress
Even on the Firm model, stomach sleepers may not be comfortable and might need something with more support.
Think the Brooklyn Bedding Aurora Luxe is the mattress for you? Click here for our best deal or check out our full Brooklyn Bedding Aurora Luxe mattress review. Still not sold? Take a look at some of the other best firm mattresses.
Best Luxury Mattress for Heavy People – Saatva HD
Expert Opinion
Finding comfort and support in a luxury mattress can be a challenge if you weigh 250 pounds or more. If you fall into this category, then you'll want to pay attention to how well a mattress can maintain its form without sinking or sagging throughout the night. If you sink too far into your mattress, it can cause joint pain and soreness, and even lead to long-term health issues like chronic back pain.
We found that the Saatva HD combats this; during testing, we found it provides support using traditional innersprings and comfort using a plush pillow top made of latex and memory foam. Our pressure map showed exceptional pressure relief while back sleeping, essentially showing all blue (low pressure) on the map. Side-sleeping presented a bit of green at the shoulder and hip, but we think it should still be soft enough for joint pain.
What Customers Say
There are Saatva showrooms throughout the nation, and shoppers report incredibly positive experience with the customer service in these showrooms.
Pros of the Saatva HD Mattress
The Saatva HD is made of durable materials, such as an organic cotton cover, a Talalay latex comfort layer, and steel coil support. So, it's an outstanding option for eco-conscious shoppers.
The pillow top should offer optimal pressure relief and contouring, even with the Saatva HD's sturdier, firmer construction. This means it should work really well for side sleepers
This bed tested well for responsiveness, so combination sleepers should find it easy to switch sleeping positions.
Cons of the Saatva HD Mattress
If you're a lighter person, you probably won't enjoy this mattress as much. It may actually offer too much support or pushback and feel less comfortable. A better alternative might be the original Saatva mattress.
Think the Saatva HD is the mattress for you? Click here for our best deal or check out our full Saatva HD mattress review. Still not sold? Take a look at some of the other best mattresses for heavy people.
Expert Opinion
Pillow top mattresses use a thicker, plusher layer for additional cushioning at the top of the mattress. A pillow top generally measures around two inches in height, and is actually sewn into the cover of a mattress. This incorporates an extra opportunity for pressure relief and contouring to a bed that already has comfort and support layers. A lot of shoppers like to search for pillow tops if they sleep on their sides, want a softer feel, or have joint pain problems.
For the best luxury pillow top mattress in the game, we suggest the Stearns & Foster Lux Estate. Of course, we put this bed through our pressure map test with some expectedly outstanding results. There are three different firmness options for the pillow top version of this mattress (as well as a non-pillow top version), so gauge your pressure relief needs to determine the best firmness for you.
What Customers Say
There are over 700 reviews on the company site, and customers tend to rave about the overall quality of the Lux Estate. Some words that stood out to us were "heavenly," "best mattress I've ever owned," and "outstanding quality product."
Pros of the Stearns & Foster Lux Estate Mattress
Stearns & Foster is a company that specializes in luxury mattresses. They go above and beyond by hand-stitching their mattresses and offering free white glove delivery. They'll remove your old mattress and set up your new one at no additional cost.
While testing, we found the Lux Estate to feel comfortable in all sleeping positions for average-weight sleepers.

Couples should fall in love with the excellent motion isolation and impressive edge support.
Cons of the Stearns & Foster Lux Estate Mattress
Even for a luxury mattress, the Lux Estate is priced higher than other beds. While we think it does deliver in quality, this isn't the right bed for those looking for affordable luxury mattresses.
Think the Lux Estate is the mattress for you? Click here for our best deal or check out our full Stearns & Foster Lux Estate mattress review. Still not sold? Take a look at some of the other best pillow top mattresses.
How We Test the Best Luxury Mattresses
Luxury mattresses can and should offer more than just a standard mattress. After all, they are priced much higher than standard mattresses.
Luxury mattress or not, our Sleepopolis team puts a variety of models through the same series of tests. And one thing's for sure; luxury mattresses are known for their additional pressure relief. So, one of our tests that we paid special attention to was our pressure relief test.
This test uses a pressure map, which uses body temperature to track how much pressure is building up in a given sleeping position. We test mattresses out in the three most common sleeping positions: side sleeping, back sleeping, and stomach sleeping. If a map shows mostly blue, that indicates low pressure; green indicates moderate pressure, and yellow, orange, and red indicate high pressure.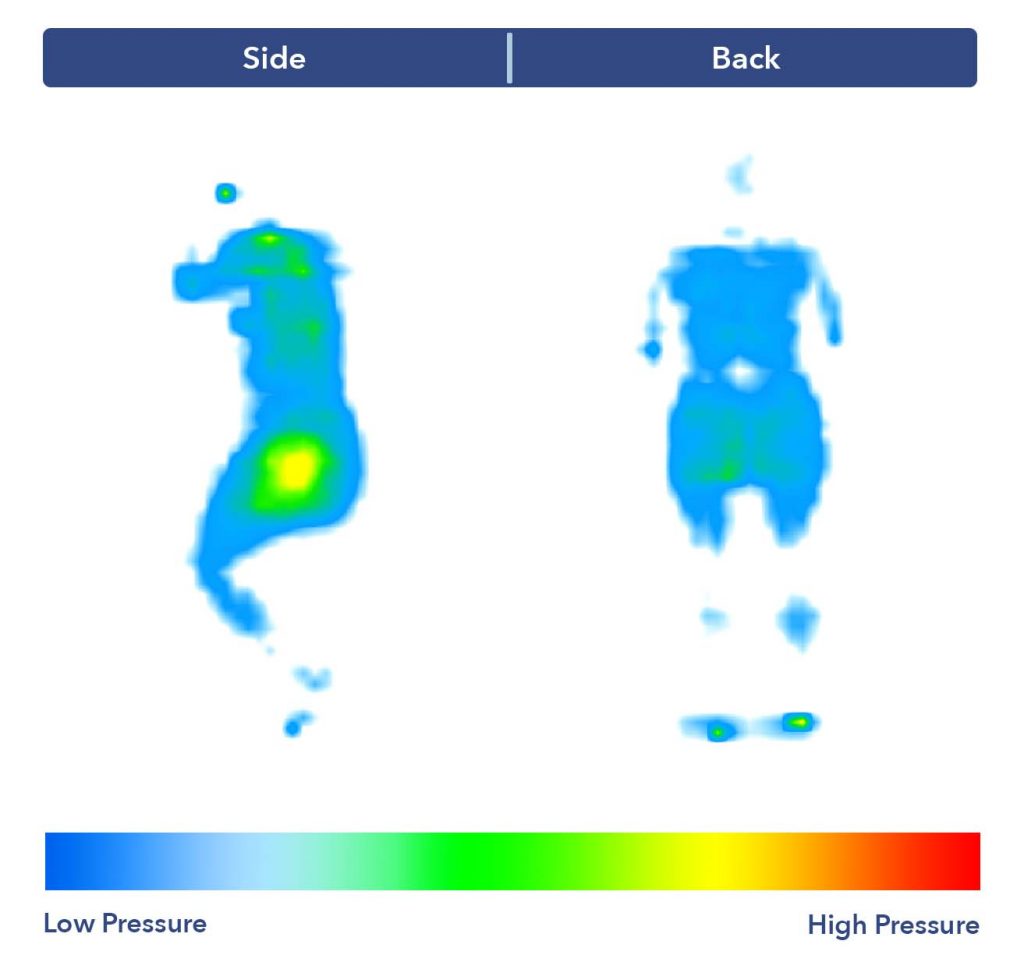 Above is a screenshot from the pressure map results on the Helix Midnight (standard version) while back and side sleeping. We see mostly blue for the back-sleeping position, so we can easily determine that most back sleepers should feel low pressure buildup in this postion.
The side-sleeping results require a bit more analysis. At the shoulder and hip, we see green and yellow, colors that indicate moderate pressure. Since there's not a lot of yellow at the shoulder, most side sleepers should find comfort in this area. However, we can read that those with hip pain might have a difficult time getting enough pressure relief, as our map indicates a bit more buildup there.
Luxury Mattress Considerations
Any time you're shopping for a new mattress — especially a luxury bed that you're going to spend a good amount of money on — there are a lot of factors to consider. Here are some of the most important ones, and how they might affect your decision-making.
Price
How much are you willing to spend? Even though luxury mattresses tend to be more expensive, they still cover a wide range. For instance, the beds here cost anywhere from almost $2,000 to nearly $3,200 for a queen size before discounts. Decide what you can afford and what your hard price limit is.
Sleeping Position and Firmness
As you've seen from the above mattress descriptions, different beds are going to appeal to different types of sleepers. Generally (though there are exceptions), side sleepers are most comfortable on a softer mattress, back sleepers need a medium-firm or firm mattress, and stomach sleepers require a firm or extra-firm mattress. If you're a combination sleeper who switches sleeping positions, it's going to depend on what level of firmness you prefer, although you'll want to make sure the bed is responsive enough for you to easily move around.
Mattress Type
We'll delve further into the different mattress types in the next section, but you'll definitely want to decide what kind of bed you prefer before making a purchasing decision. The types to choose from are usually memory foam, innerspring, latex, and hybrid.
Edge Support
Edge support refers to how strong the perimeter of a mattress is. When you sit on the edge of the bed or lie near it, do you feel it collapsing under your weight, or does it retain a sturdy foundation? If you're someone who likes to spread out and utilize the entire sleep surface — or if you share your bed with a partner — you'll want to look for a mattress with solid edge support.
Motion Isolation
When we say "motion isolation," we're talking about how well a mattress is able to muffle the movements of the sleeper(s) and prevent them from rippling across the bed. We test this by dropping steel balls of various weights onto the mattress and measuring their vibrations across the sleep surface. The less movement we detect, the better a mattress is at isolating motion. If you share your bed with someone else and either one of you is a light sleeper, you'll probably want a luxury mattress with good motion isolation. All-foam beds tend to be better at this than hybrids, innerspring, or latex.
Mattress Size
There's no one right mattress size, but the bigger the bed is, the more expensive it's going to be. We're usually talking about queen mattresses when discussing price throughout this article, so keep that in mind if you need a different size and are trying to budget accordingly. A luxury mattress is already fairly expensive, and those numbers continue to go up when you get into king size territory and beyond.
Pressure Relief
A mattress' ability to relieve pressure is going to vary from sleeper to sleeper, depending on their body type and sleep position. That's why we test out this performance area with something called a pressure map. Essentially, we spread the map out over the mattress, then lie down on it in a variety of positions. The map reads how much pressure we're experiencing on various parts of the body, then visualizes it through several graphics.
By looking at the graphics, we can determine how pressure-relieving a mattress is going to be for back sleepers, side sleepers, stomach sleepers, etc. You can look at each bed's complete pressure map results by clicking on the full review, then use that to make your buying decision.
Temperature Regulation
If you're a hot sleeper, you're going to want to find a luxury mattress that sleeps cool. We talk about this factor in most of the above mini reviews, and if you want more info, you can click on our full review for a deep dive on each bed's cooling capabilities.
Types of Luxury Mattresses
The type of mattress you sleep on has a direct effect on how you'll feel the next day and whether or not you'll wake up with aches. Choosing a luxury mattress with extra features can enhance your sleep experience on top of your preferred mattress type. Luckily, you can find luxury grade mattresses in all types listed below.
Memory foam: A memory foam mattress is a popular choice for many people, and as a material, it's made many advances in recent years. Traditional memory foam beds have a tendency to trap body heat and create night sweats. But new technology — such as the environmentally friendly materials of the WinkBeds EcoCloud — has revolutionized the memory foam mattress and allowed it to sleep cool.
Innerspring: A traditional innerspring mattress isn't typically what comes to mind when we say luxurious. But when you have one like the Saatva HD with a plush pillow top, it's hard to deny its luxury status. This type of mattress is best suited for heavy people who need a strong foundation that won't sag or dip.
Latex: Latex is becoming a more popular material in luxury mattresses. That's because it creates a cleaner sleeping surface and is hypoallergenic, which sleepers with allergies should appreciate. Latex is a bit pricier than other mattresses, but it also does a great job contouring the natural curves of your body while distributing pressure and weight evenly for a luxury experience.
Hybrid: There are a lot of hybrid mattresses out there, and most of them are usually paired with pocket coils and memory foam. Luxury hybrid mattresses tend to have many pocket coils, high-density poly foam, and a plush pillow top. The ones listed in this review perform well with a wide range of sleepers. When in doubt, go with a hybrid mattress.
What Affects a Mattress' Price and What Makes It Luxury?
Luxury mattresses are more expensive for a reason. There are many factors that can drive up the manufacturing cost — and thus the eventual price — of a bed. The good news is, these increases usually result in increased quality and durability. Also, mattress brands often justify the higher price with non-financial perks such as longer warranties. Let's take a look at some of these causes and benefits.
Materials
A mattress' higher price and luxury status is mostly going to depend on materials. What added features do they have that put them a cut above standard mattresses? For instance, if you look at Helix Luxe — the luxury line of Helix's original six mattresses — they each have an added pillow top and a cover made of soft and breathable Tencel. Of course, these items cost more money to produce, hence the higher price tag.
Shipping, Returns, Trials, and Warranty
Mattress companies know that customers are usually paying significantly more for a luxury mattress. One way they can make it worth their while is offering a more generous warranty and trial period. This gives the customer plenty of time to make sure they're satisfied with their investment. Most companies also offer free shipping and returns, although that usually applies to all of their mattresses, not just luxury beds.
Foundations, Bases, and Accessories
Even though luxury mattresses cost more, they're often bundled with foundations, adjustable basses, and other accessories such as luxury bedding. While this usually involves an extra charge, it makes both the mattress and the additional items much less expensive than if you buy them separately.
Old Mattress Removal
The downside to buying a new mattress is that it usually means disposing of your old one, which can be a cumbersome process. Fortunately, if you buy luxury, many brands won't just deliver your new bed for free — they'll also remove your previous mattress, saving you the trouble of having to get it out the door and onto the curb.
In-Home Assembly
If you order a luxury mattress, some brands will even transport the bed into your bedroom and set it up for you at no extra charge. Another term for this is "white glove delivery". Saatva is known for offering this service, partly because their luxury mattresses arrive uncompressed and not in a box.
Luxury Mattress Pros and Cons
Here are some of the benefits and drawbacks to purchasing a luxury mattress.
Pros
Higher durability: While there are plenty of high-quality non-luxury mattresses, a luxury bed is likely to last you longer.
Higher-quality materials: As we said, the materials of a luxury mattress usually cost more because they're more durable or increase a bed's performance in areas such as cooling, motion isolation, edge support, and more.
Upgraded customer service: It isn't just the mattress that gets an upgrade when you buy luxury; these beds often include additional customer-friendly policies such as free white glove delivery and old-mattress removal.
Cons
More expensive: Let's just state the obvious — a luxury mattress is probably going to cost you a lot more than a standard one, even though many of them (including the ones in this roundup) can be found at a steep discount or value price. If you're going the luxury route, you just have to be prepared to spend more money.
Heavier weight: Many luxury mattresses are taller, have more layers, and include sturdier materials, all of which can increase a bed's weight. For example, DreamCloud mattresses tend to be fairly heavy — to the point where you might need a friend or family member to help set one up.
FAQs
What is a luxury mattress?

A luxury mattress is a mattress that consists of many different layers that work harmoniously to enhance your sleep experience. These layers can be hybrids of quilted memory foams and micro-coil compression. It also usually has a plush euro pillow top for maximized comfort. The materials to construct the mattress itself are typically of much higher quality to ensure durability.
Are luxury mattresses worth it?

Luxury mattresses are going to cost more than standard mattress models. This is because there might be more materials used and/or higher quality materials used to make the bed. This also means that the mattress is likely to last longer and resist sagging.
How much does a luxury mattress cost?

The cost of a luxury mattress varies greatly. It depends on a lot of things, such as the size and materials used. At the time of this writing, the ones listed in this review for a queen size mattress range from $1,874 to $3,195.
Summary: Best Luxury Mattresses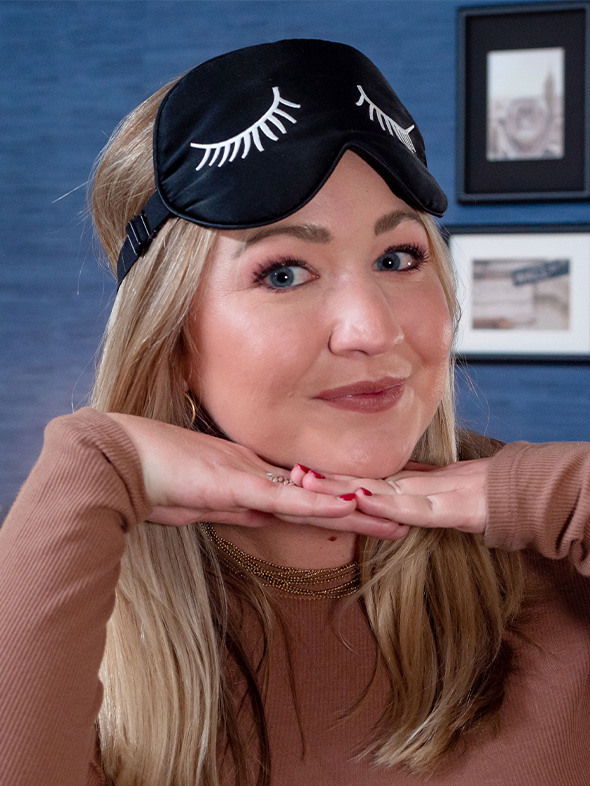 Bridget Chapman
Former Senior Product Editor
About Author
Bridget is a Certified Sleep Science Coach and senior editor here at Sleepopolis. From testing mattresses to writing about various sleep health topics, her goal is to help you get a good night's sleep. You can also find her in videos on our YouTube channel. Bridget graduated magna cum laude from San Diego State University with a degree in journalism and a minor in English. Before joining the Sleepopolis team, she was a TV news reporter and worked in cities across the country. She loves spending time outdoors, checking out new restaurants, snuggling with her pets, and of course — getting some quality Zzz's.