If you're in the market for an innerspring mattress, chances are you've come across the names Saatva and WinkBeds. Two of the most popular coil options on the Internet, these brand's springy classic models share a lot of similarities, but also some striking differences you're not likely to pick up on simply by flipping back and forth between their respective websites.
To make your life easier I've decided to compare these mattresses side-by-side! Together, we'll explore each bed's unique features and then see how they size up against one another. By the end of this comparison, you'll not only know each mattress from the inside out, but you'll also know which one is going to be right for you. Let's jump and compare the WinkBed and Saatva Classic mattress. You can also skip to the summary to save time.
$300 Off!

WinkBeds Mattress

Solid innerspring build with great bounce
Sleeps cool

$200 Off!

Saatva Mattress

Traditional innerspring build
Great support and bounce
Saatva vs WinkBed: Similarities and Differences
To kick things off, let's go ahead and get the main similarities and differences out of the way. I'd also encourage you to check out my full Saatva Mattress Review and WinkBeds Mattress Review for more information.
Main Similarities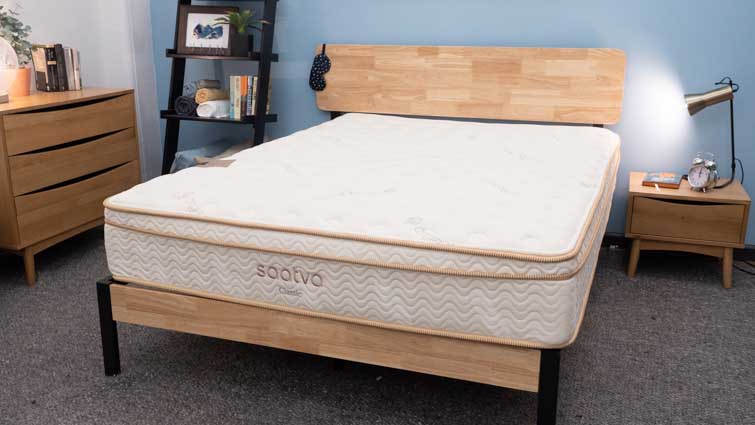 The Saatva and WinkBed both use a ton of coils, so they're both incredibly bouncy. No matter the bed you end up choosing, you'll likely enjoy a buoyant lift from their respective coil-on-coil designs.
In addition to the tremendous bounce, these beds also offer strong support, which is a nice perk for heavier sleepers.
Both the Saatva and the WinkBed are available in three different firmness levels, allowing sleepers to really hone in on the feel that's going to be right for them. For the purpose of this comparison, I'll be trying out each brand's luxury firm model.
These beds fall into a similar price range.
Main Differences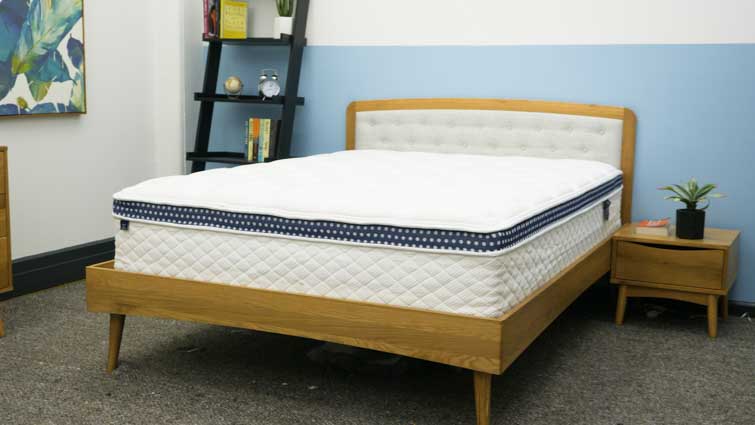 The WinkBed is a bed-in-a-box mattress that ships compressed to your door. On the other hand, the Saatva is uncompressed and arrives through complimentary white glove delivery.
The WinkBed sleeps a little cooler than the Saatva thanks to gel-infused foams.
The WinkBed is made with pocketed coils and edge support coils, while the Saatva is made with two different types of pocketed coils.
Which is Better for You?
So what do those similarities and differences mean for you? Take a look below to find out.
If you're a back sleeper both mattresses could work for you.
If you're a stomach sleeper both mattresses will offer the firm support you need to keep your hips from sinking into the bed.
If you're a heavier sleeper (over 250 lbs) both of these beds should offer you appropriate support. You can also check out the Saatva HD mattress or WinkBed Plus, which were both designed specifically for heavier folks.
If you're a side sleeper both of these beds will be a bit too firm for you. You might want to opt for one of our best soft mattresses for more cushioning around your pressure points.
If you're a combination sleeper both of these mattresses will make it easy to change positions at night.
If you're looking for durability, both of these luxury mattress options should last a long time.
$300 Off!

WinkBeds Mattress

Solid innerspring build with great bounce
Sleeps cool

$200 Off!

Saatva Mattress

Traditional innerspring build
Great support and bounce
Saatva and WinkBed Mattress Feel Comparison
Now that you know the basics, let's really dive into how each of these mattresses feels. Remember, feel is subjective and will vary depending on your body type, sleeping position preference, and weight.

Saatva
The Saatva is a firm feeling mattress. I gave it an 7 out of 10 on the mattress firmness scale. For reference, a medium-firm mattress falls at a 6.5 out of 10 on the scale.
While you'll likely get a little bit of give from the Saatva's quilted cover, most of the bed is made up of the coil system, which results in an overall bouncy and taut vibe. Though combo sleepers will love all this fantastic mobility, couples may find it makes it easy to feel disturbed by a restless partner.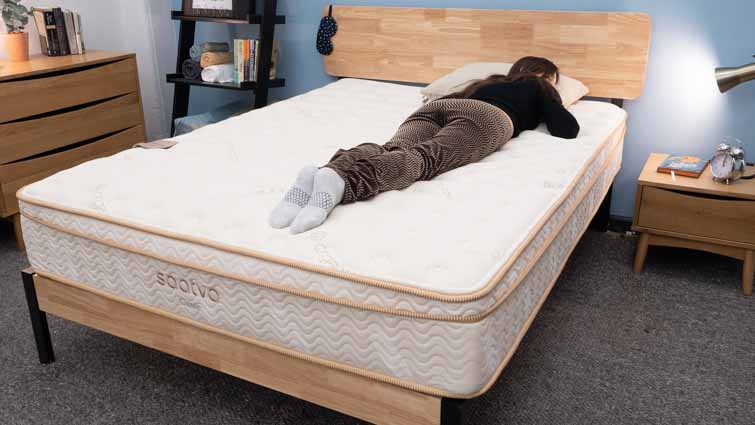 Also keep in mind, we're only talking about the Luxury Firm Saatva here. The brand offers a few different firmness options. This model is not good for side sleepers, but Saatva's plush soft model could offer them the pressure relief they need.
I think this firm mattress is a great fit for back and stomach sleepers. Folks who suffer from back pain might also really appreciate this Saatva. It includes a zoned memory foam layer to offer some additional pressure relief at the lower back.
WinkBeds
The WinkBed is just a little firmer than medium-firm, falling at a 7 out of 10 on the firmness scale. That means it will feel similar to the Saatva. Though I do think its pillow top feels a little plusher than the Saatva's.
While the WinkBed's Tencel cover and Euro-pillow top foam do lend the bed some initial sinkage and softness, the bounce from its steel coils will likely make it feel as though you're sleeping more "on" the mattress than "in" it. This is a great perk for combination sleepers who need a responsive bed.
Like the Saatva, the WinkBed is a little too firm for side sleepers. They might prefer a memory foam mattress. However, I would say that I did find the WinkBed to be a bit more comfortable on my side than the Saatva was.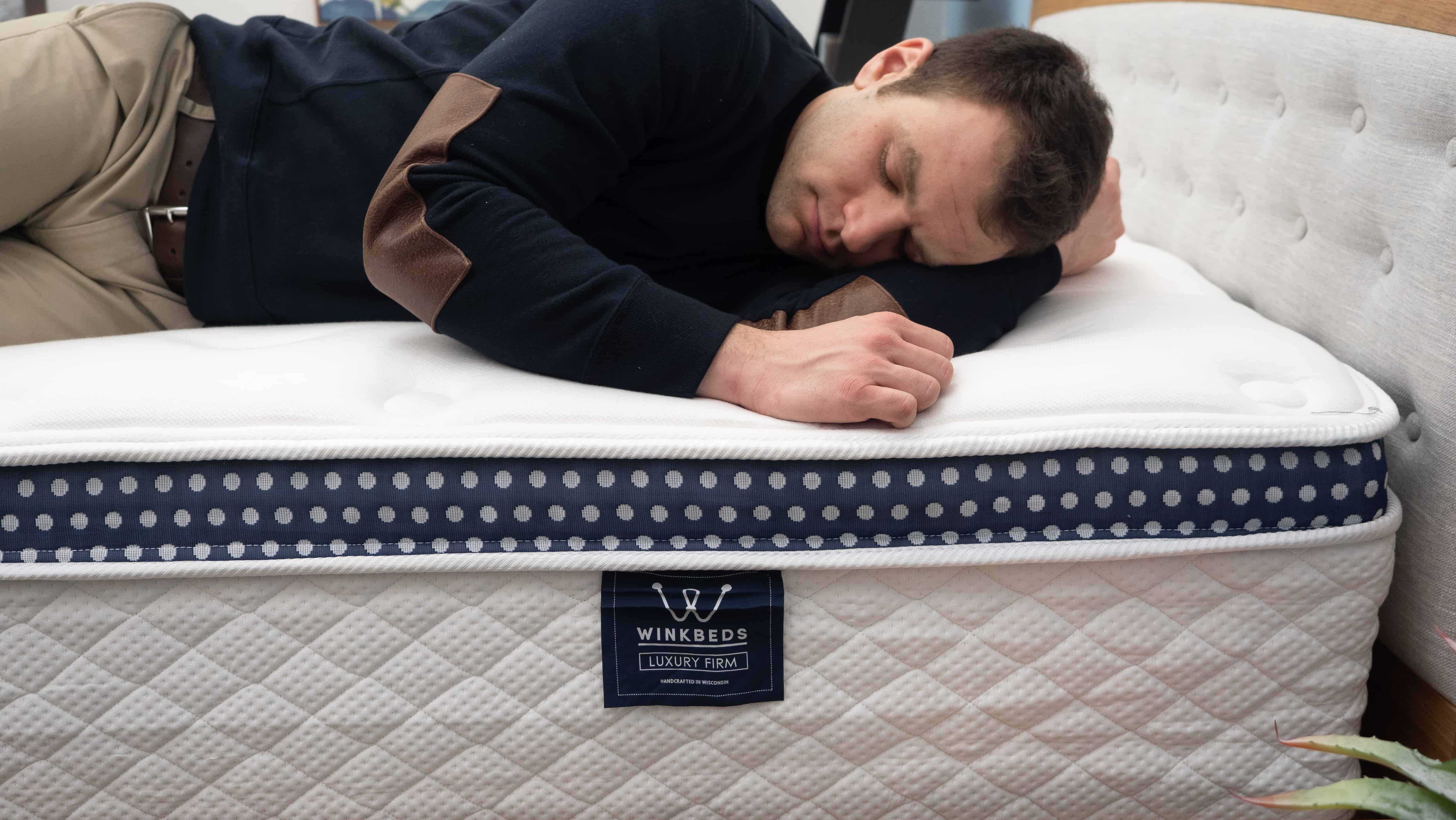 Back sleepers especially might like the balance of pressure relief and firm support the WinkBed offers. Like the Saatva, it offers zoned support that those who suffer from back pain could appreciate.
Comparing Saatva and WinkBeds Prices
Price is a very important factor to consider when buying a new mattress. Take a look at the chart below to compare prices and sizes. And check out our Saatva coupons or WinkBed discount to get a deal!
Prices listed will be before discount or offer on each size.
| Size | Saatva | WinkBed |
| --- | --- | --- |
| Twin | $849 | $1,049 |
| Twin XL | $1,049 | $1,149 |
| Full | $1,399 | $1,299 |
| Queen | $1,499 | $1,599 |
| King | $1,899 | $1,799 |
| California King | $1,899 | $1,849 |
$300 Off!

WinkBeds Mattress

Solid innerspring build with great bounce
Sleeps cool

$200 Off!

Saatva Mattress

Traditional innerspring build
Great support and bounce
Comparing Saatva and WinkBeds Mattress Materials
Let's dig deeper into what sets these beds apart from one another by taking a look at their unique constructions.
Saatva
Cover — The Saatva's organic cotton cover that is breathable and antimicrobial. Both great perks for many sleepers.
Comfort Layer — This top layer is a euro pillow top. It offers a bit of cushioning and pressure relief.
Support Layer — Individually wrapped pocketed coils offer some nice bounce, airflow, and support.
Zoned Support Layer — A layer of memory foam in the center of the Saatva offers some pressure relief and works with the above support layer to provide additional relief and support at the lower back. This zoned support system is a nice feature for anyone suffering from lower back pain.
Foundation Layer – The Saatva's base layer is made from steel coils and edge support foam. The second coil layer provides even more powerful lift, while the high-density foam surrounding the mattress makes the Saatva feel a bit bigger.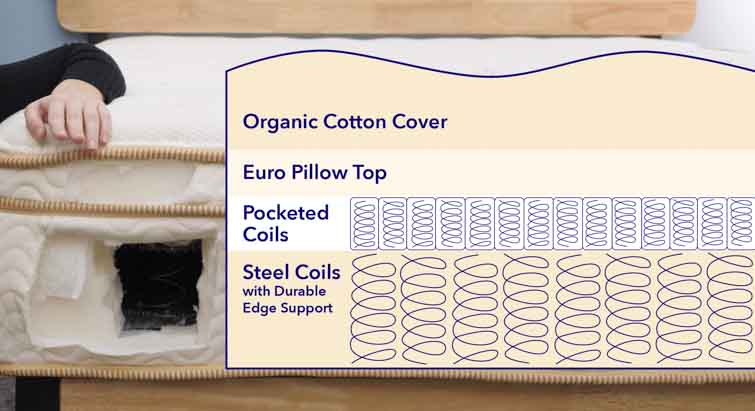 WinkBeds
Cover — This hybrid mattress's cover is made of Tencel, an eco-friendly material that's light and breathable. Quilted detailing also provides pressure relief and a bit of soft sinkage right off the bat.
Pillow Top — Made of gel-infused foam, this Euro pillow top comfort layer is smooth and luxurious to the touch, but retains a fair amount of firmness and support. While regular memory foam has a tendency to overheat, the gel foam in this layer keeps things cool.
Support Layer — This pocketed coil layer is zoned into seven sections that provide different firmness and pressure relief at different contact points along the body as you sleep. Essentially, you're getting more sinkage at the shoulders and hips, but more support and firmness to cradle your spine and lower body.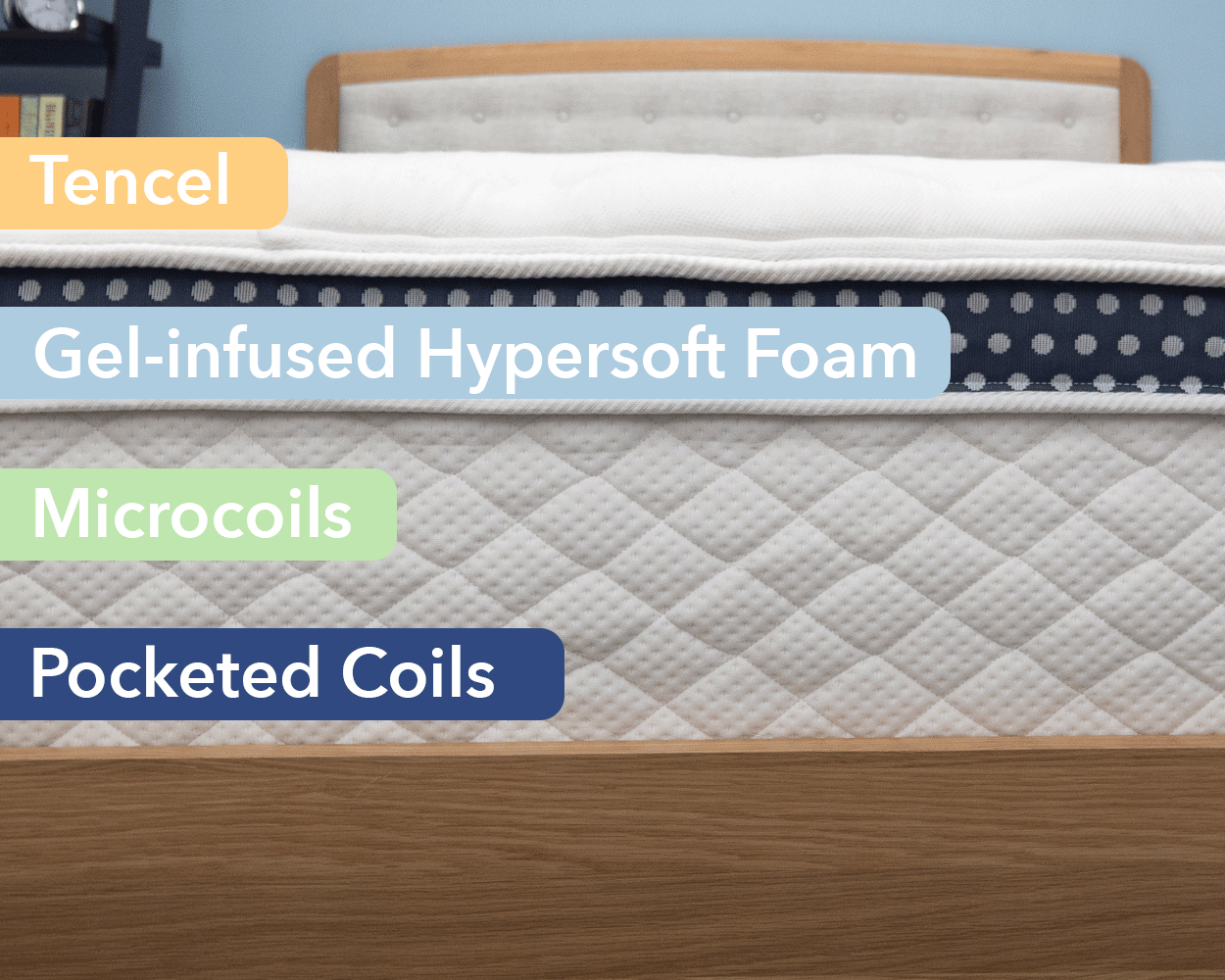 Saatva vs. WinkBeds: Best Qualities
Alright, now that we've fully assessed every last inch of these beds, let's recap some of the things we found. First and foremost, I think it's important to note that these beds are in fact quite similar. They're bouncy, firm, supportive, and designed to keep the sleeper positioned on top of the bed.
Saatva Best Features
Between the two beds, I'd say the Saatva has more of an old-school innerspring feel, so could be great for those after a traditional feel.
The Saatva's bouncy feel makes it a great option for combination sleepers.
The firm support this bed offers makes it an excellent choice for stomach sleepers.
WinkBed Best Features
The zoned support in the WinkBed makes it an especially good choice for back sleepers who need some extra lumbar support.
The WinkBed sleeps cool thanks to its pocketed coils and breathable cover.
Like the Saatva, the WinkBed offers some great bounce, which combination sleepers should like.
$300 Off!

WinkBeds Mattress

Solid innerspring build with great bounce
Sleeps cool

$200 Off!

Saatva Mattress

Traditional innerspring build
Great support and bounce
Comparing Company Policies
Saatva Policies
Trial Period — 180 Nights
Shipping — Free White Glove Delivery
Mattress Warranty — 15-Year Warranty
WinkBeds Policies
Trial Period — 120 Nights
Shipping — Free, Compressed
Mattress Warranty — Lifetime Warranty
Comparing Saatva and WinkBeds Customer Service
We rate each company for their customer service based on our personal experience and factors like call wait time, politeness, and responsiveness. Companies can receive one of four ratings: Stellar, Great, Satisfactory, or Poor.
Saatva Sleepopolis Customer Service Rating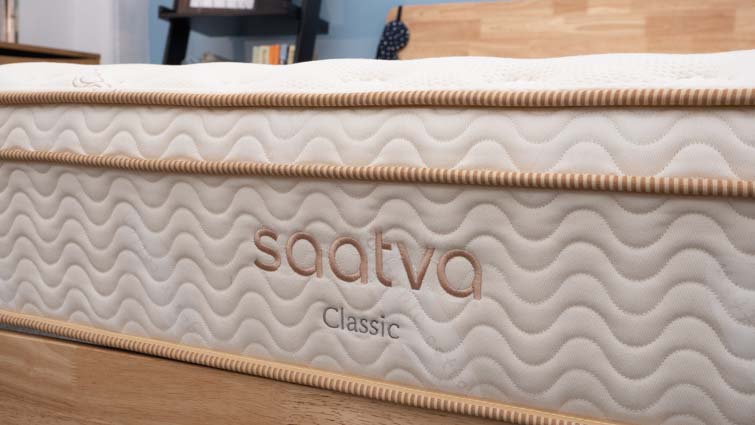 Satisfactory: The Saatva got a Satisfactory rating because when I asked a question on their site's chat function, it took over 15 minutes to receive an answer. The answer was thorough and helpful, but there was a wait. I also needed to do a bit of searching to find the chat function. I also took into account several other customer reviews that mentioned difficulty getting in touch with customer service and delayed delivery times.
WinkBeds Sleepopolis Customer Service Rating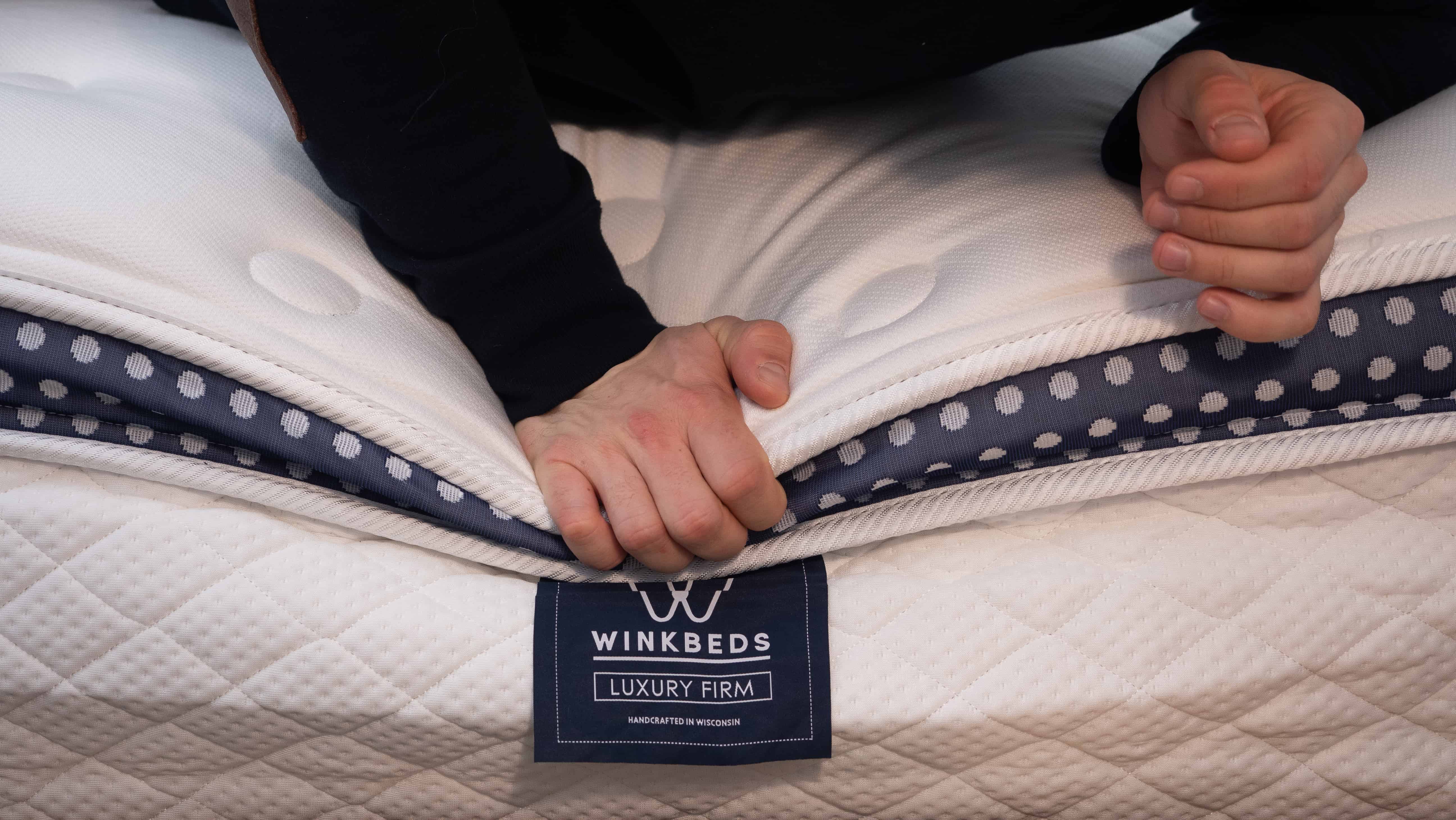 Great: I gave WinkBed a Great rating because when I asked a question in their chat function, I received a thoughtful, thorough answer. There was a short wait, but their team did take less time than Saatva's to offer a response.
Comparing Other Models From Saatva and WinkBeds
Before we wrap up I want to take a moment to chat about some of the other beds Saatva and WinkBeds sell. We've been focusing exclusively on each brand's original mattress, but both feature other exciting beds in their respective collections.
Zenhaven
Zenhaven is an all-natural latex model from Saatva, featuring fantastic bounce and cooling.
It's also flippable, so sleepers can switch between two different firmnesses depending on their moods or unique preferences.
As far as price is concerned, it's definitely more expensive than the Saatva, which isn't surprising. Latex mattresses tend to be a little pricier.
For more information, check out my full Zenhaven mattress review.
Loom & Leaf
The Loom & Leaf is also made by Saatva, but it's an all-foam mattress featuring a ton of pressure-relieving memory foam.
In this vein, the bed offers some great body-contouring and sinkage, making it an excellent option for side sleepers.
Cost-wise, it's also slightly more expensive than the Saatva, but the difference isn't too significant.
For more, check out my full Loom & Leaf mattress review. You can also take a peek at my Loom & Leaf vs Saatva mattress comparison.
WinkBeds GravityLux
The GravityLux is an all-foam mattress that memory foam lovers should enjoy.
Side sleepers who need to sink deeply into their mattress should really like soft version of the GravityLux.
Anyone after pressure relief at the shoulders and hips could find a lot to love in the GravityLux.
Want to learn more? Take a peek at my full WinkBeds GravityLux mattress review.
Other Common Saatva and WinkBeds Comparisons
Take a look at the lists below to see a few other common comparisons.
Saatva vs
WinkBeds vs
$300 Off!

WinkBeds Mattress

Solid innerspring build with great bounce
Sleeps cool

$200 Off!

Saatva Mattress

Traditional innerspring build
Great support and bounce