Shop around for mattresses long enough, and you're likely to come across the names Saatva and Allswell. Why? Well, they're two popular mattress brands, noteworthy for their firm and springy support. But which one is right for you? I might just have the answer.
In this Saatva vs Allswell mattress comparison, we are going to tease out all the major similarities and differences between these beds. We're going to examine how each of them feel, dissect their designs, and wrap things up with some expert recommendations you can use to improve your buying experience.
Sound like a plan? Then let's dive into this Saatva vs Allswell showdown! And if you're short on time, feel free to hop right on down to my comparison summary at the end of this post.

Allswell vs Saatva: Which is Better for You?
We'll be digging into this question throughout the overall comparison, but I wanted to share my quick recommendations before we go any further.
Who Should Buy Allswell
If you sleep with a partner, you may want to consider the Allswell mattress. This bed has excellent motion transfer and edge support, making it a great option for couples.
If you're shopping on a budget, the Allswell could be the one for you! This hybrid mattress is an affordable pick for budget-conscious shoppers.
If you're a hot sleeper, the breathability in the pocketed coils of this bed will create some relieving airflow for a cool night's sleep.
Who Should Buy Saatva
If you're a back sleeper, I'd recommend the Saatva mattress. It's got a lot of firm support, which could help to alleviate tension at pressure points at the hips and lower back.
If you're a combo sleeper who likes changing positions at night, you'll definitely want to give the Saatva a try. This innerspring mattress is bouncy and highly mobile!
If you're a heavy sleeper, the Saatva's durable construction should offer most folks the level of support they need.
Allswell vs Saatva: Similarities and Differences
To kick things off, I thought it might be fun to square away the major similarities and differences between these two mattresses. Don't worry — we'll cover all this in more detail later, I just wanted to give you a little teaser.
Main Similarities
Both of these mattresses are built with springs, though the Saatva utilizes steel coils and the Allswell uses pocketed coils (we'll explore what this means later on, but just know they've got some excellent durability).
For that reason, both of these beds are also super bouncy. If you're someone who wants to flop around and change positions, you could be well-pleased on either of these mattresses.
I'd also say that the Saatva and Allswell home are quite firm. Unlike memory foam mattresses, for example, these beds are sturdy and supportive.
Main Differences
I think the biggest difference between these mattresses is that the Saatva is an innerspring mattress and the Allswell home is more of a hybrid. This produces different feels, which we'll explore throughout this comparison.
The Allswell is also significantly less expensive than the Saatva. If you're on a budget, you may want to give this bed a look.
In general, the Saatva is just a touch more luxurious, thanks to its coil-on-coil design. If you need a bed with unmatchably sturdy edge support, I'd go for the Saatva over the Allswell.
The Allswell is a bed-in-a-box mattress, while the Saatva is delivered uncompressed.
Allswell and Saatva Mattress Feel Comparison
Now that we've gone over the basics, let's figure out how these beds feel. To do this, I'm going to assess these mattresses for an array of different feel factors, including firmness levels, pressure relief, motion transfer, cooling, edge support, sinkage, and more! That way, we'll be able to better understand their totally distinct vibes.
But before we do any of that, I'd like to take a moment to acknowledge how subjective the feel of a mattress can be. In fact, it can change a lot depending on one's body size, shape, and weight. So, take what I say with a grain of salt and know your read of this bed could very well differ from my own.

Allswell
After testing out the Allswell mattress, I decided to give it a 7 out of 10 on the firmness scale. Again, when compared to the industry standard of 6.5 for medium-firm, this mattress is certainly on the firmer side of things.
The Allswell also got a 7 out of 10 from me because it's almost as firm as the Saatva. Though it is a hybrid mattress (with a thick foam layer over a layer of pocketed coils, as opposed to the coil-on-coil construction we saw in the Saatva), it's still got a very supportive and bouncy feel. This means you're not going to get the deep sinkage and body-contouring that you might get from something like a memory foam mattress. I think back sleepers, combo sleepers, and stomach sleepers will be best-suited to this taut environment which will help promote a neutral spinal alignment in those positions. If you're someone who wants to feel positioned squarely "on top" of your mattress, I'd recommend giving this bed a look!
The only position for which this bed didn't really work was side sleeping. If you sleep strictly on your side, you put a lot of pressure on your shoulders, hips, and lower back. Therefore, you need a bed that'll actively alleviate tension at these spots throughout the night to avoid jamming. Unfortunately, you won't really get that kind of pressure relief here (again, I'd recommend checking out a memory foam mattress).
A big plus for the Allswell in my opinion is its motion transfer. This measure refers to the amount of movement that's detectable from one side of the bed to the other. In my opinion, the Allswell has a really low motion transfer, which means you shouldn't be too bothered by your bedmate's movements in the night. If you sleep with a partner, you may want to consider the Allswell mattress!

Saatva
The Saatva Classic gets a 7 out of 10 on the firmness scale from me. When compared to the industry standard of 6.5 for a medium-firm mattress, it's clear that this is a firmer mattress.
I gave this bed a 7 because its coil-on-coil construction produces a firm, supportive, and bouncy feel. This mattress definitely gives off an old-school innerspring vibe, which means it could be ideal for folks after more of a traditional feel. There's not a lot of give to this mattress, which means you're not going to sink in very deeply here. That can be a great thing for those who prefer to feel more "on top" of their bed than in it. Specifically, I think back and stomach sleepers could find a lot to love in the tremendous support of this mattress. Combo sleepers may also enjoy the mobility and lift of the Saatva.
That's not to say this bed is hard as a rock — on the contrary, there's certainly a sense of coziness to be found in the organic cotton cover and quilted memory foam pillow top layer. However, the coil-on-coil design does produce a rather massive lift, which works to position the hips squarely on top of the structure. This sets them in line with the shoulders, establishing a healthy, neutral alignment all across the body. This could be a big plus for anyone who struggles with things like hip or back pain. Additionally, the bounce makes it easy to move around and change positions.
I also think the Saatva sleeps quite cool, thanks to the large spaces between the steel coils in the base. As you move around the bed, you'll notice some really nice airflow throughout this structure. Hot sleepers or those prone to night sweats may enjoy this bonus feature! Speaking of bonus features, another great attribute of the Saatva is its awesome edge support. There's actually a layer of high-density poly foam wrapped around the internal coil system, which maximizes the usable surface area of the mattress. This means folks can sleep all the way to the sides of the bed. Couples, take note!
I should also mention that the Saatva comes in three different firmness levels: Plush Soft, Luxury Firm (could also be considered a relaxed firm feel), and Firm. The luxury or relaxed firm option is the one I tested for the purposes of this comparison.

Comparing What it's Like to Sleep on the Allswell and the Saatva
How a new mattress will feel for you can largely depend on personal characteristics like your body weight or preferred sleeping position. This is why we look at how a mattress will perform for a variety of people in our mattress reviews. Let's get into it!
Allswell
Back — I like the Allswell mattress for back sleepers! This hybrid bed should create even weight distribution and impressive support for this crowd.
Side — I think that the Allswell Supreme will be better equipped for these sleepers. It offers a nice, plush approach to pressure relief and support. However, if you're a true memory foam lover, this 1-inch memory foam layer may not be quite enough.
Stomach — Like back sleepers, these sleepers will be well-lifted and supported on the Allswell mattress.
Body Weight — Heavier back and side sleepers should do fine on this bed, but I found the Allswell mattress to be lacking for heavier stomach sleepers. I'd recommend something firmer with a stronger innerspring build. If this is you, I'd recommend taking a look at our best mattresses for heavy people to find the best mattress for you. On the other hand, light stomach and back sleepers should appreciate the support in the Allswell mattress, while lighter side sleepers may find it to be a touch too firm.
Saatva
Back — These folks will enjoy the support that this firm mattress has to offer.
Side — Since the luxury firm version of the Saatva will likely be too firm, I'd recommend the plush soft Saatva mattress for these sleepers.
Stomach — I love the Saatva for stomach sleepers! Hip and shoulder alignment is key for these folks and the Saatva mattress achieves just that.
Body Weight — Heavy back sleepers should enjoy the support and durability of the Saatva, while side sleepers may prefer something with a gentler approach. To keep the spine aligned, I'd steer heavier stomach sleepers toward something firmer, like the Saatva HD, for a bit more support. Light back and stomach sleepers should do quite well on the Saatva, while light side sleepers may need more pressure relief in the shoulder and hip areas. I'd recommend one of our best mattresses for side sleepers as an alternative.
Comparing Allswell and Saatva Prices
Of course, your choice may come down to the price point. So, let's see how much these mattresses cost. Remember you can always check out our Saatva coupon page or Allswell coupon page for discounts.
Prices listed below will be before discount or offer for each size.

| Size | Saatva | Allswell |
| --- | --- | --- |
| Twin | $887 | $265 |
| Twin XL | $1,087 | $295 |
| Full | $1,474 | $345 |
| Queen | $1,574 | $375 |
| King | $1,974 | $465 |
| California King | $2,174 | $465 |
Comparing Allswell and Saatva Mattress Materials
Wanna see why these beds feel the way they do? Of course, you do! So, let's dive into their respective constructions so we can get to know them from the inside out. I'll provide a brief overview of their designs below, but would also recommend that you take a peek at my full reviews of the Saatva and Allswell mattresses.
Allswell
Cover – Whereas the Saatva cover is made from organic cotton, the Allswell cover is made from a polyester and spandex blend. This makes for a stretchy and breathable material. The cover also happens to be quilted with just a smidge of gel memory foam, which provides some nice comfort. The cooling gel infusion also helps to keep temps low!
Comfort Layer – The first foam layer of this mattress is a section of copper and graphite-infused memory foam. This material has a slow response to pressure and offers some nice sinkage.
Support Layer – The bulk of the mattress is made up of this section of pocketed coils. This system is bouncy, firm, and supportive, bringing some really nice heft to the structure. These coils are individually wrapped, which means they not only encourage some excellent airflow throughout the mattress but also work to isolate motion super well. Overall, this layer brings the bed its shape, stability, and support.
Foundation Layer – And finally, the base of the bed, which is made up of a thin layer of high-density poly foam. This section doesn't really do much but does give the coils above it something off of which to bounce.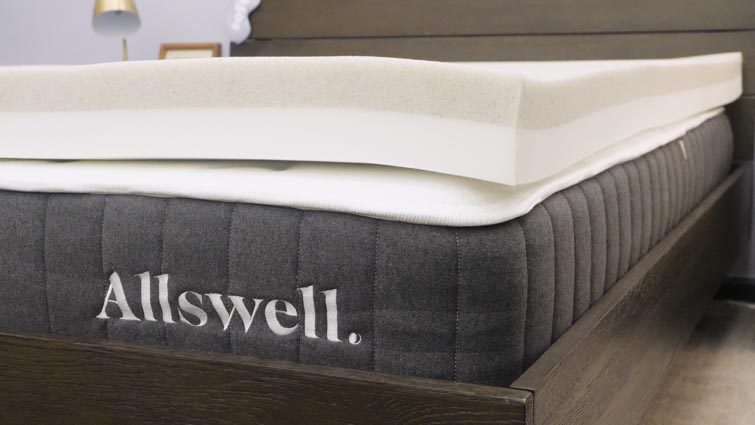 Saatva
Cover – The Saatva cover is made of 100% organic cotton, which creates a plush and breathable feel. This organic cotton cover is also quilted with a bit of foam, which provides a little dose of comfort as soon as you stretch out on the mattress.
Comfort Layer – The pillow top layer is made from a 3-inch Euro pillowtop. This layer offers some nice cushioning and pressure relief.
Support Layer – A layer of individually wrapped pocketed coils contour to your body's movement and add some nice bounce, airflow, and support.
Zoned Support Layer- There is a layer of memory foam in the center of the Saatva that offers some pressure relief in the middle of the mattress, where sleepers need it most at the hips and lower back.
Support Layer – Beneath the pillow top, you'll land on the main support system of the mattress. This section is made of a layer of sturdy steel coils wrapped in foam edge support. This second layer of coils is what makes this bed an innerspring mattress, as it lends the bed even more bounce, support, firmness, and durability. If you like more of a traditional feel to your sleeping experience, I'd recommend giving the Saatva a go. And as I mentioned earlier, the coils are wrapped in high-density poly foam, which extends the usable surface area of the mattress. So, if you and your bedmate like to roll around and sleep all the way to the sides, you should be set!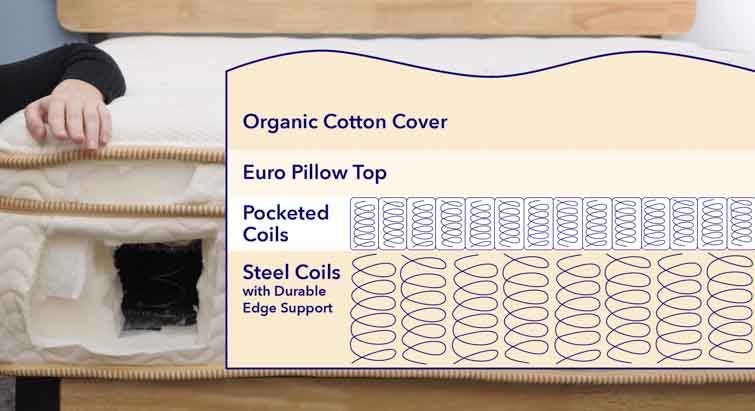 Saatva Innerspring vs Allswell Hybrid Mattress Review: Best Mattress Qualities
Phew – you made it to the end of this comparison! After examining these beds side by side, it's time to wrap things up with my expert recommendations for who might like these mattresses the most.
First and foremost, I think the Saatva is going to work best for folks after a firm, supportive, and bouncy feel. The Saatva Classic is an innerspring mattress, which means you're likely to feel positioned more "on top" of it than "in" it. Why? Well, there's a ton of lift here and not very much give. If you're someone who wants to sink into your mattress for pressure relief at the shoulders, hips, and lower back, you may want to look elsewhere. In my opinion, the Saatva could be a real winner for back and combo sleepers. These folks will benefit most from the bed's buoyancy and support! Couples may also enjoy the fact that the foam edge support in the bed's core maximizes the surface area of the structure, making it possible to sleep all the way to the sides.
While I'd recommend the Allswell for the same group of positional sleepers (AKA back, stomach, and combo snoozers), I think the major selling point of this bed is that it's a value hybrid mattress. This means it brings the oomph of an innerspring like the Saatva, without costing nearly as much money. If you're shopping on a budget or just trying to be a little more conscious of how you spend your dollars, I think the Allswell could be the one for you. I think it could also make a great bed for a guest room or for a youngster moving into their first apartment. Where it does have the edge over the Saatva is with its motion transfer – so, if you sleep with a restless partner, I'd definitely give this bed a go.
Allswell Best Features
This is a superbly bouncy bed, so could be a great fit for those who like to move around and change positions.
The low motion transfer of this mattress tells me it could be a nice option for someone who shares their bed with a restless partner.
All in all, this is an excellent cheap mattress, which could be the deal-breaker for those wallet-friendly consumers out there!
Saatva Best Features
Back sleepers should be well-suited to the firm support of this innerspring mattress.
Combination sleepers may also enjoy the buoyant nature of the coil-on-coil design, which makes it easy to change positions during the night.
And finally, I'd recommend this mattress for couples. The sturdy foam edge support here really can't be beaten!
Comparing Company Policies
Saatva Policies
Trial Period – 365-night sleep trial
Shipping – Ships free with free white glove delivery
Warranty – Lifetime warranty
Allswell Policies
Trial Period – 100-night sleep trial
Shipping – Ships free and arrives compressed in a box
Warranty – 10-year warranty (limited)
Comparing Allswell and Saatva Customer Service 
At Sleepopolis, we rank a brand's customer service rating based on our personal interactions with the brand's customer service team. A brand can either be ranked as Stellar, Great, Satisfactory, or Poor.
Saatva Sleepopolis Customer Service Rating
Satisfactory: There are a lot of options to get help, from immediate online chat to email and phone assistance. However, these functions are buried at the bottom of the site, so they're not as immediately accessible as other brands. However, I found the people I spoke with to be personable and helpful, even though it did take them a little while to respond.
Allswell Sleepopolis Customer Service Rating
Great: The help chat function pops up automatically when you're browsing the Allswell site, which means aid is only a click or two away. I found the person on the other end to be super responsive and helpful.
Comparing Other Models from Allswell and Saatva
The Saatva and Allswell mattresses aren't the only beds sold by their brands. So, let's meet a few of their mattress siblings below!
Zenhaven
The Zenhaven is a latex mattress from Saatva. Latex is a super bouncy material that also has some awesome naturally cooling properties.
This mattress is also flippable, which means you can switch between two totally different firmness levels.
Since it's built entirely of latex, this mattress could work wonders for combo sleepers or folks who sleep hot at night.
In terms of cost, it's the most expensive Saatva mattress.
Read my full Zenhaven mattress review.
Saatva Solaire
The Solaire is an adjustable air mattress that offers up to 50 different firmness options. This means you can have your pick of an assortment of different comfort levels!
The Solaire isolates motion well, so it could be a nice choice for couples.
The Solaire may lose a bit of air overnight (like any other airbed), which could spell trouble for folks after a more consistent feel.
Check out my full Saatva Solaire review to learn more.
Loom & Leaf
The Loom & Leaf is another bed from Saatva, but this one is a memory foam mattress, so it is chock-full of deep and cuddly pressure relief.
Side sleepers may be particularly well-suited to the contouring relief of this memory foam mattress.
In terms of cost, it's a little more expensive than the Saatva but less expensive than the Zenhaven.
For more, check out my full Loom & Leaf review.
Allswell Luxe 
The Allswell Luxe is a slightly souped-up version of the original Allswell. There's more foam at play, and the pocketed coils are just slightly taller.
The Allswell Luxe creates an overall more luxurious vibe, marking it as a solid bed for those who want just a little bit more from their bed.
Specifically, I think stomach sleepers and heavier sleepers may enjoy the firm support of this mattress.
Read all about it at my full Allswell Luxe review.
Allswell Supreme
As the name suggests, this is the fanciest Allswell mattress. It's 14" tall and features a quilted pillow top, graphite-infused foam, and super sturdy pocketed coils.
Whereas the other two Allswell mattresses are best suited for folks after a firm feel, the Supreme is built for side sleepers and other people who need deep pressure relief at the shoulders and hips.
If you like the idea of a memory foam mattress, but still want the bounce of a hybrid mattress, this could be the one for you!
Get all the details at my full Allswell Supreme review.
Other Common Saatva Comparisons
Curious to see how these mattresses stack up against other popular brands on the market? Then check out these comparisons below!
Saatva vs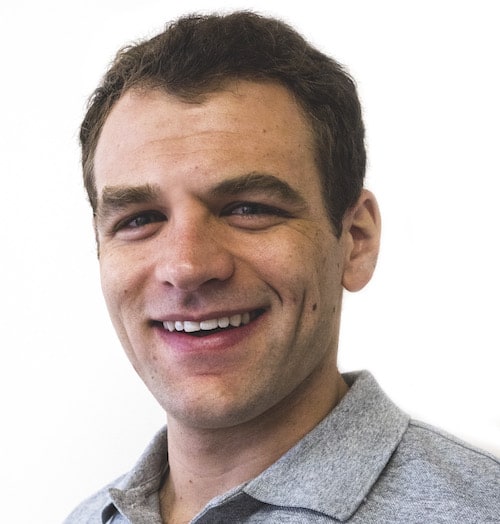 Logan Block
Logan is the former content director of Sleepopolis. As content director, he reviewed new mattresses every week and curated the comparisons, best of pages, and video guides on the site. Logan perfected his method by personally testing over 200 different mattresses, so he's not only able to discern the overall vibe of a specific bed, but to contextualize its feel within the bed-in-a-box market as a whole.