If you're on this page, chances are you're looking for a mattress to help relieve your upper or lower back pain. Trust me when I say I know how difficult this search can be — so often beds that promise deep pressure relief don't deliver.
So, how can you find the bed that meets your needs? Simple! All you have to do is check out my top mattress picks for back pain. They run the gamut from affordable to luxurious, from firm to soft, and are sure to give you plenty of options to mull over while you make your decision.
Eager to see my picks? Then keep reading on below!
The Best Mattresses for Back Pain
Disclaimer: The content on Sleepopolis is meant to be informative in nature, but it shouldn't take the place of advice or treatment from your physician or medical professional. This review is meant to be an informative guide for those looking to maintain healthy posture while they sleep. User experiences and needs will vary. If you experience lasting pain, soreness, or discomfort while sleeping, it's always a good idea to seek out a healthcare professional in person.
How I Picked These Mattresses
I like to start all my "best of" roundups off by acknowledging that these selections are based on my personal preferences. While I'm bringing my expert knowledge of materials and bed construction to the table, I'm naturally swayed by my own experiences with pain relief on these beds. But, I also use quite a few objective tests to determine how each bed I test will perform, and those play a big role in my selection process as well!
And I'm not just relying on my own opinions. I also chatted with physical therapist and Sleepopolis Expert Network member Dr. Keith Poorbaugh to get his tips for catching quality Zzz's while dealing with chronic back pain and to learn what kinds of mattresses can aid in this process the most.
You can find my conversation with Dr. Poorbaugh (as well as some interesting research and further methodology) at the end of this guide.
Editor's Pick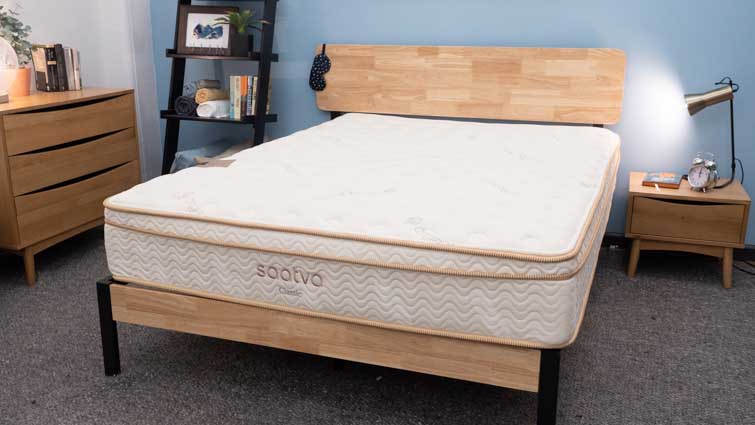 Saatva
If you like the solid build of a traditional innerspring bed, give the Saatva look. It utilizes a coil-on-coil structure to provide impressive bounce and support. That support could be just the ticket for folks who are looking to avoid back pain by maintaining neutral spine alignment. It also helps to keep sleepers positioned on top of the structure to avoid any sort of stuck-in-the-bed feeling. 
The innerspring Saatva comes in three firmness levels: Plush Soft, Luxury Firm, and Firm. The Soft version will probably work best for side sleepers, who need plenty of pressure relief at the shoulders and hips. The Luxury Firm is likely most ideal for combo sleepers, who need a balance of support and pressure relief in multiple positions. And the Firm version should work wonders for back and stomach sleepers, who need higher levels of support. 
Saatva also offers a model specifically designed to support heavier folks, the Saatva HD. Its versatility is the reason this highly supportive mattress is my favorite mattress for sleepers with back pain this year!
Will this mattress help you sleep like a baby? Find out in our full Saatva mattress review.
$200 off $1,000 Purchase!
The Saatva mattress combines a luxurious pillow-top with two sections of coils for a classic innerspring feel that's especially soothing at the lumbar region. 
Best Mattress for Lower Back Pain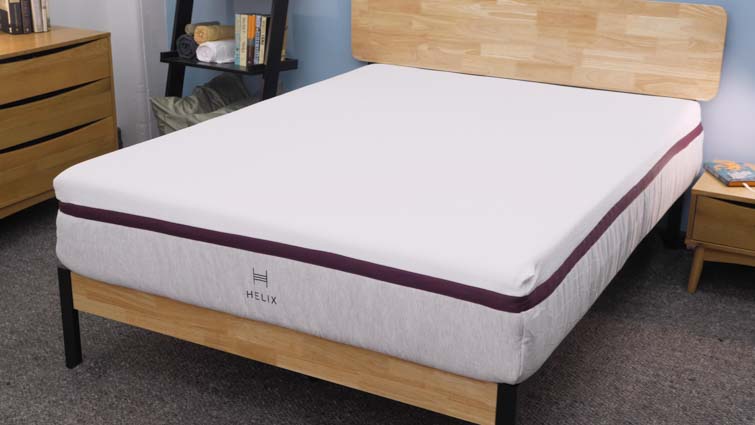 Helix Dusk
If you wake up with lower back pain in the mornings, the Helix Dusk is a great option for you. This medium-soft mattress does a great job helping side sleepers keep their spine in a neutral position, which can really help them combat back pain. Plus, it's responsive and easy to change positions on, which is a perk for combination sleepers.
Regardless of your preferred sleeping position, the Dusk's coil support layer does a great job keeping your hips lifted up in line with your shoulders, which is one of the keys to avoiding back pain. Meanwhile, its softer top foams fill in your lumbar region for some extra pressure relief. If you're someone who struggles with back pain, I'd highly recommend checking out the Helix Dusk.
Hungry to learn more about the Dusk? Read our Helix Dusk mattress review.
Memorial Day Sale: Up to $200 Off + Free Pillows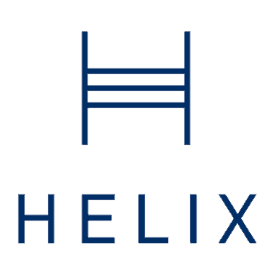 Available in an array of firmnesses, Helix is great for those in search of pain relief at the lumbar region. The custom nature of Helix makes it a great option for side sleepers really looking for a personalized solution.
Best Firm Mattress for Back Pain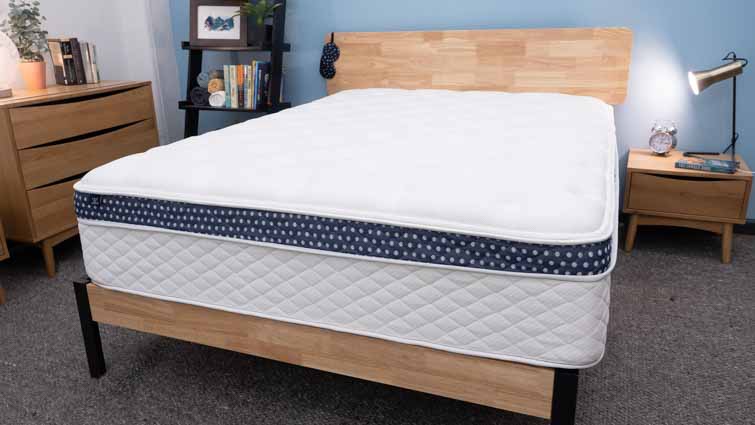 WinkBed
Those who want both the best online mattress and a firm, bouncy bed might want to consider the WinkBed. This hybrid bed-in-a-box mattress features a sturdy feel that's great for anyone on the hunt for a firm mattress. Plus, it offers plenty of support to help you maintain your sleep posture. 
The WinkBed comes in three different support levels: Soft, Medium Firm, and Firm. The brand also makes a Plus version specifically designed to support heavier folks. No matter the firmness level, each WinkBed model features zoned support to help promote healthy spinal alignment. This support system is firmer around the hips (to ensure they stay elevated and aligned with the spine), and softer around the shoulders (to allow for some body-contouring and pressure relief). If you're looking for a firm mattress, I'd specifically recommend the Firm WinkBed model.
Will the WinkBed ease your back pain? Learn more in our full WinkBeds mattress review.
$300 Off & Free Sleep Bundle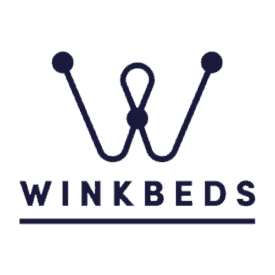 A combination of sturdy coils and gentle foams make the WinkBeds a truly supportive innerspring. With a firm model available, the WinkBeds is a good option to align the spine and raise the hips for stomach sleepers while maintaining comfort and support. Just enter your email to save.
Best Mattress for Back Sleepers
Casper
The Casper features a zoned support system that could be especially helpful for back sleepers with back pain. The Casper's zoned construction means it's softer at the shoulders and firmer at the hips, so it should simultaneously ease shoulder pain and maintain proper spinal alignment, especially while you're on your back. 
In addition to this zoned support system, Casper features a medium feel that should appeal to back and side sleepers or combo sleepers who switch between their back and side. (That's because all of these sleepers tend to feel best on a mattress that balances support and pressure relief.) It also uses open-celled foam in the comfort layer to help promote air flow and defend against heat trapping. If you're looking for extra bounce, consider checking out our Casper Hybrid mattress review. 
Curious? Read up in our Casper mattress review!
Save 10% with code SLEEPOPOLIS10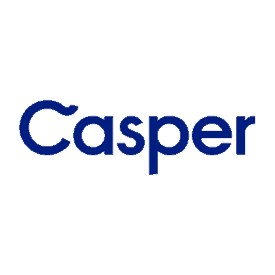 The memory foam, latex, and heavy-duty poly foam work together to offer sleepers a beautifully balanced feel! 
Best Mattress for Combination Sleepers with Back Pain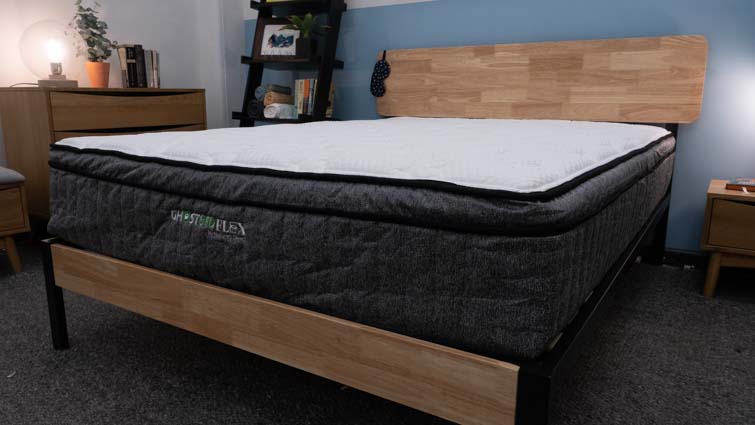 Ghostbed Flex
Combination sleepers often like bouncy beds that make it easy to move around and switch positions at night. I'd highly recommend they check out the GhostBed Flex , which combines latex alternative foam, memory foam, and pocketed coils to create a bouncy feel that offers just enough pressure relief to help with back pain.
The Flex has a responsive and cooling feel that combo sleepers and hot sleepers should appreciate, but its top layer of memory foam will fill in your lumbar region to offer some additional help combating back pain, especially if you sleep on your back. Meanwhile, its latex and coil layers will keep your spine aligned to help prevent any new pain. I'd highly recommend this bed to anyone looking to combine a bouncy, responsive feel with the pressure-relief they need to relieve lower back pain.
Learn more in our full GhostBed Flex mattress review.
And, if you're on the hunt for an adjustable base that's compatible with this mattress, check out GhostBed's adjustable base bundles! They'll help you save on your mattress and your base. Plus, GhostBed's adjustable bases come with great extra features like device charging stations.
30% Off Mattresses + 2 Free Luxury Pillows!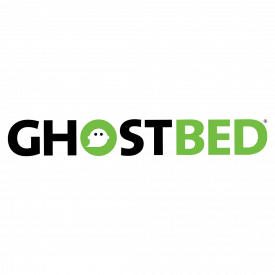 The combination of bouncy coils and body-hugging memory foam offer sleepers a nice, balanced feel. 
Best Mattress for Shoulder and Back Pain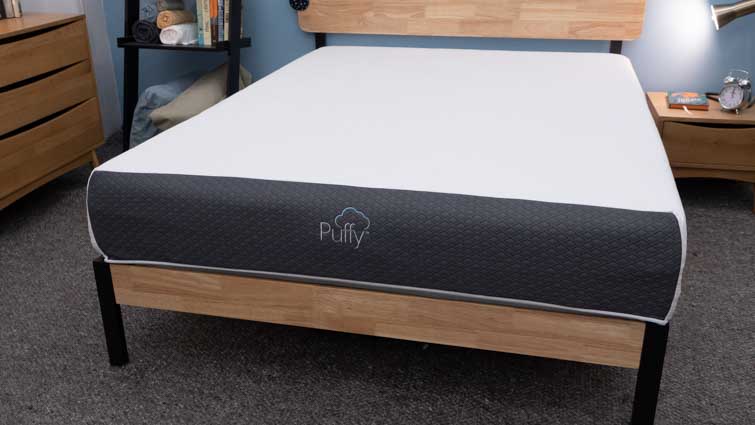 Puffy
Waking up with shoulder pain is a super common reason for people to start searching for a new mattress. And oftentimes, shoulder and back pain go hand in hand. They key to combating shoulder pain is finding a soft mattress that offers pressure relief in the shoulder area, but keeps your hips lifted in line with your shoulders to combat back pain.
The Puffy fits this bill. It has a soft feel that should offer folks with shoulder pain some nice pressure relief, especially if they sleep on their sides. But, it still offers enough support to prevent and relieve back pain. It also sleeps cool, which is a great perk for most sleepers out there!
Intrigued by the Puffy? Read our comprehensive Puffy mattress review.
$300 Off + Free Pillows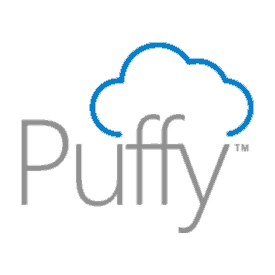 The Puffy has the pressure relief pain sufferers need!
Best Memory Foam Mattress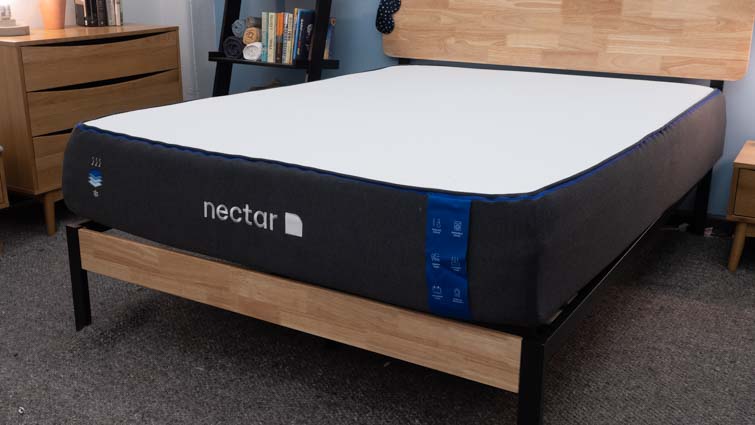 Nectar
If you think serious pressure relief could be the answer to your back issues, then consider the Nectar mattress. This all-foam, bed-in-a-box mattress features a whopping 5" of memory foam in its comfort layer. All that foam provides plenty of body-contouring and pressure relief and lets sleepers sink deeply into the mattress. This could be great for side sleepers who need plenty of cushion around the shoulder and hip. 
Lest you be concerned that all that pressure relief won't provide enough support, I personally found that the Nectar helped maintain proper side sleeping spinal alignment. Meanwhile, the thick memory foam layers do a great job of cutting down on motion isolation — so this could be a nice choice for partners who don't want to disturb each other during the night. 
Do you need the Nectar in your life? Learn more in our Nectar mattress review.
$399 in Free Gifts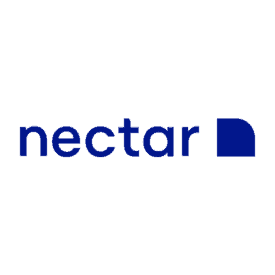 Sleepers will sink deep into the Nectar mattress for some soothing pressure relief, something that side sleepers will particularly appreciate! Use this link to check their current offer!
Best Mattress for Side Sleepers with Back Pain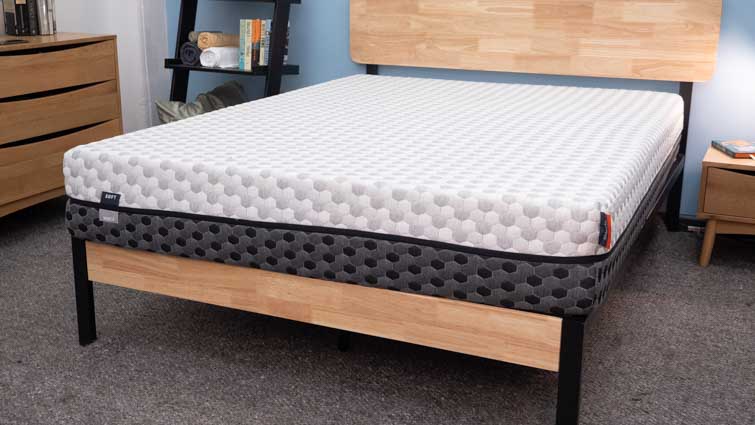 Layla
Finding the right mattress for your sleep preferences can be the first step in avoiding back pain. The Layla could help because it's built with memory foam, which is great at relieving pressure at trouble spots for side sleepers like the shoulders and the hips. Because it allows you to sink into bed a bit more, the Layla really helps with side sleeping spinal alignment.
The Layla is a flippable mattress, so you get two firmnesses in one. The firmer side is around a 6.5 out of 10 on the firmness scale, or right around medium firm. This firmness could be ideal for combo or back sleepers, because it should provide enough support to keep the spine aligned in multiple positions. The softer side is more like a 5 or 5.5 out of 10. This should appeal to side sleepers, who need more pressure relief at their shoulders and hips. And while memory foam beds are sometimes known for trapping heat, the copper infusion in the memory foam helps draw heat away from sleepers' bodies. So if you love memory foam, share a bed, and want to avoid back pain, consider the Layla.
Love the look of the Layla? Learn more in our full Layla mattress review.
Summer Sale: Up to $200 Off Mattresses + Free Pillows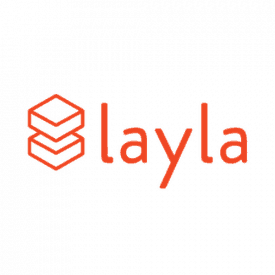 Layla is a very high quality option at a less-than-luxury price. A flippable memory foam option that allows side sleepers to sink deep into bed for great pressure relief.
Best Hybrid Mattress for Back Pain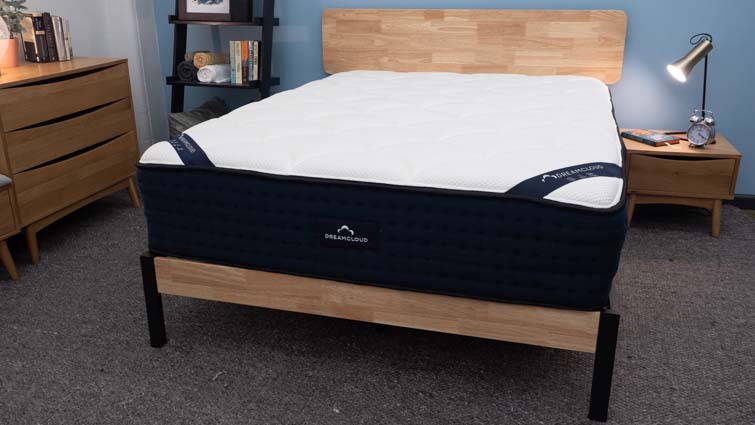 DreamCloud
If you see a mattress described as a "hybrid mattress" it means that it uses a combination of foam comfort layers and coil support. Hybrids come in a lot of different feels and firmnesses but they generally have a more traditional mattress feel, with a bit more bounce, than their all-foam counterparts.
The DreamCloud is a hybrid with a nice blended feel and medium firm support. It has great support to keep your spine aligned to avoid back pain and a great breathable cover to help you sleep cool through the night.
Read our DreamCloud mattress review for more on this great hybrid bed!
Save $200 + Free Gifts with Purchase!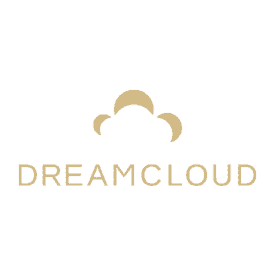 This tall hybrid mattress combines foams with pocketed coils for a luxuriously supportive sleeping experience. Get $200 off a DreamCloud mattress plus free pillows, a mattress protector and a set of luxury sheets ($399 value) with your purchase!
Best Cooling Mattress for Back Pain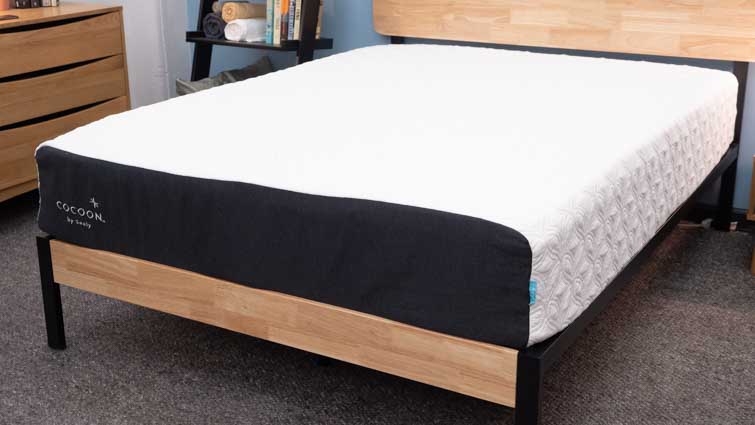 Cocoon Chill Hybrid
If you struggle with back pain and night sweating, the Cocoon Chill Hybrid could be just the bed for you! This ultra-cooling mattress from Sealy combines a heat-reducing Phase Change cover with breathable pocketed coils to ensure you're sleeping cool and comfortable all night long.
In addition to helping this bed sleep cool, the pocketed coils in the Chill Hybrid help keep your spine in a healthy, neutral alignment. This is great news for sleepers with back pain, who really need to maintain proper sleep posture to stay comfortable at night. I'd highly recommend hot sleepers looking for a pain-relieving bed check this mattress out.
Learn more at my full Cocoon Chill Hybrid mattress review.
35% Off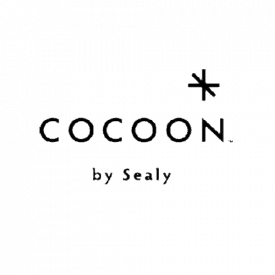 This cooling, responsive mattress is a great fit for combination sleepers.
How Can Sleep Help Chronic Pain?
Now that we've gone over my picks, I want to take a second to talk about the purpose of this guide. While it may seem like the focus is on finding a mattress that'll make falling asleep with pain easier, it's actually about finding the bed that's going to help you use sleep to actively deal with said pain.
"Sleep is very important for restoring balance to the nervous system and improving coping strategies for pain," Dr. Poorbaugh told me during our chat (which you can see more of below). "Normally our central nervous system is downplaying or ignoring stimuli from multiple sources simply because the information is not important. A person with chronic pain, however, loses this important dampening ability, so many activities that were once well-tolerated now become pain-provoking."
Dr. Poorbaugh went on to cite a recent study, which showed that poor sleep patterns were directly related to higher rates of pain, poor mood, increased pain catastrophizing, and overall reduced physical function. (1)
So what can be done? In order to get the kind of sleep you need to help deal with your chronic pain, consider the following when choosing the right mattress to deal with pain.
What to Look for in a Mattress for Back Pain
When looking for a mattress to combat back pain, it's important to consider support, firmness level, and pressure relief. Different types of mattresses will offer varying degrees of these factors. Take a look at how they stack up below.
Types of Mattresses For Back Pain
There are several different types of mattresses, and I recommend some over others for combatting back pain. Take a look below to learn more about the main mattress types.
Support
In my opinion, what's more important than choosing the right mattress material is choosing a mattress that offers the right amount of support. Sound support is super important for those who suffer with chronic back pain. I should note that support and firmness are not the same — you can have a soft mattress that's ultra-supportive and a firm one that doesn't support the body at all. Adequate support is all about how a mattress works to keep the spine in a neutral alignment, while also remaining comfortable.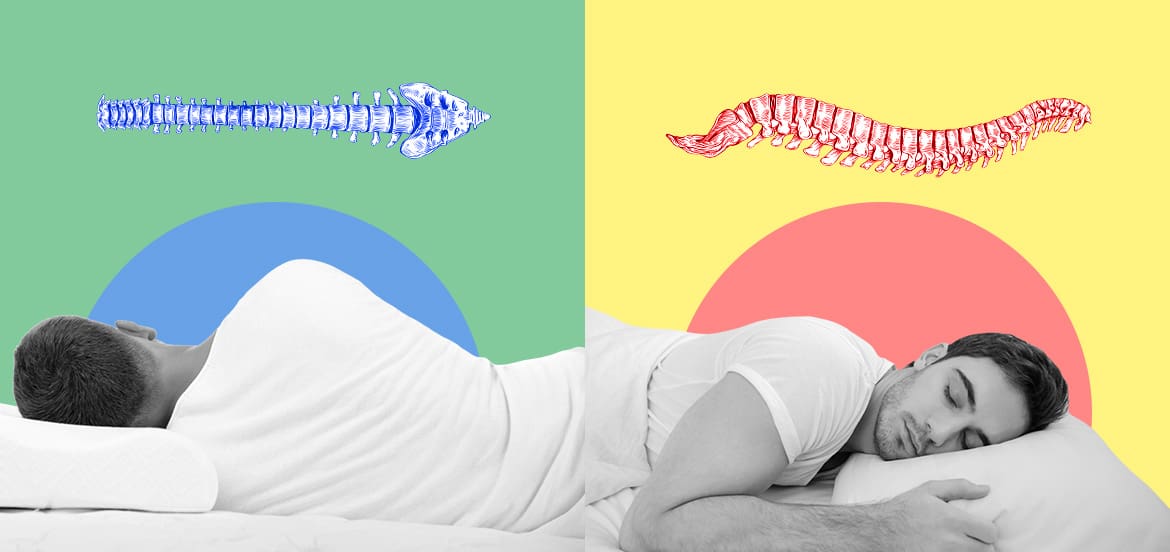 When shopping for a mattress, keep an eye out for the following things:
Zoned Support – Mattresses with Zoned Support are designed to target different parts of the body in different ways, with softer foams at the shoulders and firmer ones at the hips. This helps to encourage a proper spinal alignment, which is a key to relieving back pain.
Balanced Foam – Beds built with several different types of foam (latex, memory foam, and high-density poly foam) are going to offer the best support for back pain sufferers. This balanced approach combines lift with pressure relief for a well-rounded feel.
Contouring – A mattress that offers some body-contouring at the lower back can also help keep your spine in a neutral alignment. By filling in the spaces your body creates as it sinks into a bed slightly, contouring foams can ensure you're receiving evenly distributed support throughout the night.
Firmness
Since we started the firmness conversation above, let's go ahead and wrap it up here. Firmer mattresses tend to "float" the sleeper more on top of the sleeping surface whereas softer beds allow the sleepers to sink in for deep pressure relief.
You need to ensure your mattress offers the right firmness level for your sleep position, which is what determines how your spine should be lined up. While Dr. Poorbaugh says "there is some evidence to suggest that a firm mattress is more beneficial to reduce pain among people experiencing CLBP," it's actually more likely that "any change in back pain is more related to improved sleep patterns than any actual physical changes to the lumbar spine."
Dr. Poorbaugh's views line up with a 2010 study, which revealed that replacing mattresses based on sleeping position (i.e. selecting beds for side, back, and stomach sleepers) helped to reduce pain and discomfort in subjects. (2) Long story short, finding the right firmness can do wonders for a sleeper with specific needs. Below, I'll go over back pain in different sleeping positions to help you find the right firmness level for your needs.
Back Sleepers with Back Pain
The best mattress for back sleepers is in the medium-firm to firm range, meaning about a 6.5-7 out of 10 on the firmness scale (where 10 is the most firm). This medium firmness level strikes an ideal balance of necessary push-back type support, while still remaining soft enough to offer comfort and remove pressure points on the sleeper.
Side Sleepers with Back Pain
On the other hand, the best mattress for side sleepers is in the soft to medium-soft range, meaning about a 5-6 on the mattress firmness scale. When you're side sleeping, you need a bed that allows a bit of sinkage around the shoulders and hips to ensure your spine falls into a neutral alignment (rather than twists at the lower back). Personally, I'd suggest side sleepers with back pain stuck to more medium-soft than truly soft beds to ensure they're also getting proper support.
Stomach Sleepers with Back Pain
The best mattress for stomach sleepers is firm to ultra-firm, a 7-8 on the mattress firmness scale. These sleepers need tons of support (and very little pressure relief) to ensure their hips stay lifted up in line with their shoulders. Stomach sleepers can struggle with back pain when their hips sink into cushioning comfort layers, creating a bend in the spine.
Combination Sleepers with Back Pain
I'd recommend combination sleepers stick to a medium-firm mattress. They need to feel supported and comfortable in several different sleeping positions, and a medium-firm feel can often deliver enough pressure relief and support in several positions throughout the night.
Pressure Relief
Finally, let's take a moment to chat pressure relief. More than other sleepers, those who struggle with chronic pain need to find a mattress that'll actively alleviate tension at sensitive spots along the body, especially at the lumbar region and shoulders.
Typically, pressure points form when there's more push back focused on a specific area, which tends to cause misalignment at the spine. As your body moves out of alignment, more pressure is placed on the back, which can lead to frustrating pains throughout the torso.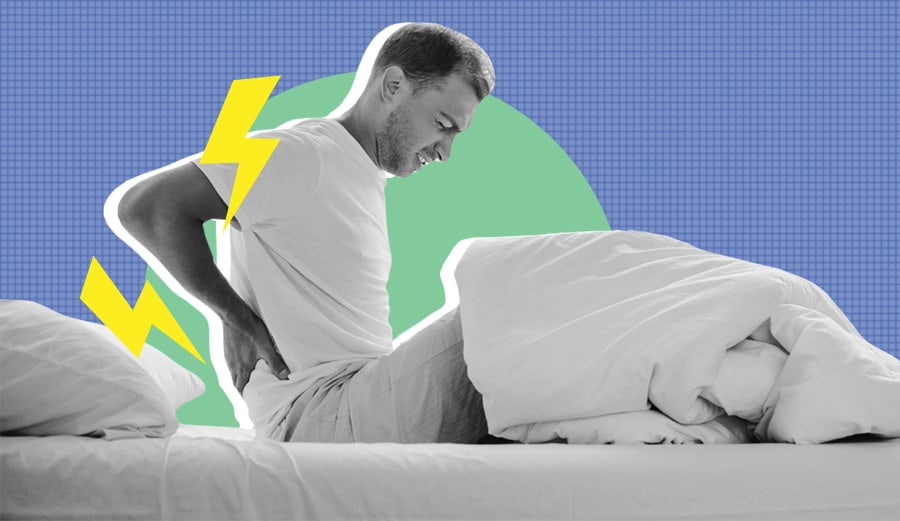 Therefore, it's important to make sure you're not sleeping on a mattress that places pressure on any of your major joints. By doing so, your body is able to enter a relaxed state and the chance of pressure points forming along the spine and lower back is diminished.
When looking for a mattress with fantastic pressure relief, keep an eye out for the following things:
Memory foam – While too much memory foam can lead to dramatic sinkage and spinal misalignment, a touch of the material can do a lot to soothe achy joints as the foam gently conforms to these areas. If you're worried about memory foam's reputation for sleeping hot, look for a gel memory foam mattress that encourages airflow.
Hip Support – As we discussed in the support section, finding a mattress that features a bit of lift at the hips can be a boon for back pain sufferers who need cozy relief, but also optimized spinal alignment.
Can Your Mattress Cause Back Pain?
If you've started waking up with back pain and you didn't have pain before, your mattress could be the culprit! If you've recently purchased a new bed it could be a bit too soft (or too firm) for your needs, which can cause back pain, especially if it's throwing your spine out of alignment. If this is the case, I'd recommend sleeping on your new bed for 30 days to see if your body adjusts. If it doesn't, you'll need to return your mattress or purchase a topper to help.
Mattress sagging can also be a big culprit of back pain. If your mattress is 7-10 years old and sagging in certain places, it could be negatively affecting your sleep health. Plus, you could be unconsciously contorting your body to compensate for the sagging. If you notice your mattress is sagging, it's time to replace it, or add a topper until you're ready to find a new bed.
Simple Ways to Reduce Back Pain
A new mattress is a big investment, and sometimes it's too expensive to fit into your budget. If you want to reduce back pain in a cost-effective way, there are a few other options you can test out.
Pillow – A new pillow that works with your sleeping position and provides good neck support can be a great way to quickly improve your sleep posture and reduce some back pain. Our best pillows for back pain roundup includes a few options, and explains how pillows can help fight back pain in more detail.
Mattress Topper – Adding a firm mattress topper to a sagging or unsupportive mattress can be a nice quick fix for back pain. A mattress topper can add some much-needed support and extend the life of your mattress by a few months. Check out some of our best mattress toppers to see some options.
Change your sleeping position – Your sleeping position could be creating some back pain. Back sleepers have the easiest time achieving a neutral spinal alignment, which can really reduce pain. Stomach sleepers, on the other hand, are particularly prone to waking up with back pain. Side sleepers can also have some issues with pain if they aren't careful about not twisting their back into odd positions as they sleep. If you're struggling with back pain, training yourself to sleep on your back could be a big help. Check out our How to Train to Sleep on Your Back article for some tips.
What Is Back Pain: A Note from Dr. Poorbaugh
Before we wrap up, I wanted to include some basic information on back pain that I learned from Dr. Poorbaugh.
According to Dr. Poorbaugh, most medical research is focused on "Chronic Low Back Pain." Traditionally, to be defined as "chronic" someone's lower back pain needed to continue for "more than three months." But recently, doctors have started using functional brain imaging (as well as detailed assessments of depression and mood) to illustrate that "chronic" is not necessarily a time dependent label.
Dr Poorbaugh says that "the main determinant" of chronic back pain today is central sensitization. According to Dr. Poorbaugh, central sensitization occurs when "the central nervous system has lost its ability to dampen or control peripheral stimuli i.e. information from muscles, joints, and nerves."
When your nervous system can't control those stimuli, your peripheral nerves get irritated. This eventually affects your entire nervous system and makes normal activity feel painful (aka, causes back pain).
How is Back Pain Caused?
As Dr. Poorbaugh mentioned above, chronic back pain is often caused by central sensitization. But back pain can also be a result of injuries like a fall or pulled muscle. Pinched nerves or degenerating discs can also be a cause of back pain.
Types of Back Pain
There are a few different types of back pain. As Dr. Poorbaugh says, a common type is chronic lower back pain caused by central sensitization. But take a look at a few more common types of back pain below:
Non-specific muscle pain – Muscle pain can occur in any area of the back, and is often a result of an injury or a strain. This type of pain often dissipates over time.
Muscle spasms – Muscle spasms most commonly occur in the lower back and are often the result of an injury. This type of pain occurs when your back muscles contract involuntarily.
Radicular pain – If you feel sharp shooting pain in your back that extends to your legs, you could be experiencing radicular pain. This pain is a result of disc degeneration or a pinched nerve.
Sciatica – If you feel pain in your lower spine that extends to your legs, you might be suffering from sciatica. This type of pain is caused by the sciatic nerve, and is very common (and uncomfortable). If you've been experiencing sciatica, you may find your perfect mattress over on our Best Mattress for Sciatica page. (3)
Tips and Tricks for Sleeping with Pain
To wrap up this guide, I want to share some tips and tricks for sleeping with chronic pain. Unfortunately, there's no magical solution for alleviating pain, but there are some slight modifications you can make to get the journey started. I should note that not all pain sufferers will be able to implement all these strategies, nor should they — we're all different, and so our paths toward healing will be different, too.
"I always recommend that my clients see the big picture," Dr. Poorbaugh stated. "When it comes to pain, we have two options: We can seek a fix or a heal. The path to less pain is quite different depending on your choice, but each option has three pillars of management with very little overlap."
While the "fix" typically involves medication and surgery, the "heal" focuses on three main tenets: nutrition, sleep, and movement.
Nutrition
A well-balanced diet has been shown to lead to better sleep, which can help to alleviate stress and pain. (4) Reducing caffeine and sugar intake are great first steps to take toward modifying one's diet for optimized slumber.
Sleep
As we've mentioned throughout this guide, it's tantamount for pain sufferers to get enough sleep. Sleep is one of the biggest and most influential factors affecting stress levels, so it's vital to allocate enough time to fully rest and recover each night. You can start by choosing a set bedtime and then working toward establishing a consistent nighttime routine. For more tips, check out our 30-Day Sleep Hygiene plan.
Movement
Exercise is another crucial piece of the pain-free puzzle. Low-impact workouts can help with mobility, which can then lead to better spinal alignment. Regular exercise has also been regularly linked to improved sleep, so figuring out a consistent workout could do a lot for the quality of your Zzz's. (5)
Final Word From Sleepopolis
At the end of the day, a new mattress isn't going to solve your back pain woes anymore than a strict diet will. More than anything, it's about a lifestyle shift in which you combine these different factors to create a plan specific to your needs.
Maybe your ideal routine will involve a healthy amount of fatty fish, long morning walks, and a bed featuring Zoned Support at the hips. For another sleeper, it may entail vigorous spin classes, more greens, and a plush memory foam mattress for pressure relief at the upper back.
As always, any major life decisions should be made in consultation with a medical professional. The information provided in this guide is just that: Information. We're not doctors, nor do we claim to be, so I highly encourage those with chronic pain to seek professional advice for any and all serious health issues.
Recap: The Best Mattresses for Back Pain
| Mattress | Best For | Price (Queen) | Coupon | Review |
| --- | --- | --- | --- | --- |
| Saatva | Editor's Pick | $1,574 | Saatva Coupon | Read My Review! |
| Helix Dusk | Lower Back Pain | $1,099 | Helix Coupon | Read Our Review! |
| WinkBeds | Firm | $1,599 | WinkBed Coupon | Read My Review! |
| Casper | Back Sleepers | $1,095 | Casper Coupon | Read Our Review! |
| GhostBed Flex | Latex | $2,145 | Ghostbed Coupon | Read Our Review! |
| Puffy Lux Hybrid | Shoulder Pain | $1,799 | Puffy Coupon | Read Our Review! |
| Nectar | Memory Foam | $1,198 | Nectar Coupon | Read Our Review! |
| Layla | Side Sleepers | $1,099 | Layla Coupon | Read My Review! |
| DreamCloud | Hybrid | $1,598 | DreamCloud Coupon | Read Our Review! |
| Cocoon Chill Hybrid | Cooling | $1,499 | Cocoon Coupon | Read Our Review! |
FAQs
Can a firm mattress cause lower back pain?
It really depends on one's preferred sleeping position! Side sleepers will likely find that a firm mattress compounds their lower back pain (these folks tend to go for softer beds) while stomach sleepers are likely to find a firm mattress helps with their back pain as the extra support lifts their spine into a neutral alignment.
What mattress firmness is best for back pain?
Typically, back pain sufferers will want to opt for something in the 5-7 range on the firmness scale (with 1 being the softest and 10 the firmest). This medium-firm feel is likely to both soothe aches at the lumbar region and provide much needed support at the hips.
Is a memory foam mattress good for back pain?
Memory foam has a slow response to pressure, so allows the sleeper to sink in for some satisfying contouring at the shoulders and hips. This helps to alleviate tension at these sensitive spots and can bring some much needed relief to the upper and lower back.
References
Gerhart, James I., et al. "Relationships Between Sleep Quality and Pain-Related Factors for People with Chronic Low Back Pain: Tests of Reciprocal and Time of Day Effects." Annals of Behavioral Medicine, vol. 51, no. 3, 2016, pp. 365–375., doi:10.1007/s12160-016-9860-2.
Jacobson, Bert H., et al. "Effect of Prescribed Sleep Surfaces on Back Pain and Sleep Quality in Patients Diagnosed with Low Back and Shoulder Pain." Applied Ergonomics, vol. 42, no. 1, 2010, pp. 91–97., doi:10.1016/j.apergo.2010.05.004.
Ashburn, Michael. (2017, November 15). 3 Common Forms of Lower Back Pain. Penn Medicine Musculoskeletal and Rheumatology Blog.
St-Onge, Marie-Pierre, et al. "Effects of Diet on Sleep Quality." Advances in Nutrition, vol. 7, no. 5, 2016, pp. 938–949., doi:10.3945/an.116.012336.
Kline, Christopher E. "The Bidirectional Relationship Between Exercise and Sleep." American Journal of Lifestyle Medicine, vol. 8, no. 6, 2014, pp. 375–379., doi:10.1177/1559827614544437.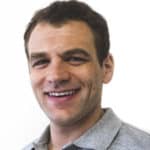 Logan is the content director of Sleepopolis, which means he not only reviews new mattresses every week, but also curates all the comparisons, best of pages, and video guides on the site. He takes a straightforward, honest approach to his reviews and endeavors to give viewers an objective look at each new product he tries out. Logan has perfected his method by personally testing over 200 different mattresses, so he's not only able to discern the overall vibe of a specific bed, but to contextualize its feel within the bed-in-a-box market as a whole. When he's not hopping on a new bed or working with our editorial team to whip up an engaging sleep education guide, you can find him reading books on world history, walking his dog Pepper, or searching for the best cheeseburger in New York City.