Of all the sleeping positions, stomach-sleeping is the least common. Some of us may sleep on our stomachs periodically, but people who do so for the majority of the night are a rare breed. In fact, just 16% of us stomach-sleep on a routine basis.
As physical therapist and Sleepopolis Expert Network member Dr. Keith Poorbaugh tells us, stomach-sleeping can be tricky. We've outlined the pros and cons of this position so you can decide if it's right for you.
Best Mattresses for Stomach Sleepers of 2021
Top 9 Mattresses for Stomach Sleepers!
Best Mattress for Back Pain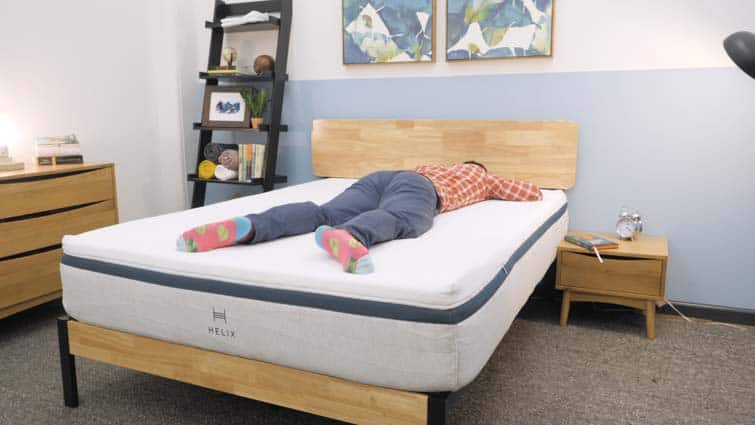 Helix
If you're a stomach sleeper who suffers from back pain, I'd recommend taking a look at the Helix line of mattresses. Though the brand sells several different models, I think the ultra-firm Twilight or Dawn mattresses would be best for alleviating tension at the lumbar region. Not only are the beds firm enough to ensure sound stomach-sleeping, but they're also supportive enough to set the spine in a healthy, neutral alignment. 
In fact, proper support is perhaps the most important thing for back pain sufferers to consider. While support means different things for different styles of sleeping, for stomach sleepers, it means lifting the hips in line with the shoulders. When the hips dip, that's when the aches and pains begin. It's worth noting that Helix also sells luxury versions of the Twilight and Dawn mattresses, which come with extra foam for added comfort and support. AND there's also the Helix Plus, a bed designed specifically for heavier sleepers.
For more on the Helix Line, hop on over to my full Helix mattress review. Then, read my reviews for the Helix Luxe and Helix Plus mattresses.
New Year's Sale: Up to $200 Off!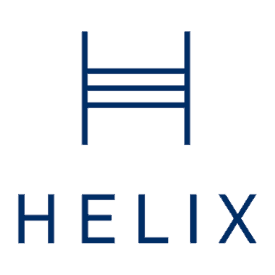 If you're a stomach sleeper looking for a hybrid mattress, the Helix Midnight offers nice support to keep your hips from sinking into the mattress! 
Best Innerspring Mattress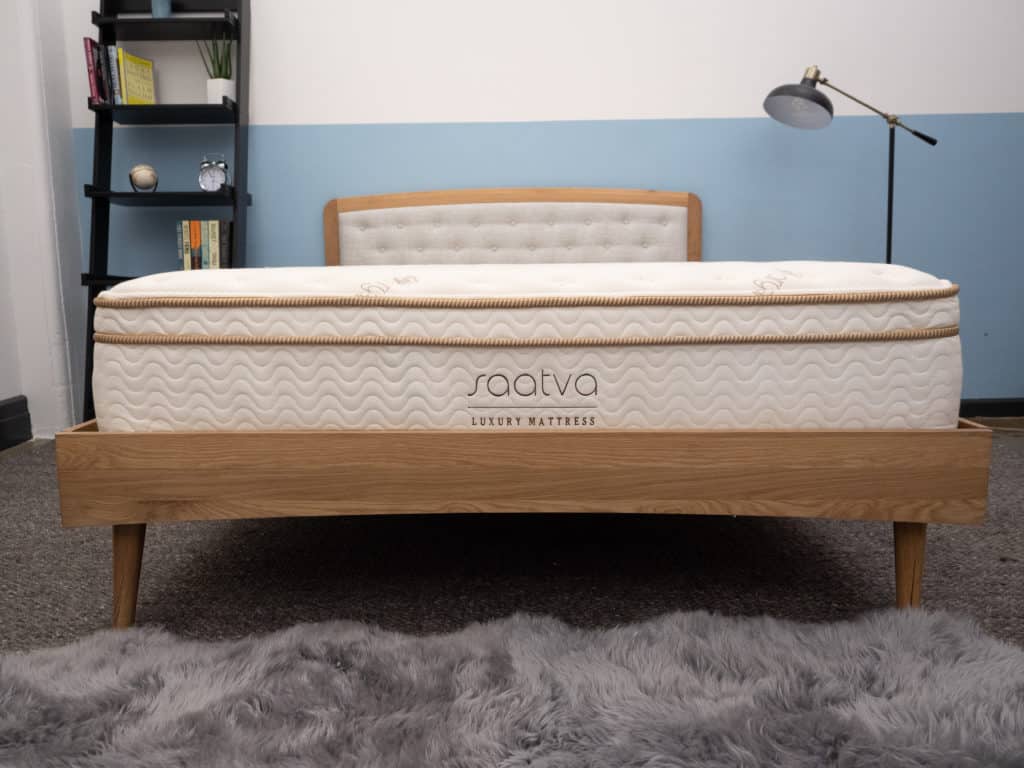 Saatva
For those interested in more of a traditional innerspring feel, I'd recommend taking a look at the Saatva mattress. What's most notable about this bed is its special coil-on-coil construction in which two rows of coils are stacked on top of each other. This results in a resoundingly firm feel, which could be ideal for stomach sleepers in need of — you guessed it! — firm support. 
It's worth mentioning, too, that unlike other popular online models, the Saatva is not a bed-in-a-box mattress. This means that it won't arrive compressed on your doorstep, which could be another plus for folks in search of a more traditional experience. And if you find that the Original Saatva (ranked at about a 7/10 on the firmness scale) isn't quite firm enough for your needs, the brand also makes the Saatva HD, an ultra-firm model designed for heavy sleepers.
For more, check out my full Saatva mattress review. And while you're at it, why not take a look at the Saatva HD mattress review as well.
$200 Off!

The Saatva mattress combines a luxurious pillow-top layer with two sections of coils for that classic innerspring feel. We recommend the firm model for strict stomach sleepers. 
Best Mattress for Side/Stomach Sleepers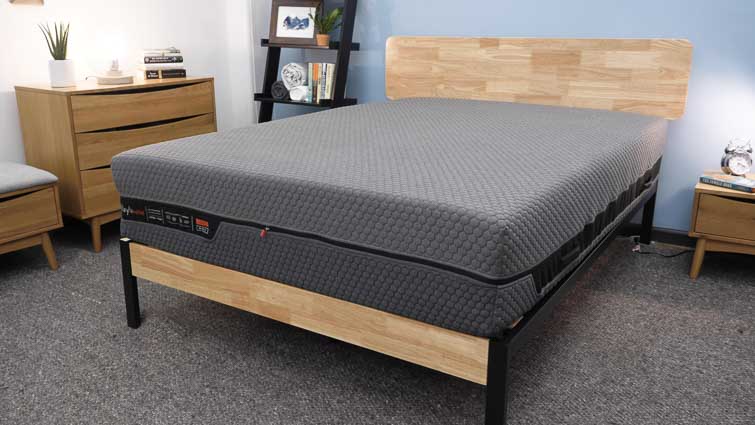 Layla Hybrid
Stomach sleepers that switch between their side and stomach in the night need a bed that's firm yet gentle, supportive yet deeply pressure-relieving at the shoulders and hips. It's a tricky balance to strike, unless, of course, you're stretching out on the Layla Hybrid. 
This mattress offers a one-two punch of pressure relief and support by incorporating both gentle memory foam and sturdy pocketed coils into its design. So, you should get enough lift at the hips while dozing on your stomach and enough cozy comfort at your shoulders when turning onto your side, ensuring sound sleep in both positions. I should also add that the mattress is technically flippable with a "Soft" and "Firm" side, allowing sleepers to experiment with different comfort levels before landing on the one that's right for them.
Interested? Then read my full Layla Hybrid mattress review for all the details! 
Up to $200 off + $300 in free products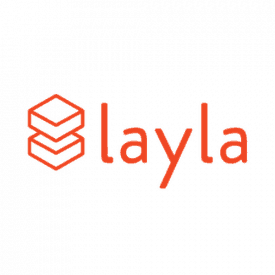 The Layla Hybrid uses foam and coil layers for two firmness options so you can choose the right support level for your sleep style. 
Best Hybrid Mattress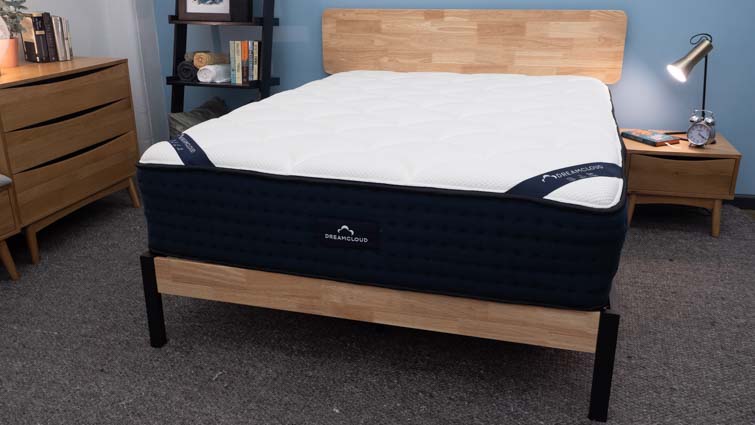 DreamCloud
If you're in the market for a bouncy hybrid that'll make stomach sleeping a dream, then you've gotta check out the DreamCloud mattress. As with any hybrid model, this bed combines gentle foams with springy pocketed coils for a one-two punch of pressure relief and support. 
While there are a ton of hybrids available online, I particularly like this one for stomach sleepers because its top layers of foam are soft, but not too soft. What I mean is that they provide plenty of pressure relief at the shoulders and hips without causing the lumbar region to dip out of alignment with the rest of the torso. This results in an even line from head to hoof, which is ideal for those who sleep in prone. Plus, the bed is a fantastic value given the high-quality materials used in its construction.
Does this mattress sound like a dream? Then you better head on over to my full DreamCloud mattress review. 
Save $200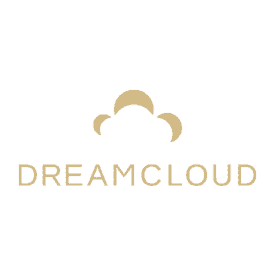 The DreamCloud has firm enough support for spinal alignment, the DreamCloud is a great hybrid option for all sleeping positions, including stomach sleepers. Enjoy $200 off, free sheets, free protector and free pillows with code SLEEPOPOLIS200!
Best Cooling Mattress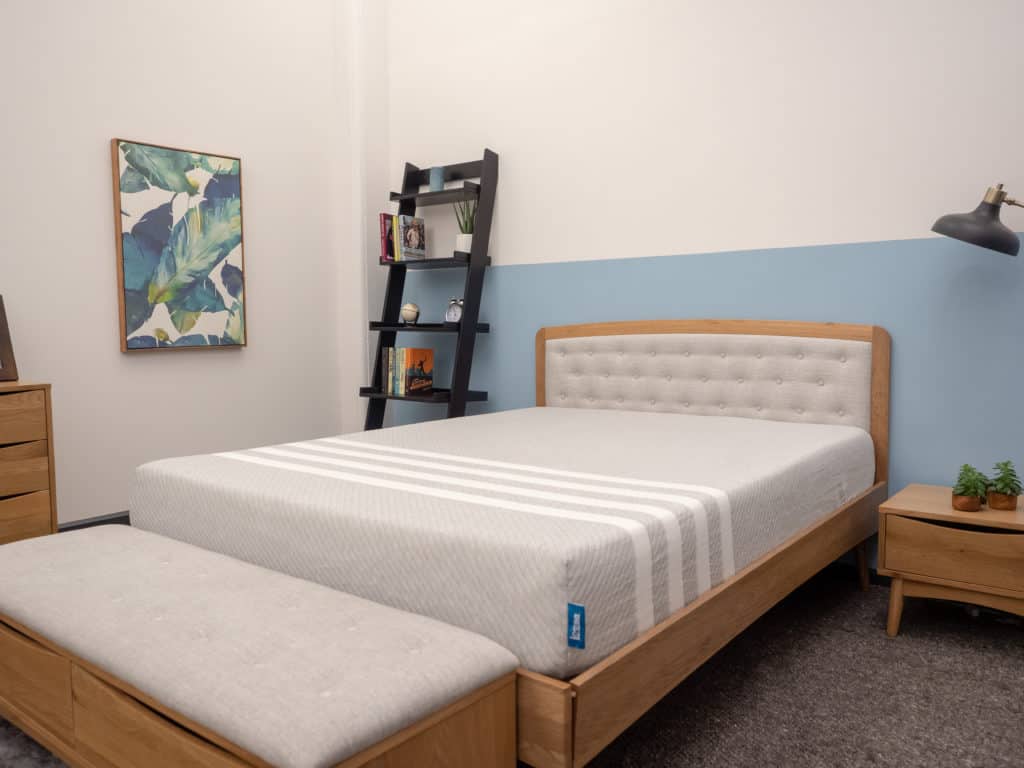 Leesa
Overheating when sleeping at night can be a problem for a lot of people. The Leesa mattress helps with this by providing features that keep you cool all evening long. Underneath its polyester blend cover is an LSA 200 foam comfort layer, which is the primary way the mattress keeps you from getting too warm. While less dense than latex, the foam responds to body pressure and creates a surface that's just as cooling as latex. 
This mattress is great for stomach sleepers since it helps keep the spine, hips, and shoulders properly aligned. And when it comes to support, the firm mattress offers plenty.  For all these reasons, stomach sleepers concerned about getting too warm at night should consider going with the Leesa mattress. 
You can find more information at my full Leesa mattress review.
Up to $400 Off!

Made from a blend of proprietary foam, memory foam, and high-density poly foam, the Leesa Mattress offers a softly balanced feel that's great for a wide range of sleepers. 
Best Mattress for Heavy People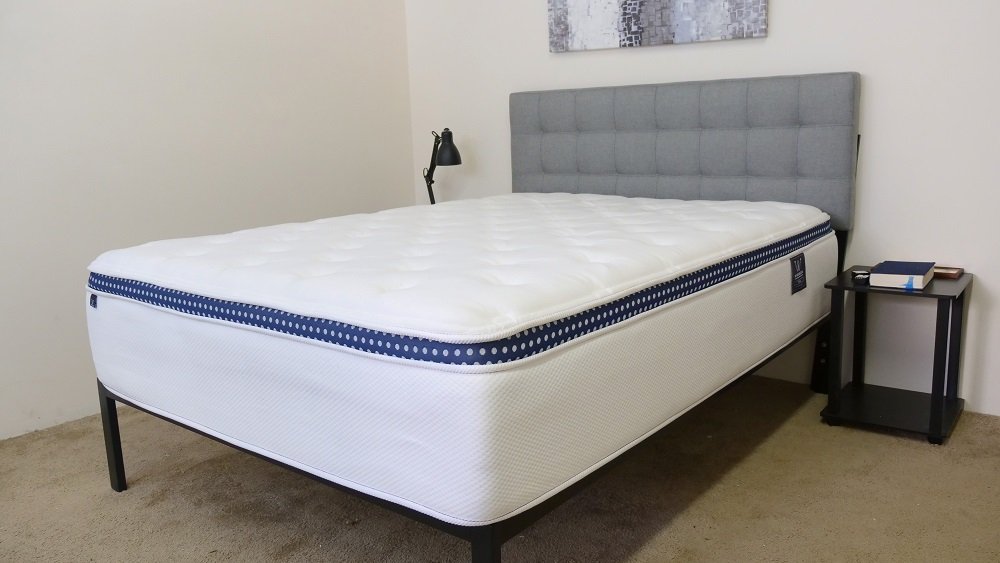 WinkBed Plus Mattress
Though all heavy sleepers need to pay attention to the support of their mattresses, firm support can be an especially important factor for plus-sized stomach sleepers. Why? Well, these dreamers need even more bolstering at the hips to ensure an even spine alignment as they snooze. 
Enter the WinkBed Plus, a bed built to support the needs of exactly these kinds of sleepers. Not only does it have a sturdy coil section, but it's also outfitted with a layer of zoned support, which provides extra lift to the hips. This combination of materials produces an exceedingly firm feel that should leave the sleeper positioned squarely on top of the structure. I should also mention that the WinkBed Plus features a cover made of Tencel, an all-natural material that's breathable and cooling.
To learn more, check out my full WinkBed Plus mattress review. You can also take a gander at my Original WinkBed mattress review, another supportive option that's a little less firm than the Plus. 
$300 Off!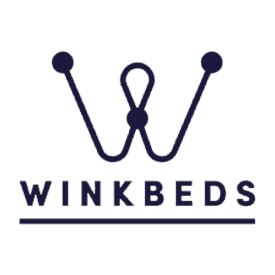 The WinkBeds Plus was designed to be bouncy, cooling, and particularly supportive for heavier sleepers! 
Best Firm Mattress for Stomach Sleepers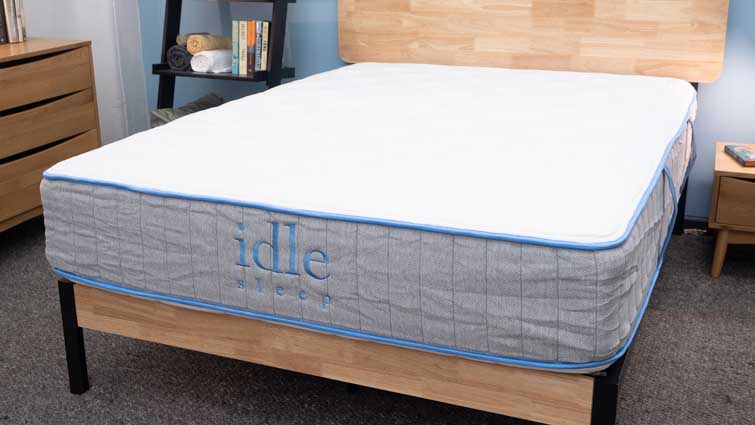 Idle Sleep Hybrid
As a stomach sleeper, you may have read that a firmer mattress will suit you better than a soft, plush bed. This is because if the mattress allows your hips to sink into the bed too much, it can cause some serious back pain when you wake up. If you don't think a firm mattress sounds like a luxurious sleep surface, the Idle Sleep Hybrid is here to prove you wrong. 
I love this mattress because it gives you a few firmness options (I recommend the luxury firm version for a stomach sleeper) and it has enough support to keep your spine aligned while keeping you comfortable. 
Sound like the perfect mattress for you? Check out my full Idle Sleep Hybrid review.
Save 30%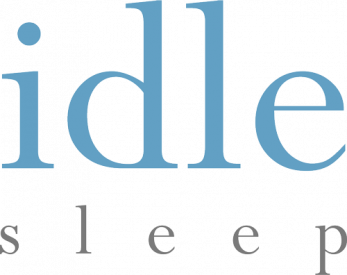 The Idle Hybrid mattress uses a flippable design to improve durability and has a nice medium feel for back and side sleepers. 
Best Foam Mattress for Stomach Sleepers
Bear Mattress
If you love the feel of memory foam but are concerned an all-foam mattress may not give you the support you need, the Bear Original mattress may be the perfect option for you. Coming in at just above a 7 on the firmness scale (7.1 to be exact), this bed is firm enough to promote a healthy, straight spine, but has a little bit of give for that hug from memory foam that so many love.
Another concern stomach sleepers have is the breathability of a mattress. Memory foam has a bad reputation for trapping body heat, which may make it uncomfortable for people with their faces buried in the mattress. The Bear mattress works against that stigma and is one of the most cooling foam beds on the market.
Thinking about trying this cool foam bed? Check out my full Bear Mattress Review! 
20% off Entire site + 2 FREE Pillows with code SAVE20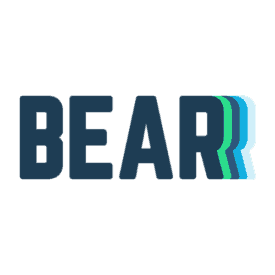 Bear mattress covers use celliant, which some studies suggest may help those with active lifestyles recover faster! 
Best for Stomach and Back Sleepers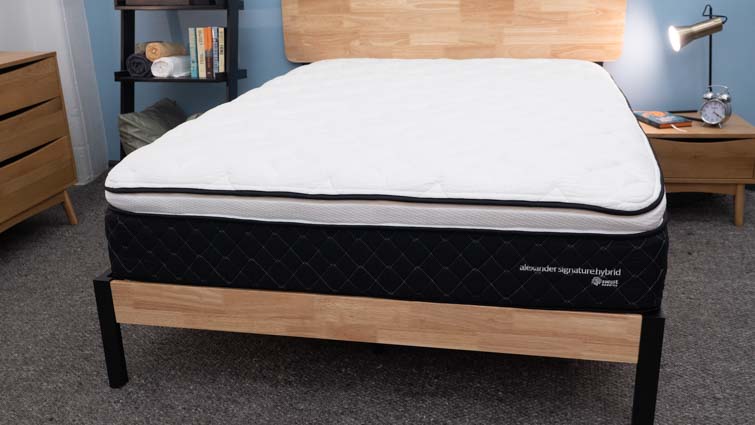 Nest Bedding Alexander Hybrid
It is hard to find a mattress that performs really well for different sleeping positions, most are specifically engineered for a certain type of sleeper, and some just have qualities that make them ideal for back, stomach, or side sleepers. Nest Bedding Alexander Hybrid is one of those unicorns that really is great for all sleeper types. I particularly like the luxury firm version of this bed for stomach and back sleepers, because it is extremely supportive. 
Aside from the luxury feel of this mattress, the sustainable production, and quality design, another standout feature of this mattress is the buying options. If you sleep with a partner, you can customize this bed to come in a split design with two firmness options. This is ideal for couples with different weighs or preferences. 
Looking for a great option for back and stomach sleepers? See my full Nest Bedding Alexander mattress review to learn more.
20% Off
Nest Bedding Alexander Hybrid Mattress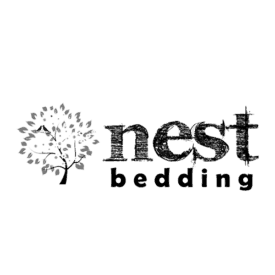 Nest Bedding Alexander Hybrid Mattress
Save with code NESTLOVE
Pressure relief without feeling stuck
Sleeps cool
Best Memory Foam Mattress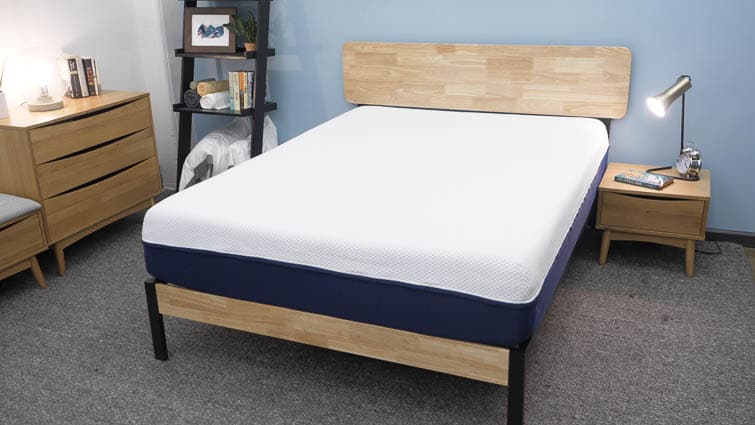 Amerisleep
For stomach sleepers who want to sleep on memory foam, an Amerisleep mattress might be the best fit for you. Amerisleep mattresses range in firmness from AS1 (the firmest) to AS5 (the least firm). Each mattress is designed to comfortably distribute your weight by keeping your hips up and in line with your shoulders. This means you won't hurt your back if you sleep on your stomach, due to the firm support the mattress provides. 
If you're concerned about overheating at night, you should know that all Amerisleep mattresses help keep the body cool due to a Celliant cover and a memory foam comfort layer. Each mattress also provides the right amount of firmness, depending on your preference, without detracting from the soft top. As such, Amerisleep mattresses provide the correct balance of firmness and comfort. So if you're looking for a memory foam mattress that will keep you comfortable throughout the night, consider using an Amerisleep mattress.
Save 30%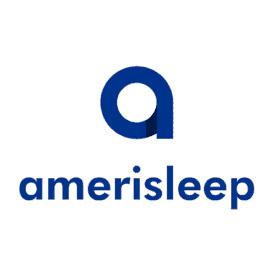 Amerisleep offers a range of memory foam mattresses so you can find the right support level for your sleep style. Use code SLEEPOPOLIS to save 30% with our exclusive discount!
Basics of Stomach Sleeping
Pros
Comfort. Many stomach sleepers find lying on their stomachs comfortable, and may fall asleep more easily in this position
Reduced risk of breathing-related sleep disorders. Sleeping on the stomach can help lower the risk of snoring and sleep apnea due to the position of the throat and tongue
Less heartburn. Stomach-sleeping may decrease the likelihood of heartburn and gastroesophageal reflux disease
Cons
Spinal alignment. Sleeping on the stomach can contort and put pressure on the spine due to the concentration of weight in the middle of the body and the effects of gravity
Muscle and joint strain. Reports of neck, shoulder, and back strain are common among stomach sleepers, especially those who sleep with both arms raised. One study found that using a computer or watching TV in the prone position can cause tension in the lumbar region of the back, while another showed that stomach-sleeping may disrupt breathing (1) (2)
Interrupted sleep. Muscle and joint strain caused by stomach-sleeping can result in repeated awakenings during the night. This can lead to sleep deprivation, which may trigger fatigue, irritability, trouble with learning and memory, and weight gain
The right mattress can help mitigate some of the cons of stomach-sleeping, but may not relieve them entirely. Proper firmness and support are key to sleeping with minimal tension on the neck and spine.
Best Mattress Firmness for Stomach Sleepers
What does firmness mean when it comes to your mattress? Though firmness and support may sound similar, they have different definitions. Firmness refers to the initial feel when you first lie on a mattress. If the mattress immediately pushes back with a stiff sleeping surface, most people would consider it firm or very firm. Other mattresses have more of a cloud-like comfort with cushion that immediately contours around the body. This would be considered plush or soft. A balanced level of push-back, hug, and contour would be considered a medium feel.
Mattress firmness is described by a numerical one-to-ten scale, with one being the softest and ten being the firmest. Most soft mattresses measure around three on the scale, while extra firm mattresses measure around eight.
Mattresses that are considered appropriate for stomach sleepers generally come in at six to eight on the firmness scale. This level will prevent the back from arching out of alignment and keep the hips lifted in line with the shoulders. Anything softer could cause discomfort in the pelvis and lower back.
Body weight is also a factor when choosing a mattress. A stomach sleeper of average
weight might consider a medium mattress, about a five on the scale, or a medium firm mattress, around six to seven. Mattresses in this firmness range will be soft enough to conform to the body without sinking excessively.. A mattress that measures above a seven may help prevent heavier stomach-sleepers from sinking too deeply and exacerbating joint and muscle strain.
Though the firmness of your mattress is an important factor in how comfortably you sleep, Dr. Poorbaugh warns that it may not be enough to undo existing sleep posture issues. Put simply, if you already suffer from back pain, you should avoid sleeping on your stomach.
"I advise clients to avoid stomach sleeping if they are experiencing any type of spinal pain," he says. "The primary area of concern for stomach sleepers is spinal alignment. Even with proper pillow placement [discussed below], it's difficult to maintain a neutral spine position in prone."
If you're a dedicated stomach-sleeper and want to be as kind as possible to your muscles and joints, make sure you have the right mattress.
What About Mattress Support?
After firmness, support may be the most important concern for stomach sleepers. Support describes the uniformity of the mattress surface and the way it conforms to the body. Sound support will help to bolster the lumbar region, lift the hips, and reduce tension in the neck and shoulders.
To find a bed with solid support, consider the following:
Firmness doesn't always equal support, so pay attention to materials and construction. Hybrid beds utilize both foam and pocketed coils, and typically offer the most well-rounded support
When you try out a bed, make sure your hips and shoulders aren't sinking out of alignment. Give your body a few minutes to settle before deciding if the support feels right
Focus less on the comfort layers and more on the support sections. Pillow-tops can be tantalizing, but stomach sleepers need to feel what's going on underneath
Best Type of Mattress for Stomach Sleeping
A firmer, more supportive mattress can help reduce the discomfort and joint strain of stomach-sleeping. But which type of mattress is best for you? Mattress options for people who sleep on their stomachs include the following:
Latex is a responsive material with a slightly spongy feel. The responsiveness of latex can help reduce the "stuck" feeling that may occur with memory foam, making switching positions easier. Latex is known as a cooler material, making it a great choice for stomach-sleepers who tend to perspire or wake up hot. Latex is a natural material made from the sap of the rubber tree, and may be a good option for people with respiratory allergies or concerns about the environmental impact of their mattress.
Memory foam mattresses conform to the body and offer solid support and pressure relief. Though memory foam is known for sleeping hot, recent, more advanced memory foams sleep cooler due to their larger cellular structure. The thickness, density, and firmness of memory foam varies by mattress, brand, and price. In general, changing sleeping positions on memory foam is not as easy as it is with some other mattress materials. Memory foam is durable and typically makes for a very supportive mattress
A traditional coil mattress is made with a structure of steel springs throughout the bed. Coils usually make for a bouncy bed that transfers motion easily. Pocketed coils are less likely to transfer motion due to the material that encases each individual coil
Hybrid mattresses are crafted from a combination of latex, memory, other polyurethane foams, coils, or other materials. Hybrids achieve support and firmness using a variety of materials rather than one. Hybrid mattress are available in any firmness level, from soft to very firm
Pillow-top mattresses may be made of latex, memory foam, hybrid materials, or other mattress materials. "Pillow-top" describes the layer of plush material either filling or affixed to the cover
Tri-zone construction utilizes three different levels of comfort to support the lumbar region of the back and align the spine. The upper section of a tri-zone mattress is typically made of a softer layer that cushions and cradles the head and shoulders. A firmer foam is used for the middle zone to support the heavier torso and prevent it from sinking too deeply into the mattress. Making up the lower zone is a medium foam that supports the hips, glutes, and legs
Worst Mattresses for Stomach Sleepers
The worst mattresses for stomach sleepers are softer, less supportive, and more prone to sagging under the weight of the torso. Too much sinkage can throw the spine out of alignment and increase muscle and joint pain.
To help prevent poor alignment and discomfort, stomach-sleepers may want to avoid the following:
A mattress with a deep pillow-top. A cushiony outer layer can feel plush and cozy to sink into, but is more likely to cause a painful curvature of the neck and spine. A thick pillow-top could also make breathing more difficult
A mattress made of softer memory foam. Stomach-sleepers are more likely to shift and change position during the night, which could be more difficult on a less-firm memory foam
A hyperelastic polymer mattress. These mattresses typically have open cells of relatively bouncy material and a resilient feel. Hyperelastic polymer is responsive, making it easier to change positions, but may not offer the pressure relief and firmness that most stomach sleepers need
The Right Pillows for Stomach-Sleepers
More than almost any other type of sleeper, those who sleep primarily on their stomachs have the most to gain from effective pillow use. As Dr. Poorbaugh points out, it's not just about focusing on the pillow that goes under your head (though that's important, too), but about getting creative with the ones you use along the rest of your body.
"To mitigate the risk of stomach sleeping for articular pain in the shoulder or spine, the best option is to utilize proper pillow support," he says. "Pillows should be placed under the pelvis and shoulders to maintain neutral spine postures and avoid impingement of the shoulder."
Research from the Mayo Clinic supports this idea, indicating that the only sure way to ensure proper support for stomach sleepers is to nestle a flat pillow directly under the pelvis. (3) The goal is to manufacture a lift, creating a neutral position for sound sleeping.
Not exactly sure what kind of pillow to go with? Our bedding expert Sarah breaks it down like this:
The goal is to find a pillow with a lower loft (shorter height) and an overall softer firmness level
Stay on the lookout for soft, short, and compressible pillows that won't exert too much control over your posture
Learn more by checking out her round-up of the absolute best pillows for stomach sleepers.
FAQs
How can I avoid sleeping on my stomach?
If stomach-sleeping is causing neck or back strain, you may want to break the habit. Try sewing a tennis ball into the front of your shirt or packing pillows around your body to keep you on your back or side. Try a supportive pillow that cradles your neck and head and makes it more difficult to sleep on your stomach.
What is considered the best position for sleeping?
Sleeping positions are a matter of personal preference, but most experts recommend back or side sleeping for optimal comfort, neck position, and spinal alignment.
Is it healthier to sleep on a firm mattress?
A mattress is a good fit for you if it's comfortable, doesn't cause or worsen aches and pains, and promotes a good night's sleep. When sleeping on a firm mattress, the bones absorb most of the pressure and put less stress on joints and muscles. A firm mattress may be better for back and stomach-sleepers, while a slightly softer mattress might be the best choice if you sleep on your side.
Is it okay to sleep without a pillow?
Sleeping without a pillow or with a flatter pillow may actually be best if you sleep on your stomach. The less you lift your head while sleeping on your stomach, the less your arch your neck, which helps to lower the risk of back and neck strain.
Summary: Best Mattresses for Stomach Sleepers
The following two tabs change content below.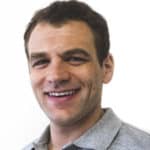 Logan is the content director of Sleepopolis, which means he not only reviews new mattresses every week, but also curates all the comparisons, best of pages, and video guides on the site. He takes a straightforward, honest approach to his reviews and endeavors to give viewers an objective look at each new product he tries out. Logan has perfected his method by personally testing over 200 different mattresses, so he's not only able to discern the overall vibe of a specific bed, but to contextualize its feel within the bed-in-a-box market as a whole. When he's not hopping on a new bed or working with our editorial team to whip up an engaging sleep education guide, you can find him reading books on world history, walking his dog Pepper, or searching for the best cheeseburger in New York City.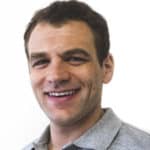 Latest posts by Logan Block (see all)