Life gets busy, and that often means limited time to spend on the things that matter most. You want to streamline as many processes as possible, including your mattress purchase. Lucky for you, Sealy gifted the world the Cocoon mattress, coming in Classic, Chill Memory Foam, and Chill Hybrid models. All come as a bed-in-a-box delivered directly to your door. This time around, I'll be testing out the Cocoon Classic mattress, but will offer recommendations on the other two options as well.
Not believing the hype? Have no fear, the mattress expert is here. I've personally tested this mattress, and have included everything you'll want to know, from how it feels, to how it performs for couples and those with pain concerns. I'll also give a rundown on which sleepers I think it's best for, so by the end you should know whether or not it's right for you!
If you're in a time crunch check out my full review summary here. Now, let's get started!
Check Prices Here
The Cocoon is a budget-friendly memory foam mattress that's great for back sleepers!
Is the Cocoon a Good Mattress for You? 
Before we dive in head-first, let's see if the Cocoon is the right mattress for you. I've included my thoughts below to help you decide!
Who I recommend the Cocoon mattress for
This

no-frills mattress

has a basic design that should check the box for the sleeper with less-specific needs. With a memory foam comfort layer and a high-density base layer, this could please those who like it firm, as well as those who desire more of a memory foam feel.

If you're heading to a new city or moving your child into their first apartment, not yet ready to plant permanent roots, this mattress could be a good,

short-term solution.

The Cocoon Classic could offer an affordable plan for any transitional period.

I recommend the Cocoon Classic mattress for

back sleepers

. It did a good job of

keeping my spine aligned

, which should ward off those aches and pains that often come with this sleeping position.
Who I don't recommend Cocoon mattress for
I don't think this firm mattress would be a good fit for

side sleepers

. With more weight being concentrated in one area in this position, side sleepers are likely to experience pain in the hips and shoulders. My pressure test showed

increased pressure

in this position specifically. For a better fit, I'd recommend these folks to check out our

best mattresses for side sleepers

.

Those after a very soft bed won't be happy here — It feels quite firm, and doesn't offer much cushioning. Our picks for the

best soft mattresses

may hold a better option for this sleepers' preferences.

With a high motion absorption , and almost no bounce, this mattress would not be a good choice for sleepers looking for an extra-bouncy mattress. 
How Firm is the Cocoon Mattress?
Everybody feels the firmness of a mattress differently, due to differences in body type and size. In addition to my take, I've brought in three more testers to give their opinion on the firmness level as well. This should give you a better sense of the firmness range you can expect out of the firm version of the Cocoon by Sealy.

All testers came in with an average score of 7 out of 10 on the mattress firmness scale. The mattress industry standard for medium-firm is 6.5, so this bed is on the firmer side.  
When I pressed into the memory foam it had an initial firmness to it before it started contouring. I felt myself sinking into the mattress slightly, but the quick transition to the base layer kept me from getting stuck. The short top layer also meant that I was able to adjust my position on the mattress pretty easily. The high density base layer also provided me with good support, and based on this, I'd recommend this mattress to back sleepers who are looking to avoid potential pain in the hips and shoulders.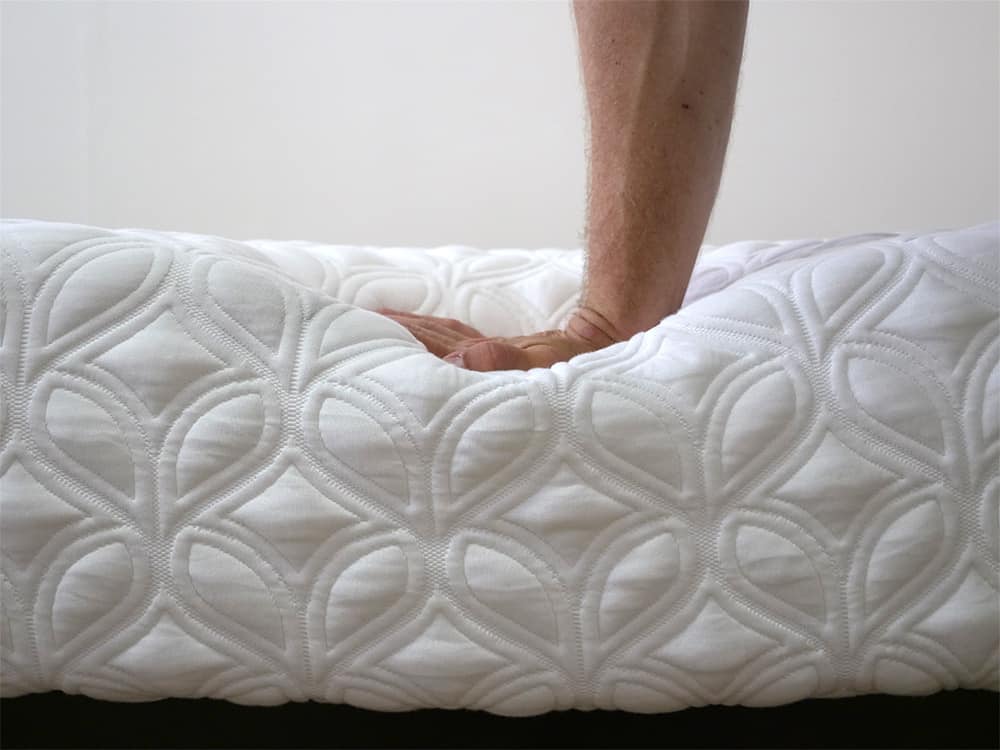 Check Prices Here
The Cocoon is a budget-friendly memory foam mattress that's great for back sleepers!
Cocoon Mattress Performance 
I used a number of tools to test this mattress in key areas of importance for potential mattress consumers. These features can often play a big role in finding the best  mattress for you. 
Testing the Cocoon Mattress in Different Sleeping Positions
Different sleepers need different levels of support, based on their weight, preferred sleeping position, and personal preferences. Let's take a look at this snapshot of varying sleepers to further help you decide whether or not you'll go with the Cocoon.
Is the Cocoon a Good Mattress for Light Sleepers (Under 130 lb)?
Light Back Sleepers –

With just the right amount of firmness, this mattress should be enjoyable for this sleeper.

Light Side Sleepers –

If you're a light side sleeper who prefers a little added cushion, this mattress would be a good fit for you, as you likely won't get the brunt of the firmer bottom layer.

Light Stomach Sleepers –

With a softer top layer, this mattress may be too soft for these sleepers and won't  properly support them.
Is the Cocoon a Good Mattress for Average Weight Sleepers (130 – 250 lb)? 
Average Weight Back Sleepers –

These sleepers may find that the Cocoon has just the right amount of firmness for them

Average Weight Side Sleepers –

Depending on where you weigh in on the spectrum, a lighter sleeper may like this mattress  but those closer to 250 lb will likely need more support.

Average Weight Stomach Sleepers –

With a 7 out of 10 on the firmness scale, the Cocoon should offer the perfect amount of firmness for these sleepers. 
Is the Cocoon a Good Mattress for Heavy Sleepers (over 250 lb)? 
Heavy Back Sleepers –

Heavier sleepers will appreciate the firmness of this mattress, but may require an even firmer mattress or one specifically designed for their body type, like one of our

best mattresses for heavy people

.

Heavy Side Sleepers –

I would not recommend this mattress for you, because it's likely you'll experience increased pressure, leading to pain in the shoulders or hips.

Heavy Stomach Sleepers –

This sleeper often needs a mattress with a 7 and above rating on the firmness scale, so you may find that it's just right or not enough.
Cocoon Mattress Pain Relief Performance
What many aren't aware of, is that pressure relief and pain relief go hand in hand. We test pressure in mattresses to see which areas of the body will be offered the most support, and where it could be lacking.
Pain can be a real problem for many sleepers. Strict side sleepers can often experience hip or shoulder pain, or both, and need extra support. Similarly, other sleepers, like stomach and back, can experience lower back pain. What it comes down to is the need for a good balance of pressure relief and support to alleviate that pain. Take a look at the pressure map for a more visual representation of how pressure affects different sleepers.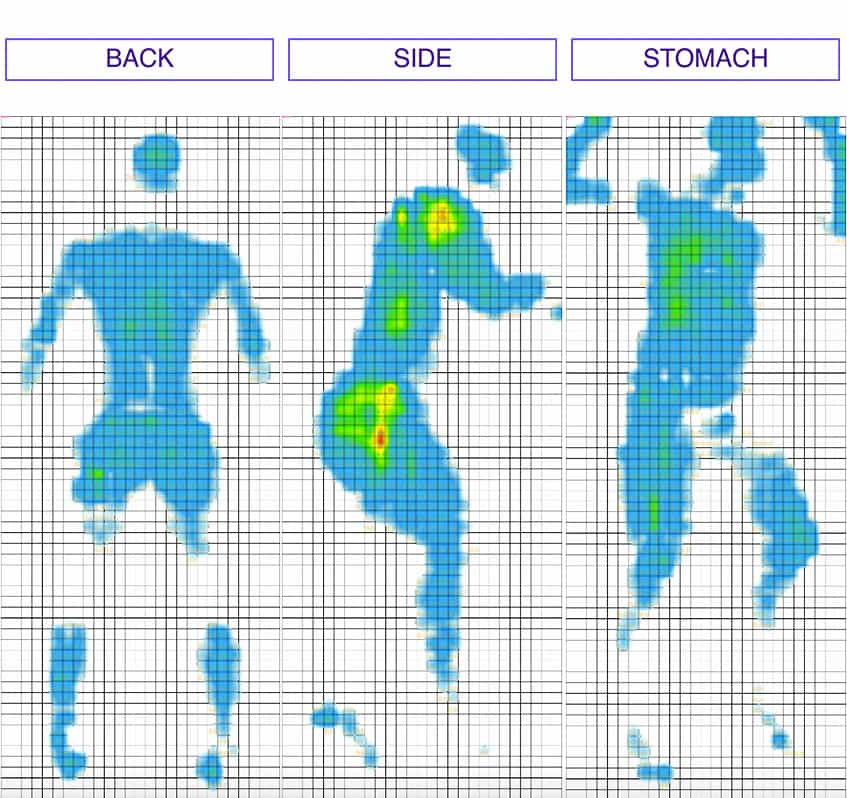 With the above information in mind, I've highlighted the various pain types and noted how this pattress performs for sleepers experiencing them. 
Back Pain – Sleepers with back pain will find that there is a good amount of weight distribution with this mattress. The Cocoon does a great job of filling in the space beneath your lower back, where you likely experience pain. I definitely recommend this mattress for back sleepers, as it offers great lumbar support. For moderate back pain, you may also consider our Cocoon Chill Hybrid mattress review.
Shoulder Pain – As you can see in the graphic above, shoulder pain is one of the biggest issues for side sleepers on this mattress. If you are a side sleeper, this mattress may create increased pressure on the shoulders, and in turn, cause you more pain. However, back or stomach sleepers with hip pain should be just fine.
Hip Pain – Similarly to those with shoulder pain, side sleeping is often the culprit. Side sleepers with hip pain will also find that this mattress does not offer the necessary support in their problem areas, but stomach or back sleepers with hip pain should feel comfortable
Cocoon Mattress Performance for Couples
When sleeping with a partner, a few additional factors come into play. You'll want to think about motion transfer throughout the night, the sex factor, edge support, and how much cooling you'll need. Let's take a deep dive into each of these important areas, so you and your plus one are sure to be content with the decision. 
Motion Transfer 
Motion transfer is important for a lot of reasons. If your partner tends to reposition themselves often during the night, you won't  want to feel every single toss and turn. To test how well a mattress isolates motion, we set up our motion transfer test, which is meant to simulate someone tossing and turning at night or getting into and out of bed. The results should be helpful in showing the intensity of disturbance that is detectable on one side of the mattress when there is motion on the other.
For this test I dropped a 10 lb steel ball from heights of 4 inches, 8 inches, and 12 inches and measured the disturbance on the other side of the mattress. This should be pretty intuitive: the bigger the lines, the bigger the disturbance.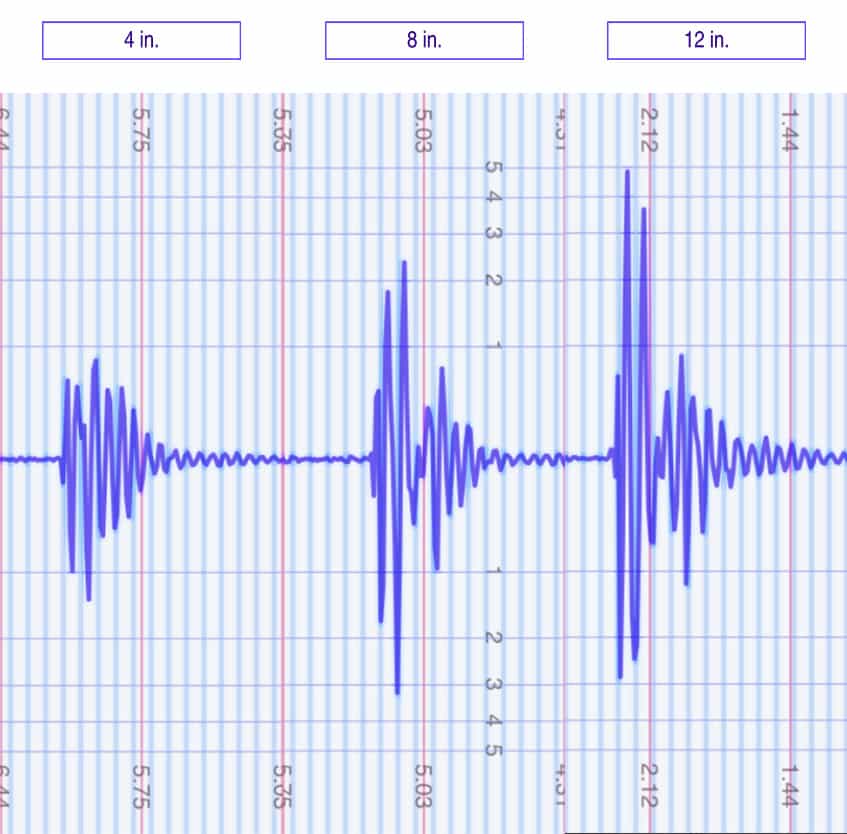 The 4 inch drop is to simulate someone tossing and turning at night, and you can see that the disturbance from the ball drop doesn't spike too high, displaying how memory foam has good motion isolation attributes. The 8 and 12 inch drops simulates someone getting, or jumping, into bed, showing larger spikes in disturbance as the ball reaches the memory foam and interacts with the high density poly foam base. With these results in mind, this mattress should work for some couples, but if you have differing bedtime and wake-up schedules, it may not be the best option for you.
Sex
Couples need a mixture of motion transfer and responsiveness for sex. This mattress has a high motion isolation, in addition to little to no bounce, making this mattress a poor option for sex. 
Cooling 
Two isn't always better than one in the bedroom. Two sleepers plus one mattress equals a doubled-up level of body heat. Thankfully, with a polyester cover that wards off heat-trapping, the Cocoon is fairly breathable. Sealy also offers the Cocoon Chill Memory Foam mattress, with the only difference being a Phase Change Material cover that offers additional temperature control. Though a slightly more expensive option, I would take a look if cool sleeping is your biggest concern.
Edge Support
If you share your bed and need to use the entire surface area of the mattress, then edge support is going to be important to you. Even support near the sides will help you feel secure and like you don't have to worry about rolling out of bed. Foam mattresses sometimes struggle to live up to the edge support of traditional innerspring mattresses, so I wanted to test to see how I would feel near the side of the Cocoon.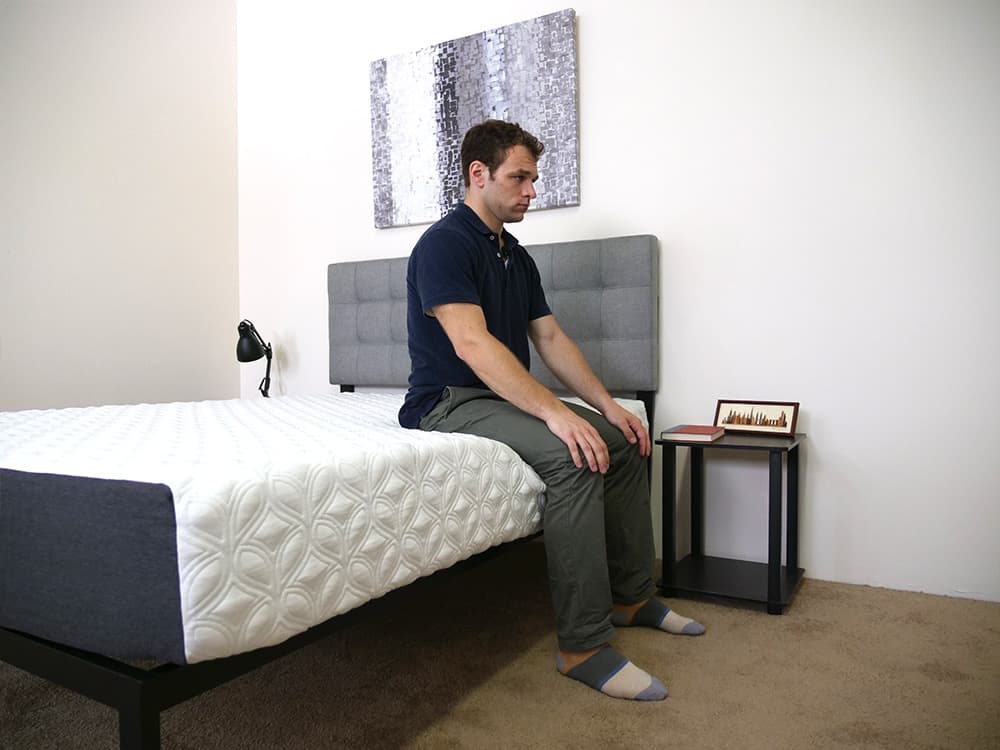 When lying near the side of the Cocoon I felt pretty evenly supported from the center of the mattress to the side. I also changed my position and rolled around a bit and felt secure that I wouldn't cause the side to collapse. When hanging off the side of the mattress I did start to see some compression, which isn't out of the ordinary for a support foam mattress.
What is the Cocoon Mattress Made Of? 
The Cocoon is an all-foam mattress, built with a memory foam comfort layer, followed by a high density base layer of poly foam. The Sealy Cocoon comes in three models, but today we're testing the 10-inch Classic option. Let's get into it!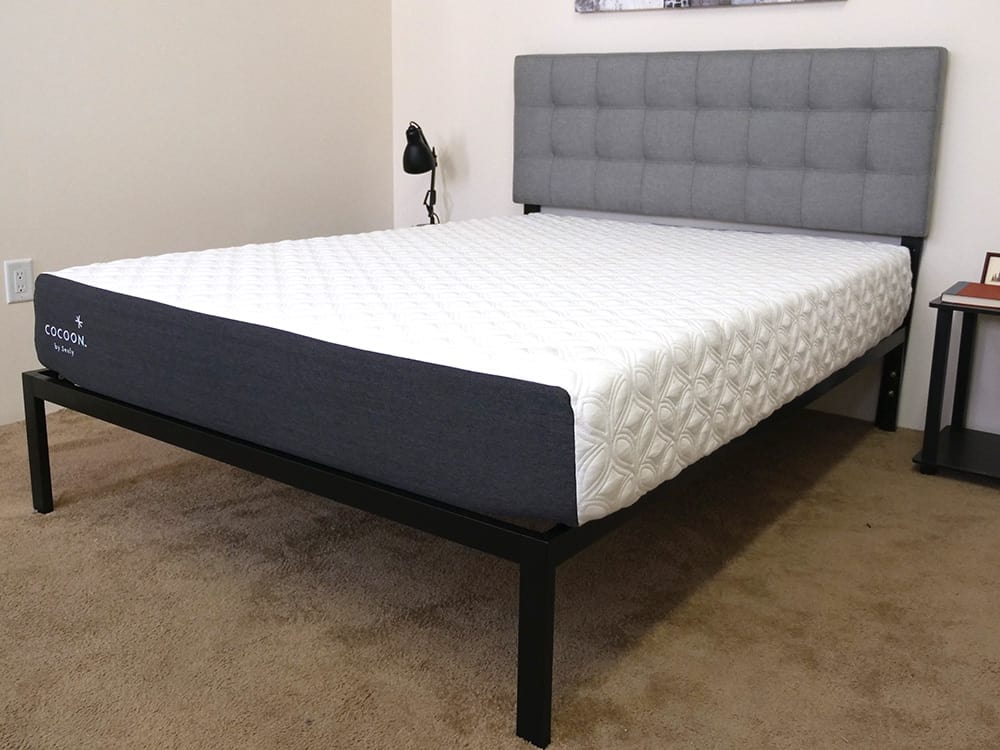 Cover – The mattress cover is made out of 100% polyester and is very soft and breathable. For additional breathability, you may want to check out the Cocoon Chill mattress.
Comfort Layer – The Cocoon Classic's comfort layer consists of 2 inches of memory foam. Memory foam is known for its ability to contour to the body and provide relief to pressure points. Sealy doesn't disclose the densities of the foam layer used in the Cocoon, but I can say that this layer responds pretty slowly to pressure and I experienced a little bit of sinkage
Base Layer – ​​The Cocoon Classic has an 8 inch high density poly foam base. This layer is meant to support the sleeper, give the mattress its shape and act as the foundation for the construction as whole. By transitioning directly from the memory foam comfort layer to the base layer, the sleeper will have greater interaction with the support components of the Cocoon, creating a firmer feel overall.
Check Prices Here
The Cocoon is a budget-friendly memory foam mattress that's great for back sleepers!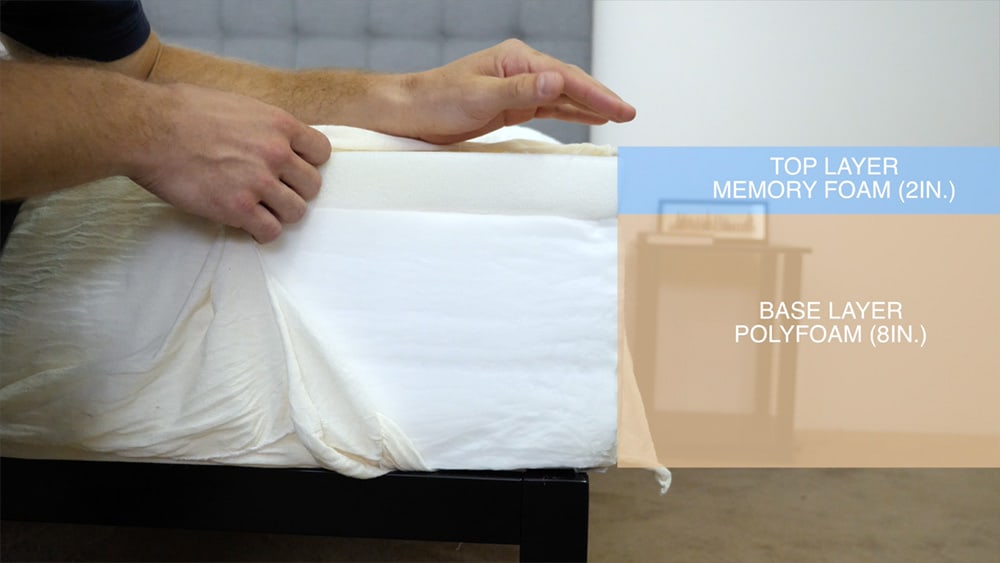 Cocoon Mattress Unboxing and Off-Gassing
The Cocoon by Sealy ships free to your home in a box that can be moved with ease. Your mattress will come in a compressed, plastic sleeve, with unpacking instructions, and best of all, was designed with the intention of being capably handled by one person.
You may notice a slight odor with your new Cocoon by Sealy mattress. Opening up windows and allowing the mattress to sit uncovered for a period of time will help any smells dissipate within a few days.
My Final Thoughts about Cocoon Mattress
Before we wrap up our look at the Cocoon Classic, let's take a look at my key takeaways, both good and not so good.
My favorite things about the Cocoon mattress
My favorite thing about the Cocoon is the firmness. When you're a stomach sleeper like me, it's ideal to keep the pressure away from my chest for good breathing, and maintaining a good position in my back. I also liked how this mattress kept my hips from sinking into the bed and helped my spine stay aligned. I also heartily recommend the high-quality, Cocoon Classic for back sleepers.
My Cocoon mattress complaints 
Unless you're a very light sleeper, this mattress is too firm for people who like a soft mattress. I also think that the memory foam top layer absorbs much of the motion on this mattress, so if you're looking for some serious bounce, this mattress is probably not for you.
How Much Does the Cocoon Cost? 
Of course, you'll want to know how much a mattress costs before you buy. The Cocoon Classic comes in a variety of sizes with different price points. Make sure to check our mattress coupons & promo codes or click the coupon below to get the best deal
Prices listed will be before any discounts or offers. 
| Size | Dimensions | Weight | Price |
| --- | --- | --- | --- |
| Twin | 38" x 74.5 x 10" | 39.5 lbs | $399 |
| Twin XL | 38" x 79.5" x 10" | 42.1 lbs | $449 |
| Full | 53" x 74.5" x 10" | 55.7 lbs | $649 |
| Queen | 60" x 79.5" x 10" | 64.4 lbs | $799 |
| King | 76" x 79.5" x 10" | 82.6 lbs | $999 |
| California King | 72" x 83.5" x 10" | 82.5 lbs | $999 |
Check Prices Here
The Cocoon is a budget-friendly memory foam mattress that's great for back sleepers!
Cocoon Mattress Policies and FAQs
What is the cost of shipping?
Their shipping is free.
Do they ship internationally?
Not yet, but they recommend sending a note if you're interested in that option.
Does Sealy offer a trial period?
Yes, they offer a 100-night sleep trial.
Do they offer a mattress warranty?
Yes, Sealy offers a 10-year limited warranty.
Is the Cocoon mattress made in the USA?
Yes, Sealy has been making their mattresses in America for 130 years.
Cocoon Mattress Vs  
If you're looking at the Cocoon, it's likely that you're checking out its competitors too. For the utmost efficiency in your mattress buying experience, I've put the Cocoon head-to-head with a couple of its competitors, Loom & Leaf and Puffy, to see how it measures up. 
How does the Cocoon stack up? Think about what matters most for you with a new mattress, and I'll do my best to make that decision as painless as possible. Let's go!
Cocoon Classic Mattress vs Puffy Mattress
Cocoon Classic Mattress vs Loom & Leaf Mattress
Loom & Leaf is our editor's top pick from the

best memory foam mattresses

.

Unlike the Cocoon, this mattress is a great choice for side sleepers, as it relieves pressure in the hips and shoulders.

Both mattresses offer

very little bounce

.

While the Loom & Leaf and the Cocoon Classic both have some cooling features, both sleep relatively hot. For better luck on the cold front, you'll want to check out our picks for

best cooling mattresses

instead.

Learn more in my full

Loom & Leaf mattress review

.
Other Models from Sealy
As I mentioned previously, Sealy offers two cooler versions of the Cocoon, for those looking for a mattress that allows them to sleep with a breeze and defend against heat. Let's take a look at the Cocoon Chill and Cocoon Chill Hybrid.
Cocoon Classic Mattress vs Cocoon Chill Memory Foam Mattress
The Cocoon Chill Memory Foam is our pick for

best foam mattress for back sleepers

.

Both mattresses have the same layers. They only

differ in covers

.

While the Cocoon is only semi-breathable, the Chill was made for hot sleepers, allowing them to sleep extremely cool.

The Cocoon Chill is a bit more expensive than the Cocoon Classic.

Learn more in my full Cocoon Chill mattress review.
Cocoon Classic Mattress vs Cocoon Chill Hybrid Mattress
 The Cocoon Chill Hybrid is the

most expensive

model in the Cocoon by Sealy arsenal.

 In addition to the Cocoon Chill, both mattresses are

quite firm.

 Unlike the Classic, the Cocoon Chill Hybrid offers

pocketed coils

that increase airflow and reduce motion transfer.

The Classic's cover is made of 100% polyester, while the Chill Hybrid's contains Phase Change material that is

ideal for dissipating heat

.

Learn more in my full Cocoon Chill Hybrid mattress review.
That's all folks. Take a look at our ratings for the Cocoon Classic mattress down below. 
Cocoon Mattress
Materials

Comfort

Support

Value

Cooling

Edge Support

Sex

Smell

Company

Refunds

Trial

Warranty
Summary
The Cocoon by Sealy is the first mattress developed by one of the big mattress companies to begin to gain sizable popularity. The mattress uses a memory foam top layer with poly foam transitional and support layers to create a feel that's balanced in its level of sinkage, but still achieves a memory foam hug, contour, and feel. The ability to select soft (more of a medium really) or firm feels alongside a standard or cooling cover are also nice extras. Overall, a very solid mattress.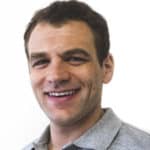 Logan is the content director of Sleepopolis, which means he not only reviews new mattresses every week, but also curates all the comparisons, best of pages, and video guides on the site. He takes a straightforward, honest approach to his reviews and endeavors to give viewers an objective look at each new product he tries out. Logan has perfected his method by personally testing over 200 different mattresses, so he's not only able to discern the overall vibe of a specific bed, but to contextualize its feel within the bed-in-a-box market as a whole. When he's not hopping on a new bed or working with our editorial team to whip up an engaging sleep education guide, you can find him reading books on world history, walking his dog Pepper, or searching for the best cheeseburger in New York City.