Whether you're shopping for summertime or simply searching for a way to stave off night sweats, my roundup of the best cooling pillows is here to help. In this guide, I'm presenting the absolute best pillows for hot sleepers, all of which I've personally tested.
So settle in, folks, because your bedtime routine is about to get a whole lot cooler. Let's get started!
Best Cooling Pillows 2022 – Our Top 7 Pillows for Night Sweats!
Editor's Pick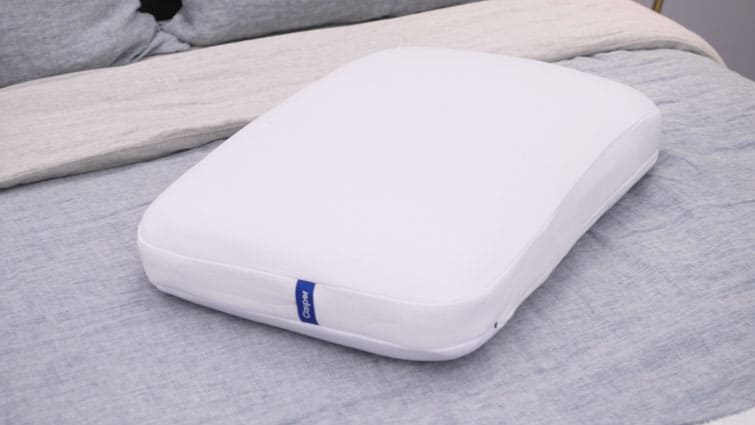 Casper Foam Pillow
If you're in the market for a super-breathable all-foam pillow, allow me to introduce you to Casper.  
The Casper Foam Pillow features a three-layer design made from both high- and low-density foams. This makes for a balanced feel, with the soft outer layers providing cushiony comfort, and the firm inner layer working as the support system.
Why It's a Great Pick
Not only is this pillow versatile, but it's specially designed for alleviating neck pain. The construction allows the head and neck to be cradled, promoting neutral spine alignment.
It's true that foam pillows have a reputation for sleeping hot, but the foam in this pillow is ventilated with dozens of tiny channels. This promotes a lot of airflow, and does a great job of dissipating body heat. Additionally, the cover fabric is made from a moisture-wicking blend of Spandex and polyester for folks prone to night sweats. 
Stomach sleepers might find this pillow to be too firm, but we find it to be a great option for both back and side sleepers. The loft is ideal for both positions, which helps maintain a healthy sleeping posture. 
You can learn more about the Casper Foam Pillow in my full review!
Price: $119, with a 30-night sleep trial and free shipping.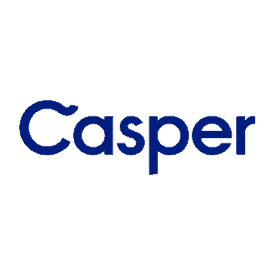 The Casper Foam Pillow sleeps cool and has the balanced support that's great for back and side sleepers!
Best Cooling Pillow for Back/Side Combo Sleepers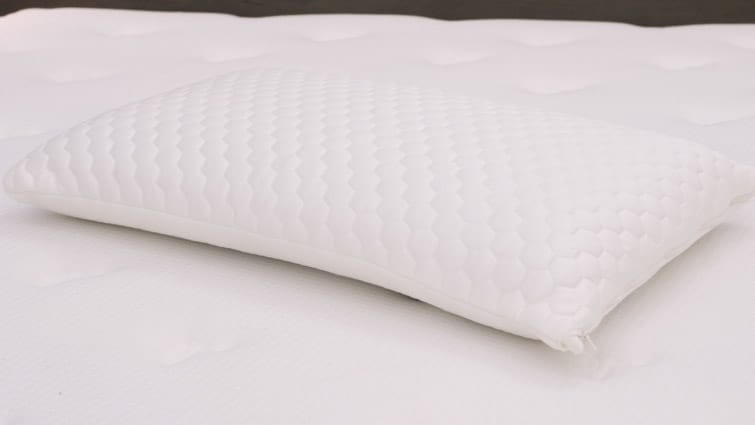 Brooklyn Bedding Luxury Cooling Pillows
Next up are the Luxury Cooling Pillows from Brooklyn Bedding and, yes, they are luxuriously cooling. 
They come in two different loft options to accommodate sleepers of different styles, and can be purchased separately, or as a bundle. They're made from the exact same materials (which is why I'm grouping them together here), but it's important to pick the one that matches your go-to position. Side sleepers should stick with the high-profile pillow, while stomach sleepers are better suited to the low-profile option. Back sleepers should like either loft depending on their personal preferences. This versatility should be great for combination sleepers.
Why They're Good for Combo Sleepers Who Sleep Hot
Regardless of which loft you choose, both pillows are crafted to be cool, breathable, and oh-so-cozy. They're covered in Phase Change Material which does an amazing job of wicking sweat and dissipating body heat. And they're filled with one piece of ventilated foam in order to enhance breathability.
The foam in these pillows is also infused with copper and graphite, both of which can draw heat away from the body and make for a cooler snooze. And, since this pillow was designed to help hot sleepers, it literally feels cool to the touch.
Not only do these pillows sleep cool like latex, but they should give that special latex feel. If you prefer a bouncy pillow, then this pillow could be the one for you. Additionally, this makes it great for combination sleepers, since the responsive nature should make it a lot easier to switch positions throughout the night.
Looking to learn more? Be sure to check my full Brooklyn Bedding Luxury Cooling Pillow review!
Price: $129–$149, depending on size. 
Save 20% with code SLEEPOPOLIS20
Brooklyn Bedding Luxury Cooling Pillows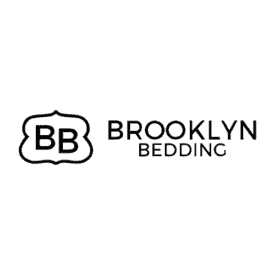 Brooklyn Bedding Luxury Cooling Pillows
Hot sleepers that are tired of flipping the pillow looking for the cool side will love the Brooklyn Luxury Cooling Pillow!
Best Cooling Memory Foam Pillow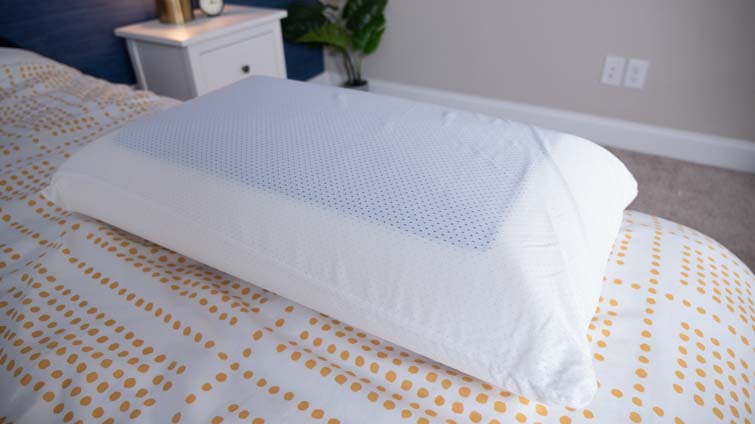 Tempur-Pedic TEMPUR-Cloud Pillow
Here we have the TEMPUR-Cloud Breeze from Tempur-Pedic, an excellent pick for memory foam fans. 
Stomach sleepers will likely find this pillow to be too firm, but side sleepers and back sleepers who prefer a firmer feel should really enjoy the TEMPUR-Cloud Breeze. The higher loft of this pillow should keep that spine properly aligned in these two positions. 
Why It's Good for Memory Foam Lovers
As I mentioned earlier, memory foam can be tricky territory for hot sleepers because it has a tendency to trap body heat. But the TEMPUR-Cloud Breeze was built with two cooling gel pads on both sides of the pillow to prevent that from happening. This way, sleepers can enjoy all the wonderful perks of memory foam without worrying about warming up throughout the night. Additionally, its cover is made of 100% cotton, which is thinner and cooler than polyester material.
This pillow is filled with one thick piece of Tempur-Pedic's proprietary memory foam which, in my opinion, sets the standard for this material. It's exceptionally moldable with a super slow response to pressure — perfect for those who like to sink deeply into their pillow.
Speaking of which, this brand makes several different memory foam pillows (some cooling, some not), so take some time explore my full Tempur-Pedic pillows review! 
Price: $89, with a five-year warranty.
Tempur-Pedic TEMPUR-Cloud Pillow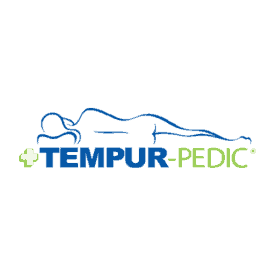 Tempur-Pedic TEMPUR-Cloud Pillow
The TEMPUR-Cloud pillow provides the great body contouring memory foam feel that Tempur-Pedic is known for and is a great choice for the back sleepers out there!
Best Cooling Latex Pillow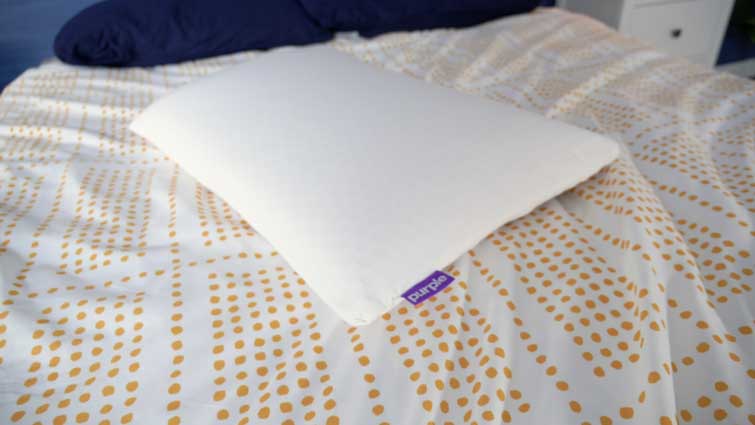 Purple Harmony Pillow
Sleepers who enjoy the bouncy feel of latex are probably going to be most compatible with the Purple Harmony. 
For this pillow, there are three firmness options: high, medium, and low loft. Since side sleepers get better spinal alignment with a taller pillow, we think the high or medium loft would be best. As for back sleepers, a low or medium loft should be a great match. However, each version of the Purple Harmony pillows will probably have too high of a loft for stomach sleepers.
Why It's Good for Latex Lovers
Talalay latex and the brand's proprietary Hyper-Elastic Polymer combine to provide a springy kind of support that lets you rest on top of the pillow rather than in it. If you tend to avoid memory foam pillows because you don't like its slow response to pressure, the Purple Harmony might be a great way to go.
Not to mention, Hyper-Elastic Polymer is incredibly durable and bouncy which, in this case, helps the Harmony maintain its shape night after night. In my experience, this prevents it from losing its loft or dragging my head out of alignment with my spine.
But the thing that's really going to appeal to hot sleepers is its ventilated construction. From the Spandex mesh cover fabric to the internal fill, every party of this pillow is ventilated for better breathability. In fact, you can even hear the air flowing through the pillow when you push into it.
Sleepers looking to know more about this extra bouncy and breathable pillow should definitely check out my Purple Harmony pillow review! 
Price: $179–$219, with a 100-night trial period and a one-year warranty.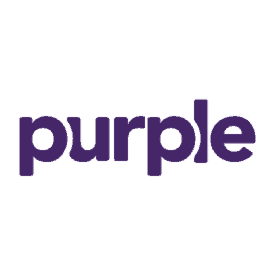 The Purple Harmony is great for any position sleeper and is extremely breathable to help you sleep cool through the night!
Best Cooling Pillow for Side Sleepers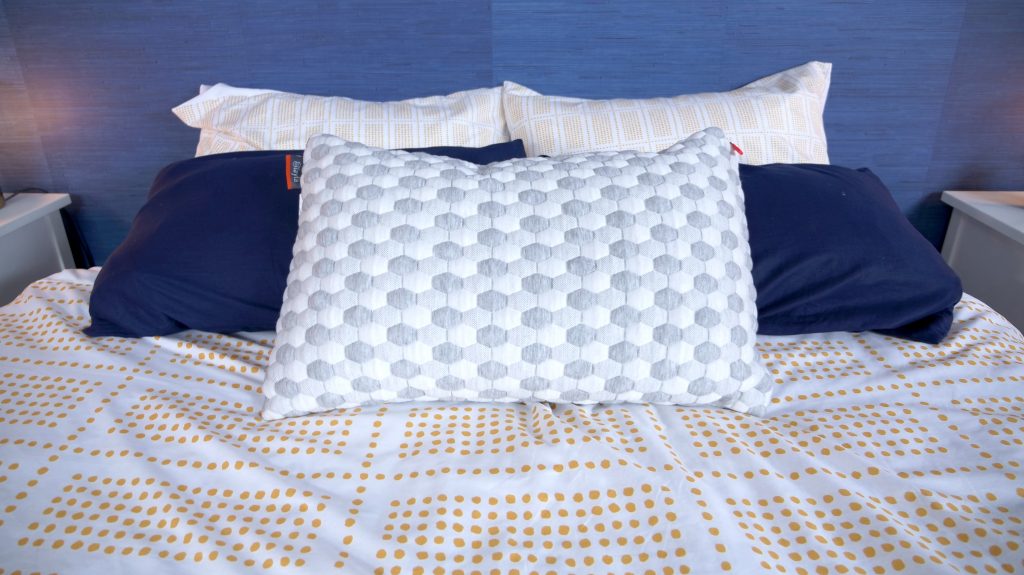 Layla Kapok Pillow
Side sleepers, especially those on the hunt for a pillow that's more breathable than cooling, might be best-suited to the Layla Kapok.
Stuffed full of shredded memory foam and a down-alternative called — what else? — Kapok, this pillow is fluffy, supportive, and super-lofty. 
Why It's Good for Side Sleepers
This is the loftiest pillow in this roundup, with a high height profile of 7″. A high loft allows side sleepers proper spinal alignment, and the soft nature of this pillow is great for anyone looking to steer clear of firm material.
Now, if you're feeling unsure about sleeping with a high-lofted pillow, take comfort in the fact that the Layla is adjustable. To reduce the loft, simply unzip the cover and remove as much stuffing as you like. 
And while it's not crafted to feel cool to the touch, the Layla's shredded fill makes it extra-breathable. Remember, pillows filled with shredded materials are generally more breathable, as the individual pieces of stuffing can move freely within the fabric. Plus, this pillow's soft, stretch-knit cover is infused with copper, a material that can pull heat away from your sleeping head. 
For all the info on this sleep accessory, be sure to check my full Layla Kapok pillow review. 
Price: $109–$129, with a long 120-night trial period, and a five-year warranty.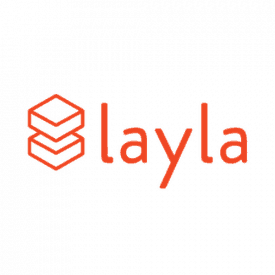 A copper infusion in the cover helps to make the Layla pillow ultra-cool and comfortable. 
Best Cooling Pillow For Back Sleepers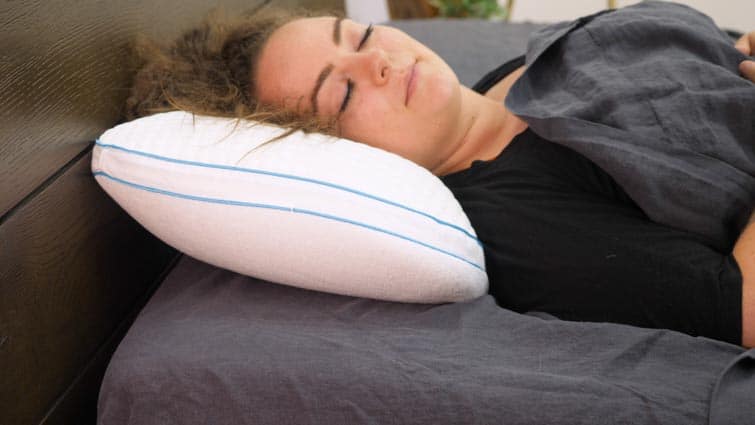 I Love Pillow Out Cold
If you're not sure whether you want a cooling pillow or something more warm and fuzzy, choose both with the I Love Pillow Out Cold. 
The Out Cold is designed to be a lightweight memory foam pillow with two different sides and a relatively quick response to pressure. The filling consists of one piece of the brand's proprietary memory foam, which was molded to have a shallow contour on one side and an even loft on the other. Needless to say, it's extremely versatile.
Why It's Great for Back Sleepers
The contoured side is meant to cradle the head and neck when you're in the back-sleeping position, while the flat, traditional side is a good fit for those looking a firmer, more supportive feel. 
The duality continues with the cover fabric where one side is warm, while the other is cool and crisp. The cool side is made from a blend of polyester and Phase Change Material, which combine to offer an icy-cool texture with great moisture-wicking ability. 
For the full scoop, be sure to check my full I Love Pillow review. 
Price: $99–$119, with a 100-night trial period and a three-year warranty.
Save 10%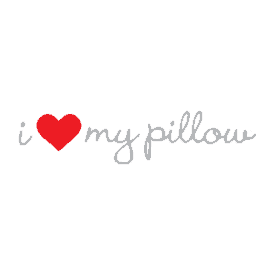 The soft and flat I Love Pillow could be fantastic for stomach sleepers!
Best Cooling Organic Pillow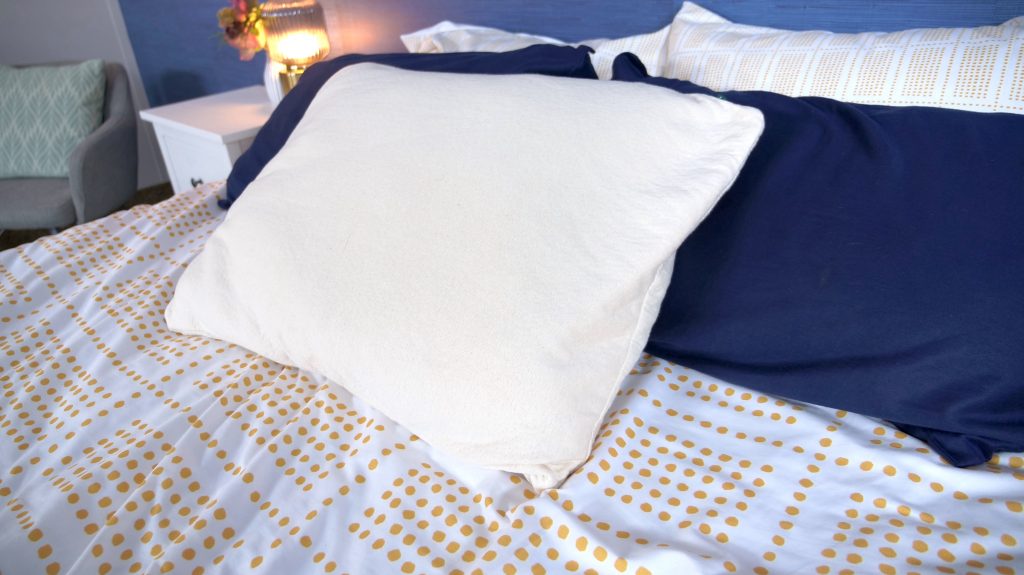 Birch Pillow
Last but not least is the Birch Living Pillow, an excellent pick for sleepers looking to go green.
It's got a quick response to pressure, a lofty profile, and a medium-firm feel. Its high loft promotes great spinal alignment for side sleepers, and depending on firmness preference, it could work great for back sleepers as well. Combination sleepers should appreciate that the bouncy nature of the Birch allows them to switch positions easily throughout the night.
Why It's Good for Eco-Conscious Sleepers
Covered in organic cotton and filled with a blend of shredded latex and wool, every part of this pillow is made from natural materials. But if you're wondering why I'd include a wool-filled pillow in this roundup, allow me to bust some myths about this material. 
Firstly, wool is one of the world's most breathable fibers, right up there with cotton and linen. But what's really neat about wool is that it's thermoregulating, which means it adapts to your body's temperature. So, the wool in this pillow works dissipate your body's heat when you get too warm, and serves as an excellent insulator when things get chilly. 
If you're looking for a pillow that will respond to your individual temperature preferences, this is a great way to go. Plus, its ability to both cool and insulate makes it ideal for year-round use.
For every last detail on this one-of-a-kind accessory, check my full Birch Living pillow review.
Price: $99–$119, with a 100-night trial and three-year warranty.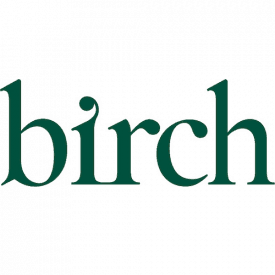 The Birch pillow is a Greenguard Gold certified product that is a great all sleep position option!
Methodology: How Do I Pick A Cooling Pillow?
Alright folks, before we dive into these pillows, let's cover a few basics. When you're shopping for the pillow that'll keep you cool and comfortable through the night, it's important to keep a close eye on loft, firmness, internal fill, and (of course) cooling properties.
Loft & Firmness
When I'm reviewing a new pillow, the first thing I pay attention to is its loft and firmness. But when you're shopping specifically for a cooling pillow, it's important to note all the little details that will affect its temperature. For example, lofty, firmer pillows tend to be a bit more dense, which can make them more susceptible to trapping heat, while thinner pillows are often more breathable.
That said, each sleeping position requires a different level of loft and firmness in order to maintain healthy posture.
Side-Sleeping: Side sleepers need a high-lofted pillow with a firmer feel in order to maintain healthy posture. Unfortunately, these pillows can be more likely to trap heat, which is why side sleepers might want to aim for ventilated or shredded materials. Pillows filled with ventilated or shredded materials promote better breathability while still maintaining their loft.
Stomach-Sleeping: Stomach sleepers need a low-lofted pillow with a soft firmness rating in order to keep the head in neutral alignment with the spine, and prevent it from being craned upwards. Luckily, softer, thinner pillows tend to be a bit less dense and warming. But if you want extra breathability or cooling features, there are certain fabrics and materials to look for (and we'll get to that next!).
Back-Sleeping: Back sleepers are generally most compatible with a medium level of loft and firmness. Of course, some may enjoy a firmer, flatter pillow, while others might prefer a plush and fluffy one, so take some time to experiment with the loft and firmness that feels right. Just remember that denser pillows can be a bit more warming!
Still not sure which level of loft and firmness is best? Don't sweat it. I break it all down in even deeper detail in my complete guide to picking the right pillow.
Internal Fill
The next thing I consider is internal fill. There are many from which to choose, and some are more cooling than others. Though we won't be covering the full list of materials today, there are a few major players within the world of pillows:
Memory Foam: Memory foam pillows are known for their contouring support, moldable feel, and reputation for trapping heat. But don't sweat it, memory foam fans, there are some ways to avoid this! Shredded memory foam, for example, is much more breathable than one solid piece. Additionally, memory foam infused with materials like copper and graphite can draw heat away from your body, and make for a cooler snooze.
Latex: On the other hand, latex pillows tend to be much more breathable when compared to memory foam, making them a safe bet for hot sleepers. Not to mention, latex is an all-natural material that offers a springy kind of support, ideal for folks who prefer a quick response to pressure. If you're a hot sleeper looking for a bouncy pillow, latex is a great way to go!
Down and Down-Alternative: Down and down-alternatives are both very breathable materials. However, real down is very insulating, which can work against hot sleepers. If you love the fluffy feel of down but want to make sure your pillow isn't trapping too much heat, I suggest aiming for down-alternatives. Down-alternatives are made from synthetic materials that are generally less insulating than real down.
Cooling Materials
Even if you're not a hot sleeper, keeping your body at a cool, comfortable temperature can help you fall asleep faster and snooze soundly through the night. But some hot sleepers (myself included) might need a little extra help regulating their body temp, which is where special cooling materials come into play.
If you're looking for fabric that feels icy-cool to the touch, aim for pillows that feature Phase Change Material (PCM) or cooling gel pads. Personally, PCM is my favorite because it's crafted to feel very cooling on the skin. Not to mention, it's naturally moisture-wicking, which can serve to keep those night sweats at bay.
More: Check out my roundup of the best cooling mattress toppers!
Cooling gel pads are usually a bit less cool to the touch as compared to PCM, but still do a fantastic job of dissipating body heat. In fact, they're often used in memory foam pillows to prevent them from warming up (as they often tend to do). Plus, cooling gel pads are often removable, giving sleepers the option to customize the temp of their pillow.
How Do Cooling Pillows Work?
There are a lot of skeptics out there who aren't too convinced of the cooling pillow's ability to comfort hot sleepers. We've created this section to bust this myth! There are multiple types of cooling materials with different technologies, so while there's no one-size-fits-all construction, you might just find the one that works for you here.
General Process
Cooling pillows help draw heat away from the body, but how? It all starts with the construction of the pillow. The key is to create a cool surface that's either cool to the touch or extremely breathable. Because these pillows are able to keep a cooler temperature, they lower your own body heat by drawing warmth away from the head, neck, and shoulder areas. 
How Each Common Cooling Material Works
Cooling Foam: Foam materials often get a bad reputation for sleeping hot, but cooling foam breaks this stereotype with the help of infused materials. Many pillows are infused with copper or graphite, but most commonly you should see gel-infused foams.
Gel-infused foam is built to feel literally cool-to-the-touch. Not only that, but it should also maintain its cooler temperature throughout the night. This is achieved by dissipating your body heat. That way, you can not only fall asleep more comfortably, but stay asleep too.
If you're on a budget, a great way around buying a cooling pillow is purchasing a gel insert. You can slip it on the side you lay your head on, and it produces a similar effect to the gel-infused pillow.
Latex: This material is unique in that it's naturally cooling. Depending on the brand or model, latex material often comes in one solid pillow block or shredded as a filling. The shredded material can allow for more breathability, so if you're looking for additional cooling, then that's what we recommend. Perhaps the best part about this material is that these pillows are often non-toxic, chemical-free, hypoallergenic, antimicrobial, and all-natural.
Phase Change Material (PCM): Recent technology has resulted in the creation of PCM, and we're sure glad it did. If you're looking for something especially moisture-wicking and temperature controlling, then you might want Phase Change Material in your pillow. During the winter, however, PCM can actually help you warm up. This is because this material monitors, absorbs, then dissipates your body heat, resulting in a balanced temperature.
FAQs
Should I use a pillowcase on my cooling pillow?
While this is largely a matter of personal preference, it's important to note that dressing your cooling pillow with a pillowcase may diminish how cool it feels against your skin. That said, using a pillowcase made from cooling materials can enhance your pillow's ability to dissipate heat. 
Do memory foam pillows make you hot?
While it's true that memory foam has the tendency to trap heat and warm up, there are some ways to avoid this! For example, shredded or ventilated memory foam promotes more breathability as compared to one solid piece. Additionally, memory foam pillows made with advanced cooling textiles like Phase Change Material or cooling gel pads do a great job of dissipating body heat.
How do I keep my bed cool?
Once you've found the perfect cooling pillows, you might want to invest in a cooling mattress and sheet set as well! The world of cooling mattresses and bedding is vast, so take some time to explore your options.
Final Thoughts
Now that you've seen all my favorites, you're ready to pick best cooling pillow for yourself. Just be sure to keep an eye on loft, firmness, and any special properties that'll keep you feeling cool and comfortable. Oh, and don't forget to subscribe to our YouTube channel and follow us on Facebook, Twitter, and Instagram for the answers to all your sleep needs!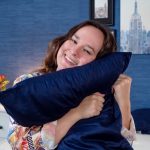 Amelia Jerden
Hey there, I'm Amelia! I'm a Certified Sleep Science Coach and a Staff Writer here at Sleepopolis. I write reviews on sleep products and accessories, including pillows, sheets, bedding, and more! You can also find me on our YouTube channel doing video reviews. I want to help you find the right products to ensure you sleep well, because I know there's nothing like a good night's sleep to make me feel better all around. When I'm not reviewing sleep products (or taking a nap!), you can usually find me out on a hike, listening to my favorite podcasts, or attempting to learn how to cook.