Snoozing with a supportive pillow is a great way to keep healthy posture and guard against back pain. Of course, sleep is something we all do differently, and there is no one-pillow-fits-all rule! But don't worry, folks, my best pillows for back pain review is here to help.
In this guide, I'm presenting the top seven pillows designed to alleviate back pain and bring you the restorative sleep you need. And don't worry — I picked something for every position so that sleepers of all styles can find their perfect match. Plus, I'll impart my own tips and tricks behind pillow shopping so you're better equipped to do some research on your own. Let's get started!
Best Pillows for Back Pain
Disclaimer: The content on Sleepopolis is meant to be informational, but should not replace medical advice. If you experience chronic neck or back pain, it's best to consult your healthcare provider.
First on my list is the super-lofty Layla pillow, a perfect pick for side sleepers.
Amply stuffed full of shredded memory foam and a natural down alternative called Kapok, the Layla pillow strikes a cozy balance between plush and supportive. It's fluffy, huggable, and features an extra lofty profile of 7-inches tall. Side sleepers (especially those looking to alleviate back and shoulder pain) are going to be most compatible with this big ol' pillow!
The Layla is one of my favorites for alleviating lower back pain, specifically, because it's great for holding between the legs and under the knees. Remember — tucking a lofty pillow beneath your knees or between your legs can align the spine, relieve lower lumbar pressure, and boost blood circulation. Plus, this pillow's dense yet fluffy construction helps it maintain its shape under pressure.
But if you're looking for something a little less lofty, take comfort in the fact that this pillow's fill is adjustable in order to accommodate all sleep styles.
For the full scoop on how it performs in every position, check my full Layla pillow review.
Price: $99-$119, with a 120-night trial period and 5-year warranty.
Perfect For: Side sleepers looking for a lofty, supportive, multi-purpose pillow!
Best for Side Sleepers with Back Pain – TEMPUR Neck Pillow
Up next is the Tempur-Pedic TEMPUR-Neck, a pillow designed for back and side sleepers who need extra help maintaining healthy posture.
Nowadays, Tempur-Pedic offers a wide variety of pillows — but this one is its very first! It's filled with the brand's proprietary memory foam, a material known for its exceptionally slow response to pressure. If you're looking for a firm, moldable pillow that'll tightly conform to your body's shape, this is a great way to go.
What's unique about it, though, is its contoured design. The sides of the pillow are curved, the middle has a lower loft, and the whole thing kind of resembles the letter "U." This construction is meant to adapt to the natural contours of your head, neck, and shoulders, and prevent your spine from deviating out of alignment when you're back or side sleeping.
And just to make sure all its bases are covered, one side of the pillow has a higher loft to accommodate taller sleepers, while the other side is shorter for us petite folks.
If you're curious to learn more about this accessory, be sure to check my full Tempur-Pedic pillows review!
Price: $89-$129, with a 5-year warranty.
Perfect For: Back and side sleepers looking for a firm contour pillow!
Here we have the SpineAlign pillow, a sleep accessory that was actually designed by a chiropractor.
The SpineAlign pillow features a three-chamber construction wherein the sides have higher lofts than the middle. The middle is meant for back sleepers, the sides are for side sleepers, and the whole pillow is designed to promote spine alignment as you switch between these positions. Each chamber is filled with a proprietary blend of shredded fiber and foam, which combine to offer a firmly supportive feel.
That said, every chamber is adjustable! So if, for example, you want to make the middle chamber softer, simply reach in and remove some stuffing. You can also remove filling from one chamber and transfer it to another in order to tailor its loft and firmness to your liking. Back and side sleepers looking for a customizable pillow with a contoured design are sure to be compatible with this one.
One caveat to consider, though, is that this pillow's non-traditional shape looks a little funny inside a pillowcase. But, in my opinion, its super soft Tencel cover fabric is cozy enough on its own!
For the full scoop on this pillow's performance, check my full SpineAlign pillow review.
Price: $129 (one size only) with a 60-day trial period.
Perfect for: Back and side sleepers in need of an adjustable, therapeutic-styled pillow.
Best for Stomach Sleepers with Back Pain – Nolah AirFiber Pillow
Okay, stomach sleepers, this one's for you. The Nolah AirFiber is soft, fluffy, and perfect for the prone position!
Filled with proprietary down-alternative, the Nolah AirFiber offers a plush and feathery feel that can be compressed into a super low loft. This helps stomach sleepers maintain healthy posture by preventing the head from being craned upward, out of alignment with the spine. But what I really love about this pillow is that it can be used for lower back and abdomen support as well.
As I mentioned earlier, stomach sleepers can slip a soft, low-lofted pillow beneath their bellies in order to relieve lower back and abdomen pressure. So, if you've already got a pillow that supports your head and neck, this one might be a great supplement to your stomach sleeping experience. Of course, if you're looking to up your pillow game across the board, you might like to know that the Nolah AirFiber can be purchased as a two-pack.
This brand also makes a firmer pillow for back and side sleepers, and you can find all the details on both options in my full Nolah pillows review.
Price: $79, with a 120-night trial period to personally test it out.
Perfect For: Stomach sleepers looking for a pillow that'll support the head and relieve back pain!
Best for Back Sleepers with Back Pain – Casper Foam Pillow
Back sleepers on the hunt for a balanced and breathable pillow are sure to enjoy the Casper Foam Pillow.
This pillow features a three-layer design that combines both high and low-density foams for a balanced, medium firm feel. The plush outer layers of foam cradle the head and neck, while the firm inner layer helps the pillow maintain its shape. It has a lofty 4-inch profile that's great for side sleepers but, personally, I think this pillow is ideal for back sleeping.
In my experience, the layers of foam closely conformed to the shape of my head and neck, and held them in neutral alignment with my spine. Not to mention, this is one of the most breathable foam pillows I've ever tested, as each layer is ventilated in order to boost airflow.
Back sleepers looking for a cool and breezy pillow should definitely read my full Casper Foam Pillow review.
If you're curious about Casper products, take some time to peruse our Casper sheets and Casper mattress review too!
Price: $89-$$119, with a 100-night trial period.
Perfect For: Back sleepers searching for a balanced, breathable, all-foam pillow!
If you're suffering from back pain, you want to make sure you have a pillow that is going to support your neck and keep it aligned with the rest of your spine. The DreamCloud Best Rest Memory Foam pillow is designed with support in mind, and cradles your head and takes pressure off of the neck. It's a solid memory foam pillow, so you'll feel some of that nice sinkage the material is famous for.
Another perk of this pillow is that it sleeps pretty cool, thanks to its breathable cover and coppergel infusion in its memory foam layer. It comes in a standard size and a king size.
Full DreamCloud Best Rest Pillow review coming soon!
Price: $99-$129, with a 50-night trial period.
Perfect For: Back and side sleepers looking for neck and shoulder support.
Best Firm Pillow for Back Pain – Avocado Pillow
Eco-friendly sleepers looking to alleviate back pain with an organic pillow should look no further than the Avocado Green.
Covered in organic cotton and filled with a blend of latex and Kapok, this entire pillow is made from natural materials. Kapok is a fluffy, plant-based down alternative that, in this case, combines with the latex for a quick response to pressure. And though Kapok and latex shreds typically offer a soft, plush feel, this pillow is intentionally "overstuffed" for firmer support.
The Avocado's firm feel helps it to maintain its shape under pressure, which makes it great for holding between the legs or under the knees. It's most compatible with back and side sleepers in search of an extra supportive head pillow, but stomach sleepers can enjoy it too! To make it suitable for stomach sleeping, simply unzip the pillow's cover and remove the internal fill until you're satisfied.
For all the details on this pillow, be sure to check out my full Avocado pillow review!
Price: $79-$99, with a 100-night trial and a 1-year warranty.
Perfect For: The green sleeper looking for a firm (but adjustable) pillow!
Methodology: How To Pick a Pillow For Back Pain
Now that we've taken a look at my top picks, let's cover some fundamentals that'll guide you in your search. When you're shopping for a pillow that'll alleviate back pain, it's important to consider how its construction will support your preferred sleeping position. Below, I'll tell you how to land on the loft, firmness, and materials that best suit your sleep style, and provide some strategies for relieving back pain as well.
Choosing the Right Loft & Firmness for Your Sleeping Position
Promoting neutral spine alignment is your pillow's most important job, and goes a long way in guarding against back pain. Essentially, this means that your pillow supports the natural C-curve of your spine, without craning your head or neck into an unsafe position.
That said, every sleeping position requires a different loft (height) and firmness in order to ensure neutral spine alignment. So let's take a closer look at the best loft and firmness for each sleep style:
Side Sleeping – Side sleepers need a firm, high-lofted pillow that's at least 4-inches deep. This will keep the head, neck, and spine in neutral alignment, and relieve pressure at the shoulders as well.
Stomach Sleeping – Stomach sleepers need a soft, low-lofted pillow in order to prevent the head and neck from being craned upwards. Some pillows may look too lofty for stomach sleeping, but as long as they're soft enough to compress into a loft of 2-inches or lower, you should be good to go!
Back Sleeping – Back sleepers are most compatible with a medium level of loft and firmness. That said, some back sleepers may prefer a firmer feel, while others might enjoy a plush, thinner pillow. You may also want to upgrade your entire bedroom set up, so take a look at our list of best mattresses for back sleepers, to see if a new bed can help you avoide aches and pains. Whichever you choose, just make sure your head is not being pushed forward, out of alignment with your neck and spine.
For a more in-depth explanation of how to keep a healthy sleeping posture and neutral spine alignment, be sure to check my complete guide to picking the right pillow!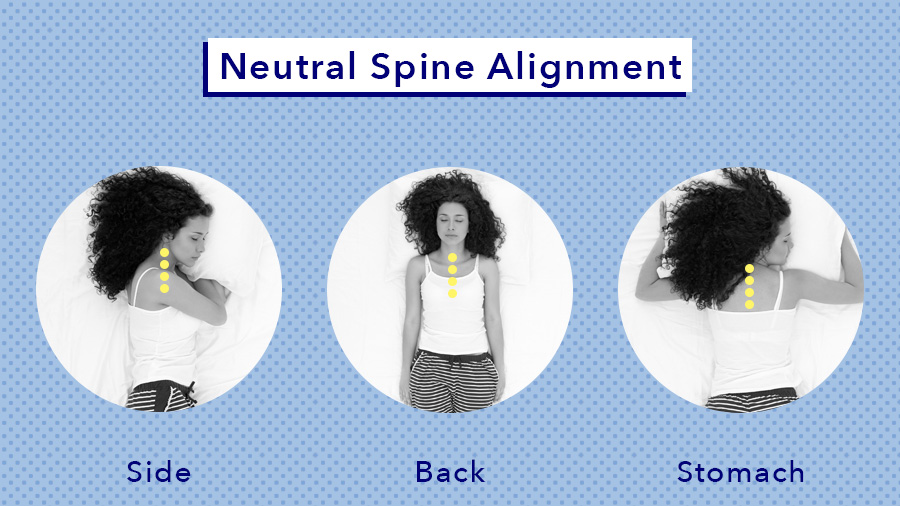 Strategies for Alleviating Back Pain
Yes, pillows provide head and neck support, but they can also be wedged between your legs, under your knees, beneath your abdomen, or behind your back in order to relieve pressure throughout the body. Below, we'll explore the different ways in which a pillow can be used to alleviate back pain:
Behind the Back – Slipping a pillow behind your back is a great way to relieve lower lumbar pressure, especially when you're in the upright position. A wedge pillow is ideal for this, but a low-lofted pillow with a firm feel can get the job done too! Memory foam is a great material for this as well, as its slow response to pressure can conform to the precise contours of your back (more on this later).
Between the Legs – Holding a pillow between your legs when you're on your side is a great way to relieve hip pressure and lower back pain. It can also serve to align your spine, but you're going to want to make sure the pillow is lofty and firm enough to maintain its shape under pressure. We'll talk more about specific materials next, but latex can be great for this technique as its buoyancy can help keep your leg lifted.
Under the Belly – Keeping a very thin, soft pillow beneath your belly when you're stomach sleeping can alleviate back pain, and relieve pressure in the lower abdomen as well. Down, down-alternative, and polyester are great materials for this, as they're extra soft and can easily compress under pressure.
Under the Knees – Keeping a lofty pillow under your knees can relieve lower back pain and improve circulation throughout your entire body. Again, you'll want to pick something with a firmer feel that won't lose its shape and support beneath the weight of your legs.
Materials
Okay, now let's talk materials. As I just mentioned, some materials are soft and plush, some are firm and dense, and others have a bouncy-quick response to pressure. To get a better idea of which is ideal for you, let's explore the most popular materials below:
Memory Foam – Memory foam is known for its slow response to pressure, and ability to conform to the precise contours of your body. It's often firmer than other materials, which can be particularly beneficial for side sleepers, or those looking to hold a pillow between their legs or under their knees.
Latex – Latex is typically less dense than memory foam, with a much quicker response to pressure. This can come in handy for sleepers who like to rest on top of the pillow rather than deeply sink into it. Its springy support is also ideal for folks looking to hold a pillow between their legs for lower lumbar relief.
Down & Down Alternative – Down and down alternative pillows are known for being extra soft and compressible, making them ideal for stomach sleepers. In order to relieve back pain, stomach sleepers might want to use a down/down alternative pillow for their head, and then slip another one beneath their belly too.
FAQs
Can pillows make your back hurt?
Yes, sleeping with a pillow that doesn't properly support you in your go-to position can lead to back and neck pain. That's why it's important to match your pillow's loft and firmness to your preferred sleep style.
What type of pillow should a side sleeper use?
In order to prevent neck and back pain, side sleepers should use a pillow with a lofty profile and a firmer feel. This will serve to align the spine, and relieve pressure at the shoulders and hips as well.
How should I sleep to avoid back pain?
Aside from using a supportive head pillow, sleepers can experiment with different pillow strategies in order to prevent back pain. For example, using a pillow between the legs or under the knees can serve to align the spine, and relieve lower lumbar pressure as well. Stomach sleepers, in particular, can slip a soft, low-lofted pillow beneath their bellies to alleviate lower back and abdomen pressure as well.
Final Thoughts
Now that you've seen my top seven favorite pillows for back pain, you're well on your way to picking the perfect one (or two… or three…). Just be sure to keep a close eye on loft, firmness, and materials, and take some time to consider the sleep style strategies that work best for your body. Happy shopping and sweet dreams!
Sarah is the former senior writer and bedding expert at Sleepopolis. She received her degree in Creative Writing from Brooklyn College and spends her free time doing stand-up, making pasta, and hanging with her cats.