Whether you've got an early morning meeting or you're trying to train your circadian rhythm, using an alarm clock can be a great way to make sure you wake up exactly when you want to. In the last decade, alarm clocks have evolved into multi-faceted devices that can ease you awake with natural light, play soothing sounds, act as a bedside lamp, and even help you fall asleep.
Despite these technological advancements, most folks are still going to want an alarm clock that's as easy to use as it is effective. Of course, everyone's sleep habits are different, so how do you know which alarm clock is the best fit for you? Well, keep reading, and I'll introduce you to my top four favorites (all of which I've personally tested!).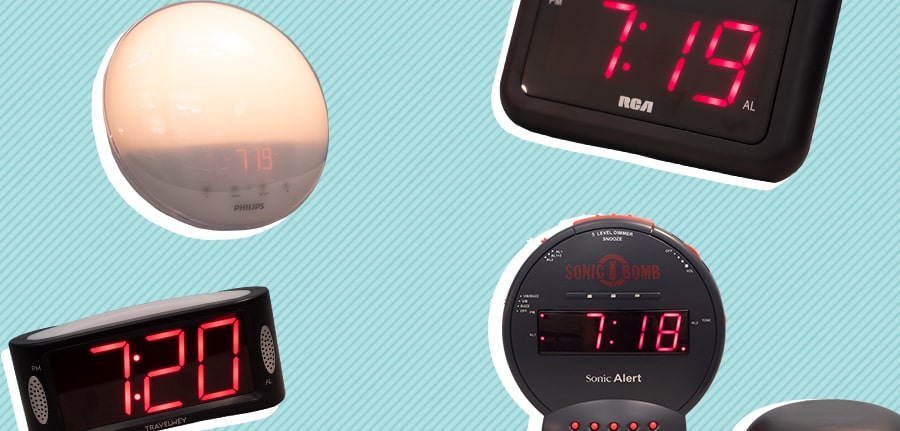 Easiest to Use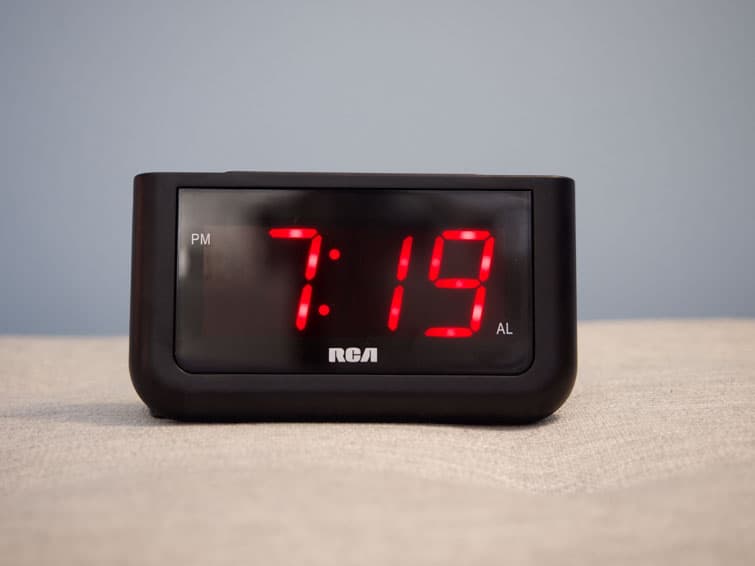 RCA Alarm Clock
Those looking for a classic, easy-to-use alarm clock would be well-suited to the RCA. It's got a very straight forward design that allows you to set the time, set your alarm, dim the LED display light, and that's it! Of course, a snooze button does come at the top of the clock, should you need a few extra Zzz's.
Pros
If lots of buttons and wires confuse you, fear not. The RCA alarm clock is very easy to operate, and doesn't come with any extra features that might seem overwhelming. Just set the time, set your alarm, and you're good to go!
At less than $15, this alarm clock does exactly what it's designed to do, and comes at an affordable price point.
The clock itself is small, sleek, and can easily fit atop a nightstand or dresser.
Cons
If you're looking for an alarm clock with some special features, you might want to look elsewhere. This alarm clock comes strictly with the basics! 
There is no way to customize the volume of the alarm when it sounds, and it is rather loud.
RCA Alarm Clock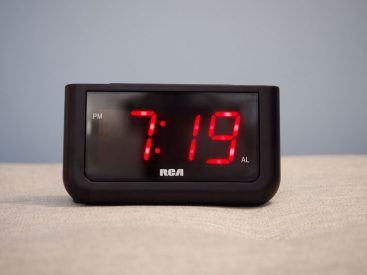 The RCA alarm clock is a classic digital alarm with a straightforward and easy to use interface
Sleepopolis Score
4.50 / 5
Editor's Pick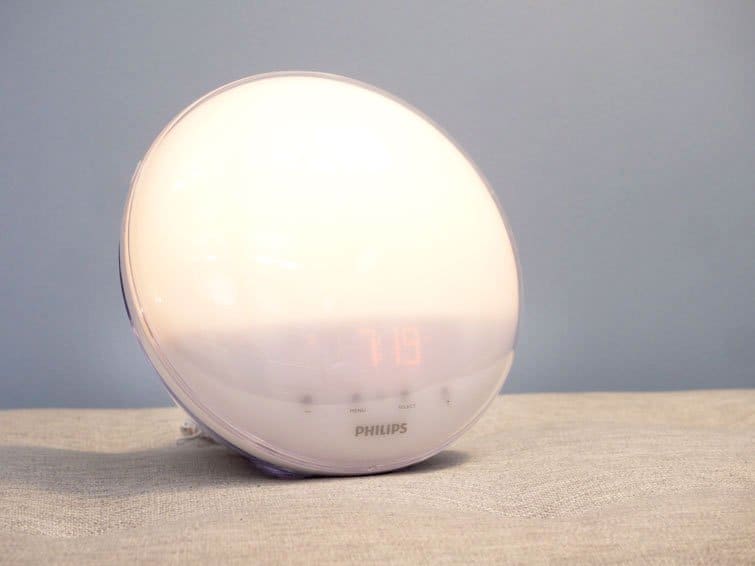 Philips Wake-up Light
Of every alarm clock I've tested, this one most closely resembles the sun. It's got a sleek, round shape, and wakes you up with a "sunrise simulation" that mimics natural light. Additionally, sleepers can customize the intensity of the brightness, and choose from 5 soothing sounds to accompany the light.
Pros
For sleepers who prefer to wake up to warm light rather than loud sounds or beeping, this one might be the way to go.
Set-up couldn't be simpler, so don't be intimidated by its new-age look. As soon as you plug it in, the timer illuminates and prompts you to pick an alarm setting. If you ever get confused, every Philips Wake-up Light comes with detailed, easy-to-read instructions.
With five soothing sounds and twenty different brightness settings, the Philips Wake-up light definitely ups the alarm clock game, in my opinion! It even offers a "fall-asleep function" that allows you to drift off to sounds of nature.
Cons
Sensitivity to light varies from person to person, so if you sleep with a partner who's not on the same waking schedule as you, you might run into some problems. 
If you're looking for a small, compact design, this might be a bit big. It's round, and has about the same circumference as a small dinner plate. Again, this design is meant to mimic the sun!
PHILIPS SmartSleep Wake-Up Light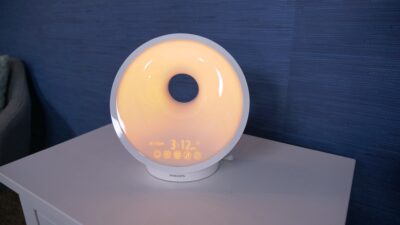 This offering from PHILIPS features twenty different brightness settings that imitate a sunrise, as well as a dimming light for nighttime.
Sleepopolis Score
4.40 / 5
Read Full Review
Best for Deep Sleepers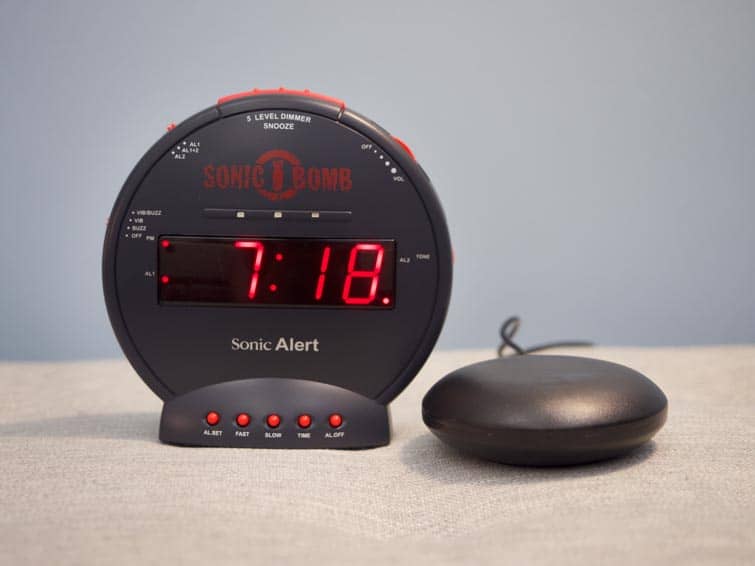 Sonic Alert Sonic Bomb
Deep sleepers who frequently slumber right through alarms would likely have a hard time snoozing through the Sonic Bomb. Not only is the alarm extra loud, but it comes with an external, vibrating device called the "bed shaker" that you can discreetly slip beneath your pillow or mattress. When the alarm goes off, the sound and vibration work together to wake you up!
Pros
This is ideal for deep sleepers who need some extra help waking up in the morning. If the loud beeping doesn't rouse you, the bed shaker ought to!
If the loud beeping and vibrating bed shaker are not enough to wake you, red LCD lights flash repeatedly when the alarm goes off.
The "snooze" button is large, and right on top of the clock itself. So when you want the alarm to stop beeping, silence is but a touch away.
Cons
This is not an ideal alarm clock for light sleepers. Folks who prefer to wake up to soothing sounds or a bright light might find the Sonic Bomb to be jarring. 
Between the vibrating bed shaker, timers, snooze button, and the dials that adjust the intensity of the vibration and tone, there are a lot of moving parts to this alarm. Those looking for a simple 3-button design might feel overwhelmed by all the bells and whistles.
Sonic Alert Sonic Bomb Alarm Clock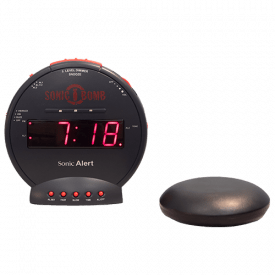 Essentially, the Sonic Bomb is designed to alert you in a variety of ways that don't only rely upon sound. Yes, the beeping is incredibly loud, but some may find that the bed shaker and flashing lights are all that's needed to wake up in the morning.
Sleepopolis Score
4.80 / 5
Read Full Review
Best for Travel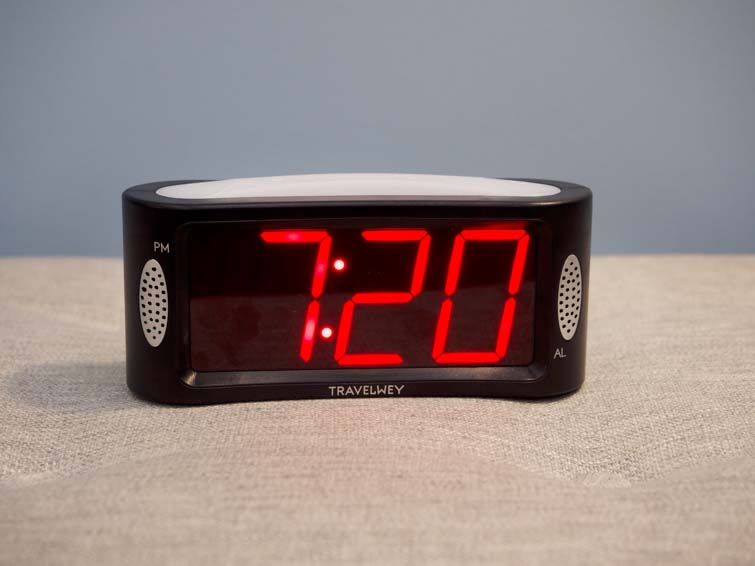 Travelwey Alarm Clock
The Travelwey alarm clock is very simple to operate and comes with only a few buttons, all of which are clearly labeled. Its small size makes it easy to pack in a suitcase if you want to travel with it, and there's a button on top that acts as a nightlight if you're nervous about sleeping away from home.
Pros
If you're looking for an alarm clock with no frills, this might be the one for you. It allows you to set the time, set your alarm, and dim the LED display, all with a few quick taps of a couple buttons.
The light on top of the clock is ideal for folks who like to read before bed, or those sleeping away from home who need a little nightlight to soothe them.
The time display is quite large, so most sleepers should be able to read the clock even if it's located across the room.
Cons
Aside from setting an alarm and providing a nightlight, this clock doesn't do much else. If you're looking for a clock that can connect to your smart device or play music, you might want to find something a little more high-tech. 
It's easy to confuse the snooze button for the nightlight, and when I was testing this alarm clock, it took me a minute to figure out which was which.
Travelwey Alarm Clock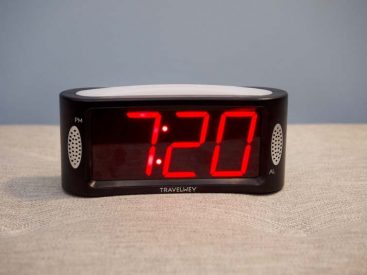 The Travelwey alarm clock is very simple to operate and its small size makes it easy to pack in a suitcase if you want to travel with!
Sleepopolis Score
4.50 / 5
How We Picked
Now that we've taken a look at my favorite alarm clocks, let's dive into the methodology behind my picks. Of course, any purchasing decision is a personal choice, but there are a few key factors to keep in mind when you're alarm clock shopping.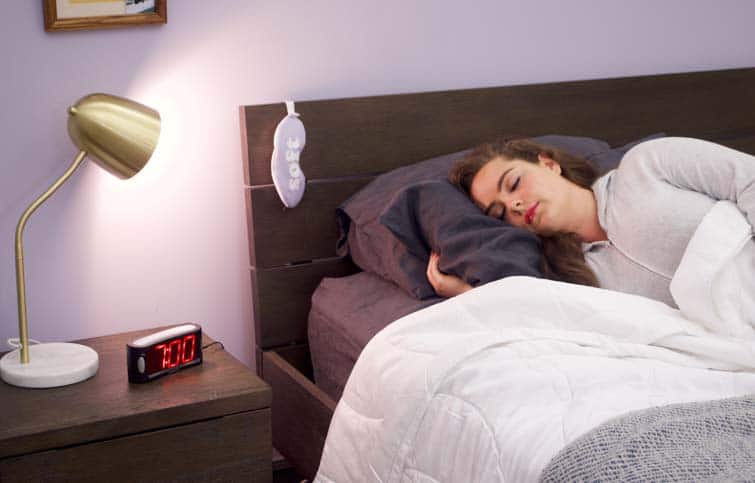 Design – Ideally, your alarm clock won't take up too much space in your home. In general, you're going to want to keep your alarm clock close to your bed so that you can set it or snooze it without having to walk across the bedroom. So, aim for a clock with a construction that's small enough to keep on a bedside table or dresser.
However, an alarm clock should still be big enough so that you can clearly see the time, and any buttons or toggles should be large and accessible enough for a user-friendly experience.
Alarm Sound – Some alarms come with only one wake-up sound, but there are many that offer a variety of alert types. Take some time to decide if you prefer your alarm to beep, buzz, vibrate, or play music. Additionally, there are some devices that offer multiple alarms for folks who want to set several wake-up times. This might be especially handy for couples who keep different schedules.
Charging Station – It is not uncommon for alarm clocks to come with USB ports that can be used to charge your phone or other compatible devices. The more basic models typically don't come with USB ports, but if the ability to charge your smart devices is a priority, you might want to narrow your search to alarm clocks with USB ports!
Time Display – With all the different features alarm clocks come with, it can be easy to forget how the time is actually displayed. But the size, brightness, and color of the numbers varies across brands, and can make a difference for many sleepers. So consider how you want the time display to look!
For example, do you prefer large numbers that are readable from afar? If red LED light bothers you, aim for alarm clocks with a green, white, or yellow time display. Additionally, many alarm clocks offer a dimming feature wherein you can adjust the brightness of the time display.
Snooze Button – Whether you want a few more minutes of slumber, or need a fast way to make the alarm stop, having a snooze button that's large, and easily accessible is essential. Having a snooze button that's small or placed in the back of the clock means a whole lot of extra fumbling when you could be, well, snoozing. That's why I picked alarm clocks with big buttons right at the top of the clock!
Special Features – Once you've found the size and shape that works best for your home, take some time to decide what you'd like your alarm clock to do! Remember: there's a wide world of alarm clocks built to do more than just beep and tell time. There are alarm clocks that play music, connect to your smart devices, serve as nightlights, and more. However, alarm clocks that are bluetooth compatible are typically more expensive, so it's always a good idea to prioritize according to your personal budget.
Conversely, if you prefer your alarm clock to come with only the basics, be sure to thoroughly review the "product description" to determine how easy (or not easy) it is to use.
Price – Because alarm clocks offer a wide range of functionality, they come in a wide range of prices. That said, a basic alarm clock that doesn't come with any special features or frills shouldn't cost much more than $20. However, if you want an alarm clock with all the bells and whistles (and a warranty), I'd stick to the $50-$100 range. At the end of the day, price will fluctuate according to the alarm clock's features.
Ultimately, it's worth it to carefully consider what, exactly, you want your alarm clock to do. This will help narrow your search when it comes time to shop!
Sleepopolis Tips
Still not sure what kind of alarm clock is best for you? No worries! Listed below are a few tips and tricks that might help guide you in your hunt for the perfect alarm clock.
As with any battery operated device, you might find that your alarm clock arrives broken, or doesn't work like you thought it would. That's why it's always a good idea to check out the return policy and warranty information before you make your purchase. A good warranty or return policy ensures that you're not stuck paying for something that doesn't work.
When you're shopping online, it can be tough to determine exactly how large an alarm clock is. That's why it's a good idea to scroll through the "product description" until you reach the "dimensions" section. There, you'll find the exact measurements of the alarm clock, and you'll be able to better determine how well it'll fit in your home.
If you do opt for a bluetooth enabled alarm clock, make sure it's compatible with your specific smart device. It would be a shame to spend a little extra on a high-tech alarm clock that isn't built for your personal smart home setup.
Wrapping Up
Well folks, we've officially reached the end of my guide to the Best Alarm Clocks! Whether you choose a high-tech alarm clock with all the frills, or a classic model that offers just the basics, these products are designed to make sure you wake up (and go to sleep) on your time.
Sarah Riccio
Sarah is the former senior writer and bedding expert at Sleepopolis. She received her degree in Creative Writing from Brooklyn College and spends her free time doing stand-up, making pasta, and hanging with her cats.