If you're unsatisfied with your current mattress, but are a little overwhelmed on where to start with the mattress buying process- you may want to consider latex mattress toppers. The best latex mattress toppers can successfully adjust the feel of your mattress without the hassle or cost of replacing an entire mattress. These specialty toppers are known for their natural materials, comfort, support, durability, and air flow.
Best Latex Mattress Toppers
Editor's Choice – Dreamfoam Bedding Ultimate Dreams Talalay Latex Mattress Topper
Pros:
The topper is made from Talalay latex, a natural and fairly sustainable material that's known for being breathable and helping to dissipate heat.
The topper is available in three firmness levels (Soft, Medium, and Firm), so you can choose according to your sleep style and comfort preferences.
It's 3 inches thick, so it offers some room to sink into the topper and enjoy some pressure relief (especially on the softer models).
It's encased in natural bamboo fabric, so the whole product is made from natural materials.
Cons:
The topper is pretty pricey, and it won't be accessible to all budgets.
Some users have reported that the topper starts to sag a bit after extended use.
Best Medium Firm – Brooklyn Bedding Latex Topper
Pros:
The topper provides medium-firm support to help shore up a sagging or un-supportive mattress.
It's made from 100% natural latex and doesn't use synthetic latex or fillers. The topper is Greenguard Gold Certified and OEKO-TEX certified, which means it meets certain safety and environmental standards.
The topper is available in many thicknesses and sizes, so you can tailor it to your needs and preferences.
Cons:
The topper seems to be slightly smaller than standard bed dimensions, so it might not cover the full surface area of your bed.
While the latex foam is supposed to be breathable, some people might find that the topper can still sleep a little hot.
Best Latex Foam – ViscoSoft Pillow Top Latex Mattress Topper
Pros:
The topper is made from gel-infused latex foam, which is soft and somewhat supportive. The gel infusion also helps protect against heat trap.
It comes with a 1-inch down alternative cover that's soft, plush, and machine-washable.
The latex foam offers some body contouring and also does a good job of bouncing back to its original shape when not in use.
The topper is made in the USA.
Cons:
The topper is fairly expensive and won't suit all price points.
It's not generously sized, and you might find that it doesn't quite cover the full surface area of your bed.
Best Organic – Avocado Latex Topper
Pros:
The topper is made from 100% natural latex that's vegan and certified organic by the USDA and Global Organic Latex Standard (GOLS). It's also OEKO-TEX Standard 100 certified (meaning it's free of certain harmful chemicals) and made using a carbon neutral manufacturing process.
The topper comes with a removable, 100% organic cotton cover that's Global Organic Textile Standard (GOTS) certified.
The topper is available in several sizes and thicknesses, so you can customize it to your sleep needs.
Given the quality of the materials, this is a surprisingly budget-friendly topper.
Cons:
The mattress might off-gas for a bit after it arrives.
What is a latex mattress topper?
A latex mattress topper is a piece of latex foam that can be added on top of an existing mattress to improve support or alter the firmness. They are made from natural or synthetic latex using one of two processes– the Talalay method or the Dunlop method. Both of these processes involve pouring liquid latex (either natural or synthetic) into a mold to create the final foam. In the Dunlop process, the mold is completely filled with the latex mixture, however in the Talalay process the mold is only partially filled and air is extracted.
The result is a softer, bouncier latex foam coming from the Talalay process and a firmer, often more durable, foam coming from the Dunlop process. Most toppers are Talalay latex, as it's better suited to a variety of firmness levels and has a more consistent feel.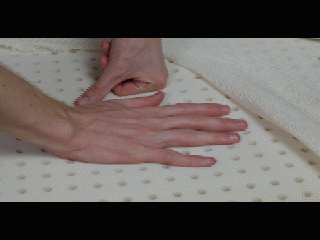 Benefits of a latex mattress topper
A good latex mattress topper has many benefits to different types of sleepers and it's a great way to enhance an existing "ho-hum" mattress. Most commonly, latex mattress toppers are added to provide additional support, adjust firmness, or enhance air flow and prevent excessive heat retention. For heavy sleepers who find themselves sinking too deep into their current mattress, a firm latex topper can also help. Latex has a natural support and bounciness to it that is unique to this kind of material.
Do you have different needs than your partner? Some latex mattress topper can be added to an entire mattress or just one side, depending on the manufacturer. If added to just one side, this can be a great way of getting custom support / firmness for each sleeper without compromising the comfort of the other.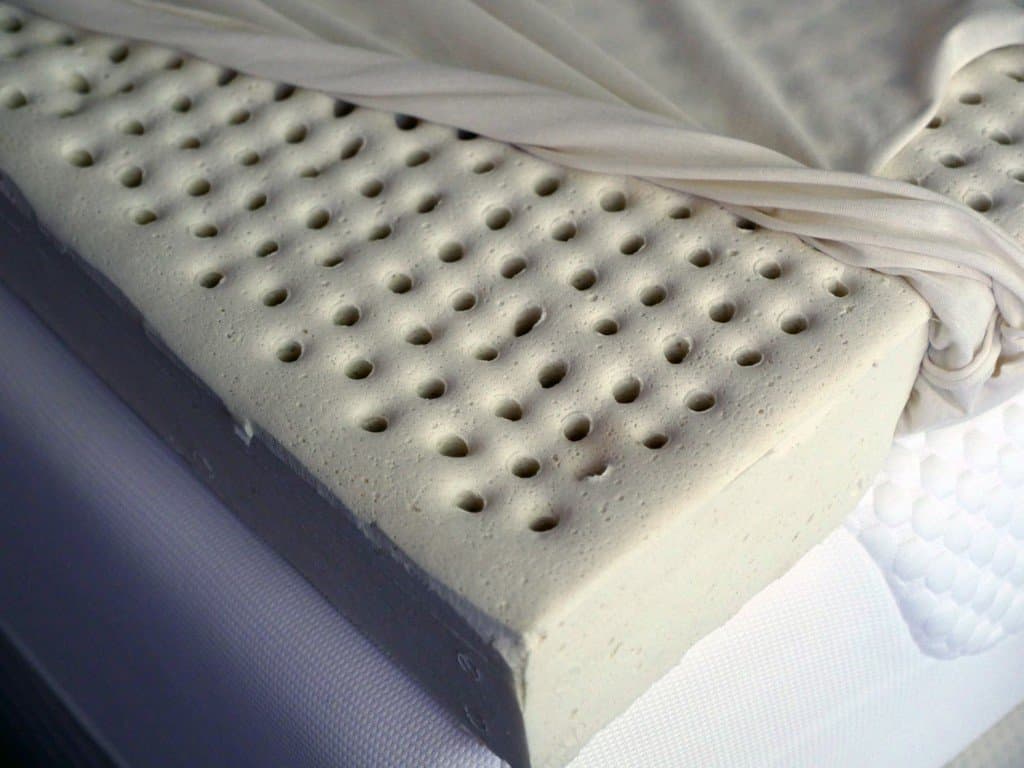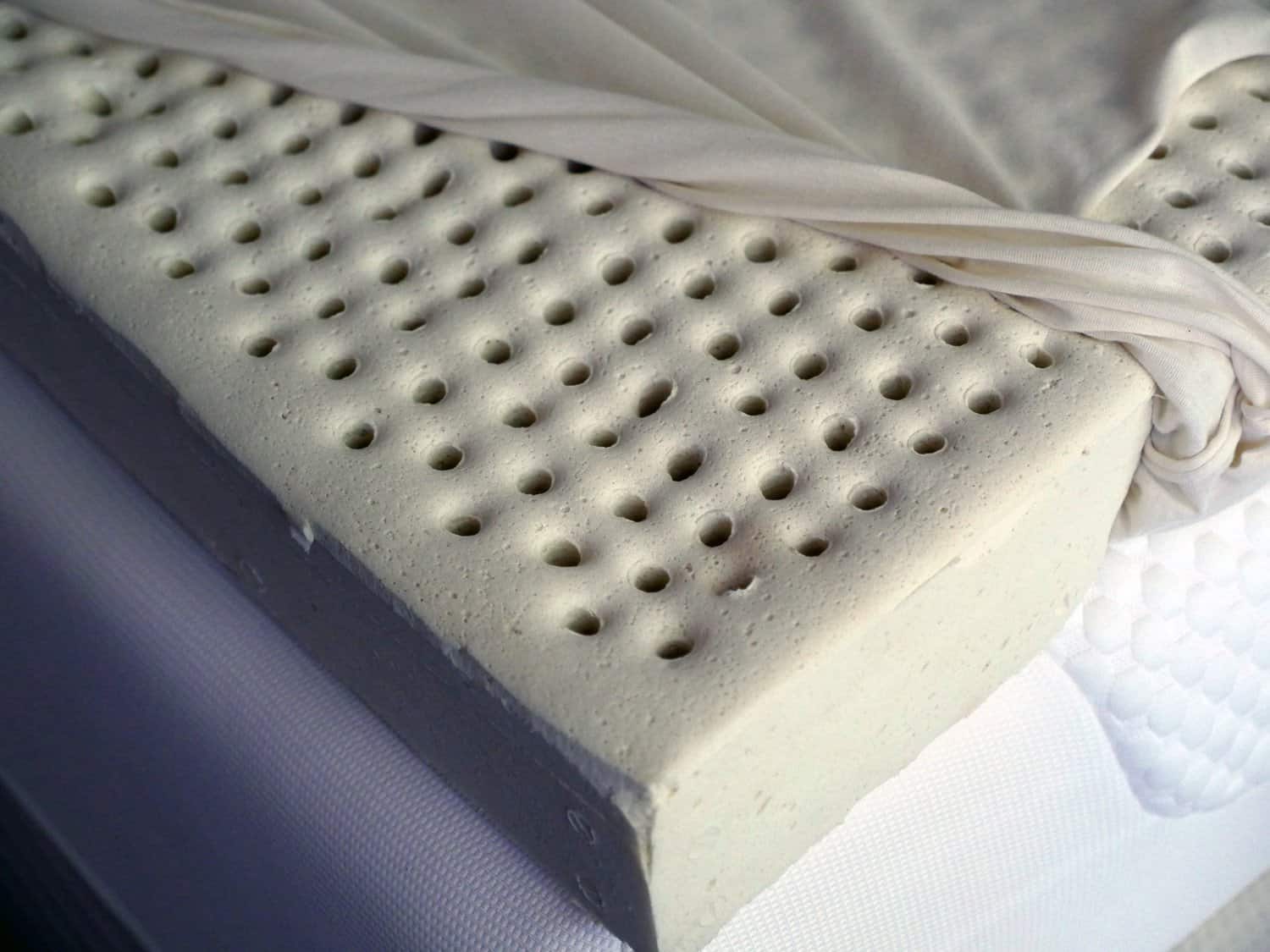 Firmness
Latex mattress toppers are available in a wide range of firmness degrees, but each has a very different feel. A soft latex topper provides comfort and pressure relief. This can be a great addition for side sleepers or sleepers looking to add softness to a new mattress that is too firm. A firm latex mattress topper provides additional support and may be a good fit for back or stomach sleepers. Firm latex toppers can also be used as a foundation layer in situations where you'd like to use multiple styles of foams on top of your existing mattress.
Thickness
Thickness of latex mattress toppers can vary- typically ranging from 1 to 4 inches. The thinner the foam the less drastic change the topper will have on your mattress. For those who are happy with their current mattress and just looking for a slight modification, 1" may be enough. To target nagging back pain or other night aches, 2-3" should do the trick. For a full mattress overhaul, you'll want to look for a topper that's 3- 4" thick. While the addition of a latex mattress topper doesn't equate replacing a mattress, it is a great way to lengthen the lifespan of an existing mattress.
Lifespan
In general, latex mattresses and mattress toppers have one of the longest lifespans of any other material on the market. While this also means that a latex mattress topper will be more costly than any other type, you are paying for an investment. One great way to extend the lifespan of a latex mattress topper even longer is by occasionally flipping and rotating the topper to make sure it's wearing evenly. Keep in mind that not all of the toppers on the market can flip, due to the nature of their design. If you're noticing discoloration, flaking or tearing on your topper, it is likely time to replace.
PILLOW: Talalay latex pillow review
How We Picked Our Best Latex Mattress Toppers
We used several criteria to vet the contenders for this roundup. Here's an overview of the factors that we took into consideration.
Cost
A quality latex mattress topper can range in price from around $150 to over $400. That's a big range! We included options from all across that spectrum so you can find something that aligns with your budget.
Feel
Some people want a latex topper to add softness and pressure relief to their mattress, while others are looking for extra support. We included both soft and medium-firm options so you can tailor your choice to your sleep needs.
Manufacturing
Whenever possible, we prioritized options that adhere to safety and/or environmental standards in their manufacturing processes. Most of the choices on this list feature natural materials and/or materials that have been certified by different health and/or environmental standards, such as OEKO-TEX Standard 100, Global Organic Textile Standards, and Global Organic Latex Standards.
Materials
Of course, all of these toppers share latex in common. But the materials used can still vary widely. For instance, some use Talalay latex, some use latex foam, and so on. Additionally, some of the options on this list come with covers, which range in materials from bamboo to organic cotton or down alternative.
The materials used in a topper can affect its feel, temperature regulation, and so on. We included different options so you can choose what suits you best.
Sleepopolis Buying Tips
Trying to settle on the best latex mattress topper for your needs? Ask yourself the following:
Do you want pressure relief or support? If the former, look for a topper that's on the softer side and is tall enough to allow for some sinkage and body contouring. If the latter, consider options that bill themselves as firm or medium-firm and supportive.
What are your preferences when it comes to materials? A latex mattress topper will have latex in it; that's a given. But you'll still want to consider whether you want natural latex, latex foam, and so on. Also think about whether you have strong feelings when it comes to eco-friendly credentials and the materials used in a cover. (Not all toppers come with a cover, but some do.)
What's your budget? Latex toppers can range pretty widely in terms of price, so clarifying your budget can help you rule out a bunch of options.
Natural vs. Synthetic Latex
Another way you can lengthen the lifespan of a latex mattress topper is by choosing one that uses 100% natural latex versus a synthetic. Natural latex is more durable than synthetic latex, is environmentally friendly, anti-microbial, and hypoallergenic. This is not to say that synthetic latex mattress toppers are bad, but don't be fooled by an imposter natural latex. Be wary of phrases like "made with 100% natural latex", "contains natural latex" or "natural origin latex".
While these sound good on paper, they are sneaky ways of saying that the mattress topper is actually a blend of natural and synthetic latex. A 100% natural latex mattress topper will almost always be more expensive than a synthetic or blended latex mattress topper. The natural latex will generally last longer than the synthetic latex though and won't have the off-gassing odors than can sometimes be associated with synthetic latex.
Need another reason to shop natural? Natural latex is resistant to mold and mildew!
That said, synthetic latex mattress toppers do have a place. For one, they are generally more affordable than natural latex. For short term situations, or if you simply don't care as much about the natural benefits, a synthetic latex topper can still provide a nice level of added comfort and pressure relief.
The right latex mattress topper can dramatically improve your sleep by tailoring the feel of your mattress to your sleep style and preferences. That means it's worth taking the time to do your research before committing to a new topper. By considering your needs, budget, and preferred materials, you'll be well on your to finding the topper of your dreams.