Scientists say that people get better sleep (and produce more melatonin) if they sleep in total darkness, but because most building codes require that bedrooms have windows, that darkness can be hard to achieve—especially if you live in a city.
I'm a bedtime procrastinator and a very light sleeper, so I've long pondered blackout curtains as something that might help me get better shut-eye, but the windows in my bedroom are big and it's an expensive proposition. A more viable option, though, presents itself in the form of sleep masks. Conveniently, I had the opportunity to try out a few for Sleepopolis.
Thirteen masks later, I've become quite the expert in sleep masks (or at least I've formed some very strong opinions)—and below are some of my favorites.
Looking for a quick read? Click here to jump to the summary.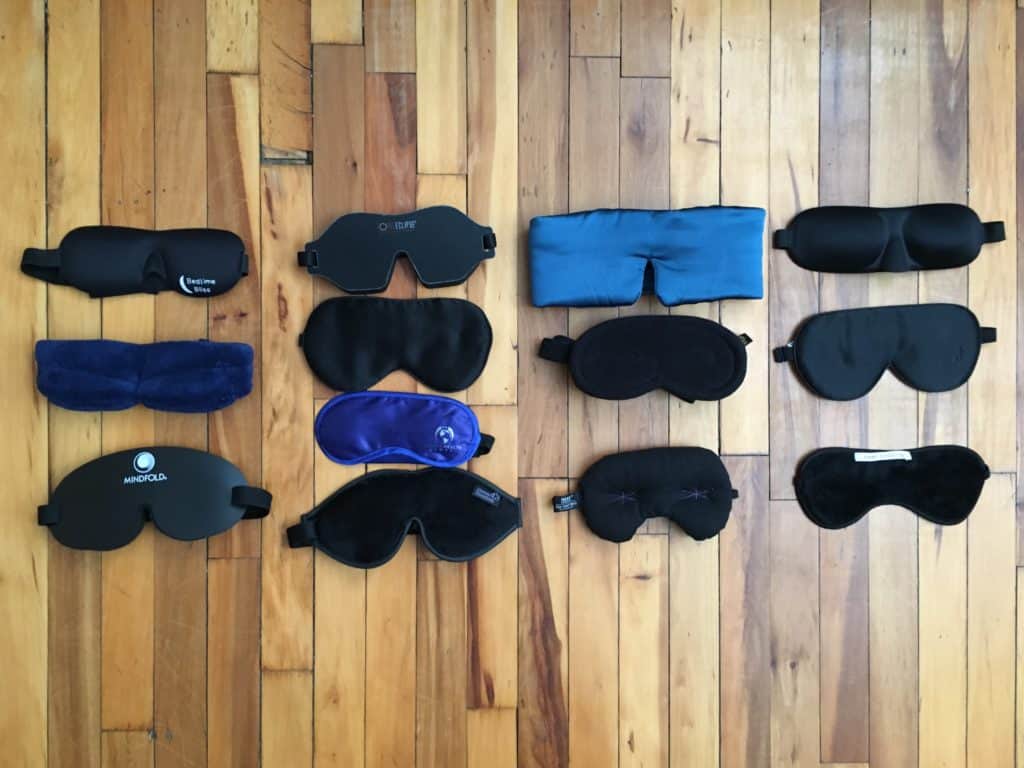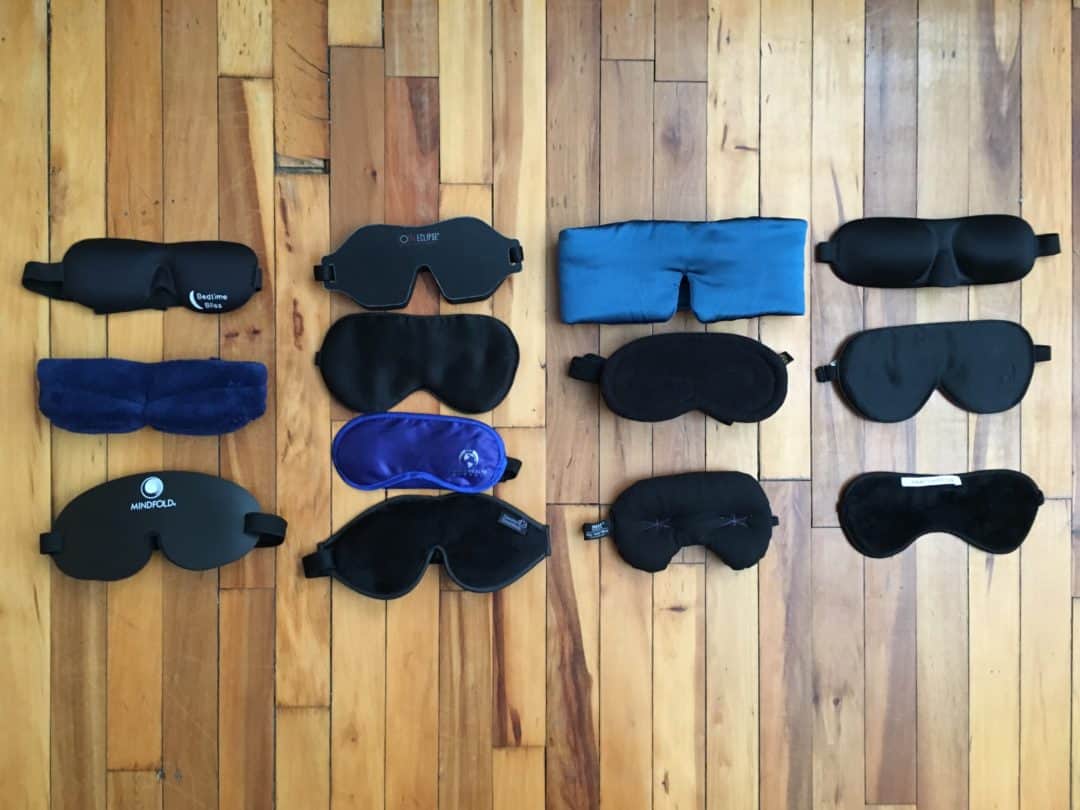 Explanations for all my rankings are below, but for starters, here's a summary:
This is a tough one because all but one of the masks I tried are actually available on Amazon, so to decide on the winner here, I had to weigh my overall feelings about the mask against its price and its overall Amazon rating. I gave the Escape Luxury mask an average 8.5/10 score and Amazon users rated it an average of 4.1 out of 5. That wasn't the highest combination of scores, but it was the highest at an under-$20 price point, and I couldn't think of any reason you'd need to pay more for the masks that were only a few tenths of a point higher (in both my and Amazon's scoring).
I loved so much about the Escape Luxury Sleep Mask. I loved that it was a blackout-style mask that wasn't uncomfortable for side sleeping. I loved that the mask adjusted with a slider instead of Velcro. I loved that there were no sharp edges or hard surfaces. I loved the little tube the accompanying earplugs came in (even though I probably won't ever use the earplugs). I loved the soft, fuzzy outward-facing material and the soft-but-not-fuzzy material that covers the foam that molds to your face. (I did not love, however, that both of these fabrics picked up quite a bit of pet hair.) The mask does take some getting used to, and Amazon reviewers note that you need to wear it a few times to get the foam to really mold to your face, but if I managed to sleep comfortably the first night I took the mask out of the package—after a little adjusting—I'm confident that nearly anyone can.
Dream Essentials Escape Luxury Sleep Mask Review
Runner-up: Dream Essentials Infinity Sleep Mask. Amazon Reviewers and I both rated this mask slightly higher than the Escape Luxury Sleep Mask, but for $10 more—and featuring a Velcro strap—the very similar Infinity Sleep Mask gets edged out.
Dream Essentials Infinity Fleece Sleep Mask Review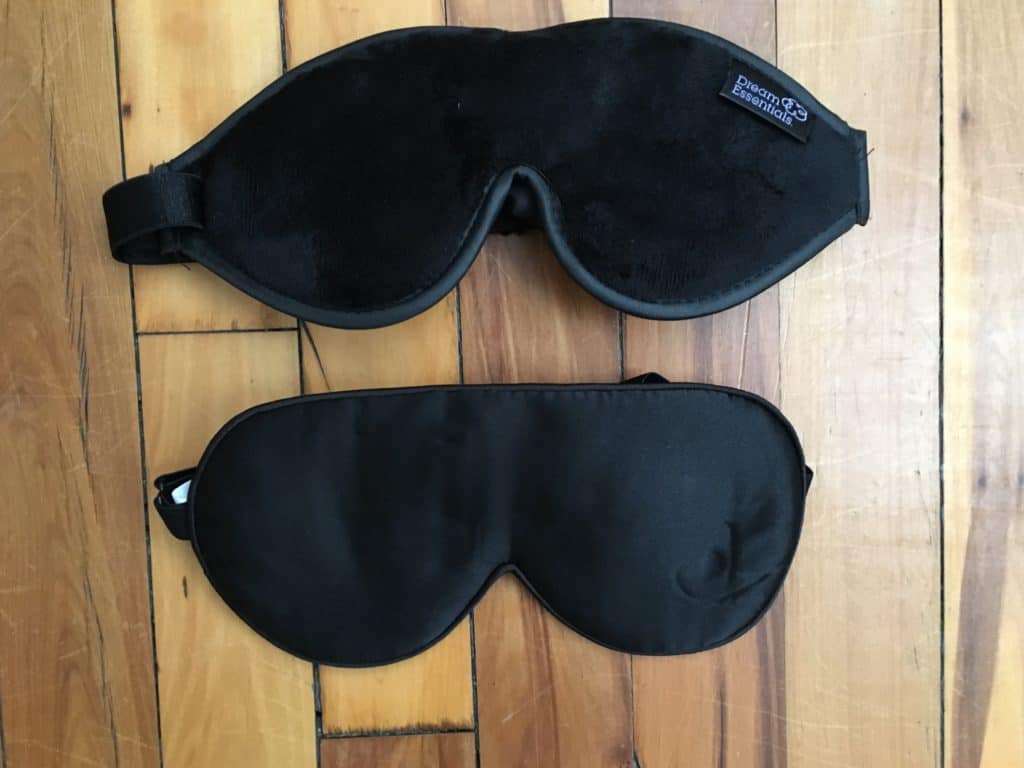 I know it seems like I'm playing favorites here, but hear me out: the Escape Luxury mask comes with a travel bag (and earplugs in their own case that can slip into the bag with the mask), is soft enough that if you're leaning against the window or you've turned the side of the face toward your seat, the mask won't shift significantly into your nose, and it offers sufficient darkness that when the route for your flight or train trip means sun is streaming in beside you, you won't be disturbed. There's no Velcro to get stuck on the upholstery behind you (or to pick up travel dirt), and the mask is also cheap enough that you won't be too upset if you lose it on your trip.
Dream Essentials Escape Luxury Sleep Mask Review
Runner-up: Alaska Bear Sleep Mask. Nothing about the Alaska Bear Sleep Mask is fancy or exciting, and that's part of what makes it great for travel. The $10 blindfold-style mask comes with a mesh carrying bag and is soft and comfortable—you'll hardly notice you're wearing it. The Alaska Bear mask won't provide total darkness like the Escape Luxury mask, but it's noticeable enough to tell your seatmate you're not in the mood for a chat.
The Nest Bedding Luxury Sleep Mask sat somewhere in the lower-middle of the pack in terms of my ratings—it averaged 5.7 out of 10 possible points, brought down by the fact that it was incompatible with makeup-wearing and didn't have an adjustable strap. But when it came to side sleeping, this mask was truly one of my favorites. The soft "silk-velour" (my term, due to some confusion over how the textiles are described on Nest Bedding's website) felt really amazing against my face, and the lack of adjustment on the strap, while possibly a design flaw for people with larger or smaller heads than my own, was almost a feature for me: there were no sliders or bulky closures to roll over onto. And once I figured out that I could turn the mask inside out, leaving the branded label facing outward instead of rubbing against my forehead, I practically forgot I had the mask on at all. While the Nest Bedding Luxury Sleep Mask wasn't practical for me as a daytime nap or travel mask option because I'm lazy and don't want to have to reapply my makeup when I wake up/get to my destination, it was one of my overnight favorites.
At $32, the Nest Bedding Luxury Sleep Mask doesn't come cheap, but I was positively giggling over how wonderfully soft it was. Surely, that's worth a bit of an upcharge.
Nest Bedding Luxury Sleep Mask Review
Runner-up: Dream Essentials Infinity Fleece Sleep Mask. Embarrassing to admit for someone who contributes to a sleep-focused website, but I average well under the recommended eight hours of sleep I should be getting every night. However, it just so happened that I tried out the Infinity Fleece mask while I was sick and spending a lot of time in bed. If I could sleep on my side comfortably for several unusually long stretches of time, many of which were during daytime hours, I think anyone can. Preventing this mask from earning a higher rating: with its fleece covering and Velcro strap, the Infinity Fleece mask was definitely the biggest attractor of cat hair that I tried. And, without an accompanying carrying case to store the mask in, the cat fur-magnet quality was exacerbated.
Dream Essentials Infinity Sleep Mask Review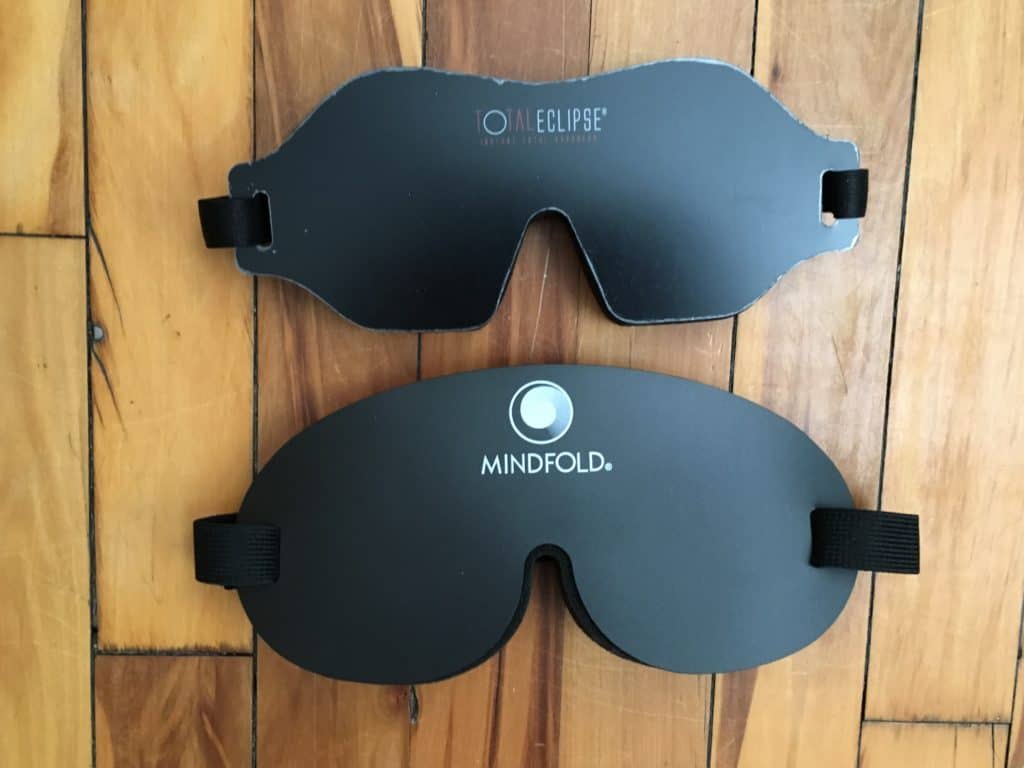 Working nights? Fighting jet lag? Trying that "you sleep when the baby sleeps" thing out? If you're light-sensitive, you need a mask that will do more than block light; you want a mask that will completely eliminate it. Though the Total Eclipse wasn't the most attractive mask I tried, it gained points over my runner-up (below) because it was relatively easy to lie on my side while wearing it.
While I personally had better luck napping during the day with some of the softer masks, none afforded the combination of comfort and absolute darkness as this one. And, no makeup smudging!
Total Eclipse Sleep Mask Review
Runner-up: MINDFOLD. Amazon buyers much prefer the MINDFOLD over my top pick, the Total Eclipse. Maybe it's aesthetics, or maybe it's that the mask is significantly bigger and people wanted that additional coverage. I thought the MINDFOLD was very cool, because I truly was able to open my eyes while wearing it and experience total darkness. But I found it extremely uncomfortable to wear while lying on my side, and the double-Velcro strap provided double the opportunities to pull my hair.
Best Sleep Mask for Blocking Light: MINDFOLD
Absent of any other criteria, if it's darkness you want, it's darkness you get with the MINDFOLD. Opening your eyes while wearing the mask for the first time is actually quite astounding. The MINDFOLD was the first true blackout-style mask I'd ever tried and that fact may bias me a little toward the MINDFOLD over other blackout masks, but first impressions do matter and this one left me impressed.
I wish I'd been able to sleep in it comfortably, but the size of the mask coupled with an overabundance of Velcro prevented that. I would totally use the MINDFOLD for meditation or a really competitive game of Pin the Tail on the Donkey, though.
Runner-up: Dream Essentials Infinity Sleep Mask. Making its third runner-up showing on this list, the Dream Essentials Infinity Sleep Mask is much softer than the Mindfold, but provided almost as much darkness. The only reason it comes in second, in my mind, is that the smaller size of the mask means that it would be easier for light to trickle in if it shifts.
Dream Essentials Infinity Sleep Mask Review
These two sleep masks are about as different as they come, yet for similar reasons, they both got top scores for comfort. Both are made from soft, fuzzy materials. Both made it easy for me to sleep on my side. Neither adjusted with Velcro. Some people want blackout sleep masks they can open their eyes in, like the Escape Luxury mask, and some want blindfold-style masks that sit against their lids, like Nest Bedding's entry. Depending on which type of sleeper you are, you'll probably find yourself quite happy with one of these masks.
Dream Essentials Escape Luxury Travel Sleep Mask Review
Nest Bedding Luxury Sleep Mask Review
Honorable Mention: IMAK Pain Relief Mask. The packaging for IMAK's mask doesn't actually says anything about sleep, which made sense to me after I tried sleeping in it. The mask was too heavy and too bulky for me to get through the night on my side. But, a few days later, lying on my back with the chilled mask over my eyes while jazz music played, I had a comfortable, and conscious, rest break. The IMAK mask is comfortable all right—just not for sleep.
The understated P&J blindfold-style mask would be easy to overlook for most of these categories, but it shines here. Why? The mask is cut much wider around the bridge of the nose, preventing pinching or rubbing that more narrowly-shaped bridge cut-outs might cause. And, because the mask is lightweight and flat, there's little risk of it shifting in the middle of the night and pinching the wearer's nose.
P&J Health 100% Natural Silk Sleep Mask Review
Runner-up: Brookstone NapForm Eye Mask. The widely-beloved Brookstone mask is foam-filled, so the eye pockets should sit largely above and away from your nose. I don't have a particularly large nose myself, but I can see this being a viable—if spendy—option for those who do.
Brookstone Napform Eye Mask Review
Best Sleep Mask for Long Eyelashes: MINDFOLD
My eyeglasses are always smudged right down the center from my lashes rubbing against them—so I know something about long lashes, and how unpleasant it can be to have something rubbing against them. My eyelashes are naturally long, but for people with eyelash extensions, there's another problem: when something rubs against your eyes, it can affect the longevity of your extensions. So whether your long lashes are real or fake, if you're using a sleep mask you probably want it to sit away from your eyes.
The MINDFOLD, then, wins this category because of all the masks I tried, it sat the farthest away from my eyes. This, of course, caused some other problems with fit and comfort, as described in my original review, but I can't say it rubbed my lashes at all.
Runner-up: Dream Essentials Sweet Dreams Sleep Mask. The Sweet Dreams Mask actually received my lowest average score, because its too-loose strap kept the mask from staying in place on my head. But I'm including it here because the deep individual indentations over the eyes—which, I didn't realize until I saw photos of myself wearing the mask, kind of look like a bra—keep the mask far away from the eyes without adding weight or bulk. With a tighter strap (preferably one not made out of Velcro), this might have been a winner.
Dream Essentials Sweet Dreams Sleep Mask Review
This mask had the dubious distinction of being the one I flung across my bedroom in the middle of the night, without even waking up. But, part of the reason that I did that was because I felt the Simple Health mask was putting too much pressure on my eyelids, especially with the addition of the hot/cold gel pack that slips inside it. For people who like that pressure, or who genuinely need something keeping them from opening their eyes and looking around the room, you might like the mask as much as I hated it.
Simple Health Sleeping Eye Mask Review
Runner-up: P&J Health 100% Natural Silk Sleep Mask. My biggest complaint about the P&J mask was that the strap needed to be loosened significantly before the mask no longer put undue pressure on my eyes. I was able to eventually get the mask in a comfortable-for-me position, but if you really want something holding your lids down, this would do it.
P&J Health 100% Natural Silk Sleep Mask Review
Best Sleep Mask for Makeup: MINDFOLD
I'm lazy. I like to do my makeup in the morning and then more or less forget about it the rest of the day. But I also like naps. Naps between meetings, naps on planes and tranes, naps before late nights out. And in all of those cases, I want to maximize my sleeping time and minimize the time I'll have to spend fixing my makeup. So if I'm going to take a nap with both makeup and a sleep mask on my face, I have to be sure the latter doesn't smudge the former. The MINDFOLD's packaging promises the mask won't smudge eye makeup, and it delivers on this promise. As to whether you can nap comfortably in it, that might be a different story.
Runner-up: Dream Essentials Infinity Fleece Sleep Mask. All those daytime sick hours I talked about also happened over a busy week. So I was sleeping when I could, and then going out for whatever obligations I could in between naps. The Infinity Fleece mask wasn't quite as smudge-free as the MINDFOLD, but it was more comfortable to sleep in.
Dream Essentials Infinity Fleece Sleep Mask Review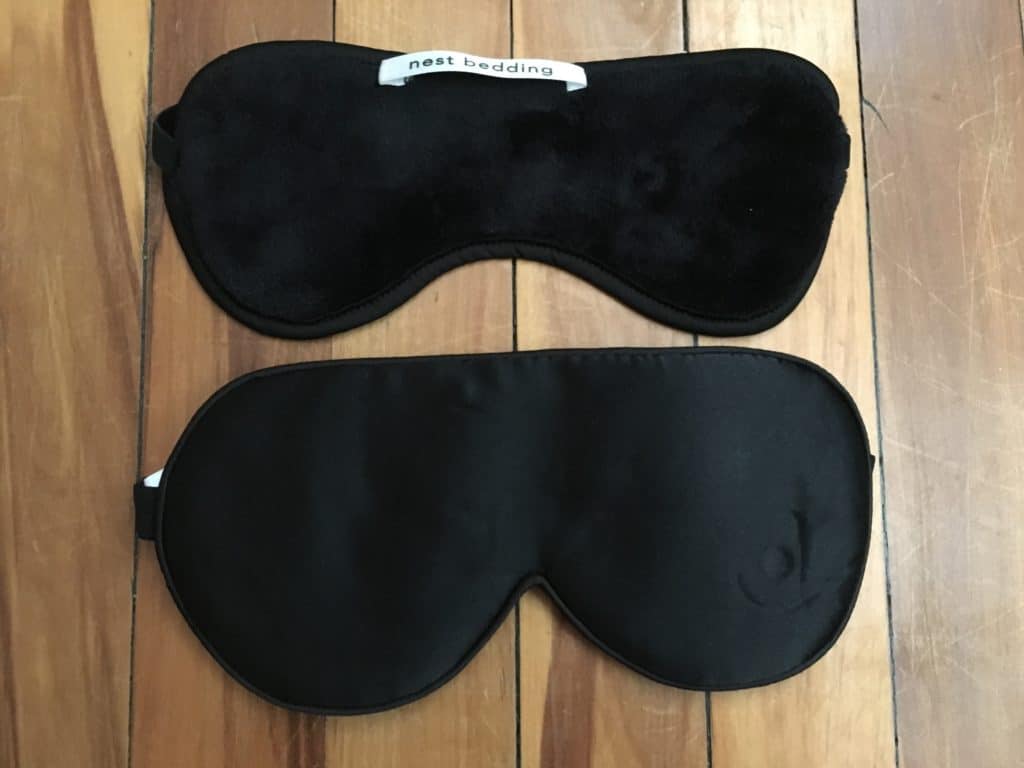 I was positively giddy over how soft this mask was—just watch my review video. While I usually shy away from blindfold masks that sit against my lids, this one felt more or less exactly like Nest Bedding described it: like you have a "soft cloud resting on your face while choirs of angels sing your favorite lullabies." I couldn't nap in this mask without smudging my makeup, but with a clean face overnight, I found no faults in this mask.
Nest Bedding Luxury Sleep Mask Review
Runner-up: Alaska Bear Sleep Mask. The Alaska Bear Sleep Mask is soft and comfortable and comes with a carrying case…but it didn't make me giggle like the Nest Bedding entrant. It's a close second, and at about a third of what you'll pay for the Nest mask, a strong contender.
Final Thoughts
Going into this series, I was surprised by two things: (1) how many different styles of sleep masks there are and (2) just how many people feel passionately about their favorites. So while I certainly formed some very strong opinions (to reiterate: I threw a mask across my bedroom in my sleep), I fully acknowledge that the masks I loved might not be the masks you love, and vice-versa. I hope that the reviews at least guide you toward a style of mask you'd like to explore and help you think about things you might not have considered (like whether the mask is going to attract cat hair).
A full list of every mask reviewed over the series is below, with average score included. Happy sleeping!
Full List of Sleep Mask Reviews
The following two tabs change content below.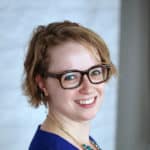 Jillian Ashley Blair Ivey
Jillian Ashley Blair Ivey is a Philadelphia-based writer, editor, and communications strategist. She has a BA in English from the University of Pennsylvania, an MFA in Creative Writing from Rutgers, The State University of New Jersey at Camden, and has published under her own byline at publications including DAME Magazine and The Frisky.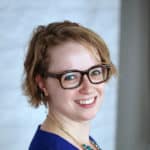 Latest posts by Jillian Ashley Blair Ivey (see all)