Snoozing with a supportive pillow is a great way to maintain healthy posture and guard against neck pain. No one wants to start the morning with an ache, or a stiff neck, that can last all day! Of course, with so many options on the market, it can be tough to determine which pillow will bring you sweet dreams… and which will leave you feeling sore and stiff. But don't worry  — my best pillows for neck pain review is here!
In this guide, I'm presenting the top ten pillows designed to alleviate neck pain and unlock your best sleep potential. Plus, I'll impart my own tips and tricks for finding the pillows that match each sleeping position, so you're better equipped to find the one that meets your unique needs. Let's get started!
Disclaimer: The content on Sleepopolis is meant to be informative, but shouldn't replace advice or treatment from a medical professional. If you experience chronic pain or discomfort while sleeping, it's best to consult a healthcare professional.
Best Pillows for Neck Pain — Top 10 Picks!
Keep reading to learn more about each of these pillows' unique qualities and specific build that's aligned with our idea of the best pillow for neck pain! The type of pillow you might need will vary differently depending on your body shape, size, weight, and individual preferences. Because a pillow can play such an important role in neck pain, we have tested each of our pillow picks to make your search easier.
Pricing Guide
Pillow prices range all over the board, anywhere from $35 to $100 or more. You'll want to weigh your options carefully when choosing a new pillow that will suit your needs, and fit your budget. As pillow prices vary depending on seasonal sales that the brand may decide on, we have broken down our pricing into categories.
$ = under $50

$$ = $50–$99

$$$ = over $99
Best Pillows for Neck Pain 2021
Best Pillow for Combo Sleepers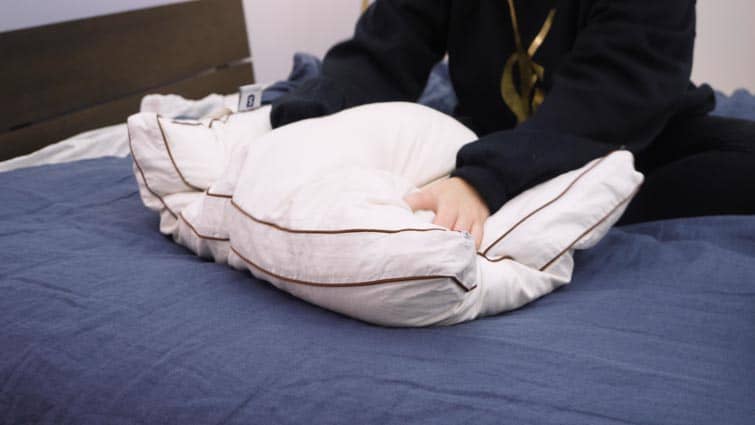 Saatva Latex Pillow
Combo sleepers who want to make sure their pillow supports them in every position should definitely dive into the Saatva pillow. 
Firstly, I must admit that I'm a combo sleeper and this is the pillow I currently use at home. I've been snoozing with it for about two years, and am so impressed by how seamlessly it adapts to every sleep style. It's lofty enough for side sleeping, compressible enough for stomach sleeping, and keeps me comfortably cradled when I'm on my back. 
It features a unique pillow-in-pillow design wherein a fluffy down-alternative cover envelopes a Talalay latex core. This combination strikes a cozy balance between soft and supportive, as the outer pillow offers a plush feel, while the inner core adds a buoyant boost. Plus, you have the option to use the pillow as is, or remove the middle insert!
If you primarily sleep on your back and side, I suggest using this pillow exactly as it comes. However, stomach sleepers looking to reduce the loft and firmness can easily unzip the pillow, and remove the latex core for a softer feel. For all the details on this great combo sleeping accessory, read my full Saatva pillow review! 
Price: $$$, with a 45-day trial period.
Perfect For: Combo sleepers looking for an all-position pillow with an adjustable loft!

A fluffable mix of down-alternative and Talalay latex makes this pillow cozy, cool, and great for combo sleepers! 
Best Cooling Pillow for Neck Pain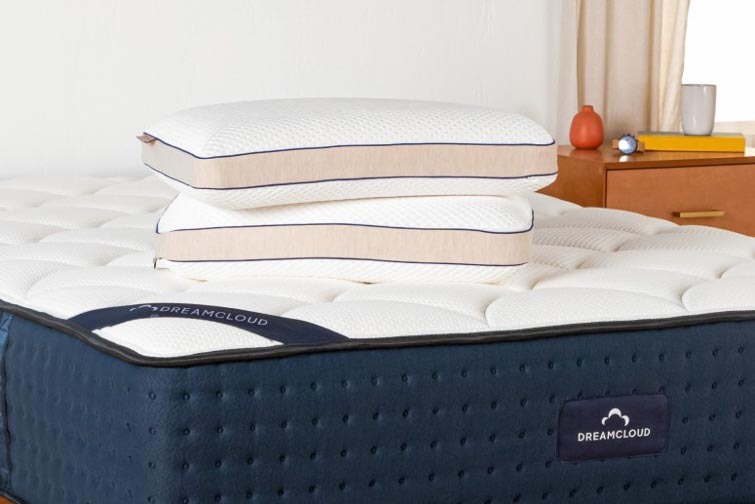 DreamCloud Best Rest Memory Foam Pillow
Neck pain can be even more aggravating if you're sleeping hot. That's why anyone who struggles to stay cool at night should look into the DreamCloud Best Rest Memory Foam Pillow. In addition to cradling the head and taking pressure off of the neck with its deep-contouring memory foam, it has a breathable cover and an infusion of coppergel. Both of these traits help the pillow – and thus the person – sleep incredibly cool.
Full DreamCloud Best Rest Pillow review coming soon!
Price: $99-$129, with a 50-night trial period.
Perfect For: Anyone who wants to stay cool while soothing their neck pain.
DreamCloud Best Rest Memory Foam Pillow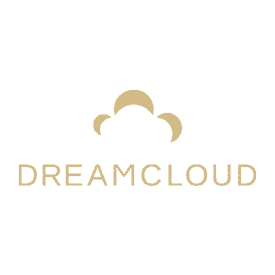 DreamCloud Best Rest Memory Foam Pillow
A contouring pillow with a dash of coppergel for extra cooling!
Best Firm Pillow for Neck Pain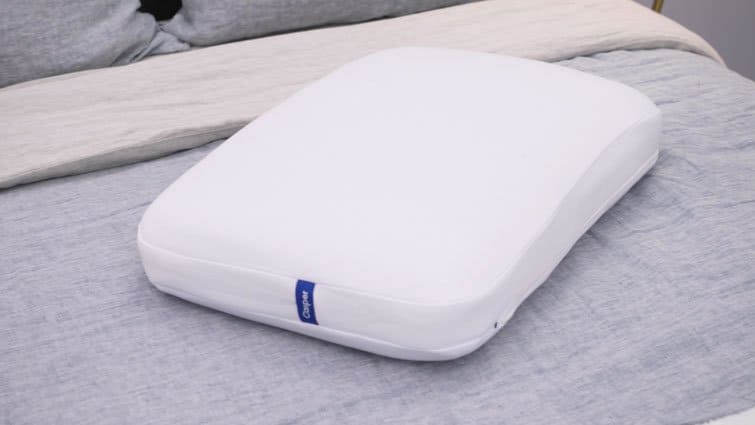 Casper Pillow
Up first my personal favorite — the Casper foam pillow. This firmer pillow is designed to keep your head and neck properly aligned, preventing any future neck pain while alleviating any existing pain.
The balanced support of this pillow is designed by plush outer layers of foam to keep your head and neck comfortably cradled, and a firm inner layer of foam that conforms to pressure and supports neutral spine alignment. Back sleepers should appreciate the medium-firm, balanced feel and loft up to 5 inches here. This pillow maintains its shape overnight with the combination of high and low density foams. Side sleepers should also be comfortable on the Casper foam pillow!
This pillow is different from many foam pillows in yet another way — you won't get hot throughout the night thanks to Airscape foam promoting airflow and ventilation. If you are ready to change out your pillow to relieve some neck pain, I highly recommend trying out the Casper Foam Pillow; and if you're curious about this brand's other products, be sure to check our Casper pillow, Casper sheets, and Casper mattress reviews!
Price: $$, with a 30-night trial period to personally test it. 
Perfect For: Side and back sleepers looking for a lofty, balanced pillow with plenty of support for neck pain.
Cyber Monday Sale: Save up to 50%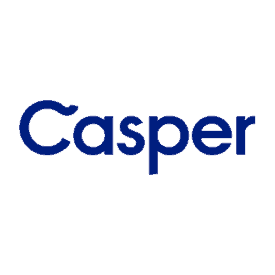 The Casper Foam Pillow sleeps cool and has the balanced support that's great for back sleepers!
Best Memory Foam Pillow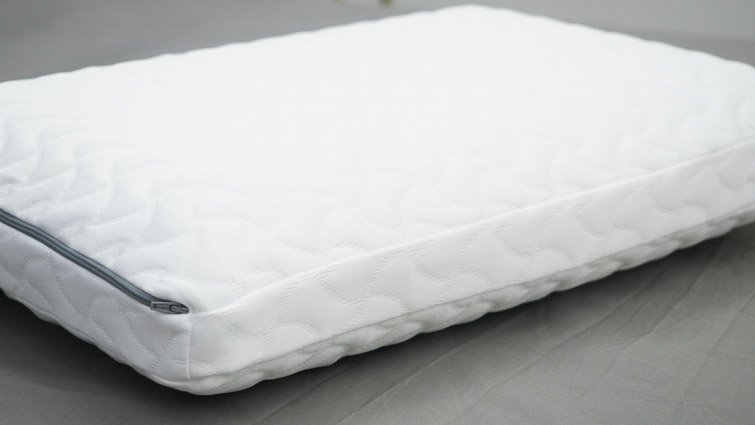 Tempur-Pedic TEMPUR-Cloud Pillow
If you're a memory foam fan who sleeps hot, this pillow is for you.
Filled with one thick piece of Tempur-Pedic's memory foam, the TEMPUR-Cloud Breeze offers a moldable feel, and a super slow response to pressure. Those who like to sink deeply into their pillow are likely to be most compatible with this one. Plus, it features a high loft and medium-firm feel, ideal for helping side sleepers maintain healthy posture. 
That said, a common complaint about memory foam is that it traps heat and warms up throughout the night… But not this pillow! Two proprietary cooling gel pads keep both sides of the pillow feeling cool and cozy all night long. As a hot sleeper myself, I can tell you this is one of my all-time favorite memory foam pillows because it feels so cooling against my face.
That said, those who love memory foam but don't want a cooling pillow should check out my full review of Tempur-Pedic pillows (this brand offers quite a few options!). But if you're a side sleeper looking for a cool and soothing memory foam pillow, I heartily suggest you give this one a try. 
Price: $$$, a little pricier than the others in this roundup — but, to me, the fact that it's backed by a 5-year warranty inspires confidence that this brand proudly stands behind its product.
Perfect For: The side sleeper who runs hot and loves the feel of memory foam! 
Tempur-Pedic TEMPUR-Cloud Pillow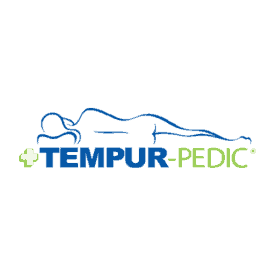 Tempur-Pedic TEMPUR-Cloud Pillow
The TEMPUR-Cloud pillow provides the great body contouring memory foam feel that Tempur-Pedic is known for and is a great choice for the back sleepers out there!
Best Pillow for Stomach Sleepers with Neck Pain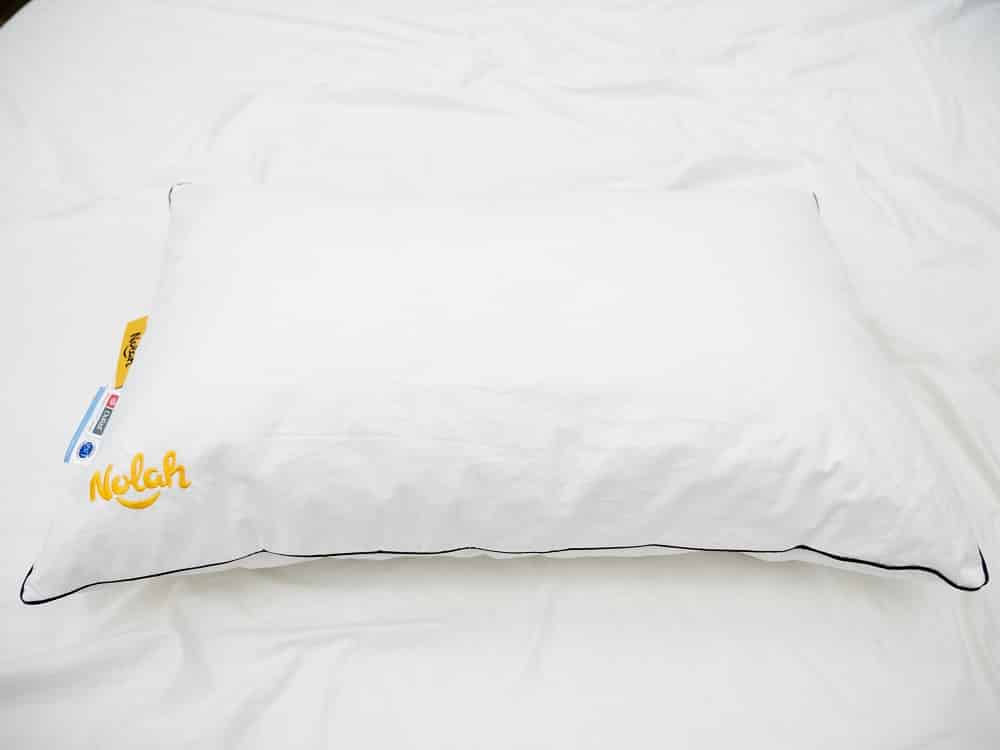 Nolah AirFiber Pillow
Technically, the Nolah AirFiber doesn't use down, but a down alternative called polyfiber. It's soft and shapeable, allowing you to get the fluffy feeling of down without the allergies that sometimes come with it. Feel-wise, this is a plush yet supportive pillow that should be a good fit for any sleeping position, although stomach sleepers should be especially comfortable. The pillow also has a phase-change material to help it keep a low temperature.
Mosey on over to our full review of the AirFiber Pillow!
Price: $79-$158, with a lifetime warranty.
Perfect For: Anyone who loves the soothing softness of down.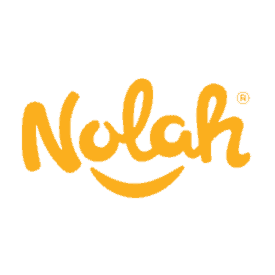 A plush yet supportive pillow filled with a soft down alternative!
Best Organic Pillow
Avocado Green Pillow
Eco-friendly sleepers looking to alleviate neck pain with an all-natural pillow are going to be most compatible with the Avocado Green. 
From the cotton cover fabric to the internal fill, this entire pillow is made from organic materials. It's filled with a blend of shredded Dunlop latex and a sustainable tree fiber called Kapok, which combine to offer a medium-firm feel. Additionally, it has a quick response to pressure that lets the sleeper rest on top of the pillow rather than sink into the material. 
One of my favorite things about this pillow is that it's adjustable, which allows sleepers of all styles to find their perfect loft. If you find this pillow to be too lofty or firm, simply unzip the pillow and remove the stuffing until you're satisfied! That said, I suggest stomach sleepers remove some fill to reduce the loft before snoozing with this pillow. 
This pillow is traditionally shaped, which means you're more than welcome to dress it with a pillowcase. But its organic cotton cover fabric is hypoallergenic, soft, and easily machine washable (so feel free to enjoy it without a pillowcase!). 
For the full scoop on this pillow, be sure to check out my full Avocado pillow review! 
Price: $$, with a generous 100-night trial and a 1-year warranty. 
Perfect For: The eco-friendly sleeper looking for a supportive pillow with an adjustable design!
See Latest Deals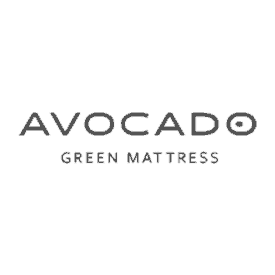 Made with all-natural latex, the Avocado pillow is both eco-conscious and supportive! 
Best Down Pillow
Brooklinen Natural Down Plush
Stuffed full of Canadian down feathers, this Brooklinen Natural Down Plush Pillow features a high fill power of 600. When shopping for down products, it's important to note that fill power determines how fluffy and lofty it'll be (and 600 means very fluffy). Sleepers in the market for big ol' feather pillows are sure to enjoy this one. 
That said, this pillow's tall 5-inch profile is easily compressed into a low loft of 2-inches, as natural down is a very soft material. In fact, this pillow has a malleable quality that lets you push, press, and fold it to meet your unique needs. As for me, I like to fold one corner under my arm when I'm on my side for extra comfort.
Meanwhile, sleepers with allergies might like to know that this down has been treated with Ultra Fresh Antibacterial Additives, an OEKO-Tex technology used to make it hypoallergenic. So if you tend to avoid real down because of sensitive skin or allergies, just remember that this pillow was crafted to be extra resistant to mold and mildew.
Learn everything there is to know about this pillow in my full Brooklinen Natural Down pillow review!
Price: $$, which is a great value for a natural down pillow. Plus, Brooklinen offers a 365-day return policy and a lifetime warranty.
Perfect For: Sleepers of all styles looking for a soft and lofty pillow filled with 100% real down!
Save 15%

Brooklinen's Pillow provides plush and fluffy comfort for those interested in ethically sourced down! Enjoy 10% off your order with code SLEEPOPOLIS10!
Best Pillow for Side Sleepers with Neck Pain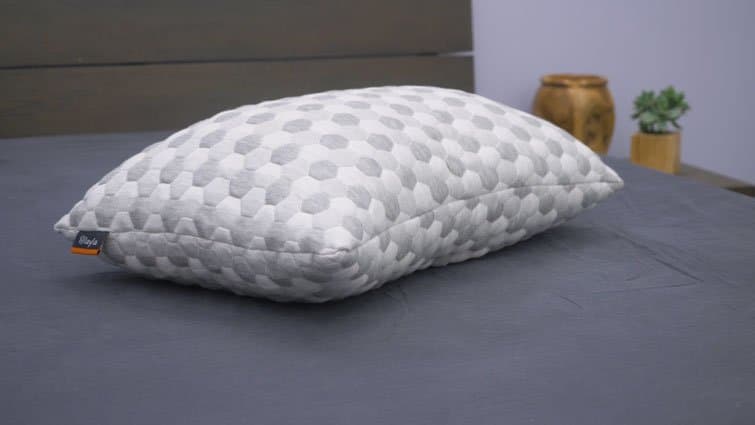 Layla Kapok Pillow
Light and airy with a balanced feel, the Layla Kapok Pillow has a high loft that should be comfortable for side sleepers. When lying down, they should feel pressure relief and be able to maintain a healthy sleep posture. The internal fill cradles the head and neck, and you can even remove it to adjust the pillow to your preference. 
If you're intrigued by the Layla Kapok Pillow, read more in my full review!
Price: $109–$129
Perfect For: Side sleepers — naturally!
With its high loft, the Layla Kapok should be super-comfy for side sleepers, and even has adjustable fill!
Best Pillow for Pressure Relief and Neck Pain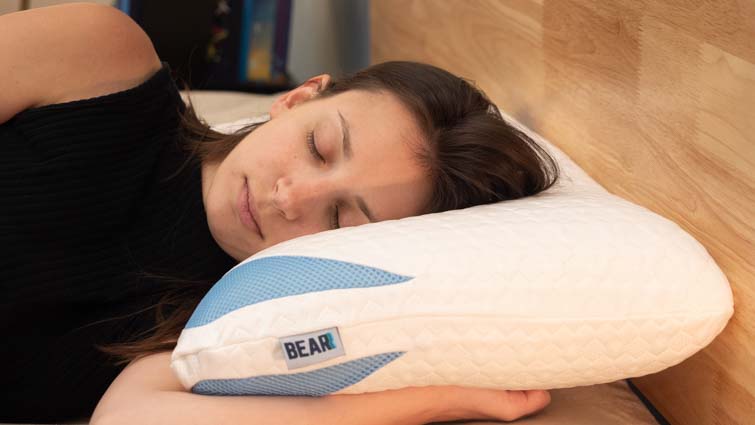 Bear Pillow
Bear is known for their high-quality cooling mattresses, and the brand also makes some fantastic pillows, like the Bear Cooling Foam pillow, a medium-firm, solid foam pillow that's meant to sleep super cool.
Side and back sleepers will feel their necks nicely supported by medium-loft and LOFT-X foam fill, which has a nice, medium-firm feel. I'd also heartily recommend this pillow to hot sleepers. The fabric really stays cool to the touch and absorbs body heat, and the dual mesh side panels allow for added breathability. 
Price: $125 – $145, with a 100-day trial and a two-year warranty.
Best Soft Pillow For Neck Pain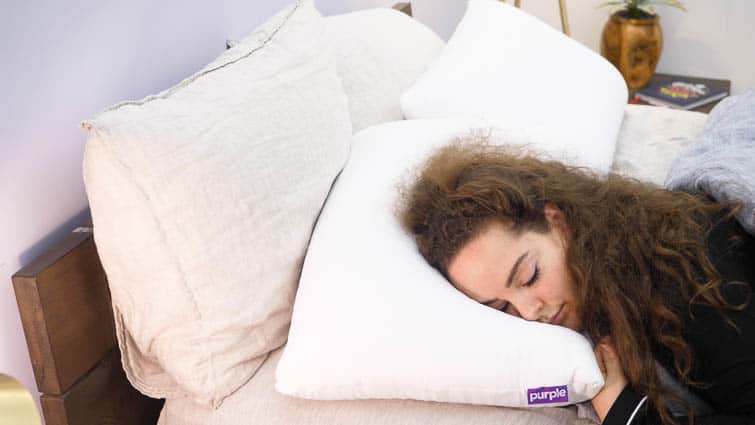 Purple Harmony Pillow
Next up on my list is the Purple Harmony pillow, and I picked it specifically for those looking for a soft pillow that alleviates neck pain. 
The Purple Harmony pillows, like Purple mattresses in general, have an extremely unique feel that can be great for those who are looking for something different. We think that it lies on the firmer side of the scale, but it should still have plenty of cushion. It's also made from a very breathable spandex mesh material that wicks moisture and promotes a ton of airflow through the pillow. As a hot sleeper, I can tell you that this served to draw heat away from my head, and make for a nice, cool snooze. 
Why It's Good For Neck Pain
That said, the real magic lies directly beneath the cover fabric. I'm talking, of course, about the brand's proprietary Hyper-Elastic Polymer. Hyper-Elastic Polymer is a unique material that's exceptionally bouncy and durable while remaining somewhat soft, and it's prominently featured in the Purple Mattress and Purple original pillow.
In the Purple Harmony, the Hyper-Elastic Polymer gives the pillow its shape, and helps it maintain its integrity night after night. Meanwhile, one piece of Talalay latex makes up the core of this pillow, which only adds to its bouncy-quick response to pressure. Why would you want a bouncy pillow, you ask? Well, its buoyant resilience keeps it from going flat no matter the sleeping position. 
In my experience, that's what makes this pillow great for neck pain. The Purple Harmony supported me in every sleeping position, conformed to the natural contours of my head and neck, and bounced back to its original shape every morning. 
Read all about it in my full Purple Harmony pillow review!
Price: $179, with a 100-night trial period and a one-year warranty.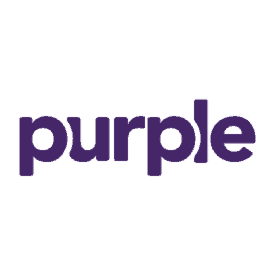 The Purple Harmony is great for any position sleeper and is extremely breathable to help you sleep cool through the night!
Methodology: How To Pick The Right Pillow For Neck Pain
Below, I'll break down the key factors to consider when picking the right pillow for your position, and let you know how to avoid the ones that might strain your neck!
Finding the Right Loft & Firmness for Neck Pain
When it comes to relieving neck pain, neutral spine alignment is the name of the game. You'll hear me mention this a few times, but promoting neutral spine alignment is your pillow's most important job (whether you deal with chronic neck pain or not).
Now, you might be wondering, "How am I supposed to know if my spine is in neutral alignment?" Well, here's a trick I like to use: If your spine is in neutral alignment, your ears should be in line with your shoulders, and your chin should be in line with your sternum. So when you're lying in bed, take some time to see if your chin is being craned upward, or if your ear is pressed into either shoulder. If so, it's time to readjust and regain a healthy posture.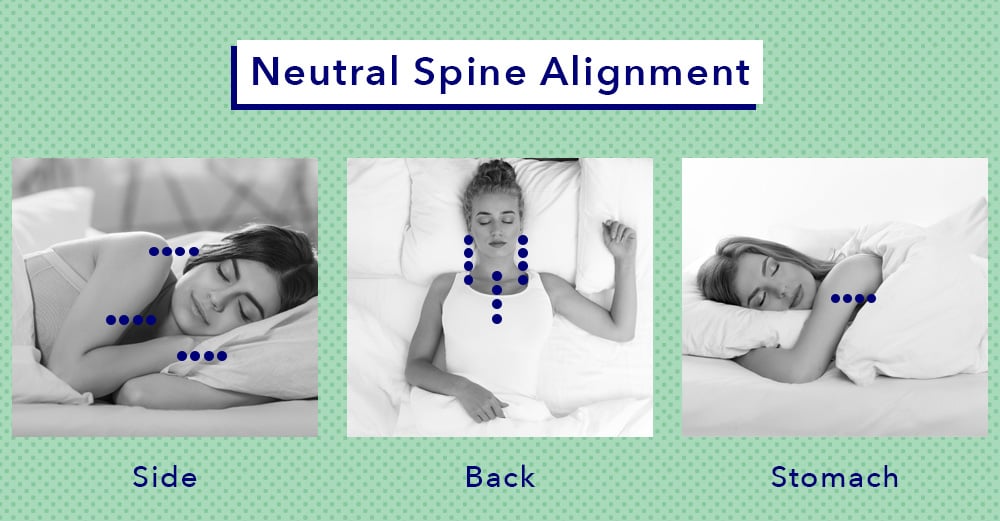 That said, it's important to match your pillow to your preferred sleeping position in order to keep a healthy posture. To find the right fit, you'll need to keep a close eye on the pillow's loft (height) and firmness rating. So let's take a closer look at the best loft and firmness for each position:
Side Sleeping –

Side sleepers

need a

high-lofted

pillow with a profile of at least 4-inches tall. This serves to hold the head in neutral alignment with the spine, and relieve pressure at the shoulders as well. Additionally, side sleepers should aim for a

firm pillow that maintains

its shape and loft throughout the night.

Stomach Sleeping – Stomach sleepers need a low-lofted pillow with a soft feel in order to keep the head in line with the spine, and prevent it from being craned upwards. That said, stomach sleepers can choose a pillow with a lofty profile, as long as the internal fill is soft enough to compress into a loft of 2-inches or less.
Back Sleeping –

Back sleepers

are typically most compatible with a

medium level of loft and firmness

, but have some room to experiment. Some may prefer a firmer feel, while other back sleepers may enjoy more plush and cushy comfort. Just remember that neutral spine alignment is the most important factor, so if you find that your chin is being pushed toward your chest

or your neck muscles are engaged,

your pillow is probably too lofty.
Before we move on to the next factor, remember that you can find a more in-depth explanation of how to keep a healthy sleeping posture in my complete guide to picking the right pillow!
Choosing The Right Materials to Guard Against Neck Pain
Once you've settled on the right loft and firmness, it's time to focus on the material details. From foam to feathers, pillows can be filled with all kinds of materials (and each one offers its own unique support!) So let's explore some of the most popular ones below:
Memory Foam – Memory foam has a moldable feel and a slow response to pressure, making it a great pick for sleepers who like to sink deeply into their pillow. The memory foam can come in one solid piece, or be shredded for a fluffier, more breathable feel. Back and side sleepers are often most compatible with this material, as it does a great job conforming to the head and neck while maintaining its loft.

That said, some

memory foam pillows

are built either as a contour pillow or as a thin pillow

to accommodate stomach sleepers (but make sure it's 2-inches tall or less!).

Latex – Latex pillows are typically lighter in weight with a bouncy-quick response to pressure. Again, the latex can come in one piece, or be shredded for a more fluffable feel. If you don't like the feel of memory foam, you may prefer the way latex lets you rest on top of the pillow instead of sinking into it. In my experience, latex pillows can be great for all positions, as they offer a springy kind of support that quickly adapts to each sleep style.
Down & Down-Alternative – Down and down-alternative pillows offer a soft, compressible feel that's typically best for stomach sleepers. Stomach sleepers looking to alleviate neck pain might want to start here, as these materials can be fluffed or pressed into the loft that works best. That said, back and side sleepers looking for a high-lofted down pillow with a feathery and firm feel should pay close attention to "fill power." Fill power ranges from about 300-900, and a higher fill generally produces a loftier and firmer pillow.
If you're still not totally sure which material sounds right for you, don't worry — we're about to get up close and personal with each one. But before we do, there's one last thing to consider: when to replace your pillow.
When To Replace Your Pillow
Once you've found the perfect pillow, it can be tempting to check "cure neck pain" off your list and move on. But replacing a pillow that no longer supports you is a key factor in the fight against neck pain!
That's why I recommend checking in with your pillow every 6-8 months. If you notice that it's gone flat, feels lumpy, or is no longer maintaining its shape throughout the night, there's a good chance it needs to be replaced.
Of course, some pillows filled with soft, compressible materials (like down, down-alternative, or polyester, for example) need to be frequently fluffed in order to maintain integrity. So if you see that your brand new down pillow has lost its loft, don't throw it away just yet! Instead, give it some enlivening fluffs to bring it back to life.
Other Tips for Neck Pain Sufferers
A new pillow can help relieve quite a lot of neck pain, but there are additional ways to help alleviate your sore or stiff neck. Everyday tasks, especially looking down at your electronic device (like you may be right now) can affect your neck muscles, causing neck or back pain. Small lifestyle changes such as stretching, adjusting your posture when you notice yourself slumped over, and maintaining exercise can really make a difference when it comes to neck pain. 
Using cold and hot compresses can also provide quick relief to an aching neck. If the pain continues to linger after investing in one of our best pillows for neck pain, you may want to head to your local massage or chiropractic office. An orthopedic pillow, or cervical support pillow, may go hand-in-hand with a chiropractor's plan for treating your neck pain. Always consult a health professional before starting any kind of treatment. 
Finally, it's important to sleep on the right mattress. The best mattress for neck pain is going to be supportive enough to help promote a neutral spinal alignment. You'll also want to pair your pillow with your mattress. For example, on a soft mattress with sinkage, you'll want a low-loft pillow to keep your neck in proper alignment, while a firm mattress necessitates a high-loft pillow to keep your head properly elevated.
Okay, folks, now that we've covered the main points to consider, let's wrap up with a look at my final thoughts!
My Final Thoughts About Best Pillows for Neck Pain
Well sleepers, we've reached the end of my guide and you're well on your way to finding your new pillow that'll provide pain relief. And as you carefully consider all your options, don't forget to pay close attention to materials, loft, and firmness in order to find your perfect pillow match for a good night's sleep. Oh, and be sure to follow Sleepopolis on social media, and subscribe to our YouTube channel! Happy sleeping, everybody.
FAQs
What is the best pillow for side sleepers with neck pain?
In order to alleviate neck pain, side sleepers need a pillow with a lofty profile and medium to firm level of support. This will serve to hold the head, neck, and spine in healthy neutral alignment.
Can pillows cause neck pain?
Sleeping with a pillow that doesn't properly support you can definitely cause neck pain! That's why it's so important to pick the sleep accessories that fit your body type and support you in your go-to sleeping position.
Is sleeping without a pillow better for your neck?
Back and stomach sleepers may find that sleeping without a pillow helps them maintain neutral spine alignment, but side sleepers need a pillow in order to keep healthy posture and relieve pressure at the shoulders and hips.
Summary: The Best Pillows for Neck Pain
Sarah is the Senior Writer and bedding expert at Sleepopolis. Every week, she personally tests and reviews new pillows, sheet sets, and other sleep accessories. She accompanies every video review with a meticulously detailed article to ensure her audience has all the pertinent info they need for the best shopping experience possible. Perhaps that's why her fans have dubbed her "the most thorough pillow reviewer on the Internet." Having tested everything from sleep trackers to mattress toppers, Sarah's expertise runs deep and is always expanding. She received her degree in Creative Writing from Brooklyn College and spends her free time doing stand-up, making pasta, and hanging with her cats.