A bed frame is an essential part of your bedroom decor and overall sleep experience. Bed frames come in many different styles, from traditional sleigh and canopy shapes to chic, contemporary platform designs.
No matter what your personal taste, you can find a great frame that suits your sleep needs and your budget. But with so many frames to choose from, how do you decide which one is best for you? Check out my top four picks for best bed frame below. I've tested frames in a variety of different materials, styles, and price ranges to help you find the perfect model for you.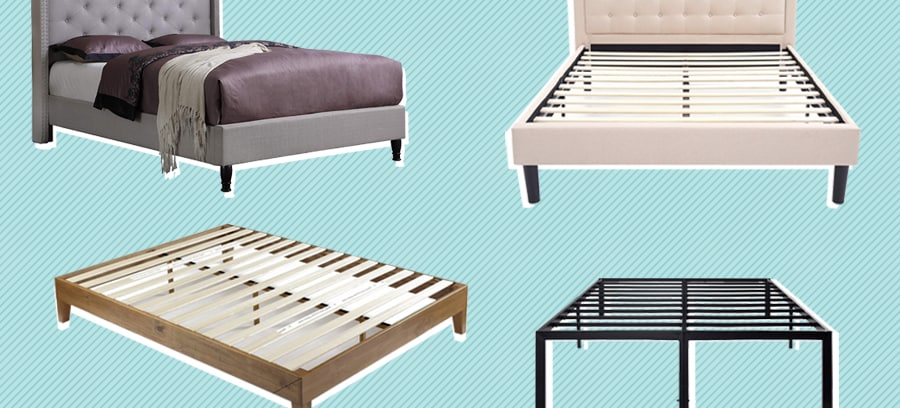 Editor's Pick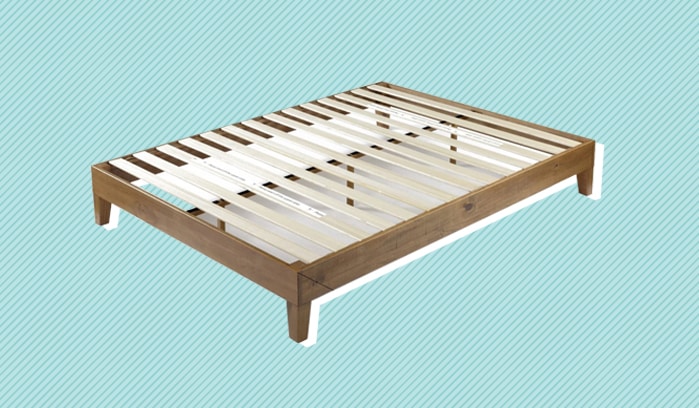 Zinus Deluxe Wood Platform Bed
My choice for editor's pick is the Zinus 12 Inch Deluxe Wood Platform Bed. This classic wood platform bed comes without a head and footboard and stands 12 inches high. The standard option is 3.5 inches thick, while the deluxe option is 5.75 inches thick. This frame is available in twin-king sizes and comes with a 5 year limited warranty.
Pros:
Pine finish. The finish on this frame is a versatile rustic tone that would complement just about any decor or style of bedding
Slat assembly. The slats stay firmly in place with easy-to-use Velcro attachments
Price. You won't do much better than this for a quality solid wood queen-size bed frame
Cons:
No pre-drilled holes for a headboard. If you want to attach a headboard to this frame, you'll need to drill into the frame and creates holes for bolts and other hardware
Slat width. The slats may be a bit wide to adequately support some all-foam mattresses
Zinus Deluxe Wood Platform Bed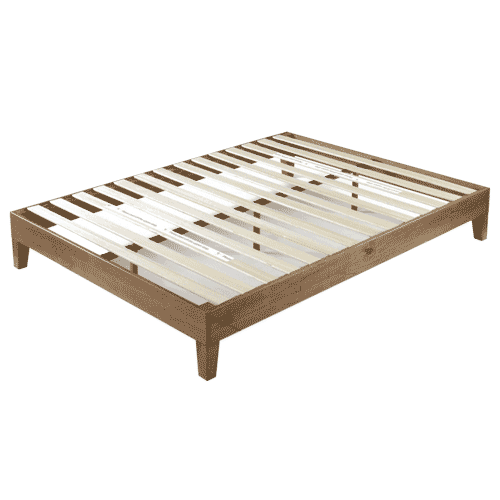 The Zinus Deluxe Wood Platform Bed has a nice pine finish and comes in at an affordable price.
Sleepopolis Score
4.70 / 5
Best Metal Bed Frame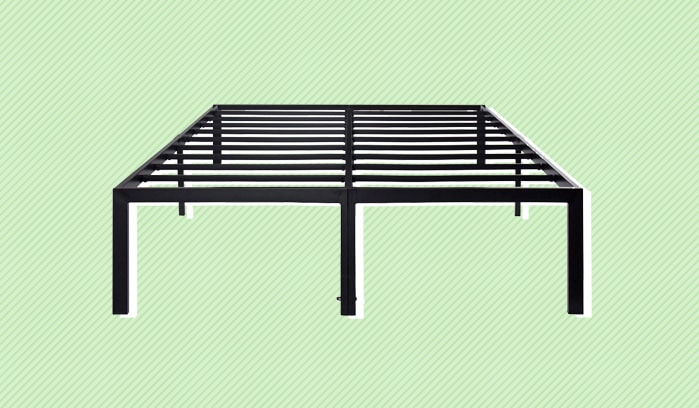 Olee Sleep Heavy Duty Steel Bed Frame
My pick for best metal bed frame goes to the Olee Sleep 14 Inch Heavy Duty Mattress Foundation. This high profile foundation is made with a brushed black steel frame and slats and arrives ready to assemble. The Olee mattress foundation comes in twin-king sizes and has a limited 5 year warranty.
Pros:
Durable steel construction. The Olee Sleep bed frame is made entirely from steel that didn't creak, wobble, or shift when I gave it a trial run
Slats. This frame's narrowly-spaced slats make it a great option for any type of mattress, including memory foam and latex
Headboard-ready. This bed frame comes with pre-drilled holes that make attaching a headboard a cinch
Cons:
Utilitarian look. This bed frame won't win any design awards, but it does the job well and can blend into just about any decor
Rough on the shins. Watch your legs and toes around the legs and corners of this bed frame
Olee Sleep Heavy Duty Steel Bed Frame
The Olee Sleep Heavy Duty Steel Bed Frame has a durable construction and is compatible with a headboard.
Sleepopolis Score
4.60 / 5
Best Upholstered Bed Frame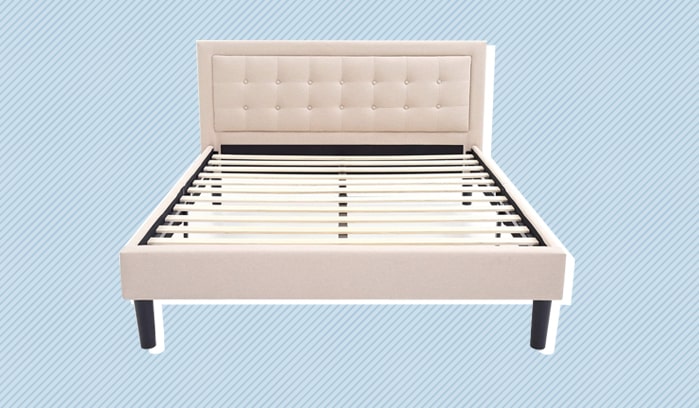 Classic Brands Mornington Upholstered Platform Bed
My pick for best upholstered bed frame is the Classic Brands Mornington Upholstered Platform Bed. This tufted oatmeal beige upholstered frame can be used without a foundation or box spring and is suitable for mattresses up to 12 inches thick. The Mornington includes all parts, tools, and assembly instructions.
Pros:
Design. The Classic Brands Mornington frame combines clean contemporary lines with a classic tufted headboard and soft, inviting padding
Good for heavy folks. This bed frame supports a combined 700 pounds, making it a reliable choice for larger sleepers
Durable slats. I liked the solid, well-constructed slats on this frame and was particularly impressed by how quiet they are
Cons:
Odor. Sensitive sleepers should be aware that this frame comes with a new-furniture smell that may take some time to dissipate 
Hefty box. All bed frame boxes are heavy, but this one felt particularly cumbersome to bring inside
Classic Brands Mornington Upholstered Platform Bed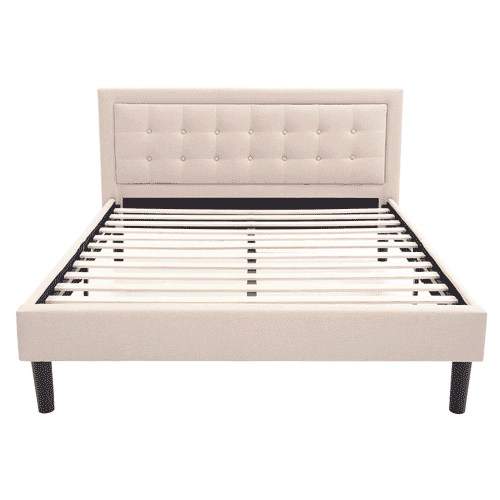 The Classic Brands Mornington Upholstered Platform Bed has a great design and provides nice support for heavier folks.
Sleepopolis Score
4.40 / 5
How We Picked
Okay sleepers, now that we've taken a look at my personal favorite bed frames, let's talk about the methodology behind my choices. Of course, everyone's needs and wants are different, but there are a few key factors to consider when you're shopping for the perfect bed frame.
Construction – Your bed frame is the foundation for you and your mattress, so make sure it's strong, sturdy, and manufactured from high quality materials. For the foundation and legs of the base, steel is a pretty safe bet. But sleepers looking to break up the steel construction with another material should go with wooden slats, as it provides support for your mattress, and adds a nice aesthetic flare as well.Personally, I aim for frames that can accommodate up to 500 lbs or more. This way, I know that my base is not going to gradually sink under the weight of my mattress over time. Not to mention, it's always a good idea to look for brands that offer a generous warranty of 5 years or more. This ensures that, if your base arrives with material defects or breaks, it'll be repaired or replaced at no expense to you.
Assembly – When it comes to assembly, a lot comes down to personal preference. If you don't feel particularly handy with a set of tools, aim for bed frames that can be assembled without them! Similarly, most bed frame brands offer "expert assembly" services wherein shoppers can pay an extra fee to have the bed frame set up for them.If you don't mind setting the bed frame up yourself, I suggest searching for models that comes with everything you need for assembly. This way, you can get right to work as soon as your bed frame arrives. Regardless, every bed frame comes with step-by-step assembly instructions if you ever get confused.
Design – Take some time to determine what you want your bed frame to look like! Some sleepers might prefer a simple, sleek design with no headboard or upholstery, while others might prefer a stylish, more dynamic design. Of course, space is always something to consider, regardless of what you choose.If you're short on space or live in a smaller apartment, I suggest looking for bed frames that feature a foldable design. This means that you can literally fold the frame in half and stow it away if you're not using it (this also makes it much easier to travel with!). Conversely, if you're more concerned with style than space, go with a frame that comes with an upholstered headboard, or one that allows a headboard to be attached.
Underbed Storage – Underbed storage is something I always prioritize when I'm on the hunt for a bed frame. Of course, some folks may prefer a low profile frame for aesthetic purposes, but having at least 10 inches of storage space beneath your bed allows you to discreetly stow things away. Not to mention, it gives you easy access to sleep accessories that you don't want to keep in bed with you. For example, body pillows are cuddly, but take up a lot of space when you're not using them. With underbed storage, you can keep your body pillow, pajamas, or any other accessories within close reach.
Noise – Always pay attention to the materials used to build your bed frame, as well as the weight limit suggested by the brand. Sturdy materials like wood and steel can prevent your frame from creaking and squeaking as you toss and turn, but if you and your mattress exceed the weight limit, noise may be unavoidable. Take some time to figure out the combined weight of you, your mattress, and/or your sleeping partner in order to best determine the bed frame that's best for you.Additionally, some bed frames are built with foam-padded tape around the foundation in order to minimize those creaking sounds. If you're a light sleeper who's easily roused by nighttime noises, this might be a good feature to look out for!
Box Spring – Brands are increasingly building bed frames that do not need to be used with a box spring. However, some sleepers may prefer to use one! Take some time to consider whether or not you want your bed frame to compatible with a box spring, or if you prefer a frame that offers the option to use a box spring or not.
Price – As with most pieces of bedroom furniture, price ranges quite a bit depending on the design and materials used. However, there are many sleek, steel frames for under $100. If you're not looking for anything too fancy, or you're trying to stick to a strict budget, aim for brands that offer a wide variety of models. This way, you can narrow your search according to how much you're looking to spend.Regardless of price, I always suggest doing research into both the company and the product to make sure you're getting exactly what you have in mind. Not to mention, a generous return policy and/or warranty inspires confidence in the shopper, and lets you know that the company cares about customer satisfaction.
Sleepopolis Tips
Before we wrap up my guide to the best bed frames, allow me to leave with you a few helpful tips to guide you in your search.
While assembly is often pretty straightforward, some folks might find setup to be kind of intimidating (I can relate, trust me). Not to mention, bed frames are often made of steel and can be quite heavy. So, I suggest taking advantage of white glove delivery or assembly service when it's offered. Sometimes it costs an additional fee, but occasionally it's complementary!
For those who are unsure as to whether or not they want a headboard, go with a frame that gives you the option. Scroll through the "product description" to find out whether or not the frame is "headboard compatible." If it is, you can order the frame without a headboard, and simply attach one later.
When it comes to bed frames, I want to stress the importance of warranties. Yes, policies differ from brand to brand, but they all cover material defects for which the company is responsible. This means that if your bed frame arrives damaged, you'll be promptly refunded.
Final Thoughts
Well, we've reached the end of my guide, and (hopefully) you've gotten a good sense about which bed frame is best for you. Just remember that bed frames are the foundation for your mattress, and are a relatively big investment! So be sure to do plenty of research before you make your purchase, and take some time to consider all the little details. After all, a good bed frame will be supporting you and your mattress for years to come. Happy shopping!