Today I'll be diving into the original WinkBeds mattress, a hybrid model that combines a plush pillow top with ultra-supportive coils for a super cozy sleeping experience. Aside from checking out its specs, I'm excited to scope out this model because it's the brand's very first bed-in-a-box.
This bad boy measures a mighty 14" from base to cover and contains a gel-infused cooling layer amidst its many coils — but can it offer just the right comfort and support you're looking for? I won't know until I peep the scene for myself. Join me as I put it to the test to find out if it could be the mattress of your dreams!
Short on time? Click here to skip to my review summary.
$300 Off!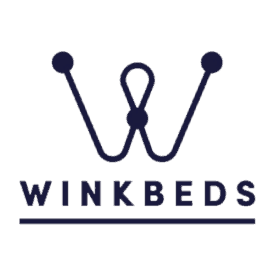 Built with a plush pillow top and a buoyant coil-on-coil structure, the WinkBeds is a great option for a wide range of sleepers! 
BRAND SNAPSHOT
WinkBeds was founded in 2014 with a simple mission to create high-quality mattresses using eco-friendly, American-sourced materials. After perfecting its original mattress (which I'll be assessing in this review), the brand moved onto the WinkBeds Plus, designed specifically for heavier individuals (my review of which you can check out here). For more on the brand's history, take a peek at our interview with WinkBeds founder Dan Adler.
While WinkBeds stands out as one of the most popular hybrids on the market, it faces some pretty steep competition from Saatva and DreamCloud, both of whom produce luxurious hybrid models at affordable prices.
I'll shed more light on these competitors later on in this review, but for now let's zoom in on the construction of the WinkBeds mattress.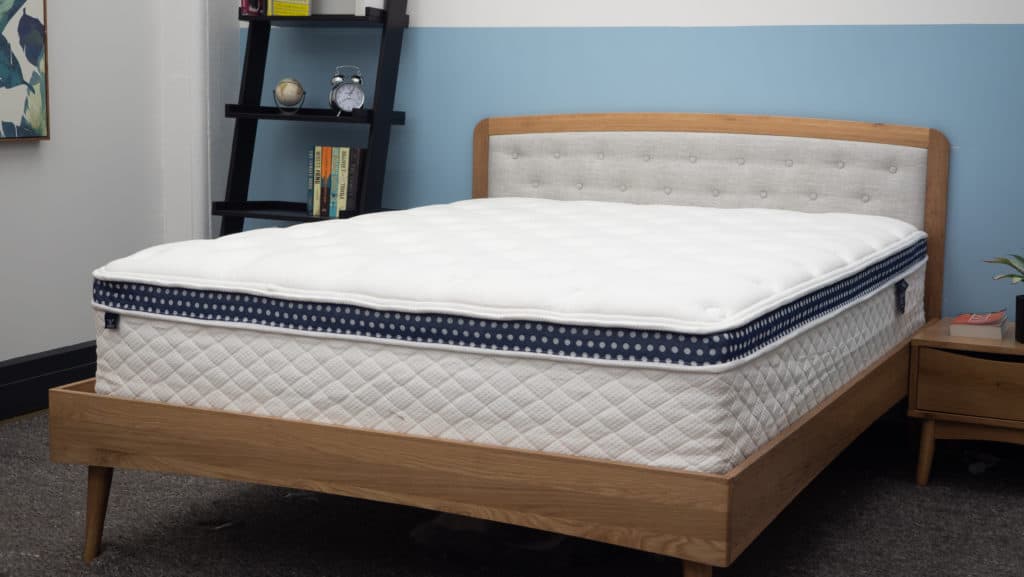 CONSTRUCTION
The original WinkBeds mattress is a fairly hefty bed featuring 4 layers of pressure-relieving foam, microcoils, and pocketed coils. This combination of materials results in a bouncy and highly supportive structure that also happens to sleep extremely cool. Customers can choose from a range of firmness levels, but for this review, I'll be focusing on the Medium Firm version.
But enough talk for now — let's dive in and explore what makes the construction of a WinkBeds mattress so unique!
COVER – The cover is made of Tencel, an all-natural, eco-friendly material made from eucalyptus wood cellulose (that's right: eucalyptus wood cellulose). Lighter woods such as eucalyptus and bamboo are known for being light and breathable. Quilted detailing also provides pressure relief and a bit of soft sinkage right off the bat.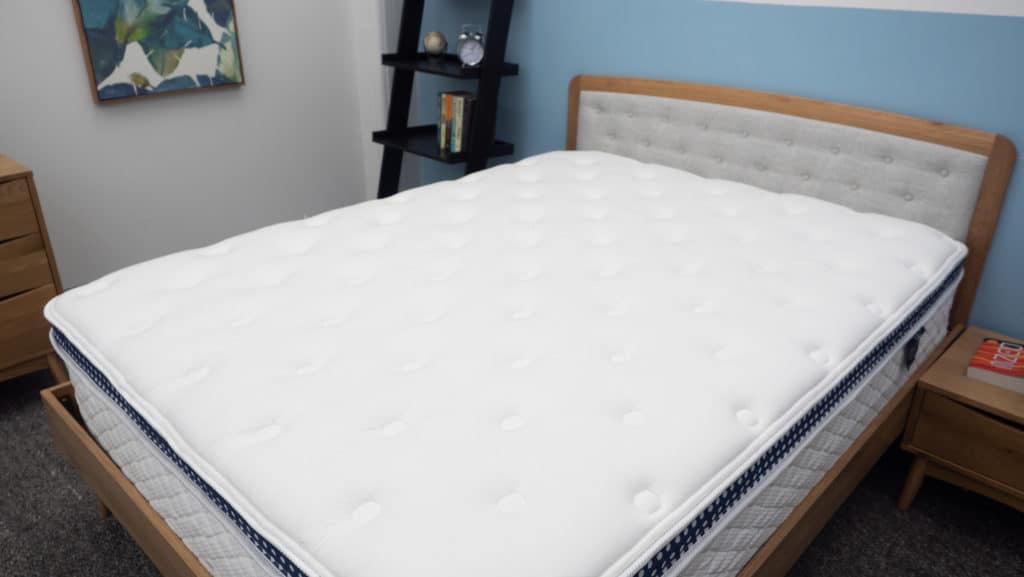 EURO-PILLOW TOP – Comprised of gel-infused foam, this comfort layer is smooth and luxurious to the touch, but retains a fair amount of firmness and support. While regular foam has a tendency to overheat, the gel in this foam layer keeps things cool by lowering the temperature of trapped body heat. The gel-infused foam lies just beneath the Tencel cover, dispersing warmth from the top cover throughout the rest of the mattress. Think of the Tencel as the yin, and the Euro Pillow Top as the yang: the two layers work together to keep you cool and comfy as you snooze.
BOUNCE – This bed's bouncy support layer consists of soft-but-sturdy microcoils, giving the mattress its uniquely cushy combination of softness and support. Microcoils are made from thinner and more flexible wire than, say, pocketed coils, and they provide a much greater feeling of pressure relief between the top and bottom lawyers. This microcoil support layer helps the sleeper avoid that pesky feeling of being "stuck" in bed or sinking too far into the mattress.
FOUNDATION LAYER – Lastly we come to the foundation or base layer, composed of a whopping 8" of pocketed coils. These pocketed coils are zoned into seven sections that provide different firmness and pressure relief at different contact points along the body as you sleep. Essentially, you're getting more sinkage at the shoulders and hips, but more support and firmness to cradle your spine and lower body. Another feature of note here is that pocketed coils are individually wrapped, which provides a bouncier and more breathable feel than traditional steel coils. Finally, the coils are great for those worried about durability as the won't sag as quickly all foam support does.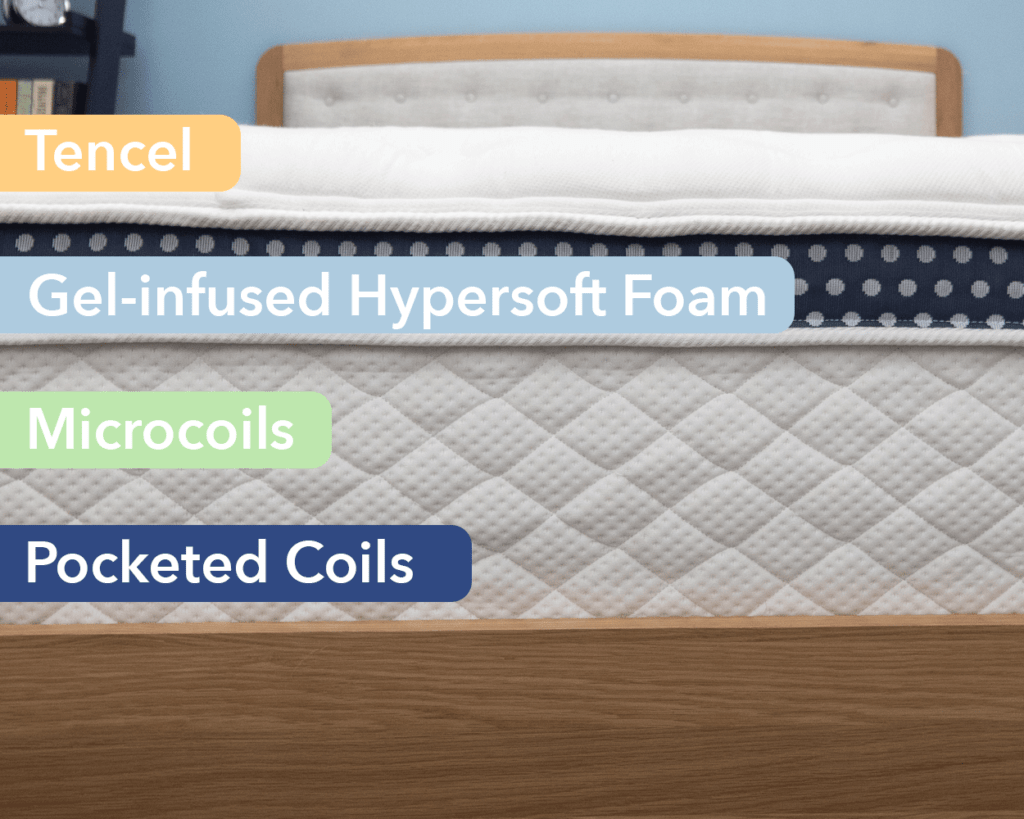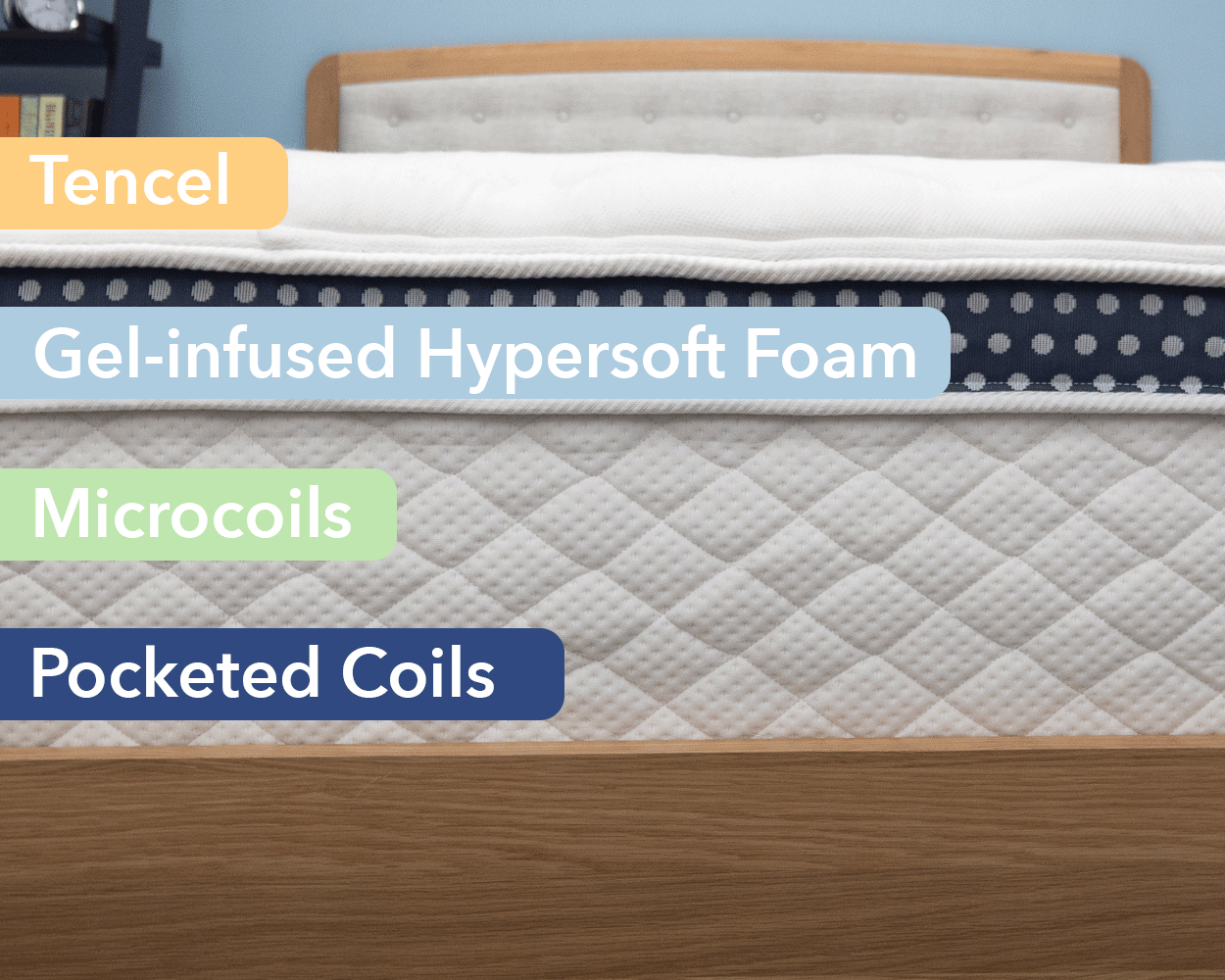 FEEL & FIRMNESS
$300 Off!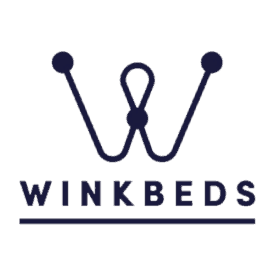 Built with a plush pillow top and a buoyant coil-on-coil structure, the WinkBeds is a great option for a wide range of sleepers! 
Now that we know how a WinkBed is made, let's see how a WinkBed really feels.
Pressing my hand down into the mattress cover, one of the first things I noticed was how easily it sank into the quilted Tencel-cover and top foam layer. However, as I added more pressure, I felt the micro-coils pushing back and creating a bit of cushiony resistance against my fingers. (Quilted Tencel, by the way, is a pretty phenomenal tactile experience on its own. Even just brushing my hand over it was a satisfying experience.)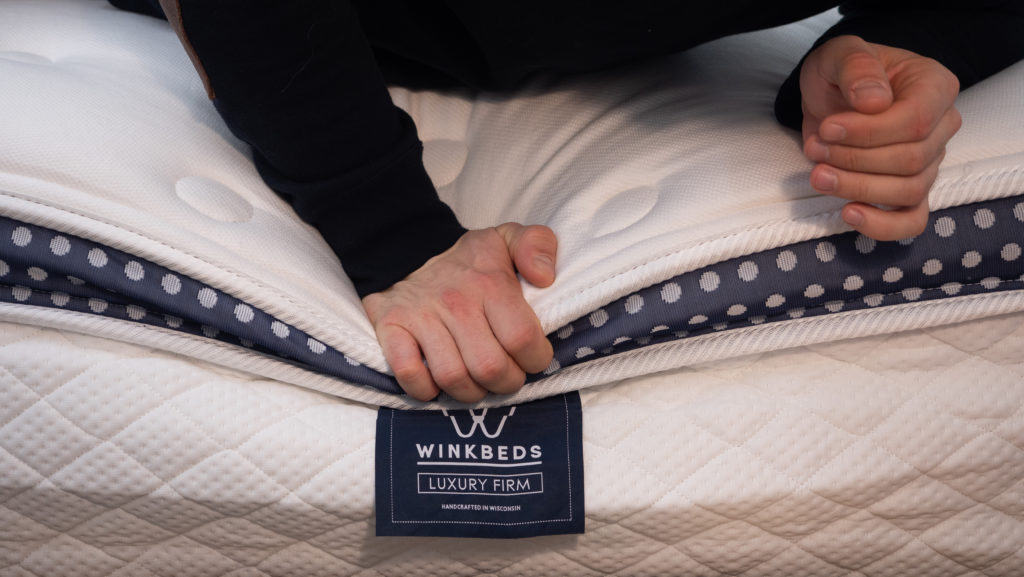 Since we're all different sleepers with different ideas of what makes a bed truly great, I sought out some friends to help give the fullest picture possible of the WinkBeds experience. I decided to bring in three other testers to check out the WinkBeds mattress. We each took a turn lying on the mattress and gave it a personal rating, and finally I compiled the ratings on the graph below.
While the way a mattress feels will inevitably vary from person to person, our responses can provide you with an approximate idea of the firmness range you can expect from this bed.
(As I mentioned earlier, this WinkBeds model is available in a range of firmness levels, including Plush, Medium and Firm, as well as a Plus model for heavier folks. For this test I chose the medium).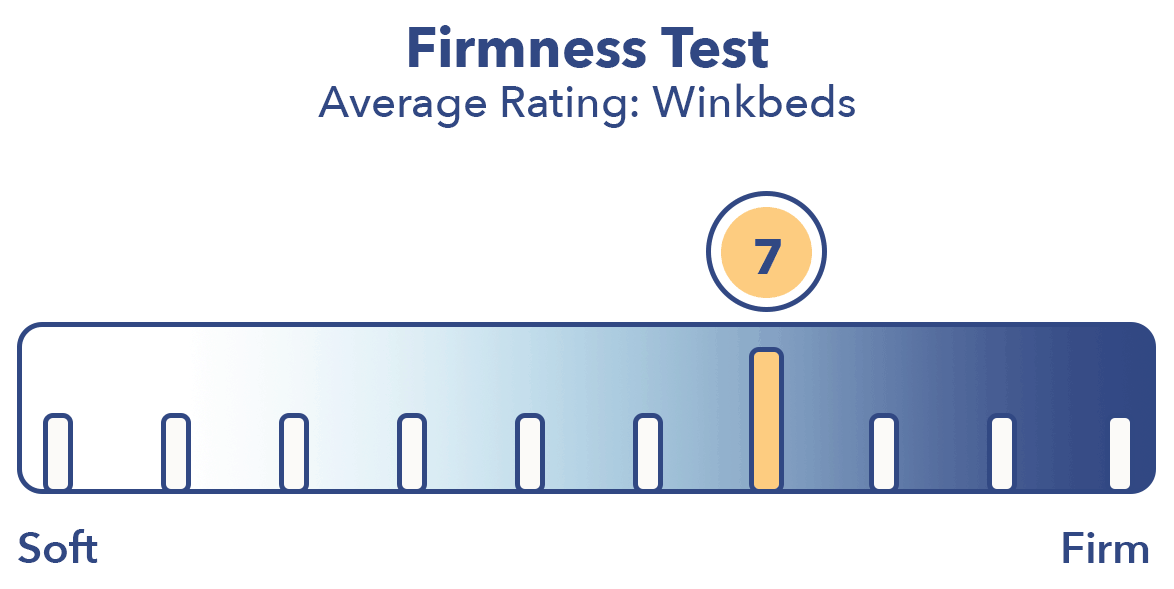 As you can see from the graph above, this medium firm mattress is aptly named, falling just on the higher end of the medium firm range with an average rating of 7. Compared to the industry standard of 6.5 for medium firmness, this bed is a tad on the firmer side.
I personally rated the bed a 7 as as I found the cushion of its top layers to be relatively thin compared to the dense coil-on-coil layers below. While the Tencel cover and Euro-pillow top foam do lend the bed some initial sinkage and softness, the bounce from the coils will likely make it feel as though you're sleeping more "on" the mattress than "in" it.
That being said, I think the cushiony resistance of the microcoils combined with the light, airy bounce of the top cover would make this a perfect mattress for combo and stomach sleepers, or anyone who needs to change positions frequently throughout the night. On the flip side, side sleepers may find the bed too firm for their specific needs (i.e. pressure relief at the shoulders and hips).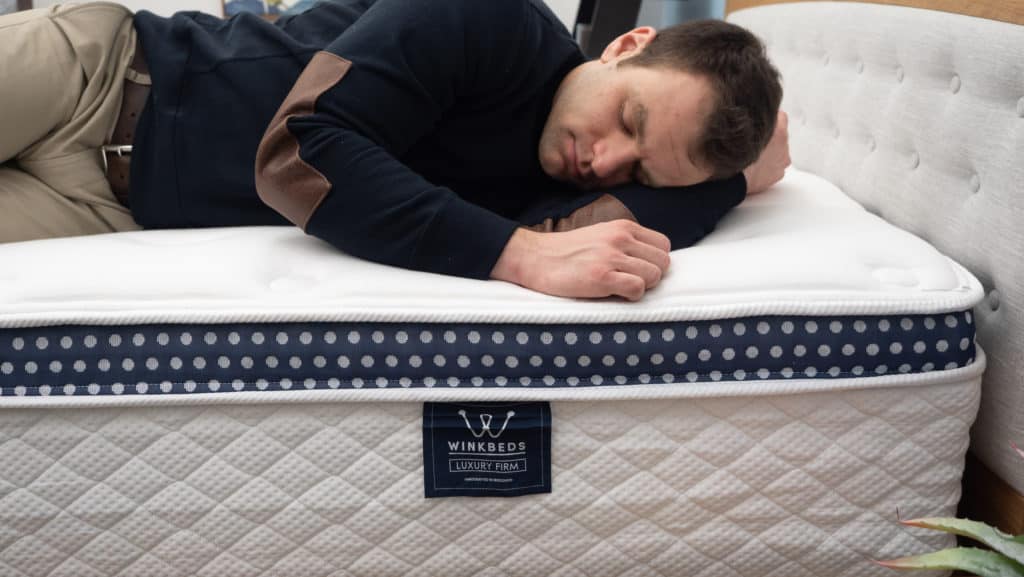 PRESSURE MAP
One feature that should always be considered when buying a new mattress is pressure, or how the bed will feel against various pressure points of your body as you sleep. Side sleepers, for example, typically experience pressure at the shoulders and hips, where they sink a little more into the mattress.
To help get a better grasp on this model's potential pressure points, I placed a pressure map on top of the mattress and measured the pressure on my body while lying on my back, stomach and side. You can see the results on the image below where pressure is represented from blue (low pressure) to red (high pressure).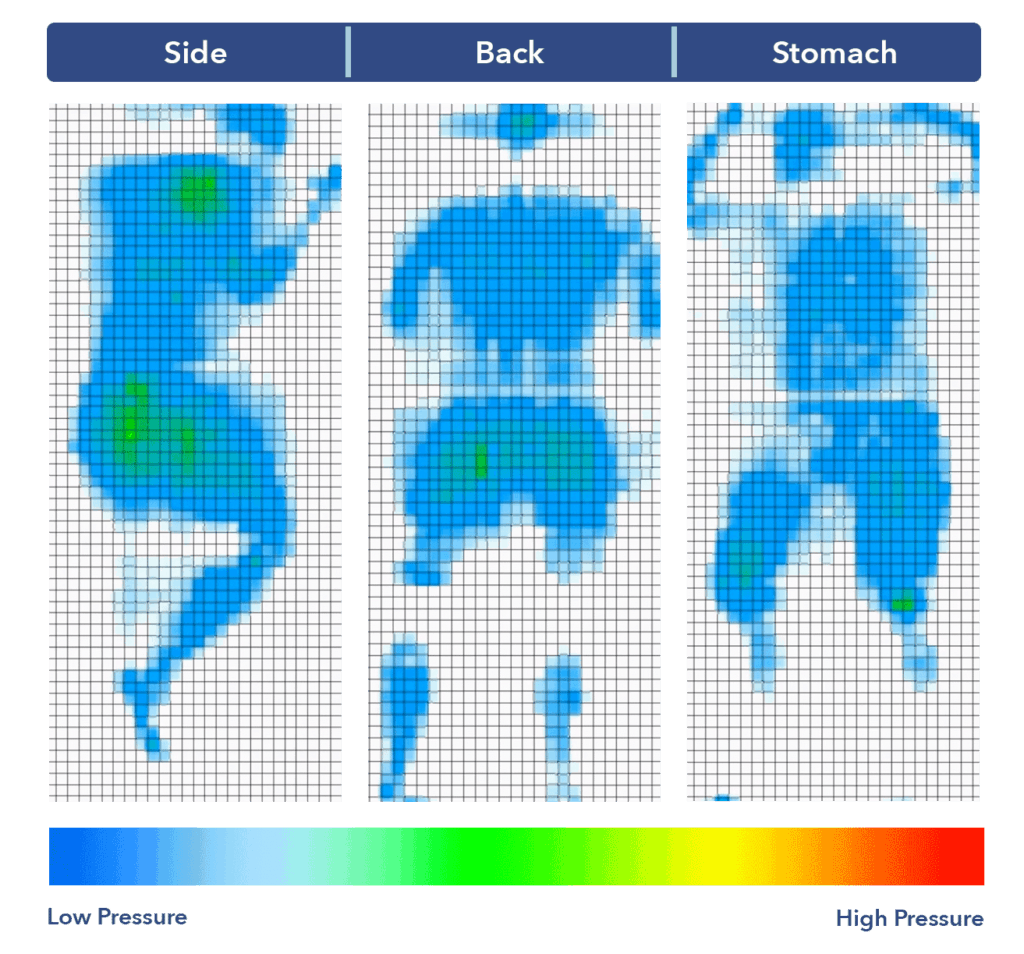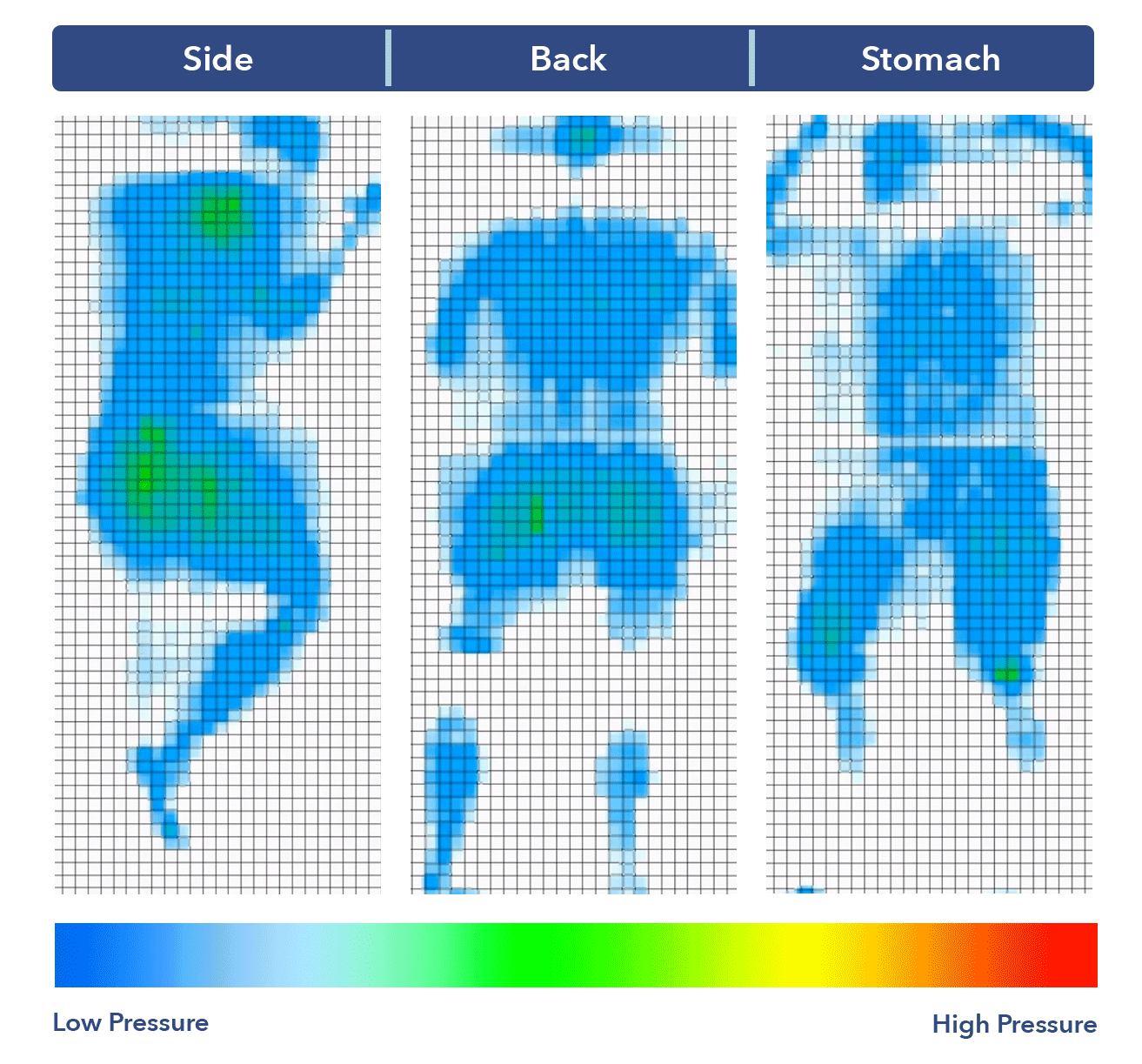 Back – Stretching out on my back, I felt the top layer was soft but very supportive. Unlike a memory foam mattress, I didn't feel enveloped in the bed, and found it easy to move around and switch positions. My weight was evenly distributed, and as you can see from the graph, I experienced almost no pressure in this position.
Side – Rolling onto my side, I could feel some slight pressure forming at my shoulders and hips. Pressure at these contact points is typical with firmer mattresses, and the WinkBeds is a fairly firm structure (again, scoring about a 7/10 on the firmness scale). This particular model is probably not the best mattress for side sleepers, who generally need deep body contouring and sinkage to stay comfy through the night. I recommend the WinkBeds Soft model for side-sleepers who need a little extra support.
Stomach – Switching to a prone position, I found that lying on my stomach was much the same as lying on my back — my weight was evenly distributed with very little tension. I felt well-supported at the hips, a necessity for stomach sleepers to prevent the lower body sinking out of alignment and creating tension in the spine. It's worth noting that heavier folks may want to look to the firm or plush version of his mattress, depending on preference.

$300 Off!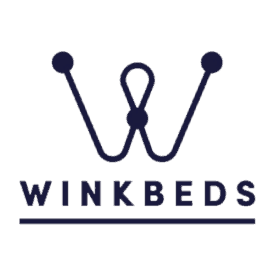 Built with a plush pillow top and a buoyant coil-on-coil structure, the WinkBeds is a great option for a wide range of sleepers! 
WINKBEDS VS. COMPETITORS
Since every mattress is unique, comparing mattresses from different brands can sometimes feel like comparing apples to oranges. But the WinkBeds mattress has a couple of noteworthy competitors who offer similar models, so I thought we'd take a look at those competitors and see how the WinkBed differs. Knowing what does (or doesn't) set the WinkBeds brand apart can help you as you navigate the mattress-buying process.
The WinkBeds closest competitors include Saatva and DreamCloud, two brands offering luxurious hybrid mattresses at similarly affordable prices.
Saatva
Like WinkBeds, the Saatva model features a coil-on-coil structure for strong support and an organic cotton cover for breathability. However, the Saatva is not a bed-in-a-box model.
If you like having a lot of options for back support, you can still have your pick of three firmness levels with Saatva: Plush Soft, Luxury Firm, and Firm.
Environmentally conscious shoppers should note that Saatva is even more eco-friendly than WinkBeds, with innersprings made from recycled steel, and plant-based renewable foam layers.
For those looking to save a few bucks, the Saatva is more budget-friendly than either the WinkBeds or the DreamCloud, priced at just $1,099 for a Queen.
Learn more in my full Saatva review!
DreamCloud
The DreamCloud model, meanwhile, is a bed-in-a-box that opts for memory foam layers instead of coils, but is a bit firmer overall.
Measuring a whopping 14" from base to cover and containing twice as many layers, the DreamCloud is better suited for those seeking a more luxurious experience. However, unlike WinkBeds, not all of those luxurious layers are eco-friendly.
The DreamCloud features additional edge-support, which is great for sleepers who gravitate away from the center of the bed — no need to worry about falling off the bed!
If budget is a concern, you might find the DreamCloud a little easier on the wallet, clocking in at $1,199 for a Queen.
Check out my full review of the DreamCloud for a deeper dive.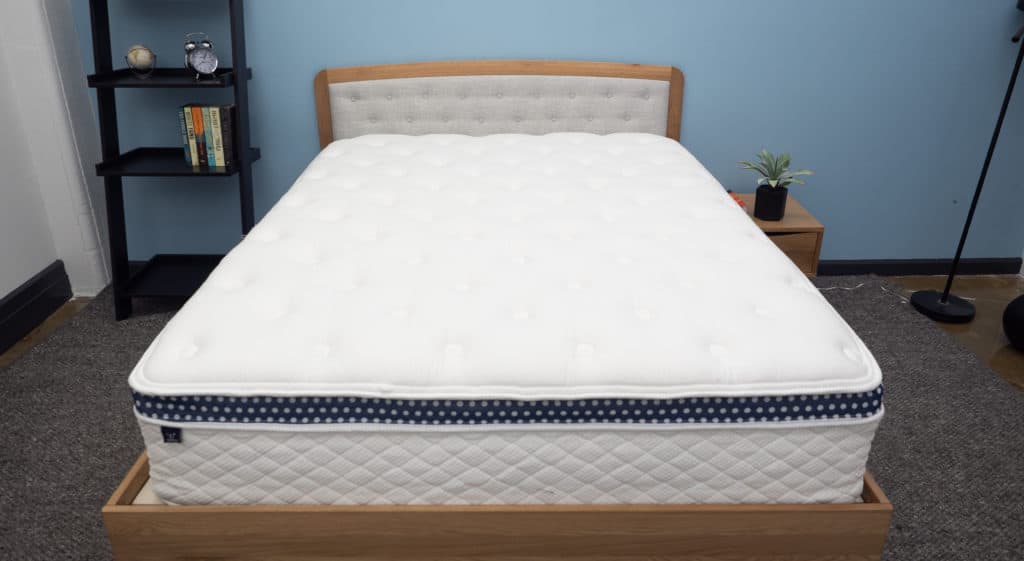 SINKAGE TEST
Sinkage is a great measure of a bed's overall softness and pressure-point relief. A good sinkage test can give you an idea of the bed's support in different sleeping scenarios, and how the bed might feel for different body sizes and types. To demonstrate this bed's sinkage, I placed four balls of varying sizes and densities (a 6 lb medicine ball, a 10 lb steel ball, a 50 lb medicine ball, and a 100 lb medicine ball) on the mattress and measured how much they compressed the surface.
The variations in size, weight and density are meant to simulate different body parts and different sized sleepers.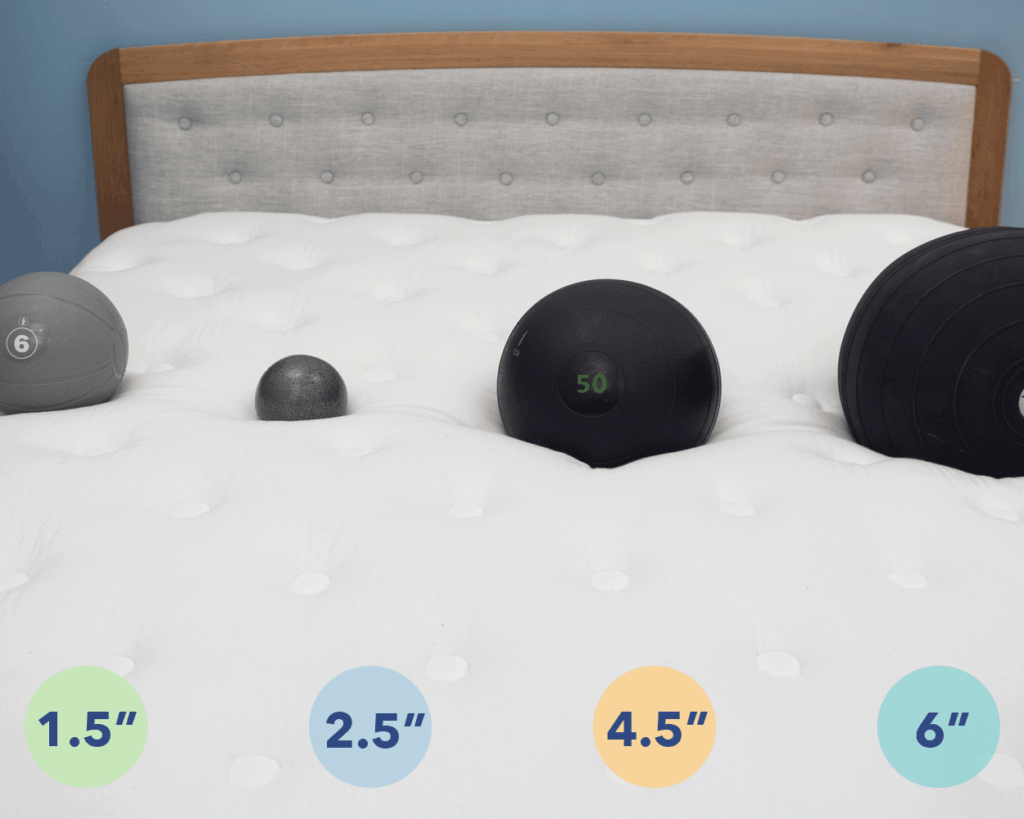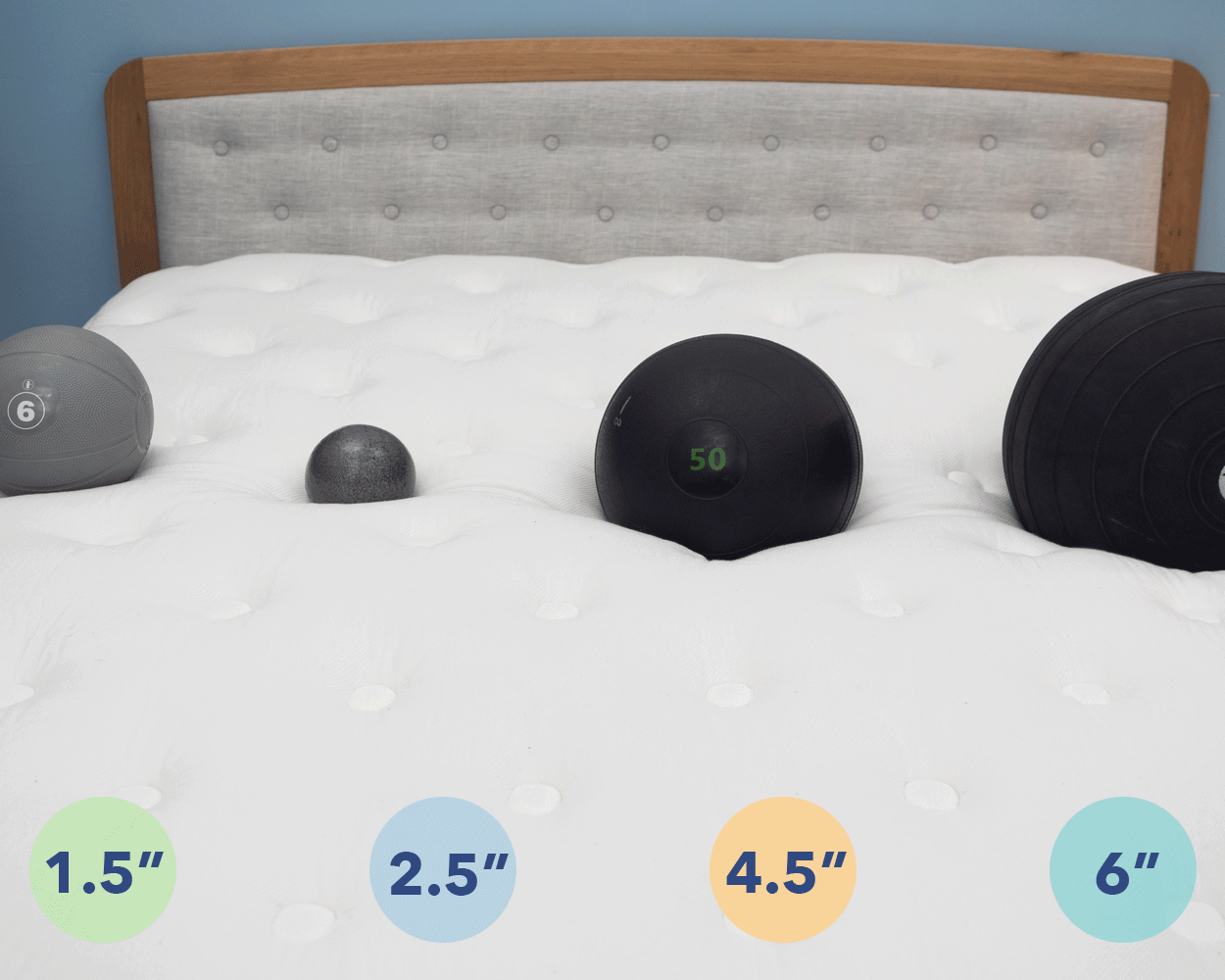 6 lb medicine ball: 1.5 inch of sinkage.
10 lb steel ball: 2.5 inches of sinkage.
50 lb medicine ball: 4.5 inches of sinkage.
100 lb medicine ball: 6 inches of sinkage.
The six, ten and fifty pound medicine balls produced a bit more sinkage than I would have expected, given the sturdy support layers. This is largely due to the softness and flexible material of the pillow-top comfort layer. The 100-pound ball, however, produced average results compared to other mattresses, which makes sense considering the bed's firm foundation layer of pocketed coils.
MOTION TRANSFER
If you've ever shared a bed with a partner or a pooch, you know how important motion transfer can be in a mattress. Motion transfer is essentially the amount of movement that travels through the mattress when touched or disturbed. No mattress review would be complete without a good motion transfer test, so read on to see how this bed measures up.
To illustrate this motion transfer, I dropped a 10 lb. steel ball from heights of 4 inches, 8 inches and 12 inches and measured the disturbance it caused: the bigger the lines on the graph, the bigger the disturbance.
FYI: Each drop is meant to symbolize a different movement you're likely to experience in bed, from light tossing and turning (4"), to getting out of bed (8"), to full-on jumping (12").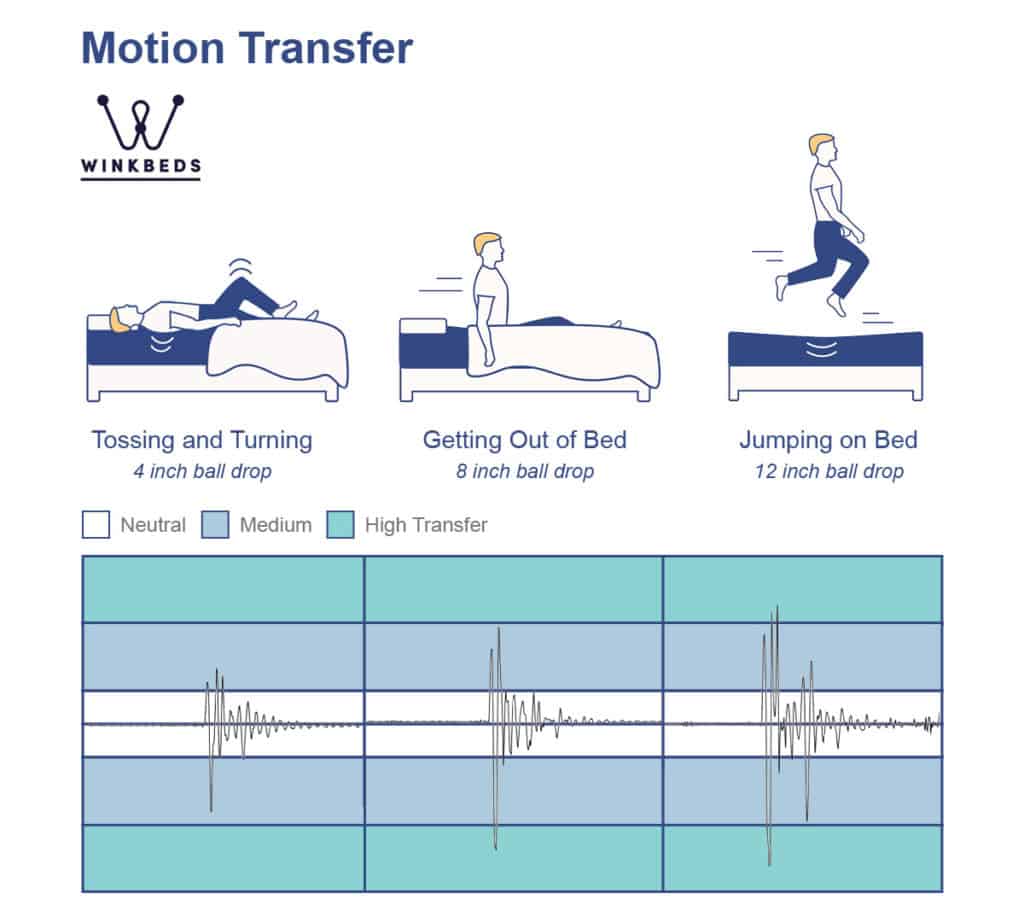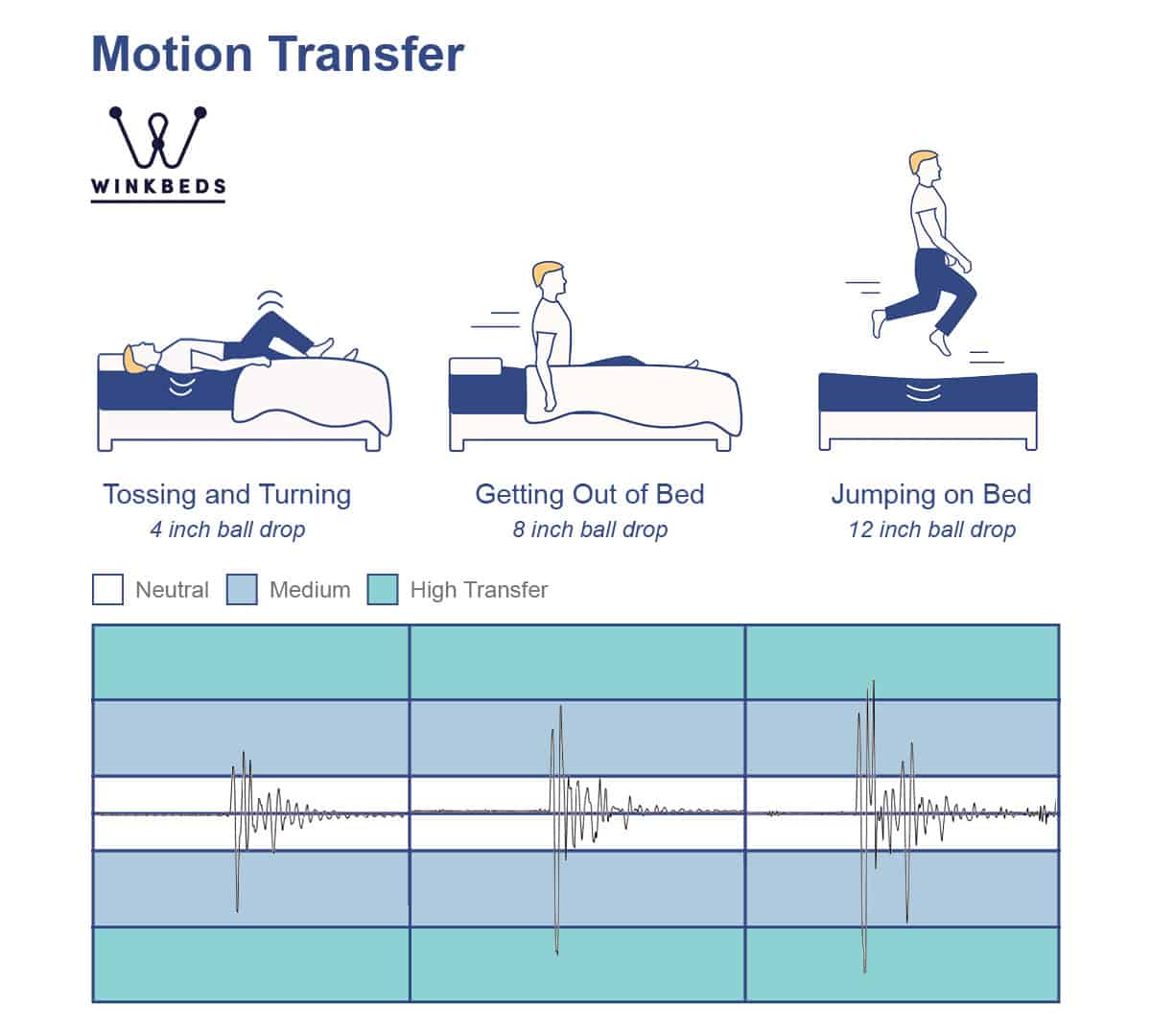 Because this bed is comprised almost exclusively of bouncy, breathable coil layers (with plenty of airflow between coils), it is highly sensitive to motion. Small disturbances aren't likely to disrupt your slumber with this bed, but big movements like jumping are easily felt. If you're a light sleeper looking for a bed that absorbs motion, you might want to check out a bed with less bounce and more sinkage, such as a memory foam or dense foam model.
SHOULD YOU BUY A WINKBEDS MATTRESS?
The WinkBed is a pillow top hybrid mattress in a box that has a really solid frame. The Luxury Firm version that I tested has a medium support level that is great for a wide range of sleepers. I also appreciated that the Tencel cover and the WinkBed's overall design help it sleep pretty cool.
Recommendations
Combo sleepers rejoice! The bounce of the coil-on-coil construction should allow you to switch sleeping positions with ease, while still providing a little bit of cushion to support pressure points.
For fans of a more traditional innerspring feel, this mattress definitely evokes that classic, bouncy vibe. This could make the WinkBed a great mattress for seniors, who may not be comfortable with other mattress-in-a-box options.
If you tend to sweat while you sleep or overheat at night, this bed's cooling capabilities, breathable comfort layers, and coil-on-coil design are sure to help you beat the heat on even the warmest nights.
$300 Off!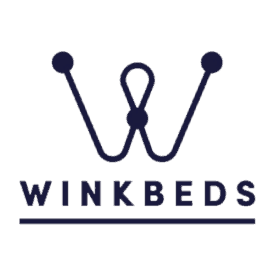 Built with a plush pillow top and a buoyant coil-on-coil structure, the WinkBeds is a great option for a wide range of sleepers! 
WinkBeds Complaints
This bed's bounciness and buoyancy do make it super susceptible to motion transfer, so you may want to consider a less bouyant mattress if you sleep with a partner or pet.
Likewise, the sturdy support structure and coil layers mean this bed doesn't provide as much contouring or sinkage as a memory foam or foam-based mattress.
Other WinkBed Reviews
WINKBEDS REVIEWS: SIZE AND PRICING INFORMATION
Wondering if the WinkBeds will fit in your bedroom and/or your budget? Check out this handy-dandy size and pricing chart, which lists the size, dimensions, weight and price for each WinkBeds model. Please note that this table reflects standard pricing, but you can use the Sleepopolis WinkBed coupon to save on your purchase!

| Size | Dimensions | Price |
| --- | --- | --- |
| Twin | 39" x 75" | $1,049 |
| Twin XL | 39" x 80" | $1,149 |
| Full | 54" x 75" | $1,299 |
| Queen | 60" x 80" | $1,599 |
| King | 76" x 80" | $1,799 |
| California King | 72" x 84" | $1,849 |
WinkBeds Purchasing Information
Where can I buy a WinkBeds mattress?
You can order WinkBed mattresses directly from the WinkBed website.
Where can I try a WinkBed?
WinkBeds offers a 120 night in-home trial.
Do WinkBeds come in boxes?
Yes, WinkBeds are great bed in a box mattresses that use a coil on coil structure to offer a sturdy feel.
How much does shipping cost for WinkBed mattresses?
WinkBed mattresses ship for free.
How long is the warranty on a WinkBed mattress?
WinkBeds mattresses are covered by a lifetime warranty.
Just getting started? Begin your mattress search with my mattress reviews breakdown.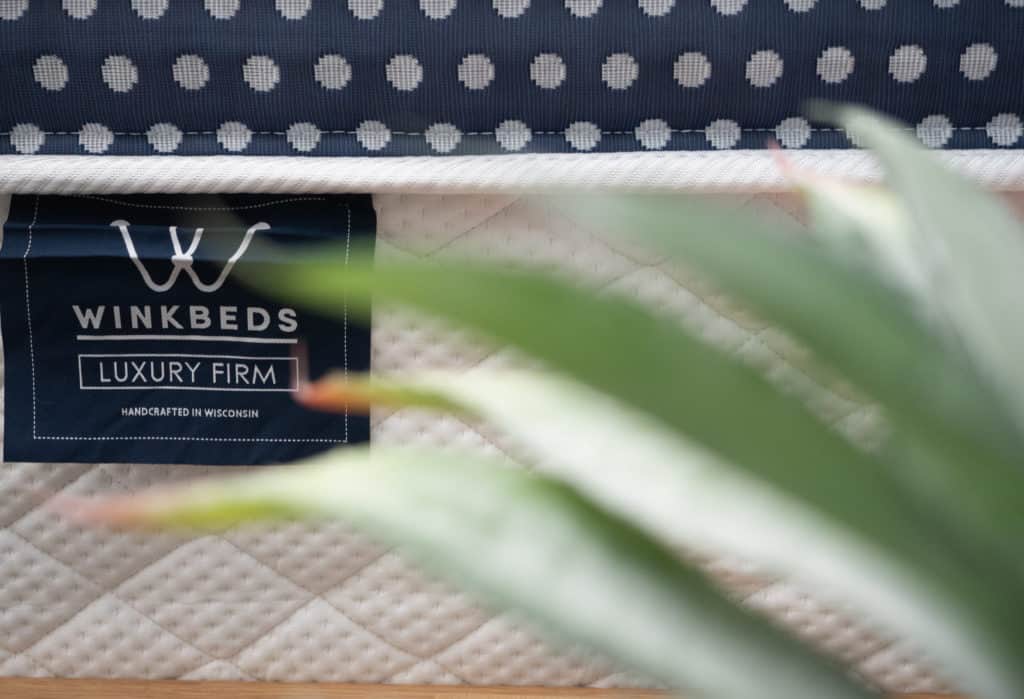 WinkBeds Mattress
Materials

Comfort

Support

Value

Cooling

Edge Support

Sex

Smell

Company

Refunds

Trial

Warranty
Summary
WinkBeds combines a classic innerspring construction with a European-style pillow top with both memory foam and soft poly foam. This makes for a very pressure relieving construction that still has the support of pocketed coil springs. WinkBeds also features an additional layer of edge support to help maximize usable space on the bed. This mattress has a medium feel that combines elements of pressure relief and noticeable support.
The following two tabs change content below.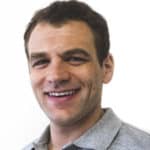 Logan is the content director of Sleepopolis, which means he not only reviews new mattresses every week, but also curates all the comparisons, best of pages, and video guides on the site. He takes a straightforward, honest approach to his reviews and endeavors to give viewers an objective look at each new product he tries out. Logan has perfected his method by personally testing over 200 different mattresses, so he's not only able to discern the overall vibe of a specific bed, but to contextualize its feel within the bed-in-a-box market as a whole. When he's not hopping on a new bed or working with our editorial team to whip up an engaging sleep education guide, you can find him reading books on world history, walking his dog Pepper, or searching for the best cheeseburger in New York City.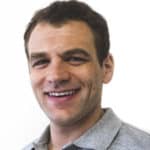 Latest posts by Logan Block (see all)