What's the best pillow for side sleepers? While not one pillow will work for everyone, there are certain qualities that help ensure side-sleepers get the support and comfort they need to sleep well.
If you sleep on your side, you generally need a firm and full pillow to fill the space between your head and the mattress. With proper support, your head will stay in a neutral alignment—perpendicular to your shoulders— to ensure your neck doesn't flail in any one direction and you wake up without soreness and stiffness.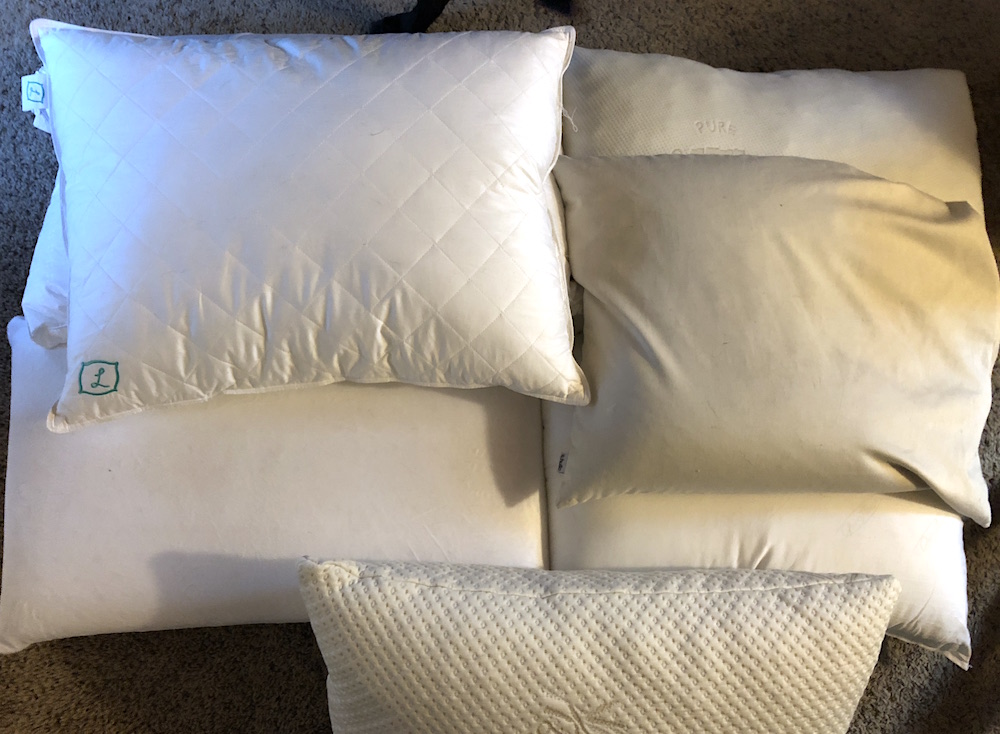 Top 6 Pillows for Side Sleepers
To find a pillow that won't sink too low or plump up too high is hard. That's why we're here! Keep reading for my top 6 pillow options for side sleepers, after having slept on them myself. (And because I'm a side sleeper, I can vouch for these over any other pillows on the market!)
Why These Top Picks?
While all of these pillows offer great support and comfort for side sleepers, they each have their own unique qualities. Plus, one size does not fit all when it comes to pillows. Read on to learn about these different options for side-sleeping sweet dreams.
Best Pillow for Adjustable Support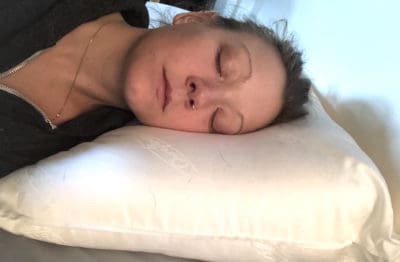 If you want full control over how firm or soft your pillow is, then try the Chiroflow Water pillow! You simply add or remove water to get the shape and sturdiness you desire. And once you have the water fill down, you won't need to replace it for a year.
The waterbase filling does a great job at adapting to movement; if you toss and turn at night, your body will stay properly supported and aligned. Plus, many users, patients, and clinicians explain that this pillow specifically relieved their neck pain. In fact, this pillow was only sold to doctors and medical clinics before being open to the public. Learn more in my full Chiroflow Water Pillow review.
Best Pillow for Side Sleepers with Neck Pain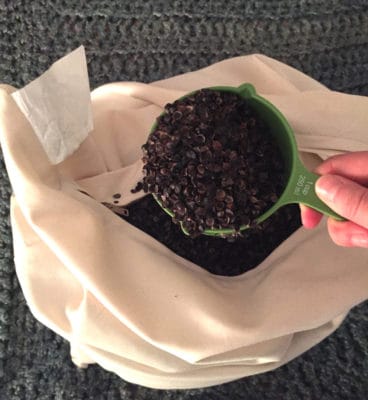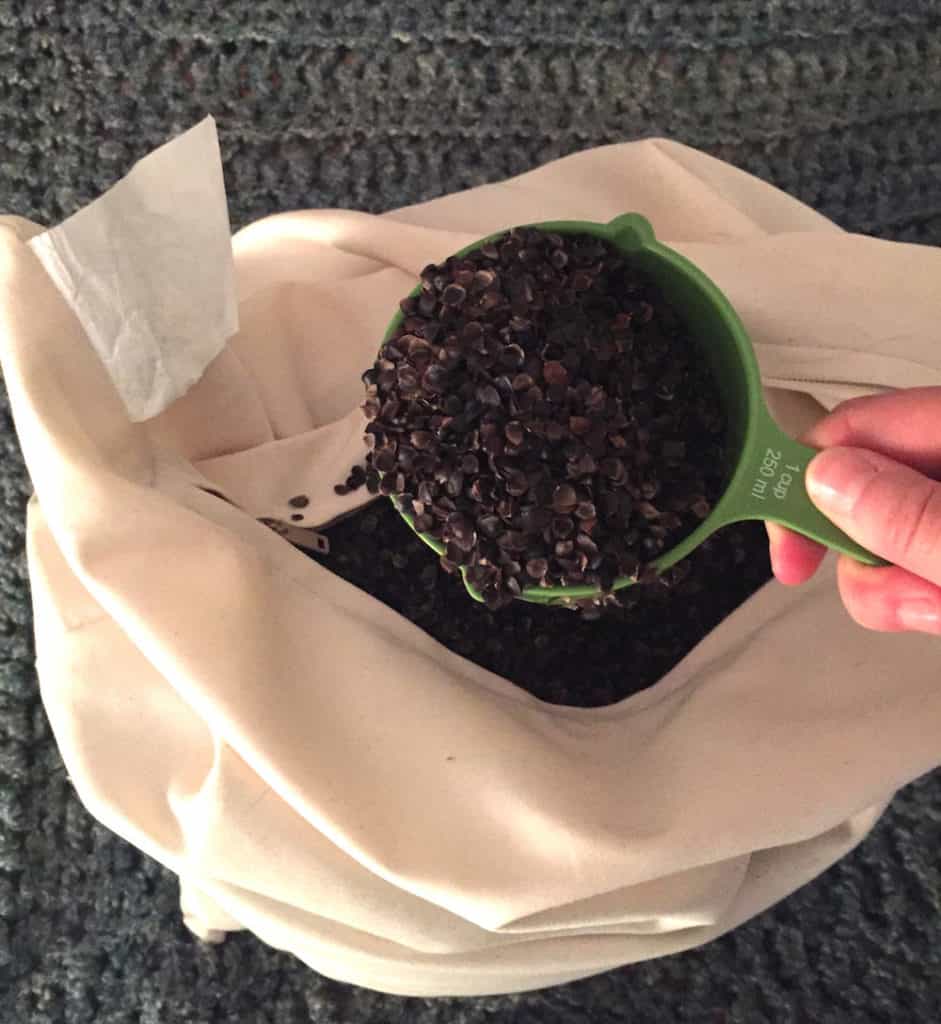 After sleeping on a lot of buckwheat pillows, The Hullo was my favorite when it came to neck pain. It was just the right balance of firmness and softness to keep my entire spine in alignment, which is key to avoid neck soreness in the morning. What's more, the materials to make the pillow are carefully and thoughtfully sourced, and it was the least noisy pillow out of the bunch.
Now don't get me wrong: buckwheat pillows are notorious for feeling hard and heavy. But side sleepers, and especially those with neck pain, need extra sturdy support to keep their neck in the right alignment. I wrote in my review how the hearty support cradled my neck at just the right angle, so my whole spine was safely aligned as I slept. A bonus gesture is the hulls are removable, so you can add or remove some of the filling to get the right height and firmness level you desire. Learn more in my full Hullo pillow review.
For a runner-up pillow that isn't buckwheat (if that's not your thing), then definitely give the Tri-Core Cervical Pillow (review) a shot. The pillow conforms to the natural curvature of the neck through an indentation in the middle of the pillow. This ergonomic shape creates two tall side lobes on each side of the pillow and two different neck rolls on top and bottom—all great tools for minimizing neck pain.
Best Memory Foam Pillow For Side Sleepers With Wide Shoulders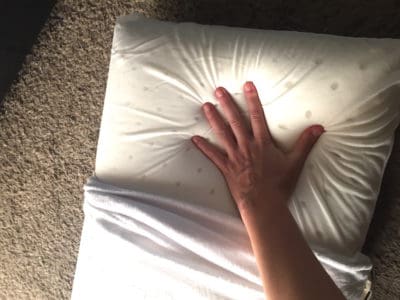 Memory foam is known for being super responsive to pressure, so you have the right alignment all night long while you sleep. There are a ton of memory foam pillows on the market, yet Conforma offers solid support.. The ergonomic shape molds well to the contours of your head and neck, and it comes with a really soft and luxurious outer case.
Plus, this pillow is taller and wider than others, so is especially good for people who are on the larger size and have wide shoulders—needing extra material to make sure their whole body can align right to the pillow. (If you're really petite, I suggest you continue reading all the way to the last pillow option!)
Learn more about this pillow in my full Conforma pillow review.
Best Eco-Friendly Side Sleeper Pillow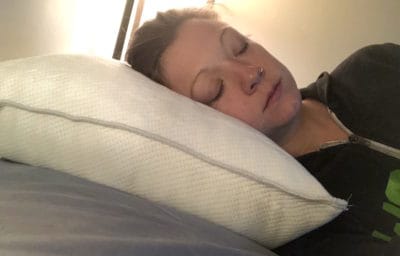 If you want a supportive pillow that's also good for the environment, then look into the Good Life Shredded Memory Foam pillow. Its cover is made with bamboo (a sustainable and eco-friendly product), the shredded foam is CertiPUR-US Certified, and there is less packaging used to ship the pillow since it comes vacuum sealed.
This pillow also strikes a great balance of being soft but really sturdy. If it had enough support to cradle my head and neck so I woke up without soreness or stiffness, hopefully you'll experience the same! Learn more in my full Good Life Shredded Memory Foam pillow review.
Best Contoured Pillow to Reduce Snoring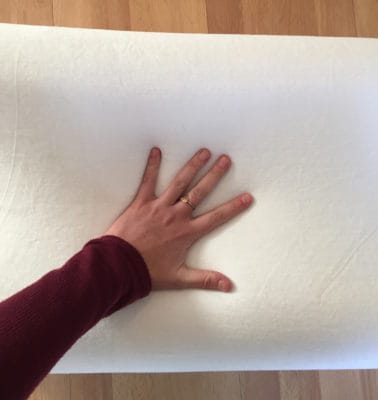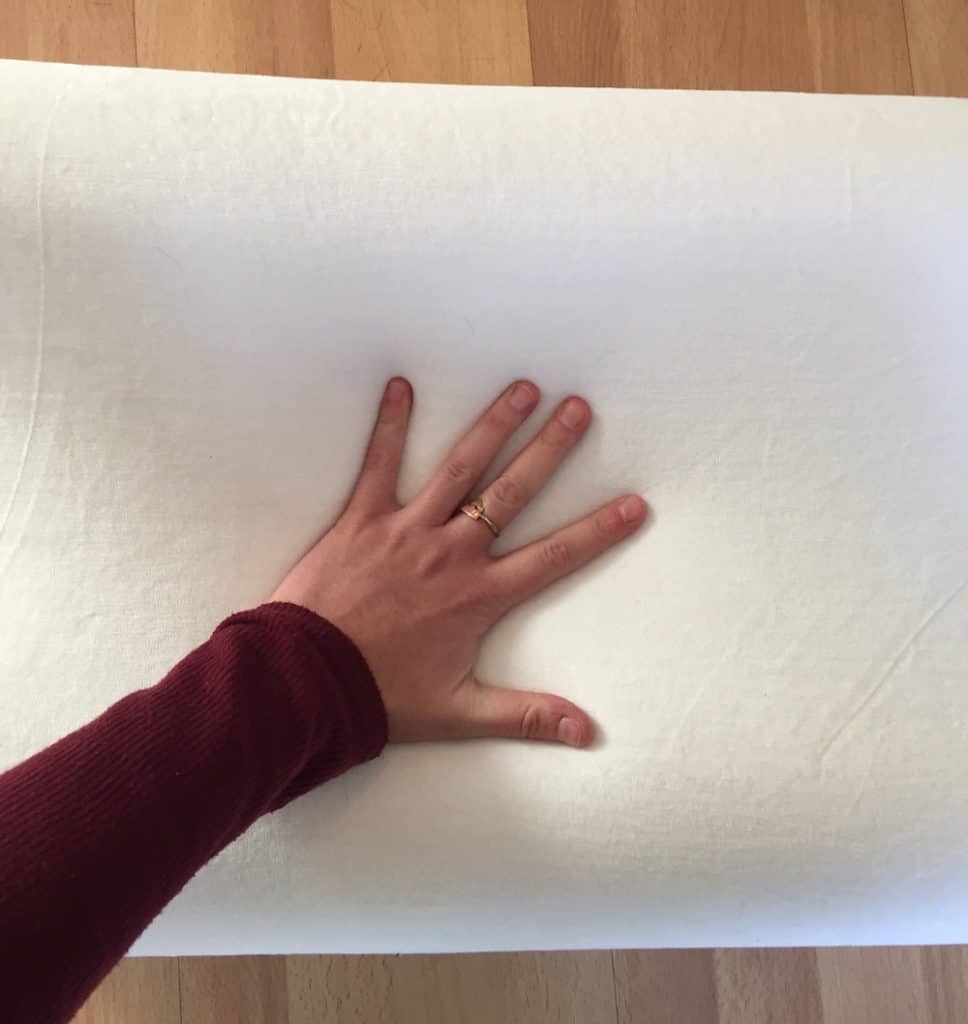 The Innocor Comfort Memory Foam pillow is slightly contoured, so there is a dip in the middle of the pillow, followed by two raised edges on each side. This allows your neck to be cradled while your shoulder blades are supported, a pillow quality known to help reduce snoring. In fact, there have been many scientific studies conducted that show how contoured pillows in general help with sleep apnea; the cradled shape helps reduce obstruction of the upper-airway, which leads to less snoring.
This pillow is also a bit softer and lighter than other memory foam pillows. Even so, the softness and smoothness of this pillow made it a lot easier to adjust to, and I still got the support I wanted.
It has the perfect amount of "give"— my head never sank too far down into the pillow, and even when I tossed and turned, the memory foam was able to adjust itself and provide the new support I needed.
Best Shredded Memory Foam Pillow For People With Ear Pain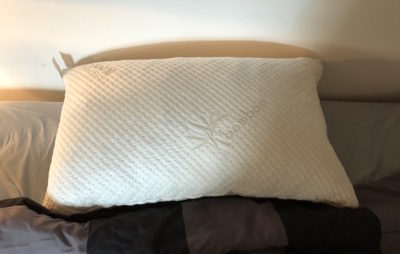 A pillow that provides proper support can also help with ear pain. If you suffer with ear discomfort, the Xtreme Comforts Shredded Memory Foam Pillow is a great option to help keep the pain away. Why? Its firm support ensures your earlobe won't bend in the middle of the night, and it also provides the right spinal alignment for your back all the way to your neck and ear, so you won't have to worry about unwanted soreness or discomfort when you wake up in the morning.
What's also cool and unique about Xtreme Comforts Shredded Memory Foam Pillow is you can actually take the shredded foam out, allowing you to adjust your pillow to the firmness of your fancy. (Good for sleepers of all sizes!) This pillow has a good balance of lift, softness, and sturdiness, so my head, neck, and ear were supported well and rested in a safe and comfortable position throughout the night, leading to no pain in the a.m.
Plus, many customers in my review noted that the pillow provided the correct orthopedic alignment for their side-sleeping habits, and the breathability of was spot on, keeping them cool all night long. A win-win if you ask me! Learn more in my full Xtreme Comforts Shredded Memory Foam Pillow review.
What Makes A Great Side Sleeper Pillow?
Loft
Okay, let's take a step back. What are the qualities you should look for in a pillow if you're a side sleeper? The first one is loft. Another way to say this is height—does your pillow provide the right height to keep your spine straight? Is it too high that your neck has to bend upwards, out of alignment? Is it too low that your neck and shoulders dip down?
Finding the right loft is key to keeping your entire body in proper alignment, and is especially important for side sleepers.
Firmness
While soft pillows feel so, well, soft, that doesn't mean they'll do an ample job at keeping your body in good alignment. Side sleepers are notorious for needing pillows on the firm end of the spectrum, so if you're shopping for any new pillow, make sure to look for one that advertises its higher firmness level. The right amount of firmness will make sure your head doesn't sink, and instead stays upright and heavily cradled so nothing gets out of whack while you sleep. Plus, you need something firm to fill in the distance between your ear and shoulder.
While super firm pillows might take a night or two of adjusting, it is definitely worth it in the long haul.
All-night support
The thing about side sleeping is you have two sides to choose from! I don't know about you, but I tend to toss and turn between the two sides throughout the night, and need a pillow that ensures it won't collapse under the weight of my head. Make sure you find a pillow that is responsive, has molding qualities, and won't collapse—this is key to ensuring your neck doesn't sink in your sleep.
A good mattress
Why have a good pillow is your mattress doesn't also do its job? If you're looking for a full bedroom makeover, consider checking out these best mattresses for side sleepers. Similar to pillows for side sleepers, mattresses need to provide the right support and firmness, which reduces the chances of pelvic rotation (a fancy way of saying misalignment of the back muscles and lumbar spine). Even if you sleep on your side, there are a handful of side-sleeping positions that affect the type of mattress you should buy; definitely make sure to understand how your entire body lays before purchasing your next mattress.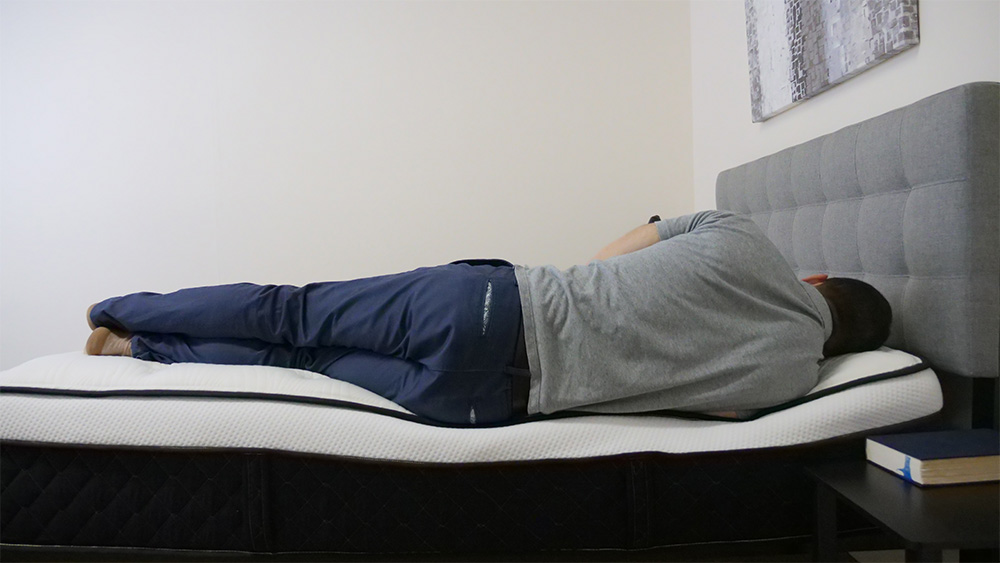 Less About The Filling, More About The Firmness
All in all, if you're looking for a great pillow to support your side-sleeping habits, you should make sure your pillow has these qualities:
Firm
Loft
All-night support
Adjustability (if possible)
There's no one type of fill that will work best for you. In this review above, we included pillows filled with gel-fiber, foam, buckwheat, and even water, meaning it's less about what's inside, and more about how it best supports you.
Still not sure which pillow is right for you? Check out our best pillows overall picks!
The following two tabs change content below.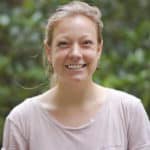 Laura Schwecherl
Laura is a journalist with nearly a decade of experience reporting and covering topics in the health, fitness, and wellness space. She is also a marketing consultant, where she works with impact-oriented startups to build marketing and editorial strategies. Since joining the team at Sleepopolis, she quickly learned how critical sleep is, and enjoys researching how certain sleep products and techniques can improve our lives. Outside of work, you can find her reading Murakami novels, writing amateur poetry, or trail running in her hometown, Boulder Colorado.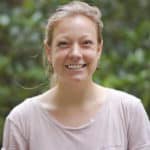 Latest posts by Laura Schwecherl (see all)