Welcome, side sleepers! If you're reading this, that means you're well on your way to finding the right pillow to support you in your go-to position. Yes, it's true that there are literally hundreds of side-sleeper pillows out there, but I've saved you some time and energy by rounding up the 10 side-sleeping accessories that I think are the absolute best.
So get ready folks, because I'm about to take you through my best pillows for side sleepers review! In this guide, I'll give you a close look at the 10 pillows that I think are best for side sleeping, and let you in on some pillow-shopping tips. Let's go!
Best Pillows for Side Sleepers
Most Comfortable Pillows for Side Sleepers 2021
Dive into the details on all these pillows below.
Editor's Pick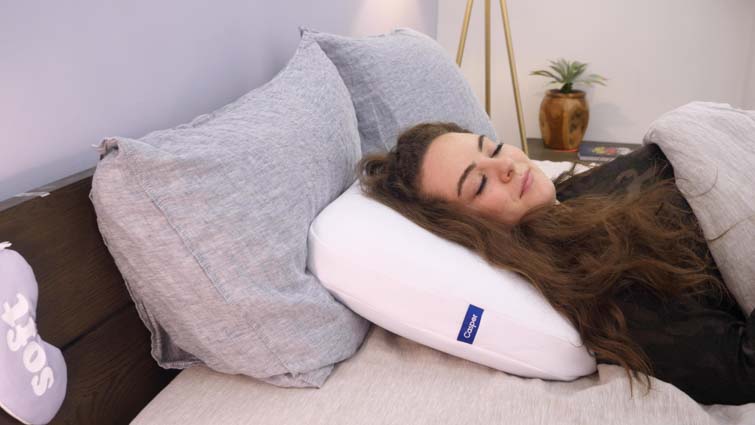 Casper Foam Pillow
My favorite pillow this year is the Casper Foam Pillow, a great pick for back and side sleepers. 
This is Casper's first-ever foam pillow, and features a three-layer design that incorporates high and low-density foams for a balanced feel. Essentially, the soft outer layers provide  cloud-like comfort, while the firm inner layer serves as a support system. And, as I mentioned, this unique construction is great for both back and side sleepers!  
Strict side sleepers will be glad to know that the foam layers in this pillow comfortably cradle the head and neck, relieve pressure at the shoulders, and promote neutral spine alignment throughout the night. Plus, it's medium-firm feel prevents it from going flat while you slumber. 
For the full scoop, be sure to check my full Casper Foam pillow review!
10% Off Pillows - New Year's Sale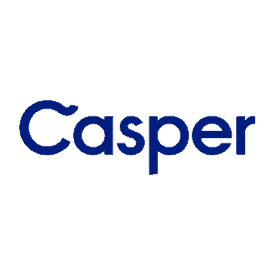 The Casper Foam Pillow sleeps cool and has the balanced support that's great for back and side sleepers!
Best Pillow for Combination Sleepers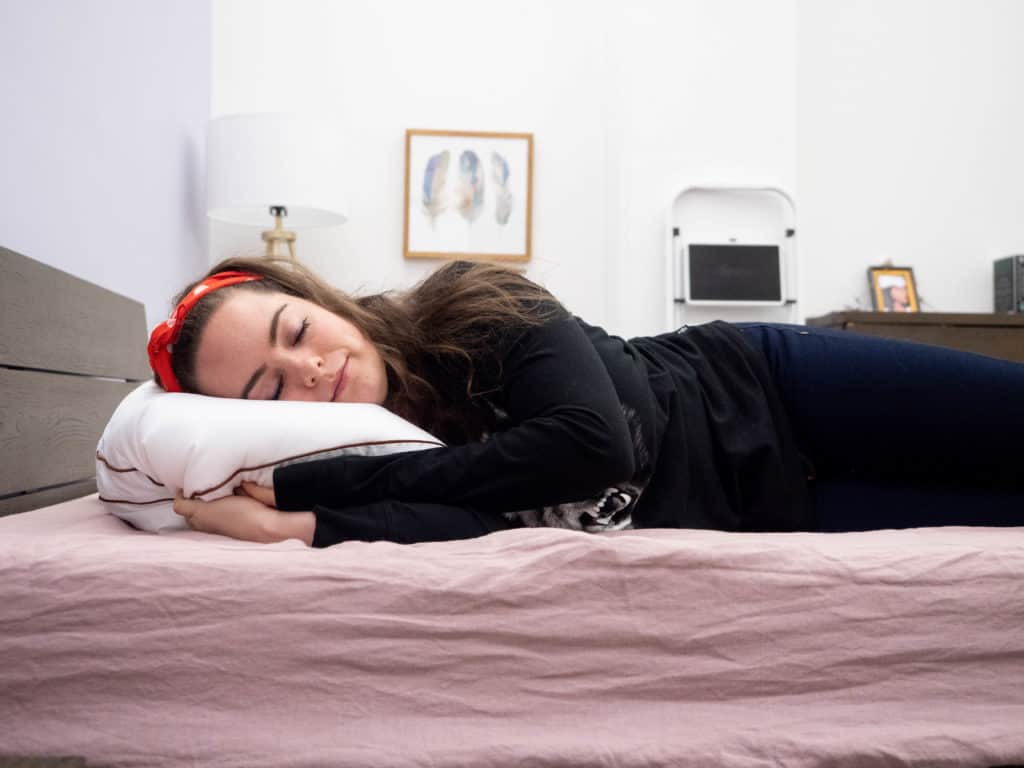 Saatva Pillow
As a combination sleeper, I can honestly say that the Saatva pillow supports me in every position (which is pretty rare, in my experience). It features a unique dual-layer design wherein an inner pillow is tucked inside an outer pillow, and they complement each other to offer balanced support. 
The outer pillow is filled with a down-alternative that feels soft to the touch, while the core of the pillow is filled with shredded Talalay latex. The latex offers a springy feel that serves as the support system, while the down-alternative makes this pillow fluffy and foldable. 
As I said, this pillow does a great job of supporting me in every position, but side sleepers are bound to enjoy the way this pillow-in-pillow design maintains its lofty build and medium-firm feel! 
Think this pillow is the perfect fit for you? Check out my full Saatva Dreams pillow review for all the details. And take a look at our Saatva mattress review while you're at it! 
See Latest Deals

A fluffable mix of down-alternative and Talalay latex makes this pillow cozy, cool, and great for combo sleepers! 
Best Organic Pillow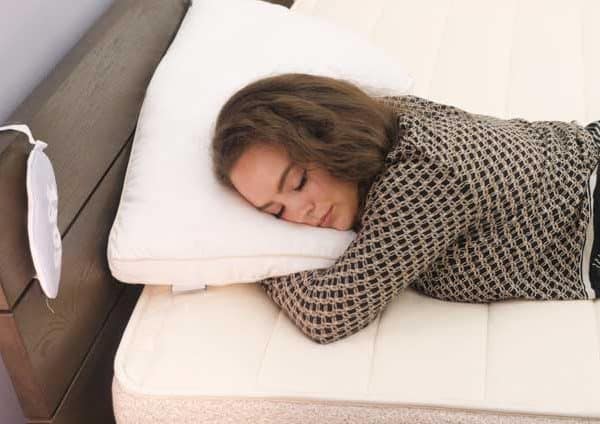 Birch Living
Side sleepers looking to go green should definitely consider the eco-friendly Birch Living pillow. 
From the cover fabric to the internal fill, this entire pillow is made from organic materials. The cover is made from 100% organic cotton, which means no genetically modified cotton seeds or synthetic pesticides were used to make it. It's filled with a mix of ethically sourced wool, and natural shredded Talalay latex. 
In my experience, the combination of wool and Talalay latex made for a fluffy, medium-firm feel that kept the loft high enough for side sleepers. Plus, pure wool is thermoregulating, which means it adapts to your body's temperature. It's also worth noting that pillows made from natural materials tend to do a great job of maintaining shape throughout the night, and I definitely found that to be the case with this one! 
If you're looking for an organic pillow that won't go flat while you snooze, I suggest you check my full Birch Living pillow review for all the details.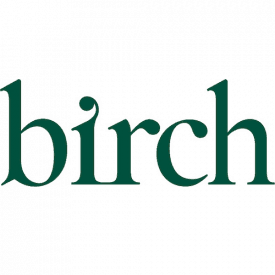 The Birch pillow is a Greenguard Gold certified product that is a great all sleep position option!
Best for Hot Sleepers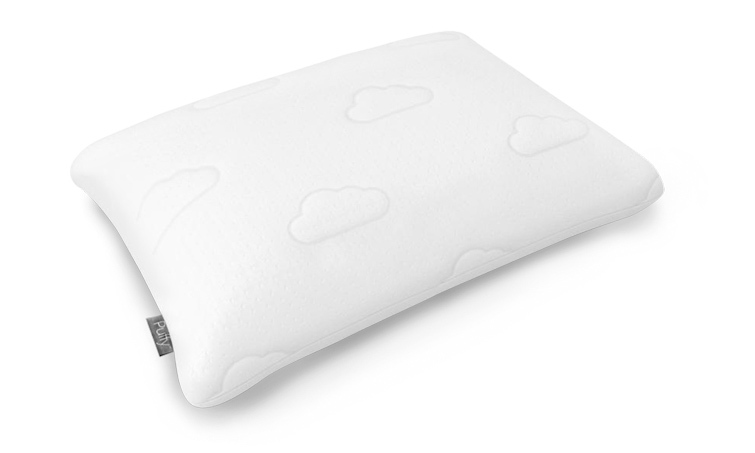 Puffy Pillow
The Puffy Pillow is made in the USA and made with hypoallergenic materials. It comes with a 101-night sleep trial and a limited lifetime warranty, so you can rest easy knowing you have plenty of time to try it out. 
This pillow has a cooling cover so even the warmest sleepers can have two sides of the pillow that are cool. It also has a washable cover and is adjustable, which is one of the reasons I love it for side sleepers. You can add or take out the pillow's filling so you can reach the needed height to keep your neck in line with your spine. 
Check Prices Here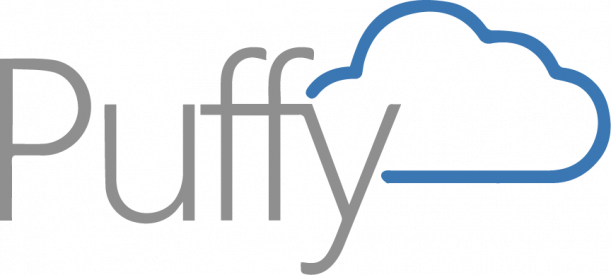 The Puffy Pillow is a great choice for sleepers looking for a pillow with customizable comfort, targeted support, and allergy-friendly properties.
Best Adjustable Pillow
WinkBeds Adjust-a-Cube Pillow
The Adjust-a-Cube pillow is a cool, adjustable pillow from WinkBeds. I picked this as the best adjustable pillow because it promotes healthy spinal alignment and contains removable, gel-infused memory foam cubes that offer ultimate customization.
If adjustability is your game, you'll be excited to discover the fill of this pillow can be infinitely modified into any mold or fluff combination you desire. Hot sleepers should thoroughly enjoy this pillow as well, thanks to its optimal air circulation and ability to keep you cool all night long. Lastly, if you prefer a cover you can toss in the washer, you're in luck. The Adjust-a-Cube has a 100% washable cover.
Check Prices Here
WinkBeds Adjust-a-Cube Pillow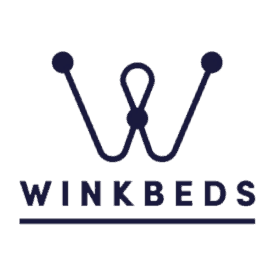 WinkBeds Adjust-a-Cube Pillow
The WinkBeds Adjust-a-Cube Pillow is a great choice for sleepers who want to customize their sleeping experience.
Best Latex Pillow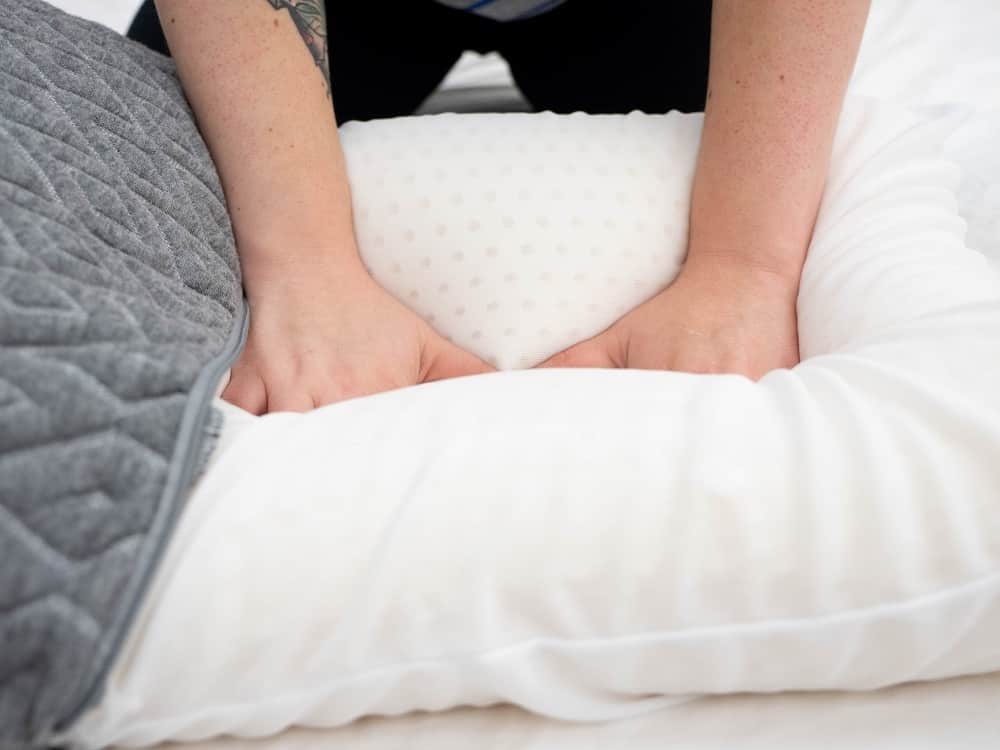 Brooklyn Bedding Talalay Latex Pillow
Brooklyn Bedding's Talalay Latex Pillow is made from natural materials and can be purchased with either a high or low loft. I chose this pillow because its latex construction creates responsiveness and conformance to the neck and head to promote a neutral spinal alignment. The ability to choose a high or low loft makes this pillow a good choice for a variety of sleeping positions, not just side sleepers.
Eco-friendly shoppers will also love this pillow, which contains sustainably sourced and hypoallergenic materials. Talalay latex foam is naturally breathable, making it a nice choice for hot sleepers too! 
Learn more in my full Brooklyn Bedding Talalay Latex pillow review. 
25% Off Sitewide with code BLACKFRIDAY25
Brooklyn Bedding Talalay Latex Pillow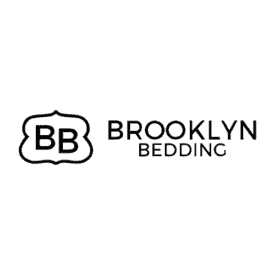 Brooklyn Bedding Talalay Latex Pillow
This pillow is made with natural Talalay latex and has a buoyant, cushiony feel.
Best Faux Down Pillow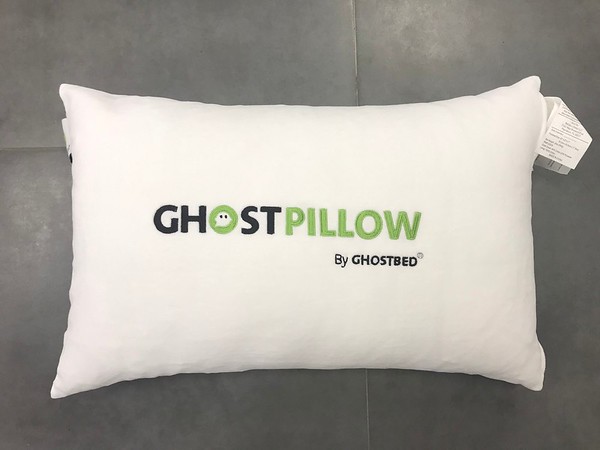 GhostPillow Faux Down
If you love the feel of down, but are looking for a hypoallergenic and/or animal product-free option, the GhostBed Faux Down pillow might be the right pillow for you. Made with a microfiber gel fill, this pillow has the same soft and squishy feeling as down. It has a soft, removable outer cover that's easy to wash, and a 100% cotton inner cover that's nice and breathable.
I particularly like this pillow for side sleepers because it has a high loft of 7 inches. Side sleepers need a taller pillow to keep their neck in line with their shoulders, which promotes a neutral spinal alignment. As a side sleeper myself, I often prefer to sleep with a pillow between my legs to prevent my knees from rubbing together, and I found the GhostPillow to be quite comfortable in this position, too.
Check Prices Here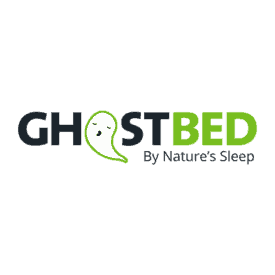 The GhostPillow Faux Down pillow offers plenty of sinkage and is made with a cooling cover to prevent overheating.
Best Foam Pillow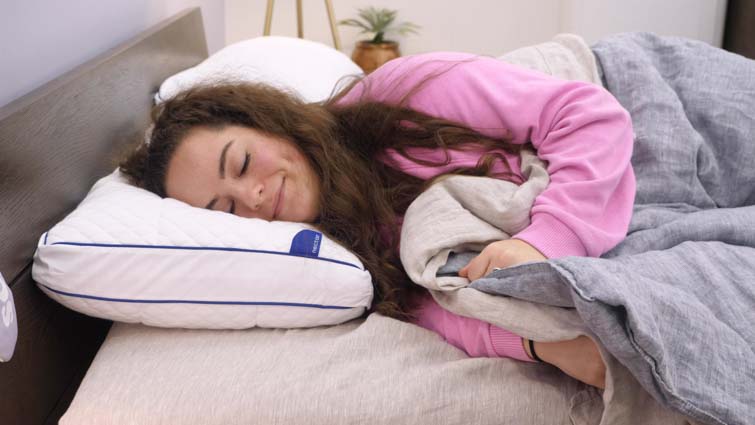 Nectar Pillow
The Nectar Pillow is my favorite foam pillow for side sleepers this year. I especially like it because in addition to being comfortable, it sleeps super cool.
From the cover fabric to the internal fill, every part of this pillow was made with hot sleepers in mind. First, it's covered in Tencel, which is a cooling, breathable textile. It has a pillow-in-pillow design, with a softer outer pillow and a firmer, more supportive inner pillow. A big plus is that the fill is removable, so you can adjust it to your preference.
This pillow is hypoallergenic and has a nice medium-firm feel. Plus, it should conform nicely to your head and neck when you're on your side. 
For every last detail, be sure to check my full Nectar pillow review.
Check Prices Here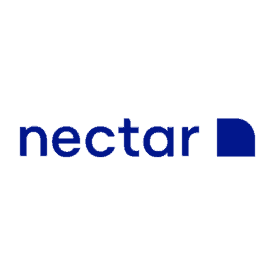 With a Tencel cooling fabric cover and pillow-in-pillow design, the Nectar pillow is both supportive and cooling, making it a great choice for side and back sleepers.
Best Pillow For Neck Pain
Eli & Elm Pillow
The Eli & Elm Side Sleeper pillow is a great pick for folks who need help alleviating neck pain. I should start by saying that this is the pillow I use at home and, despite its rather specific title, I can tell you that it's great for back sleeping too! 
It's filled with a proprietary blend of latex and down-alternative, which combine to create a plush-yet-supportive feel. And while it is amply stuffed into a pretty lofty build, sleepers have the option to adjust the internal fill to their liking. 
But the main reason this pillow is great for neck pain is that it's got a boomerang-shaped, ergonomic design that conforms to the exact contours of your head, neck, and shoulders. I find this to be ideal for side sleeping, but back sleepers should feel free to lay right in the middle of the pillow and lean against the lofty sides.
For the full scoop, be sure to check out my Eli & Elm pillow review!
Save 20% with code Save20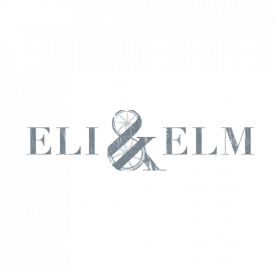 Regardless of the type of sleeper you are, Eli & Elm have a pillow for you.
Best Memory Foam Pillow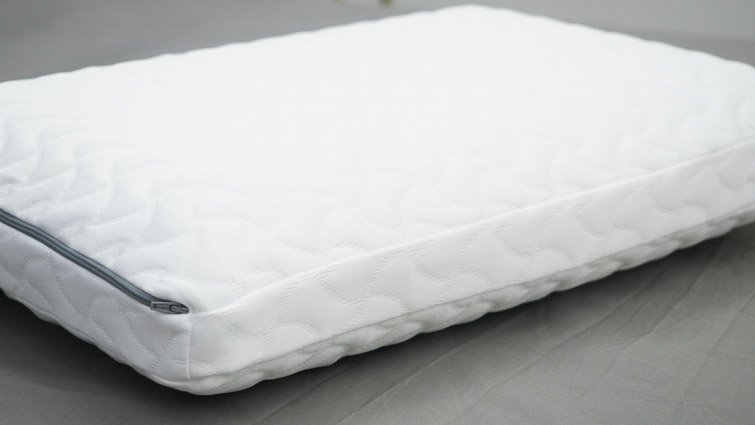 Tempur-Pedic TEMPUR-Cloud
If you're a side sleeper who can't get enough of that moldable memory foam feel, the TEMPUR-Cloud pillow might be perfect for you. 
Filled with one piece of Tempur-Pedic's proprietary memory foam, this pillow conforms to your head and neck, offers a super slow response to pressure, and lets you deeply sink into the material. Not to mention, it's got a medium-firm feel and a lofty 6″ profile, which makes this pillow ideal for side sleeping. 
And if you're worried about memory foam's tendency to trap heat, don't sweat it. Two cooling gel pads keep this pillow from warming up while you slumber, and make both sides of the pillow feel cool to the touch.
If you're a side sleeper looking for a cooler way to sleep, I can't recommend this pillow enough. If you're not a side sleeper but you love memory foam pillows, check out my full Tempur-Pedic pillows review to see how the Cloud compares to the rest of Tempur-Pedic's pillow options! 
Tempur-Pedic TEMPUR-Cloud Pillow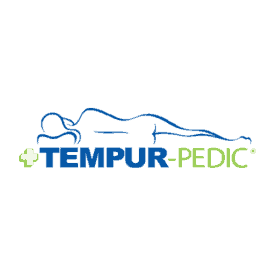 Tempur-Pedic TEMPUR-Cloud Pillow
The TEMPUR-Cloud pillow provides the great body contouring memory foam feel that Tempur-Pedic is known for and is a great choice for the back sleepers out there!
How to Choose the Best Pillow for Side Sleeping
Now that you have a few pillows in mind, let's discuss the methodology behind my picks. Of course, a lot comes down to personal preference, but there are some key factors to consider when hunting for the perfect side-sleeper pillow:
Loft
When I'm shopping for a side-sleeper pillow, the very first thing I pay attention to is the loft, or height, of its profile. The general rule of thumb is that side sleepers need a pillow with a higher loft (of at least 4-inches) in order to maintain a neutral spine alignment and relieve pressure at the shoulders.
If you're shopping online, scroll through the brand's website to find the "dimensions" info in order to determine the exact loft of a pillow. Again, the loft should be at least 4-inches high. But if you've taken advantage of a brand's trial period and are testing the pillow at home, ask yourself these questions:
Is this pillow lofty enough to keep my spine in a straight line, or does my head sink below my shoulders?
Is this pillow so lofty that it cranes my neck upwards, out of alignment with my spine?
Is this pillow's loft providing enough pressure relief for my shoulders?
Remember — your pillow's most important job is to promote healthy posture, and a side-sleeper pillow should be the right height to hold your head in neutral alignment with your spine. For more info about healthy sleeping posture, be sure to check out my guide to picking the best pillow for your position. And if you're not sure what loft you'd prefer, check out some adjustable loft pillow options.
Firmness
The next thing I look at is firmness. In my opinion, loft and firmness go hand in hand. Why? Well, think of it this way: A high-lofted pillow won't stay lofty for long if it's too soft to maintain its shape. And the softer a pillow is, the more it's going to compress under the weight of your head.
That's why side sleepers need a pillow with a firmer level of support! A pillow with a medium-firm, firm, or even extra firm rating is going to do a better job of maintaining its loft, which serves to keep your head aligned with your neck and spine. So look for firm pillows that don't compress too far under your weight while you shop.
Support
Loft and firmness level work hand in hand to create support. It's crucial for side sleepers to find a pillow that offers them appropriate neck support. You don't want to crane your neck up or down as you sleep, as this can lead to pain over time. A pillow that properly supports your head and neck will help you achieve a neutral spinal alignment, which can help prevent neck and back pain. Generally, a high loft and firm feel will provide appropriate support for side sleepers.
Pressure Relief
While you want a supportive pillow, you'll also want one that offers a bit of pressure relief. If you pick a pillow that's too firm, you could end up with a sore ear or stiff neck. Make sure you'll feel comfortable with the amount of cushion your pillow is offering around the side of your head.
Keep in mind that a pillow that offers soft support might let your head and neck sink below your shoulders. This will actually increase pressure around your shoulders, which can feel uncomfortable over time. So a pillow that offers firm support will actually offer more pressure relief in your shoulder area.
Shape
While you can feel comfortable on a standard shaped pillow regardless of your preferred sleep position, some brands offer alternatively shaped pillows specifically designed for side sleepers. If you struggle with neck pain, you may want to consider an ergonomically designed side sleeper pillow. These pillows often feature a u-shape that fits around your shoulder and reduces pressure around your neck. If that appeals to you, take another look at the Eli & Elm pillow above!
Cooling
A breathable pillow is important for all kinds of sleepers. If you're a hot sleeper you may want to opt for pillows made of materials like latex or gel-infused memory foam, which tend to sleep cool. You might also want to consider pillows made with covers that encourage airflow. Take a look at our best cooling pillows to learn more about choosing a breathable pillow option.
Wash Care
You'll also want to consider wash care when choosing a pillow for side sleeping. Many of the best side sleeping materials (like memory foam) are spot clean only. I'd recommend opting for a pillow with a removable and machine washable cover as a way to keep wash care simple.
Fill
Speaking of materials, choosing the right fill for your pillow is quite important for side sleepers! I'll go over how the different pillow fill materials perform for side sleepers in the next section, but first I want to take a minute to talk about whether or not to choose an adjustable fill as a side sleeper.
It's not mandatory, but choosing a pillow with an adjustable fill allows you to manipulate the loft and firmness in order to fit your exact needs. Again, this isn't necessary, but you may find that being able to customize the internal fill of your pillow helps you reach your perfect comfort zone.
For example, if you find your pillow to be too lofty or firm, simply unzip the cover and remove as much internal fill as you like. In my experience, it can take a little trial and error in order to find the perfect level of support but, trust me, a good night's sleep is worth the effort.
Choosing the Right Pillow Materials for Side Sleeping
The pillow fill material you choose has a big impact on how your pillow feels. While the right loft and firmness level for side sleepers are fairly universal, fill materials can impact more specific preferences. For example, do you want a pillow that feels warm or cool? Bouncy or moldable? There's a wide world of pillows out there, and it's worth it to take every factor into consideration in order to unlock your best sleep potential!
So, let's go over a few different pillow materials:
Memory Foam
Memory foam pillows have a slow response to pressure and offer a lot of body-contouring. In my opinion, dense memory foam pillows with a high loft are some of the best options available to side sleepers. Memory foam has a tendency to trap heat, but choosing a gel-infused foam or a pillow that uses a shredded memory foam fill (instead of a solid block of foam) can help mitigate these heat trapping tendencies.
Polyfoam
Polyfoam is a little more responsive than memory foam, and is often less dense. If you're looking for a foam feel but don't like a lot of body-contouring, a polyfoam pillow could be a nice option for you. But keep in mind that polyfoam is often a little less durable than other foams, so your pillow may not last as long.
Latex
Latex pillows are naturally cooling and hypoallergenic. They have a very bouncy feel that sleepers who like to feel "on top of" their pillow should like. Latex offers less sinkage than most other pillow materials, so it could be a supportive option for many side sleepers. Check out my best latex pillows roundup to learn more about this material.
Buckwheat
Buckwheat pillows are filled with buckwheat hulls and naturally feel very firm. If you prefer fluff and softness, this is not the pillow material for you. But buckwheat pillows are often great options for side sleepers, as they'll stay supportive for a long time. In fact, a high-quality buckwheat pillow can last up to 10 years! These pillows can also be very helpful with combatting neck or back pain. Learn more in my best buckwheat pillows roundup.
Feather
Feather pillows are cooling, fluffy, and soft. They're a little denser than down or down alternative pillows, which can make them more moldable. You can find flat or overstuffed feather pillows, so side sleepers after fluffiness and moldability should be able to find a feather pillow that meets their loft and firmness needs. Check out my best feather pillows roundup to see a few options.
Down / Down Alternative
Down and down alternative pillows often feel soft, fluffy, and luxurious. Down alternative pillows offer a similar fluffy feel, but are more eco-friendly. You also don't have to research manufacturing and sourcing to be sure that your new down alternative pillows are cruelty-free!
Since down compresses more easily than other pillow materials, I recommend it more for back sleepers and stomach sleepers than side sleepers. However, a firmer down option can also work for side sleeping. My best down pillows and best down alternative pillows roundups include some great side sleeping options.
How to Position Your Pillows as a Side Sleeper
Before you drift off to sleep, consider positioning your pillows like this to improve your sleep posture and prevent pain.
When you lie down on your pillow, make sure your ears are in line with your shoulders and your chin is neutrally positioned. Tucking your chin against your chest or curving your neck down can lead to pain over time.
Place a second pillow between your knees and lift them up towards your chest. This helps keep pressure off your knees and hips, which means your back will stay straighter at night.
Make sure your arms and hands are below your shoulders. Some people find hugging another pillow near their waists can make this more comfortable. You can also try using a body pillow as a between the legs and under the arm solution.
Avoiding Neck Pain
If you struggle with neck pain, you should try to stick to the tips above to reduce pain. If you've replaced your old pillows and are maintaining the sleep posture suggested above, but still struggle with neck pain, you might want to consider training to sleep on your back. Back sleeping is often best for maintaining a healthy posture and avoiding pain. You might also want to check out some of the best pillows for neck pain.
More Resources for Side Sleepers
Found the perfect pillow for your needs but interested in learning more about how to feel comfortable while sleeping on your side? Check out a few of my favorite side sleeping resources below!
Recap
Now that you've taken a close look at my favorite pillows for side sleepers, you're well on your way to deciding which is the best fit for you. Before you get to shoppin', remember to keep a close eye on loft, firmness, and all the little details that'll take your sleep experience to the next level. And be sure to take advantage of those trial periods when they're offered so you can get an even better sense of which pillow is your perfect match.
And if you've already decided on a brand new pillow, take a peek at some of the best pillowcases to pair it with!
FAQs
What kind of pillow should a side sleeper use?
In general, side sleepers need a pillow with a lofty profile of at least 4-inches in order to maintain healthy posture throughout the night. Additionally, pillows with a firmness rating of medium-firm or firm are typically best suited to the side sleeping position.
Do side sleepers need a soft or firm pillow?
Side sleepers typically need a pillow with a firmer feel in order to maintain neutral spine alignment throughout the course of the night. A firmer feel can also prevent your pillow from losing its shape over time.
When should you replace your pillow?
A good rule of thumb is to replace your pillows every 1-2 years. You'll notice your pillow become less supportive (or even lumpy) over time, which is also a good sign that it's time to refresh your bedding.
What type of pillow is best for side sleepers with neck pain?
A firm, lofty, pillow with a u-shaped design that accommodates your shoulder and supports your neck is often a good way to reduce neck pain if you sleep on your side.
Sarah is the Senior Writer and bedding expert at Sleepopolis. Every week, she personally tests and reviews new pillows, sheet sets, and other sleep accessories. She accompanies every video review with a meticulously detailed article to ensure her audience has all the pertinent info they need for the best shopping experience possible. Perhaps that's why her fans have dubbed her "the most thorough pillow reviewer on the Internet." Having tested everything from sleep trackers to mattress toppers, Sarah's expertise runs deep and is always expanding. She received her degree in Creative Writing from Brooklyn College and spends her free time doing stand-up, making pasta, and hanging with her cats.