Are you on the hunt for the best soft pillow? Look no further, because you have landed on Sleepopolis' top picks for the best soft pillows out there.
Many sleepers love the cozy feel of a soft pillow, so we have gathered up a variety of options from ultra-soft, compressive pillows that won't cause neck strain for stomach sleepers to slightly firmer and more supportive options that will maintain side sleepers' spinal alignment, that still have that softer vibe. Plus, we have some tips and tricks at the end of this article for choosing the best pillow for you. Let's get into our top 10 favorite soft pillows!
Best Soft Pillows
The Cozy Earth Silk pillow is our pick for the best overall soft pillow because it is a luxurious, cooling, and ultra-soft pillow. It features a 100 percent bamboo viscose cover and is filled with 100 percent mulberry silk and provides a plush, comfortable sleeping experience.
Why It's a Good Pick
This soft and luxurious pillow is a fantastic choice for stomach sleepers, who need a soft pillow to maintain a neutral spine alignment. It can also work well for back sleepers who prefer a fluffy, soft feel from their pillow. With bamboo viscose and silk as its primary materials, this pillow sleeps nice and cool — no worries about the night sweats on the Cozy Earth Silk pillow.
Check out our full Cozy Earth Silk pillow review to learn more about it!
Price: $279-$329
Perfect For: Stomach sleepers and hot sleepers who love a soft and moldable pillow that sleeps cool.
The Lagoon Chinchilla is an adjustable pillow, which is crucial for those unsure of what loft and feel is best for them. With this model, shoppers can either remove or add the microfiber filling. This allows them to tailor the pillow to a loft that best supports their spinal alignment and best supplies maximum comfort.
Why It's a Good Pick
The soft feel works well for stomach sleepers, and Lagoon markets the Chinchilla to this crowd. Folks wanting a pillow with an easy care routine should like that the Chinchilla is machine-washable. Also, uncertain shoppers should appreciate the 100-night sleep trial, allowing them time to make a decision of whether or not they want to keep it.
Check out our full Lagoon Chinchilla pillow review to learn more about it!
The Saatva Latex provides the fluffy, soft feel of a hotel pillow but with more support. It features an inner pillow filled with shredded latex foam and an outer pillow filled with microdenier fiber, a down-alternative fill. Technically this pillow has more of a medium feel than true soft — because of the firm latex core — but it provides the same cozy comfort a true soft pillow would, while also allowing for more support for back sleepers, side sleepers, and combination sleepers who switch between the two positions.
Why It's a Good Pick
This hybrid-style pillow from Saatva combines the cloud-like feel of down with sturdy neck support, while also maintaining a temperature-neutral feel. The pillow-within-a-pillow design makes this a great option for sleepers with neck pain. Plus, the outer cover is machine washable, which will help ensure the pillow stays nice and clean.
Curious to learn more? Read our full Saatva Latex pillow review.
Price: $165-$185
Perfect For: Side sleepers, back sleepers, and combo sleepers who want a soft, fluffy pillow but need extra neck and back support.
If you're a stomach sleeper, odds are that most pillows cause your neck to crane upwards or feel too firm for you to sleep comfortably. That's why we recommend a soft, low loft pillow for stomach sleepers — it allows for proper spinal alignment while lying on your stomach. Fortunately, the Birch Eco-Rest is a great soft option for stomach sleepers.
Why It's a Good Pick
The Birch Eco-Rest has a cover made with 300-thread count organic cotton and is filled with recycled polyester down alternative, so it's all natural and recycled materials. The down alternative fill compresses easily beneath your head and neck as you lie on the pillow, which allows your neck to maintain a straight posture, instead of craning upwards. But it still feels fluffy and cozy, making for a comfortable sleep experience all around.
Keep on reading about this pillow in our full Birch Eco-Rest pillow review.
Price: $75-$85
Perfect For: Stomach sleepers, hot sleepers, and shoppers looking for an eco-friendly option.
Down pillows are known for being soft and the Brooklinen Down pillow is no exception. It has a plush, cloud-like feel that is ultra-comfortable. However, you actually have a choice of how soft you want your Brooklinen Down pillow to be, as it is available in three firmness levels: Plush, Mid-Plush, and Firm. The Plush version is filled solely with down clusters, whereas the Mid-Plush and Firm have a dual-core build, with a supportive inner layer of feathers and a fluffy outer layer of down.
Why It's a Good Pick
The Brooklinen Down pillow, no matter which firmness level you choose, is made with high-quality materials like a 100 percent cotton sateen weave cover and real Canadian down that is treated with an antimicrobial. With all these great qualities, you would expect the Brooklinen Down pillow to be pretty pricey, but every firmness level is under $150. This is a great price, considering how expensive real down can be.
Learn more about this great value down pillow in our full Brooklinen Down pillow review.
Price: $109-$149
Perfect For: Any sleeping position and sleepers who love a plush, moldable pillow.
If you struggle with over heating or waking up sweaty after a night of sleep, you might want to check out what the Luxome LAYR Pillow has to offer. This pillow comes with a cover of bamboo (a naturally cooling material). Bamboo helps to regulate body temperature body the night, so sleepers don't feel extra heat around their faces. There is also a memory fill infused with cooling gel inside of the Luxome LAYR Pillow, which should help customers sleep cooler for longer.
Why It's a Good Pick
The Luxome LAYR Pillow also features cotton inserts in its construction. These inserts help to promote breathability and airflow in the pillow, and they make the Luxome LAYR adjustable. This lets sleepers pick how full they want their pillow to feel, based on their sleeping preferences. The Luxome LAYR Pillow is also OEKO-TEX Standard 100 certified and CertiPUR-US certified, so eco-friendly shoppers won't have to worry about toxic materials in their pillow.
Our full review on the Luxome LAYR Pillow is coming soon to our website.
Price: $120-150 with a 30-night trial.
Perfect For: Hot sleepers, eco-friendly sleepers, and back sleepers looking for a pillow to keep their head and neck elevated.
For back sleepers who love a soft feel from their pillow, it can be tricky to find the right amount of comfort and support, as back sleepers need some support to keep their neck in alignment. However, the Boll & Branch Down pillow presents a good option. It's available in three firmness levels — soft, medium, and firm — but we recommend the medium option for back sleeping.
Why It's a Good Pick
This down pillow provides a cozy, balanced feel that allows back sleepers' heads to sink in but still getting enough support to maintain a neutral spinal alignment. It's filled with American down and the cover is 100 percent organic cotton, so it's also made with high-quality materials.
Read our full Boll & Branch Down pillow review to learn more.
Price: $158-$218
Perfect For: Back sleepers who want a soft, cozy pillow.
Much like back sleepers, it can be hard to find a pillow that feels "soft" but provides enough support for side sleepers — the sleeping position that tends to need the most support. Side sleepers need to fill the space between their neck and the mattress, essentially the length of their shoulder, and have a firm enough pillow to keep their neck in neutral alignment. But the Purple Cloud is a pillow that provides that soft feel but enough support to sleep comfortably.
Why It's a Good Pick
The Purple Cloud has a 100 percent cotton cover, with a 300-thread count, and is filled with silicone-coated gel fibers. This synthetic down alternative is not only hypoallergenic, but provides a much more elevating and supportive feel than other common down alternatives. The Purple Cloud has a high loft — good for spinal alignment — and doesn't go flat when you lie on it. But it still has that soft, cozy feel. Plus, its machine washable!
Learn more about this pillow in our full Purple Cloud pillow review, or check out our Purple pillows comparison that puts the Purple Cloud head-to-head with the original Purple pillow and Purple Harmony pillow.
Price: $59-$79
Perfect For: Side sleepers who love a soft feel but want an elevating, supportive pillow.
Memory foam is one of the more supportive and firm pillow-fill materials out there, so it's unusual that a foam pillow has a truly "soft" feel. The TEMPUR-Cloud has a medium firmness, but among memory foam pillows, it is softer than average, so it makes a good option for sleepers who want a soft memory foam pillow. The foam is super slow-moving and adaptive, so the longer you lay on it, the more you sink in and the foam conforms around you.
Why It's a Good Pick
The TEMPUR-Cloud features a knit polyester cover, which is machine washable and hypoallergenic. The core is a 5-inch tall block of TEMPUR material foam, Tempur-Pedic's proprietary memory foam. TEMPUR material has a unique feel compared to other memory foams — it allows for super deep contouring. Additionally, the TEMPUR-Cloud is best suited for back sleepers, but actually is quite comfortable in every sleeping position.
Keep on reading in our full TEMPUR-Cloud pillow review for more information.
Price: $89
Perfect For: Back sleepers and memory foam lovers seeking a softer feel.
We've got one more down pillow selection for you: the Parachute Down pillow. This pillow is filled with European white down, which is prized for its extra-fluffy feel. The Parachute Down pillow is offered in three different firmness levels, making it versatile to different types of sleepers.
Why It's a Good Pick
To prevent neck pain with this pillow, it's key to choose the firmness level that best suits your sleeping position. If you're a stomach sleeper, we recommend the soft option to prevent your neck from craning upwards while you sleep. For back sleepers, the medium option will probably work best for balanced support. And for side sleepers, we recommend opting for the firm to get the most neck support. No matter which you choose, you should experience the comfy, lightweight, and fluffy feel of the Parachute Down pillow.
Our full review of the Parachute Down pillow is coming soon.
Price: $129-$209
Perfect For: Every sleeping position and those looking to alleviate neck pain.
How to Choose a Soft Pillow
If you're shopping for a new pillow and the only thing you know is that you like a soft feel, it can be overwhelming to see how many different options there are. Let's go over a few key things to consider when shopping for a soft pillow.
Sleeping Position
When shopping for pillows, we recommend first thinking about your primary sleeping position. Most people spend the majority of their night on their back, side, or stomach — although sleepers who frequently switch are known as combination sleepers. Each sleeping position needs a pillow that maintains their spinal alignment by keeping their neck in line with the rest of their spine.
Therefore, soft pillows are naturally suited best to stomach sleepers, who need a soft pillow to prevent neck strain. However, there are many pillows that have a softer feel that still provide enough support for back and side sleepers — including some of the ones mentioned above. Side sleepers in particular may have a hard time finding a "soft" pillow that provides the right amount of neck support, but their best bet will usually be pillows that have a soft outer layer and a firmer support inside.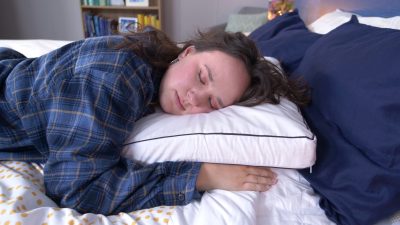 Materials
Materials are one of the first things we recommend looking at when you are considering purchasing a pillow. Different materials offer different types of feels and some are often softer than others.
Foam
There are a few different types of foam used to make pillows, but the two most common are memory foam and latex foam.
Memory foam generally offers deep contouring around the head and neck, has a slow response to pressure, and has a dense feel. However, memory foam is known for trapping heat — it actually absorbs your body heat in order to mold around you — so many memory foams include cooling agents like gel, charcoal, or copper infusions. If a soft pillow is what you're after, memory foam may not be the best material, as it tends to have a medium to firm feel. However, some memory foam pillows are softer than others.
See our best memory foam pillows to learn more.
Latex foam is derived from the sap of rubber trees and while similar to memory foam, it tends to have a much bouncier, more buoyant, and cooler feel. It's a good option for those who like the pressure relief memory foam offers, but don't want the deep contouring or heat trapping of memory foam. Latex foam also tends not to be extremely soft, but like memory foam, there are some softer latex foams out there.
See our best latex pillows to learn more.
Foam pillows tend to either consist of one solid block of foam as the core of the pillow or shredded foam pieces, sometimes mixed with fibers, for a more moldable style of pillow.
Down and Down Alternatives
Down and down alternatives are two other common materials used in pillows. Down pillows are filled with the quill-less feathers from the underbelly and chest of ducks and geese. These feathers are known for their soft, cloud-like feel. Down alternatives are other materials meant to mimic the feel of down. These are often synthetic, such as polyester fiber fill, but there are natural alternatives, such as bamboo, silk, or eucalyptus fibers.
See our best down pillows and best down-alternative pillows to learn more.
If you are looking for a soft pillow, down and down alternatives will generally be your best bet. These materials typically feel plush, soft, and compress beneath your head and neck.
Who is a Soft Pillow Best For?
As discussed above, different types of pillows are best suited to each sleeping position. When it comes to soft pillows, stomach sleepers are the group that benefits from that soft, plush feel the most. Stomach sleepers need a pillow that won't cause strain to their neck — particularly because many stomach sleepers already twist their neck to the side as they sleep.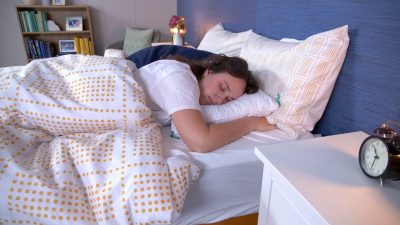 Compared to a back or side sleeper, stomach sleepers' heads and necks are already very close to the mattress while they sleep, so they need little to no lift up for support. In fact, some stomach sleepers may opt to sleep without a pillow at all to prevent neck strain. That's why we recommend very soft, low loft pillows to stomach sleepers, so their pillow isn't causing their neck to crane upwards, leading to discomfort and neck pain.
However, many side and back sleepers also love a softer feel from their pillow. If that's you, we recommend ensuring you choose a soft pillow with a higher loft and that keeps your head and neck elevated and supported, instead of sinking right through the pillow. Look for pillows that include something for extra support, such as a denser fill, a firmer core surrounded by a soft outer layer, or a more supportive material.
Soft Pillow FAQs
What is the softest type of pillow?
The softest types of pillows tend to be down and down-alternative pillows.
Is it better to sleep on harder or softer pillows?
It depends on the sleeper. Stomach sleepers tend to have better spinal alignment on a softer pillow, whereas side sleepers may need a harder, or firmer, pillow.
Why do hotel pillows feel so good?
Many hotel pillows are made with down and feathers to offer a super soft and plush feel. If you love this style of pillow, then a down pillow may be a good option for you.
Is it better to have a firm or soft pillow for neck pain?
It depends on your sleeping position. If you primarily sleep on your side, a firmer pillow will offer more support for your neck. If you sleep on your stomach, you don't need that support since your neck rests very close to your mattress. Therefore, a softer pillow will cause less strain. If you sleep on your back, you should look for something in the middle of these firmnesses.
Why do soft pillows hurt my neck?
If soft pillows hurt your neck and you sleep on your side or back, it's likely that you aren't getting enough support from your pillow. We recommend either opting for a pillow with a firmer, more supportive feel to ensure your neck is supported as you sleep
Final Thoughts
Hopefully you found some good options for a soft pillow on this list, as well as learned a little more about how to choose the right pillow for you. If not, you can always take a look at our best pillows page to see more of our favorite options. Happy shopping!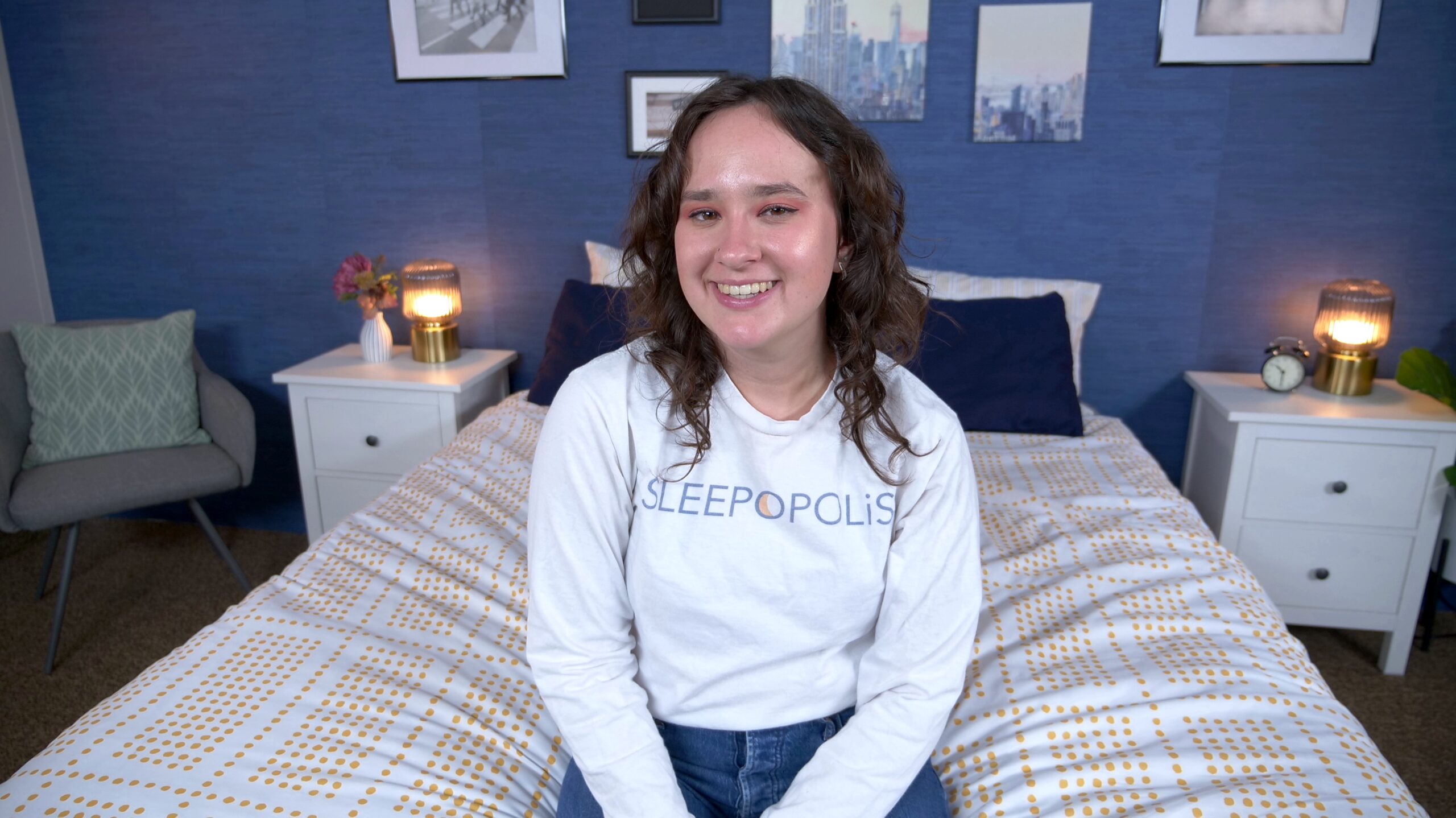 Amelia Jerden
Amelia is a Senior Staff Writer for Sleepopolis. She primarily covers bedding and sleep accessory products in reviews, how-to guides, and more. You can also find her over on the Sleepopolis YouTube channel. Amelia is a graduate of the University of North Carolina at Chapel Hill, with double majors in media and journalism and in dramatic art. Outside of work, Amelia can usually be found on a hike, traveling to a new city, or at her local thrift store.