Since its debut in the early 90's, Tempur-Pedic has become one of the most popular mattress companies in the game. But if you didn't know that Tempur-Pedic also makes pillows, then you're in for a treat because today we're looking at one of the brand's most popular sleep accessories — the Tempur-Cloud pillow.
Tempur-Pedic TEMPUR-Cloud Pillow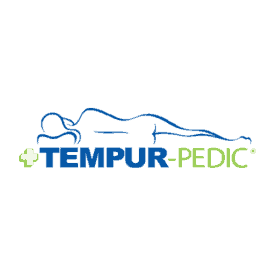 Tempur-Pedic TEMPUR-Cloud Pillow
The TEMPUR-Cloud pillow provides the great body contouring memory foam feel that Tempur-Pedic is known for and is a great choice for the back sleepers out there!
What Is The Tempur-Cloud Pillow Made Of?
Okay, sleepers. Before we get into what this pillow feels like, let's take a close examination of what it's made of.
The cover fabric is made from 100% polyester knit, which feels super soft to the touch. Additionally, polyester is known for its moisture-wicking properties which might be particularly beneficial to sleepers looking to stave off those night sweats. This pillow is traditionally shaped, so sleepers have the option to easily dress it with a pillowcase. However, because the cover fabric is so soft, some folks might choose to do without a pillowcase.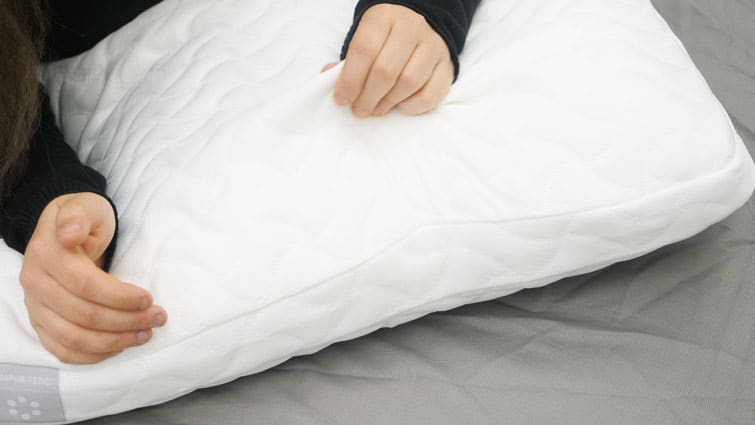 A zipper spans one side of the pillow's cover so that you can easily remove it when it's time to be washed (yes, the cover is machine washable). Inside the cover is one solid piece of the company's proprietary memory foam, known as TEMPUR-Material, which offers a very slow response to pressure, conforms to your body's shape, and can be found in all Tempur-Pedic mattresses.
The TEMPUR foam in this pillow is meant to offer a deep sink into the material, and cradle the head and neck in a way that is typically characteristic of memory foam. The pillow itself has a medium loft at about five inches high, and the folks at Tempur-pedic say it offers an "extra soft" feel. Of course, the only way to get the best idea of this pillow's support is to test it for yourself. So, let's take a closer look at what the Tempur-Cloud pillow feels like.
FAQ
Q: How do I wash my memory foam pillow?
A: While you should always read each pillow's specific care instructions, memory foam typically needs to be spot cleaned using a damp cloth and mild detergent. This way, your pillow will maintain its integrity for as long as possible!
What Does The Tempur-Cloud Pillow Feel Like?
Everybody sleeps differently, and the feel and support of a pillow can be pretty subjective. However, after thoroughly testing this pillow in every position, I have a pretty good idea about which slumber styles it's best for.
But before I get into the feel of the foam, let's talk about the cover fabric. When I unpackaged this pillow, the first thing I noticed is how soft the polyester knit cover feels, and it made me wonder if I'd actually choose to dress it with a pillowcase. As I said, it is a traditional shape, so it would easily accommodate any standard or queen size pillowcase. But because it's so soft to the touch (and features a cozy, quilted pattern), I might enjoy this pillow without a pillowcase from time to time.
The second thing I noticed is that the pillow itself has a very slow response to pressure, and offers a deep sink into the material. Having rolled around on a few Tempur-pedic mattresses, I already had an inkling that this pillow would provide that body-conforming feel that is so characteristic for the brand. Memory foam loyalists are most likely going to love the feel of this pillow.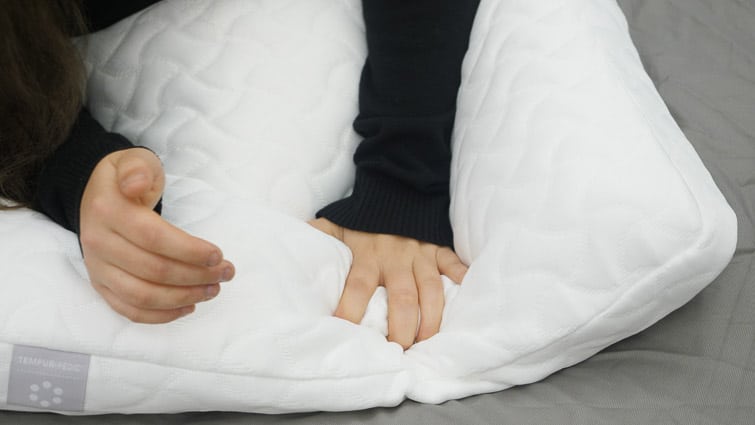 Meanwhile, I did not find this pillow to offer the "extra soft" firmness rating as advertised by Tempur-Pedic. For me, it felt closer to medium firmness. That said, the foam does compress into a pretty low loft (of about two inches), which made it surprisingly comfortable for stomach sleeping. Remember: stomach sleepers need a low lofted pillow in order to maintain healthy posture.
While I did find this pillow to be cozy in the prone position, I will warn stomach sleepers against sleeping directly in the middle of the pillow. Your head will sink into this foam, and it may conform to your nose and mouth which, for obvious reasons, isn't good! So, stomach sleepers should stick to the edges of the pillow.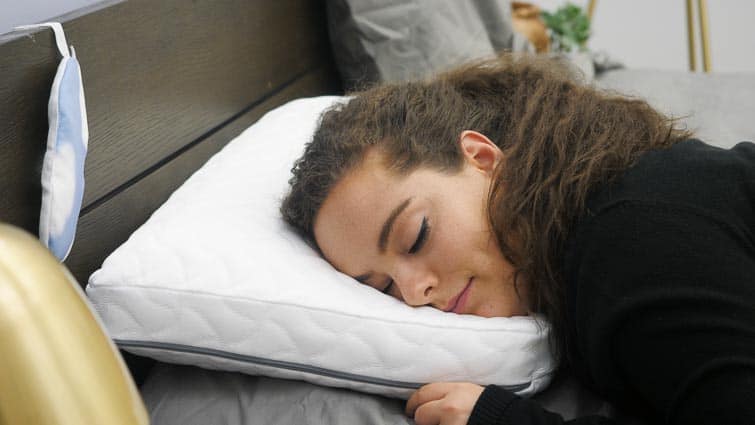 On the other hand, this pillow's low, compressible loft did not lend itself well to side sleeping. When I tested this pillow in the lateral position, I felt that the pillow was not tall enough to keep my head propped up and in line with my spine. Additionally, the more the foam compressed down, the deeper my shoulder dug into the mattress (ouch).
I have to say: there is one position, in particular, for which this pillow is perfect. In my opinion, the Tempur-Cloud is a back sleeper's dream (especially if that back sleeper also loves memory foam!). Lying in the supine position, I felt like my head and neck were being softly held in neutral alignment with my spine, and the medium level of firmness offered the perfect balance between plush and supportive.
Overall, I think that both stomach sleepers and back sleepers could benefit from using this pillow. But in my personal opinion, this pillow was tailor-made for back sleeping!
The Verdict: Back sleepers who love the slow sink into memory foam will be most compatible with this pillow!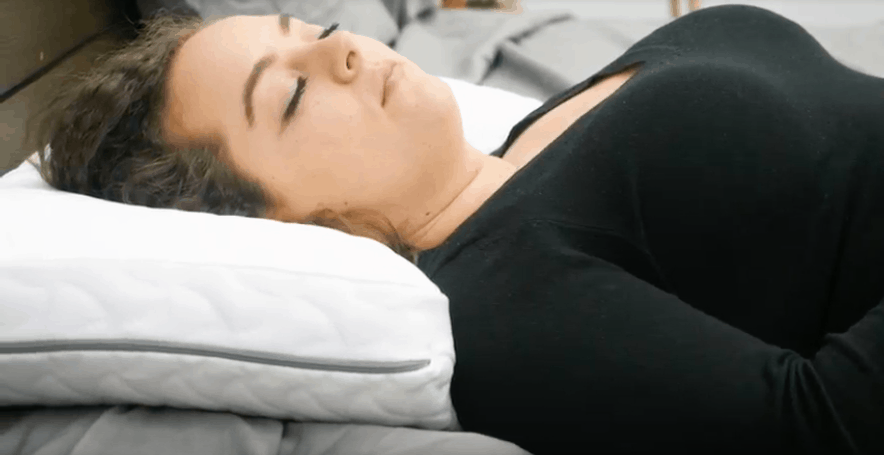 Should I Buy The Tempur-Cloud Pillow?
Okay, sleepers. Let's recap this pillow's highlights (and potential deal-breakers) so you can better determine whether or not this is the sleep accessory you've been dreaming of.
Tempur-Pedic TEMPUR-Cloud Pillow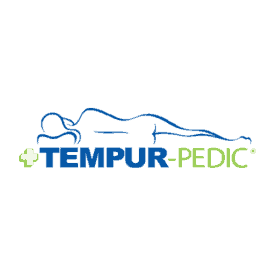 Tempur-Pedic TEMPUR-Cloud Pillow
The TEMPUR-Cloud pillow provides the great body contouring memory foam feel that Tempur-Pedic is known for and is a great choice for the back sleepers out there!
Tempur-Cloud Pillow Perks
Memory Foam Feel — If you're a memory foam fan, you're likely to love this pillow. It's got that deep sink and slow response to pressure that is so characteristic of this material, and it conforms really well to your head and neck.
Back Sleeping — This pillow is particularly compatible with the supine position. It's got a medium firm feel, and cradles your head and neck in a way that supports neutral spine alignment and keeps you cozy. When it comes to the Tempur-Cloud, I extend my most enthusiastic recommendation to back sleepers!
Cover Fabric — This pillow's cover is super soft, naturally moisture-wicking, and machine washable. So, sleepers who sweat at night and also prioritize easy wash care might be particularly compatible with this pillow. To wash the cover, just unzip it, throw it in a gentle cycle with mild detergent, allow it to air dry and you're good to go.
Tempur-Cloud Pillow Complaints
Not Extra-Soft — This pillow is advertised as extra soft, and I can't say I agree with that assessment. Every body is different, so the feel of a pillow can often be subjective. But I definitely felt more of a soft-medium to medium firmness.
Side Sleeping — In order to maintain healthy posture, side sleepers need a lofty pillow with a firmer level of support. In my opinion, this pillow was neither tall enough to keep my spine in neutral alignment, nor relieve pressure in my shoulders.
No Trial Period or Returns — You better be pretty sure you want this pillow before you buy it, because there is no trial period or returns. There is a limited 5 year warranty wherein you will be refunded if the product arrives damaged, but there is no way to test this pillow out before you buy it.
Anything Else I Should Know?
Sizing — Comes in one size, 24″ x 15 3/4″ x 5″
Wash Care — Cover may be washed on a gentle cycle with mild detergent. Foam must be spot cleaned only.
No Returns — Unless it arrives damaged
No Trial Period
Pricing — $79
Free Shipping — except to Alaska and Hawaii, for which there is an additional fee of $25
The following two tabs change content below.
Sarah is the Senior Writer and bedding expert at Sleepopolis. Every week, she personally tests and reviews new pillows, sheet sets, and other sleep accessories. She accompanies every video review with a meticulously detailed article to ensure her audience has all the pertinent info they need for the best shopping experience possible. Perhaps that's why her fans have dubbed her "the most thorough pillow reviewer on the Internet." Having tested everything from sleep trackers to mattress toppers, Sarah's expertise runs deep and is always expanding. She received her degree in Creative Writing from Brooklyn College and spends her free time doing stand-up, making pasta, and hanging with her cats.
Latest posts by Sarah Riccio (see all)