Buying a mattress as a couple can be quite the task. What if you and your partner enjoy two different firmness levels? How do you know which mattresses will perform well for amorous activities? What about motion transfer, materials, budget, and other factors? These are just a few of the questions that you'll want to consider when buying a mattress as a couple. 
Not to worry, Sleepopolis has highlighted all of the main topics that make a mattress good for couples as well as specific mattresses that are designed to serve their needs best. I want to emphasize that the information below is comprised of my opinions, reflecting my own preferences and biases, so use it as a starting point.
And make sure to check out our full mattress review series to find the best models for all types of sleepers.
Best Mattresses for Couples
Read on for why I chose these mattress brands! Toward the bottom, I've also included more in-depth information on what I look for when reviewing mattresses for couples.
BEST MATTRESSES FOR COUPLES  – TOP CHOICES DETAILED
Below I have listed my favorite and best mattresses for couples. I'll continue to update this list as I test and review new mattresses. Down at the bottom I have all of my favorite mattresses for couples compared in one handy chart.
Best Mattress for Couples with Different Preferences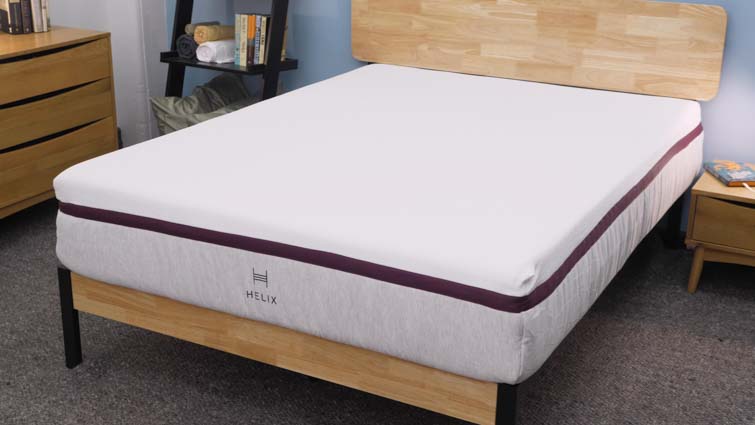 Helix
If you and your partner have very different sleep preferences, it may be difficult for you to land on a bed that suits both of your needs. For those who fall into this camp, the Helix line of mattresses may offer a solution. The Helix mattress is perhaps best known for being fully customizable, and that allows for couples to split firmness. That's especially useful for sleepers who share a bed with a partner, because Helix customers can order two different firmness levels and constructions for each side of the bed. 
So, if you and your partner have different preferences regarding firmness levels and feels, Helix's easy customization process is definitely something to pay attention to. Helix also utilizes microcoils in its construction, which help isolate movement and allow the mattress to perform very well on motion transfer tests. These help reduce the impact that one sleeper's movement will have on their partner. 
Learn more about all of the entire Helix mattress line in our full Helix mattress review!
Spring Sale: Up to $200 Off + free pillows!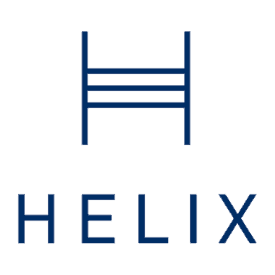 Not only is the Helix mattress customizable, you can customize each side of the mattress. A wonderful option for couples that have different mattress preferences.
Best Innerspring Mattress
Saatva
The Saatva mattress is a popular innerspring mattress that features individually wrapped coils on top of steel support coils, along several layers of support foam and a European-style pillow top. It's a desirable option for sleepers and couples who want a somewhat "traditional" innerspring feel but with the added benefits of modern mattress construction, including better performance on motion transfer. The pillow top also appeals to a variety of sleepers, which can help ensure both you and your partner are getting a great night's rest.
Read our full Saatva mattress review to learn more.
$200 Off!

The Saatva mattress combines a luxurious pillow-top layer with two sections of coils for that classic innerspring feel. 
Best Mattress for Sex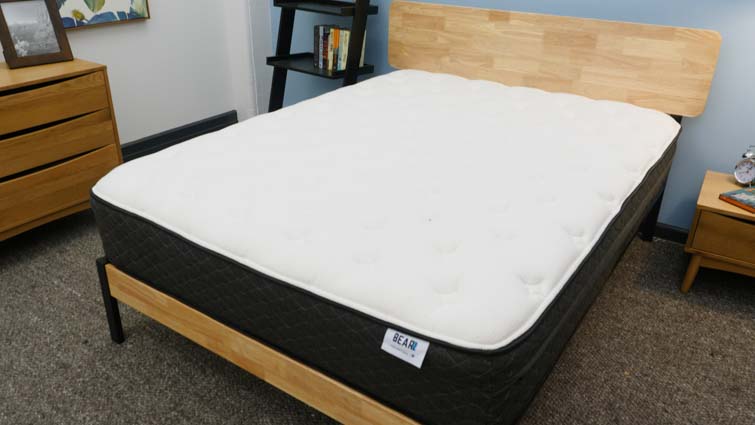 Bear Hybrid
With the Bear Hybrid's great use of soft foams for pressure relief and coil support for a bit of bounce, sleepers of all kinds will find great comfort when lying in bed. Bear's cooling gel foams all sleepers to sink in, which is a great advantage while lying on your side. But don't worry about any stuck feeling in bed, the bounce from the coils allows you to roll around without fighting the foam layers.
Overall I'd say the Bear Hybrid has a medium firmness that is great for combo sleepers. I would also say that I was pretty impressed with its ability to isolate motion transfer, which is a nice benefit for the couples out there.
Check out my full Bear Hybrid Mattress review to learn more.
Save 25% With Code SLEEPOPOLIS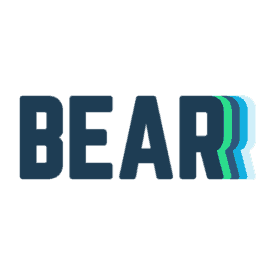 Specifically designed for athletes, the Bear Hybrid is a great supportive option for active sleepers. 
Best Mattress for Heavy Couples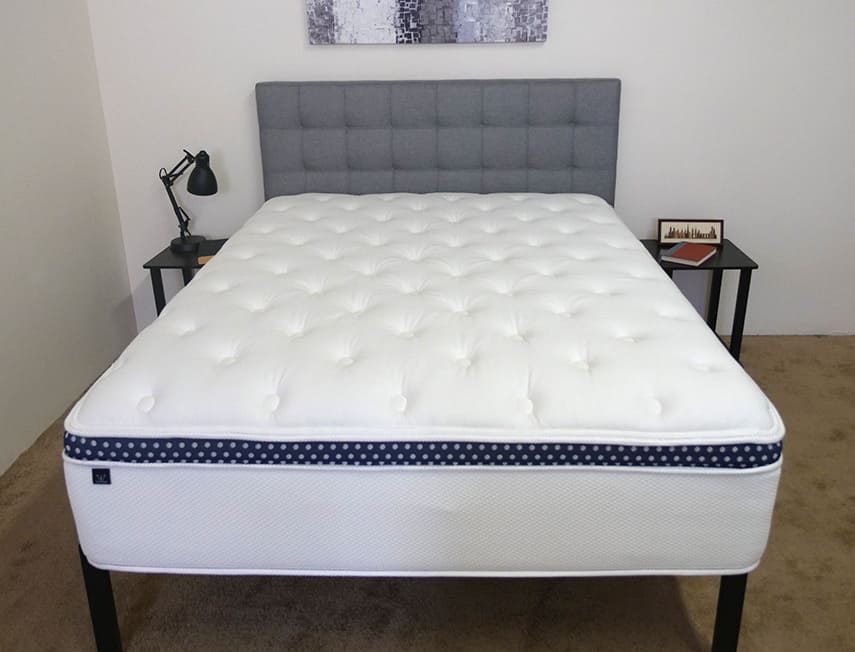 WinkBed Plus
The WinkBeds Plus Mattress is a version of the WinkBeds model made specifically for individuals over 300 lbs, and that helps make it great for heavy couples. The Plus version of WinkBeds provides additional pressure relief and exceptional support for heavier individuals and couples. The WinkBeds Plus Mattress is also built to be extra-durable, which could be an appealing feature for larger couples who want a bed to last for years. And it has great support throughout, including the edge, allowing you and your partner to better utilize the full surface of the mattress.
Read our full WinkBeds Plus mattress review here.
$300 Off!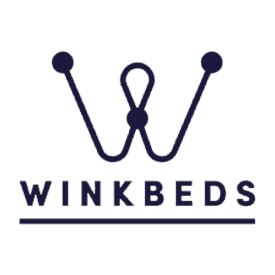 The WinkBeds Plus was designed to be bouncy, cooling, and particularly supportive for heavier sleepers! 
Best Mattress for Side Sleepers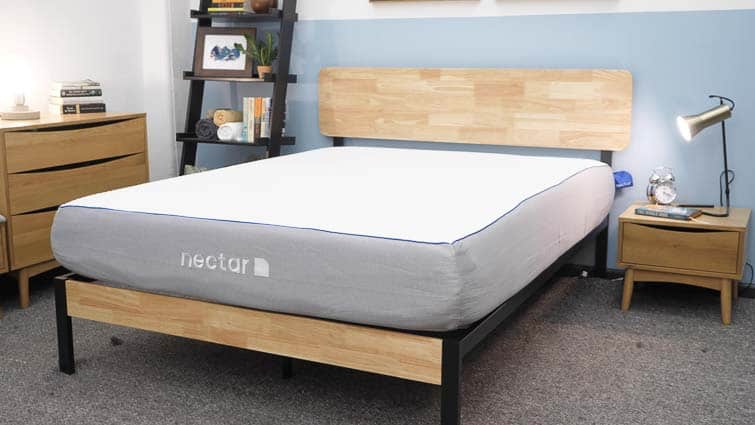 Nectar
Do you and your partner love sleeping on memory foam? If so, the Nectar mattress is the mattress for you. If you share a bed, you know that any movement you make throughout the night has the potential to disturb your partner. Fortunately, the Nectar mattress's memory foam absorbs motion, so neither of you will be stirred awake from one another's movements. 
The gel-infused memory foam cover means that while you'll sink into the foam, you won't feel trapped or stuck. And thanks to the memory foam's cooling gel in the comfort layer, you won't get too warm. Below this, the memory foam transition layer extends the comfort layer deeper into the mattress. The firmer, high-density poly foam base below the transition layer gives the mattress its shape and stability, providing support for the entire bed. For all these reasons, I think the Nectar mattress is the best memory foam mattress on the market.
If you want more information, take a peek at my Nectar mattress review.
$399 in Free Gifts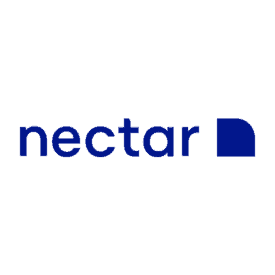 Sleepers will sink deep into the Nectar mattress for some soothing pressure relief, something that side sleepers will particularly appreciate! Click here to get $399 of free accessories with every mattress purchase!
Best Memory Foam Mattress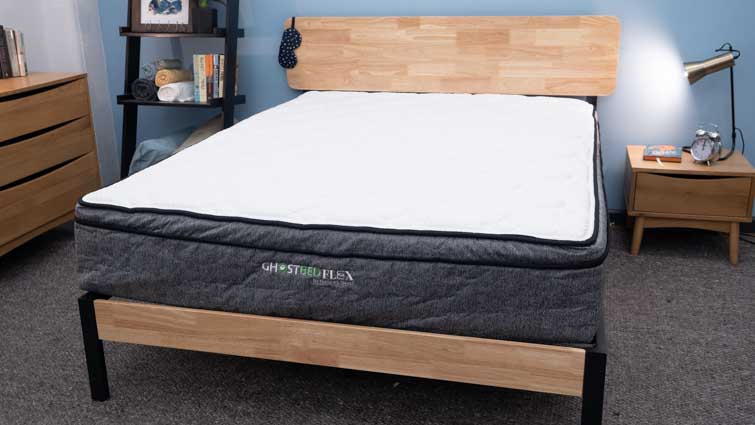 GhostBed Flex
The GhostBed Flex is a memory foam hybrid that's a great option for couples. Its gel memory foam layer does a lot to make this mattress work for anyone who sleeps with a partner. First, this layer isolates motion, which means you won't be overly disturbed by a restless bedmate. Second, its very cooling, which means you won't overheat when sleeping with a partner. And finally, this layer offers body-contouring and pressure relief that makes it a great fit for back and side sleepers.
The GhostBed Flex is also a responsive mattress, which means it's good for combination sleepers. A mattress with a little bounce is also good for sex, another reason this GhostBed is a great choice for couples.
Read our full GhostBed Flex mattress review to learn more.
25% Off + Free Pillows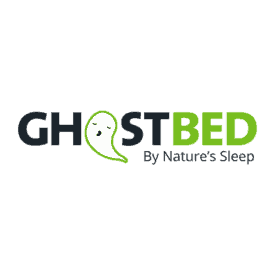 The GhostBed Flex uses a combination of soft memory foam and bouncy coils to provide nice pressure relief with the worry of feeling stuck in the mattress. The GhostBed Flex also uses great materials to help you sleep cool throughout the night. 
Best Hybrid Mattress for Couples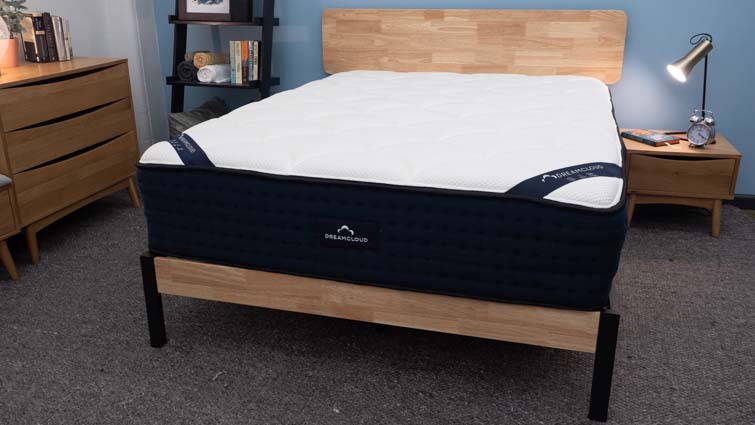 DreamCloud
The DreamCloud is a firm-feeling hybrid with sturdy pocketed coil support. I especially like this mattress for couples because it has great edge support. This means couples will be able to use the entire surface area of their mattress without feeling like they might fall off the side of the bed.
The DreamCloud also sleeps really cool, which is another great feature for couples. It's easier to overheat in a bed when you're sharing with a partner, so a breathable mattress is a great perk for these sleepers.
Learn more in our DreamCloud mattress review.
Free Gifts With Purchase!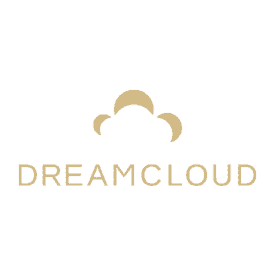 This tall hybrid mattress combines foams with pocketed coils for a luxuriously supportive sleeping experience.
Best Mattress For Hot Sleepers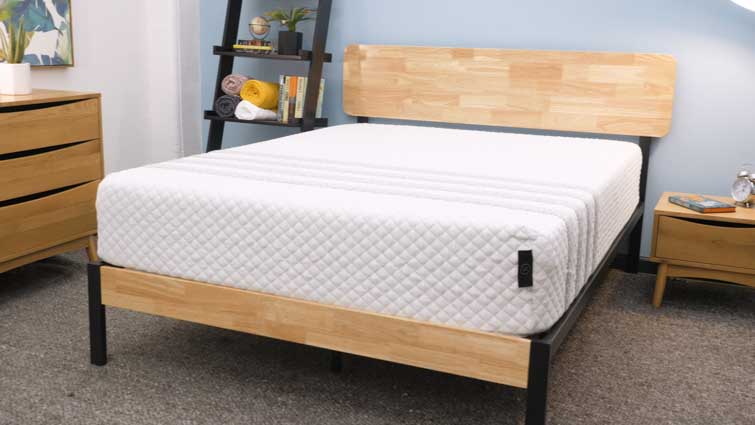 Leesa Hybrid
If you and your partner sleep hot at night, you might want to consider the Leesa Hybrid. This mattress combines premium foams with pocketed coils for a sleep that's as cozy as it is ultra-cooling. 
So, what makes this bed a temperature-regulating star? Well, first off, its memory foam layer is tucked under one of poly foam. By keeping the poly foam closer to the sleeper, the bed is able to mitigate memory foam's tendency to trap and absorb body heat. Secondly, the mattress features a tall section of individually wrapped pocketed coils. These springs move independently of one another, which creates a ton of airflow throughout the structure. All in all, this is a bed that's breathable, bouncy, and oh so wonderfully cool. 
To learn more about this mattress, take a look at my full Leesa Hybrid mattress review.
20% off with code Sleepopolis20

Thick layers of foam and pocketed coils come together to offer sleepers the perfect hotel-bed feel.
Best Mattress for Couples with Different Weights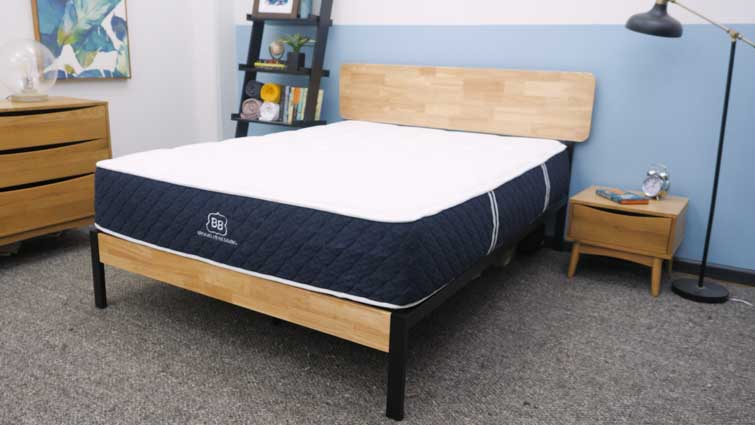 Brooklyn Bedding Signature
One of the most common questions I receive from couples looking for a new mattress is surrounding what to do if they have different sleep preferences, or need different levels of support because their weights are vastly different. Many couples in this position would like to go with split king mattresses so they can both get the feel they like, but one problem with that is that if you get two different mattresses you can end up with different heights and a split in the middle of the bed. The Brooklyn Bedding Signature solves this problem by coming in three different firmness levels, without any variation in the height of the mattress.
The Brooklyn Signature is a hybrid mattress that offers great pressure relief and support. Brooklyn Bedding offers this mattress in Twin XL and Split California King so couples can each choose how firm they want their side of the bed, without any weird breaks in the middle of the bed.
Read our Brooklyn Bedding Signature review to learn more.
Save 20% with code SLEEPOPOLIS20
Brooklyn Bedding Signature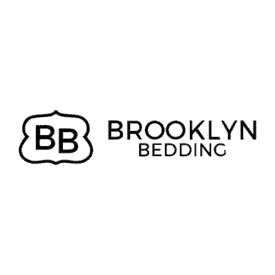 Brooklyn Bedding Signature
Resilient, latex-like foam offers sleepers of all styles great, pressure-relieving support! 
Best Mattress for Couples with Back Pain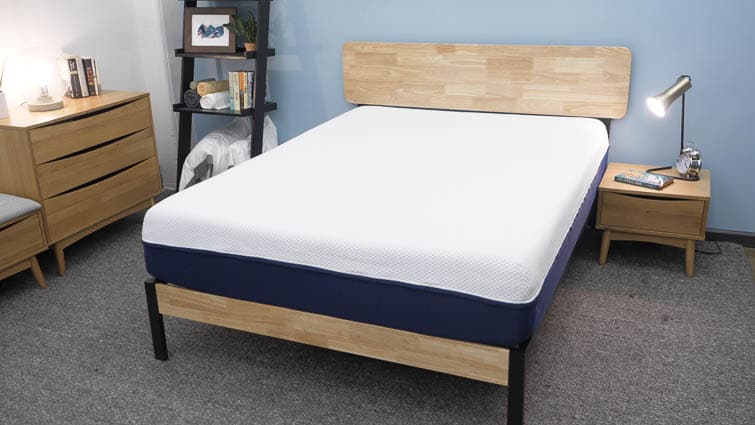 Amerisleep
If you share a bed and one or both of you suffer with back pain at night, an Amerisleep mattress might be the answer you're looking for. These mattresses are separated into different models in terms of their firmness, with AS1 being the firmest and AS5 being the softest. The mattress does a nice job with support, maintaining the alignment of the back muscles and spine. This can greatly reduce any back pain you may experience throughout the night.
Even though Amerisleep mattresses vary in how firm they are, each contains a soft memory foam layer to balance out the firmness. This comfort layer, along with the Celliant cover, helps keep you feeling cool and pleasant throughout the night. Plus, the memory foam in any Amerisleep mattress absorbs movement, which helps to contain motion to one part of the mattress. 
To find out more information about Amerisleep mattresses, take a look at my main Amerisleep mattress review. 
Save 30%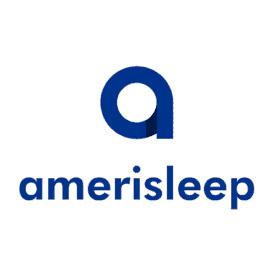 With a true medium-firm feel, the AS3 is ideal for combo sleepers. Get 30% off with code SLEEPOPOLIS.
Picking A Mattress For Couples
When choosing a mattress that will work for you and your partner, the following criteria will come in handy before making your selection.
Motion Transfer
Motion transfer plays a big role with regards to purchasing a mattress as a couple. Nobody wants to roll over and wake their partner, or be woken by their partner's movements. A mattress with very little motion transfer is a huge benefit for most couples. A mattress that has the ability to dissipate movement can be the difference between sleeping well and not sleeping at all. If you or your partner tend to be lighter sleepers, motion transfer is even more important.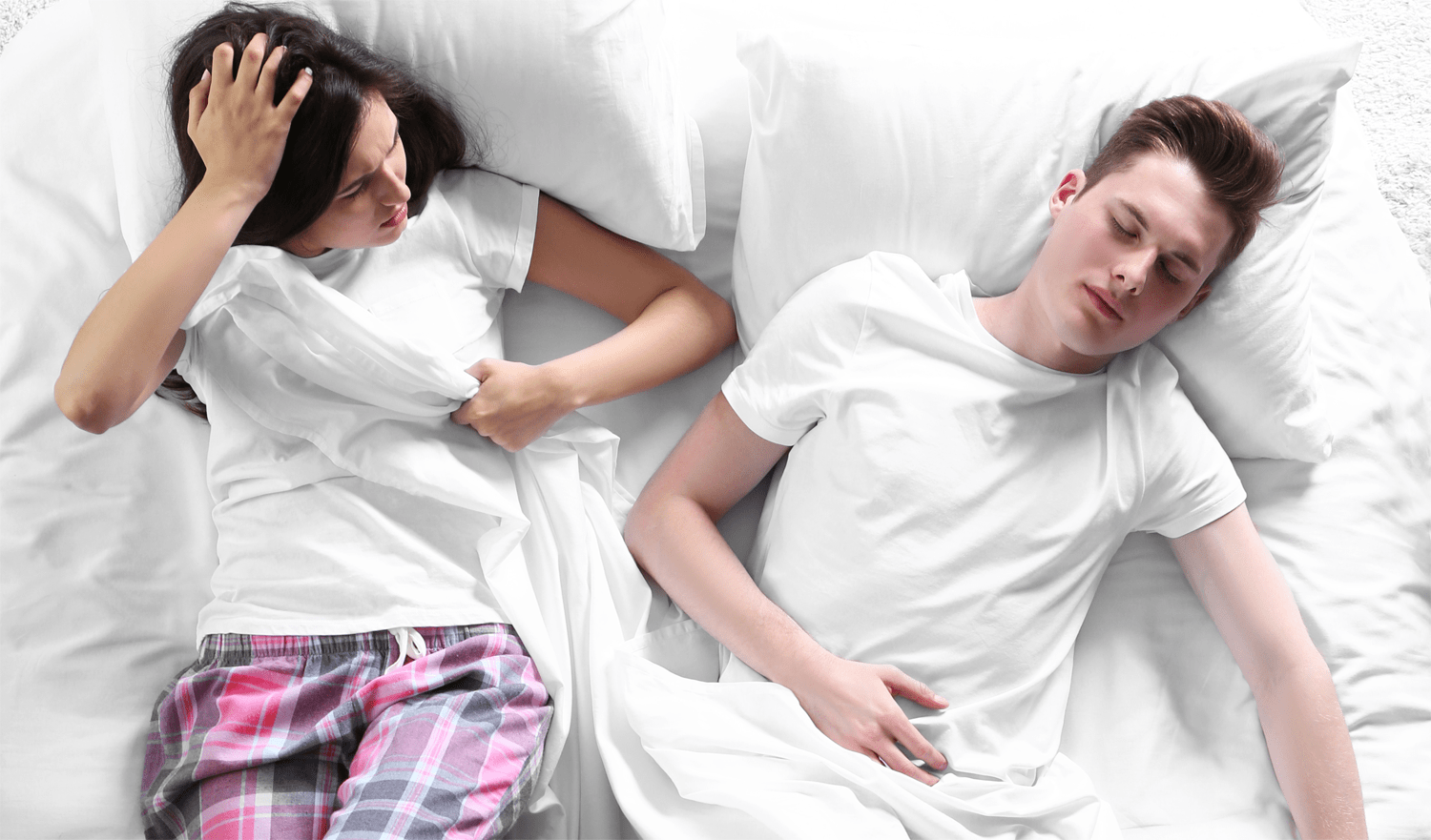 Memory foam mattresses are usually the best choice when trying to avoid motion transfer (like the Amerisleep Mattress, which we rated highly for restless sleepers). The memory foam construction helps to absorb motion and / or dissipate any energy that tries to make its way across the mattress. That said, memory foam has a very distinct feel that isn't great for everyone.
For these types of couples a latex, hybrid, or polymer mattress can be a great compromise. These types of mattresses offer a significant improvement over traditional coil mattresses, but still have more response, bounce, and less of a sinking / stuck feeling.
Support
In terms of general support, a good mattress should evenly support your body in a variety of sleeping positions, helping to maintain a neutral spinal alignment. Any quality mattress should meet this basic requirement.
However, for couples, support sometimes needs to go a step further. A couple collectively places more pressure on a mattress, which requires better support. This is especially critical for heavier sleepers who sleep together on a Full or Queen size mattress.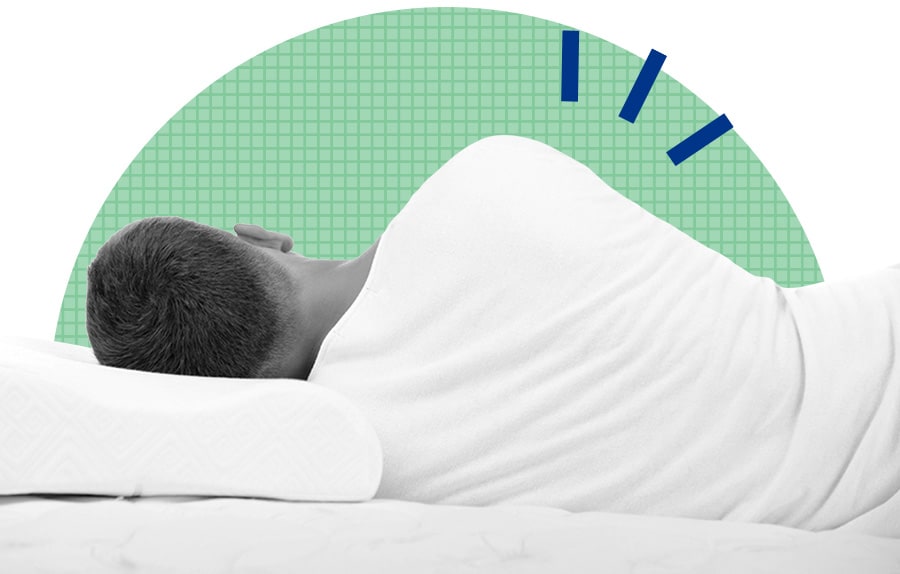 If the heavier sleeper rolls towards the middle of the mattress and creates somewhat of a downward slope, the lighter sleeper may end up rolling into their partner. This can create additional motion transfer and interfere with the support and feel of the mattress for both sleepers. As a result, couples (especially heavier sleepers) need to select a mattress with excellent support and material design.
FAQ:  Best mattress for heavy people
Sex
Sex is an important consideration when purchasing any mattress, but especially for couples. No couple (that I know of) wants to go buy a mattress that falls flat of anything short of a good time. For couples engaging in amorous activities, bounce, response, support, edge support, and comfort all play an important role. For a more complete guide to sex, see our best mattress for sex here.
For starters, bounce goes hand-in-hand with response time. The quicker a mattress is able to respond, the more natural and enjoyable the bounce and push-back feels. Traditionally, only innerspring mattresses were able to provide couples with a high degree of bounce. Today, many all foam mattresses or hybrid designs offer a similar level of response and bounce, opening up new choices.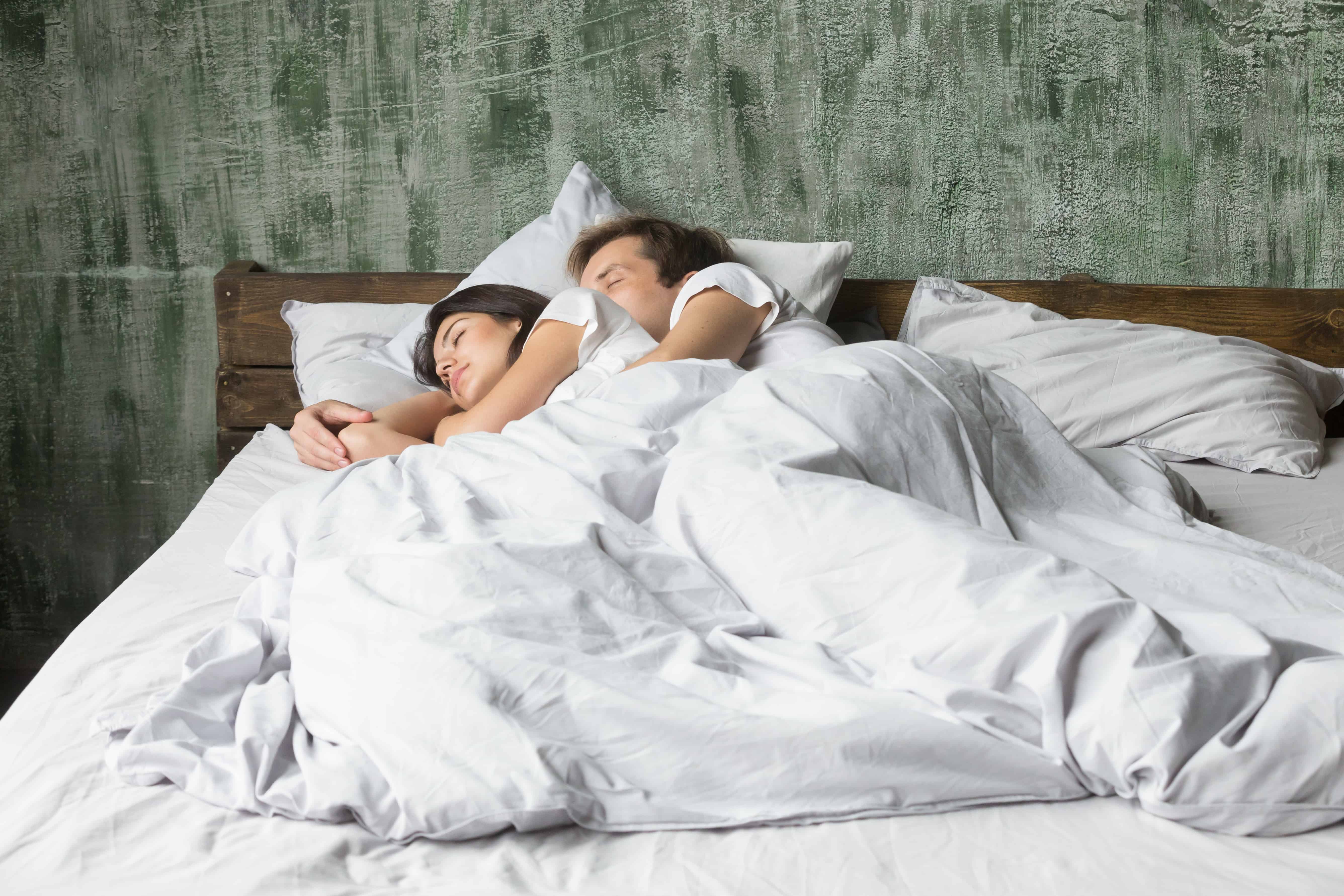 Typically, mattresses with good bounce also have a good response time. For example, latex or latex alternatives offer nearly instant response and great bounce, but still create a balanced contoured hug for sleepers. Very traditional memory foam mattresses may not be ideal for sex. These types of mattresses are very slow to respond.
Lastly, good support and good edge support further play into the amorous activity performance. Beyond just support for the purposes of sleeping, the mattress needs to be able to support the weight of two adults located in generally the same place on the mattress. That's a lot of weight. Selecting a mattress with robust materials and a good design will ensure the mattress is capable of properly supporting the full weight, while still creating good comfort, bounce, and response.
Firmness & Feel
Perhaps the most important factor in selecting a mattress for you and your significant other is simply the firmness and feel. Nothing else really mattress if you aren't comfortable on the mattress. Fortunately, there are several good options to ensure you and your partner can get the feel and firmness level best suited for you.
FAQ:  What mattress firmness do I need?
First, you can select a mattress designed with a universal and/or adaptive feel. These types of mattresses are usually in the medium firmness range. They are designed to provide an equal level of support and pressure relief regardless of body type, weight, and sleeping position.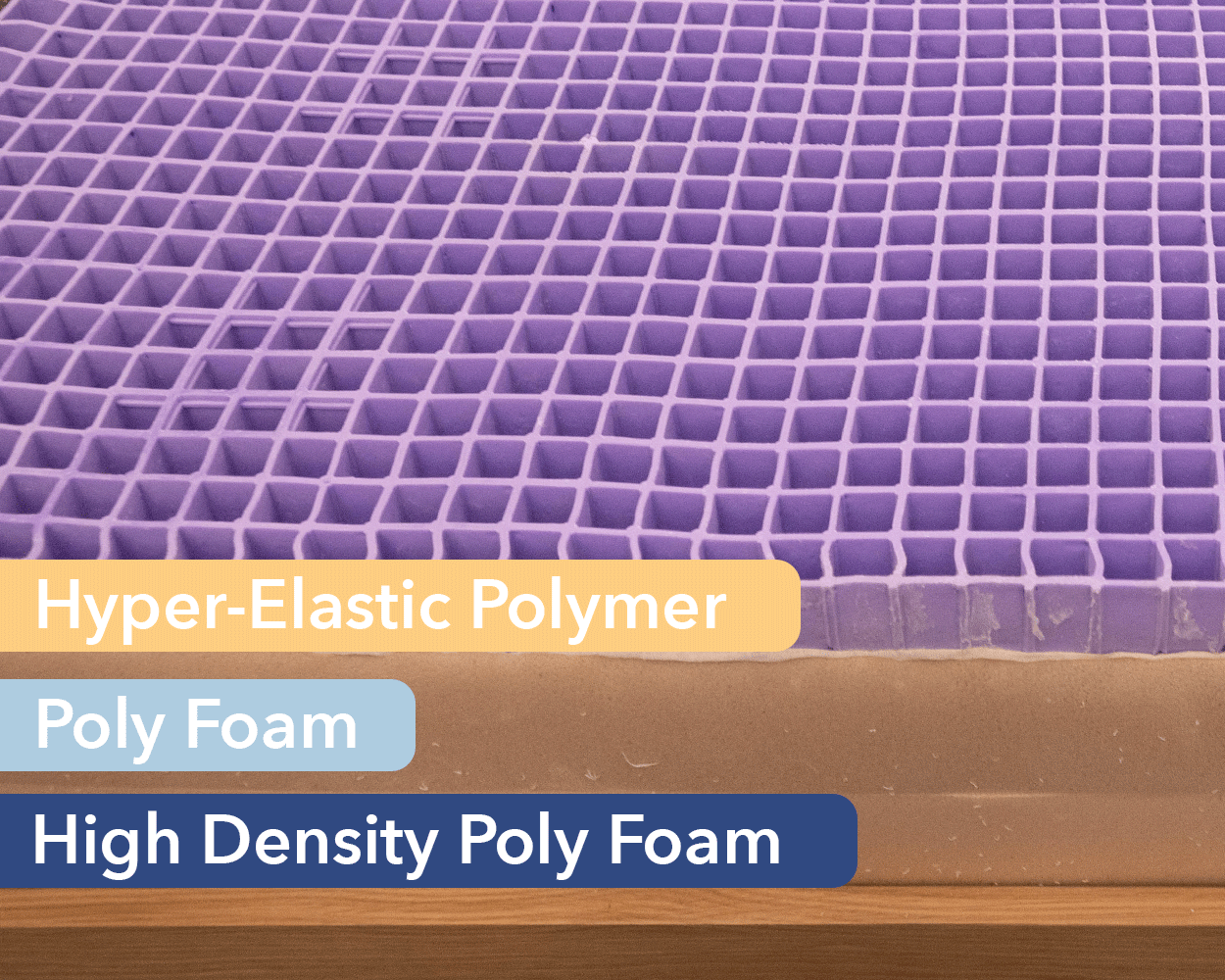 If you're wary about the idea of universal comfort you can go with a split option. With a split option you'll generally have a Split Queen or Split King. In this setup you'll have two separate mattresses side by side. This setup is ideal if you and your partner have very different needs and find a compromise in the middle just isn't an option. For example, if one partner is very heavy and the other partner is very light, a split mattress may be a good choice.
With split mattresses you have a few options. Some companies provide different firmness levels for their mattress. This allows you to get the same general design, but in a soft, medium, or firm option. This also helps you keep a similar aesthetic and size.
However, the design and form of many online mattress companies are similar enough that you could also simply purchase two different Split Queen or Split King mattresses and use side by side, provided they are the same thickness.
Last, but certainly not least, we have full customization. While there aren't many of these mattresses available yet, we do have at least one really good option with the Helix mattress. Helix allows couples to each customize their own side on the mattress. However, the mattress is still one single bed. Helix also has the ability to be as firm or as soft as you need it, in addition to being customized for body type, weight, certain medical conditions, sleeping position, and other factors. This makes it a really strong contender and one of the best mattresses for couples available today.
Best Mattress for Couples: Details and Pricing
Here is one last look at all coupons and information you need for you choose from the best mattresses for couples: