Known for its distinctly fuzzy feel and rustic aesthetic, flannel fabric has been a wintertime go-to since the 1500s. But the world of bedding has changed quite a bit since then, and if you're on the hunt for flannel bedsheets and not sure where to start, you've come to the right place. So grab your hot cocoa and settle in because I'm about to show you my top four favorite flannel sheet sets on the market!
And this guide isn't just about my own experience testing these sheet sets… In fact, I'm going to show you my personal methodology behind flannel sheet shopping so you've got all the info you need to find the best flannel sheets.
Best Flannel Sheets
Best Style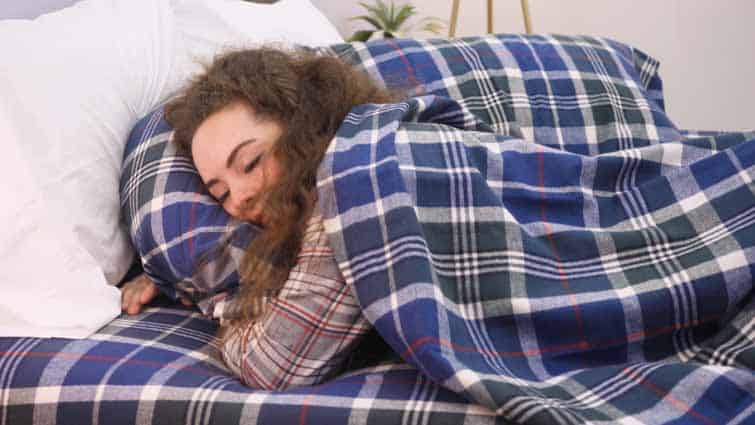 Stone & Beam Rustic Flannel Sheet Set
First up on my list is the Rustic Sheet Set from Stone & Beam, and I picked it for sleepers looking for that classic plaid flannel style.
Made from 100 percent cotton and napped on both sides, these flannel sheets are velvety-soft to the touch. Remember — the napping process gives flannel fabric a super warm and cozy feel that makes it the perfect cuddling companion on cold nights. So if you're looking for flannel bedding that offers a classically soft and fuzzy texture, this is a great pick.
Speaking of cold nights, the folks at Stone & Beam don't advertise the GSM of this set, but I'd classify it as midweight. Those looking for flannel bedding that's suitable for year-round use would probably do well with this set as it's surprisingly breathable and light.
But beyond the warm and comforting quality of this bedding, my favorite thing about it is the style. This set comes in a few different color combinations, but they all feature a Tartan plaid pattern that brings a charmingly rustic aesthetic to the bedroom. If you've never slept on flannel sheets but you know you want them to be warm and have that iconic plaid style, Stone & Beam is a great place to start.
Price: $57-$88, which is a great value for double-napped, midweight cotton flannel!
Perfect for: Sleepers looking for velvety-soft flannel that features a classic rustic style.
Best Value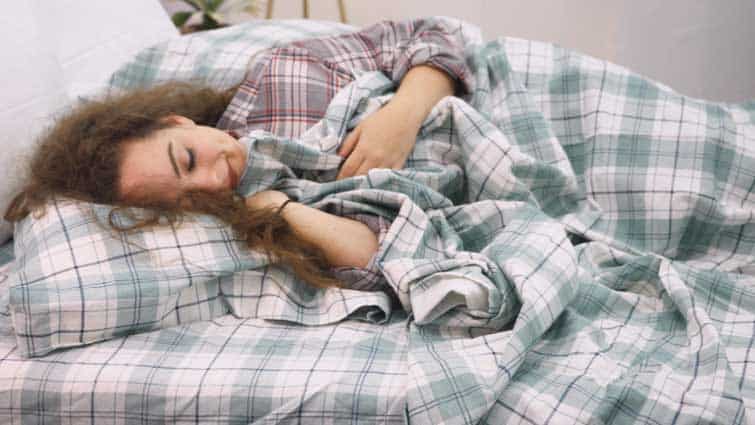 Mellanni Cotton Flannel Sheet Set
If you're looking for flannel bedding that's cozy, durable, and easy on the wallet, the Mellanni Cotton Flannel Sheet Set might be the pick for you.
These super soft sheets are made from 100 percent double-napped cotton, and come in a wide variety of colors (yes, more than just plaid!). They're heavyweight, durable, and feature a high GSM of 170. Remember that GSM says a lot about the weight and durability of flannel bedding, and anything higher than 160 is going to be extra warm and insulating.
Folks shopping specifically for wintertime are likely to be compatible with this set, but what genuinely surprises me about this bedding is its price. In my experience, heavyweight flannel like this usually starts at $50, but this set is $40 for a queen size! Needless to say, sleepers on a budget are bound to benefit from Mellani's affordable flannel.
Skeptical? I don't blame you. But take comfort in the fact that this company offers a Lifetime Manufacturer Guarantee which means that if you ever decide you don't like this bedding, just contact Mellani and you'll be fully refunded.
Price: $35-$42, which is an insanely good value for heavyweight double-napped flannel bedding.
Perfect for: Sleepers looking for a warm and heavy set of flannel sheets that won't break the bank!
Best for Winter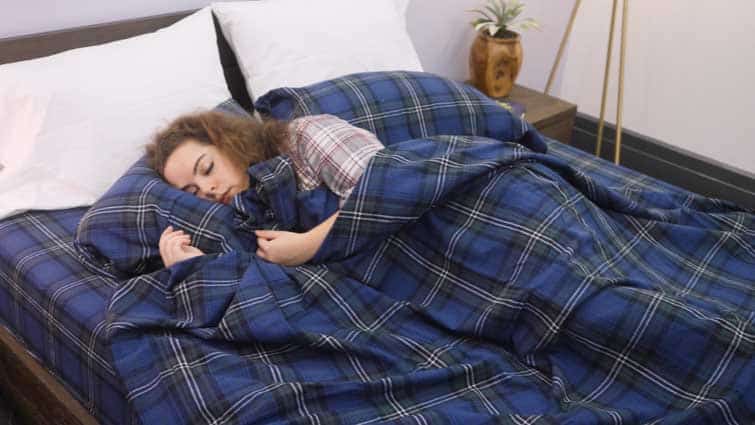 Pinzon Plaid Flannel Sheet Set
Here comes another heavyweight flannel sheet set that's ideal for wintertime — the Pinzon Plaid.
Like the others we've seen so far, these sheets are made from 100 percent cotton and napped on both sides. They feel very warm and fuzzy to the touch, and feature a high GSM of 160 which makes them perfect for chilly weather. Remember: Flannel sheets with a GSM of 160 or higher are thicker, more insulating, and often more durable.
One of my favorite things about this set is that it comes in seven different plaid styles, all of which, in my opinion, evoke a Christmas-y vibe. If you're looking to give the gift of cozy flannel this holiday season, I think Pinzon is a great way to go.
More: Shopping for the holidays? Check out my list of gift ideas for the sleep lovers in your life!
Additionally, the fitted sheet in this set has big 16-inch pockets and a strong elastic band that keeps it securely tucked beneath your bed. Those looking for a set of deep-pocket sheets to accommodate their luxuriously tall mattresses might be particularly compatible with these.
Price: $43-$65 which, again, is an impressively good value for heavyweight flannel that's been napped on both sides!
Perfect for: Sleepers looking to bundle up in a warm, cozy, Christmas-y set of flannel sheets!
Softest Feel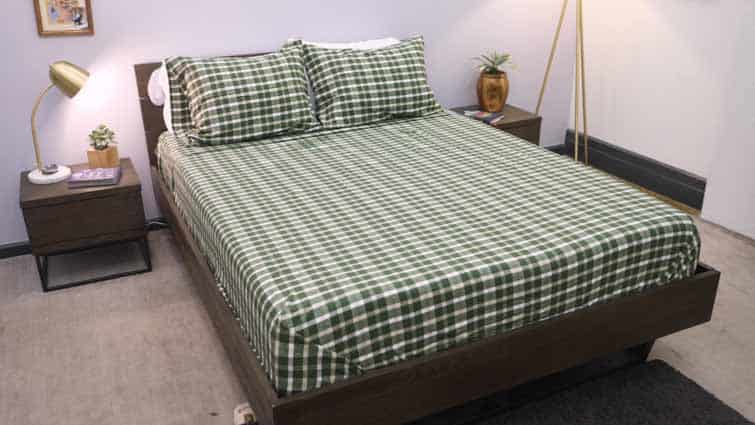 Boll & Branch Flannel Sheet Set
Last but certainly not least on my list is the luxuriously soft flannel bedding from Boll & Branch.
Let me start by saying that I was extra excited to test these sheets because I'd already reviewed this brand's cotton sateen bedding and was wowed by its comfort and quality. So it came as no surprise to feel how exceptionally smooth and durable this flannel sheet set is. And when I say smooth, I mean these are the silkiest flannel sheets I've ever felt (I had no idea flannel could even feel silky… did you?).
Made from 100 percent organic cotton and napped on both sides, these sheets offer an irresistibly soft feel. And while this brand does not advertise its GSM, I'd say these sheets are just slightly heavier than mid-weight, which might be ideal for cold sleepers looking to enjoy flannel year-round.
What separates this bedding from the rest in this roundup, though, is that the fabric is sheared after it's napped, which essentially takes that smoothness to the next level. Think of shearing as giving fabric a haircut — the surface fibers are raised when the fabric is brushed, but then cut down to create a feel that's less fuzzy and more smooth.
But that's not all shearing can do! It can also increase the fabric's durability by boosting its resistance to pilling (which might earn you more bang for your buck over time). That said, the extra steps involved in the shearing process make these sheets a bit pricier than the others in this roundup but, in my opinion, they offer a uniquely soft feel that sets them in a class above the rest.
And aside from how soft these sheets are, I love that they come in a wide range of styles. If you're not a plaid person, you'll be pleased to know that this set comes in solid colors, stripes, and herringbone patterns. So feel free to get creative!
Price: $185-$315, which is definitely a luxury price tag. But keep in mind that it comes with free shipping, free returns, and a 30-day risk-free trial period.
Perfect for: Sleepers looking to spring for an ultra-soft and durable set of luxury flannel sheets!
Methodology: How To Shop For Flannel Sheets
Before we get into my roundup of the top four best flannel sheet sets, let's discuss the methodology behind my picks. Yes, a lot comes down to personal preference, but there are a few key things to keep in mind when shopping for the flannel that best fits your body, your bed, and your budget.
Material
When flannel fabric was first introduced in the 1500s, it was made exclusively from wool. Nowadays, woolen flannel sheets are actually rather rare, and have largely been replaced by cotton. That said, you can find wool-based flannel if you look hard enough (some brands will make you a custom set for an additional fee) but in general, flannel sheets are made from cotton or polyester.
So before you begin your search for flannel, take some time to determine which material appeals most to you. Keep in mind that wool is especially warming, polyester is a lighter, synthetic material, and cotton is often the softest and most breathable of the bunch. Personally, I think cotton-based flannel sheets offer the most balanced feel, and every set in this roundup is made from 100 percent cotton!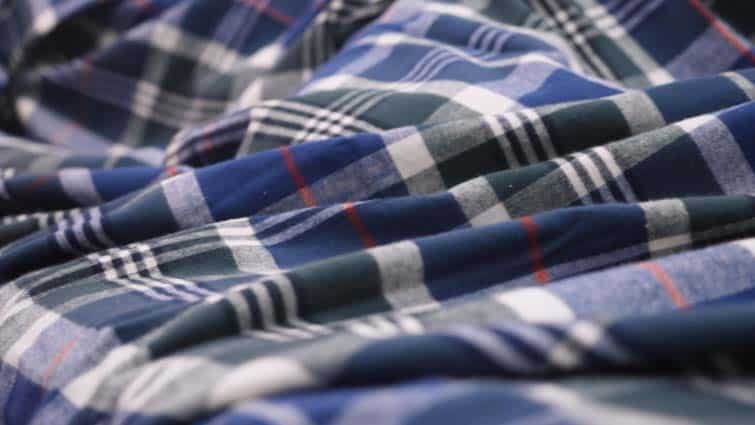 GSM
For many of us, thread count is one of the first things we think of when shopping for cotton sheets. But when it comes to determining the quality of flannel bedding, thread count goes out the window and the focus turns to GSM.
GSM stands for "grams per square meter" and is used to measure the weight, durability, and overall quality of flannel fabric. For context, a GSM of 130-135 is considered lightweight, which can be ideal for those looking for a thin and breathable sheet set. However, a low GSM can sometimes be indicative of low quality, depending on the materials used (polyester-based flannel with a low GSM is typically less durable).
Meanwhile, a GSM of 140-150 is midweight, which can be great for year-round use; and a GSM of 160 and higher is heavyweight and perfect for cold weather. More often than not, a bedding brand will advertise the GSM of its flannel sheet sets, but sometimes it's not explicitly given. If you can't find an exact GSM, this usually means that the set is classified as lightweight, midweight, or heavyweight instead.
Finishing Technique
"Napped" and "double-napped" are terms you'll see again and again when shopping for flannel. They both refer to a finishing technique wherein the fabric is brushed with a metal tool in order to raise the surface fibers and create that distinctly fuzzy feel that many of us associate with flannel bedding.
It's important to note, though, that "napped" usually means one side of the sheet has been brushed, while "double-napped" means that both sides have been. In my opinion, the best flannel sheets are double-napped as it makes for a more balanced feel and gives the whole set a unique, velvety softness.
In the more luxurious sheet sets, flannel fabric is often sheared after it's been napped. Essentially, this makes the finished fabric a bit less fuzzy, and a lot more smooth. In fact, the first time I tested flannel bedding that had been napped and sheared, I was amazed by how silky it felt (you better believe it's featured in this roundup!).
Style
Now it's time to bust a bedding myth!
Many folks assume that "plaid" is synonymous with "flannel," but that's not the case. Plaid refers to the pattern that we often see in flannel bedding, but flannel is the type of fabric itself. That said, flannel sheets are almost always offered in plaid styles, but if you prefer plain white or another other solid color, you can find that too.
I will say that, personally, I find that plaid flannel evokes an old-fashioned, rustic aesthetic that makes it look as cozy as it feels. But keep in mind that there are many different plaid styles from which to choose, including Tartan (which originated in Scotland), Glen (which is commonly seen in men's suit jackets), and Windowpane (which resembles the pattern of panes on a window).
Tartan-style plaid is likely the most popular pattern, but take some time in deciding what you want your bedding to look like before you begin to shop!
Pricing
The price of flannel bedding ranges quite a bit, and typically depends on the materials and finishing techniques that are used. For example, wool-based flannel tends to be more expensive than flannel made from polyester, and sheets that have been napped and sheared are usually pricier than those that have not been.
However, it's always a good idea to compare prices across many different bedding brands to make sure you're getting the best bang for your buck. Additionally, I suggest aiming for companies that offer a trial period! Trial periods ease the purchasing pressure a bit by allowing you to test the product before fully committing. For example, a 30-day trial period means you've got a full month to decide whether or not a sheet set is the right fit for you… And if it's not, just send it back for a refund.
FAQs
Is flannel made of cotton?
Flannel sheets can come in many different materials, the most popular of which is cotton. You can also find polyester-based flannel, and flannel made from wool.
Are flannel and plaid the same?
No, they're not. It's a common misconception that plaid is the same as flannel, but flannel is a type of textile, while plaid refers to a specific pattern.
Are flannel sheets warm?
Flannel bedding is known for its warm and cozy feel, as well as its ability to keep sleepers warm. That said, certain flannel materials are warmer than others. For example, cotton-based flannel tends to be more breathable as compared to flannel made from wool.
Is flannel wool?
Back in the 1500s, flannel fabric was made exclusively from wool. But now, flannel bedding is typically made from cotton, polyester, or another synthetic material. You can still find wool-based flannel, but it's more rare than it used to be!
Final Thoughts
Well sleepers, we've reached the end of my guide and you're that much closer to finding the perfect flannel sheet set. But before you start shopping, remember that flannel bedding comes in all different styles, weights, and materials, so take your time in considering all the fine details (and take advantage of those trial periods!). Afterall, the only way to really know if a sheet set is the best fit for you is to personally test it.
In the meantime, be sure to like and subscribe to our YouTube channel and follow us on Facebook, Twitter, and Instagram!
Sarah Riccio
Sarah is the former senior writer and bedding expert at Sleepopolis. She received her degree in Creative Writing from Brooklyn College and spends her free time doing stand-up, making pasta, and hanging with her cats.