For many folks, there's no cozier sleeping position than one in which they're curled up on their side with a cuddly blanket or pillow. So the best mattress for side sleepers should greet their bodies with a mixture of pressure relief and support, ensuring a comfortable drift to dreamland free of any tension or pain.
Unfortunately, many mattresses aren't actually built to meet the side sleeper's specific needs. They're either too firm (thereby inducing pressure at the shoulders and hips) or too soft (resulting in an overall lack of support). So what are these Goldilock snoozers supposed to do?
Thankfully, it's not all bad news for those who doze primarily on their sides as there are a TON of fantastic mattresses out there designed specifically for their slumber preferences. Below, we'll highlight some of our favorites and dive into all the factors that contribute to a sound side sleeping experience.
What Is the Best Mattress for Side Sleepers?
The best mattress for a side sleeper is one that aligns the spine and relieves pressure points at the hips and shoulders. Here are some recommendations to help get you started.
Ten Best Mattresses for Side Sleepers
What Makes These the Top Mattress Picks For Side Sleepers?
While each choice is based on my personal preferences and biases, I've endeavored to select mattresses that support different kinds of side sleepers, from those who sleep hot to those who need a little extra pressure relief at the shoulders and hips. As I discuss each of my picks, I'll make sure to explain why I selected them for this list and will share my expert tips for getting amazing sleep on your side. At the end of this article, we'll also dive deeper into the methodology behind this list. If you're still not sure of the right mattress after this list you can take our mattress quiz to be shown a selection mattresses that's curated to your sleep preferences.
But enough chat! Let's get into these mattresses.

Best Mattress for Side Sleepers with Back Pain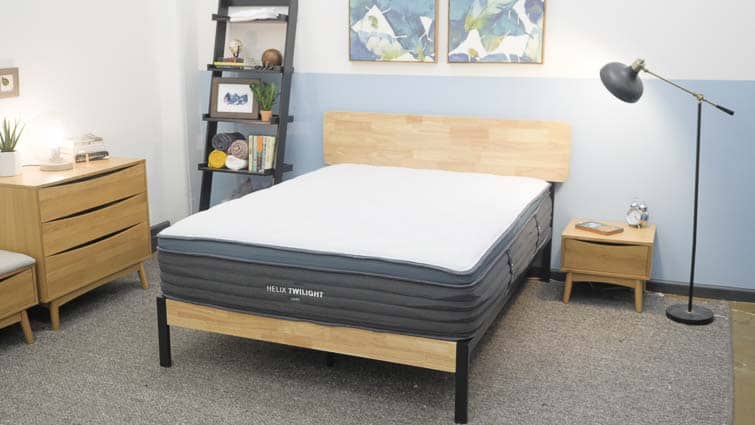 Helix Midnight Luxe
The best way to avoid back pain while sleeping is to find a bed that offers the proper level of support and comfort for your sleep style. You'll maximize your chances of doing just that by considering a Helix mattress. That's because Helix makes a wide range of hybrid mattresses, including several models designed with side sleepers in mind: namely, the Sunset, Midnight, and Twilight. 
Each of these side-sleeping-specific models features a memory foam comfort layer that lets side sleepers sink into the mattress and enjoy some nice pressure relief and body-contouring. At the same time, all of these mattresses also feature support from pocketed coils, which helps promote healthy spinal alignment to protect against back pain. While all of these models could work for you, I'd specifically recommend the Helix Midnight Luxe to most side sleepers who suffer from back pain. It should offer a lot of pain-relieving sinkage to these folks.
Hoping the Helix Luxe will ease your back pain? Learn more in our full Helix Luxe mattress review.
Spring Sale: Up to $200 Off + free pillows!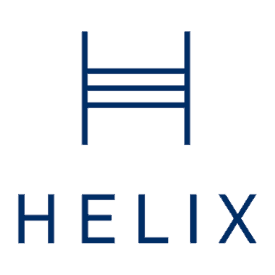 Whether you choose the standard or luxe edition, Helix mattresses have something to offer every style of sleeper! 
Best Innerspring Mattress for Side Sleepers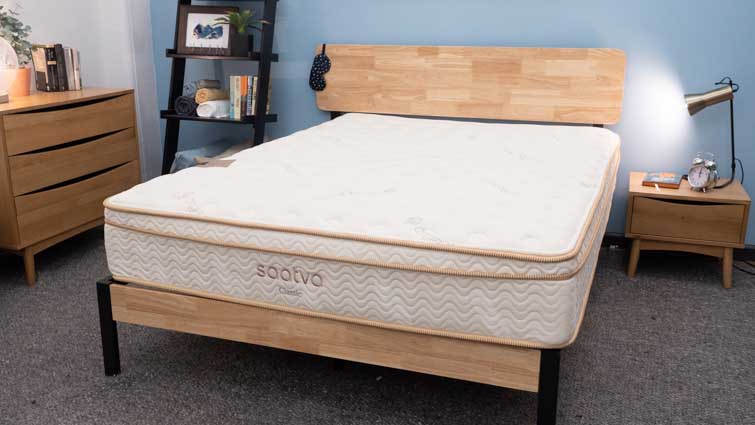 Saatva
If you're a side sleeper who prefers more of a traditional innerspring vibe, then you may want to consider the Plush Soft model of the Saatva mattress. Built with a sturdy coil-on-coil construction, this bed provides plenty of lift (and relief!) at the shoulders and hips. 
One of my favorite things about the Saatva is how well it supports a neutral spine alignment. What this means is that the bed is able to position the hips in line with the shoulders, creating an even line across the body. This alignment isn't just good for the back — it's also fantastic for alleviating tension at the shoulders and hips as you press into the structure. I should also add that the Saatva is available in three different firmness levels, which allows folks to really hone in on the comfort level that's going to be best for them. Side sleepers should opt for the Plush Soft model to ensure they choose an innerspring bed that isn't be too firm for their needs! 
Learn more in my full Saatva mattress review.
$200 Off!

The Saatva mattress combines a luxurious pillow-top layer with two sections of coils for that classic innerspring feel. 
Best Value Mattress for Side Sleepers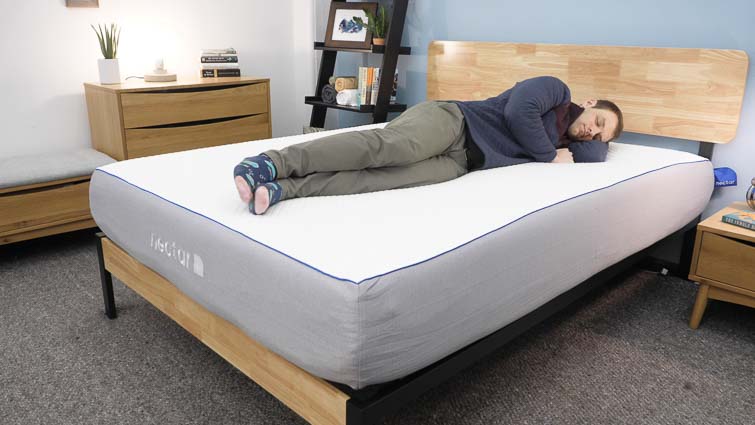 Nectar
Side sleepers on a budget, listen up! Of all the great value mattresses you could buy to support your dreamy lateral ambitions, my all-time favorite is the Nectar. Built with thick top layers of memory foam, this bed is designed to relieve all kinds of pressure… without breaking the bank. 
The star here is memory foam, which Nectar employs amply in both the comfort and transition layers. This material has a super slow response to pressure, so provides the sleeper with a ton of contouring relief as they sink into the bed. If you switch from you're a back and side sleeper, you could benefit a lot from this level of support. And what's especially great about the Nectar mattress is that it doesn't cost an arm and a leg. In fact, when compared to other memory foam options on the market, it's much more affordable. 
Curious to learn more? Then you better check out my full Nectar mattress review!
$399 in Free Gifts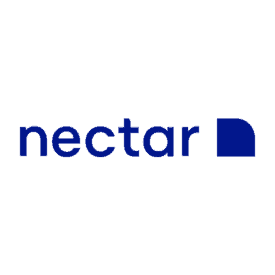 Sleepers will sink deep into the Nectar mattress for some soothing pressure relief, something that side sleepers will particularly appreciate! Click here to get $399 of free accessories with every mattress purchase!
Best Mattress for Heavy Side Sleepers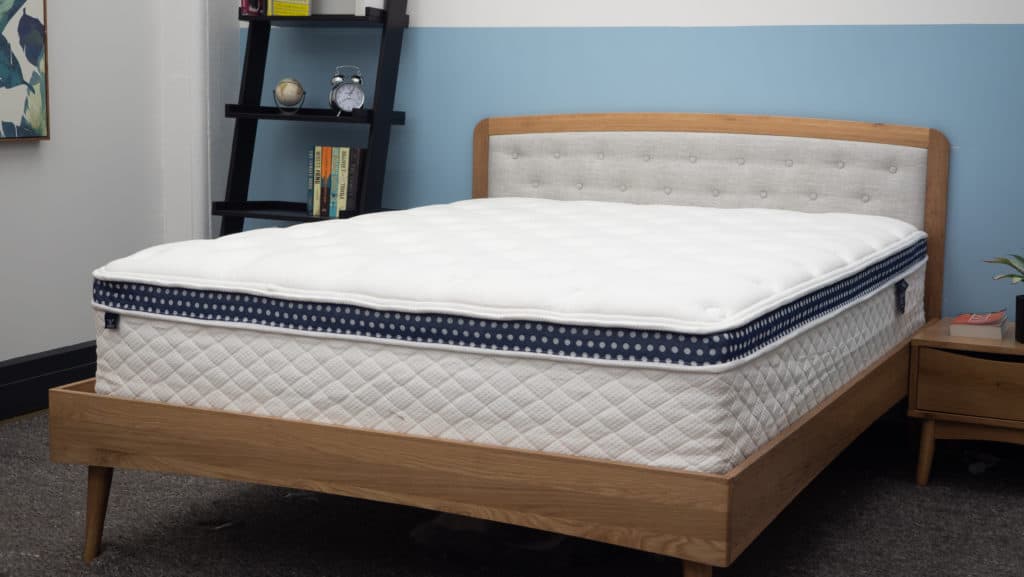 WinkBed
Looking for soft comfort but don't want to feel swallowed up by a mattress? Then you might want to consider a pillow top bed such as the WinkBed. The soft foams in the pillow top offer some nice pressure relief for side sleeping, while the bouncy coils beneath the pillow top provide plenty of support and mobility. 
The WinkBed is a bed-in-a-box hybrid mattress that comes in three firmnesses: Soft, Luxury Firm (medium firm), and Firm. Each of these models has a Tencel cover, which helps the mattress sleep cool. They also feature a gel-infused, super-soft foam pillow top over a coil-on-coil system that offers zoned support (meaning it makes room for some sinkage around the shoulder while elevating the hips). I've personally tested the Luxury Firm model and think it could be a great option for people who shift between their back and sides during the night. Strict side sleepers, however, might prefer the Soft version, which offers even more pressure relief.
Will the WinkBeds give you the feel you crave? Find out in our comprehensive WinkBed mattress review.
$300 Off!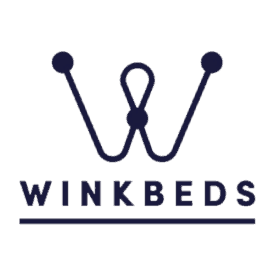 Built with a plush pillow top and a buoyant coil-on-coil structure, the WinkBeds is a great option for a wide range of sleepers! 
Best Hybrid Mattress for Side Sleepers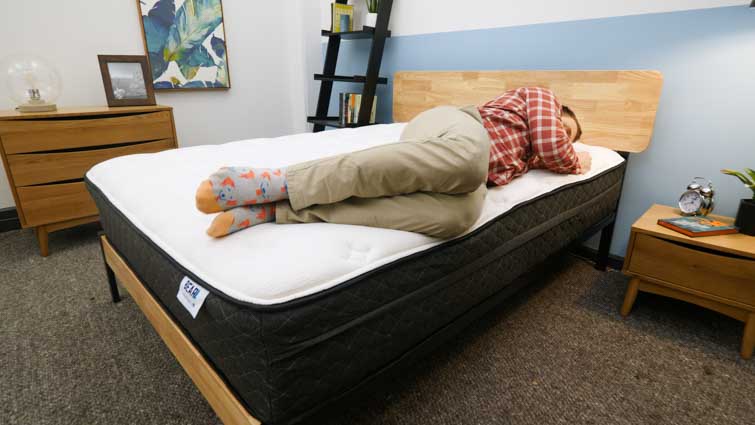 Bear Hybrid
Like a soft mattress but don't want to sacrifice bounce? Then a hybrid mattress such as the Bear Hybrid could be a great choice. This bed-in-a-box mattress features ultra-soft memory foams over pocketed coils, giving you the best of both worlds when it comes to pressure relief and mobility. 
In addition to its soft feel and nice bounce, the Bear Hybrid offers several other benefits. It has a Celliant cover and incorporates a gel infusion into its memory foams, both of which help the mattress sleep cool. There's also some evidence that Celliant might help with athletic recovery, so this could be a good choice for active folks. (Though it's a smart idea to do your own research on this point!) Finally, the Bear Hybrid could appeal to couples. It does a great job of isolating motion and features strong edge support, which lets partners utilize the full surface of the mattress. 
Could the Bear Hybrid be the mattress you need? Learn more in my full Bear Hybrid Mattress review. 
Save 25% With Code SLEEPOPOLIS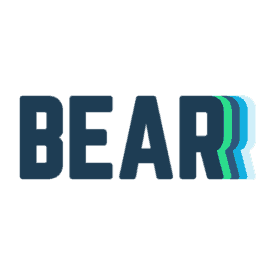 Specifically designed for athletes, the Bear Hybrid is a great supportive option for active sleepers. 
Best Cooling Mattress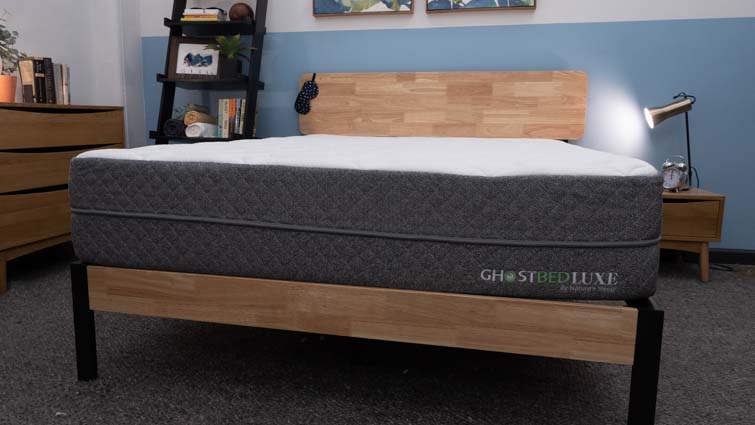 Ghostbed Luxe
Many of the soft mattresses designed for side sleepers use thick layers of foam that do a great job of relieving pressure at the joints. But these dense foams have a tendency to trap heat, insulating the sleeper in their own body heat and causing them to kick off the covers during the night. On the other hand, the all-foam GhostBed Luxe has a plush feel that I love for side sleepers but still sleeps super cool.
The GhostBed Luxe uses gel memory foam for pressure relief, which means it offers a contouring feel without trapping heat. The Luxe also uses a super cooling cover made of a blend of polyester and phase change material. Phase change material has a cool to the touch feel that really helps dissipate heat. These cooling properties make the GhostBed Luxe a great cooling option for side sleepers.
Learn more in our GhostBed Luxe mattress review.
25% Off + Free Pillows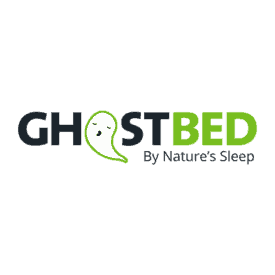 Designed with cooling in mind, the Ghostbed Luxe is fantastic for those who sleep hot at night. 
Best Pillow Top Mattress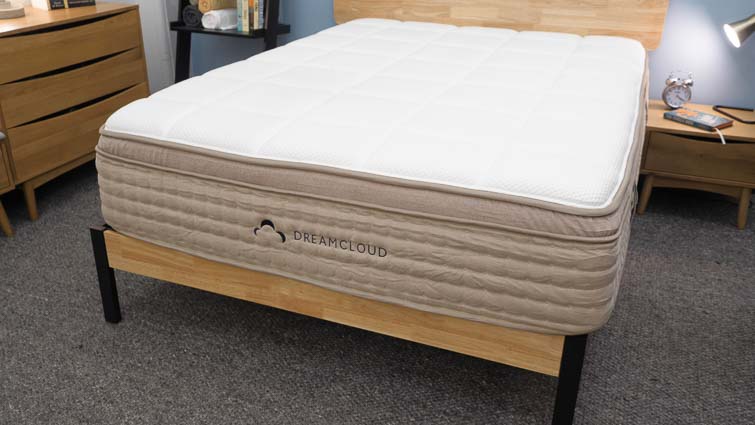 DreamCloud Premier
A pillow top mattress is a great option for sleepers who need pressure relief around the shoulders and hips. The DreamCloud Premier's cushioning pillow top will provide just that to side sleepers. A combination of gel memory foam and a pillow top offers plenty of pressure-relieving sinkage for these folks.
This medium-firm mattress also features pocketed coils, so it's fairly responsive. That means side and back combination sleepers should also feel comfortable on this bed. If you sleep on your side at any point during the night and enjoy the pillow-top feel, I'd recommend checking out the DreamCloud Premier.
Read our full DreamCloud Premier mattress review to learn more
Free Gifts With Purchase!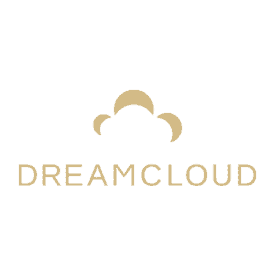 This tall hybrid mattress combines foams with pocketed coils for a luxuriously supportive sleeping experience. 
Best Soft Mattress for Side Sleepers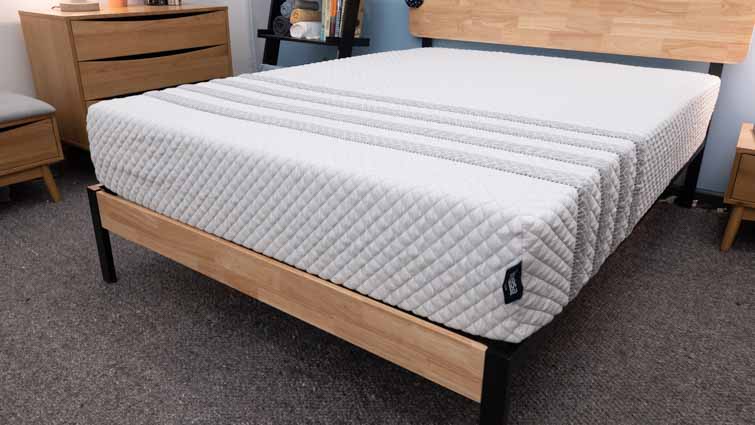 Leesa Mattress
Soft mattresses can be fantastic options for folks who like to doze on their sides. They typically provide ample pressure relief to the shoulders and hips, especially as they press into the structure overnight. And of all the soft mattresses on the market, my favorite for side sleepers is the Leesa Hybrid. 
This hybrid mattress scored a 6 out of 10 on the firmness scale from me (keep in mind that 6.5 is the industry standard for medium-firm). So, you should get plenty of pressure relief on this hybrid bed.
Learn more in my full Leesa Hybrid mattress review.
20% off with code Sleepopolis20

Nice Bounce
Great for Side Sleepers
Best Mattress for Pressure Relief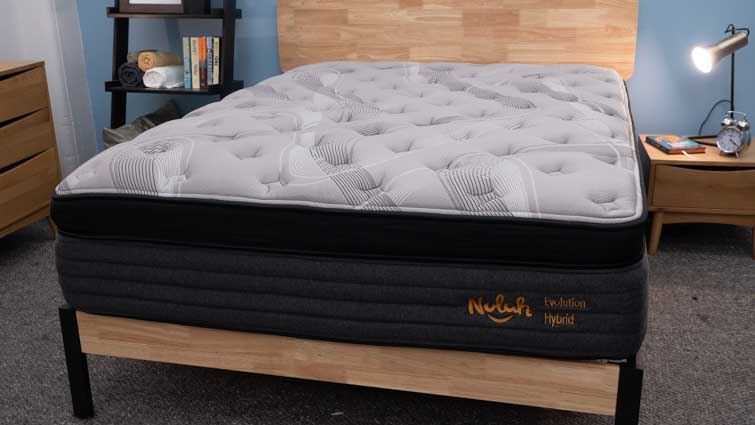 Nolah Evolution
Pressure relief is the number one thing I look for in a mattress designed for side sleepers. I often hear about shoulder, hip, and joint pain from people that spend the majority of the night on their sides. To combat that pressure I like to recommend a soft mattress like the Nolah Evolution.
The Nolah Evolution uses Nolah's proprietary AirFoam, a memory foam substitute with a plush feel that's great for side sleepers. Like memory foam it lets you sink into bed to spread out the weight concentration that can lead to shoulder pain, unlike memory foam it doesn't trap body heat, which helps it sleep a bit cooler. 
The soft, cooling foams in the Nolah should offer plenty of pressure relief, so I'd highly recommend it to sleepers looking for some extra cushion.
Learn more in our Nolah Evolution review.
Up to $800 Off + 2 Free Pillows!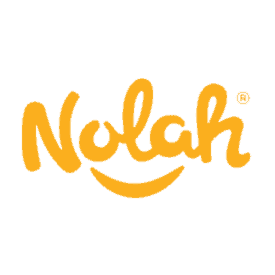 This luxury hybrid could be a good fit for a wide range of sleepers.
Best Mattress for Side Sleepers with Hip Pain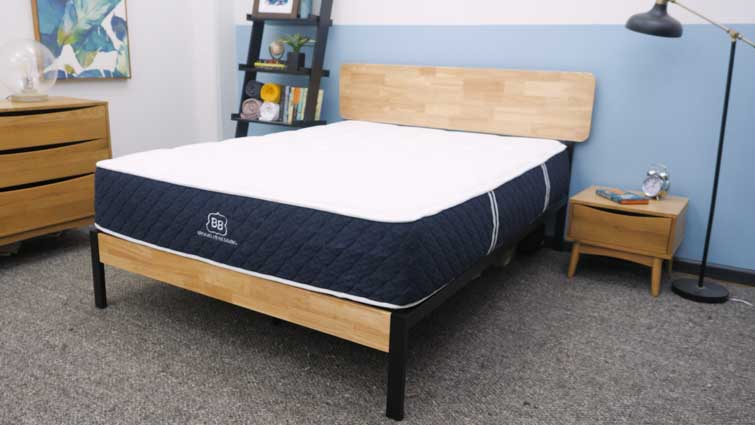 Brooklyn Bedding Signature
Because of the fact that side sleepers end up concentrating their weight over their shoulder and hips they often end up having issues with a build up of pressure in those areas. If a mattress is too firm of side sleeping it can lead to aches and pains in the joints, so it's important to find a softer feel.
The Brooklyn Bedding Signature is a hybrid mattress that comes in three different support levels, offering you a choice of how firm you want your bed to be. I would recommend that side sleepers go with the soft version, which can help relieve the pressure build up at the hips that can plague them throughout the day. Along with nice pressure relief the Signature has nice edge support and does a good job isolating motion transfer, making it a good option for couples.
Find out more in our Brooklyn Bedding Signature mattress review
Save 20% with code SLEEPOPOLIS20
Brooklyn Bedding Signature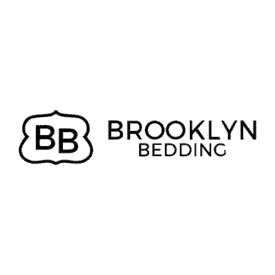 Brooklyn Bedding Signature
Resilient, latex-like foam offers sleepers of all styles great, pressure-relieving support! 
The Ins & Outs of Side-Sleeping
After reading through our picks, you might be wondering: How in the world did Sleepopolis land on these mattresses as the best of the best for side sleepers? It's a great question and one I'm happy to answer!
When thinking about what sorts of beds are going to be best for those who doze in good ol' fashioned lateral recumbence (fancy talk for side sleeping), there are a few things to keep in mind, namely 1.) Firmness, 2). Support, and 3). Pelvic Rotation.
In case you're unfamiliar with any of the above, I'm going to go point by point and break down exactly what I mean.
Best Mattress Firmness for Side Sleepers

In terms of firmness, side sleepers will want to look for something soft to moderate on the firmness scale. While many folks assume firmer mattresses are the most supportive (including physical therapist Dr. Keith Poorbaugh, a member of our Sleepopolis Expert Network), a special exception needs to be made for those who spend most of their slumber time on their sides. Per Poorbaugh:
"A firm mattress gives better support for pushing yourself up to a seated position. However, if you need pressure relief [as most side sleepers do], a plush mattress will have more cushion for those sensitive areas."
So what exactly constitutes a plush mattress? In my opinion, a plush mattress:
Comes in at a 4.5-6 out of 10 on the firmness scale (with 6.5 being medium firm).
Provides ample pressure relief and support to the neck, hips, and shoulders.
Allows for deep sinkage to buffer against the formation of pressure points along the spine.
Firmness is perhaps the most important attribute for side sleepers due to the very nature of the position. (1) In order to provide proper support, the mattress must be able to contour to the curves of the body so the sleeper's not "digging" into the structure.
Support
While support is an important factor for all sleepers to consider, it's perhaps especially so for side sleepers, who tend toward nighttime contortions that aren't necessarily conducive to healthy spine alignment (think fetal position). A mattress with fantastic support will adapt to the body no matter the shape, bringing the "musculoskeletal chain," as Dr. Poorbaugh describes it, into a comfortable synergy.
It's important to note that support is not the same thing as firmness: A softer mattress can still provide great support. When looking for a new mattress that will meet your side sleeper needs, you'll want to:
Look for one that contours to your body's unique shape.
Supports your hips and shoulders as you move and change positions.
Alleviate tension across all parts of the body without leaving you feeling "swallowed" by the structure.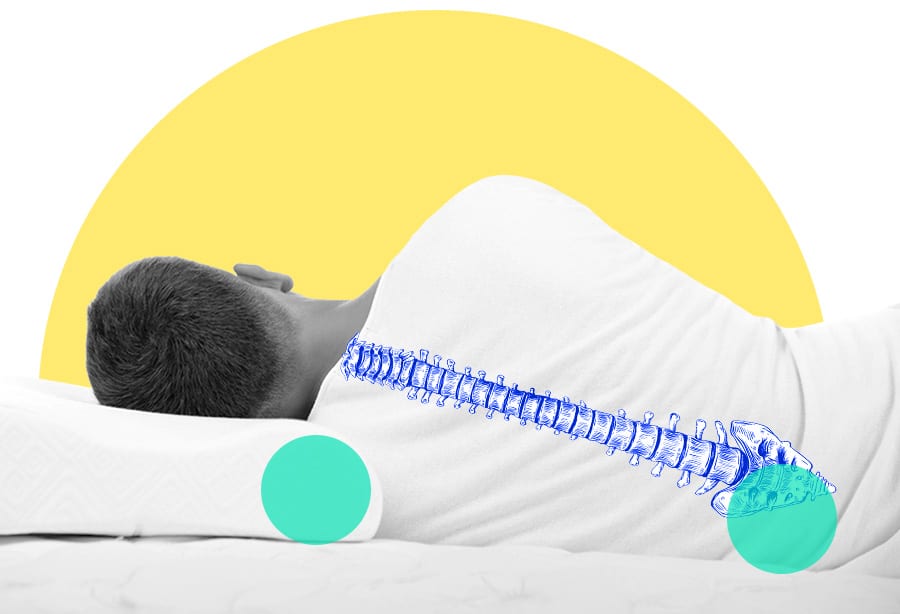 Foam mattresses offer many advantages for side sleepers, but well-built and well-designed innerspring mattresses can be effective also, as you can see in my picks above.
Pelvic Rotation
And finally, let's chat a bit about pelvic rotation, which results from the misalignment of the back muscles and lumbar spine. It is caused when sleepers twist or curl their legs up in opposition to the position of the upper body. (2) Take, for example, an individual who sleeps with one leg fairly straight and the other bent, which tends to rotate their upper body into a stomach-sleeping position while the lower body remains on the side. This type of rotation can lead to or worsen any lower back and neck pain, so it's important to take preventative measures before it starts hurting.
There aren't any perfect solutions to preventing pelvic rotation, but there are a few things you can do to help:
Try to train yourself to sleep in positions that keep your spine in alignment.
Use a pillow between your legs to maintain spinal alignment (see below).
Buy a good mattress with proper support and softness. That will help to prevent pressure points that might be currently causing you to sleep in positions that cause more pelvic rotation.
Side Sleeper Pillow Needs
Good pillows are just as important as a good mattress. You may have an exceptionally well-made and comfortable mattress, but without a good pillow, you may still find that your sleeping experience is less than ideal.
A quality pillow is critically important for side sleepers due to the increased — and somewhat more complex — support needs. (3) Pillows made from latex, shredded foam, memory foam, or other poly foams can help provide consistent and stable support by responding to the varying pressures of your head and neck. Additionally, you'll want to look for a pillow that is tall enough to cradle your head and neck but not so tall that you introduce a new form of pressure.
"Improved [spinal] alignment… can be easily achieved in side lying with proper pillow positioning," explains Dr. Poorbaugh. "Pillow placement at the head and neck can reduce an irritating kink in the neck, while a pillow between the knees should help keep lumbar spine in neutral alignment."
For more, check out our breakdown of the absolute best pillows for side sleepers.
FAQs
What is the best type of mattress for side sleepers?
Unfortunately, there's no easy answer to this question! The best mattress for side sleepers is mostly a matter of personal preference. That said, your preferences can help guide you to the right mattress for you. For instance, side sleepers who like a bouncy bed might want to look at a hybrid or innerspring mattress. People who like to sink deep into their mattress might consider an option with memory foam or thick foam layers. And people who want a mattress made from natural materials might prefer latex options.
How firm should a mattress be for side sleepers?
For the most part, side sleepers are generally going to prefer softer mattresses. This helps protect against jamming at the shoulders or hips. At the same time, it's important to look for a mattress that's still supportive enough to promote healthy spinal alignment.
Where should your arms be when sleeping on your side?
While a lot of side sleepers keep their arms pulled up near their chins, it's actually optimal to keep the arms further down to avoid feeling "jammed up". Another side sleeping alignment tip? Consider tucking a pillow between your legs to support healthy spinal alignment.
Recap: Best Mattresses for Side Sleepers
References
Leilnahari, Karim, et al. "Spine Alignment in Men during Lateral Sleep Position: Experimental Study and Modeling." BioMedical Engineering OnLine, vol. 10, no. 1, 30 Nov. 2011, p. 103., doi:10.1186/1475-925x-10-103.
Herrington, Lee. "Assessment of the Degree of Pelvic Tilt within a Normal Asymptomatic Population." Manual Therapy, vol. 16, no. 6, 11 June 2011, pp. 646–648., doi:10.1016/j.math.2011.04.006.
Gordon, Susan, et al. "A Randomized, Comparative Trial: Does Pillow Type Alter Cervico-Thoracic Spinal Posture When Side Lying?" Journal of Multidisciplinary Healthcare, 17 Aug. 2011, p. 321., doi:10.2147/jmdh.s23028.