The shoulder is a ball-and-socket joint and a hot spot for pressure build up, injury, and chronic pain. There are a variety of conditions that could cause shoulder pain, but if you can't point to a specific injury or condition (like arthritis), your pain could be caused — at least in part — by your mattress.
Certain mattresses are better at alleviating existing shoulder pain or preventing mattress-induced shoulder pain than others. To help you decide which mattress might be best for reducing your shoulder pain at night, I've put together a list of mattresses that provide excellent shoulder relief. Take a look at my favorite pain-relieving mattresses below, and check out my buyer's guide for a few tips on mattress shopping with shoulder pain.
Best Mattresses for Shoulder Pain: My Top 8!
Disclaimer: Please note that the content in this article is meant for informational purposes only and should not be construed as medical advice or serve as a substitute for seeing a medical professional regarding any sleep problems you may have. Please see your doctor regarding any urgent medical issues. 
How I Chose These Mattresses
This guide is meant to provide you with some options to consider as you try to reduce the amount of shoulder pain you experience at night. To that end, I focused on mattresses specifically built to offer pressure relief and support. Take a look at my picks below, and check out the end of the article for more information on how to choose a mattress for shoulder pain.
Best Mattress for Side Sleepers with Shoulder Pain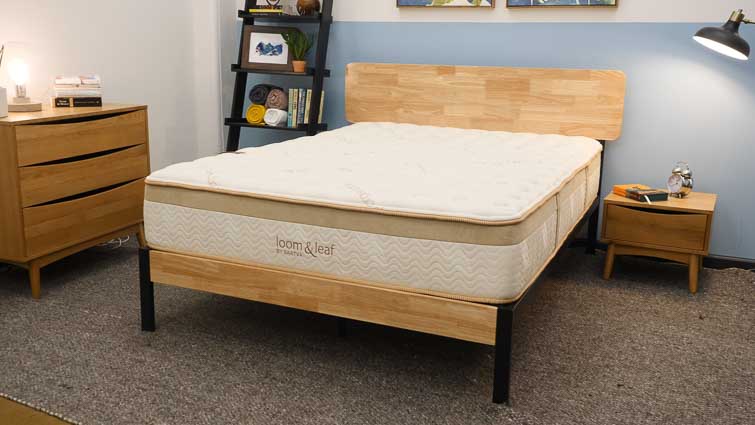 Loom & Leaf
Side sleepers are more prone to shoulder pain than any other sleepers, since they have their weight concentrated on their shoulders all night. But shoulder pain doesn't have to be a side effect of side sleeping! Choosing a bed like the Loom & Leaf mattress can help alleviate shoulder pressure and pain during side sleeping.
The Loom & Leaf mattress is excellent for side sleepers with shoulder pain because of its thick top layers of memory foam. This material has a slow response to pressure and allows the sleeper to sink in for pressure relief at the shoulders, hips, and lower back. This is great for shoulder pain sufferers because the more pressure relief you experience, the less pain you're likely to feel. 
This bed allows your shoulders to rest comfortably in the mattress, giving your shoulders some cozy relief at night. But this mattress's firmer transition layer ensures that you won't have to sacrifice stability and support for comfort.
Check out my full Loom & Leaf mattress review to learn more.
$200 off $1000 Purchase!

Enjoy the cozy comfort of this ultra-plush mattress!
Best Mattress for Neck and Shoulder Pain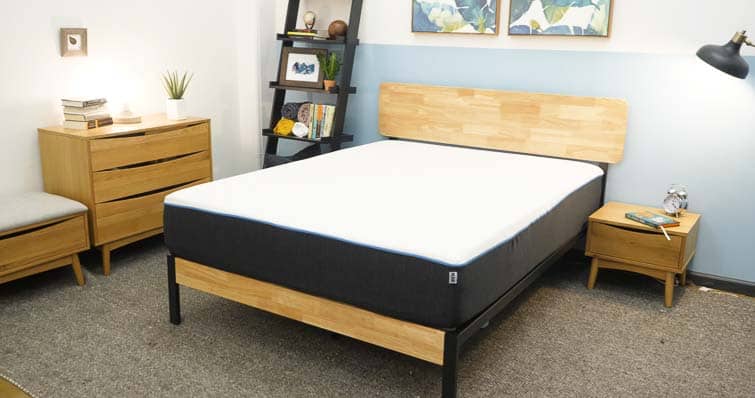 Bear Pro
If you're looking for a mattress that works well for both neck and shoulder pain I'd recommend the Bear Pro. This bed combines plush layers of copper and gel-infused memory foam with sturdy poly foam for a one-two punch of pressure relief and support. 
Neck and shoulder pressure is relieved at the get-go on the Bear Pro, as its 2-inch memory foam comfort layer allows you to sink into the mattress for immediate relief in those areas. But it's not just pain relief the Bear Pro has to offer. It also stays cool throughout the night, thanks to its breathable Celliant cover and copper and gel infusions. So, you're not likely to overheat while you sleep on the Bear Pro. 
If you want to learn more about how the Bear Pro mattress's features can help alleviate aches and pains during the night, take a peek at my full Bear Pro mattress review.
25% Off + Free Gifts With Code CHILL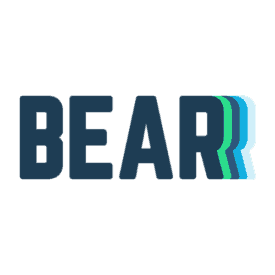 The Bear Pro is a great all foam option for side sleepers looking for plush comfort! 
Best Mattress for Back and Shoulder Pain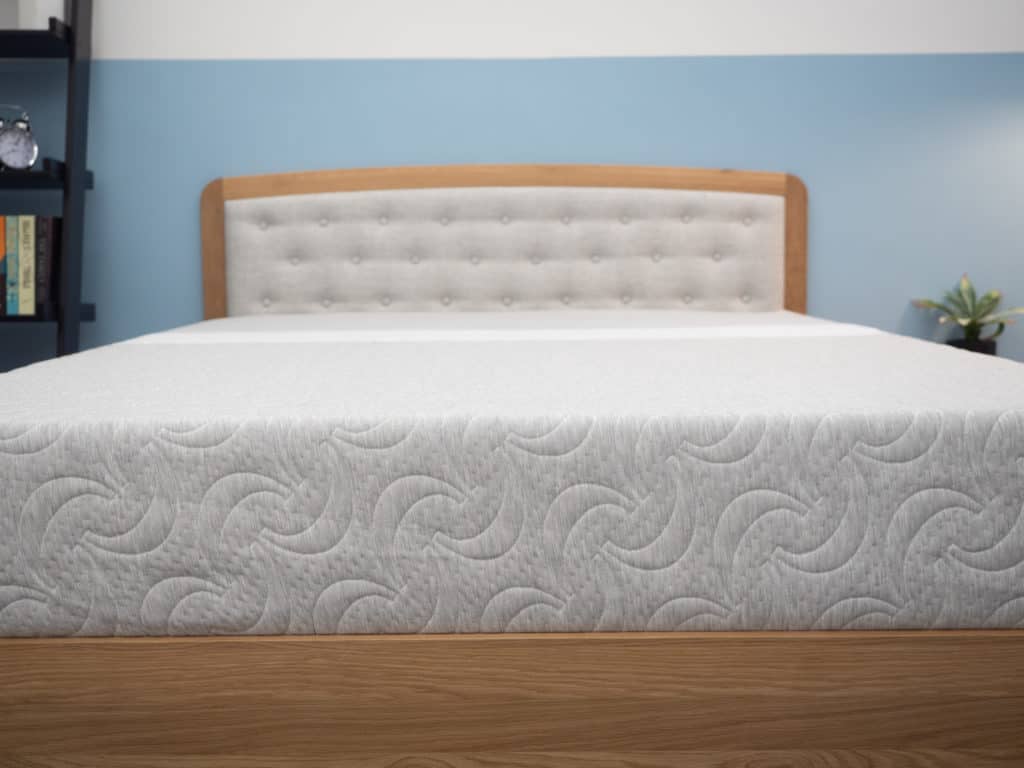 Level Sleep
If you're experiencing back pain along with shoulder pain, the Level Sleep mattress could be a great option to consider. Why? Well, the Level Sleep mattress features zoned support in its comfort layer, which means it's got firmer foam at the hips for a little lift and softer foam at the shoulders for a little give. This helps to set the spine in a neutral line all the way from the neck to the lumbar region, which can help relieve both shoulder and back pain.
But the Level Sleep has more to offer than just zoned support. For example, its synthetic blend cover wicks away moisture to keep you dry and comfortable as you sleep. And under the zoned, 3-inch foam comfort layer is a 7-inch base that offers great lumbar support. If you're looking for enough support to relieve back pain and enough softness to relieve shoulder pain, this bed could really do the trick.
If you want to dive deeper into the details of this mattress, read my full Level Sleep mattress review.
20% off with code SLEEPOPOLIS20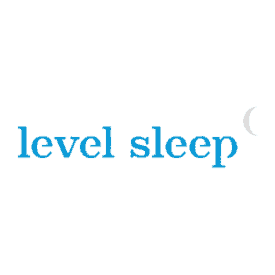 The Level Sleep mattress has zoned support that helps to reduce the risk of lower back pain. Use code SLEEPOPOLIS20. 
Best Mattress for Hip and Shoulder Pain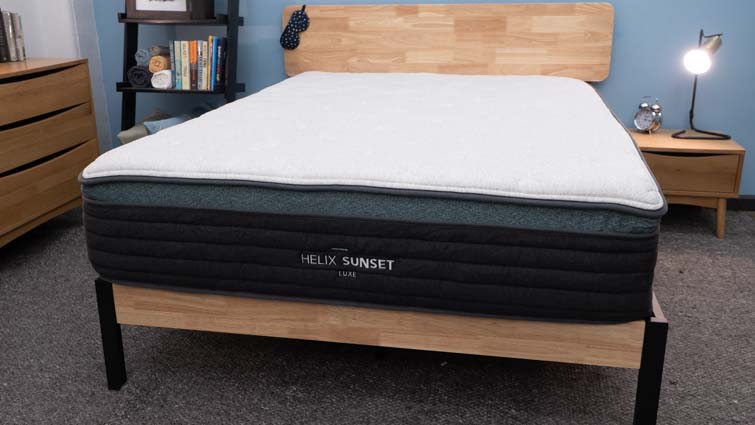 Helix Luxe
If hip and shoulder pain are the primary issues you experience while sleeping, look no further than the Helix Luxe line of mattresses. Ranging from the super soft Sunset to the ultra-firm Dawn, this collection features a variety of beds geared toward different kinds of sleepers. 
Personally, I think the Helix Sunset is a great option for fighting both hip and shoulder pain. It offers plenty of cushioning in both areas to relieve pressure and reduce pain. That plush comfort will help you avoid jamming at the hip and shoulder areas. The Sunset also sleeps cool, which is a great perk for hot sleepers!
Take a look at my Helix Sunset Luxe mattress review, or learn more about the entire Luxe line in my Helix Luxe mattresses review.
Memorial Day Sale: Up to $200 Off + Free Pillows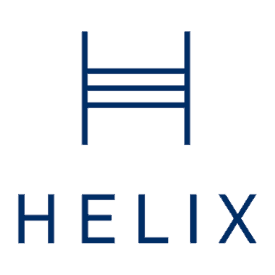 Whether you choose the standard or luxe edition, Helix mattresses have something to offer every style of sleeper! 
Best Memory Foam Mattress for Shoulder Pain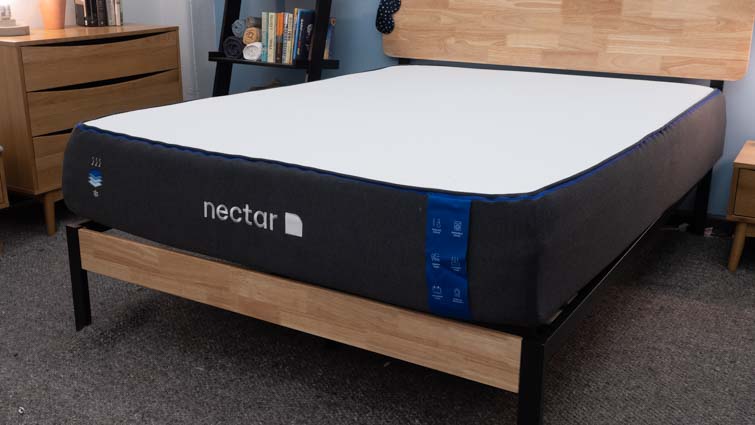 Nectar
The Nectar mattress is the best memory foam mattress on the market for alleviating shoulder pain. Folks wanting deep pressure relief at the shoulders often choose memory foam because of its slow response to pressure, which allows the material to contour around the curves of the body. Memory foam beds like the Nectar reduce pain as they relieve pressure.
The Nectar's thick memory foam build immediately reduces tension in the shoulders. As it envelops you, the Nectar also alleviates pressure throughout the body, which means less pain overall. But, this bed's firm base will keep you well-supported as you snuggle down into its memory foam layers.
To check out more of the great features this mattress has to offer, take a look at my Nectar mattress review!
$399 in Free Gifts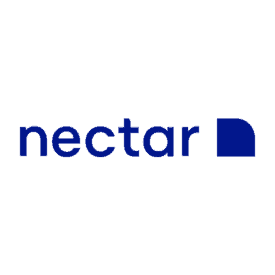 Sleepers will sink deep into the Nectar mattress for some soothing pressure relief, something that side sleepers will particularly appreciate! Click here to get $399 of free accessories with every mattress purchase!
Best Mattress for Active People with Shoulder Pain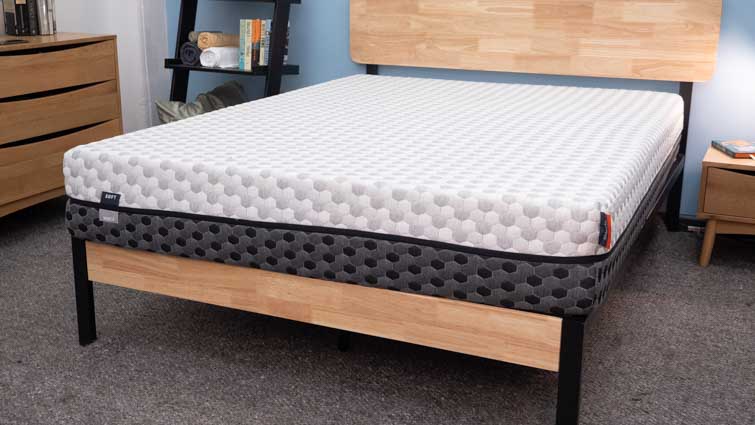 Layla
If you're active throughout the day, you can end up with sore or overused muscles by bedtime. A mattress that appropriately cushions muscles in the shoulder area can really help reduce pain, making it easier to fall asleep. The Layla mattress is a great option for this!
The Layla is a flippable memory foam mattress with a soft side and a firm side. I'd recommend the soft side to active sleepers (and side sleepers) with shoulder pain. This bed does a great job hugging your body while offering deep compression support around the shoulders and hips, which can really help alleviate pain.
Plus, this bed is infused with copper, which means it sleeps cool! This is a great perk for hot sleepers and active sleepers who exercise before bed. Pre-bedtime exercise can raise your body temperature and make it harder to fall asleep, which makes a cooling mattress more important for these folks.
Check out my full Layla mattress review for more details.
Save up to $950
The flippable Layla is a great choice for active sleepers.
Best Hybrid Mattress for Shoulder Pain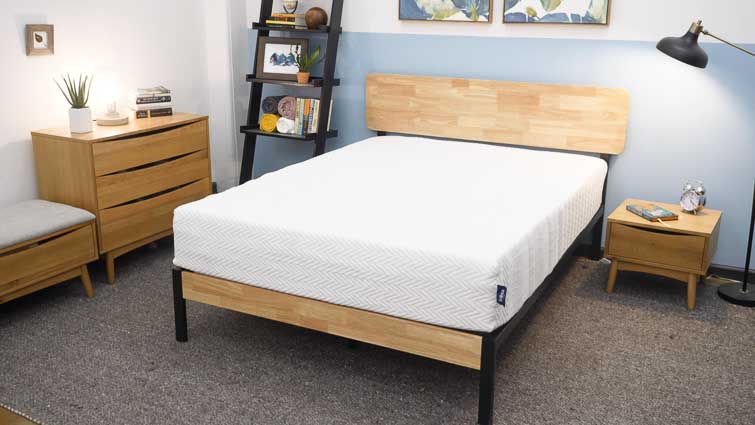 Leesa Legend
Many hybrid mattresses are a little too firm for sleepers with shoulder pain thanks to their steel coil support layers. But the Leesa Legend has a great soft feel plus a zoned support system that really works to fight pain!
This soft mattress does a great job of cushioning the shoulders and allowing them to sink into the bed a little for some pressure relief. But, it has a slightly firmer feel around the hips to keep them lifted up in line with the shoulders. This prevents you from throwing your spine out of alignment, which can create pain or tension in the shoulder area. This combination makes it a great option for anyone with shoulder pain, and its springy coil support layer ensures that you're still getting a bit of bounce on your bed. This could make it an especially great pick for combination sleepers with shoulder pain.
Interested? Find out more in my full Leesa Legend mattress review.
Up to $500 Off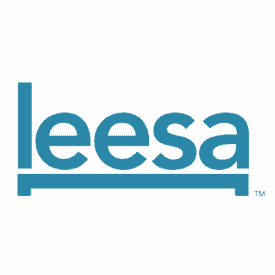 The soft Leesa Hybrid is bouncy enough for combination sleepers with shoulder pain to enjoy!
Best Mattress for Back Sleepers with Shoulder Pain
Casper
Back sleepers often fare best on a medium-firm mattress that blends pressure relief and support. But shoulder pain sufferers often need a soft to medium-soft mattress to get adequate pressure relief. So, it can be hard to find a bed that meets both needs. Luckily, the Casper mattress's zoned support system makes it a great fit for these folks!
The Casper feels firmer around the hips and lower back, which will help keep back sleepers' spines in a nice straight line. But, it's a bit softer around the shoulder area, which should help offer some pressure relief and sinkage around the shoulder blades. This makes the Casper a great option for sleepers who need a specific balance of pressure relief and support.
Learn more about this popular bed in my Casper mattress review.
Save 10% with code SLEEPOPOLIS10
The zoned Casper mattress could offer great shoulder pain relief!
Common Causes of Shoulder Pain
Shoulder pain can be caused by a variety of issues, including sleeping on the wrong mattress. A few other common causes include rotator cuff tendinitis or injury, arthritis, bursitis, pinched nerves, frozen shoulder, and pain from injury or overexertion. I don't claim to be an expert on anything but sleep, so I'd recommend seeing a medical professional for help if you're suffering from chronic shoulder pain.
But, if you notice your pain is worse when you wake up in the morning and your mattress is 7-10 years old (or brand new and quite firm), your mattress could be causing your shoulder pain. If that's the case, choosing a mattress to fight shoulder pain could really help. Read on below to find out how to choose a mattress to alleviate existing pain (or prevent mattress-induced shoulder pain). And check out this section of the guide for a few tips on sleeping with any type of shoulder pain.
How to Choose a Mattress for Shoulder Pain
Now that you know which mattresses I'd personally recommend for shoulder pain, I want to give you an overview of how I assessed these beds. Hopefully, this will help you as you shop for your new mattress.
Firmness
Firmness is one of the most important considerations for sleepers shopping for a bed that alleviates shoulder pain. Firmness will determine how far you sink into your bed, and is rated on a scale of 1 (softest) to 10 (firmest). The best firmness level for you will depend on your preferred sleeping position and body weight, but there are a few general recommendations I can provide for folks with shoulder pain.
If you're a side or back sleeper with shoulder pain I'd recommend you opt for a soft mattress (between a 4 and 6) on the mattress firmness scale. Some softness and sinkage should help cushion the pressure points around your body and provide some relief. Back sleepers with shoulder pain could also opt for a medium-firm mattress if they need a little more support, or if they share a bed with a partner who prefers a firmer feel.
On the other hand, stomach sleepers with shoulder pain are often using the wrong pillow, not the wrong mattress. Stomach sleepers need a firm mattress to keep their spines neutrally aligned and avoid back pain and arching. But they also need a soft, flat pillow that prevents them from craning their neck or putting pressure on their shoulders at night. I'd recommend checking out our best pillows for stomach sleepers if you're a stomach sleeper struggling with shoulder or neck pain.
Support
Firmness and support are not interchangeable terms, given that softer mattresses can still offer plenty of support. A great supportive mattress is one that aligns the spine and allows the shoulders to rest properly, no matter the position. If a softer mattress has correct support features, you will be able to sink into the bed without ever feeling like the mattress is closing in around you.
If you struggle with shoulder pain, you need to ensure your mattress supports a straight spinal alignment. Depending on your sleeping position, this could mean different things. In general, side sleepers need a bit of sinkage so that their shoulders and hips align with their lower back, back sleepers need a medium-firm bed that keeps their hips supported, and stomach sleepers need a firm mattress.
If you struggle with shoulder pain it may seem counterintuitive to get a firmer mattress, but if your soft mattress is not providing adequate support, you'll carry tension throughout your entire body. In fact, tension from improper sleep posture can be particularly noticeable in the shoulders! This doesn't mean you need to swap a soft bed for a firm one, but does mean you need to consider a more supportive bed. If you deal with shoulder pain, I'd recommend opting for a mattress that's soft enough to provide pressure relief, but supportive enough to align your spine in your chosen sleeping position.
Pressure Relief
When I talk about a mattress's pressure relief, I'm referring to how a mattress distributes your body weight. Even weight distribution reduces tension throughout the body, which is particularly useful for those suffering from shoulder pain. The best pressure-relieving mattresses provide a comfortable resting place to soothe muscles and joints while simultaneously alleviating tension across the body.
To determine how a mattress ranks when it comes to pressure relief, make sure your bed isn't putting pressure (or "pushing back") on sensitive areas, such as your shoulders. Certain materials can be more pressure-relieving than others. For instance, soft memory foam beds can be ultra pressure-relieving, while firm innerspring mattresses won't offer much pressure relief (or be good for sleepers with shoulder pain).
Sleeping Position
I've mentioned sleep positions a few times throughout this guide already, but want to emphasize again that choosing the right mattress for your sleeping position is key to alleviating shoulder pain. A mattress that supports your sleep posture will relieve tension throughout your body, which can help you relax your shoulders at night. Take a look at a few of the main sleeping positions below to learn more about what type of mattress suits each best.
Side sleepers with shoulder pain generally do best on a soft mattress that offers plenty of body-contouring. You put a lot of pressure on the shoulders and hips when sleeping on your side, so you'll want to look for a mattress with thick foam layers that will really cradle these joints.
Back sleepers with shoulder pain should opt for a medium-soft to medium-firm mattress. You'll want something soft enough to allow some sinkage around the shoulders, but firm enough to support your lower back. No point in relieving shoulder pain on a soft mattress just to end up with lower back pain! If you're a back sleeper with shoulder pain, I'd recommend looking for a bed that offers zoned support. These beds will feel softer at the shoulders to offer relief, but firmer at the hips and lower back to ensure you stay supported throughout the night.
Stomach sleepers with shoulder pain should stick to a firm mattress to ensure they get appropriate support. A firm mattress that keeps their hips lifted up in line with their shoulders could actually relieve some pressure in the shoulder area, reducing pain. I'd recommend these folks opt for a firm mattress with a thin quilted pillow top that offers just a little pressure relief. Personally, I find firm latex mattresses with thin wool pillow tops very comfortable for stomach sleeping.
Combination sleepers with shoulder pain need appropriate support and pressure relief in all of the sleeping positions, but still need enough mobility to move around at night. In general, I'd recommend a medium-soft hybrid mattress to these folks. But, if you're willing to sacrifice some mobility to relieve more pain, a soft all-foam mattress might be a better option.
Body Weight
You'll also want to take your body weight into consideration when shopping for a mattress with shoulder pain. Most online mattresses are built for average-weight sleepers. So heavy people with shoulder pain may need to opt for a slightly firmer mattress than they think they need to ensure they're getting high-quality support. One of our best mattresses for heavy people could do the trick. If you're a heavy person choosing from this list, I'd recommend the Loom & Leaf mattress, which features enough deep compression support to keep you comfortable.
On the other hand lightweight people with shoulder pain should often opt for an even softer mattress than they think they need. Certain beds, especially memory foam mattresses, could feel firmer to these sleepers than they do to other folks. If you're under about 130 lb and deal with shoulder pain, I'd look for a foam mattress in the 5-5.5 range on the mattress firmness scale.
Materials
Different mattress types offer more or less shoulder pain relief, so you'll also want to pay close attention to the mattress materials you're choosing. Take a look below to learn more about common mattress types' pain-relieving capabilities.
Memory Foam mattresses are probably the best fit for sleepers with shoulder pain. They offer tons of body-contouring and pressure relief and have a slow response to pressure that allows you to sink into them over time. In general, I highly recommend sleepers who struggle with shoulder pain (or hip pain) check out memory foam mattresses.
Poly Foam mattresses are also good fits for sleepers with shoulder pain. Soft poly foam beds are not as supportive or slow moving as memory foam mattresses, but can be great budget options for relieving shoulder pain in the short term.
Latex mattresses often feel bouncy and cooling. These beds don't offer as much body-contouring as other foam mattresses, so side sleepers with shoulder pain may not get what they need from these beds. But, soft latex mattresses could offer great relief for back sleepers with shoulder pain.
Hybrid mattresses combine foam top layers with steel coils and can vary widely in feel. If you struggle with shoulder pain, I'd suggest looking for a hybrid with thick memory or poly foam top layers that offer plenty of room for sinkage before transitioning into the coil support layer.
Innerspring mattresses are generally not good fits for sleepers with shoulder pain. These beds have a traditional, bouncy feel and are often quite firm. A coil mattress without a thick top layer won't offer quite enough pressure relief for sleepers with shoulder pain unless they sleep on their stomachs.
Pillow-top mattresses are usually hybrid or innerspring layers with an additional foam, wool, or occasionally down top layer. These beds can offer great pressure relief and feature a little extra sinkage. In general, pillow tops are very comfortable mattresses for sleepers with shoulder pain.
Body-Contouring
Body-contouring refers to the cradling or hug-like sensation you feel when the foams in a mattress conform to the shape of your body. Body-contouring can be especially helpful for sleepers with shoulder pain because it gently relieves overall tension, especially around sensitive joints. If you're a back or side sleeper with shoulder pain, you may want to prioritize body-contouring. Most memory foam mattresses feature great body-contouring features.
Motion Isolation
Motion isolation refers to how well a mattress reduces disturbances throughout the night. If you sleep with a partner or pet, this is a measure of how much you'll be jostled by their movements. If you struggle with shoulder pain, it can be hard to fall asleep. So, you don't want a mattress that it's easy for your partner to accidentally wake you up on! You also don't want an injured or sore shoulder to get jostled overnight by a partner's movements.
In general, memory foam and pillow top mattresses are good at isolating motion. Some of our best mattresses for couples also feature great motion isolation, and might be worth a look if this is a priority for you.
Cooling
If you're a hot sleeper with shoulder pain, you'll want to consider the cooling features your mattress offers. If it's difficult to get to sleep at night because of pain, waking up in the middle of the night because you're overheating can be very frustrating.
Hot sleepers with shoulder pain can struggle to find a bed because memory foam and pillow top mattresses, which are some of the best out there for shoulder pain, often trap body heat. To help mitigate this issue, I'd recommend opting for gel, copper, or graphite-infused memory foam beds if you already sleep hot. You may also want to consider mattresses that include thermoregulating materials like wool or soft latex, or soft hybrid beds whose coils promote airflow. Take a look at our best cooling mattresses to find a few more options.
Price
Finally, price is an important factor for any sleeper to consider. If you're looking to save money when shopping for a new mattress, I'd recommend taking a look at our mattress coupon page and shopping during holiday sales like Black Friday or Memorial day. If you're planning to purchase a budget mattress, I'd recommend choosing one that offers a warranty and sleep trial period. Both options are great indicators that you're purchasing from a reputable company that feels confident in their product.
Tips for Sleeping with Shoulder Pain
Now that you know how to choose the right mattress to combat shoulder pain, let's talk a little bit about what else you can do to help alleviate pain at bedtime. Take a look at the list below to find an option that might work for you.
Get a new pillow that ensures your head and neck are properly supported. This can help alleviate pressure at the shoulders and reduce pain. Check out our best pillows roundup to find a few options.
Take an over the counter pain reliever before bed. Certain shoulder conditions can feel more inflamed or aggravated at night. An over the counter pain reliever or anti-inflammatory can help reduce some discomfort.
If you sleep on your side, try sleeping on the opposite shoulder as a way to reduce pain.
Stretch and exercise regularly to improve shoulder pain over time.
Try sleeping on your back if you don't already. Back sleeping is a great way to relieve shoulder pressure and pain. Check out our guide to training to sleep on your back.
Try sleeping on your back with an arm propped on a pillow. Elevating your arm can help take pressure off an injured or uncomfortable shoulder.
Try sleeping on your back with a small pillow or rolled hand towel between your shoulder blades. This can relieve pressure across both shoulders and help with pain. You can also try placing a pillow or towel under your painful shoulder while sleeping on your back to get the same result.
Improve your overall sleep hygiene. Getting enough restful sleep can speed up recovery and help with pain. If you're interested in improving your sleep hygiene, check out our 30-day sleep hygiene plan.
Try a mattress topper. If you're not ready to invest in a new mattress, a mattress topper can add some much needed pressure relief to your existing bed. Take a look at some of the best mattress toppers, or take a look below to learn more about why a topper could help you.
Best Mattress Toppers for Shoulder Pain
As I mentioned above, using a mattress topper can help address mattress-related shoulder pain. If you're sleeping on a bed that's too firm, or even a new mattress you haven't quite broken in yet, a soft topper can do a lot to relieve shoulder pain and pressure. If you've already got a great, supportive mattress that you don't want to part with, but need a bit more pressure relief, a topper is likely the best option for you.
Toppers are also much more affordable than a new mattress, which can be a nice perk for shoppers on a budget. Plus, if you struggle with shoulder pain but aren't sure if a new mattress would help, a topper is a great way to see if some additional cushioning could be beneficial without spending a lot of money.
In general, I'd recommend looking for soft memory foam mattress toppers that offer a mix of body-contouring and pressure relief if you're looking to address shoulder pain. Our best soft mattress toppers and best memory foam mattress toppers roundups are great places to find some toppers that might work for your needs.
Summary: Best Mattress for Shoulder Pain
That's a wrap for the best mattress for shoulder pain guide. No matter the mattress you choose, keeping these tips in mind will help you determine which mattress most effectively offers you shoulder pain relief. Again, please only use this guide as an informational resource. We're not licensed medical professionals, so be sure to contact your doctor with any persistent health issues.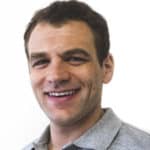 Logan is the content director of Sleepopolis, which means he not only reviews new mattresses every week, but also curates all the comparisons, best of pages, and video guides on the site. He takes a straightforward, honest approach to his reviews and endeavors to give viewers an objective look at each new product he tries out. Logan has perfected his method by personally testing over 200 different mattresses, so he's not only able to discern the overall vibe of a specific bed, but to contextualize its feel within the bed-in-a-box market as a whole. When he's not hopping on a new bed or working with our editorial team to whip up an engaging sleep education guide, you can find him reading books on world history, walking his dog Pepper, or searching for the best cheeseburger in New York City.