In the market for a new duvet? You'll first want to get clear about what, exactly, a duvet is. Many people confuse duvets with comforters, and it's easy to see why: They're pretty similar. Both duvets and comforters provide cozy, fluffy warmth and feature some kind of internal fill. Where duvets and comforters tend to differ is that duvets are generally intended to be used inside a duvet cover (with some exceptions).
A duvet, then, is kind of like an enormous pillow for your bed that goes inside an enormous pillowcase. Using a duvet cover can offer several perks: It lets you customize the design of your bedroom, change up that design without spending money on a whole new comforter, and easily keep your bedding clean without having to trek to the laundromat or dry cleaner. Now that you're clear on what you're buying, check out our list of some of the best duvets on the market.
Best Duvet Inserts
Best Duvet Inserts Video
Purple TempBalance Duvet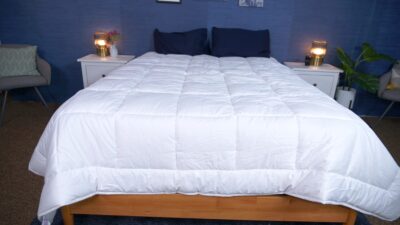 The Purple TempBalance duvet is designed to sleep cool and comfortable, featuring a cotton shell and a polyester/rayon mix fill.
The Purple TempBalance duvet is a classic duvet made from materials you can rely on. The shell is 100 percent cotton and the duvet is filled with a down alternative, which is a mix of 70 percent polyester and 30 percent rayon. The cotton shell and the rayon fill both make this duvet insert breathable and temperature regulating. An added bonus is this duvet is both hypoallergenic and machine washable.
Who the Purple TempBalance Duvet is Best for
Hot sleepers: The cotton makes this a breathable duvet and the rayon helps regulate temperature, which makes this a good option for those who typically sleep hot.
People with allergies: This duvet is hypoallergenic, which can be great for those struggling with allergies. Being machine washable will also ensure it can stay clean easily.
People who like the feel of down: This duvet is filled with a down alternative, so it feels similar to real down without containing real animal down.
Who Should Avoid the Purple TempBalance Duvet
People who want real down: If it's important to you that your duvet is made with real down, then you may want to look elsewhere.
Click here for our best deal on the Purple TempBalance duvet. For more Purple bedding, check out our Purple pillow review or Purple SoftStretch sheets review.
Casper Humidity Fighting Duvet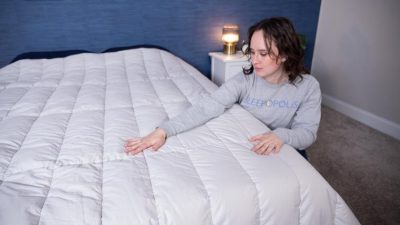 The Casper Duvet is covered in a soft and breathable cotton shell, which offers good airflow through the fabric!
Sleepopolis Score
4.20 / 5
Read Full Review
We like the Casper Humidity Fighting Duvet because it's great for keeping you cool all night long. The cooling effect is largely due to the all-natural cooling materials it is made with: 100 percent cotton cover, Merino wool, and ethically sourced down. These materials all allow for lots of airflow, which prevents hot air from being trapped. Plus, Merino wool helps with thermoregulation and moisture-wicking. The duvet is available in lightweight or midweight options — we think most hot sleepers will prefer the lightweight.
Who the Casper Humidity Fighting Duvet is Best for
Ethical shoppers: The down is ethically sourced, which ensures that the birds the down are sourced from are treated ethically and humanely.
Quick cleaners: This comforter is machine washable — no trip to the dry cleaners needed!
People who want options: This duvet is available in a midweight or lightweight option, which allows you to choose the one that suits your preferences.
Who Should Avoid the Casper Humidity Fighting Duvet
Cool sleepers: If you tend to get cold at night, this duvet may not be best for you. It's super breathable and cooling, so you may need one that is more insulating.
Click here to get our best deal on the Casper Humidity Fighting duvet, or see our Casper Humidity Fighting duvet review for more. Interested in Casper bedding? Check out our Casper pillow review or Casper sheets review.
Brooklinen Down Comforter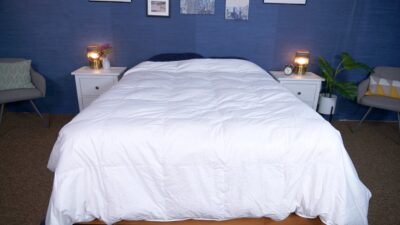 The Brooklinen Down comforter use natural down and is great for those looking for a really fluffy feel.
Sleepopolis Score
4.70 / 5
The Brooklinen Down Comforter is made from a 100 percent cotton sateen shell and is filled with down clusters, which makes it super cozy and soft. Attaching this insert to a duvet cover is easy due to the loops on each corner, but you can also use this comforter without a cover. Since cotton and down aren't naturally hypoallergenic, this duvet is treated with an anti-microbial finish to make it hypoallergenic.
The Brooklinen Comforter also comes in three weight options: lightweight, all-season, and ultra-warm. You can choose whichever weight fits your sleeping preferences and climate. The all-season is a good happy medium for any time of year.
Who the Brooklinen Down Comforter is Best for
All temperature sleepers: This duvet comes in three weight options, so you should be able to find one that suits you regardless if you're a hot or cool sleeper.
People with allergies: Although cotton and down aren't hypoallergenic, the antimicrobial finish on this duvet can help curb some of the negative symptoms of allergies.
Feather and down lovers: This comforter has the traditional feel of a down duvet and could be great for those who prefer this feel.
Who Should Avoid the Brooklinen Down Comforter
Vegan shoppers: The down in this duvet comes from real birds, so this is not a good option for those looking to shop vegan.
Get our best deal on the Brooklinen Down comforter here. Or for more Brooklinen bedding, check out our Brooklinen sheets review or our Brooklinen weighted throw blanket review.
Vesta Silk-filled All-season Duvet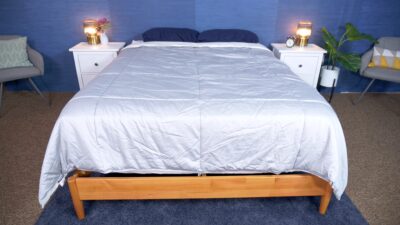 This duvet from Vesta is filled with silk and covered with cotton, making for a soft and cooling product.
The most luxurious duvet on this list has to be the Vesta Silk-filled All-season Duvet. This duvet insert is all-natural and made of high-quality materials, such as a 100 percent silk filling and 100 percent cotton cover. The silk and cotton give this duvet a super soft feel and keep it breathable and cooling. Silk is a moisture-wicking and hypoallergenic material, so it's a great pick for hot sleepers and folks with allergies alike.
We love that this duvet comes in two color options, Space Gray and Mirage White, and that it can be used with a duvet cover or standing alone. Overall, it's a cozy and lightweight duvet that is temperature regulating.
Who the Vesta Duvet is Best for
Hot sleepers: Silk is a great material for hot sleepers because it is breathable, cooling, and moisture-wicking.
People with allergies: Silk is a hypoallergenic material, which people who struggle with allergies may appreciate.
People wanting a silky smooth feel: This duvet has the classic luxuriously smooth feel of silk that is super soft.
Who Should Avoid the Vesta Duvet
Those seeking a "cloud-like" feel: If you want a super fluffy and high-loft duvet, this may not be what you are looking for.
Looking to deck your bed out in silk? Check out our reviews of the best silk sheets.
Tuft & Needle Down Alternative Duvet Insert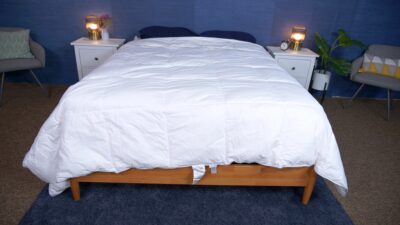 The Tuft & Needle Down Alternative duvet insert is available in two weight options. It features a cotton shell and polyester down-alternative fill.
If you're seeking the feel of down but don't want the authentic bird down material, consider the Tuft & Needle Down Alternative Duvet Insert. Instead of using real down, this duvet insert has a 100 percent cotton shell and a polyester fill. You can easily attach a duvet cover using the corner loops and it's also machine washable. This duvet comes in two weight options — light and medium — so you can pick which works best for you.
Who the Tuft & Needle Down Alternative Duvet Insert is Best for
Vegan shoppers: This duvet does not contain real bird down, so it's a great pick for those wanting a vegan product
Hot sleepers: Sleepers who run hot at night may enjoy the lightweight option to avoid overheating.
Cool sleepers: Those who get chilly at night can appreciate the extra warmth the medium-weight duvet provides.
Who Should Avoid the Tuft & Needle Down Alternative Duvet Insert
People who want an all-natural product: The down-alternative fill used in this duvet is polyester, which is a synthetic material.
Sold on this duvet? Click here to get our best deal. Interested in more Tuft & Needle bedding? Head over to our Tuft & Needle sheet review or our Tuft & Needle pillow review.
How We Picked
In order to sift through the hundreds of duvet options out there, we prioritized the following factors.
Aesthetics
People may prefer the look of different colors or stitching patterns, such as pinched pleats, box stitching, or diamond stitching. We included options to suit different preferences.
Of course, if you're planning to use a duvet cover, then the aesthetic of the duvet itself is kind of irrelevant. So don't spend extra on a particular design if you're planning to cover it up!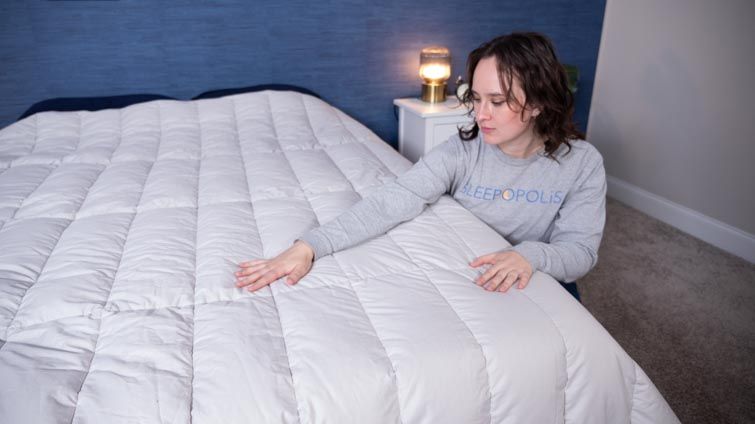 Care
If you're planning to use a duvet cover, then you won't need to wash your duvet very often; you can just wash the cover on a regular basis.
But because some people prefer to use duvets without covers, we wanted to make sure it would be easy to care for your bedding. Most of the options on this list are machine-washable, so you can care for the duvet without having to trek to (or pay for) a dry cleaner.
Comfort
We prioritized duvets that are soft, fluffy, and comfortable. Some of these are lightweight and should provide all-season comfort, while others are warmer and meant strictly for colder months. We provided different options so you can tailor your choice to your climate and sleeping preferences.
Cost
Duvets can range pretty widely in price from less than $30 to over $200. We included options from both ends of that price range so you can customize your purchase to your budget.
Materials
This is one of the primary factors that distinguishes one duvet from another.
When it comes to duvet fillings, some people prefer real goose down, while others have allergies or ethical concerns about goose down and prefer to use duvets that are filled with a down alternative.
When it comes to duvet covers, some are made from cotton, Egyptian cotton, microfiber, or polyester. The material used in the cover will often affect its softness. This might not be an issue if you're planning to use a duvet cover, but it's something to consider.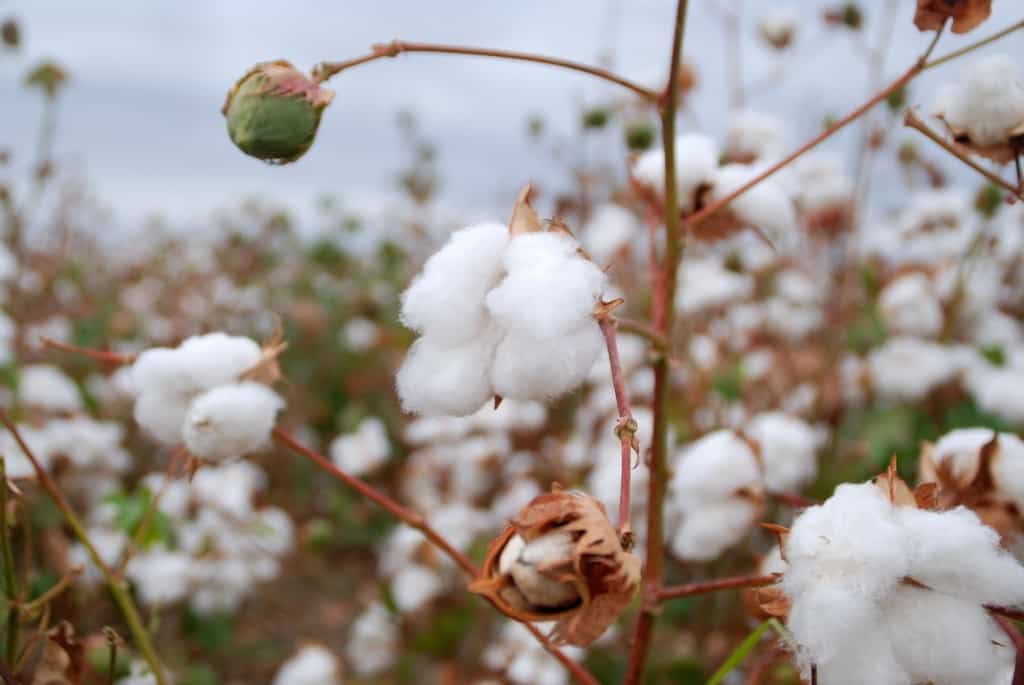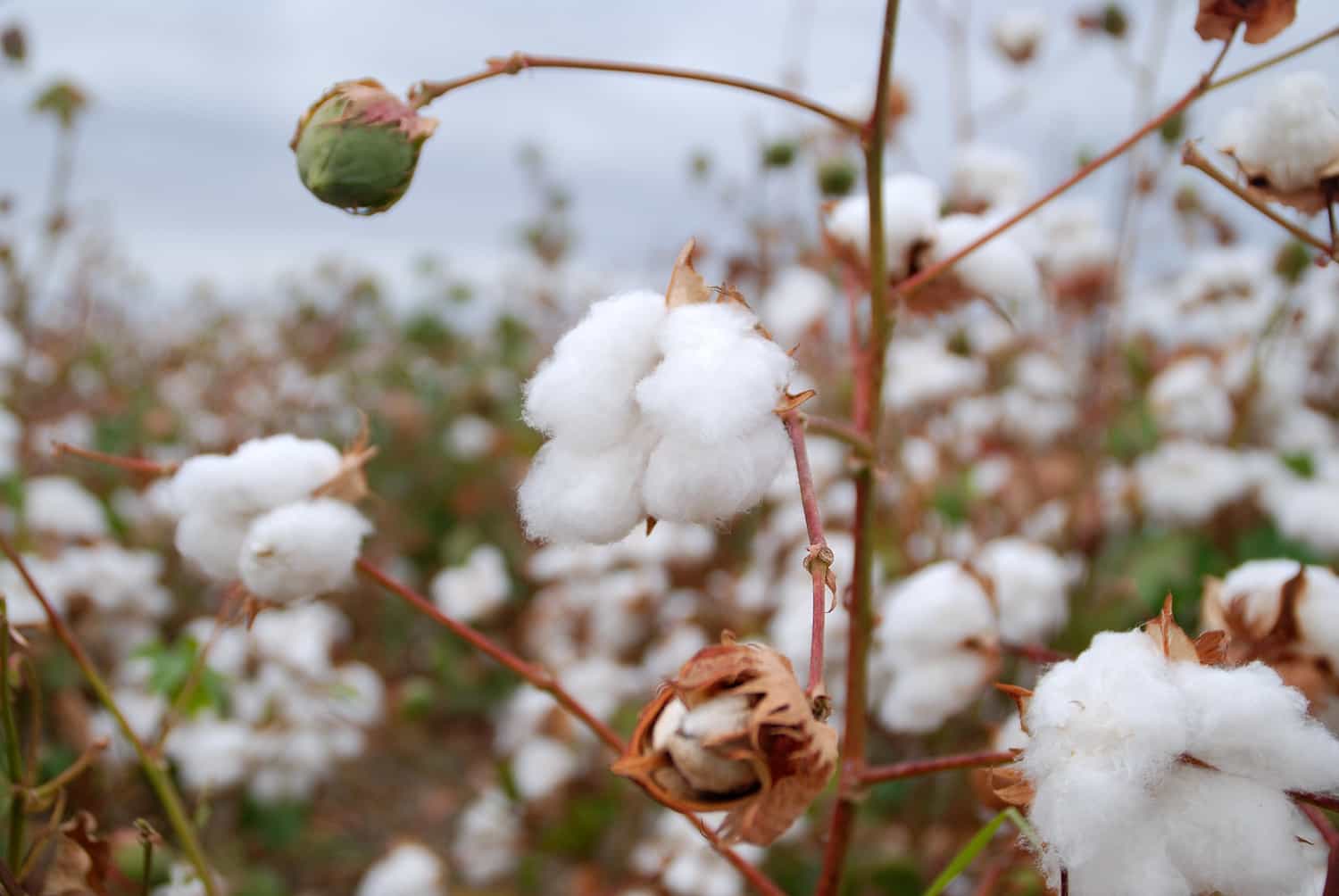 We included duvets made from a variety of cover and fill materials so you can choose according to your preferences.
Sleepopolis Buying Tips
Hunting for the perfect duvet? Consider the following:
Will you be using a duvet cover? Some duvets can stand alone without a cover. But if you plan to use a cover, you'll want to consider whether the duvet has loops that will help secure it inside the cover. If you're not planning to use a cover, you might want to choose a machine-washable duvet so it's easy to care for your bedding at home.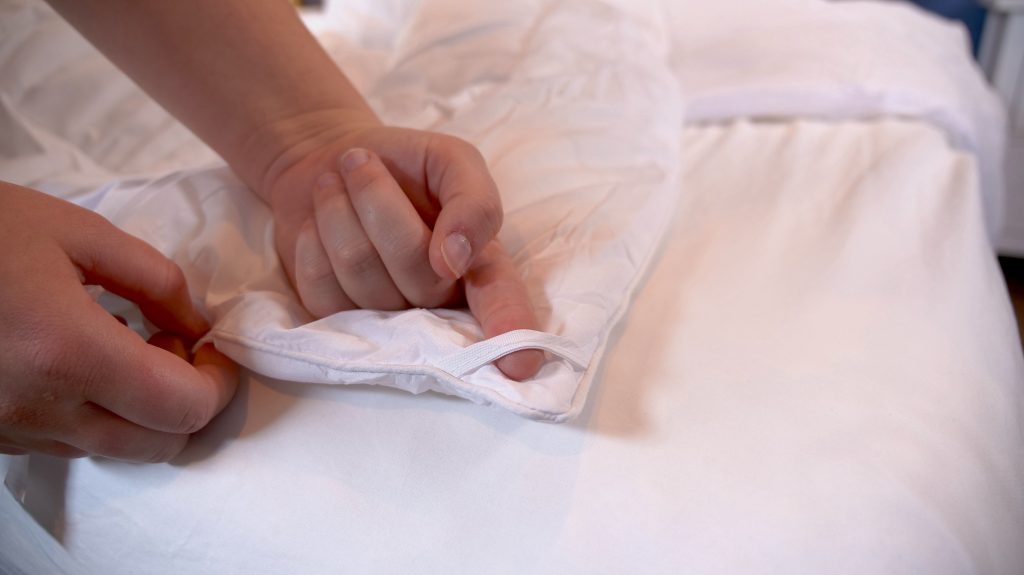 What's your budget? Duvets can range from under $30 to well over $100, so you'll want to think about your budget in order to narrow down your options.
What's your aesthetic/materials preference? Some people don't want to use goose down because of allergies, some people love the look of pinched pleats or diamond stitching, and so on. Think about your preferences before you shop to help you filter through your choices.
The right duvet will keep you comfy-cozy through cold winters or all year round. Consider your climate, your intended use for the duvet, your budget, and your preferences around design and materials in order to settle on the best duvet for your needs.
FAQs
What is a duvet insert?

A duvet insert goes inside a duvet cover. Similar to a comforter, a duvet insert acts as a thick blanket that has some sort of filling, such as down or cotton. Some duvet inserts require a cover and some can stand alone.
What is the difference between a duvet insert and a comforter?

Comforters and duvets have a lot of similarities, but there are some key differences that set them a part. The main difference is a comforter can be used by itself and a duvet usually acts as an insert and requires a cover. However, some duvets can stand alone, too. To learn more about the differences and similarities, check out our duvet vs comforter article.
How is a duvet different from a blanket?

A blanket usually consists of just one layer of material. A duvet can be made of multiple layers and typically has some sort of fluffy filling, such as down, cotton, and polyester.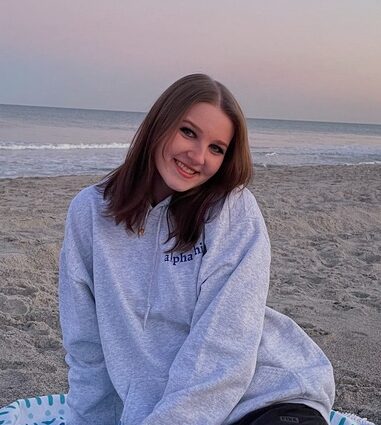 Riley Otis
Editorial Intern
About Author
Riley is an editorial intern at Sleepopolis. She's a firm believer that there's nothing better than a good night's sleep. Riley is a student at Elon University and currently working towards a degree in journalism and creative writing. In her free time, she loves to paint, cook, and spend time with family (especially her pets).