Let me start by congratulating you for embarking on a quest to find the perfect pillow. With so many options out there, pillow-shopping can get pretty overwhelming, and it might be tempting to just keep snoozing with the same ones you've had since high school (we've all been there, trust me). But why settle for less when you can sleep with the pillow that's best for you?
Well, settle in, folks, because I'm about to take you through my Best Pillows of 2021 review! That's right — I hand-picked 11 pillows that appeal to a wide variety of sleep styles, temperature preferences, and budgets so that everyone can find their perfect match. Plus, I'll fill you in on my personal methodology behind choosing the right pillow. Take a look at my top picks below!
Best Pillows of 2021
Top Pillows of 2021
Editor's Pick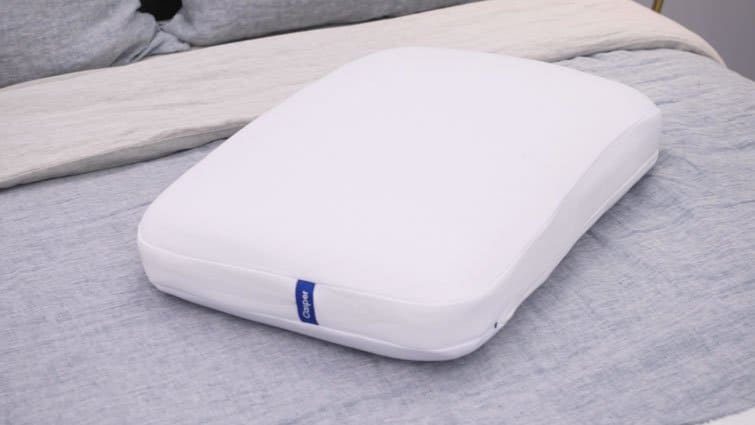 Casper Foam Pillow
The Casper Foam Pillow features a three-layer design that incorporates both high and low-density foams for a cozy, balanced feel. The outer layers are softer and give this pillow a cloud-like comfort, while the inner layer is more firmly supportive. 
Essentially, the soft outer layers of foam are meant to cradle the head and neck while the inner layer promotes neutral spine alignment and prevents the pillow from going flat. This pillow comes in a medium loft and low loft model — the low loft is better for back and stomach sleepers, while the medium loft is better for side sleepers.
Hot sleepers might also like to know that the Casper's cover fabric is made from a moisture-wicking blend of Spandex and polyester, and each layer of foam inside this pillow is ventilated for optimized breathability. As a hot sleeper myself, I was pretty impressed by this pillow's ability to keep me cool. 
This foam is the brand's proprietary formula, and it's designed to offer a light and buoyant feel. So, if you're looking for that deep sink into memory foam, you might want to look elsewhere. But if you're someone who loves the comfy feel of foam but wish it didn't offer such a slow response to pressure, you should definitely take this pillow for a spin or read my full Casper Foam Pillow review to learn more.
This pillow has a 30-night trial period and 1-year warranty.
Perfect For: Sleepers looking for a cozy all-foam pillow with a balanced feel.
Save 10% with code SLEEPOPOLIS10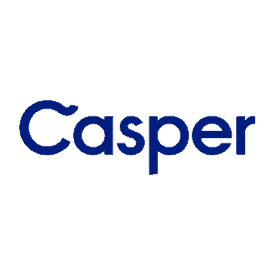 The Casper Foam Pillow sleeps cool and has the balanced support that's great for back and side sleepers!
Best Latex Pillow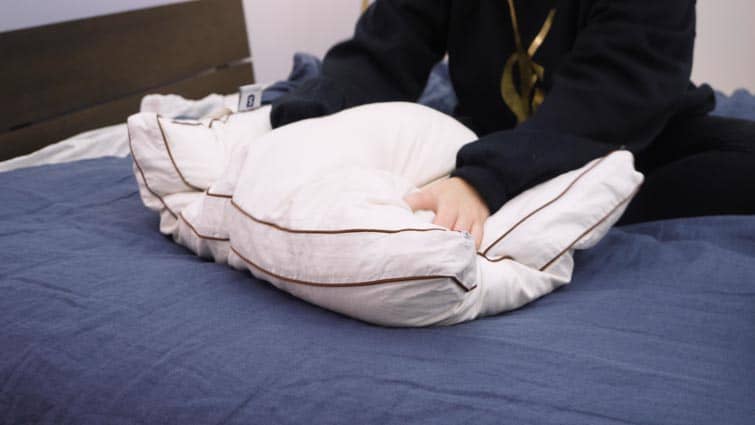 The Saatva Pillow
You know those pillows that remind you of a hotel? Plush and comfortable, yet structured and supportive? If that sounds like the pillow you want to sleep on every night, try out the Saatva pillow.
The Saatva pillow is plush, lofty, and filled with down-like microfibers. But its real standout feature is a shredded latex core that offers unrivaled support. I really love this pillow for back sleepers in particular. It offers the perfect amount of soft cushioning and support to keep their necks and spines aligned. 
As an added bonus, the cover of the Saatva pillow is 100% organic cotton, and the latex core is made from renewable, natural resources – so you can truly feel good about sleeping on this pillow. 
See my full Saatva pillow review to learn more.
This pillow has a 45-night trial and 1-year warranty.
Perfect For: Back sleepers & eco-conscious consumers 

A fluffable mix of down-alternative and Talalay latex makes this pillow cozy, cool, and great for combo sleepers! 
Best Cooling Memory Foam Pillow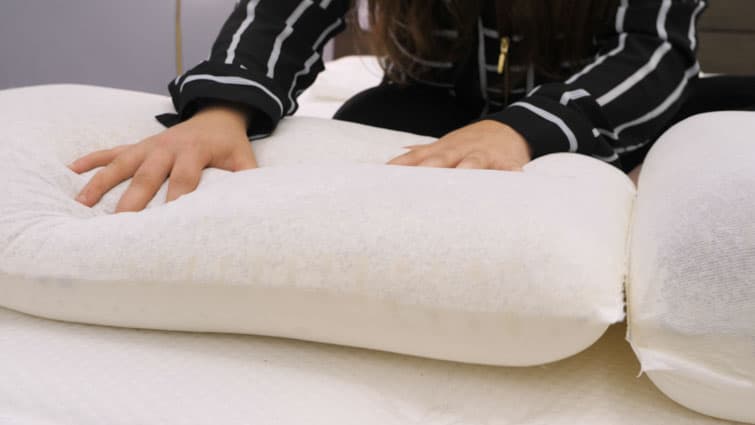 Brooklyn Bedding Luxury Cooling Pillow
If you're a hot sleeper who loves the contouring feeling of memory foam, then the Brooklyn Bedding Luxury Cooling pillow could be the right fit for you. Its memory foam is infused with graphite and copper, which help draw heat away from the body (and they add antimicrobial benefits). It also has a breathable cover and is ventilated for added airflow.
The Brooklyn Bedding Luxury Cooling Pillow comes in king size and queen size and is available with a high loft or low loft. I recommend side sleepers go with the high loft version, while back and stomach sleepers will be more comfortable with the low loft version. Interested in learning more? Check out my full Brooklyn Bedding Luxury Cooling Pillow review.
This pillow has a 30-night trial and 3-year warranty.
Perfect For: Hot sleepers
Save 20% with code SLEEPOPOLIS20
Brooklyn Bedding Luxury Cooling Pillow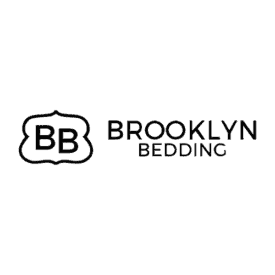 Brooklyn Bedding Luxury Cooling Pillow
The Brooklyn Bedding Luxury Cooling pillow is perfect for sleepers who love the feeling of memory foam and want to sleep cool. 
Best for Back Sleepers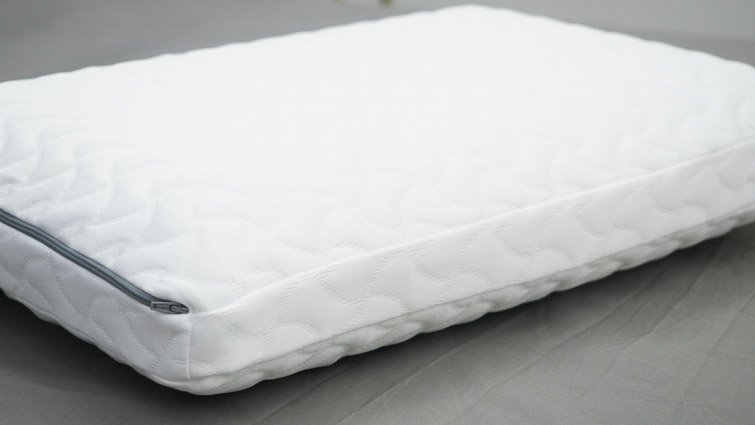 TEMPUR-Cloud Pillow
If you're a back sleeper who loves the feeling of memory foam, then the TEMPUR-Cloud pillow could be a perfect match for you. Built with the brand's proprietary TEMPUR-Material, this pillow offers a super slow response to pressure and will conform to your body shape.
What makes this pillow particularly great for back sleepers is its loft level: it has a medium height that is just right when sleeping on your back. This height in combination with its ultra-contouring feel will provide back sleepers with some great support that should help prevent neck and back pain.  
One last thing I'd like to mention is this pillow's cover — it's made from a moisture-wicking polyester material that is so soft I almost didn't want to put a pillowcase on it! Interested in learning more? Check out my full Tempur-Pedic TEMPUR-Cloud pillow review.
This pillow has a 5-year warranty.
Perfect For: Back sleepers who love a classic memory foam feel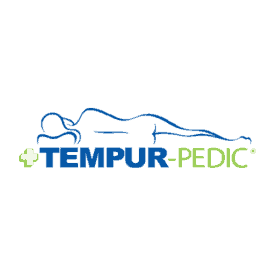 The TEMPUR-Cloud pillow provides the great body contouring memory foam feel that Tempur-Pedic is known for and is a great choice for the back sleepers out there!
Best Adjustable Pillow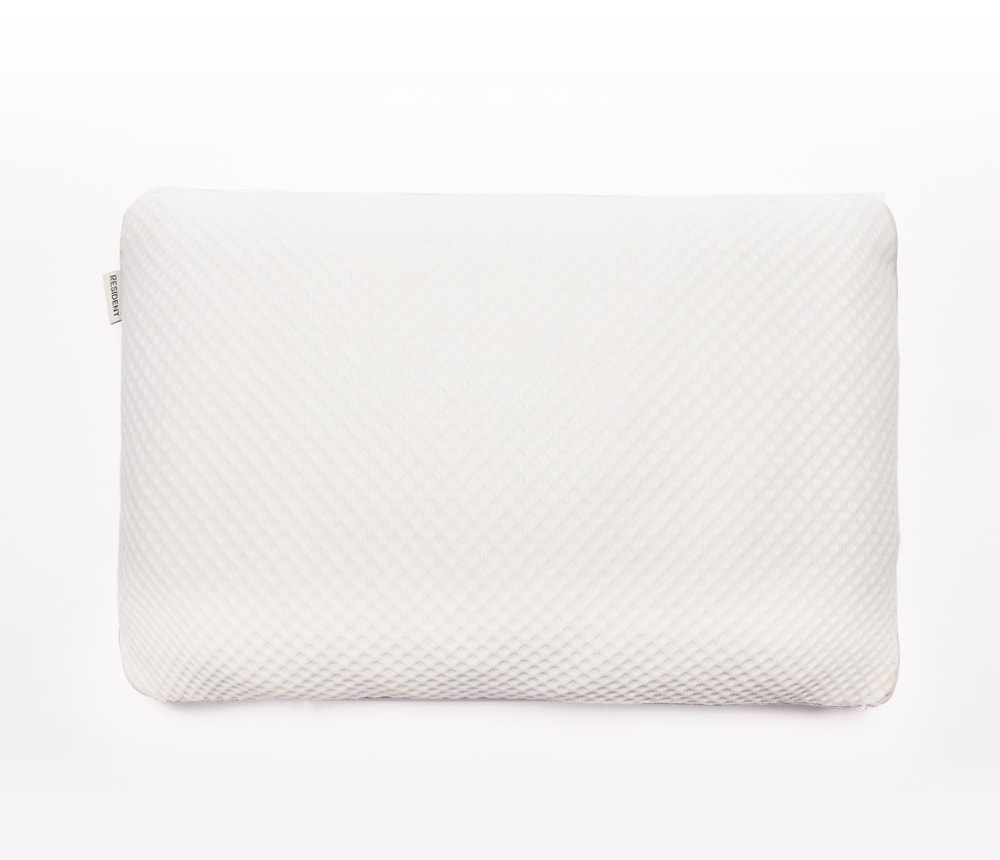 Nectar Resident Pillow
The Nectar Resident Pillow is a memory foam option with a very interesting pillow-in-pillow design. At the center of the pillow, there are two types of comfort foam, and this is surrounded by plush stuffing. 
This gives the pillow a balanced feel that offers a bit of that memory foam feel as well as that fluffy, downy feel. Looking for the best of both worlds? You should find it with the Nectar. 
This design also makes the Resident Memory Foam pillow adjustable! If the pillow feels too firm to you, you can actually unzip the pillow and remove some of the fill. Prefer something softer? Leave all the fill inside the pillow for a comfy night of sleep. 
With its multiple firmness options, the Nectar Pillow should work well for multiple sleeping positions. Side sleepers who need some good loft to support their head might want to leave the pillow completely filled. 
Back sleepers can take out a bit of fill for that perfect balance of comfort and support. Stomach sleepers might want to take out most of the fill to soften the Nectar Pillow as much as possible. There really is something for everyone with this pillow!
The Nectar Resident Memory Foam Pillow also comes with a 5-year warranty as well as a 50-night sleep trial. 
Perfect for: Sleepers who want multiple firmness options in one pillow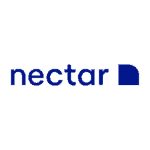 The Nectar Resident pillow is an adjustable pillow that comes overfilled to put you in control of your comfort. If the pillow is firm, remove stuffing until it is just right. The inner pillow is supportive, but the outer pillow adds a soft touch of fluff to allow you to decide how much you want. 
Best for Shoulder Pain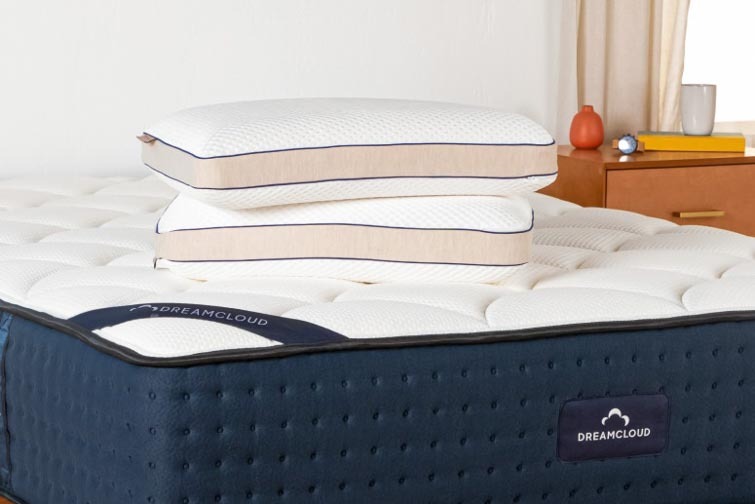 DreamCloud Best Rest Pillow
Sleeping shouldn't be a pain but, unfortunately for many, it is! If you're dealing with shoulder pain, you want to make sure you find the right mattress and, more importantly, the right pillow. That's where the DreamCloud Best Rest Pillow comes in. 
The DreamCloud Best Rest is made from thick memory foam and boasts a 5.5" profile height. Pillow height is important when you're looking for a pillow for shoulder pain. A pillow like the DreamCloud Best Rest can help keep the head supported, relieving pressure on the shoulders. If you struggle with shoulder pain, this pillow could really offer you relief! 
The pillow also offers some fantastic contouring. The Best Rest's memory foam provides that slow-moving feel most of us have come to expect. Lying on your back, you should feel the pillow conform to the shape of your head and neck. Side sleeping, the DreamCloud will cushion your head, while still keeping it propped up! 
While it is a memory foam pillow, you also shouldn't have to worry about sleeping hot. The pillow features a breathable cover and copper gel-infused memory foam. Copper gel should help to draw heat away from your body, ensuring a cool night of sleep! Take a look at our DreamCloud Best Rest Pillow review to learn more. 
The DreamCloud Best Rest Pillow comes with a 50-night sleep trial. 
Perfect for: Hot sleepers and those who deal with shoulder pain
DreamCloud Best Rest Pillow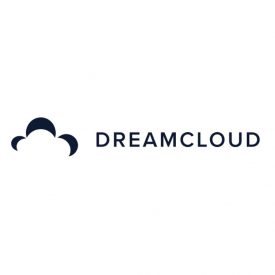 DreamCloud Best Rest Pillow
The DreamCloud Best Rest is a memory foam pillow made with a cool-to-the-touch cover and CopperGel foam. It's a great pillow for hot sleepers!
Best Pillow For Neck Pain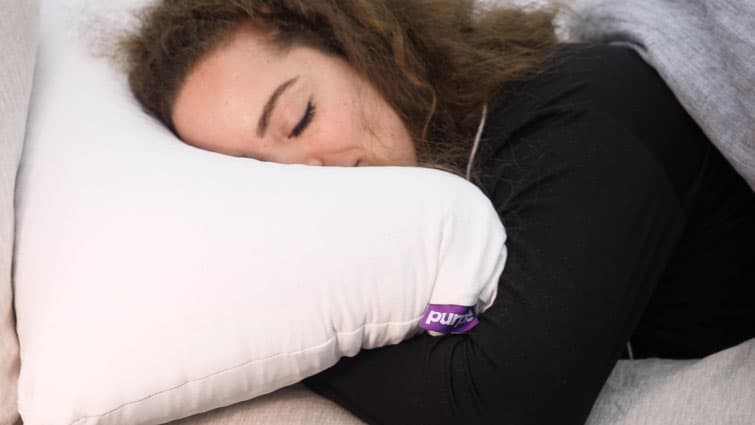 Purple Harmony Pillow
Next up on my list is the Purple Harmony pillow, and I picked it specifically for those looking to alleviate neck pain. 
But before I tell you why this pillow is great for dealing with neck pain, let's talk about its cover fabric (because it's one of my favorite features). It's made from a very breathable spandex mesh material that wicks moisture and promotes a ton of airflow through the pillow. As a hot sleeper, I can tell you that this served to draw heat away from my head, and make for a nice, cool snooze. 
That said, the real magic lies directly beneath the cover fabric. I'm talking, of course, about the brand's proprietary Hyper-Elastic Polymer. Hyper-Elastic Polymer is a unique material that's exceptionally bouncy and durable, and it's prominently featured in the Purple Mattress and Purple original pillow.
In the Purple Harmony, the Hyper-Elastic Polymer gives the pillow its shape, and helps it maintain its integrity night after night. Meanwhile, one piece of Talalay latex makes up the core of this pillow, which only adds to its bouncy-quick response to pressure. Why would you want a bouncy pillow, you ask? Well, its buoyant resilience keeps it from going flat no matter the sleeping position. 
In my experience, that's what makes this pillow great for neck pain. The Purple Harmony supported me in every sleeping position, conformed to the natural contours of my head and neck, and bounced back to its original shape every morning.
This pillow has a 100-night trial period and a 1-year warranty. 
Perfect For: Sleepers looking for a bouncy, durable, and cooling pillow to help them alleviate neck pain! 
For the full scoop, check out my Purple Harmony pillow review!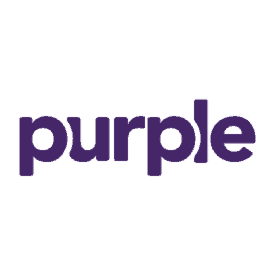 The Purple Harmony is great for any position sleeper and is extremely breathable to help you sleep cool through the night!
Best Body Pillow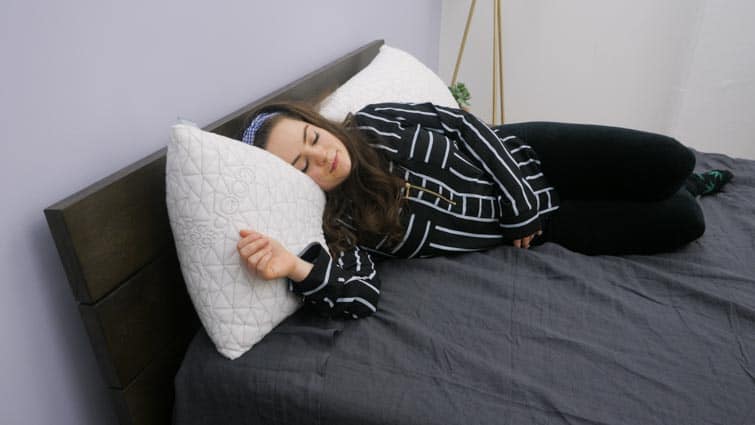 COOP Home Goods Pillow
Next on my list is the Coop Home Goods body pillow, perfect for sleepers looking to enjoy some full-body pressure relief. 
Stuffed full of shredded memory foam, this pillow does an excellent job of conforming to your shape and supporting your whole body. It's plush, lofty and, at 54-inches tall, it's pretty big! For context, I'm about 60-inches tall, so I kind of treat this pillow like a mini-mattress.  
Additionally, the memory foam in this pillow is quite moldable, so feel free to hug it between your legs or under your arms to relieve pressure at your hips. For me, I find that hugging this pillow while I'm on my side relieves tension in my lower back and helps to align my spine.
Meanwhile, this is one of the only body pillows I've ever tested that's completely machine washable (yes, the whole thing)! Of course, it works best if you've got a bigger washing machine and a mild detergent, but take comfort in the fact that you can wash this big ol' sleep accessory without damaging the materials. 
Of course, if you prefer a standard-sized memory foam pillow, don't worry — this brand makes one of those too. So check out my full review of the Coop Home Goods body pillow and the Coop Home Goods memory foam pillow to determine which is the best fit for you! But if you need both in your life… I totally relate. 
This pillow has a 5-year warranty.
Perfect For: Memory foam fans looking for full-body pressure relief!
COOP Home Goods Body Pillow

COOP Home Goods Body Pillow
This pillow is perfect for folks who love the feel of memory foam so much, they want to enjoy that support across their whole body.
Best Pillow for Side Sleepers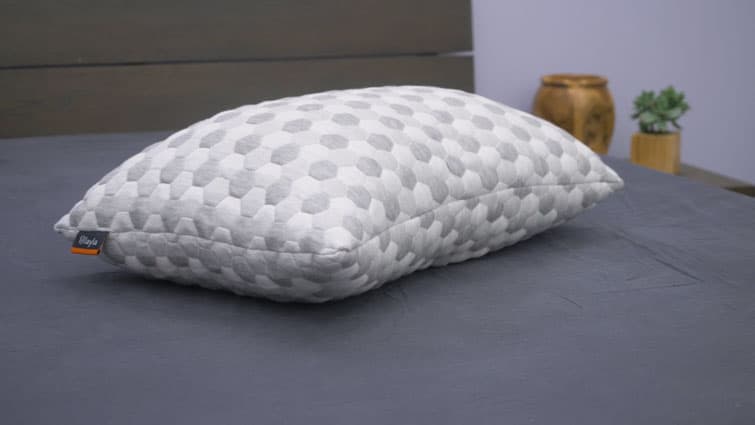 Layla Pillow
Here we have the Layla Kapok pillow, a big ol' sleep accessory that's perfect for broad-shouldered side sleepers. 
Amply stuffed with shredded memory foam and Kapok, this pillow offers a cozy balance between plush and supportive. Shreds of Kapok (which is a natural tree fiber) combine with the memory foam in a way that makes this pillow's fill uniquely fluffy, dense, and moldable. Not to mention, copper threads are infused into the cotton cover fabric in order to draw heat away from your sleeping head! 
But the thing that really stands out, in my opinion, is this pillow's exceptionally lofty profile. It's about 7-inches tall, making the Layla a very good pick for broad-shouldered side sleepers. Its high-profile and dense-yet-fluffy feel serve to relieve pressure at the shoulders and align the spine when in the side sleeping position. 
Of course, one of the very handy things about this pillow is that it's adjustable! So, if you decide that it's a bit too lofty or firm, simply reach in and manipulate the fill to your liking. As I said, side sleepers might want to enjoy this pillow exactly as it comes, but back and stomach sleepers should feel free to remove as much stuffing as they need to find the right fit.
For more info on this, check out my full Layla pillow review!
This pillow has a 120-night trial period and a 5-year warranty.
Perfect For: Side sleepers looking for a fluffy, lofty pillow to alleviate shoulder pain!
Check Prices Here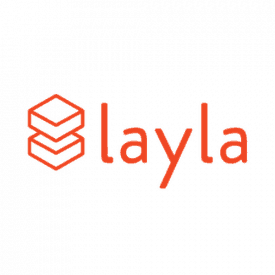 A copper infusion in the cover helps to make the Layla pillow ultra cool and comfortable. 
Best for Stomach Sleepers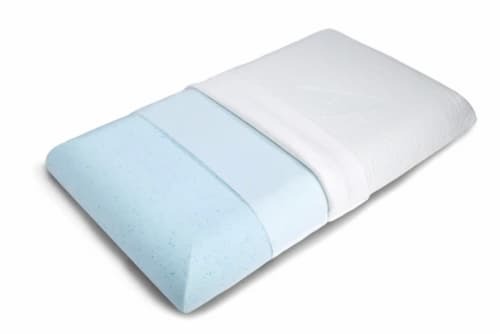 Belly Sleep Pillow
If you're a stomach sleeper, I'm sure you have already experienced how difficult it is to find a pillow that is comfortable to sleep on, and also good for your neck and spine. The Belly Sleeper pillow may just be your dream come true.
With a very thin profile (2.5 inches to be exact) this pillow won't lift your head too far off of the mattress, keeping your neck in line with the rest of your body and preventing aches and pains. The Belly Sleeper pillow is also infused with cooling gel, so it will cool you down at night.
This pillow has a 30-night trial and forever warranty.
Perfect For: Stomach sleepers, back sleepers, and hot stomach sleepers

The perfect pillow for stomach sleepers is finally here! 
Methodology: How Do I Pick The Right Pillow?
Before we focus on each individual pillow, let's start from square one: How do you choose the pillow that's best for your go-to sleeping position?
Well, there's no rule that assigns one pillow to each position, and sleep is something we all do differently. But regardless of your preferred position, your pillow's most important job is to support healthy posture by keeping your head, neck, and spine in neutral alignment.
"Neutral spine alignment" is a phrase you'll see a lot in this review, and it basically means that the natural C-curve of your spine is being supported rather than craned into an unsafe position. If you want to know if your spine is in neutral alignment, simply check to see if your ears are in line with your shoulders and your chin is in line with your sternum.
Below, I'm going to briefly break down the main factors to consider when shopping for the pillow that's right for your preferred sleep position. But for even more details, be sure to check out my guide to picking the best pillow for your position.
Once you've found the pillow that supports healthy sleeping posture, you're ready to dive into the exciting details! For example, take some time to decide if you want a pillow that feels silky or fuzzy. Warming or cooling. Traditionally shaped or ergonomic. The world of pillows is vast, and it's worth it to find one that's just right.
What Types of Pillows Are There?
Though there might have only been  feather pillows back in the day, these days you can find pillows made with a range of materials. Whether you love the traditional feeling of soft down, or want an ergonomic memory foam pillow, you'll be able to find a new pillow that suits your sleep needs. 
Down Pillows – These pillows are made from quill-less duck and goose feathers. These feathers come from the chest or underbelly of the bird and are known to be the softest. Down pillows have a cloud-like feel and are typically softer pillows. They tend to be more expensive than other pillows. 
Down Alternative Pillows – If you love the feel of down, but want a hypoallergenic (and cheaper) option, then down alternative pillows might be right up your alley. These pillows are typically made from polyester microfibers.They are designed to mimic the feeling of down, but come at a much lower price point.
Memory Foam Pillows – These pillows are made from — you guessed it: memory foam. Memory foam is a relatively new material that is designed to cradle your body. It has a slow response to pressure and is much denser than down or down alternative. Memory foam pillows are typically more ergonomic than other pillows, and are a great choice for those who suffer from neck pain.
Memory Foam Alternative Pillows – These days, lots of brands have their own proprietary versions of memory foam that feel like the classic material with a few tweaks. For example, memory foam does have a reputation for trapping body heat, but memory foam alternative pillows can be filled with cooling materials. Gel memory foam pillows are especially common, but you can also find memory foam pillows with graphite or copper infusions, which help dissipate heat. Memory foam alternative might also be more aerated, which helps improve breathability. 
Latex Pillows – These pillows are made from natural Talalay or Dunlop latex, which is sourced from rubber trees. Latex has a bouncy, buoyant feel and is almost like the opposite of memory foam. It provides some nice pressure relief, and is known to be naturally cooling. Latex pillows tend to be on the pricier side.
Hybrid Pillows – These are a relatively new type of pillow on the market. They are reversible and adjustable pillows with a soft, down-like side and a firmer side that tends to have cooling properties. These pillows are great for sleepers who aren't sure what they want or like to switch things up. The Leesa Hybrid pillow is one of the few we've tested.
What Does Pillow Loft Mean?
If you've never heard of pillow loft before, don't worry, it simply refers to the pillow's height. Depending on your sleeping style, you'll want to opt for a certain pillow loft. 
Low-Loft – Low-loft pillows tend to be 3 inches tall or less. These pillows are best for stomach sleepers, who need little to no loft to achieve a neutral spinal alignment.
Mid-Loft – Mid-loft pillows are 3 to 5 inches inches tall. They're best for back or combination sleepers, since they provide a medium amount of support.
High-Loft – These pillows are 5 inches or taller and are best for strict side sleepers. Side sleepers need a higher loft to keep their neck positioned in line with their spine, which helps prevent neck pain.
What Size Pillows Can I Buy?
Many brands offer pillows in more than one size. The typical sizes you'll find are standard, queen, and king. You can also find specialized pillows like body pillows and ergonomic pillows.
Standard – Standard size pillows measure 20 inches x 26 inches. Standard pillows are the least expensive pillow size and are the most commonly used.
Queen – Queen pillows measure 20 inches x 30 inches. Two of these pillows fit nicely on a queen size bed. Hotel pillows are often queen size.
King – King size pillows are the largest at 20 inches x 36 inches. They are great for sleepers who tend to move around a lot, since they offer quite a lot of surface area. These pillows are the most expensive of the bunch.
Body – Body pillows tend to measure about 20 inches x 54 inches. These pillows are particularly useful for side sleepers, who can place them between their legs to prevent knee rubbing. 
Final Thoughts
Well folks, you've seen my favorite pillows of 2021, and you're ready to get shopping. But, before you do, remember to keep a close eye on loft, firmness, and all the little details that cater to your unique sleep needs. And take advantage of those trial periods when they're offered! After all, personally testing a pillow can be a great way to make sure that it will support you all night long. Happy shopping, everybody!
FAQS
What is the best pillow for side sleepers?
In general, side sleepers need a pillow with a lofty profile and firmer feel in order to maintain neutral spine alignment and relieve pressure at the shoulders.
What is the best pillow for neck pain?
The best pillow for neck pain is the one that promotes neutral spine alignment when you're in your go-to sleeping position. Of course, this looks different for each position, but making sure that your head and neck are never craned out of alignment with your spine is the best way to alleviate neck pain.
How long should you keep pillows?
In general, you should replace your pillow every 1-2 years. However, the lifespan of your pillow largely depends on the materials used to make it! I suggest checking in with your pillows every 6 months to make sure they're still supporting you properly.
What pillow is best for stomach sleepers?
Typically, stomach sleepers need a pillow with a low profile and a soft feel in order to maintain neutral spine alignment and relieve pressure in the lower back and abdomen.
Sarah is the Senior Writer and bedding expert at Sleepopolis. Every week, she personally tests and reviews new pillows, sheet sets, and other sleep accessories. She accompanies every video review with a meticulously detailed article to ensure her audience has all the pertinent info they need for the best shopping experience possible. Perhaps that's why her fans have dubbed her "the most thorough pillow reviewer on the Internet." Having tested everything from sleep trackers to mattress toppers, Sarah's expertise runs deep and is always expanding. She received her degree in Creative Writing from Brooklyn College and spends her free time doing stand-up, making pasta, and hanging with her cats.