Innerspring mattresses are one of the most traditional styles of mattress on the market today, and in some ways, they could be considered the predecessor of modern memory foam and latex mattresses. That said, innerspring mattresses are still incredibly popular with a large number of sleepers. There are still many quality innerspring mattresses available that provide great support, lots of comfort, and lasting durability.
This guide will provide my personal recommendations for innerspring mattresses, followed by a review of the benefits of an innerspring mattress and what kind of sleeper a coil bed might be good for. I should note that the information below is comprised of my opinions, reflecting my own preferences and biases, so just use it as a starting point.
Want to see the full list of recommendations for innerspring mattresses? Click here to get right to my favorite spring mattresses! And make sure to check out our full mattress review series to find the best models for all types of sleepers.
Best Innerspring Mattress by Sleep Position and Type
I said it up top, but I'll emphasize again that these mattress picks are reflective of my own personal preferences, so please, just use them as a starting point! Read on to learn about why I chose these models.
Best Innerspring Mattresses: Top Choices Detailed
Below, I have listed my favorite innerspring mattresses. I'll continue to update this list as I test and review new mattresses.

Editor's Pick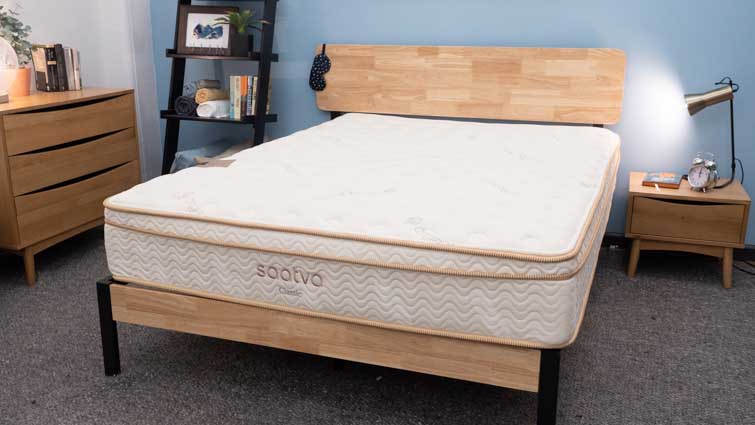 Saatva
The Saatva mattress is a luxury innerspring model that could be great for people who experience back pain. Mattresses that are too soft or that sag can cause the sleeper's hips to sink lower than other parts of their body, and, over the course of a night's sleep, this can exacerbate back and spinal pain. 
Saatva's mattress leans toward a firmer feel, helping to keep the sleeper's weight evenly distributed. This is why I refer to it as a "luxury mattress." Its breathable cotton cover goes over a pillow top consisting of a thin layer of gentle memory foam. A layer of steel coils wrapped in foam provides a supportive structure under the pillow top. It also comes in three different firmness levels, and I'd generally say the firmest two will likely be better for individuals who have a history of experiencing back pain (though individual preferences and needs will vary).
Learn all about it at my full Saatva mattress review.
$200 Off!

The Saatva mattress combines a luxurious pillow-top layer with two sections of coils for that classic innerspring feel. 
Best Mattress for Side Sleepers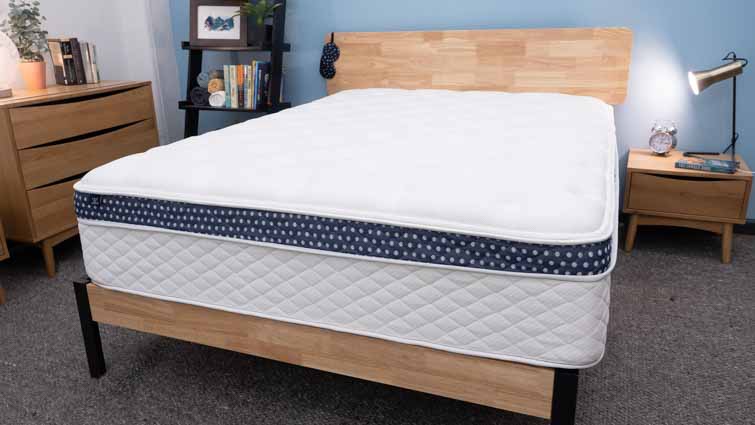 WinkBed
The WinkBeds Mattress comes in three firmness levels, and I really like the softer version for side sleepers. Side sleepers experience extra pressure around their hips and shoulders, and the soft version of the WinkBeds Mattress provides good pressure relief in these areas. Its combination of foam layers and pocketed support coils provide traditional innerspring support with a bit of extra softness and give to contour to a side sleeper's profile.
Read our full WinkBeds mattress review here.
$300 Off & Free Sleep Bundle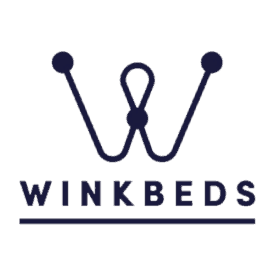 Built with a plush pillow top and a buoyant coil-on-coil structure, the WinkBeds is a great option for a wide range of sleepers! Just enter your email to save
Best Value Innerspring Mattress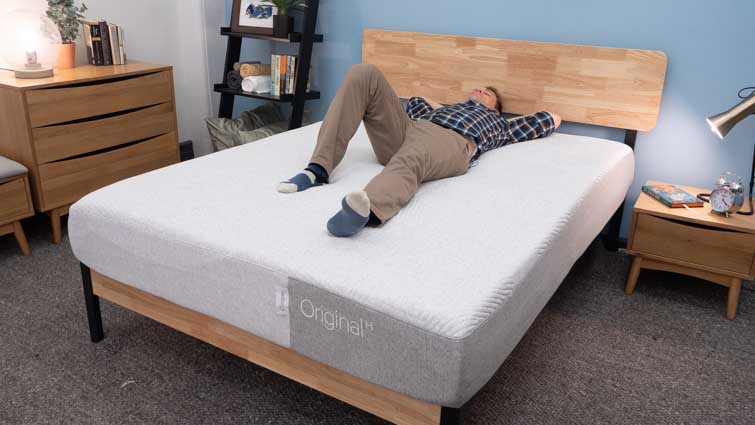 Casper Hybrid
I think the Casper Hybrid mattress is one of the best value innerspring mattresses on the market today. Why? Well, for starters, the pricing is less expensive than a lot of other mattresses. And the structure of Casper Hybrid's pocketed coil system gives the bed plenty of support at its base.
On top of the foundational layer of pocketed coils is a memory foam layer of support, which rests beneath a top layer of aerated foam. It's all covered by a soft, flexible, polyester blend. I should add that the interior layer of memory foam has been zoned for support, with firmer foam at the hips (for a little lift) and softer foam at the shoulders (for a little give). This helps to set the spine in a neutral line, resulting in an extra cozy sleeping experience. Given all these features, along with the relatively inexpensive price, I'd say it's the best value you can get for an innerspring mattress. 
If you want more information on this bed, hop on over to my full Casper Hybrid mattress review.
15% Off with code JULY4TH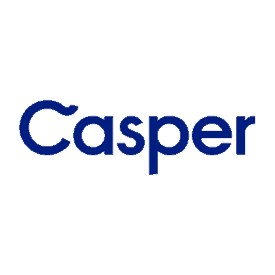 With zoned support for pressure relief where you need it most and pocketed coils for great bounce and support the Casper Hybrid is a great choice for the combo sleepers out there!
Best Pillow Top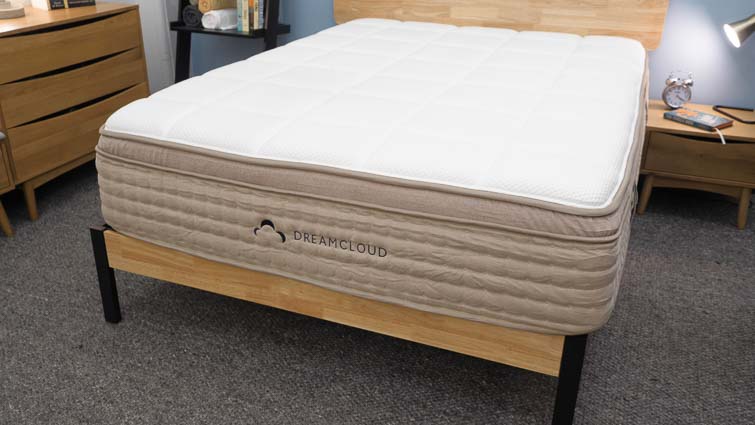 DreamCloud Premier
This pillow top hybrid mattress is a great option for back and side sleepers because the soft top really fills in and contours to sensitive areas on the body. The coils at the base of the mattress keep the entire body supported as well, making it ideal for people with pain concerns. However, if you are a strict stomach sleeper you may not get all the support you need from this bed. 
Since the DreamCloud Premier does have such a thick and comfortable top, it doesn't sleep as cool as some traditional or other innerspring mattresses do. I wouldn't describe it as hot, but just know if you are used to a lot of airflow it may not have as much as you are used to. 
Learn more in my full DreamCloud Premier mattress review! 
Save $200 + Free Gifts with Purchase!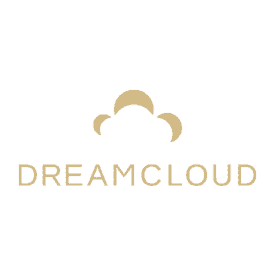 This tall hybrid mattress combines foams with pocketed coils for a luxuriously supportive sleeping experience. Get $200 off a DreamCloud mattress plus free pillows, a mattress protector and a set of luxury sheets ($399 value) with your purchase!
Best Cooling Mattress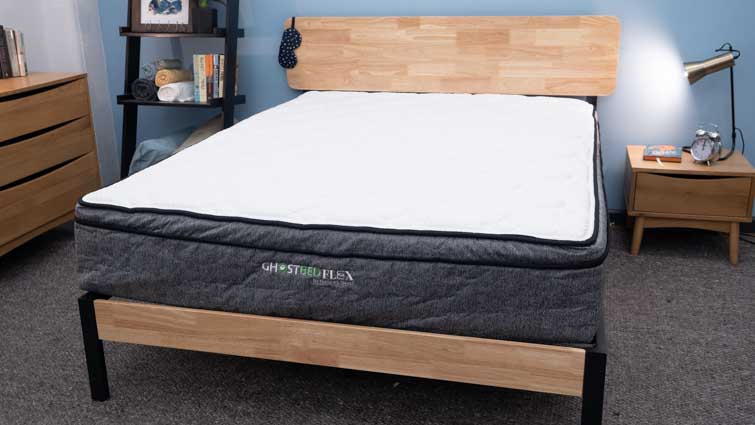 Ghostbed Flex
One of the endearing qualities of innerspring mattresses is that they provide unrivaled airflow and breathability. The Ghostbed Flex combines the airflow of individually wrapped coils with foam and a cooling cover, making it one of the coolest mattresses out there. 
Like most innersprings, this mattress is extremely bouncy, but it did surprisingly well on our motion transfer test. This means you shouldn't feel too disturbed by a restless partner on this bed. The GhostBed Flex is a medium-firm mattress, which means it should feel comfortable to most sleepers. Back and side combination sleepers especially might enjoy this feel.
Think this cool mattress is for you? Read my full Ghostbed Flex mattress review to learn more.
4th of July Sale! 30% Off Mattresses + 2 Free Luxury Pillows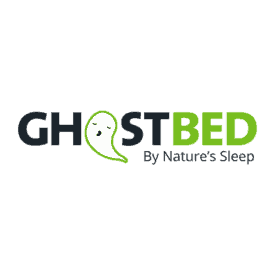 The GhostBed 3D Matrix is a great hybrid bed with a medium firmness that I like for the combo sleepers. Is also has a nice breathable cover to help you sleep cool through the night. 
Best Memory Foam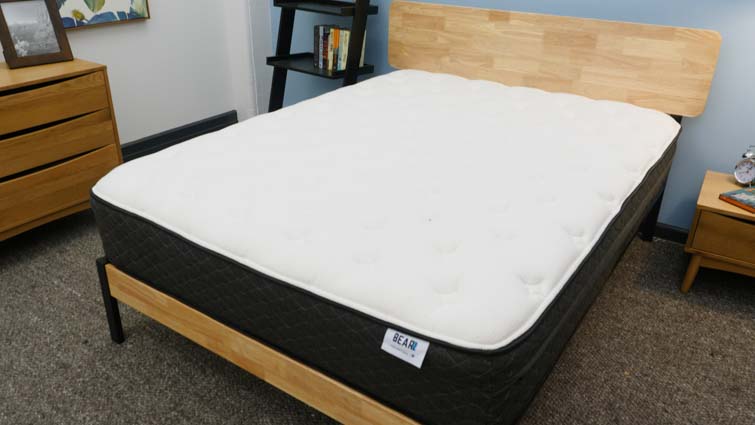 Bear Hybrid
If you're someone who is looking for the support of an innerspring, but also the comfort of memory foam take a look at the Bear Hybrid. This mattress is known for how it accelerates recovery while you sleep, which has made it popular for athletes. I also really like this mattress for back and side sleepers, if you are a stomach sleeper, I would recommend a firmer bed. If this is something you're interested in, take a look at our memory foam mattress reviews.
The Bear Hybrid offers great pressure relief and cradling at the hips and shoulders. Sometimes I would advise that sinking foams can make you hot, but Bear foams are infused with gel, which keeps you cool all night. The mattress also has a breathable and cooling cover, and the coils allow for airflow through the mattress. Those coils also give the bed bounce and mobility, so you're unlikely to feel stuck. 
Read more in my full Bear Hybrid mattress review. 
20% Off + Free Gifts With Code SUMMER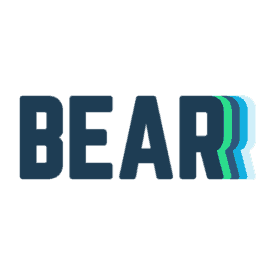 Specifically designed for athletes, the Bear Hybrid is a great supportive option for active sleepers. 
Best Latex Mattress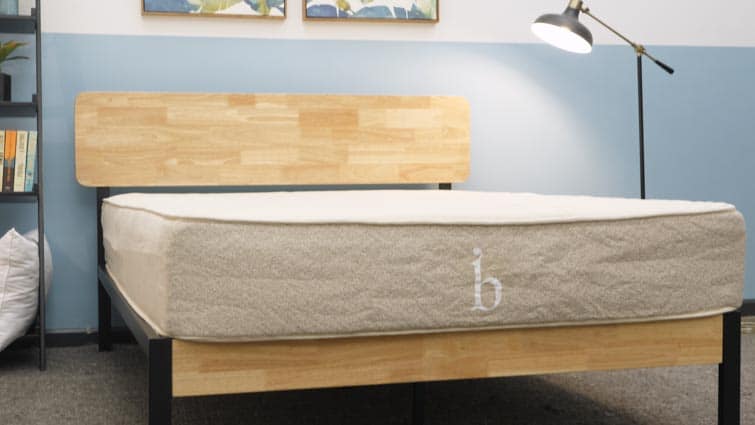 Birch
Looking for a mattress that is cooling, supportive, eco-friendly, and comfortable? Let me introduce you to the Birch Living Bed. The Birch uses natural materials like organic Birch wool, organic cotton, and all-natural Talalay latex on top of pocketed coils for a bouncy feel.
The Birch is a firm mattress I would recommend primarily for back and stomach sleepers. The Birch could also be a great fit for combo sleepers who want some lift, the springy latex provides easy mobility for changing positions. If you're a side sleeper that's set on this eco-friendly mattress, Birch does offer an extra pillowtop layer you can add.
Want to learn more about sleeping on this latex bed?Read my Birch Living Bed review to find out more.
$200 off + Free Pillows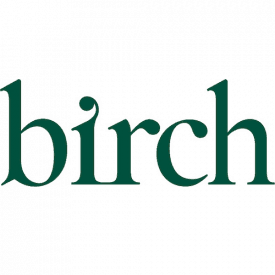 The Birch mattress uses natural materials like organic cotton and talalay latex to provide great comfort from an organic product, in fact all Birch products are Greenguard Gold certified!
Best Hybrid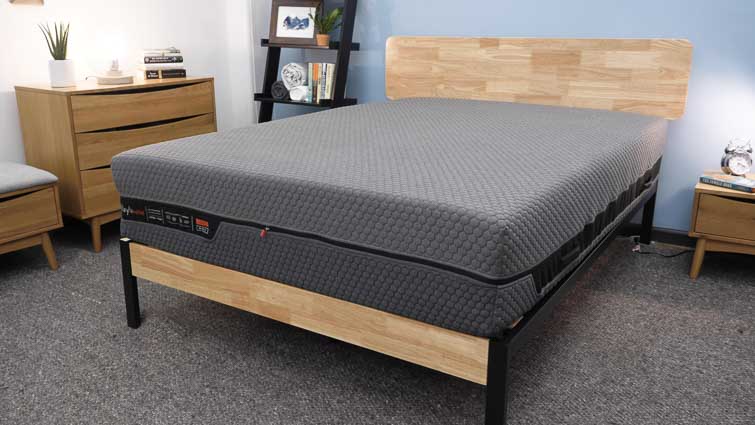 Layla Hybrid
If you're on the prowl for a gentle innerspring-style mattress, you may want to consider a hybrid, like this one from Layla. Hybrid mattresses incorporate layers of gentle foam and coils into their designs, creating a balanced feel of both pressure relief and support. 
I particularly like the Layla Hybrid for innerspring lovers because of its flippable construction. This means you can oscillate back and forth between a "Soft" and "Firm" side as the fancy strikes, allowing for truly optimized comfort. Regardless of the configuration you pick, you'll reap the benefits of pressure-relieving memory foam (infused with copper for cooling) and springy pocketed coils. In general, I'd recommend the Soft side for side sleepers and the Firm one for folks who like to snooze on either their backs or stomachs.
Get into the Layla Hybrid goodness by checking out my full Layla Hybrid mattress review.
Memorial Day Sale: Up to $200 off + free gifts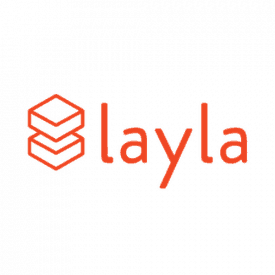 The Layla Hybrid uses foam and coil layers for two firmness options so you can choose the right support level for your sleep style. 
Best Mattress for Heavy People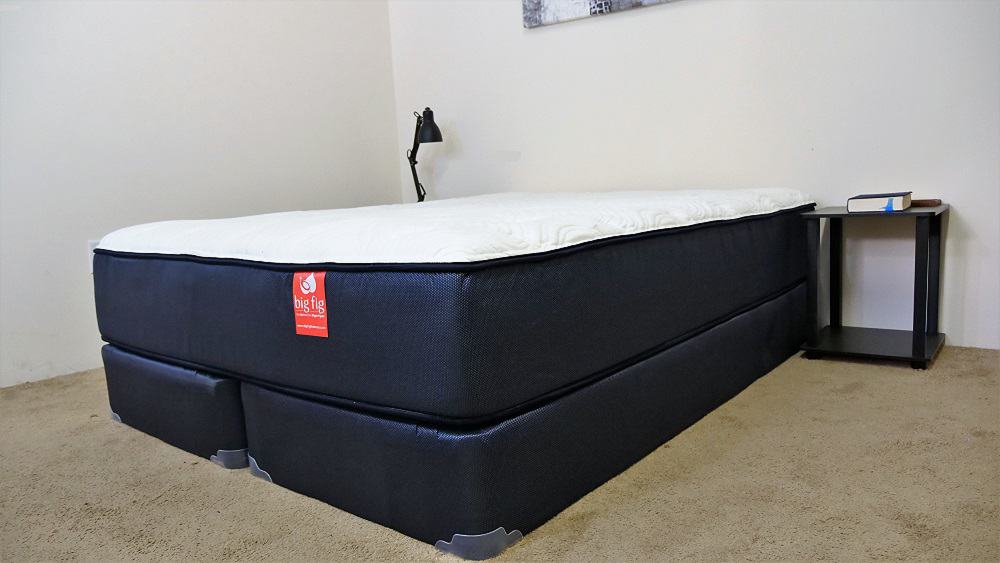 Big Fig
The Big Fig Mattress is designed specifically for heavier individuals, who have different needs when it comes to picking the right mattress. The Big Fig has a strong base and robust innerspring support (along with extra edge support), all topped with a quilted cover and foam layers for comfort. The result is an innerspring mattress that can support heavier sleepers while still providing a comfortable and pressure-relieving surface.
Read our full Big Fig Mattress review here.
Save $200 With Code DADSDAY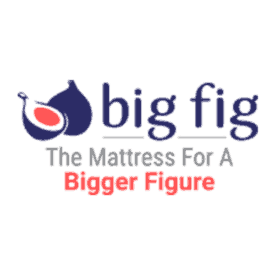 Designed specifically for heavier sleepers, the Big Fig is a fantastic, supportive option.
Best Mattress for Combo Sleepers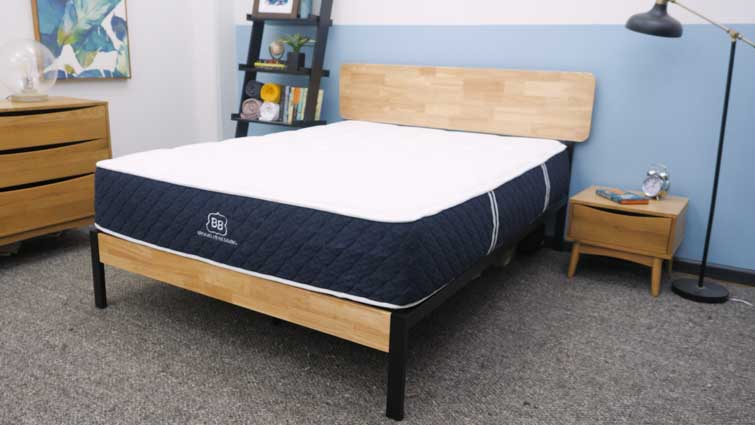 Brooklyn Bedding Signature
Technically the Brooklyn Signature is a hybrid mattress but I'm placing on this list as it has a nice coil support system that provides great bounce. The coils support layers of foam that provide nice pressure relief and comfort while having a quick response to pressure so you won't feel stuck when changing positions.
The combination of the foam and coils provides a nice medium firmness in multiple positions which is nice for those that tend to roll around while they sleep. That and the bounce make the Brooklyn Signature a good choice for the combo sleepers out there.
Click here to read my full Brooklyn Signature mattress review.
Save 25%
Brooklyn Bedding Signature Mattress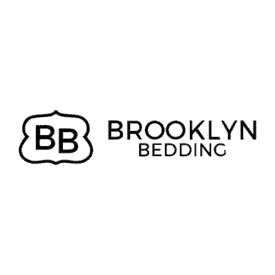 Brooklyn Bedding Signature Mattress
Resilient, latex-like foam offers sleepers of all styles great, pressure-relieving support!
Benefits of Innerspring Mattresses
Unlike foam mattresses, innerspring uses a dense layer of metal spring coils in varying gauges and densities to provide even support and pressure relief. Many innerspring mattresses use an encasement foam on the top and sides of the mattress to protect the coils and provide an added comfort layer on the top.
Generally, the thicker the gauge of metal used, the firmer the mattress will feel. A higher-numbered gauge means the spring is thinner, while a lower gauge produces a denser, thicker spring.
When shopping for the best innerspring mattress, be sure to look at the type of coil used, the gauge of the coil, how many are used, and how the coils connect to each other. An innerspring mattress that performs well in these four categories is likely to be a very high-quality mattress.
Wondering other factors to consider? Check out our Mattress Buyer's Guide for a complete rundown of how to buy a mattress.
What Are the Benefits of an Innerspring Mattress?
Wide Variety: Since innerspring was the most popular mattress type for many decades (and continues to be the most popular), manufacturers really mastered how to deliver a variety of different feels, firmnesses, and support levels while using the same coil-based construction.
Wide Budget Range: You can easily find an innerspring mattress for $200 or $2,000. Be wary of extremely inexpensive mattresses, however. These are typically made with lower-quality materials and thin-gauge coils that will likely collapse sooner than expected, leaving you with a sagging mattress. Higher-quality innerspring mattresses use quality steel and other metals, so you can rest assured that they will last for years.
Excellent Bounce: It comes as no surprise that innerspring mattresses are widely loved for their bounce. The coil support base provides a fast response time and a little fun for more amorous activities.
Limited Off-Gassing: Since innerspring mattresses do not generally contain as much foam as an all-memory-foam or latex foam mattress, they generally have very little smell.
Great Cooling: With respect to cooling, innerspring mattresses perform very well. Foams, especially memory foam, can be notorious for heat retention and "sleeping hot." The coil construction of an innerspring means excellent airflow, resulting in better cooling. See: Best Cooling Mattresses
Types of Coils and Springs
When searching for the best innerspring mattress, you'll find that there are four main types of coils: Bonnell coils, pocket coils (also known as Marshall coils), offset coils, and continuous coils (also known as Mira coils). Within these categories, some people may even refer to the whole assembly by a different name: innerspring, coil-on-coil, coil, or simply a spring mattress.
Bonnell Coils
This coil was the first type of coil in traditional innersprings. Its familiar hourglass shape compresses or expands based on the amount of pressure applied. The individual coils are laid out in rows across the mattress, and all of the rows are then woven together using a helical lacing technique that uses a long spiral wire to connect all of the coils. This helps the coils react together as a complete assembly.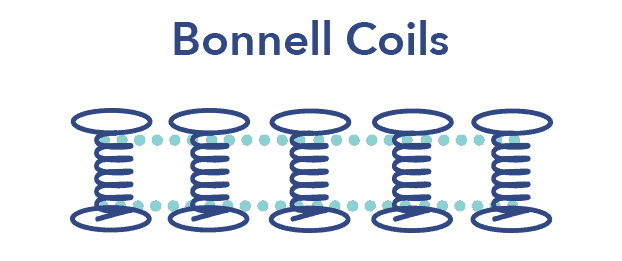 Most inexpensive spring mattresses will use this type of coil because they are relatively inexpensive to create, but that's not to say that there can't be a high-quality mattress with Bonnell coils. Again, looking at wire gauge, coil count, and the quality of encasement foam will help you to know if the mattress you're examining is a quality choice.
Pocketed Coils
Pocketed coils, or pocket coils, are individually wrapped in a thin fabric. These fabric pockets are then joined together (wire-free) to unify the assembly. Unlike Bonnell coils, pocket coils perform independently of each other, which provides a bit more hug/contour and a little less motion transfer. A mattress with pocketed coils is typically going to be more expensive than Bonnell coils, since they are costlier to manufacture.
Offset Coils
Offset coils are very similar to Bonnell coils, but instead of the rounded top, these coils have one straight side, resulting in a "D" shape. This shape allows for the coils to have better hinging action when laced together and less gap between coils.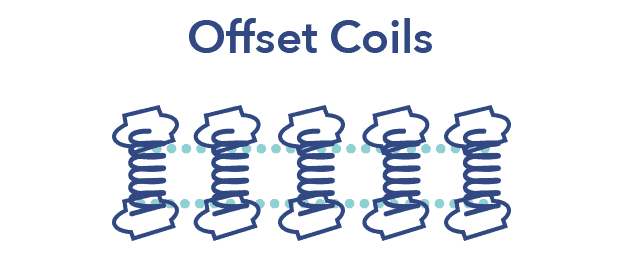 Continuous Coils
Continuous coil mattresses are created using a single piece of wire that coils and turns in on itself to form the individual coils. Since it uses only one piece of wire, the drawback to this type of mattress is motion transfer. This method is typically inexpensive to produce and may use low-quality materials.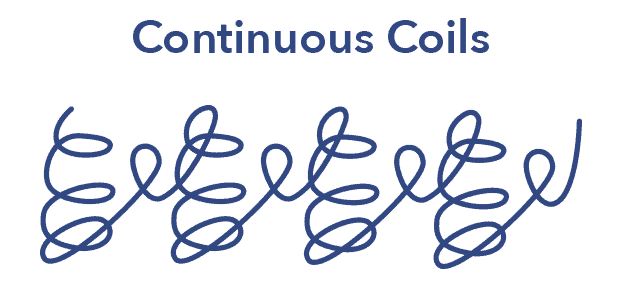 Hybrids
Hybrids
Like the idea of a foam mattress but not ready to give up your innerspring? Hybrid mattresses can be great compromises, as they have a supportive innerspring base with a foam top layer (thicker than what you will find in the encasement foam alone). This top layer of foam may be a memory foam, poly foam, or latex foam, but generally, it is added to provide extra comfort and body contouring.
Read: Our best hybrid mattress list to learn more about our top picks!
The springs themselves may be any of the assemblies listed above, but pocketed coils are most common in hybrid mattresses due to their higher quality. Hybrids may also make less noise thanks to the pockets around the coils as well as the foam top.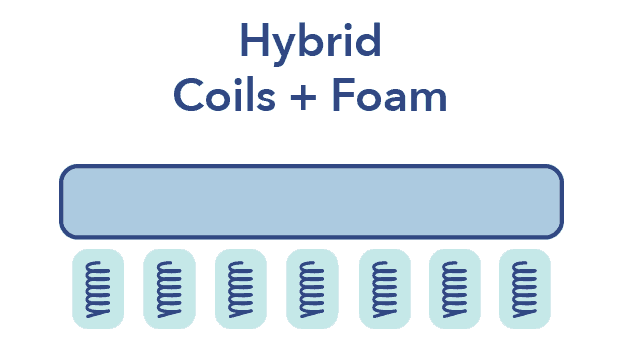 Coil Counts
With any innerspring mattress, coil count and density are going to play a large role in how supportive and comfortable it will be. A mattress with a smaller number of coils provides fewer areas of contact with the body, which can lead to uncomfortable pressure points. In contrast, a mattress with more coils is going to generally have better contouring, hug, and responsiveness. The higher number of coils also translates to a more even firmness, since there are additional contact points.
Typically, pocketed coils are going to use a smaller coil than Bonnell, offset, or continuous coils. For this reason, you can expect a higher coil count in pocketed coil mattresses.
Since the pocketed coils react individually, it is necessary to have the higher count for complete support and a full contour. With Bonnell, the coils work as a group since they are laced together with the joining wire. Pressure on one of the larger coils dissipates through the joining wire and releases into adjacent coils.
Is a Coil Mattress Good for Me?
Despite the surge of foam-based mattresses, there is still a large selection of innerspring mattresses on the market right now. A coil mattress provides a lot of bounce and a cooling, low-temperature feeling. The best innerspring mattresses are durable, supportive, and well-equipped to last you many years.
I would recommend an innerspring mattress to sleepers who:
Want a more traditional feel: For sleepers looking for a more traditional feel, innerspring mattresses are a great choice. They've got the bounce, density, and feel of the classic mattress that most people are used to.
Want great bounce: Innerspring mattresses are well known for having great bounce (perfect for those amorous activities) and a nearly instantaneous response time. This means the mattress can respond and adjust just as quickly as you do and you can avoid that "sinking in quicksand" feeling.
Want a cool mattress: An innerspring is also going to sleep much cooler than most foam-based mattresses, especially those made of memory foam. This coolness comes from the added airflow between the coils and limited material layers that can retain heat.
Best Innerspring Mattresses: Details and Pricing
| Mattress | Best For | Price (Queen) | Coupon | Review |
| --- | --- | --- | --- | --- |
| Saatva | Editor's Pick | $1,499 | Saatva Coupon | Read Our Review! |
| WinkBeds | Side Sleepers | $1,599 | WinkBed Coupon | Read Our Review! |
| Casper Hybrid | Value | $1,295 | Casper Coupon | Read Our Review! |
| DreamCloud Premier | Pillow Top | $1,998 | DreamCloud Coupon | Read Our Review! |
| Ghostbed Flex | Cooling | $2,145 | Ghostbed Coupon | Read Our Review! |
| Bear Hybrid | Memory Foam | $1,695 | Bear Coupon | Read Our Review! |
| Birch | Latex | $1,499 | Check Coupon Page | Read Our Review! |
| Layla Hybrid | Hybrid | $1,699 | Layla Coupon | Read Our Review! |
| Big Fig | Heavy People | $3,999 | Big Fig Coupon | Read Our Review! |
| Brooklyn Bedding Signature | Combo | $1,124 | Brooklyn Bedding Coupon | Read Our Review! |
There can be some really nice benefits of an innerspring mattress, and for some sleepers who don't like the feel of foam, it can be the right choice. When selecting the best innerspring mattress for you, be sure to consider type of coil, coil gauge, coil count, and the mattress encasement.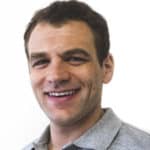 Logan is the content director of Sleepopolis, which means he not only reviews new mattresses every week, but also curates all the comparisons, best of pages, and video guides on the site. He takes a straightforward, honest approach to his reviews and endeavors to give viewers an objective look at each new product he tries out. Logan has perfected his method by personally testing over 200 different mattresses, so he's not only able to discern the overall vibe of a specific bed, but to contextualize its feel within the bed-in-a-box market as a whole. When he's not hopping on a new bed or working with our editorial team to whip up an engaging sleep education guide, you can find him reading books on world history, walking his dog Pepper, or searching for the best cheeseburger in New York City.