If you're a hot sleeper, outfitting your mattress with breathable bedding can give you a cooler sleeping experience. That's why I've put together this list of the coolest sheets I've ever had the pleasure of testing! I picked a wide range of fabrics and styles so that everybody can find their perfect match. After perusing my picks for the best cooling sheets, read on for some personal tips and tricks for keeping a low temperature while you snooze.
Best Cooling Sheets
Editor's Pick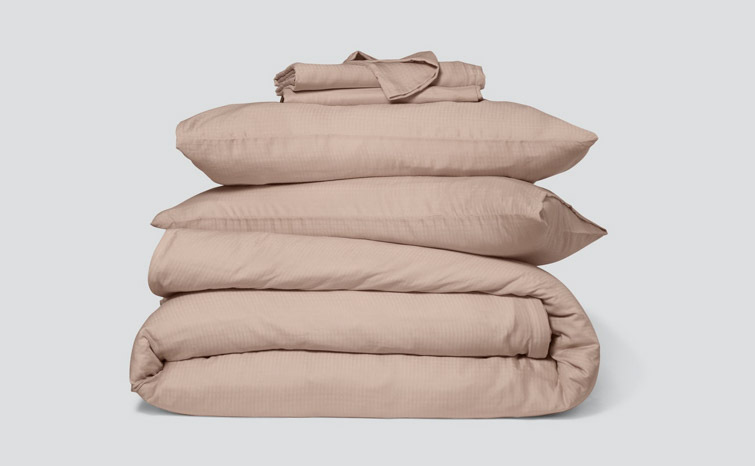 Casper Hyperlite Sheets
The Casper Hyperlite sheets are made from Tencel, which is moisture-wicking, thermoregulating, and one of the most breathable fabrics available. For those who are unfamiliar, thermoregulating materials adapt to your body's temperature, making them great for year-round use.
Pros
These sheets work to wick sweat and dissipate body heat when you get too warm, and serve as a great insulator when you get chilly.

Tencel is made from sustainably sourced wood, in addition to being manufactured in an environmentally responsible production process.

The Hyperlite sheet set is offered in five different colors.
Cons
The Casper Hyperlite sheets are on the pricier end of the spectrum, but we do frequently offer discounts with our

Casper coupons

. 
Price: $208–$308, with free shipping, 45-day free returns, and a one-year limited warranty.
Full written review coming soon! In the meantime, check out our review of some of the brand's other sheets.
Cyber Monday Sale: Save up to 50%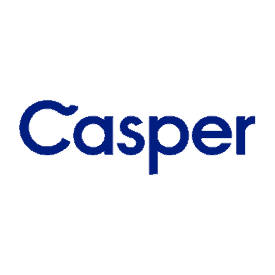 Casper hyperlite sheets have a light and airy feel that's great for those that want to sleep cool!
Best Cooling Sateen Sheets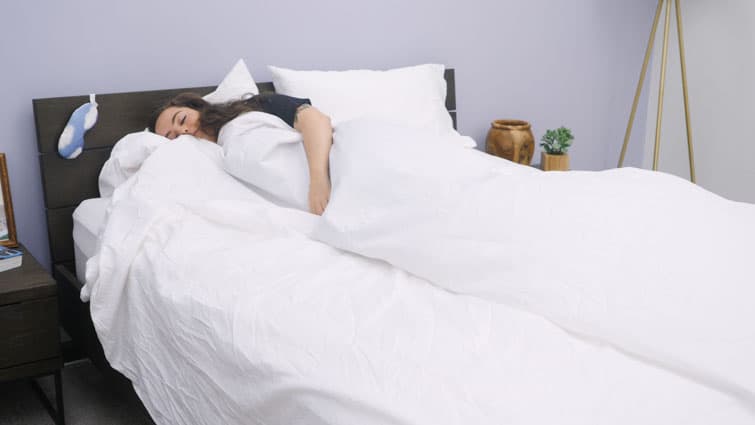 Saatva Organic Sateen Sheets
Allow me to introduce you to the only sateen bedding in this roundup — the Saatva Organic Sateen Sheets. Spun from 100% long-staple cotton, these sheets are soft, durable, and certified organic. And while they're woven in the sateen style, hot sleepers shouldn't be deterred! Though it's true that a sateen weave often makes for a warmer, thicker set of sheets, this bedding is definitely an exception to that rule.
Pros
These are the lightest, most breathable sateen sheets I've ever tested, and they still offer the great traits that are unique to this weave style.

They have a lustrous sheen, silky-smooth feel, and drape elegantly over the bed.

These sheets come with a one-year warranty, 45-night sleep trial, and are offered in three colors.
Cons
Whether this is a pro or con is going to depend on personal preference, but these sheets are silky and smooth rather than crisp.

They also tend to get fairly wrinkly for a set of sateen sheets. 
Price: $145–$245, with free shipping, 45-day free returns, and a one-year limited warranty.
If you're a fan of cotton sateen (but wish it didn't sleep so darn hot), I encourage you to check my full Saatva sheets review.
Saatva Organic Sateen Sheets

Saatva Organic Sateen Sheets
Saatva sheets are woven from 100% long-staple organic cotton into a 300 thread count, which is intended to offer a feel that's soft, durable, and breathable. They are sateen-woven which means they're going to be a bit more silky in feel, and less crisp. Additionally, they offer a light, lustrous sheen rather than a solid, matte finish.
Best Soft Cooling Sheets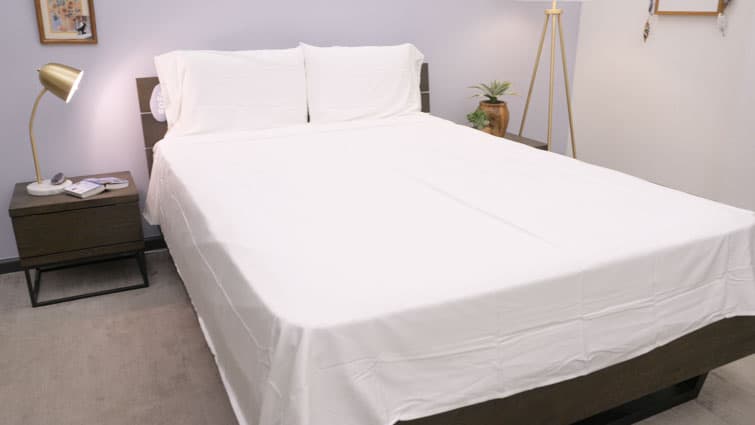 Brooklyn Bedding Bamboo Twill Sheets
Bamboo sheets are known for their soft, smooth feel, and this set from Brooklyn Bedding is no exception. They're also naturally cooling, thanks to the rayon fibers found in bamboo.
Pros
This sheet set is breathable, moisture-wicking, hypoallergenic, and ultra-soft. 

The Brooklyn Bedding Bamboo Twill sheets are a great option for both hot and organic shoppers.

The set is offered in four great colors.
Cons
These sheets may have trouble fitting over taller mattresses. If your bed is over 14″ tall, definitely take advantage of the trial period and test out the sheets' compatibility. 
Price: $79–$129, with a 30-night sleep trial, free shipping, and 1-year warranty.
If you want to learn more about other Brooklyn Bedding sheet sets, check out my Brooklyn Bedding sheets review.
Save 20% with code SLEEPOPOLIS20
Brooklyn Bedding Bamboo Twill Sheets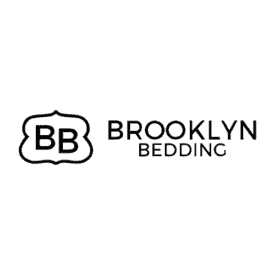 Brooklyn Bedding Bamboo Twill Sheets
These silky sheets provide a soft feel at a value price! Save 20% with code SLEEPOPOLIS20.
Best Cooling Percale Sheets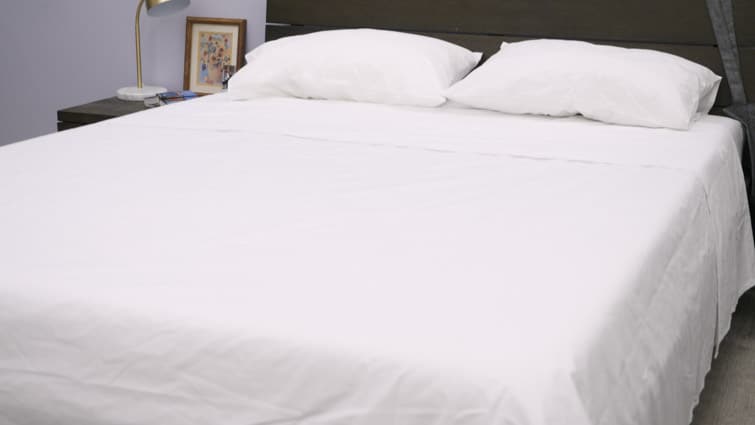 Brooklinen Classic Core Sheet Set
Woven from 100% long-staple cotton, the Brooklinen Classic Core sheet set offers a durable yet lightweight quality that's ideal for summertime. In the world of cotton bedding, sheets made from longer fibers (like we see here) are typically stronger, softer, and more resistant to pilling. But the thing that makes this bedding a particularly good pick for hot sleepers is its breathable percale weave. 
Pros
Cotton percale is known for being airy, cool, and crisp — and these sheets definitely meet that description.

These sheets come in a variety of fun colors and patterns. Personally, I like the windowpane style!

Brooklinen offers a 365-night sleep trial.
Cons
When pressing into the fabric, you may hear a slight crinkling noise, which could be an issue if you're a light sleeper.
Price:$139–$209, with a 1-year limited warranty.
For the full scoop, head on over to my full Brooklinen sheets review.
Save 15%
Brooklinen Classic Core Sheet Set

Brooklinen Classic Core Sheet Set
Woven with long staple cotton, these Brooklinen sheets are both soft and comfortable. Enjoy 10% off your order with code SLEEPOPOLIS10!
Best Value Cooling Sheets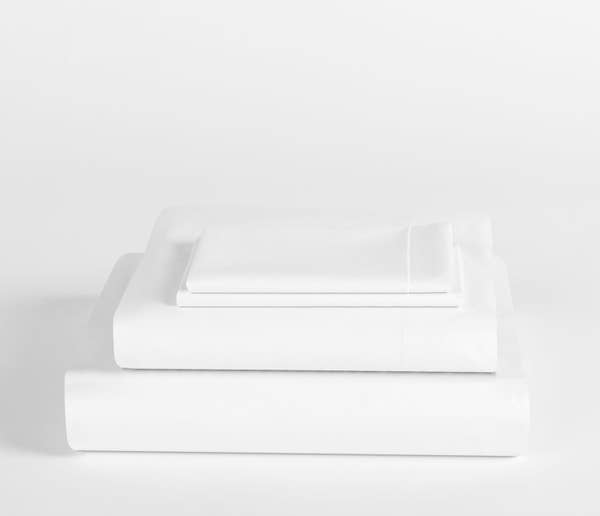 Nectar Luxury Cotton Sheets
The Luxury Cotton Bed Sheet from Nectar comes with both a flat and a fitted sheet, as well as two pillowcases. It features 100% long-staple cotton and gets softer with every wash. I chose these sheets because they come at a great value, which is not so much about price as it is about the high quality.
Pros
These sheets are luxurious and durable from feel to appearance, making them a

high-quality choice

.

The pillows have enveloped closure for a nice, streamlined look.

You're able to choose between two fabric options: Cotton and Sateen.
Cons
These sheets may be a bit

more expensive compared to competitors. However, you'll find higher quality and better consumer policies.
Price: $150, with free shipping and free returns.
Check Prices Here
Nectar Luxury Cotton Sheets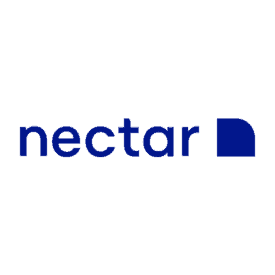 Nectar Luxury Cotton Sheets
Nectar's luxury cotton sheets come at a great price for the quality — they're made from 100% long-staple cotton that gets softer with each wash.
Best Hypoallergenic Cooling Sheets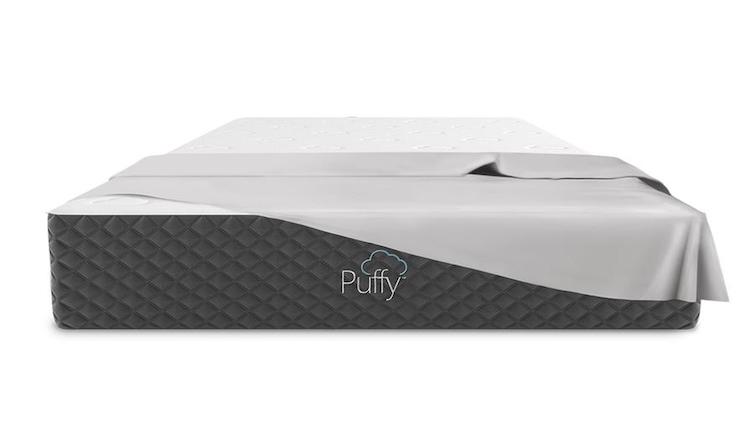 Puffy Sheets
If you're an environmentally friendly shopper looking for a new set of sheets, then you may have found the perfect ones! The Puffy Sheets are an ultra-soft set of sheets made 100% out of pure bamboo, making them hypoallergenic and organic. 
Pros
A perk of these bamboo sheets is how breathable they are.

Bamboo has natural climate adaptive properties, making these sheets a great option for all seasons. 

The sheets are Oeko-Tex Standard 100-certified, meaning they're chemical-free. This makes them safe for sensitive skin and a safe choice for you and your family. 
Cons
The sheets are only available in gray and white, which is something to consider if you prefer more colorful bedding.
Price: $140, with free shipping, lifetime warranty, and a 101-night sleep trial.
Full written review coming soon!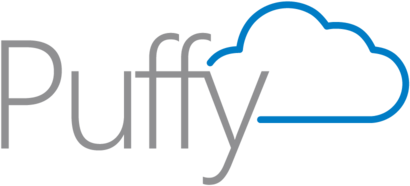 The Puffy Sheets are made 100% out of pure bamboo, making them hypoallergenic and safe for you and your family. The bamboo's breathability makes these sheets great for hot sleepers.
Best Cotton Sheets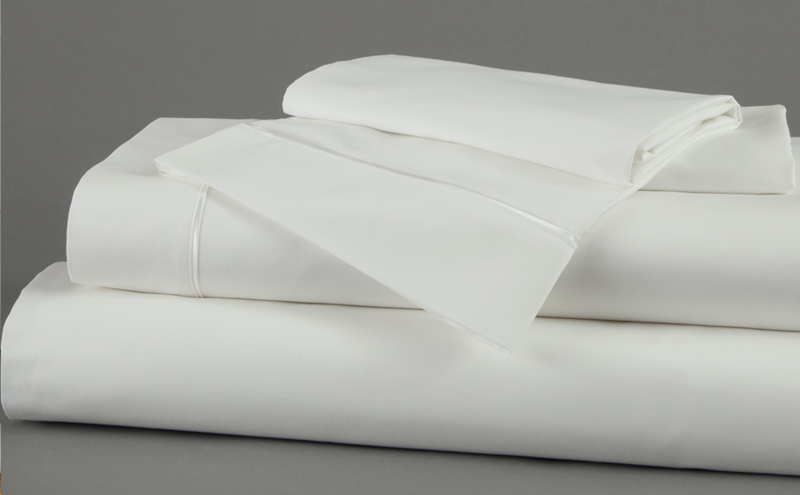 WinkBeds Cotton Sheets
The 100% Fine Combed Cotton Sheet Set is a soft set of sheets from WinkBeds, and boasts a 260 thread count. I chose these sheets because they're naturally breathable and feature extra-soft cotton, making them a good choice for hot sleepers
Pros
This set has patented corner bands to keep them in place, which should be a good choice for

combination sleepers who tend to move around.
These sheets also contain high-quality materials, such as soft, fine-combed cotton and Sateen weave, which is often found in cotton and offers a uniquely silk and luxurious feel.
If you like USA-made products, you'll appreciate these sheets, which come straight from Alabama.
Cons
This set is non-returnable under Winkbeds' free trial.
Price: $120–$180.
Full written review coming soon!
Check Prices Here
These high-quality 100% cotton sheets are super-breathable and have a nice, soft feel.
Best Cooling Bamboo Sheets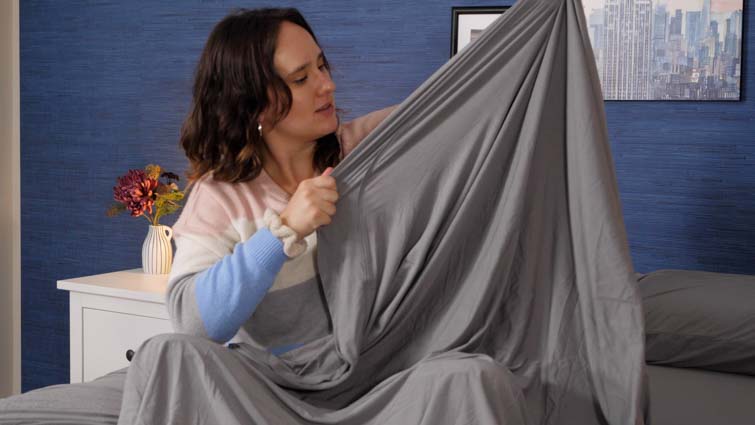 Purple SoftStretch Sheets
If you want to enjoy the natural perks of bamboo bedding without the lustrous sheen that usually comes with it, the Purple SoftStretch sheet set might be the right fit for you. These sheets are made from a blend of spandex and bamboo, which combine to offer a uniquely stretchy and breezy feel. And while the spandex only makes up 10% of this bedding's construction, it's enough to bring some pretty cool benefits to the table.  
Pros
The extra stretch boosts the fabric's breathability, and makes it cling to the mattress for a wrinkle-free look. I couldn't crease these sheets even when I tried!

The bamboo makes the fabric durable, moisture-wicking, and oh so soft. 

These sheets are offered in seven different colors (including purple, of course). 
Cons
While the sheets are soft, they're not

luxuriously

soft, as Purple claims. If plushness is your highest priority, you may want to look elsewhere.
Price: $139–$229, with free shipping and a one-year warranty. 
If you want to watch us personally test this bedding, be sure to check out our full Purple SoftStretch sheets review.
See Latest Deal
Purple SoftStretch Sheets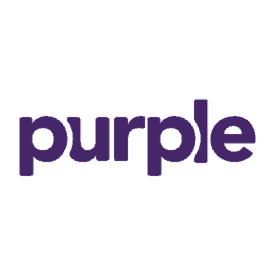 Purple SoftStretch Sheets
These sheets are uniquely stretchy, moisture-wicking, and super soft — and they go great with a Purple mattress! 
Best Cooling Sheets for the Money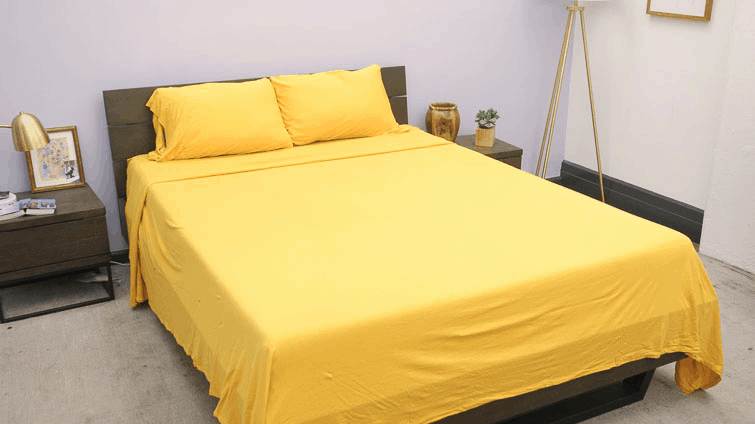 Tuft & Needle Jersey Sheet Set
Jersey cotton is ideal for hot sleepers on a budget, and the Tuft & Needle Jersey sheet set is a true testament to that. What's (literally) cool about these sheets is that they blend jersey cotton and Tencel — two of the most breathable materials out there. 
Pros
The jersey cotton brings that breezy t-shirt feel to the table, while the Tencel works to wick sweat throughout the night. 

Tuft & Needle gives you vivid shades such as marigold, rose, and periwinkle. There are neutral colors available as well. 

It's the most affordable sheet set on this list.
Cons
These sheets have a matte finish, which some people love. But it's something to consider if you'd rather have something shinier on your bed.
Price: $60–$80, with a 100-night trial period, free shipping, and one-year limited warranty.
This brand also offers several other sheet sets (all of which are impressively affordable), so be sure to explore my full Tuft & Needle sheets review!
4th of July Sale! Save 10%!
Tuft & Needle Jersey Sheet Set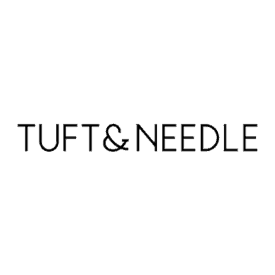 Tuft & Needle Jersey Sheet Set
With Jersey, Percale and Linen options, Tuft & Needle has a great line of sheets available for any preference! 
Best Organic Cooling Sheets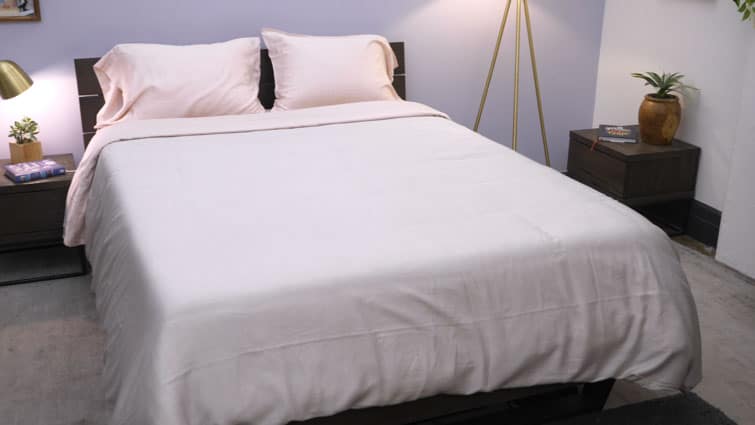 Buffy Eucalyptus Sheet Set
The Buffy Eucalyptus sheet set is an excellent choice for sleepers looking to go green. Spun entirely from eucalyptus fiber, this bedding is organic, sustainably sourced, and cool to the touch. Eucalyptus is known for its antimicrobial and anti-inflammatory properties which, according to the folks at Buffy, makes this bedding extra-soft and resistant to allergens. And while I have no way of knowing how well it keeps bacteria at bay, I can confirm that these sheets are so soothing on the skin.  
Pros
The Buffy Eucalyptus sheets have a subtly lustrous sheen and silky hand-feel. 

They come in a variety of pastel colors, all of which were treated with plant-based, all-natural dyes. 

Sleepers get to enjoy a seven-night sleep trial on these sheets.
Cons
Eucalyptus tends to be a more expensive fabric than cotton and some other materials, and the Buffy sheets are no exception. 
Price: $169–$239.
This brand also makes some awesome, organic comforters, and you can check that out in my full Buffy comforter review.
Save $20
Buffy Eucalyptus Sheet Set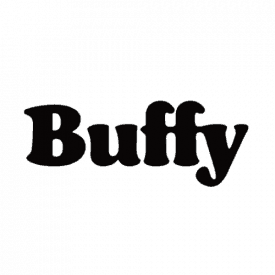 Buffy Eucalyptus Sheet Set
Buffy is one of the most popular names in online bedding, and their sheets are made from eco-friendly, plant-based, and recycled materials. They also have a great cooling feel. Use the code SLEEP to save $20 on your purchase!
How To Shop For Cooling Sheets
Okay, hot sleepers, let's cover some sheet-shopping basics. When you're on the hunt for the perfect cooling sheets, it's important to keep materials, weave style, moisture-wicking properties, and more in mind. Below, I'll provide the need-to-know info on these factors so that you're better equipped to find the right sheet set for your needs. For more information, check out my complete Bed Sheets Guide.
Materials
Some materials are perfect for summertime, while others are crafted for cold weather. But if you're a year-round hot sleeper (like me), you're going to want to aim for fabrics that will keep you cool no matter what the weather is doing. Below, I'll describe some sheet materials you should look for, and some you should avoid.
Let's kick things off with some great sheet materials for hot sleepers!
Linen:

As one of the world's most breathable materials,

linen

is a go-to pick for hot weather. At the same time, it adapts to your body's temperature (a process known as thermoregulation), so it will also keep you warm in the winter. 

Bamboo:

Bamboo bedding is known for its silky feel, lustrous sheen, and great breathability. It's also naturally moisture-wicking, which means the fabric actively dissipates sweat while you snooze. You may see

bamboo sheets

marketed as rayon, viscose, or bamboo linen. All three options are cooling and hypoallergenic.

Tencel:

Like bamboo,

Tencel

is a natural material known for its breathability and moisture-wicking properties. It's actually the trademarked name for lyocell, which is an organic material made from dissolving wood pulp. It's adept at keeping sleepers from overheating, so it's used in both cooling bedding, and cooling mattress and pillow covers.

Cotton Percale:

Cotton that's woven in the percale style is exceptionally lightweight, airy, and cooling. Some weave styles are more dense and warming (more on that later), but hot sleepers in the market for cotton should aim for a percale weave! If you opt for an organic cotton percale, your sheets will also be naturally hypoallergenic.

Egyptian Cotton:

Egyptian cotton sheets

are also especially breathable, made of long-staple cotton that's both durable and moisture-wicking. These sheets are known for feeling extra-luxurious.

Supima Cotton:

Supima cotton feels very similar to Egyptian cotton, but is a little less pricey, which could appeal to shoppers on a budget.

Eucalyptus:

If you're looking for sheets that feel soft and cottony, but are as cooling as linen (which is a bit more cooling than cotton), you'll want to consider eucalyptus. In addition to having a cooling, soft feel, these sheets are often organic and naturally antimicrobial, making them a great pick for sleepers with sensitive skin.

Silk: Like linen, silk can help you feel cool in the summer and warm in the winter. Silk also has a natural sheen to it (most cooling sheets have a matte look).
On the flip-side, you'll want to avoid the below fabrics when it comes to temperature regulation.
Flannel:

Flannel sheets

are known for keeping you super-warm and cozy during the winter. While that might sound great to some of you, hot sleepers probably won't get a good night's sleep.

Microfiber:

Microfiber sheets

are lightweight and absorbent, but their thick weave doesn't allow for much airflow. Natural materials tend to be a little more cooling than synthetic materials like microfiber, so I'd recommend sticking to them if you're looking for high-quality cooling sheets.

Fleece: Like flannel sheets, fleece sheets are designed to sleep warm. I occasionally use a fleece top sheet in place of a duvet or comforter in more temperate months. It definitely does a good job replacing a blanket for me, so I'd steer hot sleepers on the hunt for a cooling sheet set away from this material.
More: Learn more about the difference between Tencel and bamboo!
Weave Style
Sheets made from linen, Tencel, and bamboo typically feature their own specific weave styles, but cotton bedding is woven in a variety of ways. So let's take a look at which weave styles you should aim for, and which you should probably avoid.
Percale:

As I mentioned above, a

 

percale

weave usually makes for a lightweight, airy, and cooling set of sheets. Most commonly seen in cotton bedding, the percale weave style is a pretty safe bet for hot sleepers.

Sateen:

Sateen

, on the other hand, is almost like the counterpart to percale. A sateen weave typically creates a thicker, heavier, less breathable fabric that's better suited to folks who run cold.

Twill:

A twill weave is another one hot sleepers might want to avoid, as it's known for being dense and less breathable. For example, a twill weave is most frequently used to make denim jeans extra-durable.

Jersey: Jersey cotton is technically knit instead of woven, but its breezy, t-shirt feel makes it a great pick for hot weather. Jersey cotton also tends to be more affordable than other types of cotton bedding, making it ideal for folks on a budget. Finally, jersey sheets are wrinkle-resistant, which is great for folks who still haven't gotten the hang of folding a fitted sheet.
More: Check my complete guide to understanding the difference between percale and sateen!
Additional Cooling Factors for Sheets
Moisture-Wicking Properties:

Moisture-wicking fabric can actually move sweat away from your body and keep your sleeping environment dry. Tencel, linen, bamboo, and polyester are all great examples of naturally moisture-wicking materials that can be blended with other fabrics or enjoyed solo.

Thread Count: Thread count is the number of threads per square inch of fabric in a sheet. If you're a hot sleeper, you might want to note that sheets with a lower thread count can actually feel more breathable than high thread-count sheets. That's because the less dense weave allows for more airflow. Of course, you don't want to choose a sheet with such a low thread count that it feels rough or falls apart. A sheet in the 250–300 thread count range could be an ideal fit for hot sleepers. Learn more in my What's the Best Thread Count article.
Other Tips for Sleeping Cool
For most sleepers, 60–75 degrees Fahrenheit is ideal for sleeping. If you sleep hot, try to keep your room temperature between 60-67 degrees Fahrenheit. 

If your home has multiple stories, sleep on the first floor, as it will feel cooler than the upper floors.

Take a warm shower before bed. This might seem counterintuitive, but it will actually lower your core temperature, which can help you feel cooler as you fall asleep.

Open your windows and doors to cross-ventilate your room. Also, ensure your ceiling fan is spinning counter-clockwise (which blows cool instead of hot air).

Shut your bedroom blinds during the day to keep excess sun and heat out of your room. This is especially important in the warmer months.

Putting a cool cloth around your head or near pulse points, or cooling down your feet with a pair of frozen socks, can help cool you down before and during bedtime.

Avoid food and alcohol too close to bedtime. Digestion can take a lot of energy, and actually make you feel hot around bedtime. Alcohol can cause hot flashes and sweating. Avoiding both before bed can help you sleep more comfortably throughout the night.

Consider sleeping on your back. Spreading out like a starfish on your back can help you cool down because it won't trap as much heat between your body and the mattress.
Additional Resources for Hot Sleepers
FAQs
Do bamboo sheets keep you cool?
Bamboo bedding is a great pick for hot sleepers because it's naturally moisture-wicking and very breathable. Additionally, bamboo fibers are known for being exceptionally durable, which can help your sheets last longer.
What type of sheets sleep the coolest?
In general, sheets made from linen, bamboo, and Tencel offer the coolest, most breathable feel. Cotton sheets that feature a percale weave are also known for being exceptionally lightweight and airy, perfect for hot sleepers.
How do I keep my bed cool?
In addition to finding a set of cooling sheets, sleepers can keep their bed extra cool by investing in a cooling mattress, pillow, or mattress topper.
Do Tencel sheets keep you cool?
Tencel sheets are known for being breathable, smooth, and cool to the touch. Additionally, Tencel bedding is derived from natural fibers, making it a great pick for eco-friendly sleepers.
Sarah is the Senior Writer and bedding expert at Sleepopolis. Every week, she personally tests and reviews new pillows, sheet sets, and other sleep accessories. She accompanies every video review with a meticulously detailed article to ensure her audience has all the pertinent info they need for the best shopping experience possible. Perhaps that's why her fans have dubbed her "the most thorough pillow reviewer on the Internet." Having tested everything from sleep trackers to mattress toppers, Sarah's expertise runs deep and is always expanding. She received her degree in Creative Writing from Brooklyn College and spends her free time doing stand-up, making pasta, and hanging with her cats.