Purple is well-known across the Internet for the Purple mattress, a memory foam bed with the unique hyperelastic gel Purple grid. They also make several Purple Hybrid mattresses, as well as a variety of other sleep products.
But in this review, I'll be talking about Purple's SoftStretch sheets. I'm excited to put these sheets to the test and find out if they're as soft and stretchy as the name implies! These Purple bed sheets come in a set including a fitted sheet, a top sheet, and one or two pillowcases, depending on the size of the set. Full, queen, king/California king, and split king sizes will come with two pillowcases, while the twin/twin XL set will only come with one.
Short on time? Skip to the end for my review summary for some quick hits on these sheets.
Let's dive in and find out if these could be the best sheets for you!
What are the Purple SoftStretch Sheets Made Of?
When choosing sheets, material is one of the most important factors to consider. Why? Because what material a sheet is made with will impact how it feels, how well it regulates temperature, how durable it is, and even how the sheets look on your mattress! Sheets come in a wide variety of materials, such as cotton sheets, bamboo sheets, or linen sheets.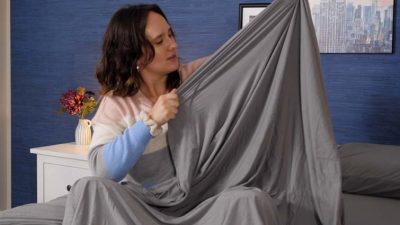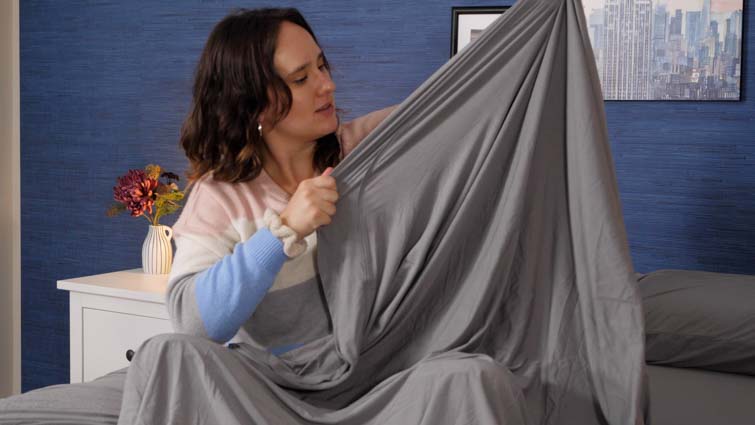 The Purple SoftStretch sheets are made with a blend of rayon from bamboo viscose, spandex, and polyester. This blend of materials is what makes the material so stretchy. This material is also moisture-wicking, which is great for temperature regulation. If you sleep hot (and maybe tend to get a little sweaty), that's a big plus.
And if you like the look of a smooth, wrinkle-free bed, you'll definitely appreciate how the material of these stretchy sheets looks, too.
Purple does not include a thread count for these sheets.
What Do the Purple SoftStretch Sheets Feel Like?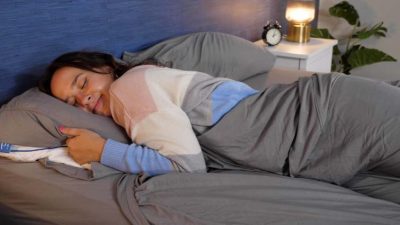 This sheet set had a very unique feel to me. When I first took the sheets out of the box, I was surprised at how heavy they felt. The fabric definitely has some weight to it! Lying under the flat sheet, the weighted feel of the fabric made the sheet really cling to me and conform around my body, which I thought made for a really cozy vibe.
As I mentioned before, the sheets are definitely very stretchy as well. But as far as softness, I didn't think they were as "luxuriously soft" as Purple had described them. To me, the Purple SoftStretch sheets felt much more smooth than soft. I'd liken them to jersey sheets, but with a much smoother feel.
Are the Purple SoftStretch Sheets Good for Hot Sleepers?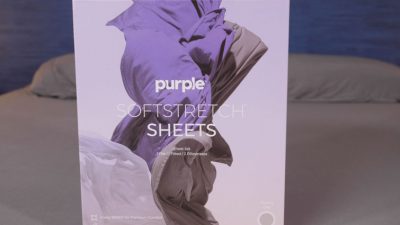 The Purple SoftStretch sheets are designed to be moisture-wicking and help you sleep temperature neutral. I thought they felt very breathable and I felt really comfortable temperature-wise when I was testing them out. The bamboo fibers really help with temperature regulation, because bamboo is both naturally moisture-wicking and thermoregulating.
I'd say these are going to be a good choice for hot sleepers, especially those who prefer a more cozy sheet set. If you prefer light, airy, and crisp sheets to keep you cool, these are probably not the best for you. But I liked how the Purple SoftStretch sheets really conformed around me and felt cozy, but still prevented overheating.
How Durable are Purple SoftStretch Sheets?
When purchasing sheets, choosing something durable and high-quality is important. Especially if you're deciding to invest in a more expensive set of sheets, you want to be sure that the quality will be maintained over time.
I thought the material of the Purple SoftStretch sheets felt quite durable. As I mentioned, they have a weighty feel, and the fabric is fairly thick. However, in reviewing other customers' feedback online, I found some complaints about the sheets pilling after longer use and washing, so that might be something to watch out for. Be sure to follow Purple's care instructions for best results laundering your sheets.
Do the Purple SoftStretch Sheets Stay on the Bed?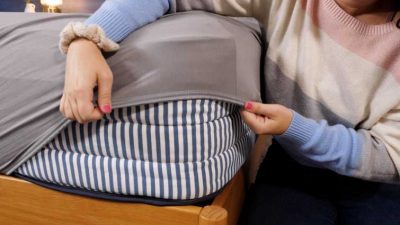 One of my biggest pet peeves with bedding is a fitted sheet that pops off the mattress while I'm sleeping. Purple has combated this issue by including a stay-put band on the fitted sheet. Essentially, it's super strong, durable elastic. Combined with how stretchy and form-fitting the sheet itself is, this stay-put band prevents the sheet from coming off your mattress, no matter how much you toss and turn.
Are Purple SoftStretch Sheets Good for You?
Now that we've gone over the material, feel, and performance of these sheets, here's my recommendations for who should try the Purple SoftStretch sheets and some of my complaints about these sheets.
Who should try Purple SoftStretch sheets
One of my favorite features of these sheets is the

stay-put elastic band

that prevents the

fitted sheet

from coming off the mattress. If that's something that bothers you as well, or if you're

someone who tosses and turns a lot

, I think these sheets could be a good choice for you.

Hot sleepers

will also likely enjoy the

Purple SoftStretch sheets

. I think the

breathable

,

moisture-wicking

fabric will

help hot sleepers sleep temperature neutral

. Because they have a cozier feel, I think these could be especially great for

hot sleepers

to use in the winter.

I'd also recommend these sheets to anyone who likes a

jersey sheet-style feel

, but who's looking for something a little different. I thought these sheets had a very unique feel, especially with how the

top sheet

really clung to me.
Purple SoftStretch sheets complaints
While I really liked the clingy and conforming nature of these sheets, I think some people might find it annoying. It is pretty easy to get tangled up in the sheet if you move, which can also lead to the sheets

bunching up.

I definitely felt somewhat swaddled in these sheets, so if that does not appeal to you, I'd recommend a different

sheet set

.

I would also say that one of my complaints was that I didn't think these sheets were as soft as Purple claimed they were. I liked the smooth feeling, but if you are looking for something more in that "luxuriously soft" range, I'd go with something else.

Finally, I didn't love that the

pillowcases

that come with this set have open ends. I often find that my pillow will start slipping out of

pillowcases

of this style, which can be somewhat annoying, so I tend to prefer a

pillowcase

with an envelope-style closure to ensure the pillow stays in the case.
Purple SoftStretch Sheets Prices, Sizes, and Colors
Now let's take a look at the prices of the Purple SoftStretch sheets. Don't forget to use our Purple coupon!
Prices listed will be before discount or offer for each size.
| Size | Price |
| --- | --- |
| Twin/Twin XL | $99 |
| Full | $129 |
| Queen | $149 |
| King/Cal King | $169 |
| Split King | $169 |
In addition to price and performance, color can be a very important factor in choosing the right sheets. Fortunately, the Purple SoftStretch sheets come in six great colors. If you prefer a neutral, I'd go with the true white, stormy gray, or natural oat. Or if you're like me and enjoy a pop of color, deep purple, soft lilac, and morning mist (a nice light blue) are all great choices.
Purple SoftStretch Sheets Vs
Now that we've taken a solid look at the Purple SoftStretch sheets, let's compare them to some similar sets.
Purple SoftStretch Sheets vs Casper Hyperlite Cooling Sheets
Now when it comes to cooling, Casper's Hyperlite Cooling sheets are one of the best sets we've reviewed here at Sleepopolis.

These sheets are made with Tencel, a

moisture-wicking

, temperature regulating, and

breathable

fabric. It's also very eco-friendly!

The Casper Hyperlite

sheet set

also comes with a

1-year warranty

and is available in five neutral colors.
Purple SoftStretch Sheets vs Layla Bamboo Sheets
Layla's sheets are made with 100% bamboo and are exceptionally lightweight and

breathable

. The bamboo material is also hypoallergenic and antimicrobial, which is great for those with allergies or sensitive skin.

The Layla sheets also have a really elegant look. The sheets are shiny, silky, and drape very nicely.

These sheets come with a 120-night trial and a 5-year

warranty

. They're available in standard sizes ranging from

twin size

to king/

Cal king

sizes.

Learn more in my full

Layla sheets review.
Other Products from Purple
Still deciding if the Purple SoftStretch sheets will be your new sheets? Here's my star ratings.
Materials

Cooling

Comfort

Value

Durability

Trial/Warranty
Summary
The Purple SoftStretch sheets are made with a blend of rayon from bamboo viscose, spandex, and polyester. As the name implies, they're very stretchy! They're also temperature-regulating, thanks to moisture-wicking bamboo fibers.