In the few years since its founding in 2016, bed-in-a-box retailer Layla Sleep has quickly become one of the most popular brands in the industry. In fact, some of you are probably familiar with our reviews of the Layla mattress and the Layla pillow. But now, Layla's sheets are officially on the market — and Sleepopolis is here to test them out!
In this review, I'm going to take a close examination of Layla's first-ever foray into the sheet game. I'm going to show you what the Layla sheets are made of, how they feel, and for whom this bedding might be most beneficial.
WHAT ARE LAYLA SHEETS MADE OF?
The Layla Bamboo sheet set is made from 100% viscose from bamboo. For those of you who are a little unclear about the word "viscose," it essentially refers to the process used to turn natural bamboo into fabric.
Many sleepers prefer bamboo bedding as it has a reputation for being more durable, breathable, and softer than traditional cotton or polyester sheets. Additionally, bamboo fibers are naturally moisture-wicking, hypoallergenic, and antimicrobial — so hot sleepers with sensitive skin might be particularly compatible with bamboo-based bedding.
My first impression of Layla's sheets is that they do feel very durable, breathable, and extremely silky-smooth. Each Layla sheet set comes with one top sheet, two pillowcases, and one fitted sheet capable of fitting mattresses up to 15 inches deep (so nice, deep pockets!). However, the twin and twin XL sized sets come with one pillowcase.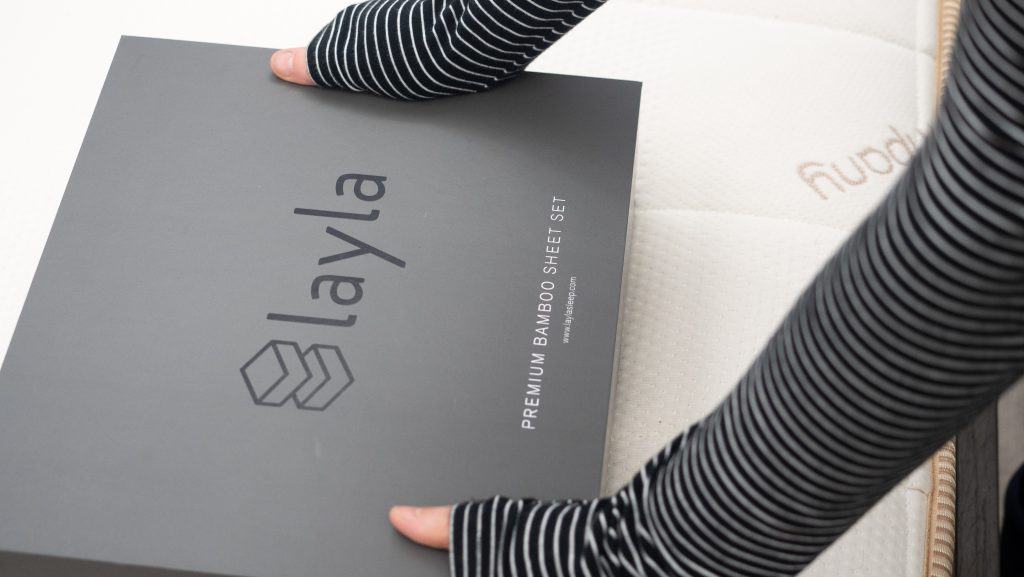 As far as thread count is concerned, it's important to note that bamboo thread count translates a bit differently as compared to other fabrics. In general, the rule of thumb is that 1,000 thread count of cotton is equivalent to 250 thread count of bamboo. So, these Layla sheets offer a 300 thread count, but the feel is comparable to 1,000 thread count cotton (and the people at Layla say it feels even softer than that!).
So, now that we've learned about what these sheets are made of, let's dive into this bedding and see how it feels!
HOW DO LAYLA SHEETS FEEL?
First of all, you eco-friendly sleepers out there might like to know that the bamboo used in the Layla sheets was grown without the use of pesticides or fertilizers. As I mentioned earlier, not every set of bamboo-based sheets are going to offer the same benefits, so it's nice to know that these sheets are certified by Layla as hypoallergenic and antimicrobial.
The Layla sheets have an incredibly silky handfeel, and also feel quite cool to the touch. Sometimes it can be difficult to find bedding that's both silky and breathable, so I found this combination of traits to be pretty impressive. Sateen sheets, for example, are notoriously silky in feel, but also offer less breathability and tend to be a bit heavier in weight. So, with the Layla sheets, the bamboo is offering a nice balance between a silky and lightly cooling.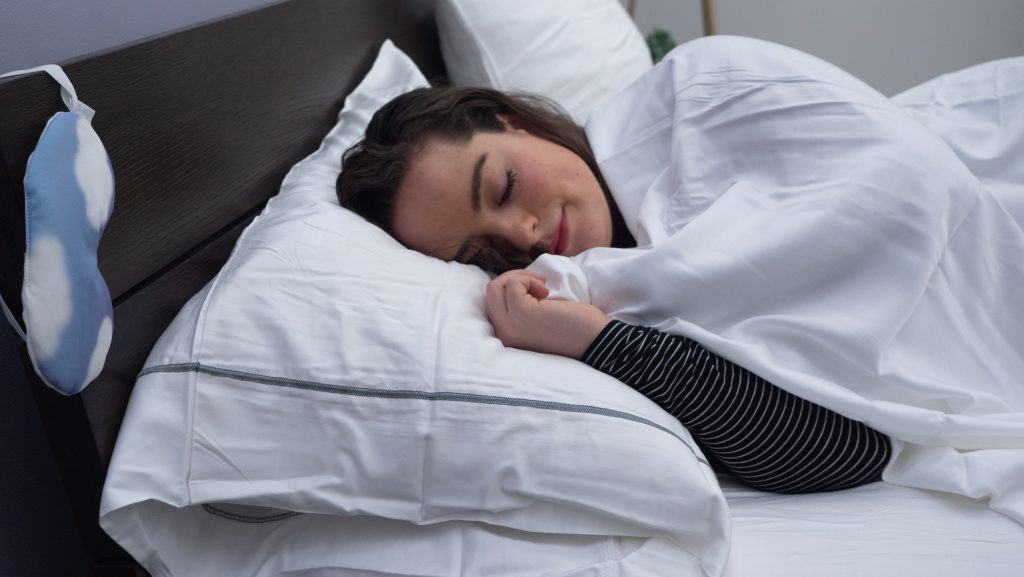 Layla's sheets feel silky, but they also look silky too. They have a very lustrous sheen that is quite pronounced — even in white. Layla offers these sheets in both white (the set I'm testing here), and grey. I love the luminous look of these sheets in white, but I have a feeling the shine would be even more pronounced in a darker color like grey.
As a hot sleeper, I found the cooling breathability of these sheets to be very comforting — but the super silky feel offers a luxurious element as well. While they are quite light in weight, these sheets still offer a body-conforming drape that outlines my shape in a very elegant way. Sleepers who love sateen bedding (but wish it were lighter and more breathable) are likely to be the most compatible with Layla's sheets.
More: In the market for a new bed? Check out our review of the Layla mattress!
HOW DID YOU LIKE THEM, SARAH?
Some of you might remember that I'm quite fond of the Layla pillow, so I was very excited to see whether or not Layla's sheets would match that same level of quality. And I have to tell you… This bedding surprised me.
When I first unboxed these sheets, I really wasn't sure what to expect as these are the first sheets Layla has put on the market. But wow — way to make a first impression! As I pulled the bedding out of its packaging, I could immediately feel how silky and light these sheets are. The 100% viscose from bamboo has them feeling so smooth and irresistibly soft; it took me a while to stop playing with them and actually put them on the bed.
Once I finished dressing the mattress, I slipped into bed and instantly felt the cool, calming quality of Layla's sheets. They feel, like I said, very silky to the touch, but also quite cool. As I billowed the top sheet over my body, I could feel the air flowing through the fabric (which is a big perk for a hot sleeper like me!). I definitely got the sense that these would be particularly lovely in the summertime.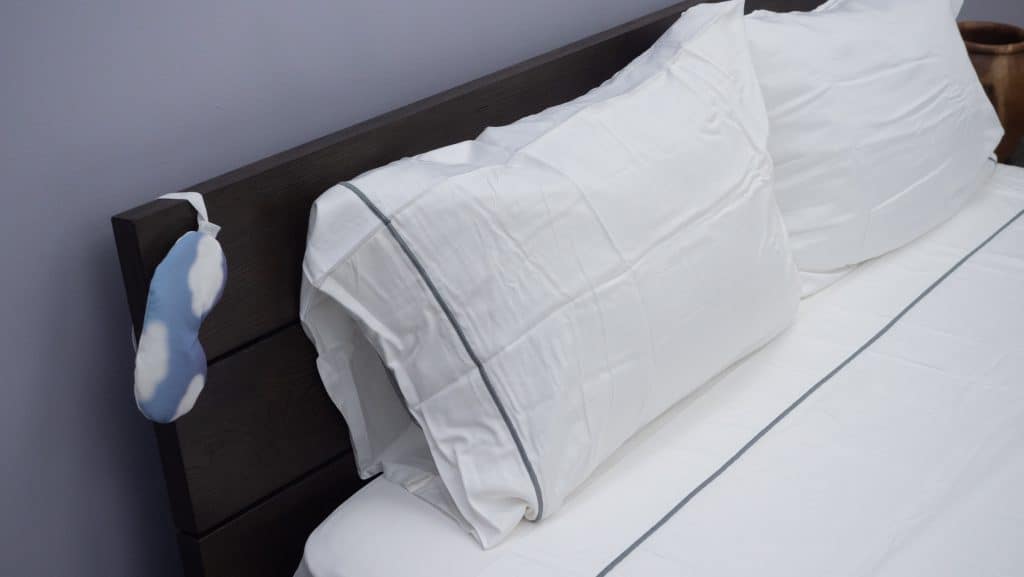 True to bamboo fashion, though, these sheets are on the wrinkly side. Bamboo-based bedding is naturally prone to wrinkles, so just keep in mind that these are no exception. For me, the wrinkles did not detract from the comfort by any means. However, it's worth noting that these were already quite wrinkled before I even put them on the bed.
These sheets do have a very lustrous sheen that I, personally, find to be very inviting. Even as I was rolling around in bed, these sheets seemed to glisten and silhouette my shape as I switched positions. I think that sleepers who love a luminous sheen would be particularly compatible with Layla's bedding.
Simply put — I think Layla's sheets are stunning. They're silky, breathable, lustrous, and drape over my body's shape in a way that's both elegant and cozy.
The Verdict: There's a lot to like here, but I extend my most enthusiastic recommendation to eco-friendly sleepers who run hot, love a lustrous sheen, and prefer bamboo-based bedding!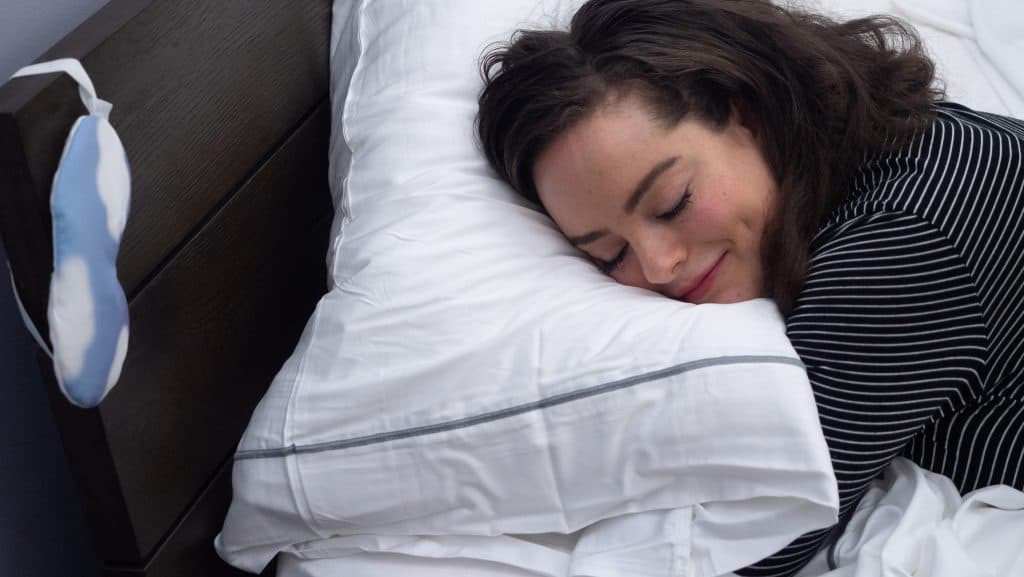 SHOULD I TRY LAYLA SHEETS?
Well, it's no secret that I am a fan of Layla's bamboo sheets… But let's recap some of this bedding's highlights so that you can determine if this is the right sheet set for you:
Silky & Smooth — These sheets offer a very silky-smooth feel that might be particularly beloved by sleepers who prefer a satin-like feel to crispness.
Hypoallergenic & Antimicrobial — Sleepers with allergies or sensitive skin can rest easy knowing that these sheets are hypoallergenic, and offer antimicrobial properties.
Light & Breathable — Hot sleepers might be particularly compatible with these sheets, as they are cool, lightweight, and very breathable.
LAYLA SHEETS COMPLAINTS
There are some things about this sheet set that some folks might consider to be drawbacks:
Shiny — Those looking for a crisp set of sheets with a classic, matte appearance should probably look elsewhere. These sheets are lustrous and super silky.
Prone to Wrinkles — Bamboo-based bedding is typically more prone to wrinkling, and these are no exception. Luckily, these sheets are machine washable and dryable. So, if I were you, I'd pull them out of the dryer as soon as the cycle is finished. Then, spread them out over your mattress when they are still warm, and that should serve to keep the wrinkles at bay!
Not Warm & Cozy — Sleepers looking for a warm and cozy feel might not be compatible with these sheets. These offer more of a light, cooling quality and, in my experience, did not serve to keep me warm.
ANYTHING ELSE I SHOULD KNOW?
Sizing — Twin, Twin XL, Full, Queen, King, California King
Colors — White, Grey
Pricing — $125-$225
Wash Care — Wash on a cold cycle, do not use bleach. Tumble dry on low heat, do not use fabric softener. If you want to iron, do so on low heat.
5-Year Limited Warranty
120 Night Trial Period — Not sure these sheets are for you? You've got 120 nights to decide!
Shipping — Free shipping to the lower 48 U.S. states. Shipping to Canada, Alaska, and Hawaii requires additional cost.