Whether you're looking to adjust the firmness of your mattress, or simply wanna add more layers of comfort, a mattress topper might be just the thing for you. And hey, you're in luck because today we're looking at a mattress topper from one of the most popular brands in the industry — Layla Sleep.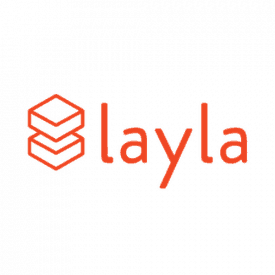 A memory foam topper from Layla is a great way to extend the life of your current mattress!
Brand Snapshot
In the short years since its founding in 2016, bed-in-a-box brand Layla Sleep has made a lasting impression with its flagship flippable mattress. After steadily unveiling a stream of sheets, pillows, weighted blankets, and other accessories, Layla aims to meet every sleep need.
In fact, we at Sleepopolis have had the pleasure of testing most of Layla's products (the Layla pillow is one of my all-time favorites), but today I'll be exploring something new — the Layla mattress topper.
What Is The Layla Mattress Topper Made Of?
In many ways, the Layla mattress topper is like a miniature Layla mattress. The cover fabrics both have copper woven into the material, and are made from the same ThermoGel infused stretch-knit cotton. Additionally, the same copper gel infused memory foam that's featured in Layla's mattress is what makes up this topper. So, if you've ever slept on a Layla mattress, you already have a pretty good sense of the materials used in this topper.
Of course, if you've never even seen a Layla product in your life, allow me to elaborate! The stretch-knit fabric that covers this topper feels plush, cozy, and kind of stretchy. But what's the deal with all the copper? Well, copper is woven into the fabric in order to regulate your body's temperature, helping you sleep cool.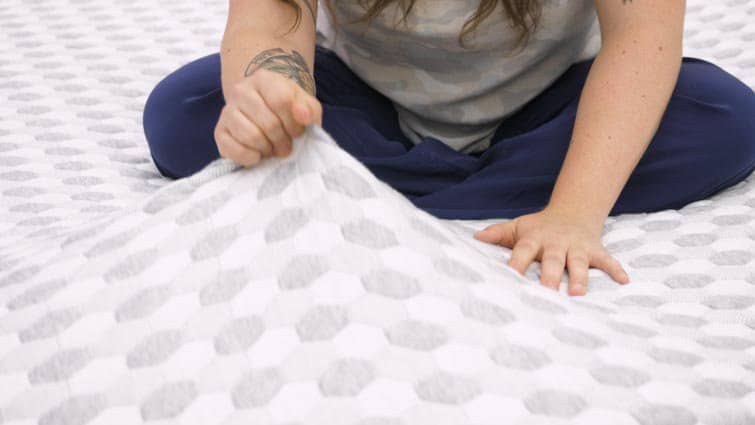 There is a zipper that spans the underside of the cover so that you may easily remove it when it's time to be washed. Unfortunately, the care instructions are a little complicated, but we'll get into that later. What's inside the cover is where the real comfort's at. As I said, it's made from copper gel infused memory foam, which offers a nice, slow response to pressure.
Like the cover fabric, the copper gel inside the memory foam is meant to help dissipate your body heat, making for a cool and cozy sleep experience. The topper itself is 2" thick, and ranks a soft-medium on the firmness scale. So, this foam does provide a slow response to pressure, but just remember that memory foam can come in all levels of firmness, and this particular topper is more plush than firm.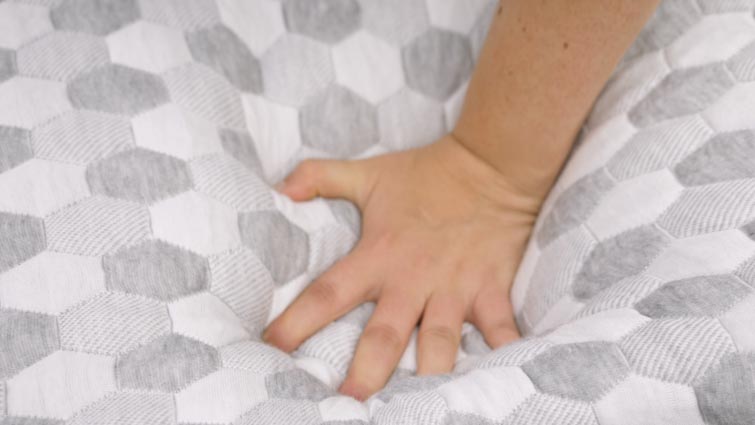 Now, before we dive deeper into the feel of this topper, I should note that it's quite dense! The Queen topper I'm testing is 30 pounds and the King size topper is almost 40 pounds. So, when you're situating the Layla topper on your mattress, it might not be a bad idea to enlist the help of a friend.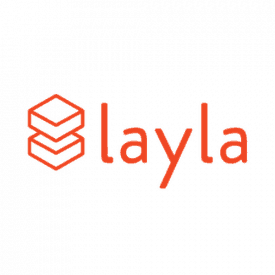 A memory foam topper from Layla is a great way to extend the life of your current mattress!
How Does The Layla Mattress Topper Feel?
Now, we know this topper is made from two inches of memory foam… but what does memory foam feel like?
Well, memory foam is known for its slow response to pressure, which allows for a deep sink into the material. Essentially, that means a memory foam topper like this is designed to make you feel comfortably cradled rather than buoyantly supported. Sleepers looking for a topper that provides more of a bouncy, springy feel might prefer a latex topper.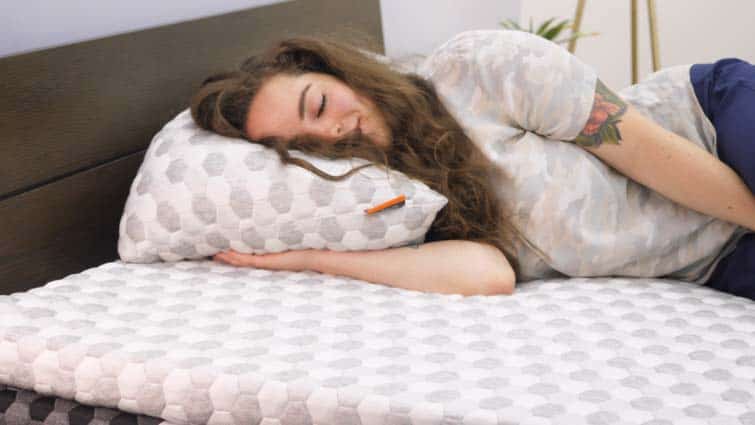 As a combo sleeper, I did find this classic memory foam feel to offer great pressure relief at my shoulders and hips, particularly when I slept on my side. However, the soft-medium firmness combined with the deep sink into the material didn't offer me quite enough support when I was on my stomach. So, stomach sleepers might want to take this topper for a test run before fully committing.
Unfortunately, something else memory foam is known for is its retention of body heat. Oftentimes, memory foam can trap heat and cause the sleeper to warm up over the course of the night, and for this reason, some folks tend to steer clear of this material. Layla's answer to this? Cue the copper gel!
The copper gel inside the foam serves to draw heat away from the body, and the copper woven into the cover fabric does the same thing. So, the construction of this topper kind of doubles down on its cooling properties. In my experience testing this topper, I was pleased to note that I never felt it trap my body's heat (and I run very hot, so that's saying something).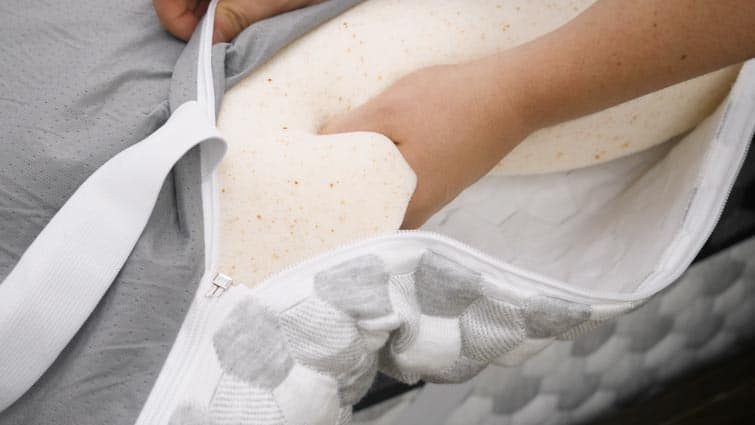 The copper in this topper is good for more than just cooling, though. Copper is naturally antimicrobial, so it's working to keep dust mites, mold, and any other yucky allergens away from you and your mattress (hey thanks, copper).
I'll be honest — I'm a Layla fan. I've slept on Layla's pillow, sheets, mattress, and beneath the Layla weighted blanket, and I've thoroughly enjoyed all of it. That's why I'm not surprised to see another cozy, quality product come from this reliable brand. That said, I do think back and side sleepers who run hot and love a classic memory foam feel are going to be most compatible with the Layla topper.
The Verdict: Back and side sleepers who love the feel of memory foam (and need some help keeping cool) should definitely give this topper a try.
Should I Buy The Layla Mattress Topper?
Well, you know that this mattress topper gets high marks from me, but let's recap the highlights one more time so you can decide if this is the right fit for you: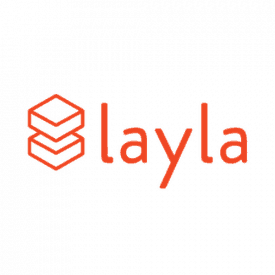 A memory foam topper from Layla is a great way to extend the life of your current mattress!
Memory Foam Feel — This topper provides a classic memory foam feel, offering a deep sink into the material and a tight conformance to pressure. I found this to be particularly beneficial in the side-sleeping position, as my shoulders and hips felt comfortably cradled by the foam. Folks who love the feel of memory foam are going to be especially compatible with this topper.
Cooling Copper — Meanwhile, the copper in the cover fabric and memory foam serve to dissipate heat, and help you sleep cool. Hot sleepers are sure to appreciate the cooling qualities of this topper, but the copper also keeps allergens at bay! Essentially, the copper in this topper is working to keep you and your mattress cool and clean.
120 Night Trial Period — Something great about Layla is it offers you 120 nights to test this mattress topper before you have to make any tough decisions. If we're being honest, you probably don't need 120 nights to decide whether or not it's the right fit for you, but it's nice to have the time, no?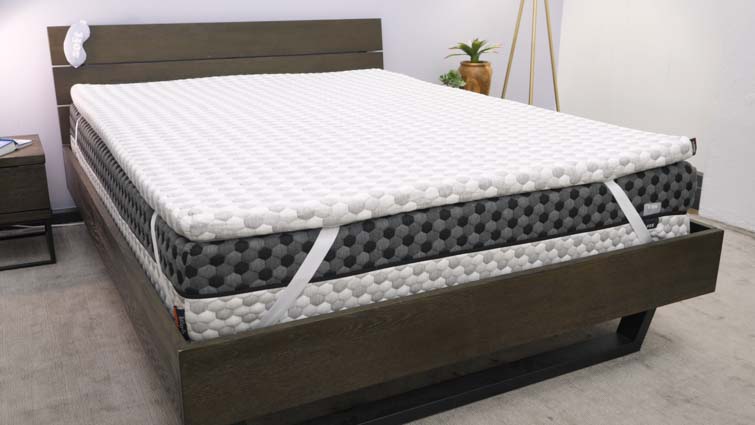 Layla Mattress Topper Complaints
Wash Care — Unfortunately, this topper isn't the easiest to clean. The folks at Layla strongly recommend that sleepers dry clean the cover, and spot clean the foam. Of course, not everyone is going to want to take their topper's cover to the dry cleaner every time it gets dirty, so that's something to consider. Additionally, the foam itself should really never get wet. If you do have to clean it, only do so with a damp cloth and mild detergent.
Pricey — Ranging from about $200-$400, this is not the least expensive mattress topper on the market, and it's just not going to be in everyone's budget. That said, a long trial period and 5 year warranty do sweeten the deal a bit, in my opinion.
Soft & Plush — Memory foam comes in a range of firmnesses, so just remember the foam in this topper offers a soft-medium, plush feel. In my experience testing this topper, I found this softness to put a little pressure on my lower back when I was in the stomach sleeping position. So, again, stomach sleepers should definitely take advantage of Layla's generous trial period.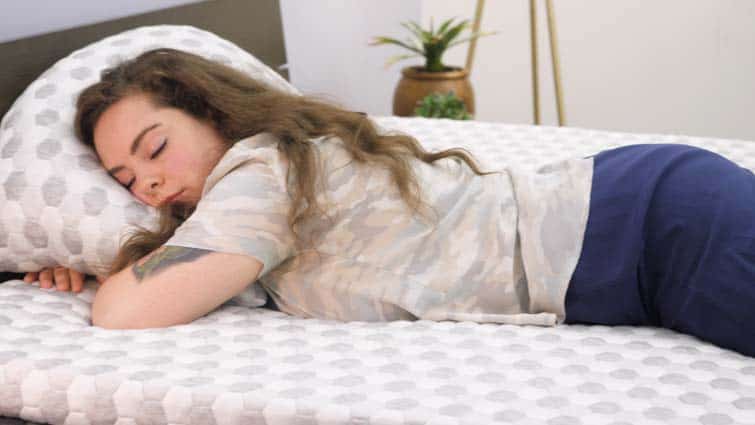 Anything Else I Should Know?
Sizing — Twin, Twin XL, Full, Queen, King, California King
Pricing — $200-$400, depending on size
Free Shipping — within the U.S.
5 Year Warranty — details on Layla's website
Made in the USA
Wash Care — Dry clean the cover fabric, spot clean the foam with damp cloth and mild detergent.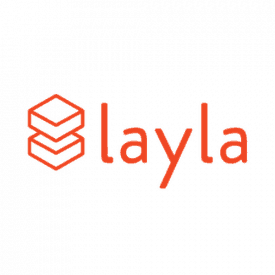 A memory foam topper from Layla is a great way to extend the life of your current mattress!
Now that you know everything there is to know about the Layla mattress topper, why not give it a try? I mean, you do have 120 nights to test it out, after all. Of course, if you've decided this just isn't the sleep accessory for you, no worries. If you follow us on Facebook, Twitter, Instagram and subscribe to our YouTube channel, you're sure to find the topper that you and your mattress have been longing for.
Sarah is the Senior Writer and bedding expert at Sleepopolis. Every week, she personally tests and reviews new pillows, sheet sets, and other sleep accessories. She accompanies every video review with a meticulously detailed article to ensure her audience has all the pertinent info they need for the best shopping experience possible. Perhaps that's why her fans have dubbed her "the most thorough pillow reviewer on the Internet." Having tested everything from sleep trackers to mattress toppers, Sarah's expertise runs deep and is always expanding. She received her degree in Creative Writing from Brooklyn College and spends her free time doing stand-up, making pasta, and hanging with her cats.