You may know Layla from their flippable bed-in-a-box mattress with a firm side and a soft side, but the brand does much more than just making two-in-one mattresses. Today we'll be taking a deeper look into one of their other products, the Layla mattress topper. This topper is made with copper-infused memory foam, with a soft outer cover and straps to keep it in place.
Mattress toppers are a great way to change the feel or firmness of your mattress, but is this the right one for you? In this review I'll go over what this memory foam topper is made of, how it feels, and who it is best suited for. 
Short on time? Skip to the end for my review summary.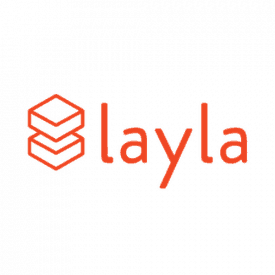 A memory foam topper from Layla is a great way to extend the life of your current mattress!
Who is the Layla Mattress Topper Best For?
When shopping for a mattress topper, there's a lot to consider, such as if you sleep hot, your budget, and what feel you're looking for from a topper. Let's go over who the Layla mattress is best for and who should consider a different topper.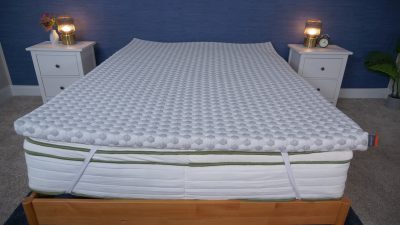 Who I recommend the Layla mattress topper for
Back sleepers

who want a softer, more pressure-relieving feel from their bed will likely enjoy the

Layla mattress topper

. It allows for some

contouring

but is still supportive. 

Side sleepers

may also enjoy the

Layla topper

. It should offer

pressure relief

and some

contouring

for

side sleepers

whose mattress is just a touch too firm.

The

Layla topper

is also a good option for

hot sleepers

, as the

memory foam

is infused with

copper gel

as a

cooling agent

.
Who I don't recommend the Layla mattress topper for
Stomach sleepers

likely won't get much out of the

Layla mattress topper

, as it'll make their mattress softer and allow for their hips to sink into the mattress, which can cause

lower back pain

.

It also may not be the best pick for

heavier sleepers

, who weigh 250 pounds or more, as it is only two inches thick. Heavier people will sink through the foam more than average or lightweight people and may not get the

pressure relief

they need.

The

Layla topper

is very high quality and the price reflects that, so it also might not be the best budget-buy.
What is the Layla Mattress Topper Made Of?
The Layla memory foam mattress topper is available in six different sizes: twin, twin XL, full, queen, king, and California king. I tested the queen size for this review.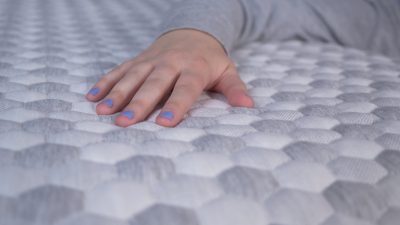 Cover: The Layla topper's cover is made of a blend of 66 percent polyester, 30 percent viscose, and four percent poly lycra. The cover has elastic straps at each corner that allow you to secure the topper to the mattress.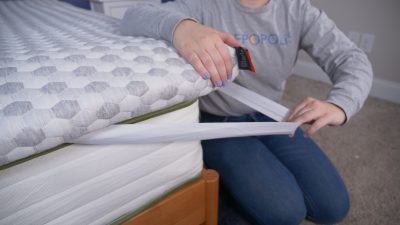 Fill: The fill of the topper is a two-inch block of memory foam, which is infused with copper gel beads. Copper has cooling properties that draw heat away from the body, as well as make the foam antimicrobial. Additionally, foam used in this topper is CertiPUR-US certified to be free from harmful chemicals.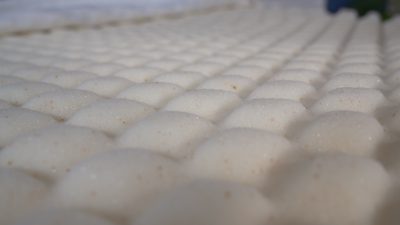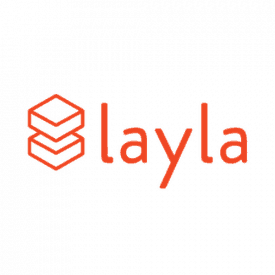 A memory foam topper from Layla is a great way to extend the life of your current mattress!
How Does the Layla Mattress Topper Feel
I personally tested this topper out by laying on it in different sleeping positions and trying it on different mattresses.
The foam itself had a pretty slow-sinking-in feel to me. It felt like a higher density foam to me because it felt quite supportive, and I didn't just immediately sink into it. Rather, the longer I laid on it, the more I could feel it molding around me to provide some cozy contouring.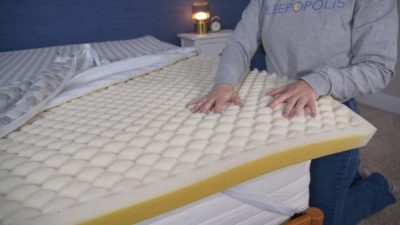 Let's go over how this topper felt on different mattresses.
Soft: Putting the Layla topper on a soft mattress didn't change the feel too much — overall, the bed still felt soft. 
Medium-firm: Adding the Layla topper to a medium-firm mattress made it feel more like a true medium mattress. The medium-firm mattress was supportive but not completely firm and adding the topper maintained that supportive feel, while allowing for more contouring and pressure relief.
Firm: When I added the Layla topper to a firm mattress, it made the bed feel more medium-firm. The mattress I tested it with was super firm and offered no contouring at all, so adding the topper provided that cushioning.
Layla Mattress Topper Sizes and Prices
Wondering how much this topper costs? Here are the prices, broken down by size. All prices are listed before discounts or offers, but be sure to use our Layla coupon to get the best deal.
| Size | Dimensions | Weight | Price |
| --- | --- | --- | --- |
| Twin | 38″ x 75″ x 2″ | 11 lbs | $269 |
| Twin XL | 38″ x 80″ x 2″ | 12 lbs | $279 |
| Full | 54″ x 75″ x 2″ | 16 lbs | $329 |
| Queen | 60″ x 80″ x 2″ | 19 lbs | $349 |
| King | 76″ x 80″ x 2″ | 24 lbs | $449 |
| California King | 72″ x 84″ x 2″ | 24 lbs | $449 |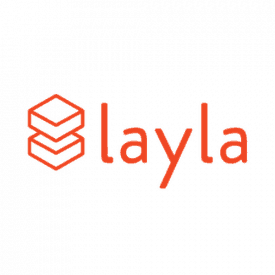 A memory foam topper from Layla is a great way to extend the life of your current mattress!
My Verdict on the Layla Mattress Topper
All in all, I think the Layla mattress topper is a great sleep product. The cover is soft and the straps are very handy for keeping the topper from shifting around on the mattress surface. The foam feels high-density, so it offers support while still conforming around your body to offer pressure relief. The copper infusions also help to keep the foam from overheating.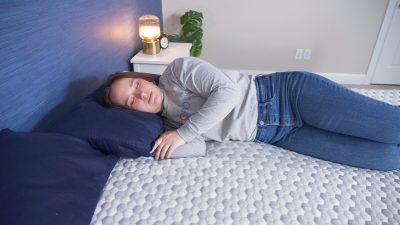 I found the Layla mattress topper to be comfortable for both back and side sleeping and I think it would be a great addition for anyone looking to add a little more cushioning to their current mattress.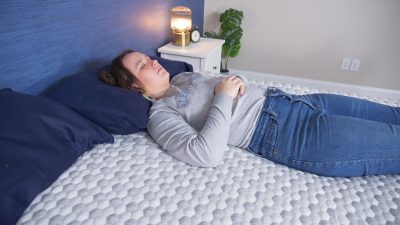 However, it's not the best option for stomach sleepers, as a softer mattress will only cause their hips to sink and put their backs out of alignment. The Layla topper also isn't the best choice for heavier people, as it is only two inches thick, and heavier people will likely sink through the foam and "bottom out" more than lighter people, which could lead to buildup on pressure points.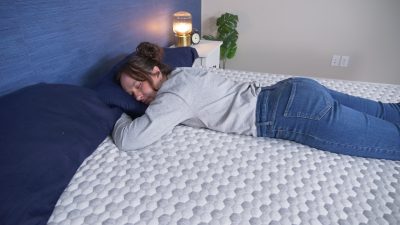 Layla Mattress Topper Brand Policies and FAQs
Does Layla mattress topper come with a warranty?
Yes, the Layla mattress topper has a 5-year warranty. To see the full warranty terms, go to laylasleep.com.
How does the Layla mattress topper ship?
Layla ships for free within the contiguous USA. They also ship to Hawaii, Alaska, and Canada for an additional shipping fee.
Does Layla mattress topper have a sleep trial period?
It does — Layla offers a generous 120-night trial period with this topper. That means you can test the topper out at home for 120 nights and if you decide you don't like it, you can return it within that time period for a full refund.
Is the Layla mattress topper easy to clean?
The cover can be unzipped and removed to be cleaned, but Layla does recommend dry cleaning it to maintain the quality of the fabric. It can be machine washed though, on a gentle cycle in cold water. They also recommend drying it on a delicate cycle with low heat.
Other Products from Layla
Finally, here are my star ratings for the Layla mattress topper.
Materials

Comfort

Value

Cooling

Trial

Warranty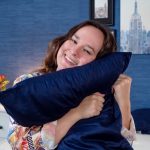 Amelia Jerden
Amelia is a Staff Writer for Sleepopolis. She primarily covers bedding and sleep accessory products in reviews, how-to guides, and more. You can also find her over on the Sleepopolis YouTube channel. Amelia is a graduate of the Hussman School of Journalism and Media at the University of North Carolina at Chapel Hill. In her free time, you can usually find her listening to a favorite podcast, out on a hike, or taking a nap.