Close your eyes, and regardless of whether you are in a crowded city center, or even in the quiet calm of an empty office, you will hear noises. Film professionals will call it "room tone", but regardless if the camera is rolling, there will always be some soft, white noise sounds that envelope a room. White noise can be extremely comforting in its familiarity and consistency, as it can mask sudden sounds or changes in the environment, like a car being parked outside. White noise sound machines can be crucial in maintaining a distraction-free workplace or home setting, so it is important to pick one that fits your needs. We've tested some of the leading products on the market. Read below to see what we found out:
Best White Noise Sound Machines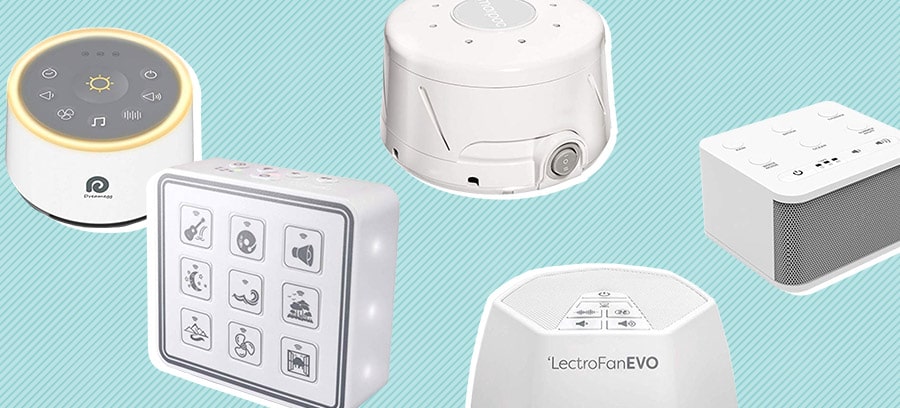 Editor's Choice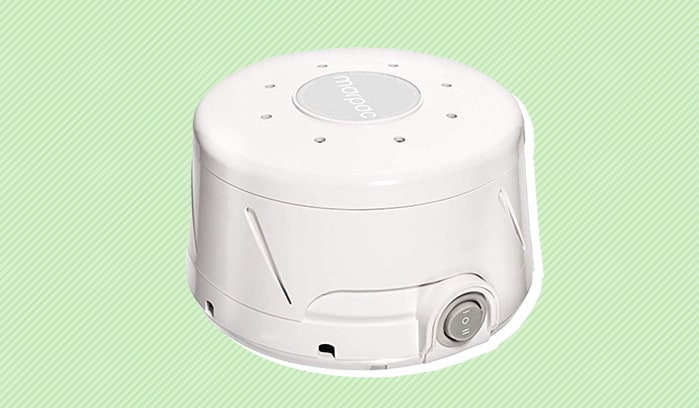 Marpac Dohm Classic White Noise Machine
Pros: 
Pink noise. This offering from Marpac claims not to create "white noise", but rather, "pink noise." Unlike white noise, the intensity of pink noise decreases as the frequency increases. This creates a smoother sound experience.

Slick design. For a company that has been around for decades, Marpac sure makes a unit designed to fit seamlessly into your home or office. It comes in black, white, grey, or tan color options.

101 day trial. This device comes with a 101 day free trial, during which time you can return the product with no penalty. This is perfect for people new to white noise or sleep sound machines or for people with recent changes in their lifestyles, like a new job that demands privacy or a (fingers-crossed) slumbering baby.
Cons: 
Weight. This device from Marpac works great, but due to the internal fan that creates the noise, this white noise machine weights almost a pound and a half. While sturdy, make sure it is not sitting next to a table ledge where it could fall and break or hurt someone's foot.

Volume options. Customers will usually be satisfied with the specially engineered pink noise being emitted from this white noise machine, but for those looking for adjustability when it comes to how loud the device gets, you may be disappointed. This unit only has two volume options which is less than most competitors.
Marpac Dohm Classic White Noise Machine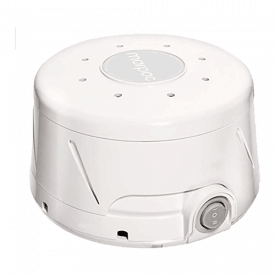 Marpac Dohm Classic White Noise Machine
The Dohm Classic White Noise Machine by Marpac boasts of being the original sound machine, originally introduced in 1962. Using a fan-based noise, Marpac mixes several audible sounds of varying frequency to create a nondescript but masking white noise capable of creating a sense of calm in the home, office, or even the baby's room.
Contender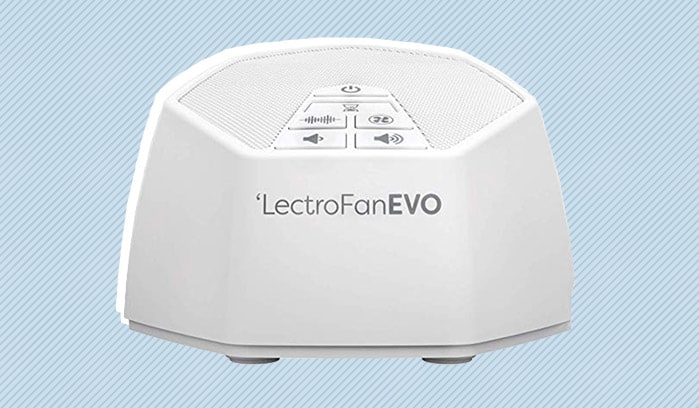 Adaptive Sound Technologies LectroFan Evo White Noise Sound Machine
Pros:
Options. The LectroFan Evo offers twenty-two different noises, both white noise, pink noise, and even low-frequency brown noise. There are 10 fan noises, 10 white/pink/brown noises, and two ocean and surf noise variations.

Volume control. This unit has moderately precise volume control, totally adjustable within a range of volume. There are also ports for headphones or a portable speaker, perfect for those with variable sound needs.

No moving parts. This device is totally electronic with no moving parts internal or external. Some competitors use a whirring fan inside the white noise machine, and while that may create a noise preferable for some users, others may find it a bit outdated.
Cons:
Choosing a noise. While this will not be problematic for users who have made a decision on their favorite noise selection, if you are still deciding or would like a variety of noises from night to night, you may get frustrated with having to loop through all the available noises each time.

Price. Most users will get a lot of use and value out of this device, but if you are unsure or if it is a gift, just know that the nearly $50 price point makes it one of the more expensive units on the market.
Adaptive Sound Technologies LectroFan Evo White Noise Sound Machine
Adaptive Sound Technologies LectroFan Evo White Noise Sound Machine
This LectroFan Evo White Noise Sound Machine from Adaptive Sound Technologies is a modern machine capable of providing 22 unique noises and can be plugged in using AC or USB. The device offers white noise, pink noise, and brown noise, along with two ocean noises to help fit any environment.
Best Value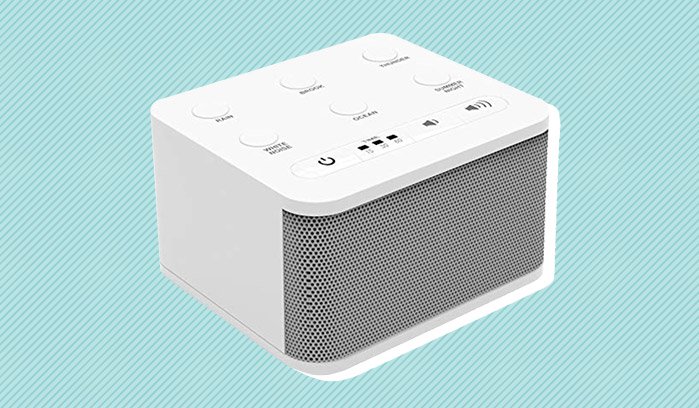 Big Red Rooster White Noise Sleep Sound Machine
Pros: 
Variety of noises. The Big Red Rooster Sound Machine provides six distinct noises to help block out intermittent noises. It includes White Noise, Ocean, Thunder, Rain, Brook, and Summer Night.

Lightweight. This device weighs in at less than 6 ounces. This is great for moving around the house or even from home to office or vacation.

Cost. You can buy a Big Red Rooster White Noise Sound Machine for less than $18 in some cases. With the optionality of being either AC powered or battery-powered, this is a great purchase for those hoping to have a sound machine they can take with them and risk the elements.
Cons: 
Sound levels. This device has two sound options, and some users may wish to make the quiet noise louder or find the loud noise too loud, without a nice middle ground.

LED light. Though this is a common problem in many people's bedrooms, this device emits an LED light to show that it is powered on. This can disturb some people's sleep if they are light sensitive.
Big Red Rooster White Noise Sleep Sound Machine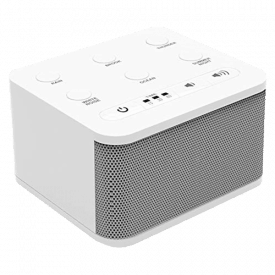 Big Red Rooster White Noise Sleep Sound Machine
The Big Red Rooster White Noise Sleep Sound Machine has several different noise variations and an optional 60-minute shut-off timer. This device is affordable as well, coming in at a price less than half of some of its nearest competitors.
Best Design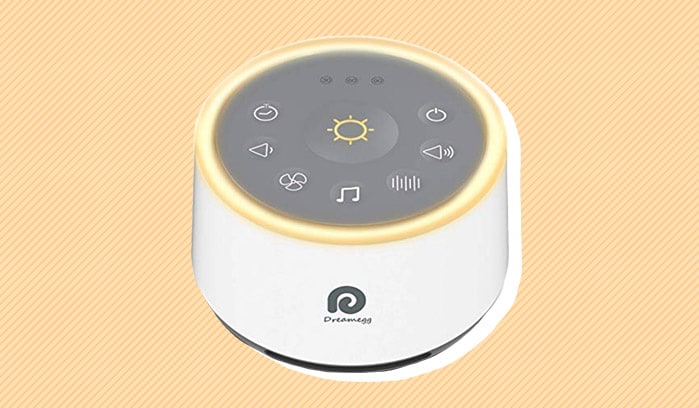 Dreamegg D1 White Noise Sound Machine with Baby Night Light
Pros: 
Sound variety. This product has 21 unique sounds for use during the night. The machine features seven white noise, seven different fan sounds, and seven natural noises (forest, thunder, ocean, lullaby, stream, crickets, and fetal tone).

Design. This sound machine is versatile in that it can blend into an office setting, an adult's bedroom, or a cute stylized baby's room. The modern interface is highlighted on a handsome grey backdrop. 

Auto shut-off. Those that don't need the white noise machine to be active all night have quite a few options with this device. You can set the device to turn off after 30, 60, or 90 minutes, ensuring energy conservation and avoiding accidental midnight wake-ups.
Cons: 
Loop. Some users with keen ears will be able to discern between the beginning and end of a looped sound. This isn't particularly noticeable, but for those who tend to have hypersensitive hearing, this may be an issue.

Can't adjust light. Though the night light probably won't be too bright for most users, some may wish they could dim or brighten the light more to their liking.
Dreamegg D1 White Noise Sound Machine with Baby Night Light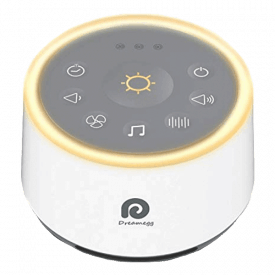 Dreamegg D1 White Noise Sound Machine with Baby Night Light
Dreamegg's D1 White Noise Sound Machine is equipped with twenty-one pre-set sounds, auto shutoff, and a memory feature that remembers your last used settings. What makes this slick product especially great for babies and small children is that it features a gentle night light that can help little ones fall asleep.
Best for Babies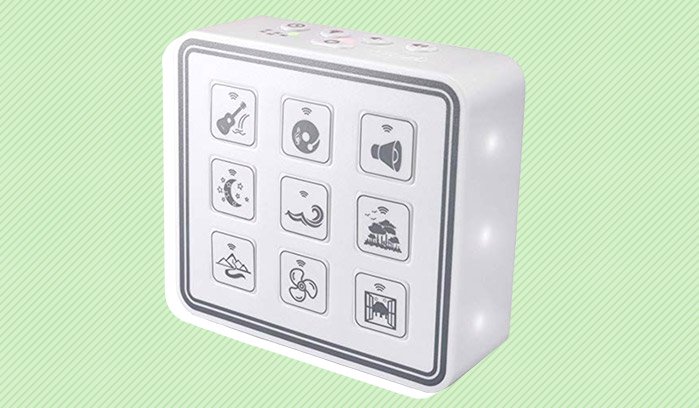 The Calm Me Portable Plug-in Nightlight White Noise Sound Machine
Pros: 
USB or AC outlet. A nice feature of this device is that it can be charged through the more standard AV plug as well as your typical USB cord. This makes it perfect for travel and shuttling around the house for different rooms.

Modern look. Calm Me makes a noise machine that looks like the cutting edge devices you would be buying for other parts of your home. The slim design and stylized large buttons on the side of the unit make it user-friendly as well.

Timer or loop. This product offers not only automatic shut-off after a pre-set time (30 minute, 60 minute, or 90 minute), but can also loop sounds over and over again. Many competitors offer one or the other feature.
Cons: 
Sound is not always clear. Most customers will not expect to hear a symphony from one of these white noise sound machines, but that doesn't mean the sound will be pleasant for repeated use for some users. Since there are only 9 noises, if you don't love several of them, you may be out of luck.

Could be louder. Though everyone will have different needs, this unit's speaker may not be able to be turned loud enough to mask out the noises of all situations or environments.
The Calm Me Portable Plug-in Nightlight White Noise Sound Machine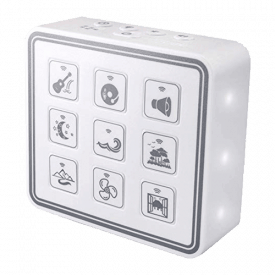 The Calm Me Portable Plug-in Nightlight White Noise Sound Machine
The Portable Nightlight White Noise Sound Machine from Calm Me features not only a handsome modern aesthetics, portable design, and a variety of noises, but it is also great for young children and babies. It has a dimmable night light that can double as light for an office or home living room.
How We Picked
We use sound machines to help mask out noises that would otherwise startle us out of sleep or otherwise just keep our minds active and our senses overloaded. White noise sound machines utilize a range of frequencies to help achieve that without causing too much of a disruption on its own. Not every white noise sound machine will suit your needs however. We evaluated a number of different features on numerous leading options. The following are the factors we used to make our decisions.
Adjustability
Whether it is the variance of frequencies, the natural sound noises, the brightness, or even the volume, no two white noise sound machines feature the same adjustability. Some units pride themselves on how you can tune in to different frequencies, tailoring the pitch and volume to your exact needs. Other units have adjustable brightness, whether by dimming or with different options you can select. Depending on how much you plan on adjusting the unit for your own sleep or just rather to share with your family, you should definitely check which features have customizations and which don't when making a purchase.
Aesthetic
This is an industry that not only caters to a wide array of people, families, and organizations, but some white noise sound machines are designed to fit certain situations. There are devices that bend-over-backwards to have that modern look that fits into offices or a refurbished apartment. Other devices feature tan, black, or grey units that will blend into any environment. If you have a family, the devices that are easier to operate with tiny illustrations on the button might fit right into the look of a baby's room.
Cost
White noise sound machines, or rather, any sort of sound machine, is not the sort of item you want to purchase over and over again. It's best to get it right the first time. While some units are lower-priced, they often have less features or can be harder to use than the pricier offerings. Expect to pay closer to $50 for a top-of-the-line product. Bear in mind, however, that some of the lower-cost devices can be perfect given your circumstances and needs.
Variety of frequencies
While most people probably haven't heard of pink noise or brown noise, these are two different sets of frequencies that will have a different aural effect for humans. Brown noises are lower frequency sounds that come through as low and heavy noises. Pink noises occupy a higher frequency range and provides softer sounds as the frequencies increase. Some white noise sound machines actually include these types of sounds, which makes finding a right noise for falling asleep or zoning out easier for many users.
Buying Tips
Not sure which white noise sound machine is best for you? We recommend keeping these things in mind when making your purchase:
Who will be using this? Like most things in life, there are white noise sound machines that are better for adults, and some that are designed to be useful for children and babies as well. While most of the machines not marketed for children would work fine, you will be missing out on some noises suited for children and nightlight features.
Where will you be putting it? If this is going in your office, you may opt for a black or grey machine, or a smaller, more compact device than the average. If this is going into your home, or will be for children, you may want a more fun aesthetic that doesn't necessarily blend in as well to most furniture styles.
How much variety do you need? Some sleepers may have very particular sleep needs, whether on a night-to-night basis or even throughout an attempted slumber. If you will be sharing this device with a partner, family, or office, then you may need more options to satisfy the different sleep patterns or daytime environments when you may need privacy or a distraction from outside noises. Sometimes less options are better as it makes the unit easier to use, especially in the dark.