For many people (this writer included), waking out of a deep sleep to the sound of a blaring iPhone alarm is not the most peaceful way to start the day. However, there are other options out there! One includes sunrise alarm clocks, a type of alarm clock that uses light instead of (or in addition to) sound to wake you in the morning. The idea is to utilize your body's natural desire to wake with the light, according to your circadian rhythm — even if it's not realistic or desirable to wake up with the real sunrise.
We tested out some of the most popular sunrise alarm clocks and put together a list of favorites to help you find just the right one for you. We also have some shopping tips and information about sunrise alarm clocks toward the bottom of the page.
Best Sunrise Alarm Clocks
Best Sunrise Alarm Clock Video
Expert Opinion
The Hatch Restore seems to be one of the most popular sunrise alarm clocks on the market, and after testing it out, we have to agree. This alarm clock is multifunctional and customizable, allowing for personalized wind-down and wake-up routines. To use the Hatch, you'll have to download the corresponding app on your phone. On the app, you can set your bedtime and wake up routines.
For bedtime, you can program a light (such as a calming color to illuminate your bedroom as you read or wind down for bed), as well as relaxing sleep sounds like rainfall or pink noise. You can create a sequence, such as an orange reading light before bed, followed by darkness and campfire sounds for sleep. For the wakeup routine, you also choose your light color, wake up sound, and what time you'll wake up at. The light gradually increases as your wake time approaches, to wake you gently.
Who the Hatch Restore Is Best For
Those who love routine: Hatch's program is all about creating sleep routines, so if you either love a routine or are trying to implement bedtime/wake-up routines in your life, the Hatch Restore could work well.
People who love customization: You have a plethora of color and sound options to choose from for both the wake-up and bedtime routines on the Hatch. You can also simply turn the light on to a full rainbow spectrum of colors, so it functions as a bedroom lamp, too.
Those interested in wellness content: Hatch has an optional subscription for guided meditations, music, and other wellness content accessible through the Hatch app to use through your alarm clock.
Who Should Avoid the Hatch Restore
Budget shoppers: The Hatch Restore is priced over $100 at full retail, so it may be a bit too pricey for shoppers looking for a budget sunrise alarm clock.
Folks without smartphones: If you don't have a mobile phone to download the Hatch app onto, you won't be able to use the clock. (Note: you don't need to have your phone in the bedroom once you set your routines in the app — there is a button on the Hatch used to activate your bedtime routine.)
Read our full Hatch Restore review to learn more.
Expert Opinion
The Casper Glow Light is unique among sunrise alarm clocks because it really doesn't look like a clock at all. But this little cylinder packs a lot of punch in the light department. The Glow Light rests on a charging pad that plugs into the wall and you'll need to download an app on your phone to control the Glow Light.
With the app, you can set wind-down and wake-up lights — basically a dimming light in the evening and a brightening light in the morning to wake you up. You can also adjust the brightness straight from the app.
But what's really cool is how you can control the light from the physical lamp. You can turn the Glow Light upside down to turn it on or off and you can twist it to intensify or dim the brightness. You can remove the light from its charging pad, allowing it to double as a nightlight if you need to go to the bathroom at night. And you can also group multiple lights together and control them all from one app.
Who the Casper Glow Light Is Best For
Shoppers looking for a multifunctional lamp: The Casper Glow Light functions as a sunrise light, but also a "sunset" wind-down light and portable nightlight.
Tech lovers: The gyroscopic function of the Casper Glow Light is really cool to play with. Being able to twist a little glowing cylinder and dim the light feels ultra-futuristic.
Minimalists: If you don't love the look of a bulky alarm clock taking up space in your bedroom, the Casper Glow Light should really appeal to you.
Who Should Avoid the Casper Glow Light
Sleepers who want a sunrise/sound alarm: The Casper Glow Light does not have any sound functions, so if you need an alarm noise in addition to light, you'll have to use something in addition to the Glow Light.
Those who want a clock face display: If you want to be able to check the time at a glance in bed (and not have to look at your phone), the Casper Glow Light isn't a good option, as it doesn't display the time.
Read our full Casper Glow Light review to learn more.
Expert Opinion
Sunrise alarm clocks can be fairly expensive compared to standard alarm clocks (and especially expensive compared to using the free alarms on your phone). If you're shopping on a budget, the iHome Zenergy Sound Machine with Sunrise Alarm Clock is a solid option, clocking in at less than $60 before discounts.
The iHome Zenergy has a pretty classic alarm clock style, but also features light and sound therapy options. You can program in a light or sound to wake up to in the morning, with several options available. There are eight alarm sounds and 15 sleep sounds to choose from, as well as four LED color options. You can have light and sounds programmed with your alarm or just turn them on by cycling through with the button control.
Who the iHome Zenergy Sound Machine with Sunrise Alarm Clock Is Best For
Music lovers: You can connect your phone via Bluetooth to the iHome Zenergy to use it as a speaker, or to wake up to your favorite song as your alarm. There's also a charging port you can use for your phone.
Folks who love sleep sounds: If you love soothing sounds to put you to sleep, you can program a nighttime soundscape and set it to a timer, so it won't run all night long.
People with limited nightstand space: The iHome Zenergy is fairly small, meaning it won't take up too much space on your nightstand or bedside table.
Who Should Avoid the iHome Zenergy Sound Machine with Sunrise Alarm Clock
Those who value easy controls: While the iHome Zenergy isn't challenging to use, you'll have to navigate the settings through control buttons on the clock itself — and there are a lot of them. If you prefer the simplicity of controlling through an app, this won't be a good choice for you.
Those who want more customization: This alarm clock offers a pretty solid number of light and sound options, but not as many as some higher-tech clocks.
Want to learn more? Read our full iHome Zenergy review.
Expert Opinion
Many sunrise alarm clocks use an app for controls, to avoid a confusing number of buttons or settings to learn. However, the PHILIPS SmartSleep Wake-Up Light pulls off being easy to use while also not requiring an app. From the moment you plug this alarm clock in, you'll be prompted on how to set it up right on the clock face, making it really easy and intuitive to use.
The Philips SmartSleep has a really cool design (It looks a bit like a giant, glowing donut. Yum!). When you set your alarm time, you can choose how bright the light will be and what sound (if any) will be your alarm. You can choose between nature sounds, the radio, your music (there is an aux cord), or nothing at all. Thirty minutes before your alarm time, the clock will slowly start to brighten, reaching the max brightness at your wakeup time. The light starts off as a red, then increases to orange, and finally to yellow at full brightness.
Who the PHILIPS SmartSleep Wake-Up Light Is Best For
Shoppers without smartphones: The PHILIPS SmartSleep Wake-Up Light doesn't require a smartphone or an app to use, so all you need to do is plug it in to use it.
Shoppers looking for a unique aesthetic: This alarm clock has a really cool aesthetic that could work well in many bedrooms and is a great pick for shoppers looking for a clock with visual interest.
Those who want a "sunset" light: In addition to a sunrise light, you can use this PHILIPS alarm clock for a "sunset" light to help you wind down before bed.
Who Should Avoid the PHILIPS SmartSleep Wake-Up Light
Budget shoppers: This PHILIPS clock is on the spendier side at over $150, so it may not be an ideal for choice for those on a budget.
Those seeking additional content: The PHILIPS SmartSleep Wake-Up Light does offer the option for nature sounds, the radio, or music via an aux cord, but there is no option for additional content like guided meditations or soundscapes.
Learn more in our full PHILIPS SmartSleep Wake-Up Light review.
Expert Opinion
Maybe traditional alarm clocks aren't your jam, but you don't necessarily need a sunrise alarm clock. Enter the Loftie Smart Alarm Clock. This clock is chic and multifunctional, available in color options like black, coral, pine, and white. The Loftie Clock connects to your phone with an app, which you'll use to set up the alarm clock. Once it is set up, you can control the clock through either the app or easy-to-use controls on the clock itself — Loftie makes it easy to ensure you can keep your phone out of the bedroom.
Loftie has a catalog of unique and original alarm sounds, which can't be found anywhere else. In addition to their alarm sounds, you can access sound scapes like white noise, nature sounds, sound baths, meditations, and more. They offer playlists of musical and wellness content, specifically curated for Loftie. And you are automatically subscribed to their content, which updates periodically to ensure there is always something new.
While it doesn't have a sunrise function, the alarm clock does have a soft night light, which you can easily control from the app.
Who the Loftie Smart Alarm Clock Is Best For
Those looking for meditations and wellness content: One cool thing about Loftie is how much audio content you have access to. Loftie has a large library of soundscapes, guided meditations, and more, which is all automatically accessible to you when you purchase a Loftie.
People with limited nightstand space: The Loftie clock is pretty small and compact, so you can easily fit it onto almost any bedside table.
Anyone trying to keep their phone out of their bedroom: While the Loftie Smart Alarm Clock does have an app, you can use controls on the clock itself for almost everything you'd use the app for. And they are actually pretty intuitive, easy controls.
Who Should Avoid the Loftie Smart Alarm Clock
People without smartphones: You don't need your smartphone handy to operate the Loftie once it is set up, but you do need a smartphone to download the app onto to set up the clock.
Budget shoppers: Priced over $100 at full retail, the Loftie is on the more expensive end — though you do get quite a bit for your money with this product.
Read our full Loftie Smart Alarm Clock review to learn more.
How We Picked
Sunrise alarm clocks are designed to make waking up — and falling asleep — as smooth and natural of an experience as can be by replicating the sunrise and sunset at times. These devices can have many features and endless options, but you will need to be able to figure out how to use those options to properly utilize each alarm clock to your own needs. Because there are so many different offerings on the market, it can be hard to differentiate between competitors in order to find out which product might be best for you. When thinking about making a purchase, here are the factors we used to compare the leading brands:
Lux Level
Lux is a unit of luminance, meaning a certain amount of light per square meter. Some of these alarm clocks can get rather bright. Many different brands will actually tell you how bright it can get. While the goal is for the alarm clock to wake you up, some clocks may actually get too bright for some users, so bear in mind brighter is not always better.
Adjustability
Most of the leading brands will help you customize the alarm clock to your needs, but these brands all have different ways of doing so. Whether it is the option of having two or four preset alarm times, being able to adjust the color or brightness, or how many different sleep noises you can use to accompany your descent into slumber, pay attention to the options and make sure you feel confident in your ability to take advantage of all the options offered.
Price
While most of the sunrise alarm clocks available won't cost you an arm and a leg, some of the top of the line options can venture well over a $100 price point. These will offer extra features, such as a fading nightlight to replicate sunset to help you go asleep. Make sure you need these sort of extra features before you make a big purchase.
Design
If these alarm clocks are going to be fixtures in your homes, they better not be eyesores! While some of the leading brands go for traditional looks, others try to take a futuristic or minimalist aesthetic. Whatever your personal taste, keep in mind that this will probably placed in a prominent location in your room and you will not want an unsightly blot where you sleep.
Buying Tips
Not sure which sunrise alarm clock is best for you? Here are some tips that will help guide your purchase.
How much does your sleep schedule vary? Are you someone who wakes up at 10 am on Monday, Wednesday, and Friday, but at 6 am on Tuesday and Thursday? Or do you have a partner that wakes up later than you every day and you want to slip out gracefully without waking them up everyday? The different options on some units will allow for that sort of variation, as well as customizable levels of brightness so you won't be waking up your partner who is less sensitive to light.
Do you need white noise to fall asleep or wake up? Some of the leading brands provide options to play music or the radio, or even play preset noises that come with the devices. This is perfect for people who are looking for the lights to gradually intensify as the music does as well. Check to see the sound options, as you may be able to skip on buying a noise machine for sleep if this alarm clock can do the job for you.
Like to snooze? Though it seems like a silly question, some users really need to snooze a few times before waking up. Some sunrise alarm clocks have it easily configured where you just touch the clock and it snoozes automatically. Others have buttons that can be hard to find based on where they are located on the clock. Perhaps though, a challenging snooze button to find on the clock may be beneficial for those who shouldn't be sleeping in!
FAQs
How long do sunrise alarm clocks last?

It depends! Many sunrise alarm clocks take about 30 minutes to reach maximum brightness; however, some are customizable, allowing you to choose how long the light takes to reach full brightness at your wake up time.
Do sunrise clocks work for heavy sleepers?

If you sleep very deeply, you may not want to solely depend on the light feature of your sunrise alarm clock — particularly if you have a tight schedule in the morning to get to work or school. Many sunrise alarm clocks also have a sound feature to accompany your light, so you may want to opt for a clock that does both if you sleep deeply.
Does the sunrise alarm clock really work?

It depends from person to person, but many people find them helpful. If you are particularly sensitive to light in the morning, a sunrise alarm clock could be all it takes to wake you up in the morning. If you are a deeper sleeper, you may want to combine the sunrise effect with a gentle alarm sound at your wake up time.
What is the best alarm for a gentle wake up?

Our pick for the best sunrise alarm clock was the Hatch Restore, but there are plenty of great options out there.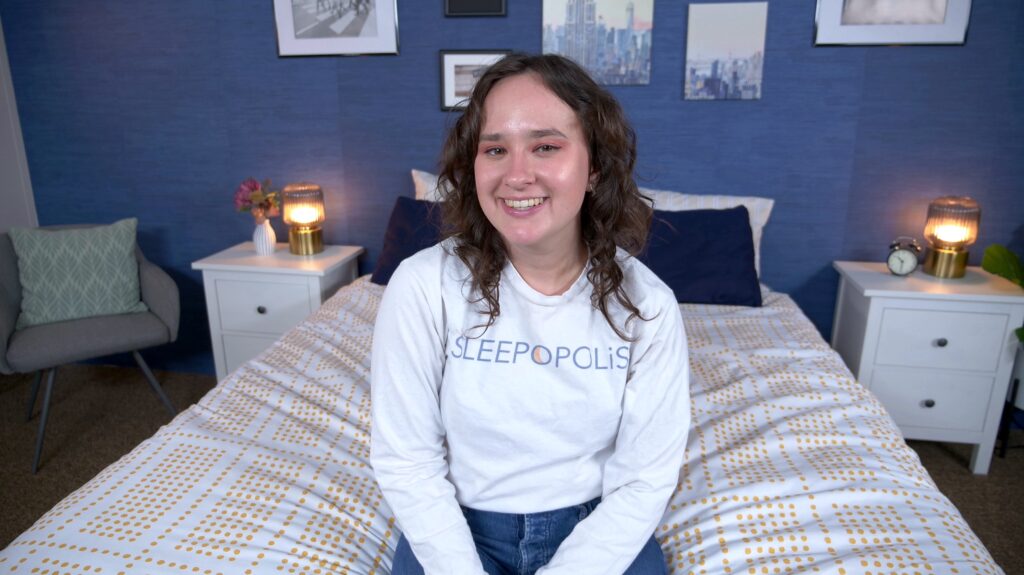 Amelia Jerden
Senior Staff Writer