There is no better feeling than waking up comfortably and well-rested as the sun rises. Unfortunately, not all of us can go to bed early enough to get the requisite amount of sleep before the sun rises. Waking up with the sun is the most natural way of starting our day, but our schedules often get in the way. Fortunately, several companies are making wake-up alarm clocks that not only provide all the trappings of a typical alarm clock (radio, snooze, etc.), but also slowly help you wake up by imitating the stages of the sun.
Since this is a product that overlaps between light bulb manufacturers and alarm clock makers, there is a crowded field of competitors. To help you discern from what will help you and what won't, we've tested out the leading brands and disseminated some useful information. Here is what we discovered: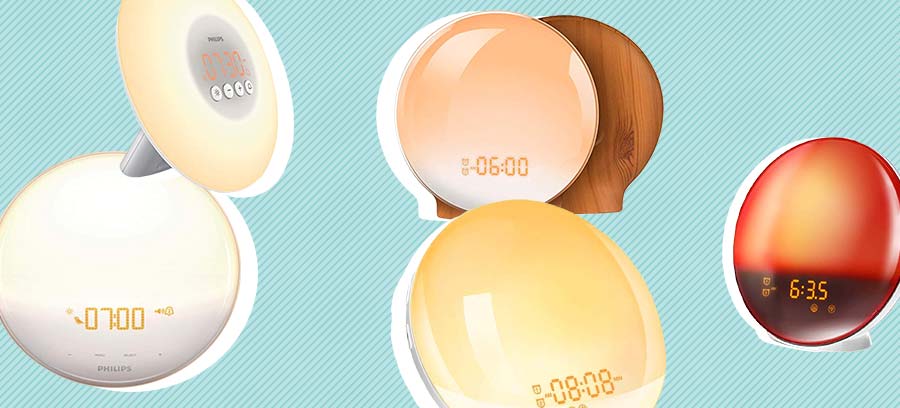 Editor's Choice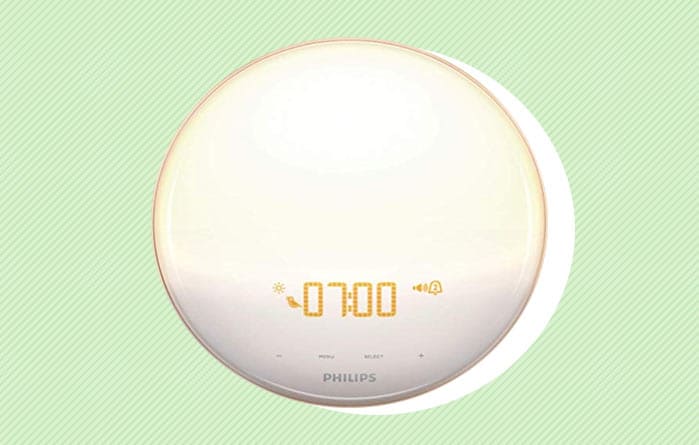 Philips Wake-Up Light Alarm Clock with Colored Sunrise Simulation & Sunset Fading Night Light
Pros: 
Sound effects. Falling asleep and waking up can be fragile experiences; anything to help us gently wake up or fall asleep can set the course for our days. This alarm clock has five different pre-set sounds that will help you wake up in peace. You can also program the FM radio to be your morning-time or night-time sleep muse.

Snooze. Some people may not wake up easily, even if they have every intention to get up at a certain time. The snooze feature is conveniently preprogrammed to be triggered by a single touch anywhere on the device, perfect for those who may need a few more minutes.

Different light intensities. One of my favorite things about this offering by Philips is the customization. Being a person who tends to rise naturally with more light, I was able to adjust the lux settings (light unit per square meter) all the way up to 200 to really ensure that I would be able to wake up, even though it was dark outside.
Cons: 
Cost. This is an incredible gift for yourself or a loved one, but it is definitely not the most affordable option on the market. This device will cost you over $100 at minimum.

Learning curve. While this might be expected of a device with so many options, some may find this alarm clock rather hard to use at first. Intuitive types may be able to figure it out without instructions, but it's recommended to practice before relying on it before a morning you need to wake up early for.
Philips Wake-Up Light Alarm Clock with Colored Sunrise Simulation & Sunset Fading Night Light
Philips Wake-Up Light Alarm Clock with Colored Sunrise Simulation & Sunset Fading Night Light
You may have been warned not to fly too close to the sun, but with Philips Wake-Up Alarm Clock you can sleep a few feet from a close facsimile and be well-rested for it. This offering from Philips features twenty different brightness settings that imitate a sunrise as well as a dimming light for nighttime.
Contender
LBell Sunrise Alarm Clock
Pros:
Music syncs with lights. A very nice feature of this offering from LBell is that the sounds, music, or radio station that you program for falling asleep or waking up will intensify or deintensify along with the changes in brightness. This ensures a peaceful transition to sleep or wakefulness.

Options. This wake-up alarm clock has enough customizable features to fit any sort of environment or type of sleeper. There are seven different colors available and twenty different levels of brightness. This is perfect for people who are very particular about the light they require to gradually wake up.

USB port. This isn't an alarm clock that you will find in your great grandma's attic. Not only does it have a bunch of features, but this is specially designed for users who have multiple charging needs (ie. will need to charge their phone, tablet, smart watch, etc). Perfect for people who use the night time to recharge their devices as they recharge themselves.
Cons:
Auto-shutoff. Some users may be surprised that this alarm clock has an auto-shutoff feature. After a set period of time, about 15 minutes, the alarm will stop ringing. While it takes a sturdy sleeper to blow through a long alarm, that should be noted for those who like their elongated shuteye.

Could be brighter. Most users will find this alarm clock a pleasant way to wake up, but others just simply won't wake up. In ultra-dark rooms, the base color and brightness can prove to be not light enough to coerce a person deep in sleep to wake up.
LBell Sunrise Alarm Clock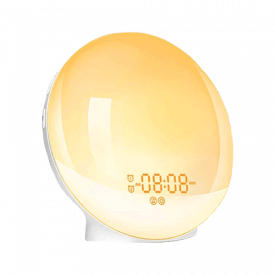 LBell Sunrise Alarm Clock
LBell's Sunrise Alarm Clock is loaded with features that fit into your daily routine and functions that serve to enhance it. Not only does it have many customizable sound and brightness options that dim or increase in tandem, but it has a USB port so you can charge your phone right from the alarm clock.
Best Value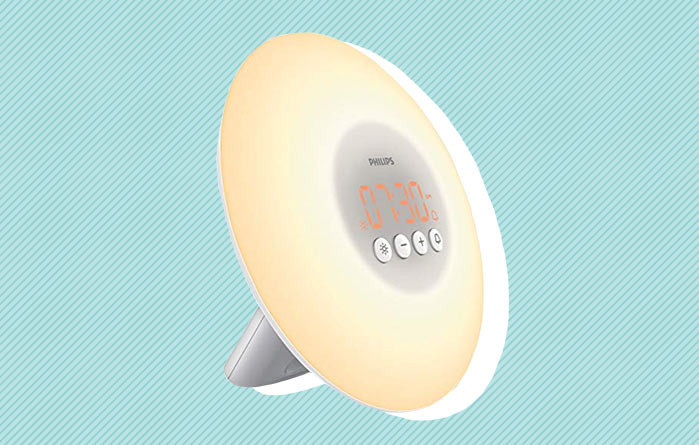 Philips Wake-Up Light Alarm Clock with Sunrise Simulation
Pros: 
30 minute wake-up time. What makes this product stand out compared to many other items in the alarm clock market is the gradual time that the brightness intensifies. The alarm will start thirty minutes before you want to wake up, making for a smooth and not-at-all jarring experience.

Doubles as bedside lamp. This device isn't only useful for waking and going to sleep, but it can be used during waking hours as well. With ten different levels of brightness, this alarm clock is perfect for those hoping to read or check out their phones, or even have a light on as they putz around their room before bed.

Value. Shoppers will be shocked to hear that this device costs less than $40. For the cost of a dinner out on the town, you can have a peaceful and natural way of waking up every day catered just for your sleep needs.
Cons: 
Two-button shutoff. While not an arduous task by any means, and perhaps a pro for those who need to ensure that they are indeed awake after an alarm goes off, this device requires you to press a button both to turn off the sound as well as the light.

Sturdiness. Some users may find this alarm clock rather light weight. If you haphazardly reach to shut off the alarm and are not careful, this device could easily be knocked off your bedside table.
Philips Wake-Up Light Alarm Clock with Sunrise Simulation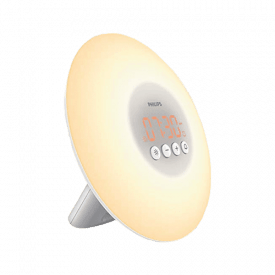 Philips Wake-Up Light Alarm Clock with Sunrise Simulation
This Wake-Up Light Alarm Clock has many of the features someone would be looking for to help wake up, and then some, all for a very affordable price. Clocking in at under $40 per unit, this is one of the most affordable yet versatile offerings on the market.
Most User Friendly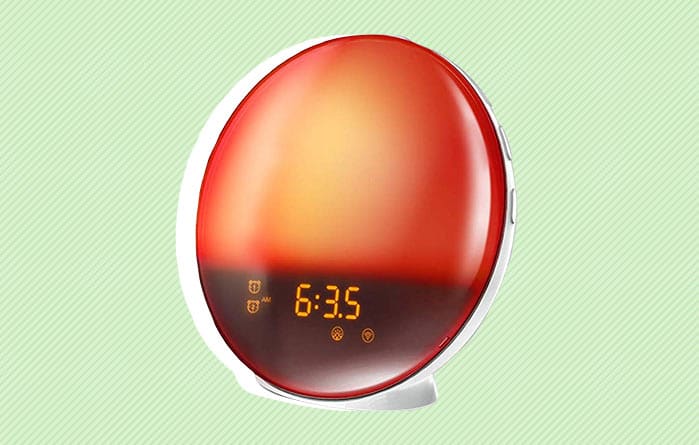 LATME Sunrise Alarm Clock Wake Up Light
Pros: 
Smart home device compatible. This device isn't just technologically advanced in a vacuum – it can be synced with your Alexa or Google Home device. This is perfect for those who have mobility difficulties or want to position their wake-up alarm clock in a way that is not within reach of their bed.

Four different alarm times. There are several reasons why you may need to have different alarms for different times of days. You might have different sleep schedules depending on the day, as in the weekend, or your partner may wake up at a different time. This alarm clock has four different presets that can keep your sleep schedule regulated and consistent week to week without further modulation.

Affordable. This unit is another of the most affordable offerings out there available for purchase. This device will only cost you about $35, so you can sleep (and fall asleep) peacefully knowing that you did not break the bank for this purchase.
Cons: 
App to set up. This won't be a problem for most users in this day and age, but you will need to download an app in order to set this alarm clock for use. If this is a gift for a grandparent or someone who otherwise is not into using apps regularly, that might be a deterrent.

Wifi symbol flashes. If you are properly connected to wifi, this won't be a problem; but the wifi symbol on the front of the clock will flash repeatedly unless it isn't connected. If you aren't in a wifi enabled home or if the wifi doesn't reach your bedroom, this may be a problem for you.
LATME Sunrise Alarm Clock Wake Up Light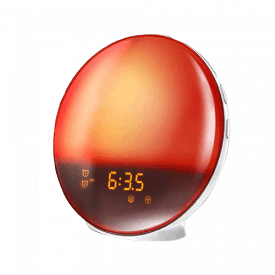 LATME Sunrise Alarm Clock Wake Up Light
This alarm clock features a customizable light therapy lamp that can be adjusted to match all of your sleeping needs, no matter the time of day or frequency of your slumbers or naps. You can have the light start from ten to sixty minutes before you plan on waking up and you can even set four different alarms during the day, helpful for those who have a routine that requires naps during the day.
Best Design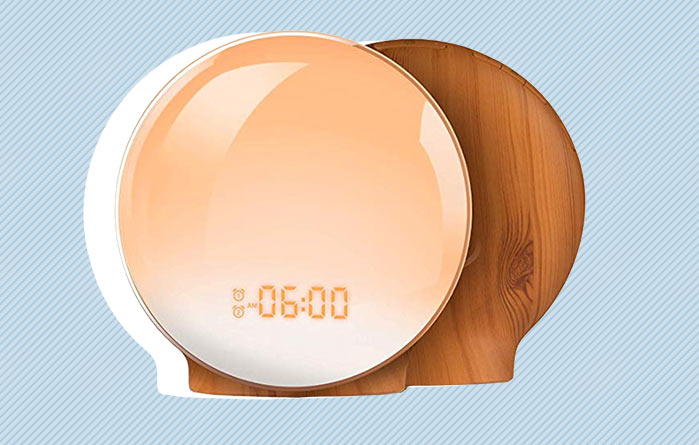 TITIROBA Sunrise Simulation Dual Alarm Clock Wake Up Light
Pros: 
Total darkness. If you are a person that prefers it to be completely void of light in your room as you go to sleep, this device allows you to achieve that with the simple press of a button. Pressing the alarm clocks settings button three times will turn off the time display, causing the device to emit no light.

Design. This alarm clock is designed with a beautiful wood grain exterior. This helps it effortlessly blend into the aesthetic of many different styles of bedrooms, modern and classic alike.

Rubber feet. The alarm clock has rubberized bottoms to the different legs. This is designed to keep the alarm clock steady and prevent it from easily being displaced or knocked off the bedside table.
Cons: 
Odd noises. The sounds that are included as presets with this device aren't always the most pleasant. Som users might be rattled by the bird noises and piano melodies that are not quite gentle sounds to wake up to.

Buttons on side. The standard design of alarm clocks is to have the buttons with the function of turning off the device on top. For whatever reason, this device was designed to have that button on the side, which may be harder to find when only half-awake.
TITIROBA Sunrise Simulation Dual Alarm Clock Wake Up Light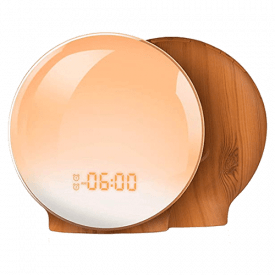 TITIROBA Sunrise Simulation Dual Alarm Clock Wake Up Light
The TITIROBA is a handsomely designed and boundlessly useful alarm clock for those having problems waking up naturally. With seven natural sound options, eight levels of brightness, and USB compatibility, this device is designed to be a lasting fixture on your bedside table.
How We Picked
Wake-Up Alarm Clocks are designed to make waking up – and falling asleep – as smooth and natural of an experience as can be had by replicated the sunrise and sunset at times when the sun has its own ideas. Devices can have many features and endless options, but you will need to be able to figure out how to use those options to properly utilize each alarm clock to your own needs. Because there are so many different offerings on the market, it can be hard to differentiate between competitors in order to find out which product might be best for you. When thinking about making a purchase, here are the factors we used to compare the leading brands:
Lux Level
Lux is a unit of luminance, meaning a certain amount of light per square meter. Some of these alarm clocks can get rather bright. Many different brands will actually tell you how bright it can get. While the goal is for the alarm clock to wake you up, some clocks may actually get too bright for some users, so bear in mind brighter is not always better.
Adjustability
Most of the leading brands will help you customize the alarm clock to your needs, but these brands all have different ways of doing so. Whether it is the option of having two or four preset alarm times, being able to adjust the color or brightness, or how many different sleep noises you can use to accompany your descent into slumber, pay attention to the options and make sure you feel confident in your ability to take advantage of all the options offered.
Price
While most of the wake-up alarm clocks available won't cost you an arm and a leg, some of the top of the line options can venture well over a $100 price point. These will offer extra features, such as a fading nightlight to replicate sunset to help you go asleep. Make sure you need these sort of extra features before you make a big purchase.
Design
If these alarm clocks are going to be fixtures in your homes, they better not be eyesores! While some of the leading brands go for traditional looks, others try to take a futuristic or light-bulb-esque aesthetic. Whatever your personal taste, keep in mind that this will probably placed in a prominent location in your room and you will not want an unsightly blot where you sleep.
Buying Tips
Not sure which wake-up alarm clock is best for you? Here are some tips that will help guide your purchase.
How much does your sleep schedule vary? Are you someone who wakes up at 10 am on Monday, Wednesday, and Friday, but at 6 am on Tuesday and Thursday? Or do you have a partner that wakes up later than you every day and you want to slip out gracefully without waking them up everyday? The different options on some units will allow for that sort of variation as well as customizable levels of brightness so you won't be waking up your partner who is less sensitive to light.
Do you need white noise to fall asleep or wake up? Some of the leading brands provide options to play music or the radio, or even play preset noises that come with the devices. This is perfect for people who are looking for the lights to gradually intensify as the music does as well. Check to see the sound options, as you may be able to skip on buying a noise machine for sleep if this alarm clock can do the job for you.
Like to snooze? Though it seems like a silly question, some users really need to snooze a few times before waking up. Some wake-up alarm clocks have it easily configured where you just touch the clock and it snoozes automatically. Others have buttons that can be hard to find based on where they are located on the clock. Perhaps though, a challenging snooze location to find on the clock may be beneficial for those who shouldn't be sleeping in!