Losing sleep over choosing a new mattress? I created the following mattress guide to help make this decision process easier for you. The most important factors involved in choosing a new mattress have been highlighted below.
Table of Contents: To read about a certain section, click on your desired number choice below:
Don't have time to read the full guide? Click here to skip to the quick 6 step summary.
1. How old is your mattress?
The age of your mattress plays a big role with regards to choosing a new one. As a general rule of thumb, if your mattress is over 8 years old it's probably not a bad idea to consider getting a new one. However, this rule does not apply to all mattresses. There are definitely some that are able to extend beyond 8 years and still provide the same quality performance. The best way to make a judgement call falls back on your sleeping patterns.
FAQ:  How often should you replace your mattress?
If you're restless, waking up in pain, not sleeping through the night, or just don't feel well rested, it may be time to consider replacing your mattress.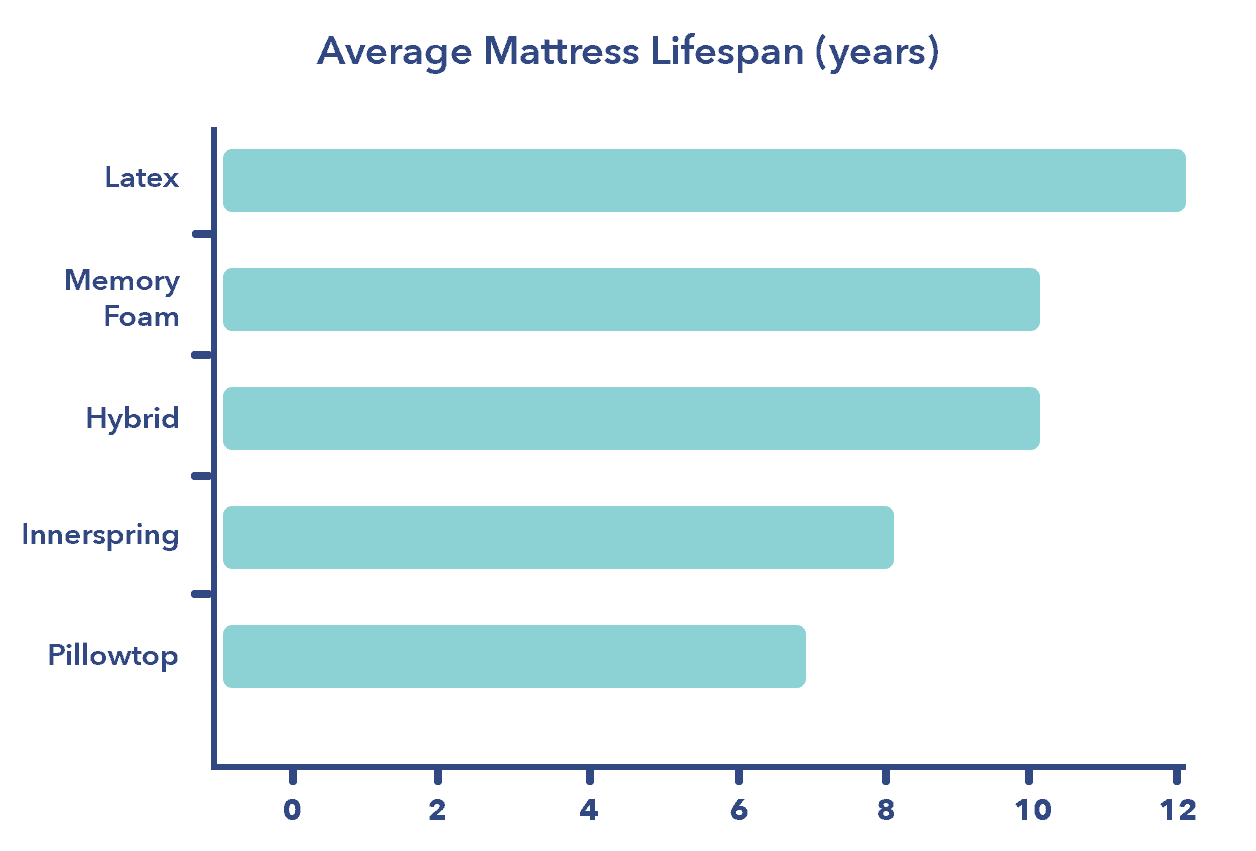 2. What type of mattress do I need?
The type of mattress each person needs varies upon personal preference. With so many variations of mattress types, often times this can be the hardest choice to make. Not to worry, below I have broken down the most common mattress types to help make your research and selection a little easier. You could also take our mattress quiz to get a better idea of the mattresses you should check out.
Memory Foam
Just like it sounds, these mattresses only consist of memory foam. Memory foam mattresses are known for their great support, pressure relief, and body contouring. Historically, memory foam has had a bad reputation as "sleeping hot". However, many newer more advanced memory foams have been designed with superior cooling properties, creating a much cooler mattress than traditional memory foams.

Latex
Built exclusively from latex foam, these mattresses are known for their cooling properties and comfort. Latex is known for its great responsiveness, comfort, bounce, and cooling.

Coils
One of the most popular and widely used mattress types. Coil (aka innerspring) mattresses have one or more layers of spring coils (generally steel) that provide the support and comfort. As technology advances, the number, types, and layers of coils change. A larger number of coils typically means better comfort and support.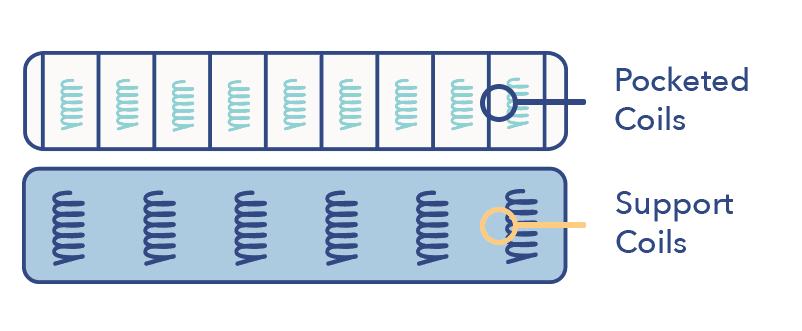 Pillow-top
Falling into an array of categories (coil, latex, memory, hybrid, etc.), pillow-top mattresses have a layer of soft material either stuffed or sewn into the cover. This works to add extra comfort and cushion for the sleeper.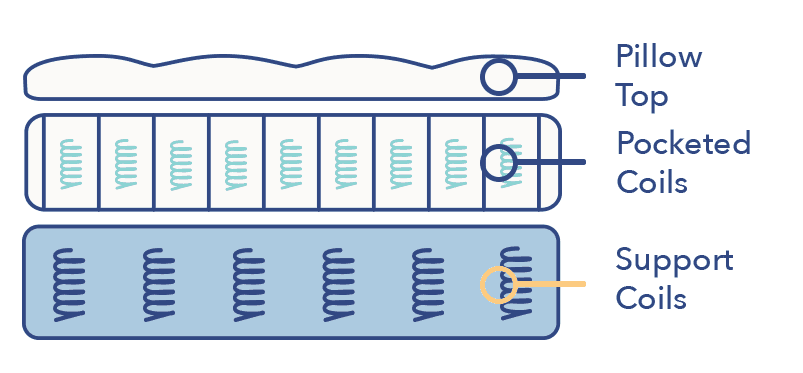 Hybrids
Constructed from a combination of foam and coil layers, these mattresses usually are designed to maximize certain benefits, while also minimizing certain cons. For example, a latex + memory foam hybrid is able to deliver great bounce, cooling, and responsiveness via the latex, but also provide great pressure relief and support from the memory foam.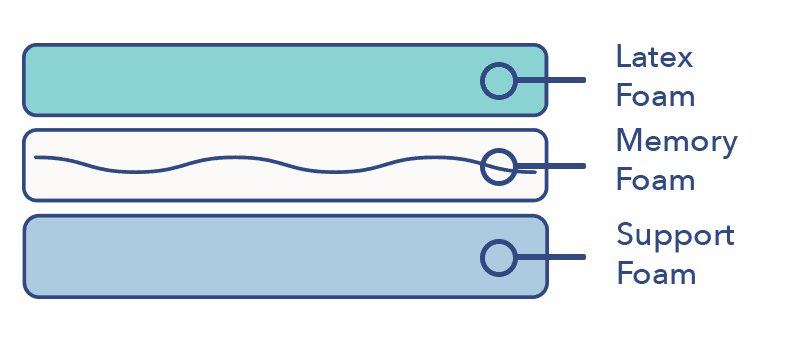 Adjustable
As the name suggests, these beds offer the ability to change the sleeping position of the mattress, usually by elevating the feet and inclining the back. Some of these even possess the ability to vibrate, heat, and/or massage the sleeper.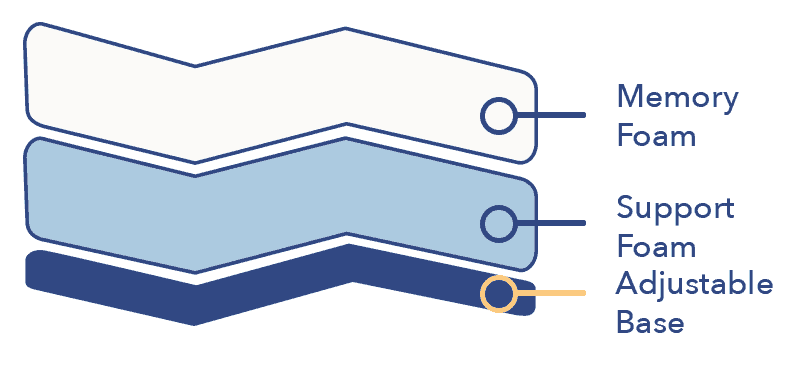 3. What is your budget?
Budget varies from person-to-person. Just a couple of years ago the only real option was going in-store, which almost always meant overpaying for a mediocre mattress or offering your first born child up for a great mattress. The online mattress industry is helping to change that. With so many companies building exceptional mattresses at fair and reasonable prices, consumers are able to set a modest budget and get a great bed.
In this industry, more money does not always mean a better mattress. Retail store mattress pricing is dramatically inflated, often times with markups that range from 300-1,000%.
Steps for choosing your mattress budget
Price Doesn't Equate Quality – Remember that the price of the mattress doesn't always indicate its quality, especially if you are shopping in-store
$1,000 Budget is Ideal – I recommend a starting budget of around $1,000. This price point puts you in the luxury end of the online mattress market and gives you an ample number of options
Slightly Increase Budget for King / Cal King – If you want a King / California King you may consider increasing your budget up to $1,500. This will allow you more choices, especially for the higher end market
Don't Go Ultra-Cheap – Don't spend less than $500 (Queen). Price isn't a perfect indicator of quality, but if you're not spending at least $500 you're probably getting lower quality, lower durability, and higher toxicity in a mattress.
Pay for Quality – Remember that this mattress can and should last you 8-10 years. A 10 year $1,000 mattress works out to $0.27 / day. Don't skimp on your mattress! Your health and sleep are worth a whole lot more than a quarter a day.
4. What firmness do you need?
Firmness is how hard or soft a mattress feels. The most common question I receive from my readers is "how firm is this mattress?" This is also one of the most difficult to answer questions. The feel and firmness of a mattress depends on your definition of soft, medium, and firm. It's highly subjective. Additionally, your body type, weight, size, and other factors play into the feel.
A lot of times consumers confuse support with firmness. A mattress that provides good support simply means that it keeps your spine in proper alignment without creating pressure points. If a mattress does not offer adequate support, you will more than likely wake up sore or in pain. Firmness relates more to how comfortable a mattress feels initially. Whether hard or soft, the optimal firmness level goes hand-in-hand with comfort.
MATTRESS FINDER:  See all Sleepopolis reviewed mattresses in our comparison tool
Several online mattress companies have developed mattresses that have a universal comfort. Although there is only one firmness level offered with these mattresses, the structure of their foams and layered design works to offer comfort for a variety of sleepers (heavy, light, tall, short, side, back, stomach, etc.). Leesa is a great example of this design. Leesa's layered foam construction and materials provide a comfort level that adjusts to each sleeper. This is extremely beneficial for partners who prefer different firmness levels.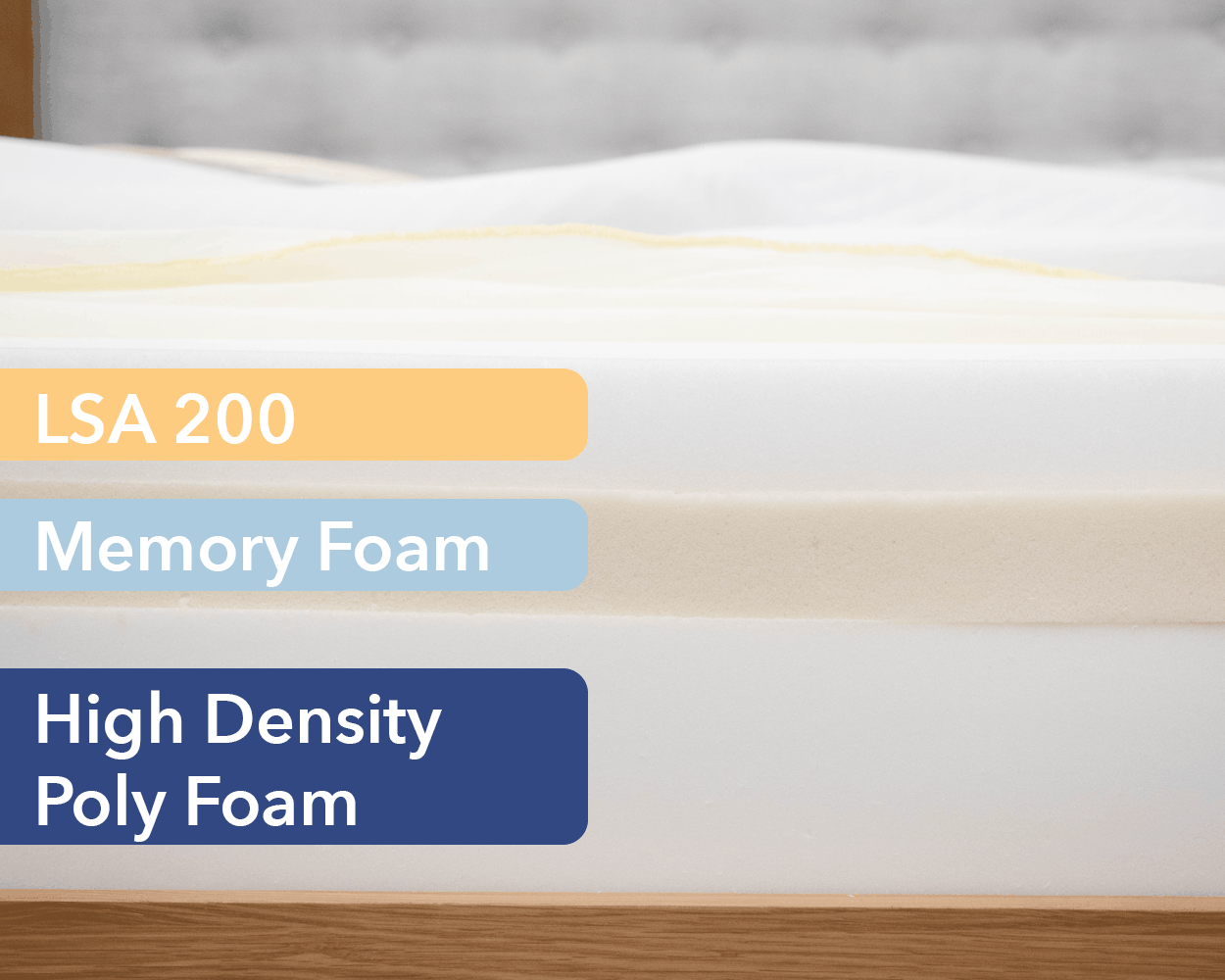 For a lighter sleeper, the top layer of poly foam acts with the memory foam core to provide support and comfort. Since lighter sleepers put less pressure on the mattress much of the comfort and feel comes from the comfort layer. However, support and pressure relief is still provided by the memory foam core. With a heavier sleeper, the comfort foam works much more with the memory foam and support foam to offer proper deep compression and transitional support.
Side sleeping positions work similarly, causing the mattress to create superior deep compression support for the heavier parts of your body. Back and stomach sleepers would see a more even weight distribution and balanced foam interaction. This universal comfort design creates a balanced level of comfort and support for the mattress that's enjoyable for the majority of sleepers. Bear, Layla, Tuft & Needle, and Casper are other examples of universal comfort feel designs.
With this in mind, the average preferred firmness level for sleepers falls between the 4-7 out of 10 range. Universal comfort mattresses coincide with these numbers, giving sleepers the chance to really discover the firmness level that's right for them.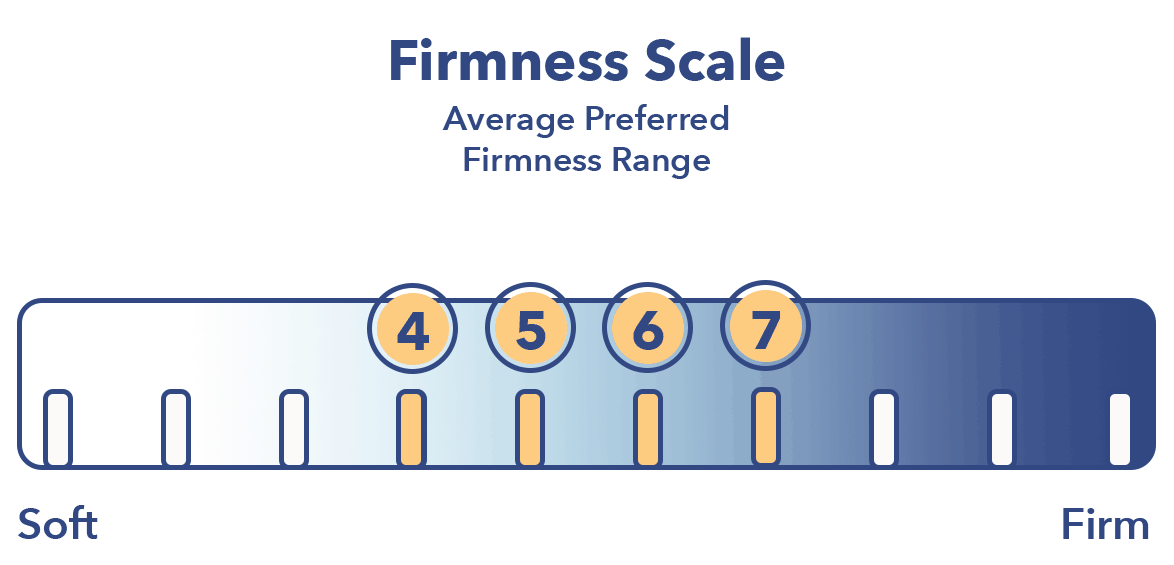 If you're firmness preferences place you outside the typical firmness range (either in the 1-3 or 8-10 level) or you just aren't sure about the idea of universal comfort you may need to consider other options. Brooklyn Bedding Signature and Saatva's luxury coil mattress are available in soft, medium, and firm. Loom & Leaf offers both medium and firm. And lastly, Helix Sleep offers sleepers the ability to personalize their mattress with a variety of support, firmness, and feel options. Your primary sleeping position, body type, and weight also have a major impact on the firmness level that's best for you.
5. What position do you sleep in?
Side, back, stomach, or a little bit of each. Everyone sleeps in their own, unique way. The big problem…most people aren't searching for a mattress that supports their sleeping style. Each sleeping position has its own specific needs and ideal firmness level.
Side
Sleepers who lie on their sides don't always remain in the same position. A lot of times they rotate from both legs straight, to one straight and one bent, to both bent. With this constant change, side sleepers need a mattress with soft to medium level firmness, usually something in the 3-6 range out of 10 (where 10 is the most firm). A soft mattress with a lot of support will relieve pressure points on your neck and back.
Firmness and feel is incredibly important for side sleepers as they need a mattress that's soft enough to contour to the curves of their body. A mattress that is too firm won't contour to the shape of the side sleeper, resulting in a lack of support that usually creates pressure points leading to lower back pain, neck pain, and/or shoulder pain.
MORE:  Best mattresses for side sleepers
Back
Firmness and support are both critical for back sleepers. A mattress that is too soft will create pressure points on the sleeper, not providing the right amount of push back they need. In addition to that, if the bed does not support the sleeper, their spinal alignment will be off, which could lead to prolonged back problems. The ideal mattress firmness is one that provides enough softness to eliminate pressure points, but still has great support. Usually a firmness level in the 4-7 range (where 10 is the most firm) is appropriate.
MORE:  Best mattresses for back sleepers
Stomach
Stomach sleepers number one priority when searching for a new mattress needs to be support. The torso will apply the most pressure to the mattress for stomach sleepers. For this reason, they need a mattress that provides equal support across their body. If the mid section sinks at the middle of the mattress (mattress is too soft) the sleeper will see a curving of the spine, causing lower back pain and other problems.
Stomach sleepers need to be as flat as possible with respect to the surface of the mattress. Even something as simple as a tall pillow could put the spine out of alignment, causing pain and discomfort. Typically stomach sleepers need a mattress in the 5-7 range (where 10 is the most firm) with some outliers requiring a slightly hard or softer feel (a 4 or 8, respectively).
MORE:  Best mattresses for stomach sleepers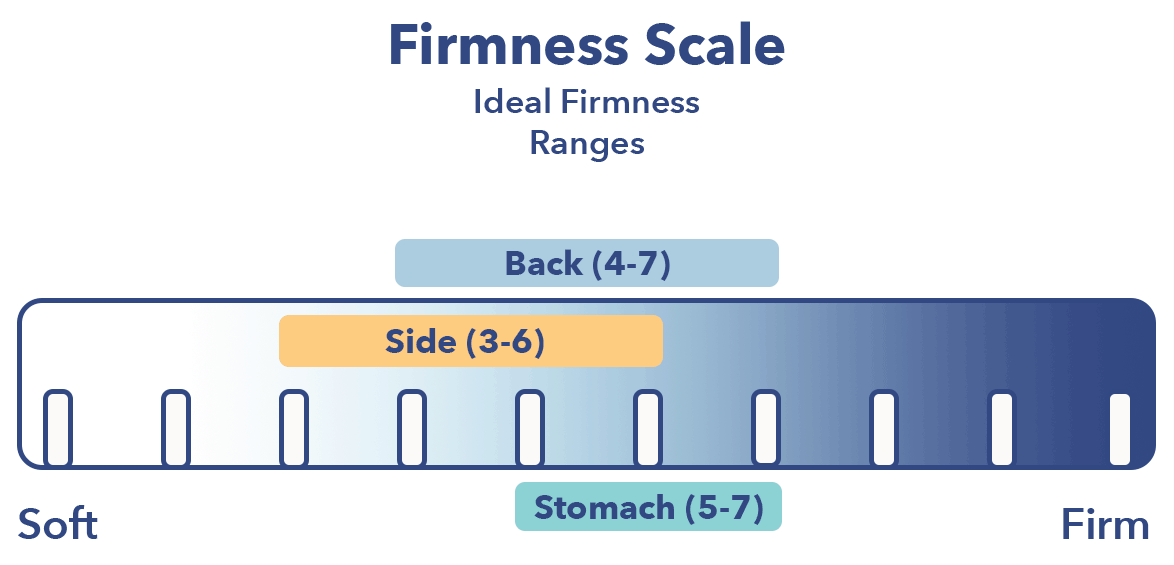 6. How much do you weigh?
Weight may not seem that important, but it can be crucial when choosing a mattress. The sinkage, hug, feel, cooling, and support of each mattress is highly affected by how much you weigh and your body type.
Depending on your weight and body type you may need a specific type of mattress or firmness to create the ideal feel and support that your body needs. There is no perfect formula or "best" mattress for everyone. I've provided the following guidelines to help you align your weight and preferences with the ideal mattress:
You're a lighter sleeper (150 pounds or less) and want a medium feel (5-7) – lighter sleepers don't sink as deeply into the mattress, this can make mattresses with denser top layers not as comfortable. Universal comfort mattresses are a great fit for these sleepers. If you're lighter I usually recommend my readers choose a mattress that's  0.5-1 firmness points below what they feel they actually need. This is because most medium firmness feels are rated based on an average sleeper (180 pounds).
You're an average sleeper (150-200 pounds) and want a medium feel (5-7) – you're in the market sweet spot. Most mattresses are designed for average size sleepers. Anything in the universal comfort range or any mattress characterized as medium, medium firm, luxury firm, or rated 5-7 out of 10 is very likely going to be a great fit.
You're a heavier sleeper (200 pounds or more) and want a medium feel (5-7) – heavier sleepers put more pressure on the mattress, so we need to adjust for that. Look for mattresses that have a comfort layer of at least 4″. This will ensure consistent support and comfort for your size. If you have extreme cooling needs and / or you need a mattress with exceptional edge support you will likely need to consider luxury innerspring / coil-on-coil mattresses. If these needs aren't as important for you then you can focus more on the foam side where you'll get better contouring hug and body shaping.
MORE:  Best mattresses for heavy people
You're a lighter sleeper (150 pounds or less) and want a soft feel (3-4) – as a lighter sleeper you have the advantage of not sinking as deeply into foam mattresses. This allows you to get the cloud like comfort you're looking for, but without being excessively hugged or creating as many heat retention issues. Mattresses characterized as soft, plush, plush soft, or in the 3-4 out of 10 range are good options.
You're an average sleeper (150-200 pounds) and want a soft feel (3-4) – your needs are similar to lighter sleepers in this area. If you're closer to 150 then you can follow the same rules as lighter sleepers. As you get nearer to 200 pounds you'll want to consider the increased hug / sinkage of the mattress. Softer mattresses already have an increased level of hug and sinkage. For side sleepers this can be ideal, however for many back sleepers and almost all stomach sleepers, this will create a negative situation for the support of the mattress for you.
You're a heavy sleeper (200 pounds or more) and want a soft feel (3-4) – this is one of the most difficult to find mattress combinations. Heavier sleepers already sink deeper within the mattress and soft mattresses amplify this further. A mattress that's designated as soft will create dramatic sinkage and hug for heavy sleepers. It is incredibly important to find a mattress that still offers great deep compression support. This means a minimum of 4″ of comfort foam, which usually will only be found in mattresses that are 12″ or thicker. If you don't like the foam mattress options you're seeing a pillow-top coil mattress can be a great fit for this area. They'll provide great deep compression support, but can still bring the soft feel you're looking for.
You're a lighter (14o pounds or less) or average (150-200 pounds) sleeper and want a firmer mattress (8-9) – firmer mattresses are a little easier to diagnose, mostly because there's a smaller degree of variation in their feel…i.e. you don't deal as much with balancing hug, cooling, contour, etc. A firmer mattress floats sleepers on the surface of the mattress, as opposed to hugging the sleepers (like many foam mattresses will). For lighter and average sleepers that want a firm feel you'll want to look for mattresses characterized as firm or in the 8-9 out of 10 range.
You're a heavier sleeper (200 pounds or more) and want a firmer feel (8-9) – since you're a bit heavier you'll want to adjust your targeted firmness. If you're looking for something that's an 8 out of 10 this means you'll be looking at mattresses that are in the 8.5-9 range. Add 0.5-1 points. That said, I would recommend caution in ever going above a 9 on the firmness scale. Beyond this you are effectively sleeping on the floor.
Choosing a Mattress – 6 Step Summary
Picking out a new mattress can be a daunting task. With this quick summary I've noted the most important topics you need to know when choosing a mattress.
Is it time to replace your mattress? – is your mattress over 8 years old? A general rule of thumb is to replace your mattress every 8 years. However, if you're not sleeping well then you can throw that 8 year benchmark out the window. Your sleep habits should be the largest factor in determining if you should change your mattress. Sleeping poorly? It's time for a change.
What mattress type is best for you? – when selecting a mattress, the biggest choice will come down to either foam or coils. Foam offers great hug, contour, and a unique feel. Coil is a more traditional feel with great bounce. For most sleepers I recommend foam. However, if you're very large (250+), want a traditional feel, and/or have extreme cooling needs, coils can be the better choice.
What is your budget? – choose a budget that works for you. Ideally you'll have $800-$1,000 to spend. This will offer you the most options and put you in the luxury end of the online market. Don't spend less than $500 unless you want a mattress that's going to break down much sooner (and one that could potentially be more toxic also).
What firmness level is right for you?– most sleepers prefer a firmness in the 5-7 out of 10 range. This is appropriate for all sleeping positions and most weight / body types. If you go 4 or below you are most likely a side sleeper. If you go above a 7 you are probably a stomach or back (anything much above a 7 isn't great for most side sleepers).
What positions do you sleep in? – Choose a mattress with a firmness that matches your needs. Side sleepers go with 3-6 out of 10. Back go with 4-7 out of 10. Stomach go with 5-7 out of 10. There will of course be outliers in each of these, but uses these as general guidelines to get started.
How much do you weigh and what is your body type? – support from a mattress is directly related to your body weight. The heavier you are, the more the support foams have to work to provide optimal comfort. Weight effects how much support you will receive from your mattress based on total sinkage and pressure points.
Still not sure what mattress is best for you? Check out our Best Mattresses page to see some of our top picks!
The following two tabs change content below.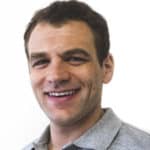 Logan is the content director of Sleepopolis, which means he not only reviews new mattresses every week, but also curates all the comparisons, best of pages, and video guides on the site. He takes a straightforward, honest approach to his reviews and endeavors to give viewers an objective look at each new product he tries out. Logan has perfected his method by personally testing over 200 different mattresses, so he's not only able to discern the overall vibe of a specific bed, but to contextualize its feel within the bed-in-a-box market as a whole. When he's not hopping on a new bed or working with our editorial team to whip up an engaging sleep education guide, you can find him reading books on world history, walking his dog Pepper, or searching for the best cheeseburger in New York City.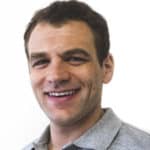 Latest posts by Logan Block (see all)