Before you start hunting for a mattress pad, it's important to get clear on what this product actually is. Many people purchase a mattress pad expecting it to be like a mattress topper, and then they wind up dissatisfied. The primary purpose of a mattress pad is to add a bit of comfort to an old or uncomfortable mattress, but it's important to note that pads won't be nearly as thick or cushy as most mattress toppers.
Mattress pads can also add a layer of protection for your mattress because they lie on top of the mattress and beneath your sheets (but they won't be waterproof like a plastic mattress protector). Make sure that a mattress pad is really what you're after before you start shopping. Then, use this list of Best mattress pads to zero in on some quality options.
Best Mattress Pads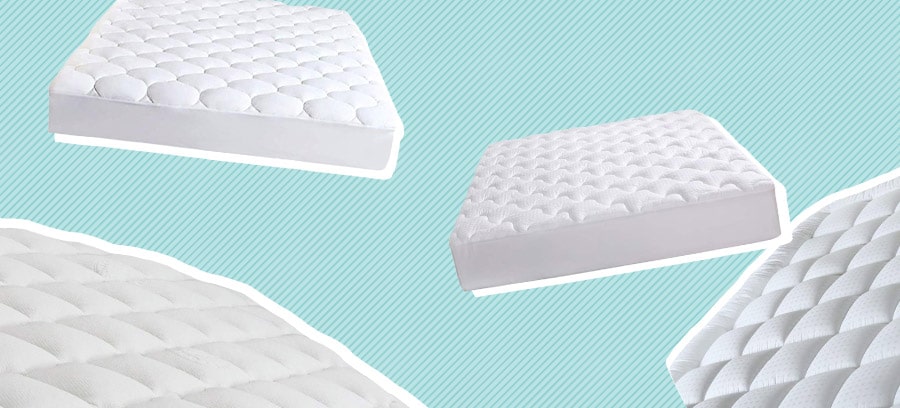 Editor's Choice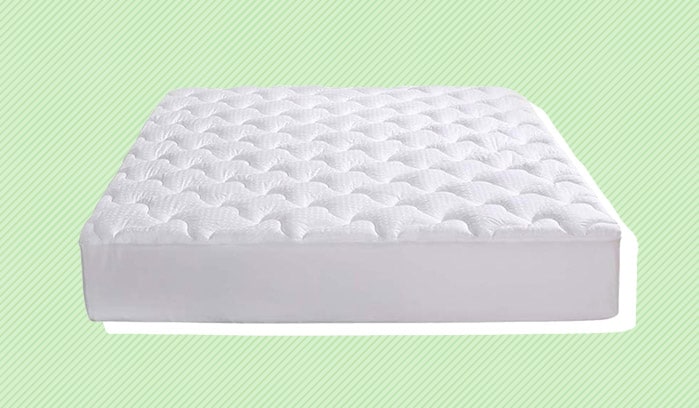 INGALIK Cooling Mattress Pad
Pros: 
The pad's exterior is made from 100% cotton, and it's stuffed with a down alternative that provides some extra softness. 

The pad is sewn in a 3D quilted design that helps ensure the down alternative remains evenly distributed. 

The 360-degree elastic helps ensure that the pad stays in place even when you move around at night. 

The pad is available in a variety of sizes ranging from Twin to California King. 
The only real con is that the pad isn't particularly thick, so it won't dramatically transform the feel of your bed. Same goes for all mattress pads. 
INGALIK Cooling Mattress Pad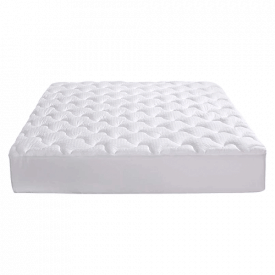 INGALIK Cooling Mattress Pad
The INGALIK Cooling Mattress Pad earns the title of Editor's Choice thanks to its softness, 3D quilted design, and slip-proof comfort. Users routinely praise this high-quality (and surprisingly affordable) pad.
Contender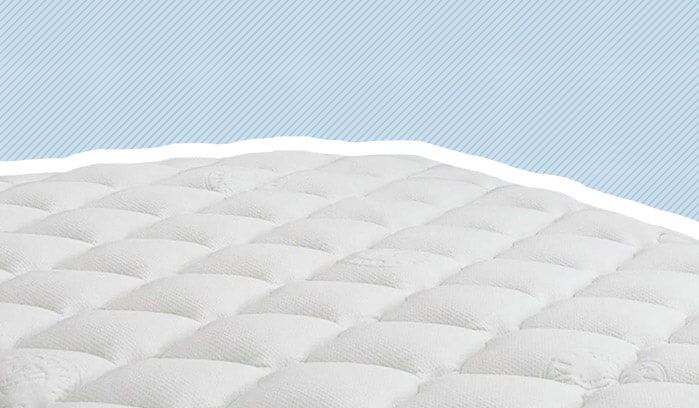 eLuxurySupply Bamboo Mattress Pad
Pros: 
This is one of the plusher mattress pads around. It's filled with "Revolift fiber," a hypoallergenic down alternative that's supposed to mimic the loft of real down. 

The baffle box stitching helps ensure that the filling stays in place and doesn't bunch up when you move around on the bed. 

The pad is available in a variety of sizes, from Twin to California King. 

The pad is made in the USA. 
Cons: 
This is definitely not a budget-friendly mattress pad, and it won't be accessible to all budgets. 

It's not as deep as some mattress pads out there, and it only fits mattresses up to 18 inches tall. 
eLuxurySupply Bamboo Mattress Pad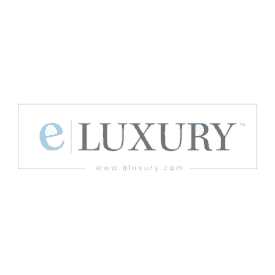 eLuxurySupply Bamboo Mattress Pad
If you're willing to splurge a bit, consider the eLuxurySupply Bamboo Mattress Pad. The plush pad features baffle box stitching to keep the filling soundly in place. 
Best Cooling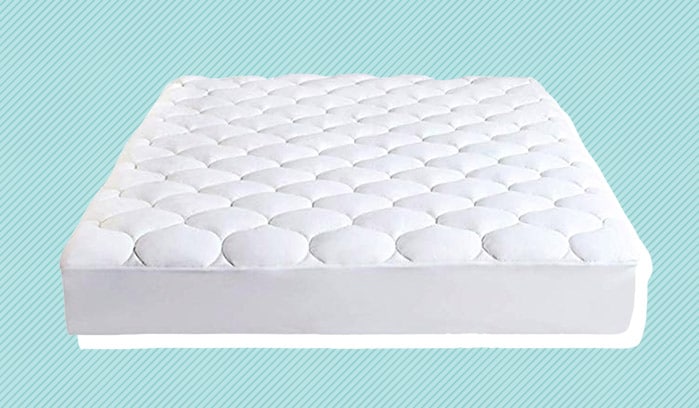 HARNY Cooling Mattress Pad
Breathable cotton helps diffuse heat to keep you sleeping cool on the HARNY Cooling Mattress Pad. Deep pockets ensure a snug fit for mattresses up to 21 inches tall, including Olympic Queen and Full XL mattress sizes.
Pros: 
The 100% cotton exterior is breathable. The mattress pad helps diffuse heat to keep you sleeping cool. 

The deep pocket fits mattresses of many heights (from approximately 8 to 21 inches), and the elastic ensures a snug fit. 

The pad is filled with a down alternative microfiber that adds some softness to the bed.  

The pad is available in some unique sizes, including Olympic Queen and Full XL. 
Cons: 
As with any mattress pad, this isn't exceptionally fluffy and won't dramatically change the feel of a mattress. 

While the cover is machine washable, you might need to wrestle with it a bit to fit it into a home washer. 
HARNY Cooling Mattress Pad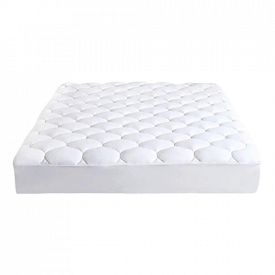 HARNY Cooling Mattress Pad
Best Eco-Friendly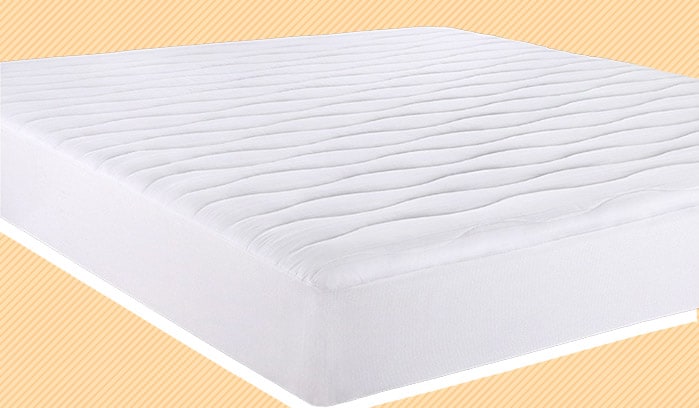 Allrange Tencel Clean&Safe Quilted Mattress Pad
Pros: 
The pad contains 30% Tencel in both the exterior and the filling. Tencel is a fiber that is derived from the wood pulp of trees grown on specialized farms and produced with more eco-friendly solvents than conventional materials. 

The Tencel material is breathable and helps dissipate heat for cooler sleeping. 

The four-way stretch skirt can snugly fit mattresses up to 22 inches deep. 

Given the quality of the materials, the pad is offered at a surprisingly budget-friendly price. 
Across the board, users report very few "cons" with this product. My one critique is that the pad is only 30% Tencel; it would be great if it incorporated even more of this material. 
Allrange Tencel Clean&Safe Quilted Mattress Pad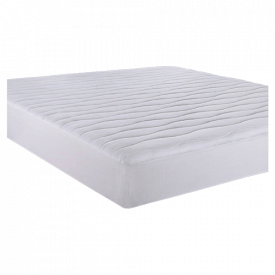 Allrange Tencel Clean&Safe Quilted Mattress Pad
Sustainably produced Tencel fiber makes the Allrange Tencel Clean&Safe Quilted Mattress Pad an eco-friendlier option than many mattress pads out there. The breathable material helps dissipate heat. 
Best Pillow-top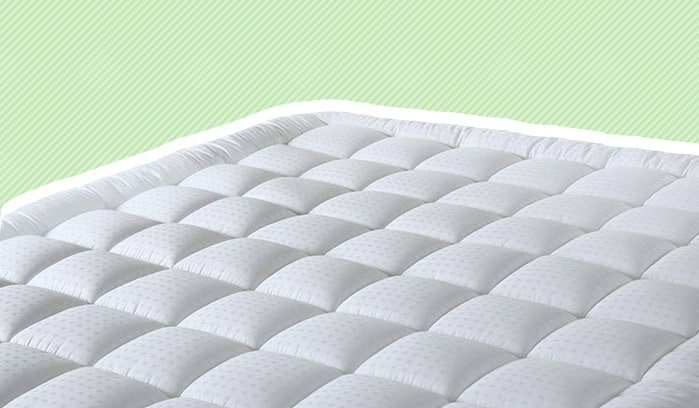 Balichun Pillow-top Mattress Pad
Pros: 
This is one of the plusher mattress pads out there and should provide some noticeable comfort; as the name suggests, it's kind of like a pillow-top. Its exterior is made from 300 thread count, 100% cotton and it's filled with down alternative fiber. 

The pad fits mattresses up to 21 inches deep. 

The pad is machine washable and should hold up well to washings. 
Cons: 
The mattress pad might compress with time and will need to be re-fluffed semi-regularly to maintain its loft.

There's nothing particularly special about the fill material, and the manufacturer doesn't provide many details about exactly what this material is. 
Balichun Pillow-top Mattress Pad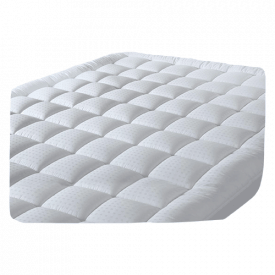 Balichun Pillow-top Mattress Pad
Enjoy the luxurious feeling of a pillow-top mattress without shelling out big bucks thanks to the Balichun Pillow-top Mattress Pad. The plush pad features 300 thread count, 100% cotton.
Best Bargain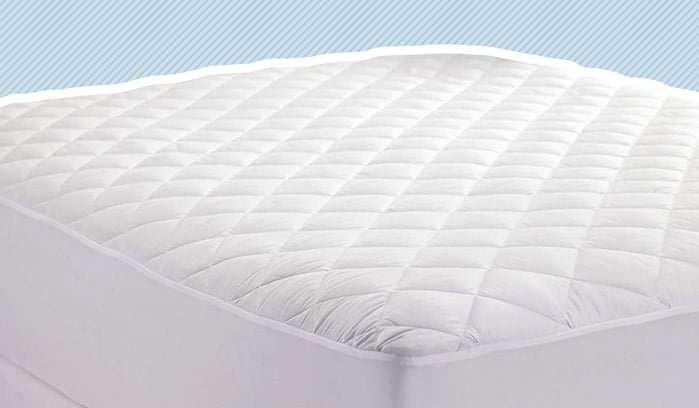 Hanna Kay Hypoallergenic Quilted Mattress Pad
Pros: 
This is an extremely budget-friendly mattress pad that will provide a little extra cushion without breaking the bank. 

The pad uses hypoallergenic materials, so it's ideal for people with sinus issues. 

Diamond stitching helps ensure that the pad's stuffing stays in place during washes or while you move around at night. 

The stretch-to-fit design ensures a snug fit so that the pad doesn't move around on the mattress. 
Cons: 
The pad only comes in two sizes (Twin and Queen), so it won't fit every mattress. 

The pad is quite thin; it's probably closer to a mattress protector in terms of thickness.
Hanna Kay Hypoallergenic Quilted Mattress Pad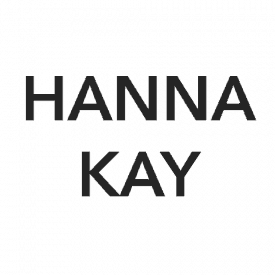 Hanna Kay Hypoallergenic Quilted Mattress Pad
Add a bit of cushion to your mattress without breaking the bank thanks to the Hanna Kay Hypoallergenic Quilted Mattress Pad. Diamond stitching holds the filling in place and protects against bunching.
How We Picked
We kept our expectations realistic when selecting these options: No mattress pad is going to offer a ton of cushion, because that's what mattress toppers are for. At the same time, it's important that a mattress pad offer at least a little extra comfort compared to a pad-less mattress, or else what's the point? So we made comfort one of our primary criteria.
Beyond comfort, we also focused on the following.
Construction
We focused on mattress pads that feature high-quality construction and attention to detail. For example, you'll find that many of these options offer baffle box or diamond stitching, slip-proof elastic, deep pockets, breathable construction, and machine-washable designs.
These factors might seem small, but they can make a big difference when it comes to comfort, durability, and ease of use.
Cost
Mattress pads can range in price from under $30 to well over $100. This list includes options from both sides of that spectrum, so you can choose according to your own price point. Even if you don't have a ton of money to spend, there are plenty of high-quality options well below the $100 mark.
Materials
We selected mattress pads made with high-quality materials, from 100% cotton to Tencel and well-regarded down alternatives. All of these materials should enhance the durability of a mattress pad. Each of these materials also boasts its own distinct benefits, so consider where your priorities lie before making your selection.
Sleepopolis Buying Tips
To choose the best mattress pad for your needs, consider the following:
Why do you want a mattress pad? Are you trying to cool down a heat-trapping memory foam mattress? Are you looking to make a firm mattress a little softer? Are you trying to protect your mattress from wear and tear? The answers to these questions will help you know which features to prioritize.
What are your pet peeves? For example, if you hate the feeling of fabric bunched up beneath you, choose a pad with baffle box construction or another design feature that prevents bunching. If you're annoyed by having to fluff your bedding, look for an option that maintains its loft without this assistance.
What is your budget? Knowing this before you start your search will help you rule out options that are beyond your price point and zero in on those choices that are affordable for you.
When shopping for a mattress pad, it's important to keep their purpose in mind. Mattress pads won't offer extra-soft or thick comfort layers, but they can take the edge off an old or too-firm mattress. Maintain realistic expectations, think about the materials and design features that you most prefer, and you should be able to find a mattress pad that satisfies your needs.
What is a mattress pad?
A mattress pad is a relatively thick piece of quilted material that sits on top of your mattress, but below your sheets. It is primarily used to add comfort, but some also can help protect your mattress from general wear and tear and provide an extra layer of defense against, spills, soils and stains.
Adding a mattress pad can slightly change the feel and firmness of your bed. If you find that you are happy with the current feel of your mattress, adding a mattress pad is really an unnecessary expense.
Mattress Protector vs. Mattress Topper vs. Mattress Pad
Mattress protectors, mattress pads and mattress toppers are all different a-la-carte options you can add to an existing mattress. While they sound extremely similar, there are a few key differences to note before you start the search. You may find that not all of these are necessary in your situation, which can save you hundreds of dollars in "bonus bedding".
Mattress protectors are thin and usually waterproof- designed to sit directly on the surface of your mattress like a fitted sheet. Generally constructed from cotton or polyester, they are added below the fitted sheet and are the last hope to protect your mattress from unwanted stains. The main mission is to repel liquids and keep your mattress in like-new condition.
No matter if your mattress is old or new, I would highly recommend a mattress protector on every single bed. In addition to protecting from liquid stains, a good waterproof mattress protector will also protect against dust mites, bed bugs, pet dander or other allergens that may be floating around in the bedroom.
See our full list of best waterproof mattress pads here.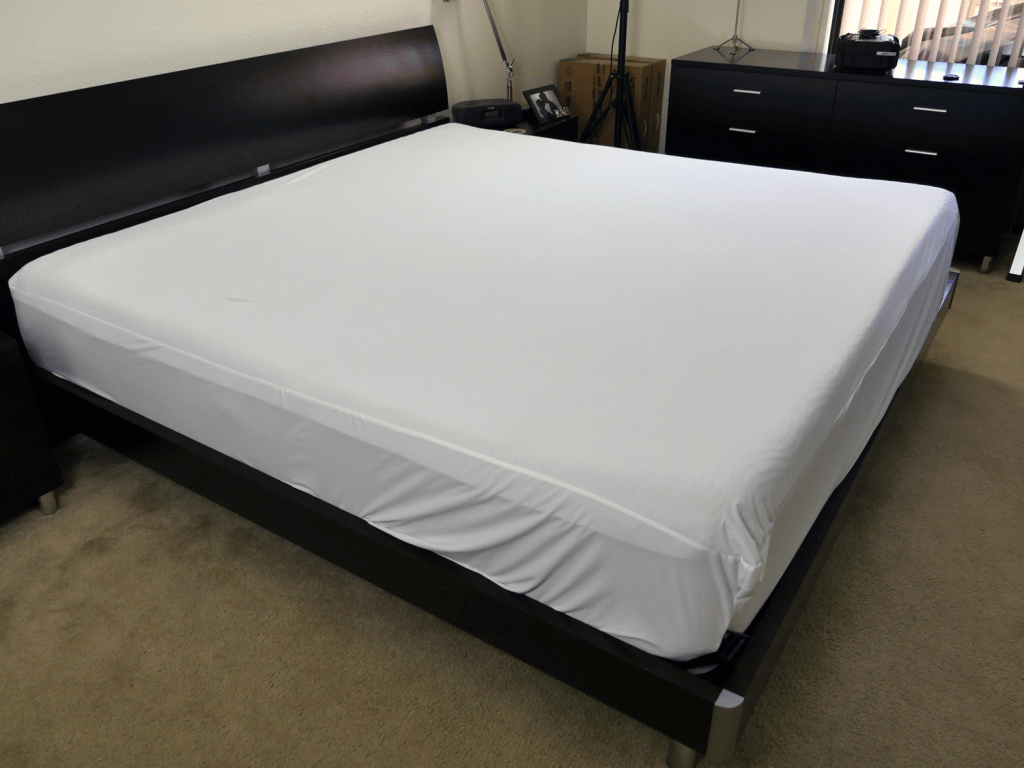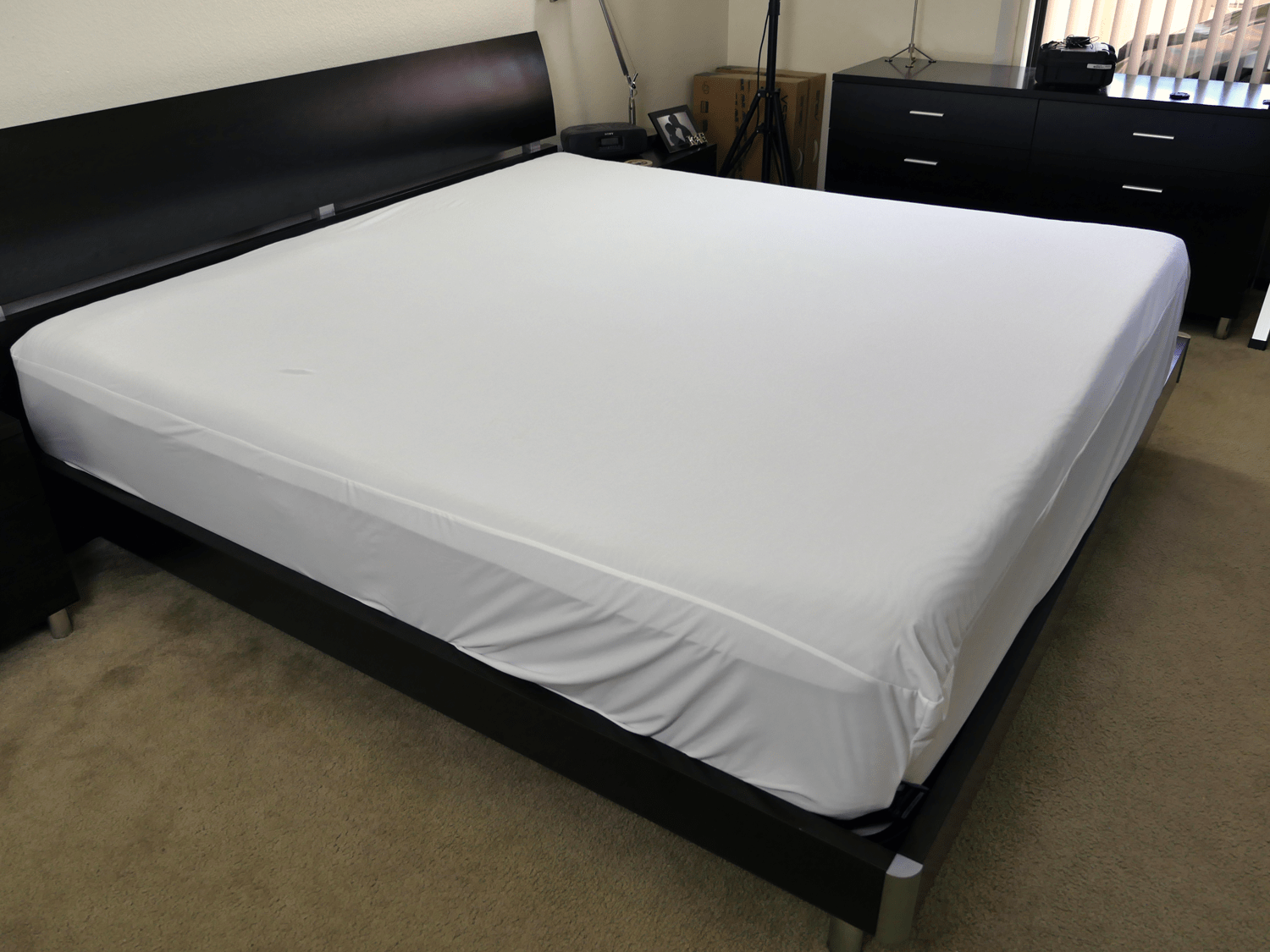 In comparison to mattress protectors, mattress toppers couldn't be any more different. While a protector aims to protect, a topper aims to add comfort. A mattress topper can be made of memory foam, latex foam, quilted blends or many other materials. It is typically added atop a mattress that is no longer comfortable.
A thin mattress topper, 1-2" can slightly adjust the overall feel of your mattress (ex. eLuxurySupply memory foam topper) or a thicker topper, 3-4" can provide a complete overhaul! For more information on mattress toppers, be sure to check out our full list of mattress topper reviews.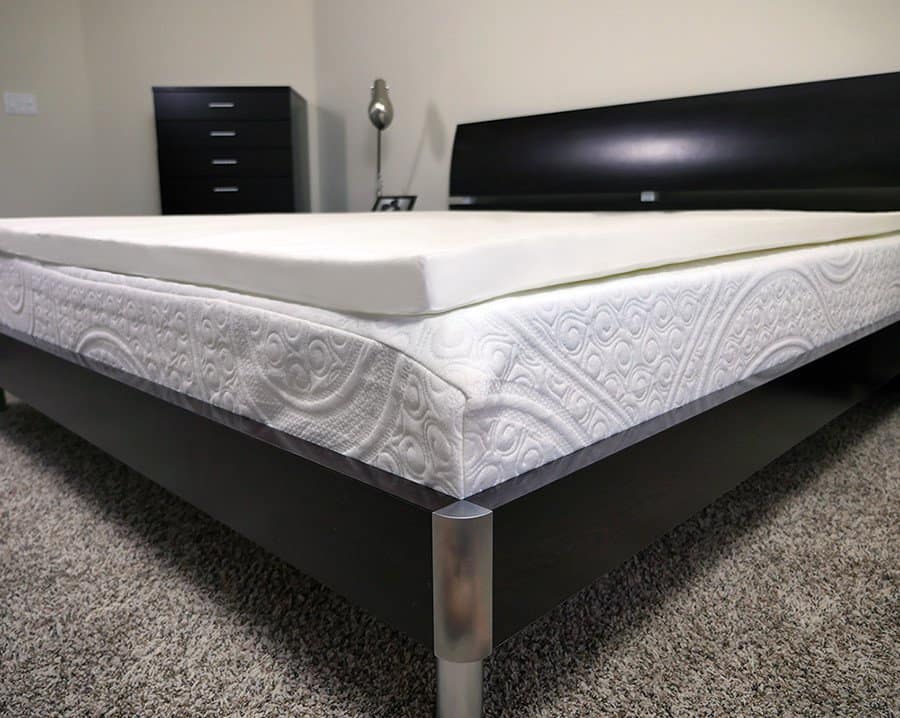 Mattress pads act as somewhat of a hybrid between mattress protectors and mattress toppers. They can provide protection from liquid spills and allergens as well as add an extra layer of comfort to your existing mattress. The thick quilted construction can provide a small amount of pressure relief that your current mattress may be lacking in.
FAQ:  Do I need a mattress pad or a mattress protector?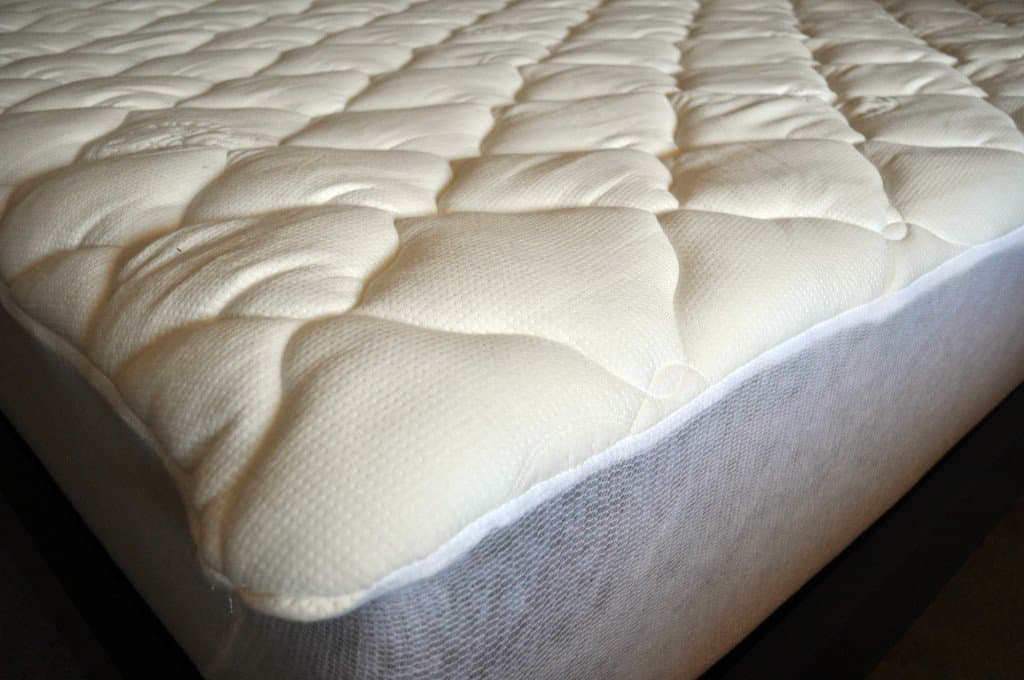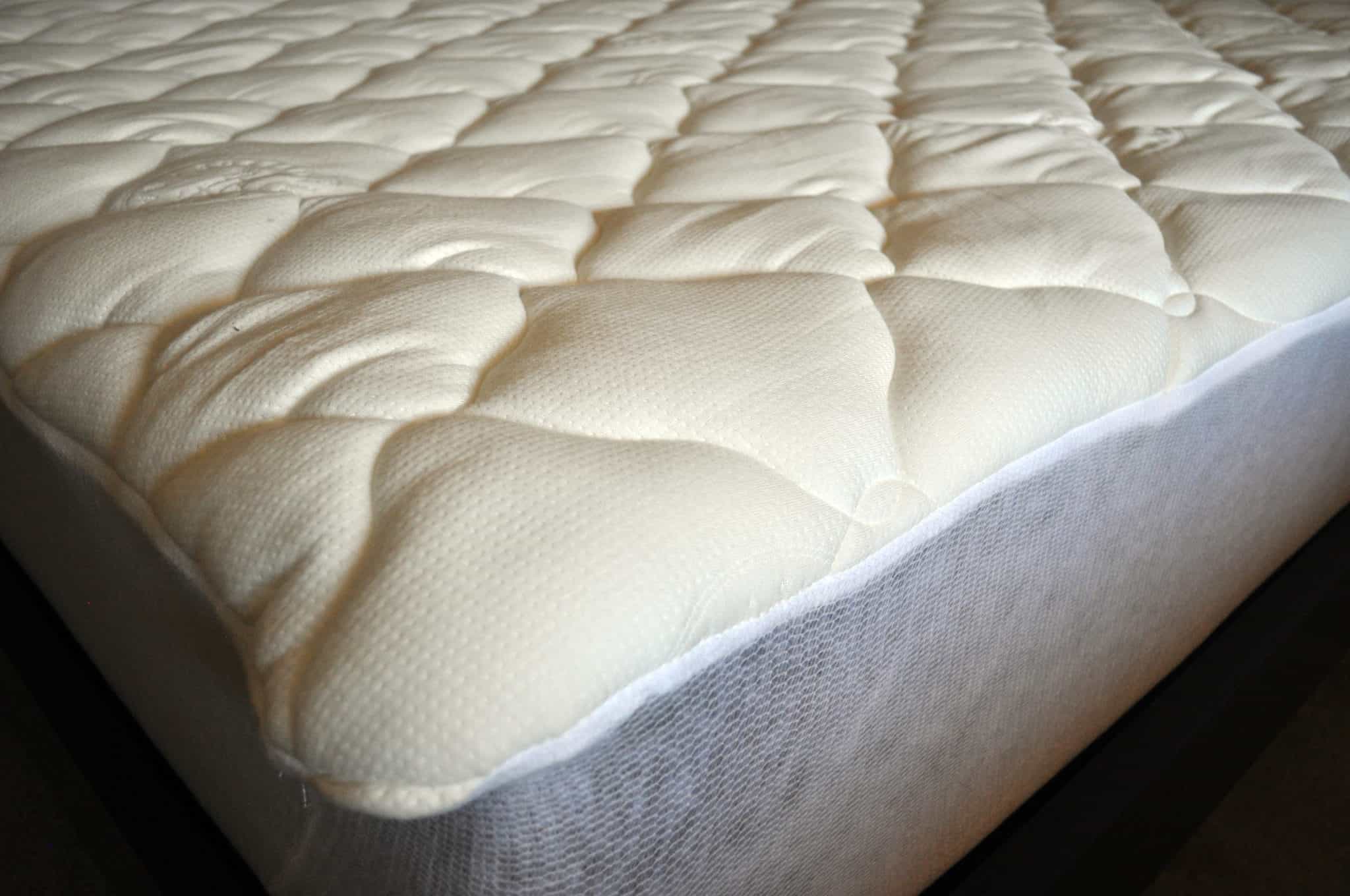 Types of Mattress Pads
In the world of mattress pads, there are two main styles, fitted mattress pads and anchor mattress pads. Fitted mattress pads are thick and fit just like a fitted sheet would. The quilted top provides extra stability and the elastic side panels stretch over the sides of the mattress to hold it firmly in place.
Anchor Mattress Pads
Anchor mattress pads have a similar top to the fitted mattress pads, but the sides are treated a little different. In this installation, there are no side panels, but rather the top is secured to the mattress with a thick elastic band at the corners. While this is generally less secure, if you are a light sleeper and not notorious for kicking your bedding off of the bed, an anchor mattress pad may work just fine for you.
Cotton Mattress Pads
In addition to style, there is a variety of materials that a mattress pad can be made out of and each material will result in a mattress pad that's distinctively different. Cotton mattress pads are the most common. They are typically thinner than the other styles as well as being machine washable. This feature alone may be a life saver for the stain-prone sleepers!
Latex Mattress Toppers
A natural latex mattress pad is made from natural rubber and is extremely durable. Depending on the thickness and type of latex, these mattress pads can be used to soften a firm mattress or firm up an overly soft one.  A latex mattress pad is also mold and mildew resistant which make it a great choice for the eco-friendly, hypo-allergenic sleeper. Check out our full list of latex mattress topper reviews here.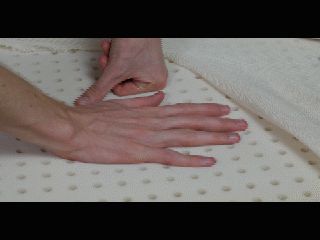 Wool Mattress Pads
Wool mattress pads may work well for sleepers who are looking for a durable mattress pad that can accommodate rapidly changing seasons. These types of mattress pads are typically cool and dry in the summer, but warm and cozy in the winter. It's also important to add that this type of mattress pad is one of the most expensive mattress pads on the market.
Feather Mattress Pads
Feather mattress pads, also known as featherbeds or down mattress pads, are another option if you are looking to soften an existing mattress that is too firm. These mattress pads are more affordable than a wool mattress pad, but maintain many of the same benefits. Many of these mattress pads are made exclusively with goose or duck feathers.
One word of caution- when shopping for feather mattress pads, be sure to select one that has a quilted top. This will help to keep all of the feathers evenly distributed as you sleep and avoid a lumpy mattress pad.
Fiber Mattress Pads
Fiber mattress pads, sometimes referred to as fiberbeds or down alternative mattress pads (ex. eLuxurySupply bamboo mattress pad), are another affordable option if you're looking to soften a firm mattress. These mattress pads are commonly compared to feather mattress pads, but instead of using traditional feathers, they are filled with a polyester fiber or down alternative material.
These are typically the most affordable between wool and traditional down mattress pads, but the lifespan may not be as long. In addition, some sleepers find that these types of mattress pads become lumpy and flatten out in a short period of time. Regular "fluffing" will help to prolong this as well as choosing one with a quilted top.
FAQs
What is a mattress pad?
A mattress pad is designed to lie on top of a mattress. Its main function is to provide a layer of comfort. This can be especially helpful if a consumer has a mattress that is worn or uncomfortable.
What is the difference between a mattress pad and a mattress topper?
A mattress pad is generally a thin piece of material that is placed on top of your mattress to help adjust the firmness level. A mattress topper is an upgrade on this, is usually much thicker and can be purchased in many different firmness levels and thicknesses.
What does a mattress pad do?
Mattress pads can serve many functions including protecting the mattress, providing extra cushion or softness and can also help to keep your bed sheets from sliding around or out of place.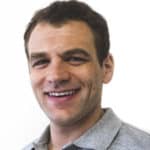 Logan is the content director of Sleepopolis, which means he not only reviews new mattresses every week, but also curates all the comparisons, best of pages, and video guides on the site. He takes a straightforward, honest approach to his reviews and endeavors to give viewers an objective look at each new product he tries out. Logan has perfected his method by personally testing over 200 different mattresses, so he's not only able to discern the overall vibe of a specific bed, but to contextualize its feel within the bed-in-a-box market as a whole. When he's not hopping on a new bed or working with our editorial team to whip up an engaging sleep education guide, you can find him reading books on world history, walking his dog Pepper, or searching for the best cheeseburger in New York City.