Who doesn't love a cozy pair of pajamas? Plus they're made with eco-friendly bamboo fabric? A double win. Cozy Earth is a brand that's all about pairing eco-friendliness with comfort, selling bedding, bath towels, and pajamas.
Speaking of pajamas, this review is all about Cozy Earth's Long Sleeve Bamboo Pajamas — which actually made Oprah's list of favorite things back in 2019. You know I'm excited to try something that is Oprah's favorite. I personally tested these pajamas (and may or may not be wearing them as I write this review), so I'll give you the lowdown on everything there is to know about them.
Short on time? Skip to the end for my review summary.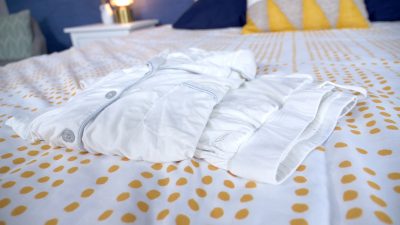 Cozy Earth Pajamas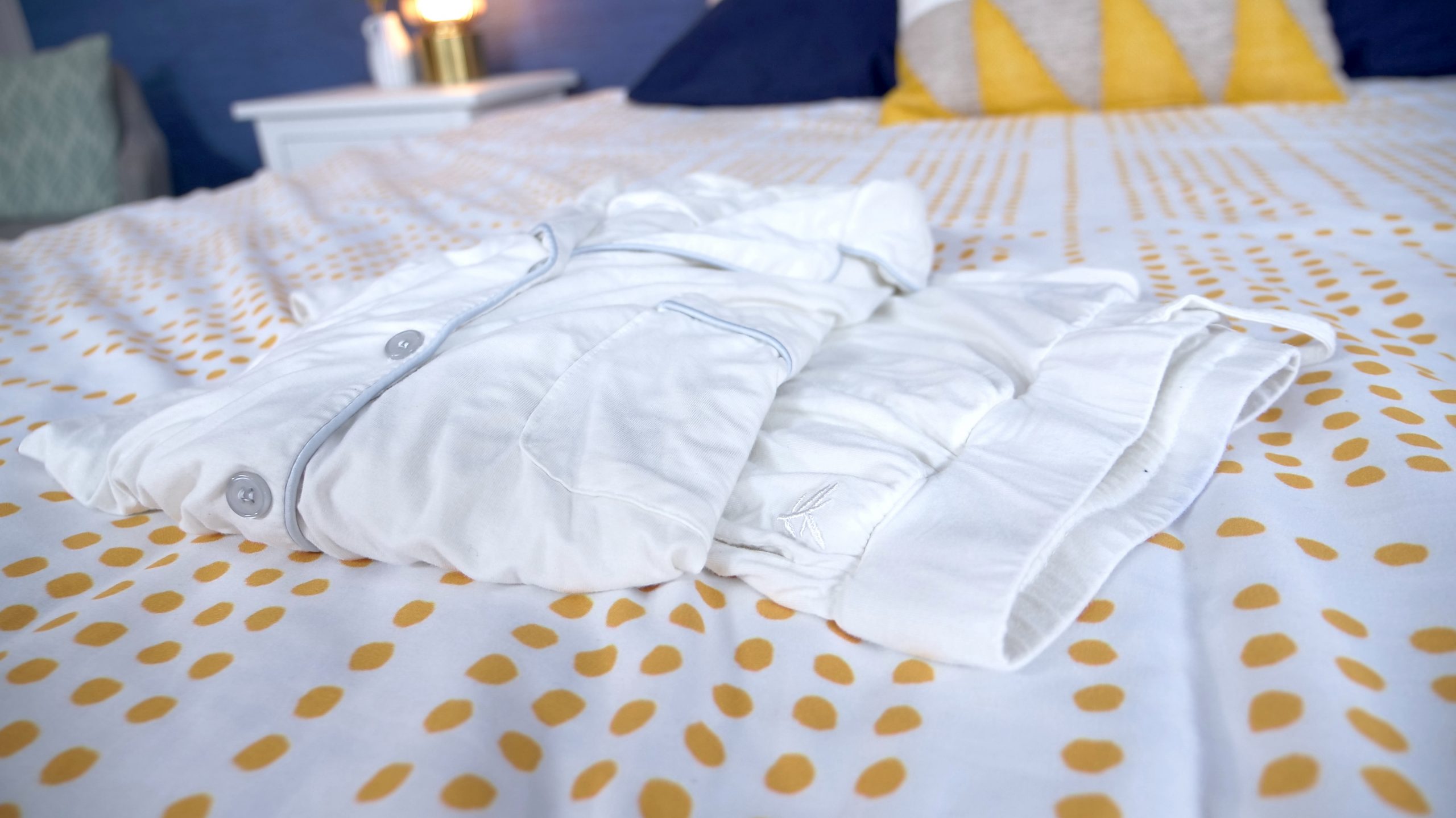 These long sleeve pajamas are made with ultra-soft, cooling bamboo fabric.
Sleepopolis Score
4.90 / 5
Read Full Review
What It's Like to Sleep in the Cozy Earth Long Sleeve Bamboo Pajamas
Sleeping in the Cozy Earth Long Sleeve Bamboo pajamas is super, well…cozy! These are easily some of the softest pajamas I've ever felt — and they still feel quite soft, even after going through the laundry. The bamboo fabric is similar to jersey fabric, but much softer in my opinion.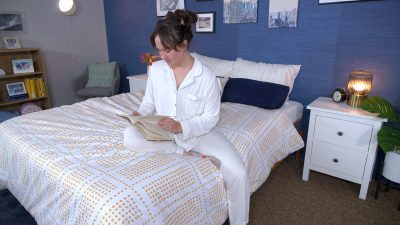 The top is a long sleeve, button-up shirt with a front pocket on the left side and a collar — a classic pajama top. I like how this PJ set blends a classic style with ultra comfy fabric. I honestly felt so fancy wearing these pajamas — I told my boyfriend I felt like these were the pajamas I would wear if I were a classy lady drinking coffee, looking out the window of a fancy beach house in Cape Cod. Weirdly specific maybe, but that's just the vibe they give me.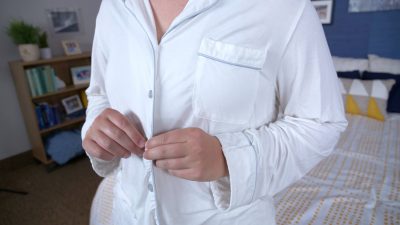 The pants are a standard pajama style, with a straight leg and an elastic waistband with a drawstring. They also feature pockets on each side, which is a feature I love.
While I generally prefer jogger-style pants for long pajama pants — that way the legs of the pants don't roll up when I'm under the covers — I don't mind the looser style of pants on these bamboo pajamas. That could possibly be because it's been warmer weather where I live while I've been testing these, so I haven't been worried about being cold.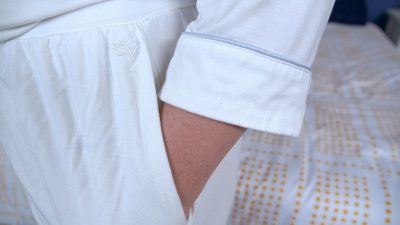 On the topic of warm weather, I have found this bamboo pajama set to be super breathable and light, making them comfortable to wear in the hotter temperatures despite having long pants and long sleeves. I haven't found myself overheating or sweating while wearing these pajamas at all.
What are the Cozy Earth Long Sleeve Bamboo Pajamas Made Of?
As the name suggests, these pajamas are made primarily with bamboo in a stretch-knit. This fabric is called bamboo viscose — it's made from the pulp of bamboo that's spun into fabric — and it makes up 95 percent of the fabric in these pajamas, with the other five percent being spandex.
I mentioned above these pajamas felt very breathable — that's thanks to the bamboo viscose. Bamboo is popular, not only as an eco-friendly fabric, but because of its abilities in temperature regulation and moisture wicking to keep you super cool.
These cooling capabilities make the Cozy Earth bamboo pajamas a great option for hot sleepers, for people who live in warmer climates, or for those who experience hot flashes. I'll also note that I did test the long sleeve Cozy Earth pajamas, but the brand also offers a short sleeve top and shorts version of these same pajamas that might be even better for hot sleepers, especially in the summer months.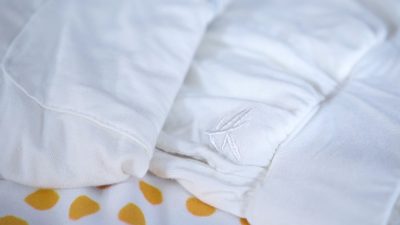 Additionally, these bamboo pajamas come in five different colors: ivory (the color of the set I tested), gray, black, navy, and blush (a light pink shade).
Cozy Earth Pajamas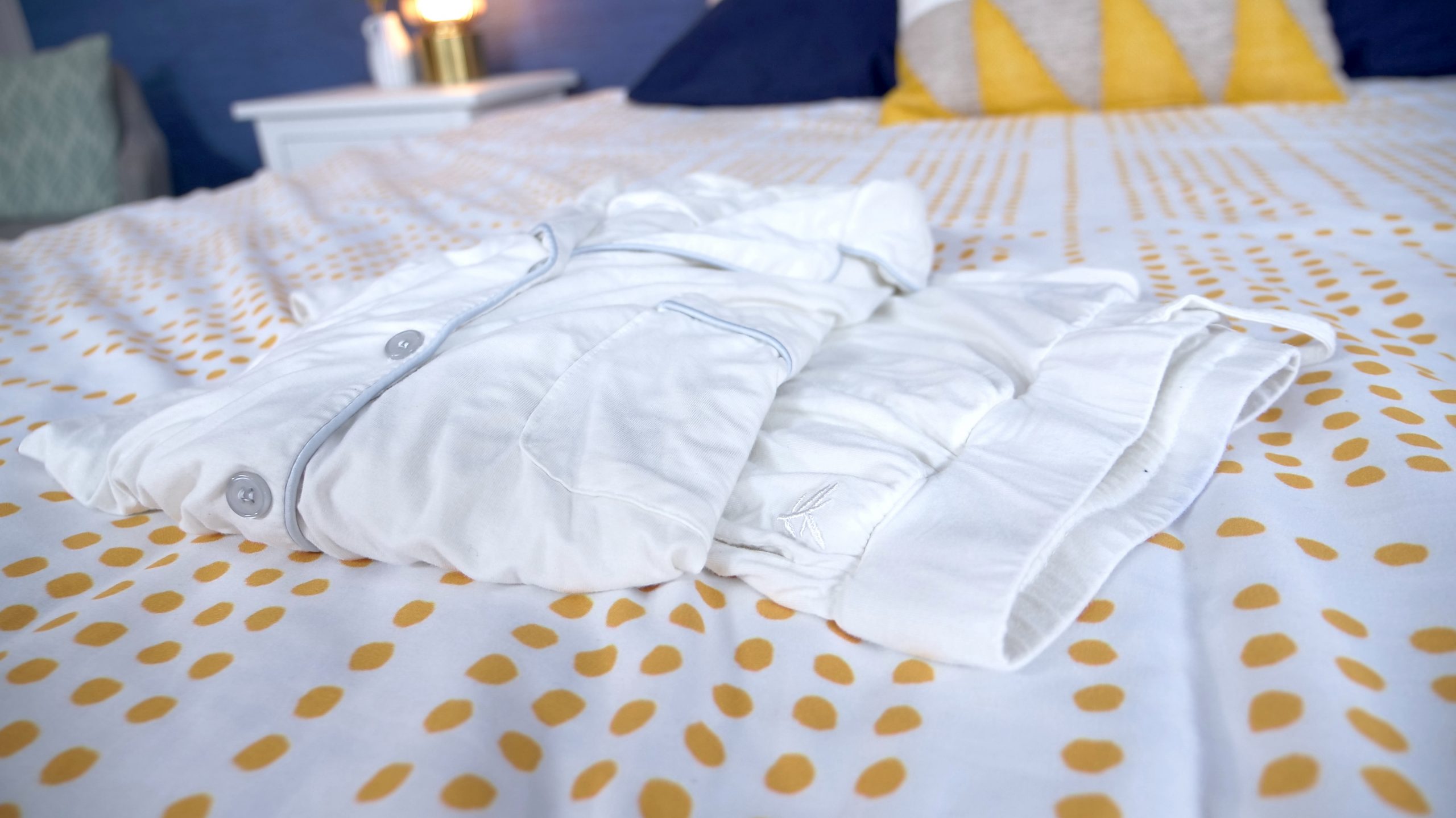 These long sleeve pajamas are made with ultra-soft, cooling bamboo fabric.
Sleepopolis Score
4.90 / 5
Read Full Review
Are the Cozy Earth Long Sleeve Bamboo Pajamas True to Size?
Buying any clothing online can be nerve-wracking, as there's no easy way to tell if it will fit true to size. I was extremely pleased with the fit of these pajamas. I felt like they fit perfectly, while still being loose enough that I felt comfortable and unrestricted in them. For this review, I tried the medium size pajama set and found they fit true to size.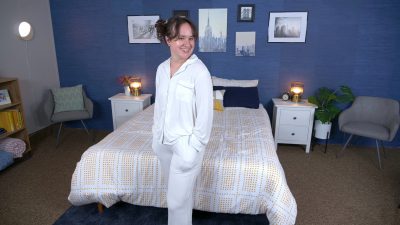 These pajamas are also offered in two different lengths for the pants. I received the regular 28-inch pants, but they also offer a 32-inch tall version. I'm about 5'5" and found the regular length to work well for me.
Cozy Earth Long Sleeve Bamboo Pajamas Size Chart
The Cozy Earth Long Sleeve Bamboo pajamas are offered in women's sizes XS to XXXL, as well as being offered in two different lengths. Cozy Earth does make men's bamboo pajamas, but they are in a different style than these, so they don't currently offer comparable pajamas in men's sizing.
| Size | Numeric Size | Waist (Inches) | Hip (Inches) | Inseam (Inches) |
| --- | --- | --- | --- | --- |
| XS | 0-2 | 24-25 | 34-36 | REG – 28, TALL – 32 |
| S | 4-6 | 26-27 | 37-38 | REG – 28, TALL – 32 |
| M | 8-10 | 28-29 | 39-41 | REG – 28, TALL – 32 |
| L | 12-14 | 30-32 | 41-43 | REG – 28, TALL – 32 |
| XL | 16-18 | 34-36 | 44-48 | REG – 28, TALL – 32 |
Are the Cozy Earth Long Sleeve Bamboo Pajamas Worth the Money?
This long sleeve stretch-knit bamboo pajama set is high-quality and the price certainly reflects that: $175 for the set at full retail price. However, based on my experience with these pajamas, they could be worth the price if you're looking for an ultra-soft, luxurious feeling pajama set that also helps to regulate body temperature.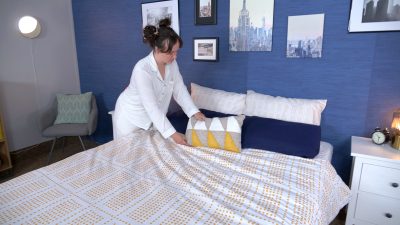 After a couple weeks of wear and machine washing, I haven't noticed any pilling or other deterioration of the fabric. Plus, Cozy Earth backs up their product with a 10-year warranty. That indicates the brand truly sees these pajamas as meant to last.
Cozy Earth Pajamas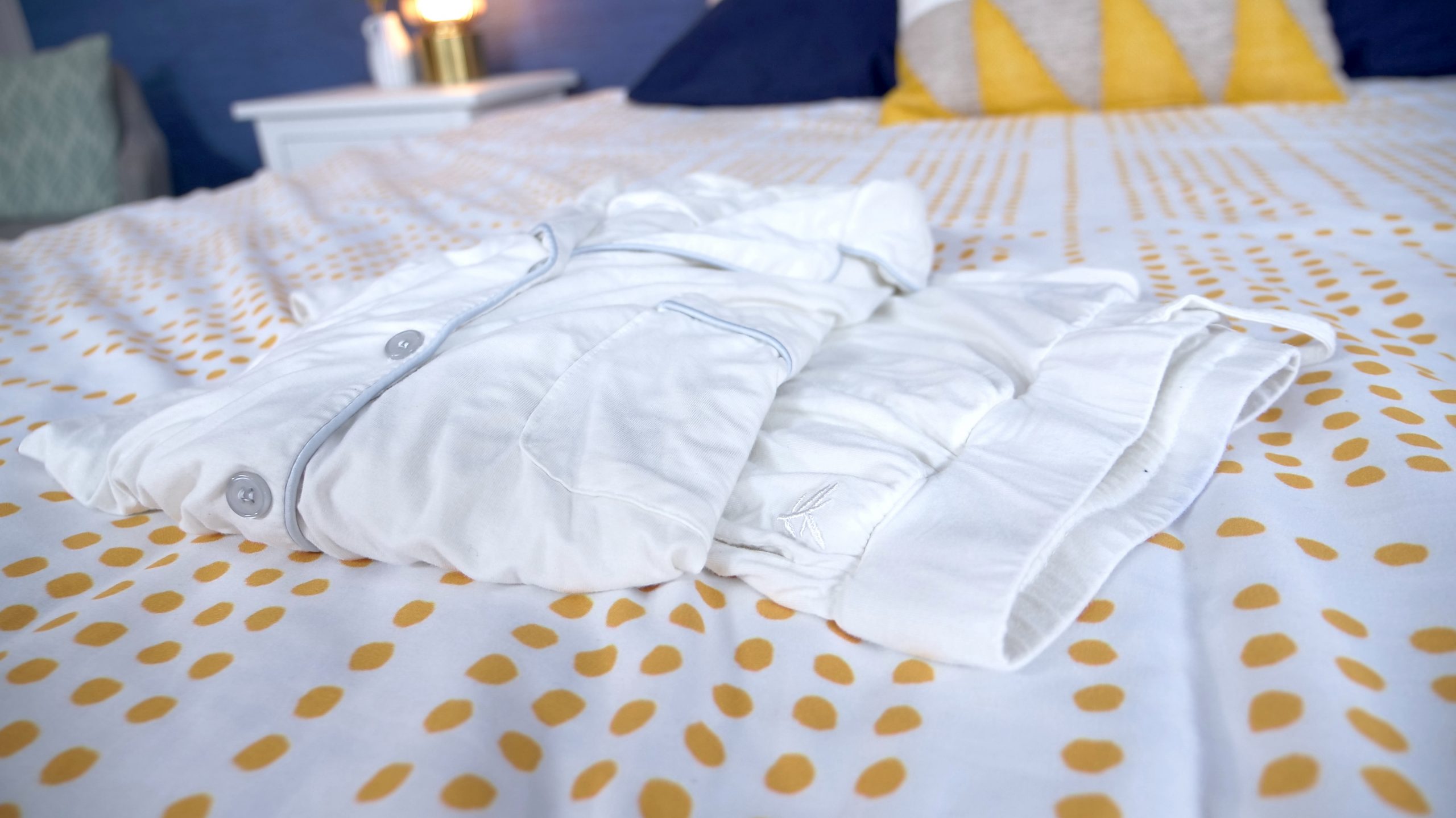 These long sleeve pajamas are made with ultra-soft, cooling bamboo fabric.
Sleepopolis Score
4.90 / 5
Read Full Review
Are the Cozy Earth Long Sleeve Bamboo Pajamas Right for Me?
As much as I loved these pajamas, they might not be right for everyone. Let's go over who I do and don't recommend the Cozy Earth Long Sleeve Bamboo pajamas for.
Who Should Buy the Cozy Earth Long Sleeve Bamboo Pajamas
Hot sleepers

should definitely consider these pajamas. I was seriously impressed with how cool they kept me, despite being long

and

the weather being pretty warm while I tested them. If you're really worried about

night sweats

, I'd recommend going for the shorts version.

If you're looking for a

cozy feel but a classy look

, I think these pajamas hit the mark. The

ultra-soft bamboo

feels amazing, but the classic style of the pajamas gives them a luxe look.

Taller shoppers

will appreciate these long pajama pants come in a "tall" option, at 32 inches in length.
Who Shouldn't Buy the Cozy Earth Long Sleeve Bamboo Pajamas
These might not be the best choice for

budget shoppers.

While I think this

high-quality

set will last a long time, they are more expensive than most budget shoppers are probably looking for.

Plus size shoppers who wear larger than XXXL

also will want to find another set of pajamas, as that's currently the largest size

Cozy Earth

offers.

Sleepers

who like a more

casual look

for pajamas, such as a

T-shirt

instead of a collared, button-up shirt, might not like the traditional style of this set.
Cozy Earth Long Sleeve Bamboo Pajamas Policies and FAQs
How do the Cozy Earth pajamas ship?
Cozy Earth offers free shipping within the United States, including to Hawaii and Alaska. They also ship internationally for a shipping fee.
Are the Cozy Earth Long Sleeve Bamboo pajamas machine washable?
Yes, they are. Cozy Earth recommends washing the pajamas in cold water and drying normally. I washed the pajamas according to these instructions with no issues.
Can I return the Cozy Earth pajamas?
Yes, you can. Cozy Earth offers a risk-free 100-night sleep trial with these pajamas, meaning you can test them for 100 nights and return them for a full refund within that trial period if you decide they're not a good fit for you. Cozy Earth offers free returns, as well.
Do these pajamas come with a warranty?
They do. Cozy Earth offers an extremely generous 10-year warranty on these pajamas, which backs up their faith in the quality of the product.
Does Cozy Earth sell other sleepwear products?
Yes, Cozy Earth sells a variety of bamboo loungewear products for both men and women. Cozy Earth also sells bamboo sheet sets, duvet covers, bath towels, and more.
Finally, here are my star ratings for these pajamas.
Materials

Comfort

Value

Fit

Size Range

Style
Amelia Jerden
Amelia is a Staff Writer for Sleepopolis. She primarily covers bedding and sleep accessory products in reviews, how-to guides, and more. You can also find her over on the Sleepopolis YouTube channel. Amelia is a graduate of the University of North Carolina at Chapel Hill, with double majors in media and journalism and in dramatic art. Outside of work, Amelia can usually be found on a hike, traveling to a new city, or at her local thrift store.