Bamboo-based sheets are an eco-friendly bedding essential that bring a variety of natural perks to the world of sleep. They're sustainably sourced, hypoallergenic, breathable, extremely durable… the list of reasons to snooze on bamboo goes on and on. But with so many on the market, how are you to know which is the best bamboo sheet set for you?
Well, as with any sleep accessory, it's important to take some time to consider every last detail before you make your purchase. For example, some sheets are crafted to be light and airy while others are made to be warm and cozy. So keep reading and we'll show you our favorite bamboo-based bedsheets, and fill you in our own tips and tricks for picking the perfect bedding.
Best Bamboo Sheets
These sheets from Brooklyn Bedding are actually a blend of bamboo and cotton, thus giving them some added durability. Like bamboo, cotton is also breathable and moisture-wicking, so this bedding should have no problem keeping the sleeper cool. It could be a great fit during the summertime or for anyone who lives in warmer temperatures year-round.
Pros
Overall, the Brooklyn Bedding Bamboo Sheets have a crisp, smooth feel.

The pockets on the fitted sheet are deep and can fit onto mattresses up to 17 inches tall.

The sheet set is available in seven different sizes.
Cons
The Brooklyn Bedding Bamboo Sheets tend to wrinkle easily, and we had a hard time fully closing the pillowcase.
Read our full Brooklyn Bedding Bamboo Sheets review.
The Luxome Luxury Sheets are made entirely from Viscose, a material derived from Bamboo. The fabric itself is woven together, promoting softness, durability, and, of course, cooling. Bamboo is naturally moisture-wicking and thermal regulating, so sleepers should be able to sleep cooler for longer in the Luxome Luxury Sheets. And, because these sheets use a sateen weave, they are extra smooth and silky, adding to their cooling touch.
Pros
The Luxome Luxury Sheets come in eight different colors and seven different sizes to match both your mattress and your color preferences.

These sheets have a 400 thread count, which is the highest thread count of any bamboo viscose sheets on the market currently.
The Luxome Luxury Sheets come with a free carrying bag that can be used to store the sheets when they're not in use.
Cons
Budget-conscious shoppers may want to opt for a cheaper option, as the Luxome Luxury Sheet Set is currently priced at $135.
Our full Luxome Luxury Sheet Set review is coming soon.
As a material, bamboo usually results in silky sheets. But even by those standards, we found the Layla Bamboo Sheets to be exceptionally silky — billowing, anti-scratchy, and just plain soft against the skin. They have a 300-thread count, and like many bamboo sheets, are made from 100 percent bamboo viscose, which is essentially bamboo pulp spun into a fabric.
Pros
Bamboo is naturally moisture-wicking and temperature-regulating, so these sheets should sleep cool.

It's also hypoallergenic, so the Layla Bamboo Sheets are a great option for anyone suffering from allergies.

Visually, we love the contrasting stitching on these sheets. It sets their appearance apart from other bamboo sheet sets out there.
Cons
The sheets may not fit over a taller mattress or a mattress with a topper on it.
Read our full Layla Bamboo Sheets review.
Oprah has actually said that the Cozy Earth Bamboo Sheets are her favorite sheets out there — and for good reason. They are seriously some of the softest sheets we've slept on; plush, comfortable, and soothing. They're made from 100 percent bamboo viscose, so they're also naturally cooling and hypoallergenic.
Pros
The fitted sheet in this set has deep-enough pockets for a mattress up to 20 inches in height. Almost no bed is too tall for the Cozy Earth Bamboo Sheets.

The sheets boast a sateen weave that gives them a luxurious finish.

There are six different sizes available.
Cons
There are only neutral color options available, and because these are luxury sheets, they're quite pricy.
Read our full Cozy Earth Bamboo Sheets review.
Constructed from 100 percent organic bamboo viscose, these organic sheets from Linenwalas are satiny and soft. The lushness extends to their appearance, too, thanks to a sateen weave that gives the bedding a striking shine similar to real silk. But such luxury doesn't mean you have to break the bank. You can currently get a four-piece queen sheet set on Amazon for under $80.
Pros
The set comes with a fitted sheet with pockets that are 16 inches deep. This helps the sheet stay secure on taller mattresses.

You can get the sheet set in several evocative colors, including Burnt Orange and Bahamas Blue.

There are several other sizes available, in addition to queen.
Cons
Sateen sheets tend to be thicker and less breathable compared to other weave styles, and some hot sleepers might find that this bedding is not quite cooling enough.
Read the full Linenwalas Organic Bamboo sheets review to learn more.
How To Shop For Bamboo Sheets
Okay shoppers, now that we've taken a look at my top three favorite bamboo-based sheet sets, let's dive deeper into what to look for when shopping for bamboo sheets.
Pure vs Blend
First thing's first — take some time to decide if you're looking for bedding made purely from bamboo cellulose, or if you prefer a blend of bamboo and another material.
Bedding made from 100 percent bamboo has certain characteristics that are unique to pure bamboo-based sheets. For example, bamboo bedding that hasn't been blended with any other material is more likely to be silky in feel, lustrous in appearance, highly durable, and sustainably sourced. Let's take a closer look at the natural perks of pure bamboo bedding:
Cool & Breathable – Bamboo fibers produce a light and breathable fabric that's ideal for keeping sleepers cool. If you have trouble snoozing through the night because you're prone to heating up, bamboo bedding might be just the thing.
Hypoallergenic – Pure bamboo-based bedding is sustainably sourced, derived from natural materials, and hypoallergenic. Those with allergies or sensitive skin might be particularly compatible with sheets derived from bamboo.
Silky & Durable – Bamboo fibers are known for being extremely durable, which is why bamboo-based bedding has a reputation for lasting sleepers a long time. If you're looking for the bedsheets that'll give you the best bang for your buck, bamboo is a good way to go.
Moisture-Wicking – Bamboo fibers are much more absorbent as compared to cotton fibers, which makes bamboo-based bedding ideal for sleepers who run hot. If you're prone to night sweats, bamboo bedsheets can serve to wick that moisture away while you sleep.
It's important to note that when bamboo-based fabric is mixed with another material (like cotton or polyester, for example), the benefits listed above can become diluted. For these reasons, pure bamboo bedding is typically quite a bit more expensive than sheets that blend bamboo with another textile.
That said, some sleepers may find that they prefer the feel of blended fabrics. For example, bedding made solely from bamboo typically has a silky quality that might not be compatible with those looking for a crisper, more cotton-like feel. If you don't like a silky feel (but still want to enjoy the perks of bamboo) aim for a sheet set that's blended with cotton, microfiber, or polyester.
Thread Count
Thread count is a term used to measure the individual yarns per square inch of fabric, and 250-300 is considered a great benchmark for bamboo-based bedding.
However, thread count can be a little misleading, as many bedding brands use multi-ply yarns in order to boast a higher thread count. This is why it's best to look specifically for bedding woven from single-ply yarn. Bedding woven from single-ply yarn is typically softer and more durable, as the threads don't need to be spliced together as much as bedding made from multi-ply yarn.
When you're shopping for bamboo-based bedding, be sure to scroll through the "materials description" in order to determine the thread count and whether the yarn is single or multi-ply. But here's a pro-tip: Any sheet set that advertises a thread count of 1,000 or higher should raise a red flag, and is likely woven from less durable multi-ply yarn.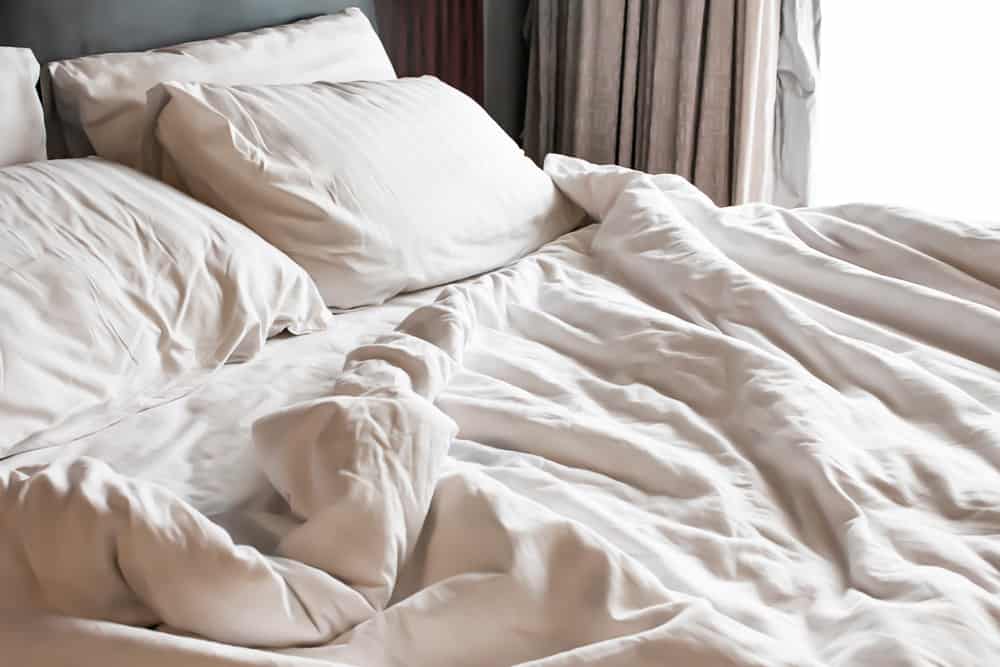 Weave Style
When you're on the hunt for bedding of any kind, you'll find that there are three primary weave styles from which to choose: percale, sateen, and twill. Let's take a look at each one, side by side.
Percale – This weave style is known for producing a lightweight, breathable fabric that feels soft and crisp. For context, many sleepers compare the feel of percale woven fabric to a freshly ironed dress shirt. Of all the weave styles, percale is one of the coolest.
Sateen – This weave style produces a thicker sheet that lies heavier on the body, ideal for folks looking to keep warm. Additionally, sateen bedding is beloved for its lustrous sheen and elegant draping.
Twill – A twill weave is known for its superior durability and distinct diagonal ribbing (this weave style is commonly found in denim jeans). Bamboo-bedding woven in this style will be exceptionally durable, but not as breathable as percale.
If you're having a hard time deciding between these weave styles, rest assured that the weave pattern does not affect the properties of bamboo itself. Instead, it determines how the finished fabric will look and feel on the skin. To better guide you in the right direction, we suggest hot sleepers aim for percale, those who prefer a silky feel shoot for sateen, and people who prioritize durability go with twill.
Wash Care
Wash care for bamboo-based bedding can be a little tricky, which is why the sheet sets we've listed in this guide are all easily machine washable and dryable. In fact, to save you some time, here is the wash care for each set listed in this roundup:
Wash on a cold, gentle cycle with mild detergent (no bleach)
Tumble dry on low heat, or line dry when possible
Remove from dryer as soon as possible to keep wrinkles at bay
Pretty simple, right? Well, there are a few other things to consider when washing your bamboo bedding in order to keep is as pristine as possible. Firstly, bamboo-based bedding is naturally very soft, so no need to bother with fabric softeners. Sometimes chemicals in fabric softeners can damage the bamboo fibers and make the bedding less durable.
Secondly, heat from a dryer can be kind of harsh on bamboo-based bedding. So, if you have the means (and the time), line-drying can increase the lifespan of your sheets and keep them looking brand new.
Pricing & Warranty
As mentioned above, bamboo bedding that hasn't been blended with any other material tends to come at a higher price point. That said, price does range quite a bit within the world of bamboo bed sheets, and a lot comes down to your personal budget. Regardless of your budget, though, we suggest taking careful note of a brand's return policy, trial period, and/or warranty.
A generous return policy and warranty inspires confidence in the consumer, and lets you know that the company proudly stands by its product. Additionally, a warranty covers any material defects (if it arrives damaged, you'll be refunded or have your purchase replaced at no cost to you).
That said, something that we look for in a set of sheets is a trial period. A trial period is different from a return policy in that it offers the chance to "try before you buy." Sometimes, bedding brands will not even charge you until your trial period is up (which basically means you get to test a product for free).
Most often though, a trial period means that you have a certain amount of time to try a product and see how you like it. If, within that time frame, you decide it's not the best fit for you, just send it back to the company for a full refund.
Sleepopolis Tips
Before you begin your hunt for the perfect bamboo-based sheets, allow me to leave with you a few helpful tips:
It's a common misconception that all bamboo-based is certified organic… but that's not the case. If you want to make sure your bedding is organic, look for the "GOTS Organic" stamp. This label is always clearly indicated on a brand's website/the product itself, and indicates that it's been certified by the Global Organic Textile Standard.
If you sleep on a mattress with a depth of 12 inches or higher, make sure you get a fitted sheet with pockets deep enough to accommodate that. To be on the safe side, I like to go with fitted sheets with pockets that are 14 inches or deeper.
We can't over-stress the importance of a trial period. Being able to try a product before financially committing is a great way to decide whether or not a sheet set is really worth the dough.
Final Thoughts
Well, we've reached the end of this guide and you're that much closer to finding the bamboo-based bedding of your dreams. Remember: a great set of sheets is an investment in your sleep health, so take your time in picking the right one. Happy shopping, everybody.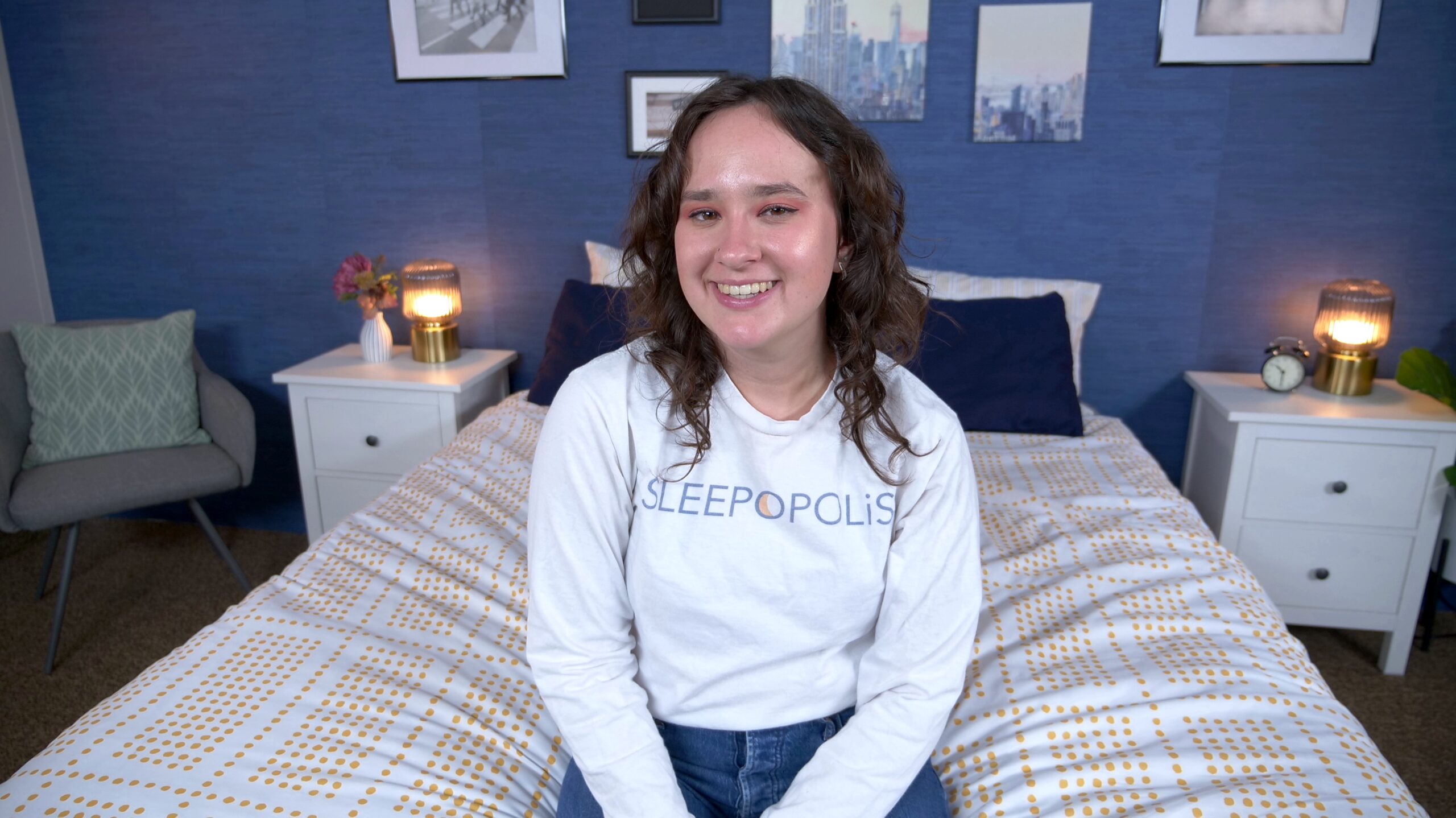 Amelia Jerden
Amelia is a Senior Staff Writer for Sleepopolis. She primarily covers bedding and sleep accessory products in reviews, how-to guides, and more. You can also find her over on the Sleepopolis YouTube channel. Amelia is a graduate of the University of North Carolina at Chapel Hill, with double majors in media and journalism and in dramatic art. Outside of work, Amelia can usually be found on a hike, traveling to a new city, or at her local thrift store.